Best Shooting Vests Reviewed & Rated for Quality
In a Hurry? Editors choice: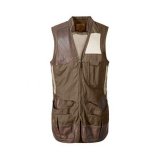 Test Winner: Eddie Bauer Clay Break

Whether you're just getting into
shooting
or have been around
guns
your entire life, sport shooting is made much simpler and more enjoyable by the addition of a good
shooting
vest. Not only does a good shooting vest help protect you from recoil, it also
helps you stay organized
, with pockets for
shells
, shooting glasses, and more. When it comes to good shooting vests, though, we've done the research for you, so that you don't have to! Check out our ten favorite shooting vests, each of which have been rated and reviewed for quality, to help ensure you can find exactly
the perfect vest
for you and your needs!
Standout Picks
Criteria Used for Evaluation
Capacity
One of the main reasons for wearing a shooting vest is the ability to hold additional ammunition. This makes it easy for you to reload your gun quickly without you having to go to your range bag or back to your vehicle for more bullets. For this reason, you will want to look for a shooting vest that has enough room for you to keep additional ammunition on your person.
You should take a look at the number of pockets on a shooting vest and balance its capacity against your needs. Some shooting vests have lots of room for gear. For example, many vests have holsters for one or more handguns, slots for magazines, and a place for bullets. It is also possible to see shooting vests with a pocket for a water bladder on the back of the vest and interior pockets for additional capacity.
Breathability
Shooting vests can end up weighing a lot when they are fully loaded which can cause you to work harder and sweat more. The more you sweat, the wetter your clothes may end up feeling and you may even start to smell bad if you sweat too much. Our bodies sweat as a way to remove excess body heat, but sometimes our choices of clothing can interfere with how our bodies cool themselves. For this reason, you should always look for a shooting vest that is both breathable and moisture wicking.
This will allow your excess body heat to dissipate which will make it much easier for your body to cool itself when you are getting too warm. You can tell how well a shooting vest will cool you down by looking at the kind of materials it is made from and if it has proper ventilation. The better your shooting vest can remove extra heat and moisture, the less likely you are to experience problems such as body odor and chafing.
You can always look at the manufacturer's tag on the vest to see if it is made from natural fibers or synthetic ones. Synthetic fibers do a much better job of moisture wicking and breathing than natural fibers so you should try and look for shooting vests that are made from polyester, nylon, or a similar material. In addition to the type of material, some shooting vests will have a mesh liner that will help promote breathability. If you look for shooting vests that have such features, you will feel more comfortable while you are wearing the shooting vest and it will be more enjoyable for you to wear.
Color
Shooting vests come in different colors and patterns and you should look for one that best matches to your particular needs. For example, if you are hunting in an area that requires that hunters wear blaze orange, then you will need to pick out a shooting vest that complies with the regulation for your own safety and to avoid getting fined. In other cases, you may want to blend in with your background so that you are not seen as well.
Sometimes people are required to wear a shooting vest that is a specific color because it is required for them to be dressed a certain way. Shooting vests come in a variety of different colors and patterns and knowing which patterns and colors are meant for certain use cases will help you decide what sort of shooting vest you should purchase when you are shopping for such as a vest. You should keep in mind that sometimes a shooting vests color works with different use cases at the same time, such as hunting and military, so this is a generalization of which colors and patterns are used for each purpose.
Comfort
How comfortable a shooting vest feels will also play an important part of what kind of shooting vest you should purchase. If you find a shooting vest to be uncomfortable while you are wearing it, then you will not be happy with the vest and will be unlikely to wear it when you go shooting. This will cause you to not get the full value from your purchase which can cause you to feel further dissatisfaction with your shooting vest.
For these reasons, you should look for a shooting vest that fits you properly and has plenty of recoil padding on the shoulders. This will make the vest more comfortable and enjoyable to wear while you are fully geared up in your shooting vest. As always, your clothing should be something that you like to wear and it should not bother you. The best clothing is the type of clothing that you forget that you even have on in the first place.
When you are looking for a shooting vest, you should begin by looking for a vest that has the proper size and fit. The vest should not be too large nor should it be too small. A vest that is too large will look baggy and bulky and it may not hold your gear securely against your body while a vest that is too small may not fit in the first place or it will feel overly tight and make it hard to move in.
Durability
The quality of the shooting vest will mean the difference between wearing the vest a few times and wearing it for years at a time. You should always take a look at a shooting vest and check it over for quality prior to purchasing it. The better job you do of picking out a high-quality shooting vest, the longer you will have the vest and the longer you will have the vest. This will save you money in the long run because you will not need to replace the vest as often as you would otherwise which will help you have a more satisfying purchase in the long run.
There are several items that you will want to check for quality when you are purchasing a shooting vest. You will want to make sure that the vest has high-quality material that resists tearing and abrasions from everyday wear and tear. The vest should have pockets that close in a secure fashion and stay closed. Any adjusting straps should maintain their fit and you should make sure that buttons and zippers stay secure and do not pull or tear from the jacket.
10 Best Shooting Vests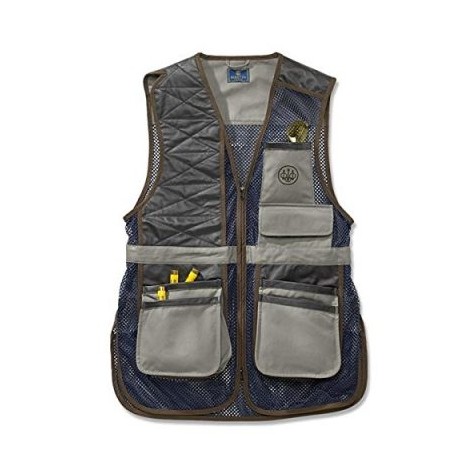 Much like Browning, Beretta is a trusted name when it comes to guns and shooting sports, and this two-tone clay vest is no different. 100% cotton, the lightweight vest is designed to help keep you cool on hot summer days, and the adjustable waist helps ensure a great fit. Removable gel recoil protection pads, expandable shell pockets, and a glasses pocket are all added bonuses.
Stay cool and relaxed
For some people, when it comes to hot and humid days, breathable cotton is what you want to help you shed that sweat. This 100% cotton vest, then, is for you. Additionally, the adjustable waist and shoulder slits help ensure ease of motion and a perfect fit, so you can stay comfortable even when everyone else is dying in the heat and humidity.
Plentiful pockets
Not only are there plenty of shell pockets, they just happen to be expandable...so they fit exactly as you need them to. The dedicated glasses pocket comes in handy, too.
Cost and Value
The removable recoil pad helps ensure you have protection against your shoulder when you need it, and depending on what you're shooting, you just may need it.

2

. Browning Trapper Creek


Browning is renowned for their quality, and this vest is no exception. The perfect combination of lightweight fit and function, it does all you need a vest to do when shooting and is offered in a left-handed option as well.
Browning quality
Browning makes many of the best shooting accessories on the market, and this vest is no exception. As with many other Browning products, it can be relied on for fit, function, and style. It's no wonder Browning tends to dominate the shooting vest market, and personally, this is my pick as the very best of their vests.
Fit and function
For instance, it gets fantastic reviews on fit and function; more than 80% of Amazon customers say it fits them as they expect, and if you look through the reviews, customers positively glow—and with good reason! Not only is this vest lightweight, but it is also adjustable, meaning that you can fix it to fit with whatever layers you need for the temperature in which you're shooting, including multiple layers on those cold days. The light mesh helps ensure it never gets in your way or encumbers your movements when you're wearing it, and on hot summer days, the 100% poly mesh breathes well. Four shell pockets help ensure you have plenty of storage space, making it perfect for a wide range of shooting sports.
Cost and Value
The only downer I've seen for some folks is the zipper. Because it doesn't fully separate, the vest cannot be fully opened, meaning that you can't ever just throw it over your shoulders and zip it up. Instead, you have to lower the vest on to your body like you would a t-shirt, which can be a bit awkward at times. Otherwise, though, this is as perfect a vest as you can find—and it even comes in a left-handed option for all you southpaws out there!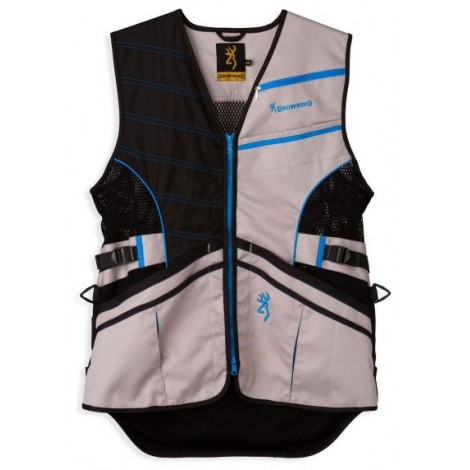 Available in blue or hot pink, right-handed or left-handed, this vest comes with options, and the polyester-spandex blend helps you stay comfortable, as do the adjustable fit tabs. A range of pockets means you can make it work for what you need it to do, and pockets for recoil pads help keep your shoulder protected.
Custom fit
In addition to the pliable polyester-spandex blend, the ace vest offers other ways to get a custom fit, which means you'll never be uncomfortable wearing it unless you simply haven't taken the time to adjust the fit. Side tabs allow for easy on the fly adjustments, which allows you to concentrate on shooting. It also comes in both right-handed and left-handed versions, so you southpaws can rest happy with the Ace vest as well.
Pocket options
In addition to a large back pocket shell pocket, a small center pocket is also great for gear storage, whether a water bottle, glasses, or a snack. You can make the vest work for you, based on what you need, as a result.
Cost and Value
Though the vest does not come with the G2 reactor recoil pads, which must be purchased separately, the pockets for them are some of the better recoil pad pockets we've seen.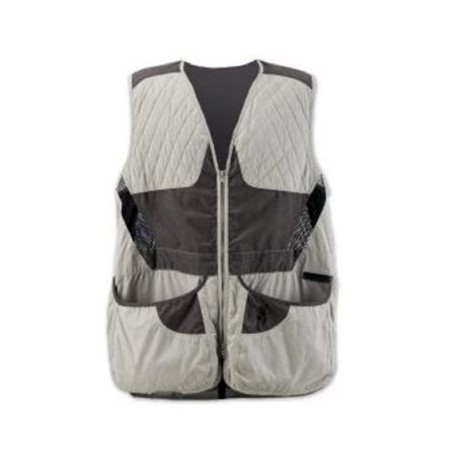 100% polyester mesh, the Summit vest is one of the most fluid feeling vests we've tested. Lightweight, and yet loaded with the pockets you need, the ease with which you can move in this vest helps ensure smooth shooting, and the recoil pad pockets help ensure you can protect your shoulders while out.
Browning quality
As with the other Browning vests on this list, you know the quality you're getting when you buy Browning, including fit, function, and durability.
Flexibility and fit
The 100% polyester mesh breathes well and moves even better, so you consistently have a full range of motion and can feel fluid and fast while shooting. This lightweight vest ensures you stay calm and relaxed as a result of that fluidity, which can help you shoot better.
Cost and Value
In addition to recoil pad pockets in both shoulders (meaning it can be worn right-handed or left-handed), the multiple shell and gear pockets mean you can expect it to do exactly what you need it to do. As with the Ace vest, however, the G2 recoil pads must be purchased separately.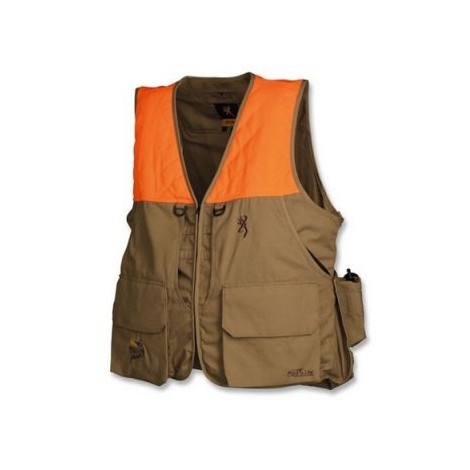 The last of the Browning vests included in this list, it's also exactly what you've come to expect from Browning: reliable function and fit, and works best when you need everything for a full day out. On cold fall hunting days, you can trust this vest will help you stay warm and ready, and the waist support harness helps ensure that when you are fully loaded, you don't have to carry all the weight on your shoulders.
Form and function
If you need a full-bodied hunting vest, this is the vest for you. With plenty of pockets, it can haul more than most vests, and the support harness both helps ensure a great fit and keeps some of the weight off your shoulders, should that be a consideration.
Hauling capacity
This vest is made to carry whatever you need. Water bottles? Sure. Gear for your dog? Definitely. A couple of birds? Why not! Whatever you need for a long day in the field, this vest can carry.
Cost and Value
Of all the vests we looked at, this got some of the best markets in wear time. Because it is made of heavier material, it doesn't breath as well—but it lasts significantly longer, and isn't prone to tears or rips like some of the mesh vests can be.

6

. Eddie Bauer Clay Break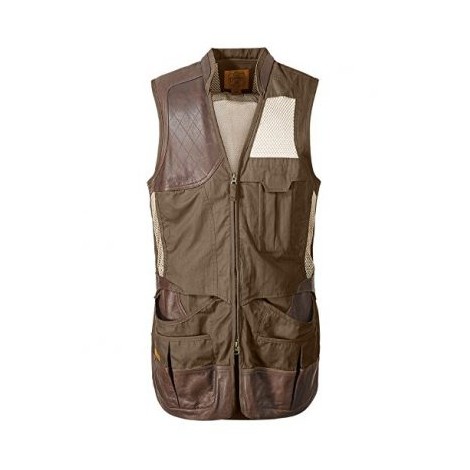 Eddie Bauer is a trusted outdoor brand with good reason, and this vest is no exception. With a built-in (but removable) recoil pad, mesh that helps the vest breathe, and pockets galore, this vest does exactly what you need it to when you're out shooting.
Recoil protection
Like many of the other best shooting vests, the Clay Break Vest offers recoil protection in the form of a removable air mesh recoil pad and leather quilted shooting patch. As a result, you can know that your shoulder is protected, no matter what you're shooting and no matter how powerful the kick.
Breathability
With front mesh panels and a mesh upper back, this vest is designed to pull away from the heat when you need help staying cool the most. Lightweight, this ventilation helps you forget you're wearing a vest, so you can focus on shooting your best.
Cost and Value
In addition to rear pocket and it's easy to access (perfect for a water bottle on warm summer days), the front of the vest has exactly the pockets you need when you're out on the range: double front bellows shell pockets and front bellows chest pockets, with leather abrasion patches designed to help minimize wear-and-tear, helping ensure you can shoot in this vest for years to come.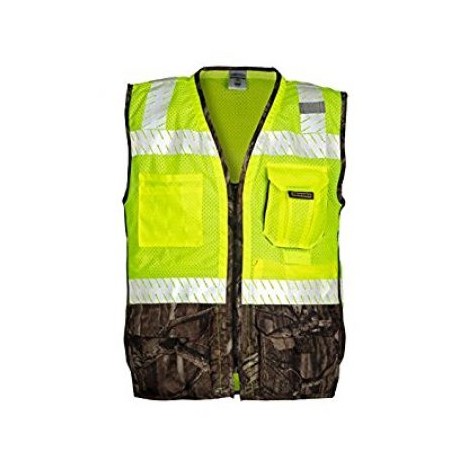 The best value of these vests, this safety vest is highly visible, feature-laden, and adaptable to whatever context you need it in. Internal and external pockets in the vest help you keep your stuff secure and protected from the elements, and the range of pockets means you can use it for more than just shooting.
Safety and visibility
If you need a visible vest, the KwikSafety Class2 Safety Vests are as bright as they come and laden with reflectors (2-inch silver reflective tape and trim) that'll help you stand out in poor visibility conditions.
Feature heavy
For the price, this vest is especially feature-laden, including both chest pockets, which are perfect for your phone or ID or other smaller items, and waist pockets, which are perfect for your shells. Additionally, interior pockets add additional storage capacity and can help shelter valuables from the elements, such as a wallet or phone. Zippers and pull tabs help keep everything in place and secure as well.
Cost and Value
And this is the key feature: Because this vest meets a wide range of industry standards, you can use it hunting or at the range AND on the job, should you need a reflective vest for work tasks such as construction, demolition, landscaping, emergency work, or more. Its reflective properties make it great for being seen while walking your dog in the early morning or at night after work, as well.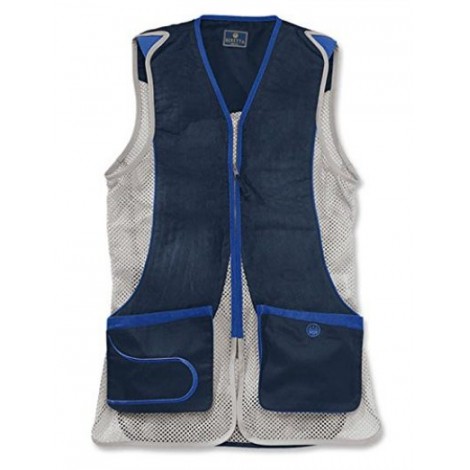 Beretta is one of the most trusted names in guns, and this vest is no different. The combination of elastic and mesh helps ensure you get exactly the fit and fluidity you need while also staying cool, while shooting pads, recoil reducers, and a variety of pockets help you perform confidently.
Designed with fit and function in mind
With an elastic waistband and elasticized shoulder slits, this vest is designed to move with you as you need it to, so you can focus on your shooting and not worry about what the vest is doing. Additionally, eco-suede leather shooting pads and the Beretta recoil reducer pockets help protect you from your gun's kick.
Breathability
The cotton-nylon mesh helps keep you cool, and the elastic portions of the vest helps ensure that because it moves with you, it doesn't ever need to stick to you.
Cost and Value
Beside the inner security pocket, which is perfect for your ID or a cash clip or your keys, the double-entry patch pockets on the vest help ensure that you carry what you need to, and carry it well.

9

. Wild Hare Shooting Gear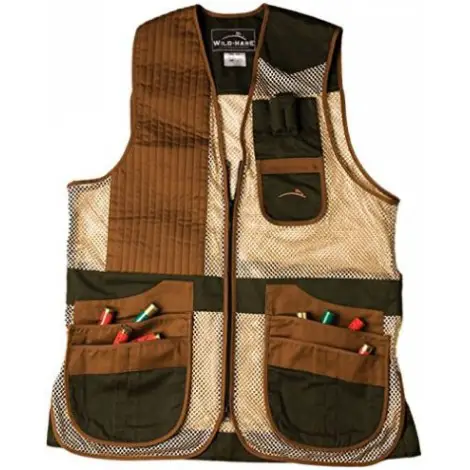 If you're looking for a vest for your son as you teach him to shoot, this is one of the best options on the market—mainly-so because it can expand to fit your son as he grows. A full range of functional complements ensures it isn't just a youth vest, either; the adult sizes are pretty great, too!
Expandable
Because this vest can expand, it makes it perfect for a growing teen as you teach them how to shoot. That expandability, however, doesn't come at the cost of fit: It's adjustable so you can get it just as snug as you need it, and the no bunch shoulder ensures it stays that way even as you shoot.
Recoil protection
An internal shoulder pocket is designed to fit the Shockeater Recoil Pad (sold separately), so you can help save your shoulder (or your kid's shoulder, as they learn to shoot) no matter how big the kick.
Cost and Value
And even if this is a great youth vest, it doesn't come at the expense of features. In addition to the expandable fit and recoil pad pocket, lightweight mesh helps ensure you can stay cool, and the pockets are everything you need from a good shooting vest. A rear pocket can hold up to 100 shells in a zippered pouch—and that's in addition to the standard shell pockets in the front. Lastly, it comes with a lifetime warranty, so no matter how hard you are on your gear, you're safe with this vest.

10

. Challenger Outfitters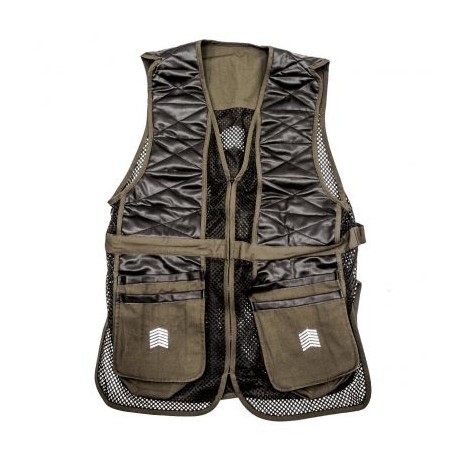 While Challenger isn't as well-known a brand as many of those on this list, this vest belongs with the big boys. A removable recoil pad can fit on either shoulder, making this vest ambidextrous, in addition to the advantages it already has in fit and function, as both shell pockets are expandable and the fit is adjustable as well.
Recoil protection
Unlike many shooting vests, this vest comes with a recoil protection pad. And even more unusually, it comes with pockets for that recoil pad in both shoulders—meaning that even if you're right-handed and your friend is left-handed, you can both use this vest. Simply swap out the recoil pad from one shoulder to the other, adjust the fit as needed, and voila!
Designed to fit for great function
The lightweight mesh design breathes well, sure, but in addition, this vest offers shoulder slits for freedom of movement as you shoot, as well as multiple tabs to adjust how the vest fits your body as well. Cotton and canvas help ensure that great fit, so you can focus on your shooting, rather than on your vest.
Cost and Value
Not only are the shell pockets expandable with the simple adjustment of a snap, so too is the fit (via adjustable waist tabs) and even the handedness (if you change out the recoil pad from one shoulder to the other).

Subscribe to our Newsletter