Best Safety Glasses & Protective Eyewear Reviewed for Protection
In a Hurry? Editors choice: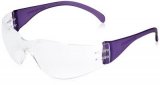 Test Winner: Pyramex Intruder Glasses

When it comes to our eyes, it can be easy to take them for granted. However, if you've ever been the unfortunate victim of an accident which either temporarily or permanently affects your vision, it becomes clear how fragile it truly is. The best thing we can do for ourselves to protect this asset is, well, protect it. When researching the best safety glasses for you, it is important to figure out what activities you plan to use them for, and what ratings they need to meet in order to properly protect you. Here, we will break down the terminology behind glasses, and help you learn more about our top ten picks.
Standout Picks
Criteria Used for Evaluation
Safety Hazards
Safety glasses that offer glare protection utilize an anti-reflective coating on the inside layer of the glasses. That annoying glare is also known as back-glare and occurs when the light hits the back of the lens and spreads into your eye. The Anti-Reflective part of safety glasses is made of a very hard and thin film that is layered onto the lenses. This layer refracts the light back to the point of origin on your glasses cause them to cancel each other out through the properties of destructive interference.
In order to resist any chemical corrosion safety glasses use a material called polycarbonate plastic. Polycarbonate plastic, or PC, while available in a wide variety of colors are generally transparent, making them perfect for use with safety glasses. PC is generally combined with flame retardant materials, making it a highly resilient material to be included in the production of safety glasses.
Almost all jobs that include labor that could require safety glasses there is generally a degree of debris that can fly through the air at significant speeds. Without proper personal protective equipment, your eyes are at severe risk. With an impact rating of 16 pounds per square inch, it's obvious why polycarbonate plastic was including when making safety glasses that were capable of withstanding the most powerful of blows for debris or small particulates.
Sadly, there is no safety glass or protective layer or coating that will be entirely scratch proof. Some lenses, however, are treated on both sides with a scratch-resistant coating that hardens the surface and is much more resistant to abrasions caused by scratching. Most of the lenses that are used are a combination of our friend the polycarbonate plastic and another plastic called Trivex. Like polycarbonate plastic, Trivex is extremely lightweight and is one of the most scratch-resistant materials that has ever be manufactured.
Anyone that has ever worked while wearing safety glasses knows that the perspiration you generate can cause your lenses to fog up. This obstruction can be quite troublesome if you happen to be using heavy machinery or a hand-held tool of any kind when your vision is essential to the operation. The fog-resistant technology from each of the safety glasses vary, they either use a fog-resistant coating that is applied topically, or they have vented sides allowing the moisture an escape.
Features
When light hits a surface it scatters in all directions, however, if the list hits a flat surface, such as water or snow that is nearby, it disperses in a horizontal manner that can create a bothersome area of reflected light. Polarized lens works, particularly well to help reduce the glare from water or shiny surfaces that reflect light. The polarized lens contains a special filter that blocks this intense light preventing glare. This same polarization can reduce your ability to see LCD and LED screens, some safety glasses have remedied this other are yet to include this function.
Ultraviolet light is suspected to cause macular degeneration and is potentially the cause of loss of vision in older people. Additionally, some kinds of ultraviolet light, particularly UV-B, can cause your eyes to develop cataracts. Cataracts are a clouding of the eyes lens which helps to focus light. Some of this damage is untreatable so the best alternative is prevention. Safety glasses that are UV resistant use translucent dye to coat the glasses and much like sunscreen, it protects your eyes from these harmful rays.
A more uncommon, but still hazardous element your eyes may need protection from while working is radiation. Radiation that gets into your eyes can cause swelling, dryness of the eyes and extreme irritation. Some of these safety glasses are treated with cerium, which can help by ionizing incoming radiation waves.
Including some of the most common workplace hazards the "D" ratings include protection from splashing, droplets, and dust hazards which can happen in nearly any workplace. D3 is the rating for the splashing and droplets and the D4 and D5 ratings are for dust and fine dust. While this protective quality may seem obvious and non-consequential dust and splashing or droplets can be quite harmful and even lead to terrible injuries.
Comfort
Most people that need to use safety glasses will end up wearing them for the entire working day, and for multiple working days. Most people who read or have been exposed to this type of long-term use are aware of the dreaded glasses fatigue. Where the glasses set on your face can become sore over long periods of time. In order to combat glasses fatigue, I've included glasses that either have a rubberized insert where the rest of the bridge of the nose or used a different area on your head to rest.
No one person has the exact same shape and size head. Having safety glasses that can bend and adjust to suit your needs is a key trait that must be adhered to in the choosing of any safety glasses. Our friend the polycarbonate plastic is amazingly pliant and allows safety glasses to bend and twist quite effectively allowing them to conform to the shape and size of your head with ease. Additionally, I included a few sets of safety glasses that had adjustable arms to reach and not overextend past your ears.
With over half of all Americans suffering from some sort of visual impairment, having a prescription option was an absolute necessity in this best of the list. With this in mind, I sought to include safety glasses that were either capable of using prescription lenses or ones that were large enough to allow the use of standard prescription glasses underneath the safety glasses.
Model
While it may seem an odd choice as a requirement for this criterion, the color of your lens was another consideration that went into making this list. While the standard black lens of some safety glasses is great for blocking the sun if you're working indoors that tint would be less than ideal. Vice versa when you're working outside that black lens is a blessing and will keep your vision clear and not cause you to squint whenever you need to look closely at something. Most of the safety glasses I have selected offer some type of color choice.
More often than not while working your heading will be swiveling around in multiple directions and sometimes quickly. This can cause safety glasses that overlooked this aspect to fall from your head completely eliminating the purpose of using them in the first place. With this in mind, I added options that wrap around your head in order to keep your safety glasses firmly in place no matter how hard you swivel your head while working.
10 Best Safety Glasses
1

. Pyramex Intruder Glasses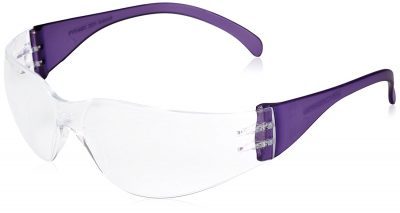 Coming in as Editor's Choice, it is hard to ignore the Pyramex Intruder as a truly durable and affordable option for anyone. Certified by ANSI for high-velocity impact and UV rated to 6, these can easily take a beating while protecting your eye from the harshest of environments. Coming in a pack of twelve, they are so lightweight it will be easy to remember they are on your face. The clear lenses will give you an obstacle-free view of whatever job you're trying to accomplish, all in a fashionable, frame-free package.
Frameless
Boasting a small surface area, the Intruder was designed for those who appreciate a lightweight build which keeps a low profile on your face.
Assorted Colors
Of course, looks can never be dismissed, and this package offers 12 pairs of glasses, two of each color, for the same price as some individual safety glasses.
Cost and Value
As mentioned above, while this is not the cheapest option outlined in this review, if you're shopping for bulk, these are the way to go.

2

. NoCry Wrap-Around Glasses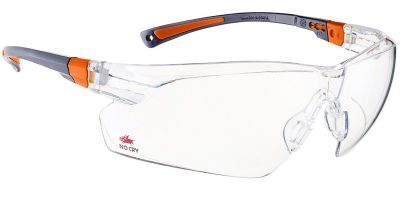 The NoCry wrap-around lenses offer everything you could want in a solid, relatively inexpensive pair of safety glasses. Protecting you from flying debris at all angles, and even featuring a lip on the upper rim to keep falling debris from getting in the top, your eyes will thank you later. The double coating on the lenses makes these scratch and fog-resistant, while also giving you a crystal clear picture with no distortion. Adjustable nose and earpieces make them easy to find comfort in, and their lightweight keeps them comfortable to wear for hours at a time.
Adjustable
Offering adjustable nose and ear pieces, these glasses are truly a one-size-fits-all masterpiece, offering the ability to fit any face shape or size.
Fog Resistant
The double coating offers glasses that do not fog as easily as others, allowing unimpeded vision for a variety of activities and condition.
Cost and Value
While these definitely aren't the cheapest glasses outlined, you won't feel bad for spending the extra couple dollars for these solid glasses that will last for years.

3

. Allen Company Shooting & Safety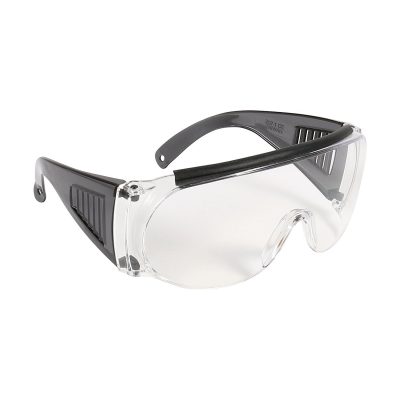 These high profile safety glasses offer not only high quality but come in at the lowest price outlined here. The wrap-around build provides protection from flying objects from any direction, offering superior coverage. While you can comfortably wear these alone, they also suite those with prescription eyeglasses just as fine. Approved by ANSI as Z87 (basic impact resistant), they also offer a metallic coating on the lens' which provide 100% UV protection.
Clear
For certain activities, or as personal preference, clear safety glasses are a huge draw for many people. Whether you need easy eye contact with someone nearby, or simply prefer natural lighting, these give you just that.
Fit Over Prescription Glasses
With an inside clearance of 2" x 5", most modern day prescription eyeglasses will fit under these. However, these fit comfortably even for those without a set underneath.
Cost and Value
Winning title of Best Value, do not let a low price fool you into thinking that means lower quality. These impact resistant, wrap-around safety glasses will keep your eyes protected without breaking the bank.

4

. BluPond Sports Safety Glasses



For those looking for the whole shebang, BluPond is probably the right fit for you. Including not only a hard case, but also a pouch, cleaning cloth, a mini screwdriver, and a car clip holder, you won't have to make multiple purchases to take care of all your needs. The seven layers of coating on the lens protect from multiple forms of UV, are polarized, anti-reflective, and a few extra layers are thrown on to increase scratch resistance. Metal frames outfitted with flexible arms and an adjustable nose bridge make them versatile and comfortable to fit most faces.
Metal Frame
For those who desire glasses that feel more sturdy than the normal plastic safety glasses, these will suit you fancy. A combination of magnesium and aluminum make these not only lightweight but extremely durable.
Polarized
Especially important for reducing glare, the polarized lenses will give you better clarity in high-light conditions, and reduce glare during night excursions.
Cost and Value
While these are the most expensive glasses reviewed, coming with a hard case and multiple accessories, combined with a metal frame and polarization, make the extra investment an easier choice to make.

5

. Howard Leight Sharp-Shooter


Boasting an ANSI rating of high impact-resistant, as well as military ballistic impact test requirements, AND 99.9% UV protection, you can rest assured that these glasses can hold up to your lifestyle. The wrap-around lens is designed to offer maximum protection without compromising peripheral vision or causing distortion. A ventilation channel between the frame and lens assists in keeping the fog out of the eye socket area.
Soft Nose Piece
A favorite feature for many is the supreme comfort of the rubber nose piece provided, which can be hard to find in glasses. For most, these do not cause red marks from being too tight or sitting wrong.
Multiple Lens Colors
Coming with a choice of a clear, yellow, or dark lens, these protective glasses offer something to fit every occasion and activity.
Cost and Value
Holding the same price as the NoCry safety glasses outlined above, these glasses are better suited for those who need something more resistant to impact, but not necessarily for those who wear ear muffs while shooting.

6

. Radians Revelation Protective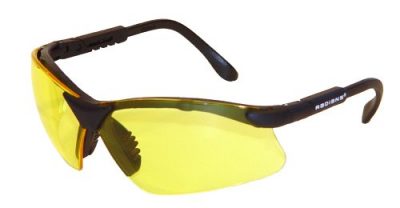 If you're simply looking for safety glasses that you can feel confident will protect your eyes, but don't want to pay a lot, look no further. The Radians Revelation protective glasses come with 99/9% UV protection, high-impact resistance, and fairly good all-around protective from debris. While they won't leave you in awe of their performance, they WILL keep your eyes safe through many activities, and with a wide variety of lens colors to choose from and highly adjustable frames, you're likely to find the style you are searching for.
Color Variety
Coming in just about every lens color variation you could imagine (except for clear, unfortunately) you can find whatever tint it if you're looking for to best suit your needs.
Exceeds ANSI Z87.1+
Meaning, these lenses can take quite the beating. They have held up and rated above ANSI's standard for high-impact resistance, so your eyes will be kept safe.
Cost and Value
One of the least expensive pairs of glasses outlined here, these are a decent choice for those who just want something that will keep their eyes safe, while not spending a fortune for glasses that are bound to get banged up along the way.

7

. Champion Over-Spec Ballistic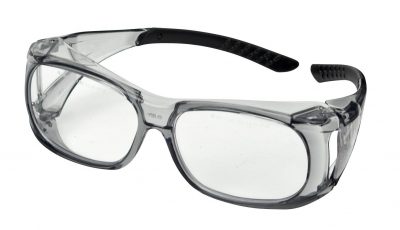 Another of the few safety glasses in our top ten that accommodate prescription eyeglasses, Champion Traps and Targets Over-Spec Ballistic Glasses offer premium protection while maintaining crisp clarity. They meet military standards for impact resistance, offering four times the protection than what is guaranteed by ANSI. The wide sidebars efficiently protect peripheral vision, and the sleek design fits comfortably underneath ear muffs.
Fit Over Prescription Glasses
As one of the few glasses that are capable of fitting over standard prescription eyeglasses, these are a great solution for anyone who needs it.
Wrap Around Safety
The large sidebars keep your peripherals safe without a severely impacting field of vision, keeping your eyes safer
Cost and Value
The cost is quite reasonable when you put into consideration how protective these glasses can be. Furthermore, they come in an array of different colors.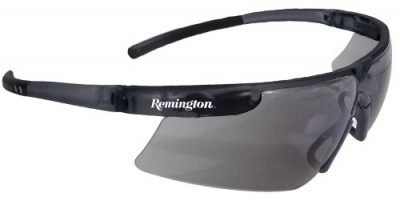 Remington has been a recurring brand in our top ten for a long time now. Holding true to their good name, the T-72's were designed for shooting in mind, however, can be used for a multitude of activities. The dark lenses make them versatile indoors and out, and offer 99.9% UV protection. Resistant to high impact, with a lens that wraps around the peripherals to offer added protection, they are able to keep a lightweight build that can sit comfortably on your face all day with no headaches or pains.
Lightweight Frame
While there can be a certain sturdy feeling to larger frames, the lightweight nature of these makes them easy to forget they are on your face and keep them comfortable for hours.
Exceeds ANSI Standards
The T-72's have proven to provide high impact resistance, keeping your eyes safe from debris and flying objects through a variety of activities.
Cost and Value
While the Remington T-72's are the second most expensive pair of safety glasses reviewed, Remington holds true to their good brand name by providing a quality set of glasses that will protect your eyes.

9

. Pyramex Fortress Eyewear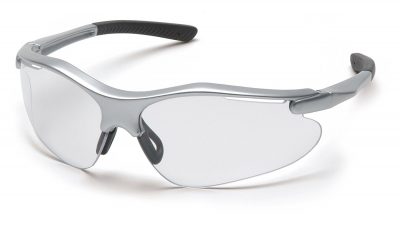 Another Pyramex creation, the Fortress is perfect for those who don't really care for anything other than a simple build that will hold up to a rugged lifestyle. While they do not reduce glare very well, they do offer UV protection, are anti-scratch, and are one of the better glasses to prevent fog build-up, ideal for those who use safety glasses for activities that involve periods of sweating.
Adjustable
Not only is the nose piece adjustable to fit many different faces, but the earpieces are flexible to allow a comfortable fit for many different head sizes.
Vented Lens
While they may have a simple design, they do still offer superior protection from fog, due to their vented lens technology which allows air flow in to keep the fog out.
Cost and Value
As one of the least expensive pairs of safety glasses reviewed, these are a simple solution for those who want to keep their eyes protected but do not need any additional frills.

10

. Global Vision Eyewear Escort


Last but not least, the Global Vision Eyewear Escort safety glasses offer enough room to fit most prescription eyeglasses. While the heavy and bulky frame isn't for everyone, it does offer a wide field of protection from debris from all sides. The side windows allow you to keep your peripheral vision without losing protection. The lenses meet ANSI standard impact resistance ratings, are shatterproof, and offer UV protection and a scratch-resistant coating.
Side Panels
While the frame is quite substantial, to make up for this they have incorporated a side viewing panel to increase peripheral vision.
Reduce Glare
These aren't just good to protect your eyes; they are also one of the best at reducing glare while driving at night, or from the sun.
Cost and Value
One of the cheapest options among safety glasses reviewed, Global Vision Eyewear provides a sturdy solution for those who wear prescription glasses at a low cost.

Subscribe to our Newsletter