Best Shooting Glasses Reviewed & Rated for Quality
The eye is one of the most delicate parts of our body. According to studies, each year over 800 thousand people injure their eyes at work, home, or while enjoying recreational sports like hunting. Once injured, even with the best care offered by top medical staff, your vision is unlikely to completely heal. For this reason, we're constantly trying to protect our eyes by either avoiding exposing them to dangerous situations, or by wearing protective glasses. Experts say that 90 percent of eye injuries could have been prevented with the right protective wear.
Safety glasses are worn to safeguard your eyes in a wide variety of different situations. They are usually made of break-proof plastic lenses that shield you from flying debris, dust, and other projectiles. Not only are they required wear for construction workers, factory workers and technicians, but safety glasses are a great idea for any sports involving shooting as well.
Whether you're a serious hunter or someone who enjoys some occasional target shooting, wearing the proper protective gear is a must. Not all products offer the same level of protection however. There is no need to spend hours researching different sites when we have all the information you need. We've compiled a list of the most popular models on the market today so you can have the best options available!
Featured Recommendations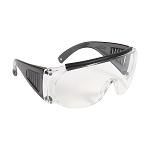 Allen Shooting Glasses

Our rating
Clear lenses
Price:

See Here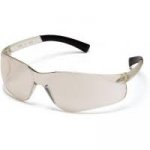 Pyramex Mini

Our rating
Superior Scratch Resistance
Price:

See Here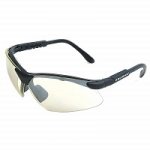 Radians Revelations

Our rating
Soft Nose Pad
Price:

See Here

Unlike regular glasses, there are no dominant brands in the best shooting glasses category. What makes some brands stand out from the rest is their use of shooting glasses that fit over prescription glasses. Some brands do this better than others, and you'll see the difference in that by looking through the list. The top pair of shooting glasses is a brand that did the best with the over the glasses feature since it's such an important option when using shooting glasses.
Some of the glasses on the list come with cleaning cloths, while some don't. If you wear regular eyeglasses, the same kit you use to clean those can be used on shooting glasses. There are no premium kits to worry about, and as long as you have a lint-free cloth, the spray becomes optional. Even though military glasses are built tough, they can still crack like regular glasses. So it's important to treat them like they're fragile when not using them. Some makers of shooting glasses have made it so that the actual lenses aren't exposed when not in use, and that benefits the customer greatly.
10 Best Shooting Glasses
1. Allen Over 2169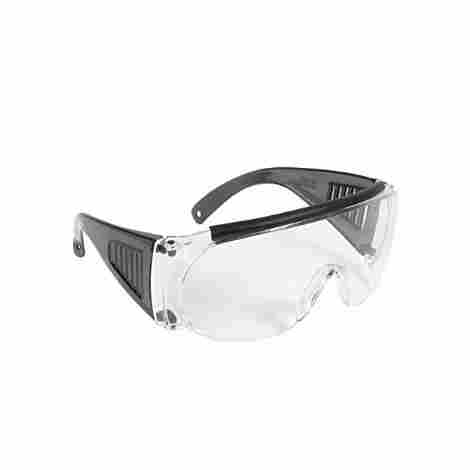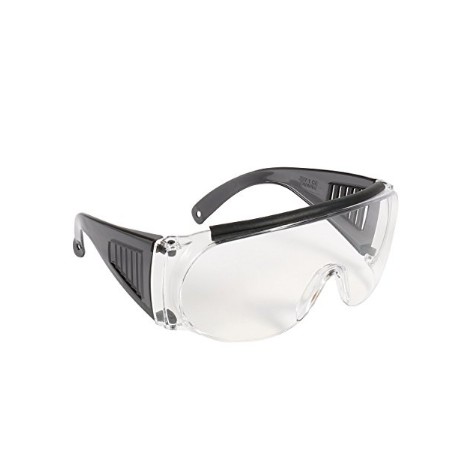 In the top spot is Allen Company's top model and for a good reason. They have improved on the design to make it more compatible with prescription glasses and enhance the feel and quality of the glasses. With that in mind, users will tout and appreciate the quality of these glasses for two main reasons. With over 1.1k reviews at 4.5+ stars, let's talk about these particular shooting glasses and what users can expect.
Expand to see more
Better Than The Rest

The main reason people buy this model over others is due to its high compatibility with prescription glasses. The Allen Company compatibility exceeds that of any other shooting glasses making them more desirable for individuals. With that said, users can expect the large size to fit perfectly alongside the wrap around frame design that allows for extra protection and coverage when shooting on the range.

Durability At A Low Price

One of the best aspects of these particular glasses is the maximum amount of durability that the brand has designed them. These glasses, in particular, are designed with top of the line materials that make them really durable and can handle plenty of wear and tear. For example, the glasses are designed with an impact resistant material known as ANSI Z87. Other than that, the glasses have a metallic coating on the lenses which is ideal for 100% UV protection.

Cost and Value

When we take cost and value into consideration for these shooting glasses, we are shocked at the amount of quality for such a low price that an individual receives. For example, the glasses are designed with an impact resistant finish and are extremely durable. With that in mind, users are guaranteed quality shooting glasses that can withstand the test of time. Overall, we believe that these are one of the best high durability quality glasses in the industry today.
100% UV protection design that makes them ideal for every day wear.
Tough and durable with wrap around frames design for added safety.
Comes with a clear lens that is durable and large.
Price effectively for the value.
Only available in default color
2. Pyramex Mini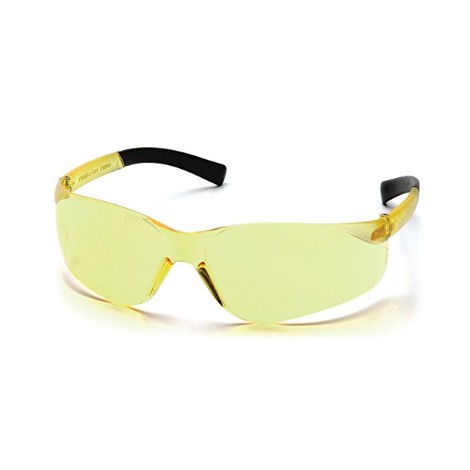 The Pyramex Mini Ztek is a unique pair of shooting glasses that conforms to specific faces. Stuffed inside the feature list of these small glasses are some really good specifications and a one of a kind comfort. With that in mind, we are eager to share these quality glasses that users will tout and appreciate. Let's talk about two important features of these glasses.
Expand to see more
Made For Smaller Face Sizes

So by default, this is a good alternative pair of shooting glasses not just for men, but also for women. It also offers an impressive set of color variations, up to eight total. With that said, they have a wrap-around design that holds in place once an individual wears them. They provide a full panoramic view as well so there is no obstructed field of vision.

Soft Rubber Design

One of the best aspects of these particular glasses is that they are designed with a soft non-slip rubber temple tip design that provides the non-binding fit. With that said, they are coated with a scratch resistant quality that enhanced their ware and tare. Users can expect the design to be comfortable and very well made.

Cost and Value

Low priced and valuable, these glasses can be interchanged between both genders and even teens. It's the perfect pair of shooting glasses for the entire family. Other than that, users will appreciate the quality of the glasses alongside the design. They only cost a couple of dollars, which makes them ideal for starter glasses for individuals that do not want to buy the top of the line.
Can fit both women and men comfortably thanks to the small frame design.
Great color choices for both genders.
Comes with 99% protection from dangerous UV rays.
Scratch resistant material design that is coated for protection.
Soft-non-slip rubber design which allows better fit.
Impact resistant.
Less durable than other glasses on the list
3. Radians Revelation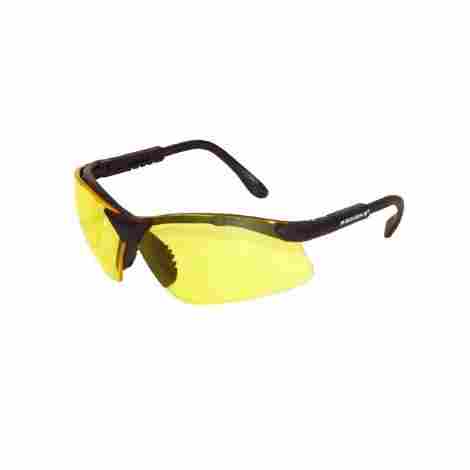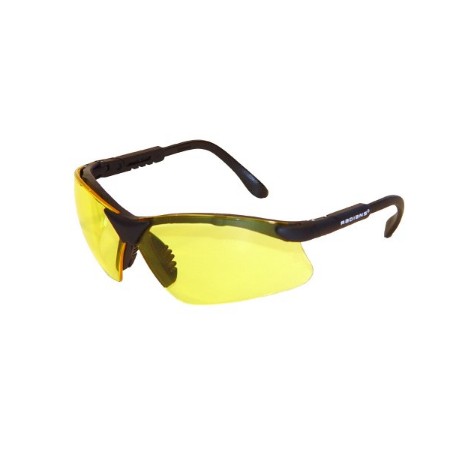 At the midway point in the list, the Radians Revelation looks like a well-balanced pair of shooting glasses. They have few flaws and a really good foundation of benefits that users will enjoy. With that said, they are still really great starter shooting glasses for individuals that want quality and durability. Here are two points to take into consideration.
Expand to see more
Great Overall Design

While these aren't pushed as stylish shooting glasses, they can hold their own against starter glasses. There are different color choices to choose from and they are designed with good quality materials that can withstand a lot of wear and tear.

Durability

One of the biggest aspects of these glasses that make them ideal for this list is that they are impact resistant thanks to a polycarbonate material. With that, users can expect that they protect the eyes very well and discharge any dust or debris that may come in contact with the lens.

Cost and Value

With the low price of these glasses, customers shouldn't have any troubles picking out a color for purchase. It's one of the best values on the list if you need some reliable shooting glasses to protect your eyes. With that said, they are great starter glasses for individuals that want quality and durability.
Durable shooting glasses that can take considerable impact
Fun designs that are more sporty than they're given credit for
9% UV Protection design.
These are impact resistant.
reliable and cost effective.
Gets uncomfortable after a few hours of wearing
4. Champion 40633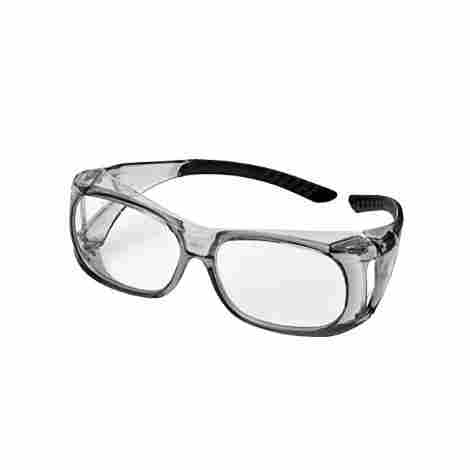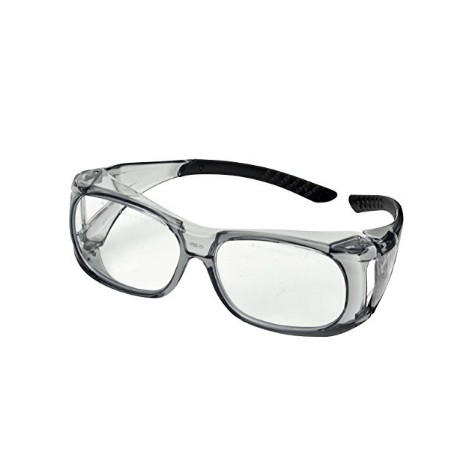 Another pair of shooting glasses that are designed to go over prescription glasses has made the list. The Over-Spec ballistic glasses takes the idea a step further, and with some good results. With that said, we want to share two important features of these unique glasses and what users can expect from these quality glasses. Let's begin!


Expand to see more
Fold Smart Works

Glasses tend to break at the worst times, usually when you forget where they are. The fold smart frames of this model protect the lenses, keeping the most important part of the glasses away from danger. With that in mind, users can easily pack and store them for better safety and use.

The Durability

When it comes to glasses with maximum durability, these are it. In fact, these glasses are designed with a scratch-resistant lens which allows users to use them even in the worst of situations where debris and dust may spark up. Other than that, they are coated and designed from some of the best and strongest materials in the industry.

Cost and Value

This model holds significant value for anyone that needs shooting glasses to fit over their prescription wear. Now, they are priced a bit over the top compared to glasses around the same design and features. However, if users want a quality build that is wrapped around and also fit over prescription glasses, these are it. We highly recommend them for individuals wanting great quality glasses.
Sharp imagery design that has no distortion of colors.
Lenses are less susceptible to damage thanks to smart design
Build with Fold Smart Frames design for easy storage and packing.
The lens are scratch resistant.
Designed to comfortably fit over lenses.
Suffers from same hit or miss compatibility of other over-spec products
5. Mossy Oak MO-RWRP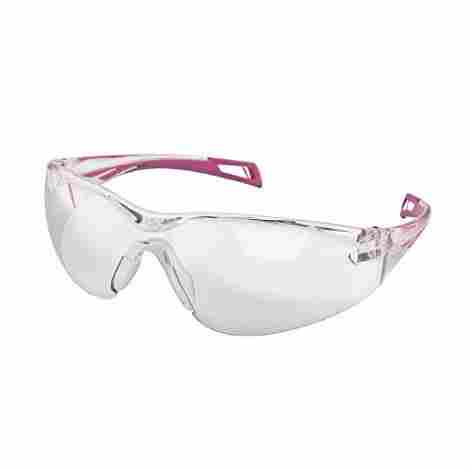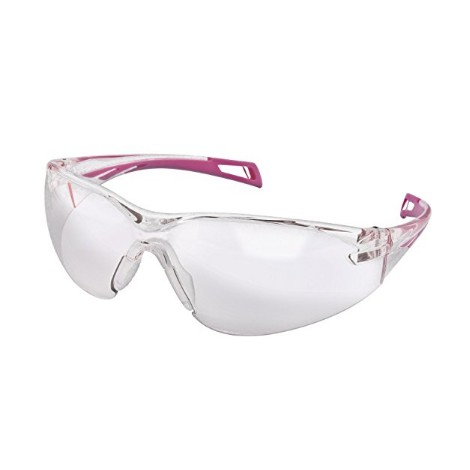 Men and women have completely different facial structures, so it only makes sense that shooting glasses for women should be created. These particular women's shooting glasses are designed with style and quality in mind. With that said, we highly recommend them as the ideal glasses for everyday shooting use. Let's talk about two points to take into consideration.
Expand to see more
Made For Women

A product designed just for women takes their facial features into consideration while shooting. These glasses will stay on while being a lot more comfortable than male options. With that, they are also very feminine looking and have a stylish appeal to them that users may not get from men's shooting glasses.

Trusted Brand

This brand, in particular, has offered some of the best valuable glasses in the industry and these are no exception. They are made of some of the best and high-quality materials and are tested for everyday use and quality design. With that in mind, we highly recommend this brand.

Cost and Value

These glasses, in particular, are priced very low for female shooting glasses and ideal for women that want a nice style with a quality build. They are not over the top safe or offer a lot of features, but they are designed with comfort in mind. With that said, we highly recommend them for their structural integrity.
Is comfortable to wear for hours a day
Non slip, soft and stylish
This product is considered cost-friendly.
Comes with a PVC nose piece.
6. Champion 55604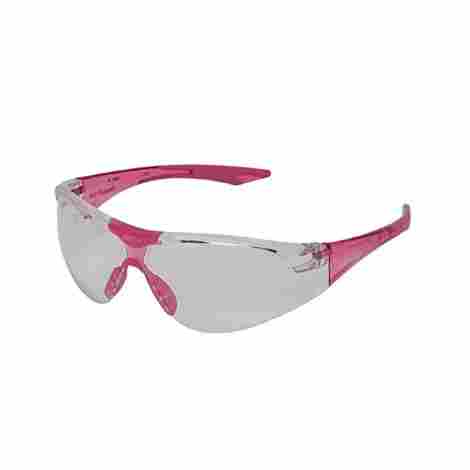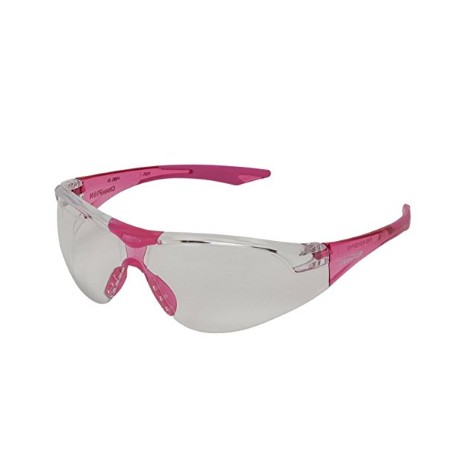 This is the second pair of shooting glasses on the list that have been customized for the female customer base. It really does an incredible job of protecting the user's eyes, which is why it ranks so high on the list. With that in mind, they are very stylish and allow females to feel even more powerful while out on the range. Let's talk about the Champion Traps targets Shooting Glasses and what users can expect from these quality glasses.
Expand to see more
The Best Female Shooting Glasses

This is the best shooting glasses that can be purchased for female hunters, hands down. They are contoured correctly and have excellent durability. Thanks to the extremely durable high-quality material, they are designed from the Bushnell product brand and are scratch resistant so there is no distortion. With that in mind, we highly recommend them as the ideal women's shooting glasses.

Clever Design

One of the best aspects of these particular glasses is the clear frame design that makes them look stealthy and stylish. With that, the frame is also designed with slip-resistant pink temples which allow for individuals to wear them in high- intensity situations and they will not fall off. With that, the durable design is foldable and will not damage the lenses.

Cost and Value

With the low price it is sitting at, there are plenty of users that will be fine purchasing this as their primary shooting glasses. The size is small enough to fit children, so there is some value in that as well. With that in mind, users will appreciate the quality of the shooting glasses alongside the stylish appeal. The value alone speaks volumes and we highly recommend them.
The best female shooting glasses on the market.
No distortion when viewing colorful objects.
These products are specially contoured for maximum usability.
They are durable and foldable for easy storage.
Scratch resistant lenses design.
May be too small for some users
7. Howard Leight Vapor II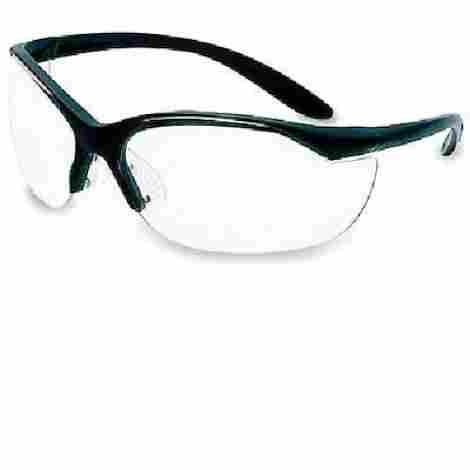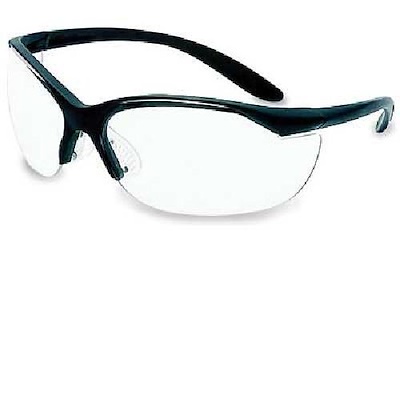 When looking for safety glasses, you should consider the Howard Leight Vapor II, which are highly recommended due to the professionalism and quality this brand is known for. These items will not only meet your expectations in terms of comfort and quality, but they also come in three different colors to meet your fashion needs as well. Their unique design combines both, style and security, so that you don't have any reason to worry while using dangerous weapons.
Expand to see more
180 Degree of Protection

Howard Leight Vapor II glasses are suitable for a wide variety of activities and provide 180 degree field of vision and protection, so you won't miss anything that matters.

Sport Design

Not only they are extremely comfortable, but they also have a fun and interesting design. They not only conform to fit your nose size and shape but the lightweight frames ensure the ultimate comfort.

Cost and Value

The Howard Leight Vapor II offers a lot of great features for a comparatively low price. You can wear them for indoor and outdoor activities and even has anti-fog coating for increases vision.

Provides 99.9% UV protection
Features anti-fog coating
Includes a wraparound polycarbonate lens
Has a lightweight nylon frame
Can scratch easily
Some found the edges to be too sharp
8. Pyramex SBB5080DT-P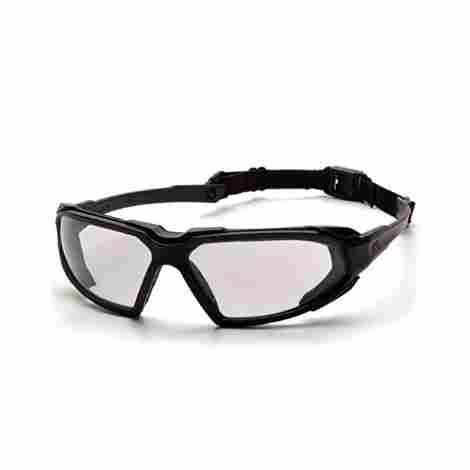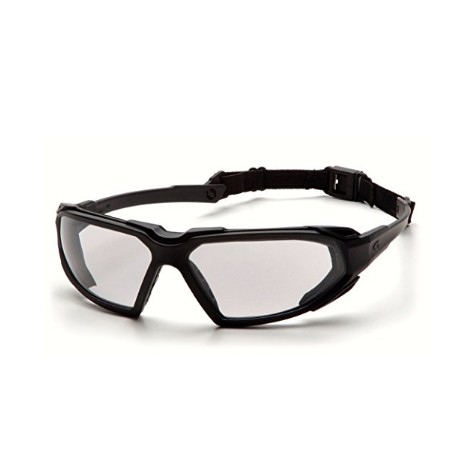 Hunters that are serious about protecting their eyes have been pretty supportive of Pyramex. The company has shown over time that they only put out quality products, with their glasses being one of the best. With that said, there are many features that make this one of the best shooting glasses available today. Here are two features to take into consideration.
Expand to see more
The Headband Makes A Difference

Shooting glasses are used in some pretty intense sessions and can be prone to falling off. The headband provided lets you wear these like goggles, keeping them in place when you need them the most. This allows for better safety and durability, which also enhances the peace of mind that an individual may feel while using the glasses.

Many Colors

One of the best aspects of these particular glasses is that they are created and designed with many different color choices available. For example, an individual can pick between blue glasses to orange and red framed glasses. This allows individuals to pick their ideal color or match it with their gear.

Cost and Value

Just like the other shooting glasses on the list, the low price of this pair will make it a great buy. When you factor in how useful the headband is, the value then speaks for itself. With that said, they are trustworthy and designed for durability. We highly recommend them at the #2 spot.
Stays put even under heavy usage thanks to the wrap around headband design.
Comes in up to 10 color choices.
The lens come with a soft foam for comfort and safety.
Inner foam material allows for dust protection.
Inner lens clip is designed for a comfort fit and size.
Wearing the strap for long periods of time can be uncomfortable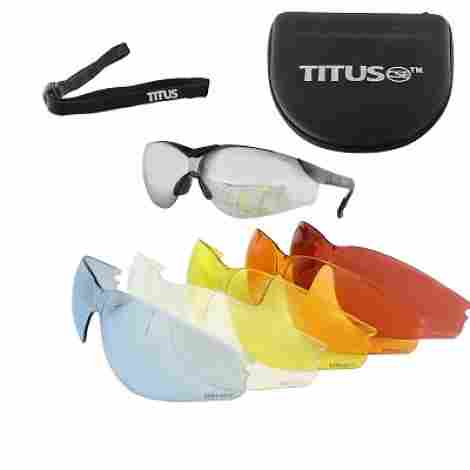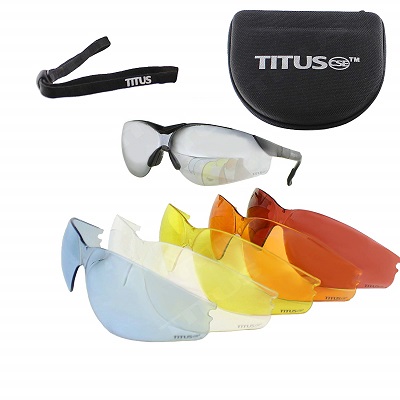 Modern eye protection, like Titus Premium G Series, brings together safety, quality and design, in order to provide you with the most advanced product to date. They are designed to offer you a comfortable and safe experience while you are enjoying a wide variety of different activities, including bike riding, fishing, and hunting. Thanks to their tough structure, these glasses are the perfect accessory for the next hunting season. According to Safety Glasses USA, you should look for ANSI Z87.1 certification, which these exceed, allowing them to provide protection against liquid splashes and impacts.
Expand to see more
Impact Resistant Frame

Titus Premium G Series eyewear conforms to a higher standard of impact resistance than regular eyeglasses. This higher standard applies to both the lenses and the frames. In order to offer full comfort, the frames have six point adjustable stems.

Multi-Lens Set

The lenses are the most important parts of these shooting glasses. They provide a clear view and give you the opportunity to change them depending on your needs and different environments. The six lenses come with a free zipped case, making them easy to carry wherever you go.

Cost and Value

The Titus Premium G Series shooting glasses are affordable, considering their quality. The different colored lenses a great for various situations, most importantly of all, protecting your eyes.

Comes with six different colored lenses
Comes with free zipper case
100% Hypo-Allergenic
Exceeds ANSI Z87.1 standards
Some found it difficult to change lenses
Some complaints about the nose pads falling off
10. iLumen8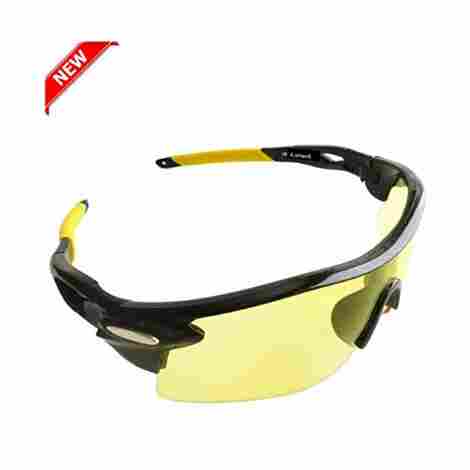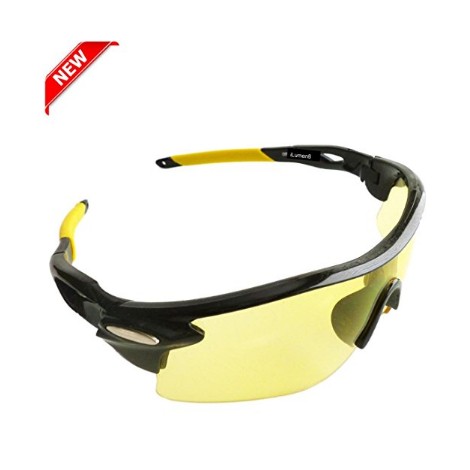 iLumen8 is a small company among giants yet has still managed to create a very competitive pair of shooting glasses. They took all of the great features of previous brands and mashed it up into something special. With that said, users will love the high-quality design of these shooting glasses. With that in mind, let's talk about the iLumen8 Best Shooting Glasses. Here are two points to take into consideration.
Expand to see more
Flashlight Compatibility

These shooting glasses are ideal for individuals that use a flashlight in the tactical or law enforcement field and want ideal shooting glasses. In fact, the yellow scratch resistant design with the pale yellow fade is ideal for individuals that want to easily be able to see an object, person, or target with a flashlight.

Case Included

Although it is a couple of dollars more. One of the best and largest benefits of this particular brand is that these shooting glasses come with a carrying case. The case is designed with quality in mind and it is easy to carry. Made with a zipper closure and really durable, individuals can take this product anywhere.

Cost and Value

With the extras that iLumen8 threw in, this is a great value. It's low priced, and buyers get the most for their money. With that said, users can expect that the price is slightly above what we have showcased so far but that is because they are designed with better quality materials that some can say can be considered for the tactical field.
Extremely durable and designed for ware and tare.
Comes with a carrying pouch and cleaning cloth.
Can be used with UV flashlights.
These are scratch resistant.
Attractive and stylish design.
May be too wide for some facial types
What is the best color lens for shooting?
Every individual is likely to have a particular preference for a specific color when it comes to the choice of shooting lens. This will fit the mold of what is comfortable enough for you when you proceed with your shooting expeditions.
While it might be also necessary to consider the surrounding conditions for each shot, the lighting, as well as the landscape conditions, need to be evaluated. Color provides its set of advantages and this is the reason that professional shooters have their best color lens and preferences. Some colors will evidently be better fitting for given conditions.
The variety of shooting glasses is interchangeable with other lenses so that you can pick the lens that suits a prevailing condition. If you have limited options, then it is recommended that you pick the color lens that works best for you in different conditions.
A Few Tips for Improved Shooting
It is agreed that color will impact your shooting accuracy but a few tips can also help you shoot more accurately.
Focus Reflexes
You can improve your focus flexibility by utilizing a couple of minutes each day. What you need to do is alternate your focus between close and distant objects.
You can do this by switching your focus between your workstation and other objects in your workspace. This exercise will help you develop your focus instinct.
Visual Acuity
Your visual acuity can be trained so that you can see objects clearly even if they are on the move. If you are hunting, you certainly will know that the prey is seldom stationary.
If you are a passenger in a car, take the time to look at numbers you come across the way and watch for exactness. The more you do this, the better your dynamic visual acuity will be.
Depth Perception
When you are able to perceive depth, you will be able to tell spatial dispersion. What this means is that you can tell how close or far away objects are from each other.
You can stand on a balcony and attempt to size up how close or far apart two objects are at a distance. Do this a couple of times weekly and you will be able to train your depth perception.
Peripheral Awareness
This entails perceiving the objects that are behind you without turning your head. You can enhance your peripheral awareness by taking a few minutes to look at objects each day by only slightly turning your head in a left or a right slant.
Why Shooting Lens?
Shooting lens got innovated so that your sight over a distance can be improved. Medical science has recommended a specific lens for every distance. Targets that are up to 100 meters away will need a specific lens type to boost your shooting precision. Using the lens that suits the circumstance will go a long way to determine how efficiently you can shoot.
The Impact of Color Lenses
When you use a clear lens, you are offered visual protection and not a shooting enhancement. Night shooting often requires the use of clear lenses as it does not impact the shooter's sense of vision but serves a protective purpose.
Sensory receptors receive environment-driven insight when your neural faculty is at work. These insights are passed on to your brain cells as electrical signals. These get processed within fractions of a second and you are able to make your decision based on this submission.
As you aim and fire at your target, it is the result of the judgment you have formed from the information you have received from your sensory receptors.
The Color Match for Each Scenario
The brightest colors are considered best when the lights are dimmest as the needed contrast will aid the shooter's accuracy. Warm colors are best on dim overcast or low-lit days.
The range of colored lenses apart from gray are only good for specific conditions and are occasion-specific lenses. Clearer details are explained further below.
Orange Lenses
When the blue light appears, orange color lens, as well as the yellow ones, block it out, in the same way, that haze that gets diffused when it is cloudy. This will reinforce the orange color in any practice target. You will be able to see a target in a detailed form along with a better depth perception and shooting precision.
Amber Lenses
These lenses will help you with depth perception and offer the needed contrast needed when you view a target before shooting. This plays out effectively on a shooting range or prey hunting. What the amber does is to block out blue light to give you a better visual clarity.
Blue Lenses
Blue lenses are very much like Vermillion or purple lenses and this can be attributed to the commonality in terms of the makeup of the two colors.
If you are out there in the midst of thick foliage or trees, a blue tint will enhance the contrast so that the targets can be clearer for you to aim at. On a shooting range, the orange target becomes more vivid when you use the blue lens view.
Brown Lenses
If you are shooting in an open field, you will love the help of a brown lens. Hunters and other range shooters love the brown lens as it places a focus on the orange-draped target in a shooting range. If you are shooting during the day, the bright sunlight is soothed by the brown lens to douse any eye strain.
Gray Lenses
If you have to pick a lens that will suit your multi-purpose use, then the gray lens provides you the needed tone to even out the colors on display. When you are faced with an enormous bright light, gray provides the needed depth perception and contrast. It is the preferred all-around color that gives the majority of hunters the desired results as they pursue their prey on hunting expeditions. Gray lens allows you the simplicity of seeing colors in the light of their true appearance. This is why they are better termed as multi-scenario lenses.
Criteria Used to Evaluate Shooting Glasses
With so many of the shooting glasses in the industry having similar specifications, our criteria for evaluation was focused on excellence in multiple categories. The top ten list avoids average and good while putting great on a pedestal. The things we looked at to make a decision are design, price, comfort proprietary features, and durability.
Design
The design was based on the availability of colors, styles and of course type. Foldable shooting glasses were considered a superior choice to wraparounds/straps. They fit more head types and were more comfortable to wear for long periods of time. Having multiple colors and styles helped a lot of the brands on the list, putting them ahead of products that only had a single choice.
Options and Pricing
Options are important for the consumer, even if shooting glasses aren't about fashion. Extra points were given to brands that had an option for female users based on their smaller head shape. Pricing was a complex criterion to go through since a lot of shooting glasses on the list were similar in price. We validated a lot of choices in this area by getting rid of products that were overly expensive without offering cutting-edge features. This criterion cut out a lot of well-known brands that were already at the top of the list. Shooting glasses that survived this cut was then grouped based on their overall value. The products that remained were priced appropriately for what they offered while still maintaining high tier shooting glasses.
Comfort
Comfort was something that hindered shooting glasses with the wraparound/strap style. Even with adjustable straps, there was no guarantee they would fit and be comfortable on the user that makes the purchase. Foldable shooting glasses had no such restrictions and were often rated higher in the comfort category for long periods of use. This is one of many reasons why the Pyramex didn't take the top spot, even with an incredible product. The SBB5080DT-P is an incredible pair of wraparound shooting glasses, but compared to a similar top ten foldable pair, it will lose points on comfort.
Features
Proprietary features are where wraparound shooting glasses made a comeback, as they proved to have much better support under heavy use, even when the shooter is sweating. Other features that helped some glasses get higher on the list were colored lens, better gripping on the legs, and scratch resistance. Since some of the features overlap with other glasses, the products that handled the feature better placed higher on the list.
Durability
The last (and most important) criteria we looked at was durability. This covered resistance against flying objects and the products durability to normal wear and tear. There was nothing complicated about this criteria, and it helped to shape out the final ten. We looked at how strong the glasses were against projectiles while also checking out the coverage area they protected. Some of the products were slightly smaller than others, which was a big enough coverage difference to affect their placement. With most of the warranties being the same, the durability criteria didn't see a shift based on length.
FAQ
Frequently Asked Questions
Q: What Would Be Considered A Must Have Feature?
A: For prescription glass wearers, shooting glasses that can fit over their normal glasses is an absolute must. There is no point trying to hit a target if you can't see it, and that's something that a lot of visually impaired buyers go through when they take their glasses off. For them, shooting glasses is an addition rather than a subtraction to their sight.
Q: How Much Protection Can Shooting Glasses Provide?
A: Surprisingly the protection is on par with what construction workers are used to. So debris and flying objects will at the very least be slowed if they are coming towards your face. Wide glasses provide more protection, so check out the coverage before buying to see how much will be protected. Buyers will also be happy to know that if their regular prescription glasses didn't come with UV protection, then they'll get the added benefit by wearing shooting glasses.
Q: Will Non-prescription Glass Wearers Get More Protection?
A: By default, yes. Although it isn't by a wide margin- regular shooting glasses are a pretty good fit, and they don't have to worry about being compatible with prescription eyewear. The dimensions are a lot more exact and offer a different experience than putting them over glasses. Prescription glass wearers will get a good fit, but not a perfect fit since it is all about compatibility. But once again, the difference is so small that it wouldn't even be noticeable.
Q: Can The Band Be Swapped Out On Glasses That Provide Them?
A: It depends on if it's built into the legs or not, and if not then it offers a good hack. Replacing what may be an uncomfortable band with a custom band of your own is a very smart thing to do. Some users have even managed to secure their shooting glasses to specific hats, making for all in one protection of the face and head. The modifications aren't hard to make and can really change your outlook on the product.
Q: Do The Extras Make A Difference?
A: Some of the shooting glasses on the list come with a few extras, although they are minor. There really isn't anything to include in the purchase that should sway your buying decision. The extras are nice, but it still comes down to the superiority of the glasses and how well they perform under pressure. Even if you don't have the extras lying around, they are very easy to get ahold of and won't change the actual feature set of the product.
Q: Is Comfort A Big Deal?
A: Yes, and it makes a big difference in how you shoot. Uncomfortable shooting glasses can cause skin irritations, and at its worst – migraines. When you are wearing them, they should be the last thing on your mind. Remember they are meant to wear and improve, not wear and detract.
Q: Do You Need A Prescription For Shooting Glasses?
A: The short answer is no, but the long answer is a little more complicated. There are two kinds of shooting glasses; the products that come without a prescription, and the glasses that are specially made based on the user's eyesight. Getting your hands on the latter requires a prescription, and is usually purchased by buyers that need specific frames or lens upgrades. Using the universal non-prescription pair is fine for the bulk of glass wearers as long as it doesn't hinder their eyesight. And in the case where prescription glasses are necessary, there are plenty of brands with supported eyewear.
Q: Will They Improve Vision?
A: No, as this only applies to prescription based shooting glasses. Protection is the top feature of shooting glasses, and the priority is keeping foreign objects out of the shooters eyes. When circumstances prevent the use of regular shooting glasses, a prescription option is used. The foundation still stays the same, and it protects just like a regular pair of shooting glasses. The difference comes with the lens that is adapted to the user like a regular pair of glasses. Prescription shooting glasses don't provide an advantage and are instead used to level the playing field.
Q: Are Shooting Glasses Covered By Insurance?
A: Insurance may not cover prescription shooting glasses, or they may not cover some brands. Every brand that sells prescription shooting glasses has their own set of features. Some have enhanced UV filtering, while others have a higher level of durability. Whatever the extra features are, the real cost comes with implementing prescription lens. These specialty glasses cost a lot more than regular shooting glasses, so being able to offset some of the cost of insurance is a good thing. There are even some insurance companies that can cover the entire cost if you go with a particular brand. Either way, it is worth looking into for buyers that want to save money.
Q: Is The UV Protection Considered Good Quality?
A: The UV protection you get with shooting glasses is no different than a pair of regular sunglasses. On a brand by brand basis, consumers can look forward to 99.9% or greater protection from leading companies. UV protection is a default feature in the top shooting glasses and can be considered the industry standard if the product is intended for outdoor use. Without UV protection the wearer is at a disadvantage, one that could cause serious harm to their vision. All shooting glasses will note their level of UV protection on the package, so be wary if it is absent in the feature list.
Q: Is It Cheaper To Replace The Lens Or The Entire Frame?
A: Not all shooting glasses have a design where the lens can be popped out. But for the models where removing the lens is possible, some money can be saved on repairs. This depends heavily on the brand and whether they offer replacement parts. Users that are out of warranty will find this the best option if they don't want to buy their shooting glasses all over again. Small things like cracks or losing a lens are infuriating when you don't have options. So when you're out of warranty and have a little technical know-how, replacing the lens is a valid option.
How To Make The Best Decision

Always look at the UV protection. If the shooting glasses you want to purchase don't list this as one of their features, then chances are it isn't protected. UV protection keeps radiation from the sun to a minimum so it doesn't damage your eyes. Even indirectly looking at the sun is damaging, so trying to get through an entire day with glasses that don't protect you can be bad for your eyes. The long-term exposure to UV rays can even lead to injuries such as cataracts, many which can completely debilitate the motor functions of the eyes.
Prices tend to run around the same for all brands. The cost of shooting glasses is low, and very rarely will you find mid or high priced models. Since you can get high-end glasses for a low price, the only reason to consider high priced shooting glasses is if they have a killer feature. And by killer feature, that means one that you can't go without for the lifetime of the product. Falling in love with a particular brand won't give you any particular boosts in features since every company in the industry keeps particular core features the same with shooting glasses. There is very little difference between one pair and the next, which is why unique features with these models are important.
How often do your glasses fall off? Slippage is something that all glass wearers deal with, which is why shooting glasses often come with rubber parts to minimize that action. Even on a very hot day, a good pair of shooting glasses should need very little adjustment throughout your sessions. Buyers that find that they have to adjust their glasses more than normal will want to consider a pair of shooting glasses with a headband/clip attachment. This accessory will keep the glasses on at all times, although prolonged use can cause some discomfort.
Are You Male or Female? Certain accessories aren't gendered specific, and that can be a big problem when it comes to wearable accessories. Shooting glasses are ahead of the curb when it comes to this, and they have a huge assortment of models meant for women, teenagers, and even kids. And once you put them on for the first time, you'll notice a big difference in comfort if you were wearing regular shooting glasses. The best part about this is that none of the functionality or features are lost with the product, so you're getting an equal trade-off. The only difference is that it fits better, and is more comfortable in long sessions.
Sources