Best Boonie Hats Reviewed & Rated for Quality
last updated:
May 06, 2021
A Boonie hat, also known as a Giggle hat, is a form of headgear worn by military personnel. Much like the bucket style, this type is wide-brimmed, but it has a stiffer brim than the bucket styles. A band of fabric tape branch loops is frequently sewn around the top; these loops are intended to secure extra foliage to as a means of providing camouflage. As an added means for stability, there is a strap that secures beneath the chin when wearing it. Sometimes they will have eyelets or small mesh panels in the top to provide for additional ventilation. Sometimes there will be snaps affixed to the brim much as the Australian bush hat has. Regardless of the style you choose, these garments can be incredibly beneficial for wearers. We've compiled a list of the ten best on the market today so continue reading to find which is best.
In a Hurry? The test winner after 10 hrs of research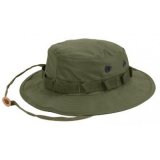 Rothco
Why is it better?
All weather usage
Meets all government specifications
Has a chin strap, closures, and fasteners
Has four screened side vents, loops on the side for leaves and branches
In a
Hurry? Editors choice: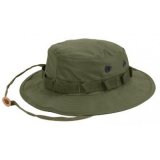 Test Winner: Rothco

11
Researched Sources
15k
Reviews Considered
10
Hours Researching
15
Products Evaluated
Accessories
Comfort
Overall Fit
Protection
UV Protection
By Default
10 Best Boonie Hats
All weather usage
Meets all government specifications
Has a chin strap, closures, and fasteners
Has four screened side vents, loops on the side for leaves and branches
Poor stitching, some of the seams were coming undone
Size smaller than another hat the same size
The Rothco has the standard military design. It is designed according to government requirements providing practical, yet stylish headwear. This product includes everything a person would expect from this type of headwear. This includes four-screened side vents, woven loops on the sides of the headwear in which you can place leaves and branches for camouflage, and a chin strap that is adjustable.
Functional and Stylish
This headwear is made from 100% cotton and polyester, this hat is made to meet USA government requirements. There are four screened side vents as well as loops in which to put leaves and shrubs, fasteners, closures, and a chin strap.
Weatherproof and Compact
This item made by Rothco is made of a material that can withstand all weather conditions. This product is completely collapsible and can be rolled up to the size of a burrito and carried in your pocket when not wearing it.
Cost and Value
You are going to get a lot of value and quality at a minimal cost. A customer review states that they had to buy a new Boonie hat because after 45 years the one they were wearing has finally started to wear out.
Made of 100% polyester, waterproof material
Can be worn by men or women
Well-made
Works well when worn in the rain
Snaps work well to keep the sides up
Some complaints about cheap construction
It may not be "one size fits all"
The LETHMIK has a sleek style made with superior quality. You will not believe the quality of this Boonie for the fair price you will pay. LETHMIK is proud of its quality products and as usual, this product is representative of that pride.
Unisex
The LETHMIK fits snugly on any adult head. Available with a drawstring in the rear, in size 7 to 7 and 5/8. This is made of such a supreme quality of material that the brim can be easily worn folded up or down to change styles and will not lose its original shape.
No Nonsense
This headgear is outfitted with a wind strap which can be modified to allow it the capability to keep this headwear in place even during windy days. Equipped with a snap brim and two air vents on each side. The crown is constructed of breathable mesh fabric.
Cost and Value
The cost of this product is reasonable. It may not be the most inexpensive of other options, but it is certainly one of the best.
Made of 100% stone-washed cotton
Soft material, yet extremely strong
Can be folded, creased, and crushed and retains original shape
Great for all outdoor activities
Fits perfectly on any size head
Sizing may be small
Stitching around the side buttons came apart
The MIRMARU comes in a variety of colors, including camouflage, desert-day camouflage, and blue-sky camouflage. The inside of this headwear is small/medium circumference. Headwear is made of 100% washed cotton, the material is soft, yet sturdy in the way it is constructed.
Flexible
This is made of a material that is capable of being creased and folded and can be worn in a number of ways. This type of headgear will always return to its original shape, no matter how you fold or bend it. It can also be stored away easily in your pocket or handbag.
Make a Statement
This product will make a statement and compliment any outfit you are wearing, whether you are headed to the lake or bonfire, or a holiday festival. This headwear will keep you shaded and protected from the dangerous UV sun rays.
Cost and Value
The cost and value of this headwear product is very affordable; however, you will soon learn the value is far greater than monetary. This Summer Outdoor product will prove its value from the instant you put it on and see how comfortable it fits. You are going to love how snug it fits your head and protects your skin from its dangerous UV rays.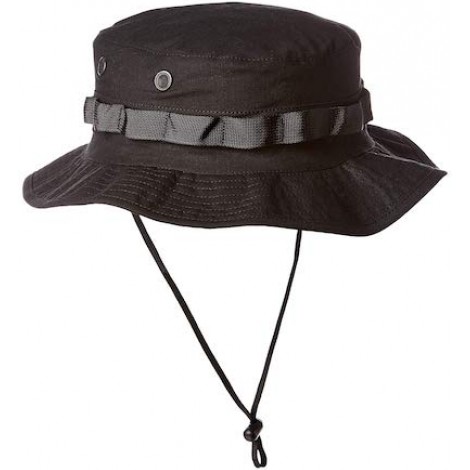 Size is big enough for large heads
Has a wide brim
Has a map pocket on top and button style chin strap
Lightweight cotton
Great fitting
Shrinks a lot when you wash it
Some reviews state this cap is flimsy and poorly made
The Tru-Spec is an imported cap made of 100% cotton. It is made to be in compliance with all US mil-specifications, has brass screen vents, and a chin strap that is adjustable.
Tactically Inspired
This military inspired product is of the same quality as the ones worn by the soldiers in Vietnam. This brand of headgear is constructed to meet the rigorous requirements of the United States military specifications.
Fits both Men and Women
The type of headwear can be worn by both a man and a woman. It has a clean, crisp design as well as the colors. With rip-stop material that is 50/50, this cap is light in weight and excellent headwear for the summertime.
Cost and Value
The cost and value of this product is a little pricier than some of the others; however, you will soon discover that its value is beyond monetary. This Boonie headwear will bring you years of use and enjoyment.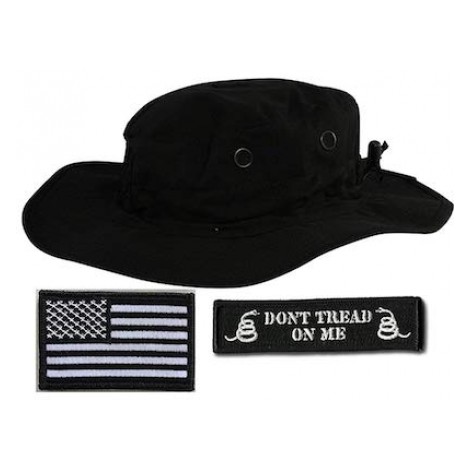 First-rate excellent product
Fits larger heads
Not overly hot to wear, maintains position on your head
Cool military spec design
Excellent fit, keeps the sun off one's neck and face
The color was much darker than expected it would be
One size doesn't fit all as advertising claims
The Gadsden and Culpeper is another great product made with the Tru-Spec brand name. This headwear comes with an adjustable drawstring, and is "one size fits most." It has a loop panel in front that is 2" x 3" and a morale patch on the back.
Better than a Baseball Cap
This headwear has an adjustable bill which can be pushed down to protect one's neck. When it gets wet, it dries out more quickly than a baseball cap does.
Premium Quality and Design
The Gadsden and Culpeper can be adjusted to fit anyone's head. It is made with superior attributes and plans.
Cost and Value
This product is priced low but is an excellent value. It is made from 65% polyester and 55% rip-stop cotton. Heavy duty constructed, with excellent stitching it will give you many years of use.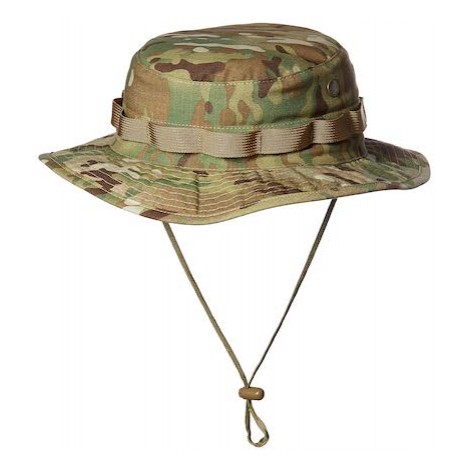 Well made
Offers great ventilation to the wearer
Has a good, secure fit
Inside pocket for storing maps, fishing license
The brim is larger than advertised
The brim is a little flimsy
Ends of the cord were sewn a little crooked
This Tru-Spec Military is imported and 100% cotton. All U.S. Military specs are met by the makers of this product. With brass screen vents and a chin strap that can be modified according to your comfort zones, you are certain to love this Boonie hat.
Protects from the sun
This Boonie product gives the wearer the extreme defense needed against the sun's harmful UV rays. The is made of polyester and cotton and keeps you cool when wearing it; as well as providing a defense for the ears and neck from the sun.
True Multicam Color
The Tru-Spec Military Boonie cap holds true to the multicam/OCP color pattern. The material this headwear made by Tru-Spec is made from appears to be strong long-lasting.
Cost and Value
This product has a great value and quality for the low price you are going to pay. It promises to keep your eyes shielded from the sunlight, and fits perfectly. You are going to love the value this product will give you at a very little cost.
7

. Sinddy Military Boonie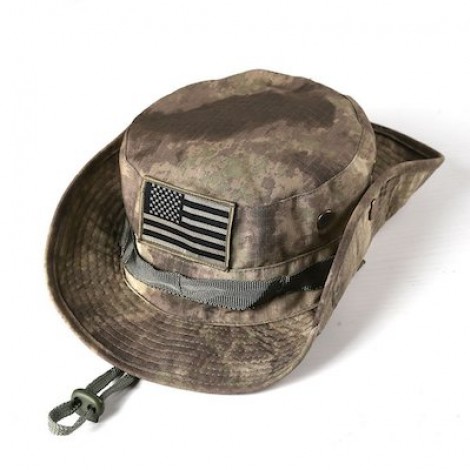 It is constructed of a high quality material
Keeps the sun's UV rays off your neck and face
Straps are modifiable to fit your size
Antique flag patch shows US honor
Comfortable and lightweight
Flag patch is wrong
Snaps are sewn on crooked
The Sinddy boonie has snaps on the side which can create a different style if you want to. This Sinddy brand of headwear is quality made and durable, it is made to give the head a defense against the harmful sun's UV rays and the sand.
Heat Reducing
If you plan on being out in the sun, this is the perfect option for keeping you cool. You can get it wet and wear for hours as it cools you off.
Quality Stitching
This Sinddy product has quality stitching and straps you can modify to fit your preference. The buttons took a while to adjust to snapping easily, but with a bit of wear, they eventually work really well.
Cost and Value
This military type product will prove its value the instant you put it on. For very little cost you will get headwear that is going to look great and offer excellent protection against the UV rays of the sun.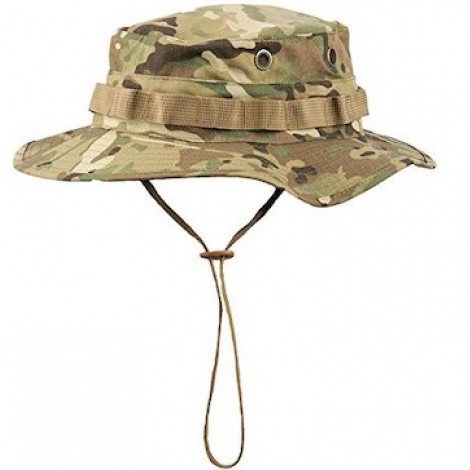 Military veterans approve of its authenticity
Map holder inside
Great Boonie cap for the price
One size fits all
The hat stayed intact even after being washed in a washing machine
The strap is not too strong
Chin drawstring broke right away
The GLORYFIRE is comfortable and made with 65% cotton and 35% polyester materials. With a brim that is oversized, your face is sure to be protected from the sun, sand, and wind. There are also side vents that keep you cool when in the burning summer sun.
Adjustable Chin Strap
This product comes with a drawstring chin strap that can adjust according to your preferences and will stay on your head even when it is windy. The product comes in a one size fits all adult size.
Practical and Classy
There is decorative webbing sewn around the crown which you can hang foliage to use as camouflage. This GLORYFIRE is 100% guaranteed authentic and comes with a full warranty.
Cost and Value
The cost and value of this headwear is right on. You will receive an authentic piece of headgear that is constructed of only the finest, quality materials. The price is right and if for some reason you are not pleased it comes with a warranty.


Fast delivery, arrived flattened but not crushed
Really light in weight and comfortable to wear
Great protection against the sun
Wide brim and great netting inside
Excellent for all outdoor activities
May be too floppy
The color wasn't the same as the picture showed
The GearTOP is an excellent piece of headwear that offers the wearer a definitive defense to the sun's harmful UV rays. This cap gives a UPF protection of 50+ for keeping one's neck, face, and ears guarded. This is an excellent head gear for going fishing, camping, hiking or going to the beach, just to name a few of the outdoor activities you can do.
Made with the Outdoors in Mind
The GearTOP is the perfect headwear for doing outdoor activities. Whether you plan to go fishing, hiking, or just gardening in the backyard, this product by GearTOP will offer you the protection you need from the wind and sun.
Lightweight & Quick Drying
This is designed to be portable and lightweight; it can be folded up and carried in a purse, backpack, or overnight bag. If you get this wet, it will dry really fast if left to sit in the sun a few minutes.
Cost and Value
As with any of the GearTOP products, this comes with a lifetime guarantee. This means that if there are any problems with this or any other GearTOP products you can get it replaced during the life of the product. This gives great value to all products made and sold by GearTOP.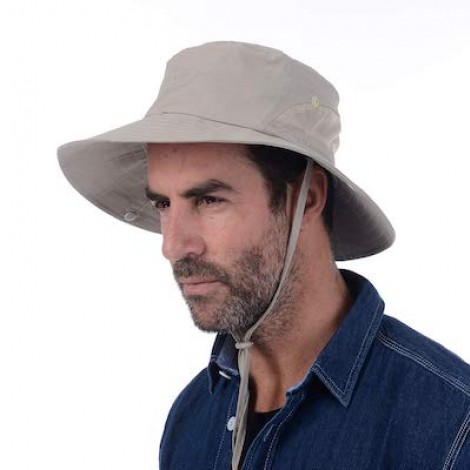 Brim rolls up for additional styles
Excellent protection from the elements
100% money back guarantee
The outer brim is sturdy, can be bent different directions to protect the face
The inner section of the hat is light and airy, keeping your head cool
One review states the brim was flimsy and falls in front of eyes
Didn't last very long before it started to get tore up
The USHAKE is 100% polyester/ 100% Nylon material. This headwear is very comfortable and offers a great defense against the sun and other elements. Headwear fits head sizes 7 ¼ to 7 3/8 with a circumference of 22.8" to 23.6" and a crown depth of 3.15", the brim is 3 inches wide.
Unisex Style
This is an excellent product for men or women. It will fit over any style of adult headwear. The brim rolls up for another optional style to wear this. It is excellent for gardening, has a net mesh which allows for the air to circulate and keep you cool.
Sun Protection
This USHAKE product provides UPF 50+ protection against the sun's harmful UV rays. The 360-degree brim gives extra protection when hiking, fishing, going to the pool, beach, park, camping, as well as many other outdoor activities.
Cost and Value
This Boonie cap comes with a money back guarantee that promises if you are not 100% satisfied you can get your money back. The quality of this is what gives it value, cost is minimal. You have up to 12 months to try out this product because if you are not satisfied you can get a full refund of your cost.
Criteria Used for Evaluation

Accessories
An accessory is something you wear to complete an outfit. If you are trying to create an outfit of camouflage, then the boonie headpiece is just the accessory you need. When you are shopping for clothing, you may discover you are spending just as much time shopping for the right accessories to go with it.
The armed forces are all about camouflaging themselves, particularly if they are doing war games. For this reason, they choose to add this type of headgear to the list of accessories. This is an excellent accessory to use for camouflaging oneself because of the band of fabric tape branch loops that are sewn around the crown. One can use these loops to add vegetation to provide the extra foliage needed to blend into their surroundings.

Comfort
What is comfort? Comfort is a condition of physical easiness that is void of any restraint and hurt. What makes a headpiece comfortable? In order for it to be comfortable, it must protect the wearer from the elements. The most comfortable ones should have a brim that is wide enough to protect one's face from the sun and/or wind. A headpiece that is comfortable will also be able to keep the wearer cool or warm, depending on the weather conditions.
This product is made with the person's comfort as the number one priority. Made from cloth with a wide brim which will protect the face from the sun and wind. Additionally, there are eyelets or mesh panels sewn inside the top of the boonie hat which gives an additional coolness and ventilation.

Overall Fit
When looking for the perfect hat, you need to make sure that the overall fit is just right. The overall fit of a hat has to do with how it fits according to structure, fit, and shape. There are diverse elements to a hat, and various items to look for when in search of the perfect hat.
One of the most important elements to the overall fit of how it accommodates one's hairstyle. A person with short hair can wear one that is close-fitting; however, if you have longer hair, you may opt for a looser fitting one. The main factor when choosing the perfect headwear is the reason why you eventually will buy it. Whether you are looking for pure the perfect fashion accessory or looking for a headpiece to protect you from the wind, rain, and other harsh elements, the overall fit is very important.

Protection
One of the features that go along with the overall fit of a headwear is how it protects the wearer. Try to find one with a wide brim if you want to protect your face from the dangerous rays of the sun. The wide brim should be at least four-inches so it is possibly able to reduce your skin cancer risk by up to forty percent.
This type of headwear is similar to the bucket and the flap style headwear. The flap-type is similar to a baseball cap that has flaps on the sides to protect the face, ears, neck, and cheeks from the sun's rays. The bucket is popular with fisherman, however, it does not offer the same protection as the flap does. The boonie has a wide brim that is stiffer than the other types of brims.

UV Protection
When you are looking to protect your face and neck from the harmful UV rays of the sun you need a headwear with at least a three to five-inch brim. The boonie offers protection against these harmful UV rays because of its wide brim.
When shopping for a headpiece, it is essential that you ensure it is going to shield your face from the sun's UV rays. Some are actually made with UPF protective material that offers 50+ protection, these often come in a variety of stylish designs to mimic your personality and way of life.
Expert Interviews & Opinions
Most Important Criteria
(According to our experts opinion)
Experts Opinion
Editors Opinion
Users Opinion
By Default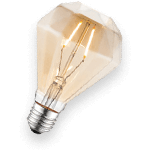 Shading you Face
When you are taking part in outdoor activities, one of the most important things you should remember to do is to keep your head, neck, and face shielded from the dangerous ultraviolet rays of the sun. The way you do this is by wearing a cover or cap that is comfortable and has a wide enough brim to keep your face shaded.
The perfect for giving your face, head, and neck the right protection is a boonie hat. A Boonie hat has a wide enough brim to keep your face shaded, yet still allows you to see where you are going so it does not interfere with your outdoor activities.
Where did the Boonie Hat come from?
First used by the military during the Vietnam War, the Boonie was worn by the Army as members of the Green Berets. It features a band around the crown of the hat which allows for the user to places pieces of shrubs and leaves to aid in camouflaging them from the enemy.
The boonie has become the headgear that many choose to wear when they participate in outdoor activities This type of hat was introduced by the United States Army; it is a wide-brimmed hat that was worn by armed forces worldwide. It has since become a popular piece of military type clothing. Throughout the years, there has been little change to the principal fashion of the boonie. Very similar to the bucket hat, the boonie hat has a much more firm brim which gives the wearer better protection against the sun's harmful ultraviolet rays and other elements of the weather.
The boonie hat has also been called the jungle or bush hat; featuring a variety of characteristics which allow people to recognize the boonie hat from other hats of its type. One of the primary characteristics of this type of headwear is the band of fabric which was originally intended for the placement of branches and shrubbery for camouflaging the person wearing this type of cap. There is also a strap for the chin/neck which can be modified according to how the use wants it, as a means to keep it steady and on place on their head. The crown is also vented with mesh panels, to keep the person wearing this hat cool. Some brands of boonie hat has snaps attached to the brim in the same way the Australian giggle or digger hat does.
such as, hiking, hunting, fishing, camping, and a number of other events. People love this type of headwear because of its wide brim and durability. This hat comes in a variety of shapes, sizes, colors and camouflage designs; such as MultiCam, A-TACS, and DPM camo.
Who Can Benefit from Wearing a Boonie Hat?
Even though it was originally intended for use by the military's enlisted men and women; anyone can get a lot of use from one of these types of headgear. Whether you are going hiking, hunting, fishing, to the beach or just gardening, a boonie will give you the added comfort and sun protection you require for the event.
These hats come in so many shapes, colors and sizes that both men and women can enjoy wearing one and still fill fashionable.
What are the Main Components of a Boonie Hat?
The main things you want to look for in a boonie hat are these following components: ventilation, snaps, chin strap and brim width.
When seeking adequate ventilation there are two types to look for; either eyelets or mesh netting panels sewn into the crown of the hat. If you cannot find either of these in the hat you are looking at, then the manufacturer has more than likely used a material that is described as "breathable."
Snaps on the brim are an excellent accessory on your hat because you can snap the brim up for a variety of different looks and protection.
The chin strap can be long or short; whichever is your preference.
The brim on the boonie hat you choose should be wide enough to allow you adequate sun protection.
Other Factors to Consider

Durability
When in the market for a good boonie headpiece, you must look for one that is going to be durable and strong enough to last several years of outdoor activity. One of the important factors to determining its durability is the type of fabric it is constructed of.
You will want to purchase a boonie product that is machine washable, which means made of cotton or a cotton blend. Being machine washable is always a bonus because after participating in outdoor activities it tends to get sweaty and dirty and needs cleaning. Even though cotton is the most comfortable material, keep in mind that cotton usually shrinks a lot when wet; so you should buy one that is a little larger fitting than you normally would buy to ensure it will still fit you should it shrink.

Fit
This important feature piggy backs into the last one. The fit is important, particularly if you purchase one that is all cotton. You will also need to ensure you choose one that is at least a half size larger than needed to make up for any shrinking that may occur when it gets wet.
Also, keep in mind that unlike the baseball cap, it is not adjustable. It is always best to try it one to see how well it fits your head in order to get the most protection and comfort out of it.

Portability
One other great feature about this type of headgear is it is very portable. This head wear can be rolled up and placed in handbags, your pocket, or anywhere that is small and portable and they will not lose their original shape when unrolled.

Size
It is the perfect size headwear to wear when participating in outdoor activities. The brim provides the wearer with enough coverage to keep the sun off of their face, yet they can still maneuver and will not be consistently hitting things with it. This wonderful headpiece will give the wearer most overall protection than any similar headwear because of its perfect size and shape.

Weather Resistance
The greatest thing about this type of headgear is its weather resistance. If it gets rained on, it will dry within a few minutes once out of the rain. This is the reason why the military began using the boonie in Vietnam; the elements are unable to touch its effectiveness.
Frequently Asked Questions
q:

Does the Rothco have a chin strap? It appears to have one in the picture, but when clicking on it, it only shows the hat.

a:

Yes. The Rothco does have a chin strap.
q:

Is the Rothco made of ripstop fabric?

a:

No. It does not appear to be made of ripstop fabric. This headpiece would be okay for around your house and yard; however, I would stick to the government issue ones if you plan on going to any wooded environments or being very active in outdoor sports.
q:

Can the Rothco be folded up and put in your pocket or purse?

a:

Yes. This piece of headgear can be folded up to the size of a burrito
q:

How do I know what size hat I wear if my head is 23" in circumference?

a:

Many shops that sell this and other headgear have charts you can use to tell the size you would wear. You would use a cloth or paper measuring tape to make sure the actual measurement is correct. If it is a 23" circumference, then you would wear a size 7 1/2
q:

Does the LETHMIK boonie hat have a sweatband?

a:

Yes. It does have a sweatband.
q:

Is this type of headgear good for protecting against the sun's harmful UV rays?

a:

Yes. It is very good sun protection, as well as offering protection against other elements of the weather such as wind and rain.
q:

What kind of material is in the crown of this headpiece?

a:

It is lined with a mesh fabric to allow ventilation and airflow to keep the head cool.
q:

What are the typical sizes it comes in?

a:

It usually comes in one size fits most adult heads.
q:

Is it waterproof?

a:

For the most part no. However, we did spray some water on it and it did dry rather quickly.
q:

When shopping for a boonie, what are the key features one should look for in a hat?

a:

One needs to look for the design, color, type of ventilation available to start with when shopping for a boonie hat.
q:

Is this style for both men and women?

a:

Yes. It can be worn comfortably by both men and women.
Subscribe to our Newsletter