Best Ammo Reloading Kits Reviewed & Rated for Quality
Whether you're a hunter or just someone that likes to go target shooting, the world of guns and ammo is easily one of the most exciting and interesting ones out there. There are so many different factors and things to take into consideration, and the options that you have at hand can almost seem mind boggling at times.
Buying new bullets every time you want to go shooting can get quite costly rather quickly, so by reloading bullets you already own, you can cut down on costs quite dramatically. This is why we rounded up the best ammo reloading kits available today.
Featured Recommendations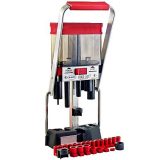 Lee Precision II Shotshell 12 GA Load All

Our rating
Exclusive
Price:

See Here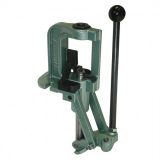 RCBS Rock Chucker Supreme Master

Our rating
Durable
Price:

See Here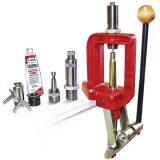 Lee Precision 50th Anniversary Kit

Our rating
Affordable
Price:

See Here

Along with saving money, reloading your own ammo can also be a rather rewarding and interesting process that can be just as interesting as the act of shooting a gun itself. Reloading ammo can help give you a deeper and more intimate understanding of just how bullets and ammo work, and getting yourself a good reloading kit is the first step of the process.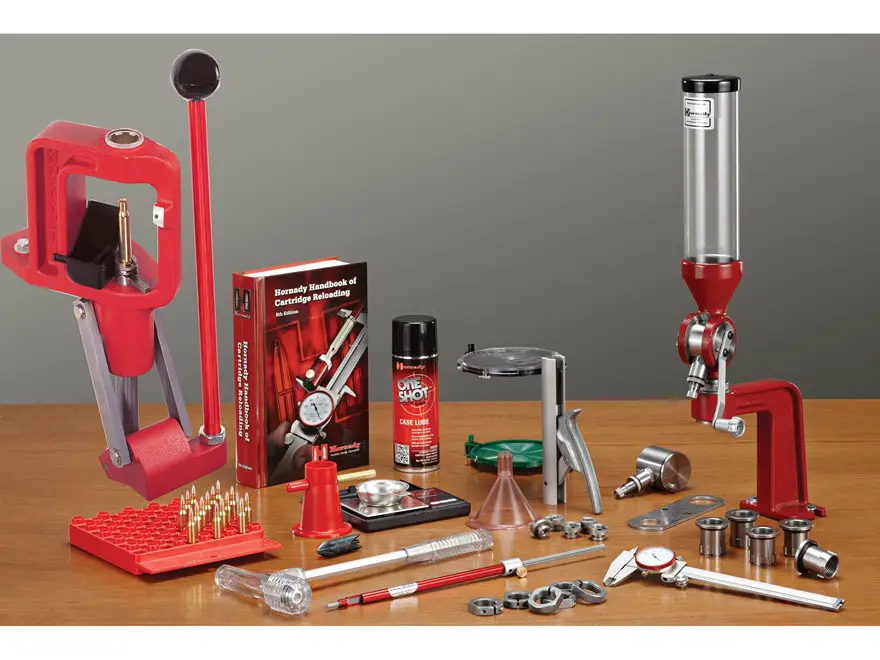 First and foremost, you need to ensure that you've got an ammo reloading kit. However,  there's a tremendous amount of choice and selection out there that can make the buying process considerably difficult and challenging if you don't know what to look for. We understand that this is a rather big issue for a lot of people out there, and we wanted to do something about it.
In this guide you'll find everything that you've ever wanted to know about the best kits. We've got a list of the top 10 ones out there that you can buy, names of the most popular brands that currently exist, frequently asked questions, and so much more. We've got a lot of ground to cover, so without any further ado, here's our complete guide for finding the best ammo reloading kit that money can buy!
Best Brands
Lee Precision
SmartReloader
RCBS
Redding Reloading
2 Key Factors to Consider
Type of bullet/ammo
When looking for a new reloading kit, one of the most important factors to keep in mind is the kind of ammo/bullets the kit is meant to be used with. Many reloading kits can be used to reload a wide variety of bullets, but others are meant to only reload one specific type of bullet or ammo. There's nothing worse than purchasing a reloading kit that isn't capable of reloading the type of ammo you most often use, so make sure that this is the factor you keep in consideration above all else. To find out more about this issue make sure to read our "Compatibility" section.
Build quality
When choosing a kit, you want to ensure that it's made out of quality materials. Most reloading kits are made out of either steel or some sort of aluminum, and this is what you want to stick with. These materials help keep reloading kits sturdy, durable, and lasting for as many years of use as possible.
15 Best Ammo Reloading Kits
1. Lee Precision II 90011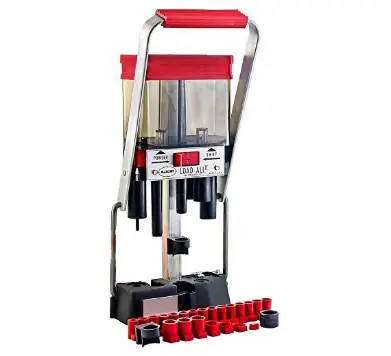 Number 1 on our list, this reloading kit is the cheapest option. It's exclusively made to be used for reloading 12-gauge shotgun shells. The top of the press has a very convenient carrying handle, a noticeable light-weight feel to it, and is incredibly easy to use.

Expand to see more
The Lee Precision II has been rated to be one of the best shotgun shell reloading kits out there, and that's even more impressive when you take the extremely low price into consideration. It's jaw-dropping that you can purchase such a high-quality reloading kit for little money – especially from one of the most well-known and respected brands out there. It may not have all of the features of other reloading kits and can only be used for reloading shotgun shells, but if that's the kind of reloading kit that you're looking to buy, this is easily the one that you should be looking at first.
Low price
Incredibly easy to use
High-quality reloading kit
Has been rated to be one of the best shotgun shell reloading kits
Exclusively made to be used for reloading 12-guage shotgun shells
2. RCBS 9354 RC Supreme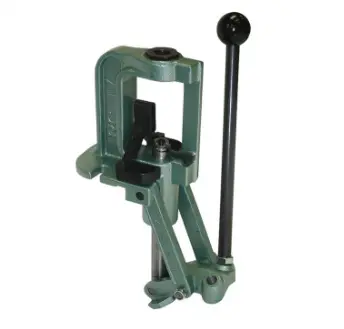 RCBS is another brand that isn't a stranger to this best ammo reloading kits list. This kit comes with an updated case loading block, deburring tool, and even an accessory handle. Factor all that in with the press, reloading scale, hand priming tool, uniflow powder measure, hex key set, case lube kit, reloading manual, and powder funnel, and you've got everything you could ever want to get started.
Expand to see more
The price of this one is considerably more expensive than the first option we just looked at, but the added durability and quality of extras you're getting does make it a very compelling offer – even with the added cost. Many owners of this particular kit have said that's it's lasted them a great number of years and should continue to do so without any sort of trouble going down the road. One of the biggest downsides is the fact that mounting bolts don't come included, and they really should when you consider the price you'll end up paying for this thing. However, when you take all of the other extras and incredibly well-built nature into consideration, it's an excellent purchase, especially if you want your next reloading kit to be a bit more powerful and sturdy than a cheaper starter option.
Added durability and quality of extras
Long lasting product
A lot of satisfied costumers
Incredibly well-built
Expensive
Mounting bolts not included
3. Lee Precision Anniversary II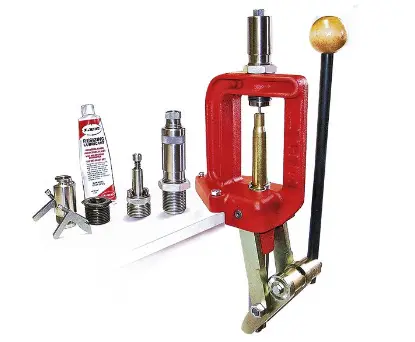 The Lee brand is one of the most popular out there, and the company earns another spot on our list of the top 10 ones that money can buy. This time around, we're focusing on the company's 50th Anniversary Reloading Kit. This kit comes with the Lee Safety Scale, considered to be one of the most sensitive out there, a chamfer tool that is able to chamfer both the inside and outside of the casing's mouth, and more.
Expand to see more
You've got all of the included goodies that you could ever want with a starter kit, but perhaps the most attractive thing here is the incredible value that you're getting. The Lee Precision 50th Anniversary Kit is one of the most affordable kits that you're going to find, and despite its incredibly low cost, you can be sure that you're getting a quality product thanks to the trustworthy Lee brand name. A good investment for both the starter and more experienced ammo loader.
This kit comes with the Lee Safety Scale
One of the most affordable starter kits
Low price for a great quality
Might need to be upgraded after using it for a longer period time
4. Hornady 85003 Lock N Load Classic Reloading Press Kit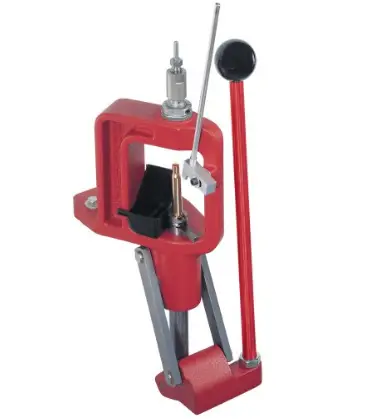 Next up on the list is the Horndy 85003 Lock N Load Classic Reloading Press Kit. The price of this reloading kit is very affordable and similar to a lot of the other kits that we've looked at on this list. This kit includes a single-stage press, powder measure to ensure you're using just the right amount of powder with each bullet, electronic scale, Hornady Handbook to help you get started with your reloading hobby, and more. This kit also features a handheld priming tool, primer catcher, positive priming system, chamfering and deburring tool, universal reloading block, primer turning plate, and three die burshings.
Expand to see more
The single-stage press included here has proven to be excellent for a combination of speed, efficiency, precision, and versatility. It really is one of the best types of presses that you can find, so having it included with everything else we mentioned really is quite fantastic. Many owners of this kit have said that it's one of the best options out there for a beginner, and we have to agree with that. The value you're getting here is incredible, and although it may not be the most robust system out there, it covers all the basics that you need to get the ball rolling. You could certainly upgrade to a more professional reloading kit later on down the road, but for someone new to this, it really is a phenomenal choice.
Affordable price
A lot of extras included
Multi-tool started pack
One of the best options for a beginner
May not be the most robust system
5. Lee Precision Load Master 223 Remington Reloading Rifle Kit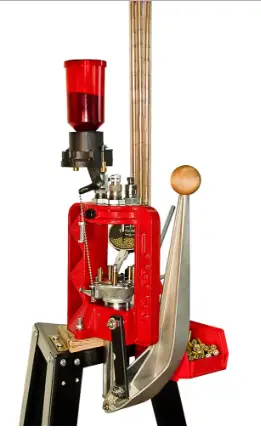 Lee knows what they're doing when it comes to making a quality reloading kit. The last option that we looked at was focused on pistols while this one is made exclusively for reloading ammo for Remington rifles.

Expand to see more
The pricing scheme is quite similar to the other Lee reloading kit, and this one is also made out of that incredibly durable cast aluminum construction. Cast aluminum has the benefit of being a bit lighter than traditional steel, but doesn't sacrifice much in regards to its durability. Along with the actual reloading press, this kit also comes with pacesetter dies, a turret, and a #4s shell plate. Similar to other reloading kits, some owners have complained that this can be a bit tricky to start using right off the bat.
Made out from incredibly durable cast aluminum construction
Lighter than traditional steel
Comes with pace setter dies, a turret, and a #4s shell plate
Average pricing
Made exclusively for reloading ammo for Remington rifles
Can be a bit tricky to start using right off the bat
6. Lyman T-Mag Expert Kit Deluxe with 1500 Micro-Touch Scale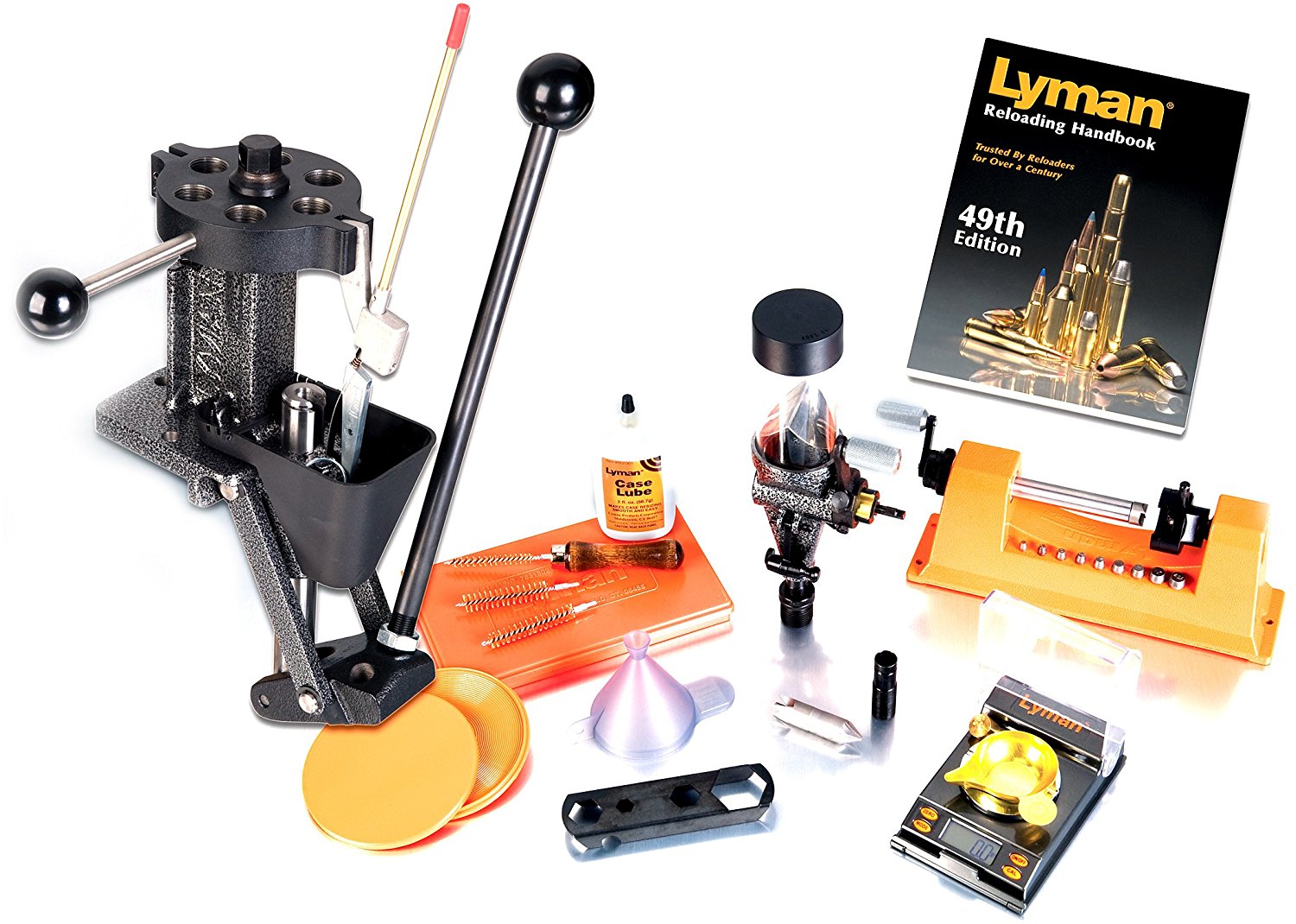 As far as ammo reloading kits are concerned, this is massive selection of stuff. The Lyman T-Mag Expert Kit Deluxe with 1500 Micro-Touch Scale has absolutely everything you would need all rolled into one convenient package. Lyman is known for producing high-quality ammo reloading tools, and they've decided to put it in a single kit. AN excellent blend of classic design and cutting-edge technology, this kit has you covered.
Expand to see more
Very precise
When it comes to the right amount of powder, this kit gives you two different tools to ensure precision. You have the #55 powder measure, which Lyman is known for. Then you have the inclusion of a digital scale, making sure that you produce high quality ammunition each and every time.

Whatever you need
The name says it all. The Lyman T-Mag Expert Kit Deluxe with 1500 Micro-Touch Scale is a complete ammo reloading kit. It contains everything you need from beginning to end, including their reloading handbook.

Cost and Value
This is expensive, as are most ammo reloading kits, there's no getting around it. This one happens to cost more, but it also contains so much more than most. For everything it gives you and allows you to accomplish, the value is very obvious.

Very heavy duty

Accurate digital scale

Has a lot of parts other kits lack


Useful handbook included
Some of the parts are constructed poorly

Instructions aren't very clear
7. Lee Precision 90945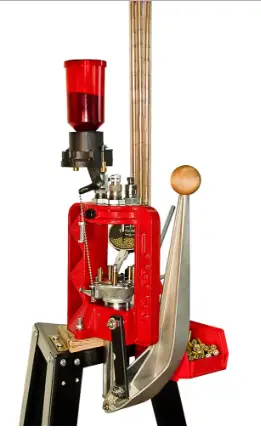 The Lee Precision Load Master 45 is easily one of the most high-end and popular selections when it comes to a pistol-only reloading kit.
Expand to see more
The kit itself is made up out of cast aluminum to ensure a great amount of durability throughout all of the use that it's likely to see throughout the years of your reloading. It comes with a 5-hole reloading kit for 45 ACP, is full-length size, and gets power through expanding and bullet seating dies. The reviews for this reloading kit are overwhelmingly positive, and while some owners have said that it can be a bit tricky to operate at first, this shouldn't be an issue at all after using it for a good amount of time and understanding just how well it works. The asking price is quite low for such a high-quality kit, and if you want something for reloading nothing but pistol ammo, this is definitely going to be one of the best options you've got out there.
Made up out of cast aluminum
Expandable and durable
Low price for such a high-quality kit
It can be a bit tricky to operate at first
8. RCBS 9046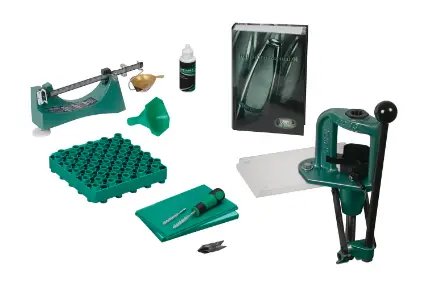 If you're in the market for something similar to the Redding option but with a much lower price tag, the RCBS R S-5 Reloading Starter Kit should definitely be at the top of your shopping list. This particular reloading kit is made entirely in the United States, and it comes equipped with the RCBS Limited Lifetime Warranty.
Expand to see more
Included in this kit you will find a single stage press, 505 mechanical scale, RCBS's own Universal Case Loading Block, a powder funnel to keep your ammo powder organized and secure, .17-.60 chamfer/deburr tool, neck brushes, and so much more. The added extras that you get in addition to the actual reloading tool are quite impressive for this price range, and although all of them may not be of the utmost quality, it's nice to get everything you'll need to start out at such a low price. The quality of all the goodies here is a bit on the lower side of things when compared to the Redding option, but when considering the major difference in price, this turns out to be an excellent full-featured starter kit.
Lower price
Added extras
Full-featured starter kit
Affordable and quality packaging
May not be of the utmost quality
9. Redding Reloading 40000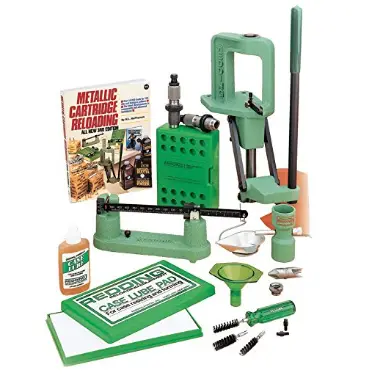 Great options packed with quality tools. First of all, the frame that's included for the main reloaded is rated to be incredibly sturdy and durable for years. Plus, thanks to a longer ram stroke, reloading magnum cartridges is not only possible but easier than ever before.

Expand to see more
The BIG Boss Pro-Pak Reloading Kit comes equipped with a 1-inch diameter ram and more than 3.8-inches worth of stroke. Plus, thanks to the company's exclusive Smart Primer Arm, the whole act of reloading is much smoother than you're going to find on a lot of similar kits.

When it comes to the reloading process, the included primer catcher helps to make sure that your reloading station stays as neat and clean as possible. Many other reloading kits come with this feature as well, but few work good as Redding's one does.

This is a big, powerful, and expensive kit. If money isn't any sort of concern, then this is going to be one of the best options that you've got. It's one of the most durable and heavy-duty reloading kits on the market, and it's got a lot of impressive features to boot as well. The cost is easily the biggest downside here, but despite being so much more expensive than other options, the price is well-justified when you take into consideration everything that's included in this kit.
Smooth reloading
Comes with a lot of additional tools
Extremely durable
10. SmartReloader VBSR008-31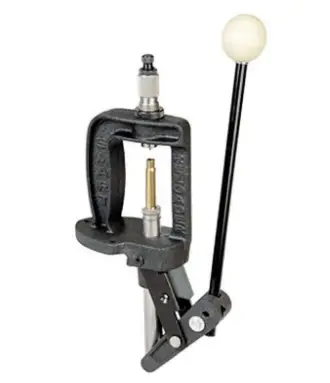 This particular reloading kit has the ability to reload bullets all the way up to the caliber of .357 H&H, and it can also work with any standard press shellholder and practically any type of reloading die that you've got.
Expand to see more
The Omega 800 Pro is made up out of a heavy steel material, so you can be sure that it will continue to perform for a number of years after your initial purchase. This does make it a bit on the heavy side of the spectrum, but the added durability that it brings is more than worth the heaviness. There's a great number of tools included with this particular kit, and while the product itself has proven to be quite solid, some people have complained about the customer service that SmartReloader offers. The pricing here is quite similar to what you'll find with many other reloading kits out there, so as a whole, this is a very functional and solid option that should prove to be an excellent choice for a lot of people looking for a new, easy to use and maintain kit.
Affordable
Made up out of a heavy steel material
Long lasting product
Ability to reload bullets all the way up to the caliber of .357 H&H
Some have complained about the customer service that SmartReloader offers
11. Dillon Precision 16940 XL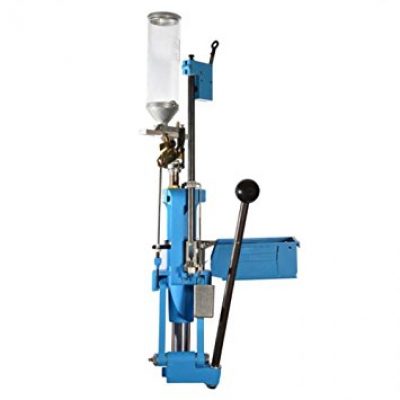 This Dillon Precision 16940 XL 650 223 Progressive Auto Indexing Reloading Machine is made for the shooting enthusiasts. It's not as complete as some other kits, and does take some money and time to customize it to your exact needs, but once that's all done, what you have is a solid, reliable press that produces high-quality ammunition fast, and won't let you down while doing it.
Expand to see more
Switch it up quickly
It is a bit of a bummer that you'll need to purchase conversion kits to be able to switch between more than the common calibers, but once you have the kit, making that switch is very quick and intuitive.

Super quick
The Dillon Precision 16940 XL 650 223 Progressive Auto Indexing Reloading Machine has the ability to produce between five hundred to eight hundred rounds of ammunition per hour the job done fast and getting you back out on the range or in the bush where you belong.

Cost and Value
If you can get over the fact that no dies are included, and that you'll need conversion kits to customize it, what you'll get for the price is pretty good. High-quality construction and quick, efficient performance make this a good value.


Can load 500-800 rounds per hour

Lifetime warranty

Switching calibers is quick

Very easy to use
No dies included

Needs a conversion kit for certain calibers
12. Lee Precision Value 4 Hole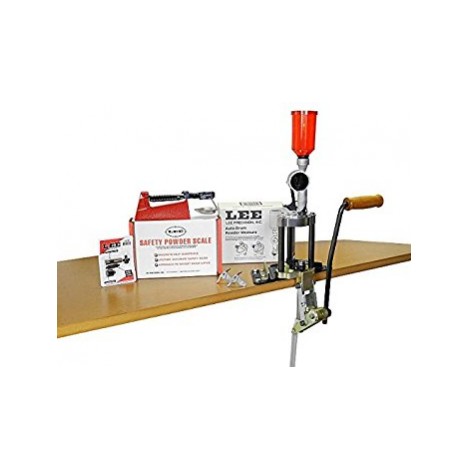 Lee shows up on this list a few times, and that's because their products are of high quality. THey do tend to cost a bit more, but it's obvious that they have high standards when putting together a reloading kit. That's what makes this kit such a great choice. The cost is low compared to their other models, yet it stills contains everything you need to get started, making it the perfect tool for beginners.
Expand to see more
For those just starting
This is a perfect kit for the shooter who wants to be more hands on with their hobby, yet isn't sure where to start. The Lee Precision Value 4 Hole Turret Kit 90928 includes the press and all the necessary components to get you reloading in no time.

Important aspect 2
It's not quite as intuitive or all encompassing as some of the other reloading kits available, but it puts you on the path to making your own ammo, and is an ideal base to get started from.

Cost and Value
This unit comes at a much more affordable price than a lot of what you`ll find to buy. Though it isn't quite as capable as you might want, for what you get it's a solid value.

Large enough to handle all types of rounds

Changing calibers is super easy

Great value for the money

Ideal for beginners
Pistol die set not included

Could be more complete
13. RCBS Rock Chucker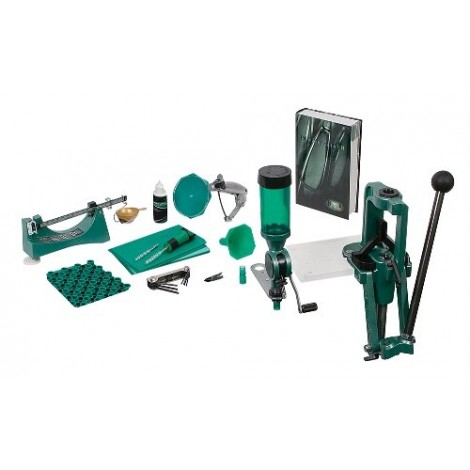 Everything except the dies and shell holders. That's what you get when you but one of these ammo reloading kits. Given the track record of the manufacturer, what you`ll also get with this kit is piece of mind in knowing that you bought a sturdy, well built, functional setup that will take care of all your reloading requirements.
Expand to see more
Work like a pro
The good thing about getting an RCBS reloading kit is the high level of quality and integrity that they put into their products. These kits are built to professional standards with the average enthusiast in mind.

Everything you need
The RCBS Rock Chucker Supreme Master Reloading Kit comes with the press, mechanical scale, hand priming tool and powder measure, meaning all you'll need to get are the parts for the ammunition itself.

Cost and Value
This is another kit great for starting out, though it is more complete than other examples. As such, you will pay quite a bit more, but this kit will set you up better to becoming an ammo reloading pro.

Complete kit

Professional quality

Sturdy, heavy build

Great starter kit
Scale seems cheap

Materials not of the highest quality
14. Hornady Lock-N-Load Classic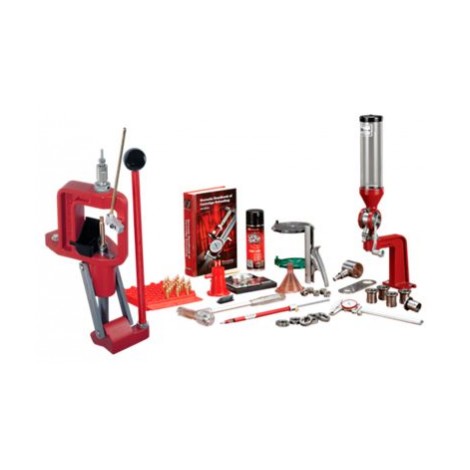 This ammo reloading kit by Hornady takes everything that made their classic kit so good and upped the ante quite a bit, adding a wealth of useful tools and parts that most other kits, even complete ones, just don't have. Whether you're new to the game and don't know where to start, or a seasoned pro who just wants everything at and, this kit can become your new best friend.
Expand to see more
Bulletproof bullet making machine
Imagine an ammo reloading press that is made to be bulletproof. Well, that is exactly what you'll find in this kit. It's designed to hold up to thousands of reloading sessions without skipping a beat.

User friendly out of the box
Hornady evidently designed this kit to be used easily by everyone right off the bat. It has everything you need to get started, and it's all assembled in a way that just makes sense, so you can get going immediately.

Cost and Value
Not only are you getting everything from the classic kit plus a whole bunch more, when comparing the cost of this kit to all the other high-end kits on the market, you'll find that you're getting very competitive pricing and exceptional value.

Very durable press

User friendly

Switching dies is easy

Very accurate powder measure
Less than clear instructions for use

Calipers included aren't the best
15. RCBS Reloader Special Starter Kit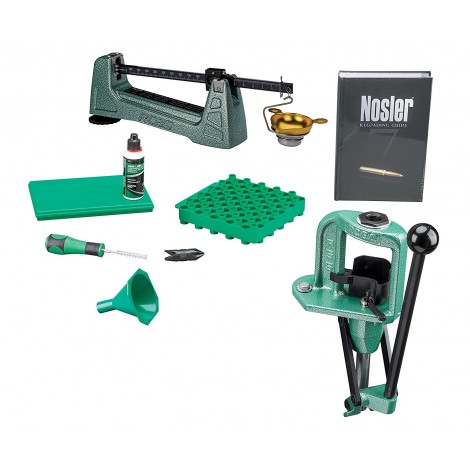 The RCBS Reloader Special Starter Kit isn't just a kit that is so versatile and user-friendly that anyone can use it, it is specifically designed for beginners. This means that any concerns that may arise when using a standard kit won't happen here since this baby will guide you through all the steps to start making top quality ammunition.
Expand to see more
Reload like a pro
This kit isn't just going to help you learn to make your own ammo, it's going to have you feeling like a seasoned veteran while doing it, and in no time you'll be putting out top notch products.

Worth every penny
RCBS wants to make ammo reloading your new favorite hobby. That's precisely why they aim to provide you with high end, upscale performance and functionality at a very affordable price.

Cost and Value
This is a very specialized kit made for first timer reloaders, and as such, RCBS made it very accessible price wise. It has all the parts to get you going, and you'll feel good knowing the value it gives you.

Enormous value

Easy to use

Very well built

Has everything to get started
Needs an electronic scale

Not as versatile as other kits
Finding The Right Quality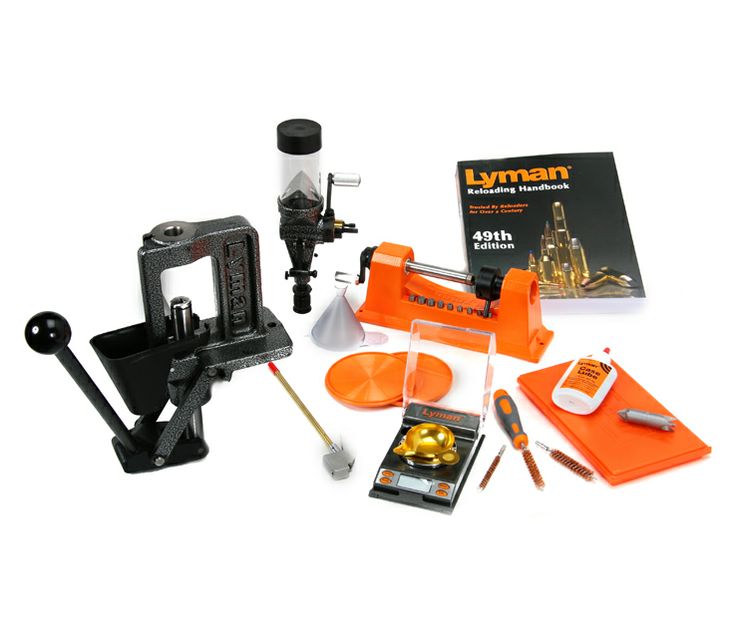 The best brands listed are Redding Reloading, Lee Precision, SmartReloader and RCBS. Yet brands like Hornady and Lyman still rank high on the list for their quality and ease of use. Quality is never a concern when buying a mainstream ammo reloading kit, since safety would be compromised with low quality. That means every product on the list has met or exceeded average industry guidelines for an ammo reloading kit (see criteria for evaluation).
How To Clean An Ammo Reloading Kit

The correct way to clean one of the kits is to never get them get too dirty in the first place. A well-maintained kit will only take a few seconds to dust off and clean, so preventive maintenance is the best weapon here. Leftover gunpowder is the biggest culprit to a dirty kit and is something that can be easily remedied by properly storing or discarding the leftover powder. With a little bit of care aftercare, there is very little cleanup involved when using an ammo reloading kit. But neglecting the cleanup duties even one time can add a lot of extra annoyances to your schedule when it's time to clean it again.
What Decreases The Durability Your Kit?
Besides the lack of proper cleaning, the #1 cause of broken kits is using them wrong. This isn't an issue with beginners and covers all levels of users. Not reading the included manual is a mistake, even if you're an experienced user. Companies change features all the time, so even if you've previously owned A Lee Precision product, the new one may have different operating options. With new features being added all the time, there is a good chance that a user that throws away the manual will end up abusing the unit right out of the box. Safety features, comfort features, and even the warranty can be in danger if you don't follow the instructions in the manual.
Finding The Differences Between A Beginning And A Professional Unit

Professionals will often have their eye on something that they have full faith in. An ammo reloading kit for a professional has all of the necessary features they will use, even the advanced options that won't be used upfront. They are also aware of the importance of extras and if their choice comes with everything needed. For a beginner, the road is a lot less rosy when it comes to choosing their first kit. A good choice for beginners would be choosing kits that offer a lot of extras right out of the box. They don't have to be anniversary kits, and they don't have to be a top tier brand name. For a beginner, the difference between what they want and what the professional gets will come down to a kit that carries a lot of starter items. These are the accessories that professionals have by the boatload lying around their workspace, and are the same accessories that a beginner would probably have to go to the store for.
Using Modifications
When you get used to using a reloading kit, modifications may become an important step in the process. This can include modifying the machine itself or the accessories that are used with the machine. A good example of a useful modification is with the dipper, where some users have found an inexpensive way to not only measure powder but to also combine them into one with a scale reader. This is a time-saving modification that the industry has caught onto, and in turns has led to them making their own options. For buyers that have the knowledge, this is a great way to improve your ammo reloading kit without hurting the warranty.
Criteria For Evaluation
Ammo loading kits are not for the faint of heart, and requires a little bit of know how in order to achieve maximum execution. Beyond the technical stuff, little things like bullet compatibility will go a long way in determining the usefulness of a ammo loading kit in daily routine.
Compatibility
Ammo loading kits are not universal bullet makers, so there will be calibers that just can't be made. When compiling the top ten list, high compatibility was important since it also means saving money and space. No one wants to purchase a separate ammo kit for each caliber, as it would defeat the purpose of buying an ammo kit. Buyers want to save money and make the most of what they have, not spend more. Of the many choices on the list, when there is low compatibility from the start, the company tends to offer a conversion kit to enhance the usefulness of the equipment. These conversion kits can transform a 22 caliber ammo reloading kit to also take on 30 caliber bullets. These conversion kits played a big role in the inclusion of the brands on the list. Not only are the prices reasonable, but they fall in line with the rest of the optional accessories offered by manufacturers.
We took great care in finding kits that used the most popular ammo on the market. The more obscure ones are better suited for a different list, as this list is for users that plan on using their ammo reloading kits at least weekly. The high use of the product goes together with the use of popular ammo, so most of the kits on the list will equally favor single stage and progressive press kits. Both of these have kept up with using the most popular ammo, with the latter being the best for quick operation. So as an absolute must for all the brands on the list, they handle both 22 and 30 caliber without issues. This includes out of the box or with the addition of an optional converter.
Ease of Use
When choosing an ammo reloading kit, most users will default to looking at the price of the product. We took it in a different direction and prioritized ease of use. Even with the addition of a recipe cookbook with most ammo reloading kits, new users will often run into the problem of grasping it all at once and getting overwhelmed. This can be troublesome, so by choosing ammo reloading kits that had most of the core accessories right out of the box, we eliminated one of the most intimidating factors about using one. There is nothing more frustrating than having to line up all the extra stuff that is needed to get started after you've spent a lot of money upfront. The items in our top ten list are ready to go out of the box, with the amount of extras needed at a minimum.
Durability
Ammo reloading kits aren't cheap toys, so buying one that can stand the test of time will be of great benefit. The repetitive mechanical nature of an ammo reloading kit has to resist user error and bad materials being pushed through it. High quality materials can't be guaranteed from the users end when they're making their own ammo, so we took it a step further and looked at ammo reloading kits that were built to take punishment. That also meant looking closely at warranties, and overall customer support. All of the ten items on the list are at the top of their class when it comes to durability. So if longevity has been an issue with a past ammo reloading kit you've owned, then it is time to update it with one from this list.
The quality of the bullets that come from your kit aren't just tied to what materials you use, but to the instructions provided. As it was touched on before about the recipe books, their inclusion was important on this list. Companies that provide either a physical or digital copy of their recipe book have a higher buy rate than companies that offer thin books. The result of a well thought out book leads to much better bullet quality, which is the ultimate goal of ammo reloading kits. With the list focusing on high quality kits, there was also a priority on the results of the ammo for beginners, intermediates and professionals. We found it necessary that the kits should not favor one group, but be balanced in their advanced language in the book so that everyone can understand it. Lumping beginners and intermediates into the same group as professionals will only cause confusion when going through the recipe book. Think of it as a way to please all levels without compromising on the output of the ammo that is created.
Maintenance
Cleaning an ammo reloading kit is as simple as dusting it off. The only thing that is required of the products on the list is general upkeep and cleanliness of the area. There is a higher importance on keeping the area clean of the dies, powders and other materials that will accumulate during the bullet making process. Generally, any ammo loading kit is prepped for use each time you make a bullet.
The key to keeping the area safe is to prep afterwards for the next time you are going to use it. Leaving materials lying around can cause dirty and other debris to accumulate in areas and degrade the quality of your ammo. Ammo kits are not so sensitive that a little mess will bother them, but their safety protocols will take a nosedive if you don't take care of them. Most of the brands on the list even provide a maintenance kit as a separate purchase. It is worth investing in one of these to help with the pre/after prep of your ammo reloading kit. Not only will it keep the machine running longer, it will also help your case if you ever need to call in the warranty.
Terminology
Reloading die: These are placed into a reloading press and are used to de-cap, resize, and expand the cartridge to the correct caliber, as well as to seat the bullet.
Reloading press:  This is the main component of an ammo reloading kit.  This is where the ammunition is loaded and assembled.  Reloading presses are found in three basic models:  single stage presses, turret presses, and progressive presses.  Single stage presses are ideal for beginners, and are also the least expensive.  They require fewer adjustment sand are meant for the more casual user.  Turret presses are the next step up, and are ideal for the avid shooter who wants to get minimize their ammo expenses. These presses allow the user to make up to two hundred rounds per hour, though they do require some experience to properly utilize.  Progressive presses are for serious enthusiasts who want to get the most out if their hobby.  They produce five hundred or more round per hour, but require more time and maintenance than the other two, and are much more expensive.
Shell Holder:  Shell Holders are designed to be used in combination with the die set to hold the shell in place as it is being assembled. A universal shell holder can be used, throughout there are caliber specific versions made for the specific shell diameter and taper.
Powder scale:  Used to precisely measure out the required amount of gunpowder in each round.  These can be either balance or electronic scales.  Balance scales are easier to calibrate and are more durable to to having less parts, but electronic scales are much more accurate and precise.
Powder measure:    Another method for determining the amount of powder used.  There are three main types:  Dippers, bench mounted measures, and electronic dispensers.  Dippers are best used with a scale, as they measure by volume and have limited accuracy.  Bench mounted measures are attached to hopper, and use a rotor to dispense equal amounts to each shell.  An electronic dispenser is very similar, but the user can type in the required weight, and the dispenser will automatically measure out the correct amount.
Calipers:   These are used to measure the brass to ensure it is within specifications.  They are also used when setting the seating die by measuring the overall length of the cartridge in order to get the desired length.  They can have either an electronic readout or a manual dial.
Case trimmer:  Used primarily when reusing shells.  After a too many uses, the shell will no longer meet length specifications, and will need to be trimmed in order to be reused.
Case tumbler:  A device, very similar to a rock tumbler that is used to clean the brass shell casings prior to being reloaded.  This tool is capable of cleaning hundreds of shell casings in just a few hours, and will help improve the performance of the ammunition.
Shell casing: This is the body of the shell.  Constructed most commonly from brass because of how malleable and easy to work with it is, the shell casing can be fired and reused several times before needing to be replaced.
FAQs
Frequently Asked Questions
Q: Do all reloading kits work with all types of bullets?

A: Absolutely not. When buying a reloading kit, one of the most important factors to take into consideration is the type of bullet that the kit is rated to be used with. Some kits can be used with a variety of bullets, whereas others are created to only reload one certain kind of ammo. This is usually clearly outlined when shopping around for a reloading kit, but still make sure that you ensure the kit you're looking at is rated to be used with the kind of ammo you frequently use and reload.
Q: Are all the accessories I'll ever need to be included in a starter kit?

A: Not necessarily. Each starter kit is different in regards to what included accessories it comes equipped with, and some have more added goodies than others. However, even the fullest and most well equipped starter kit is still likely to omit an accessory or two that you'll find yourself needing later on down the road. Starter kits for reloading usually come with everything you need to get things started at first, but don't be surprised if you find yourself having to run to the store to pick up something extra at some point in the future.
Q: Who manufactures the best reloading kit for beginners?

A: For buyers that have never owned a reloading kit, the first time opening the package can be a daunting experience. That's why choosing the proper reloading kit for your level is important, as the wrong one could leave a bad taste in your mouth. RCBS and Lee Precision seem to be the best choices for a beginner that is just starting out. Besides having some of the best materials out of the box, they also include the most thorough instructions. Videos are plentiful with all of their models online, so there will always be visual instructions to follow.
Q: How much money should be set aside for accessories?

A: Some reloading kits have everything you need right out of the box while others will only have the bare essentials. Pay close attention to the extras when purchasing a reloading kit so that the extra costs afterwards don't sneak up on you. It's a matter of knowing what you need upfront so that the actual cost of owning a reloading kit doesn't go beyond your budget. And it also serves as a helpful way of learning how much you have to invest into your reloading kit in the long term.
Q: Are special anniversary edition kits worth it?

A: Some companies offer special anniversary kits that come bundled with loads of accessories, with some of those accessories only being available from the anniversary kit. There is also a one of a kind design and some other extras thrown in, notably a redone manual and documents. All levels of users can benefit from an anniversary reloading kit since the value will far exceed that of a regular kit. The only bad thing about this option is that anniversary kits are in limited quantity and may not always be available.
Q: Are self-made reloading kits worth the trouble?
A: There are guides available on how to make your own reloading kit. This includes versions for a .410 gauge, 12 gauge and more. One of the books, in particular, has been in circulation for over three years and is also available at libraries. There are books even older than this one, many that beat it by a couple of decades. Making your own reloading kit is not only time consuming, but dangerous. The only pro to doing this over buying one is that you learn the ins and outs of the machinery.
Q: Is it safe to use a reloading kit?

A: Safety is a big concern to all of the companies involved with this type of machine, and especially for any machine dealing with ammunition. The first step to safety has to do with the evolving technologies related to gunpowder. With the smokeless powders of today, users don't have to worry about accidentally igniting them. Smokeless powders and other technological advancements in the industry have helped out the overall safety measures needed when using a reloading kit. Even first time users will find that it's hard to misuse one of these units.
Q: What mistake should a user never make?

A: Ammo reloading kits aren't finicky products, but they do require a bit of know-how with the components. With the various things that go into making the kit a well-oiled machine, there are just as many mechanisms at work to keep the entire process safe. Something that the machine can't safeguard against is powder abuse, which includes mixing different powders, using old powders or using incompatible powders. Avoiding this type of powder abuse will not only make the device last longer but will keep its safety measures intact over the multiple times it's used.
Decision Time
When it comes to reloading kits, there are a lot of different options and selections to choose from. Spending a heap of money can land you a truly impressive and beast of a reloading kit, but it's also very possible to save a bit of money and still get a full-featured kit that will help you get started in the world of ammo reloading.
Sticking with the options on our list will help to ensure that you get one of the best ones that money can buy and your investment will be well worth it.
Sources