Top 10 Collapsible Batons and Pointers Reviewed
In a Hurry? Editors choice: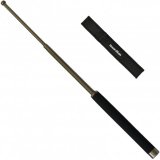 Test Winner: Guardian 26 Inch

The baton is an incredibly versatile tool, and you don't really know you need one until you need one. Well trust us, we need one. So for the purposes of this article, we'll be looking at a select group of the best collapsible batons that range from self-defense and protection to classroom teaching implements, along with a few other diverse examples in between.  All of these batons help make life just a bit easier and more functional by taking care of everyday mundane tasks freeing up some of your time, and in a few cases, easing the wear and tear on your body.  That being said, here's just a little taste:
Standout Picks
Criteria Used for Evaluation
Features
First things first we're going to draw a distinction between safety batons and educational batons. They're definitely not the same thing, and it's fairly easy to tell the difference. So we're going to look not only for superior craftsmanship but also for some extra features that are going to push our products over the top and into our top ten.
Adjustability
This goes a bit with the territory as most of our batons are going to be adjustable., but we're looking for batons that will telescope easily and some that have some pretty cool features that you don't expect.
Ease of Use
If you're using a security baton the last thing you want is for it not to work when you need it. So we're keeping an eye on how well made these batons are and we're checking to see that they deploy easily and quickly. Not to be too dramatic but your life might depend on it.
Materials
What is your baton made of, we're looking for strength and lightness so our list is going to be full of strong but light metals for a baton that's not too heavy but won't break the first time you use it or wear out after repeated uses.
Safety Hazards
Some of these security batons are going to be able to do some damage but we want to make sure they only do damage when you want them to. So we're looking for some basic safety features on all of our batons that are going to keep them from deploying when you don't want them to and make sure that any add-on security features work like they're supposed to.
10 Best Collapsible Batons
1

. Silfrae Emergency Tool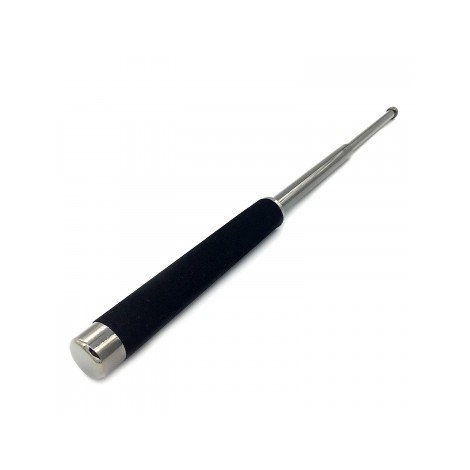 We start off with a sleek looking offering. This one boasts very good reach as far as retractable batons go, but the real draw is the wide array of uses this one has. Giving it a comfort grip and solid steel construction doesn't hurt either, so you can feel secure knowing that this baton has got your back wherever you may be.
Your comfort in mind
A foam handle for comfort may seem superfluous, but really it is anything but. This is a hard, metal baton that when used with any frequency, could cause discomfort, if not for the ingenious inclusion of comfort.
So many uses
It's meant for self-defense but is advertised for hiking>, camping, and other outdoor activities, as well as a glass breaker in an emergency situation. That versatility puts it in a class of its own in my mind.
Cost and Value
For being made of steel, having a compression foam handle to provide comfort, and having the ability to be used for a variety of purposes, the Silfrae Three Sections Retractable Stick Emergency Escape Tool comes with a surprisingly reasonable price point.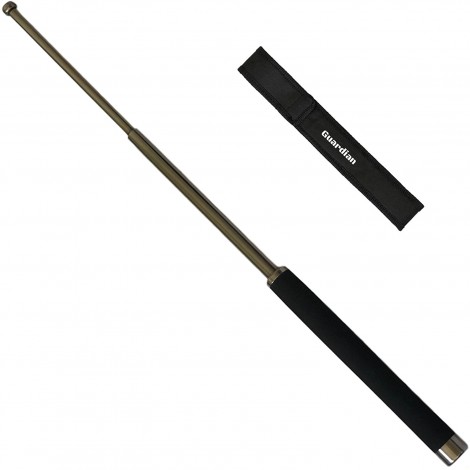 This baton was actually the first one I looked at while researching for this article, and I learned a lot about the product line in general. This one happens to be the prototypical example of what a baton should be, giving reliability combined with functionality. If you're in the market for a top-notch collapsible baton, this is it.
Stay out
The Guardian 26 inch Retractable Stick does not support automatic recovery. Now, that may seem like a con, forcing you to have to retract it yourself. On the contrary, what it actually does is a guarantee that it won't accidentally retract on you in the middle of a situation.
Now get back in there
However, when all is said and done, and it's time to put your baton away, the Guardian 26 Inch Expandable Stick easily collapses with a bit of pressure on the tip. Simple and effective.
Cost and Value
A case of beer, or a personal protection device? Really that depends on your particular needs. What I'm getting at, though, is if you need to protect yourself, this is a very affordable option.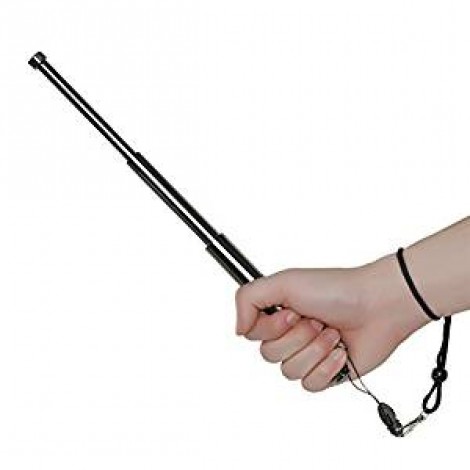 Labeled as a simple tactical pen, this one nonetheless can be a literal lifesaver if it ever comes down to it. Yes, it is marketed as a tactical protection device disguised as a pen, which is ideal, because nobody ever wants to have to actively carry a personal protection device with them, and this helps to conceal the fact. When they need it, however, it's there.
But is it a pen?
It's not, but you would be forgiven for mistaking it as one. With the clean profile of a ballpoint pen, the Moothech Tactical Pen can slip in just about anywhere without being a hindrance, ready to go when you need it.
Brick breaker
While you probably won't need it for such a task, just knowing that this baton packs that much strength and striking power are enough to put your mind at ease and have you go through your day with confidence.
Cost and Value
When retracted, the Mootech Tactical Pen resembles one of those fancy ballpoint pens. As a happy coincidence, it's also priced that way, not costing you much at all yet offering more bang for your buck than a pen.

4

. GMaxit Self Defense Tool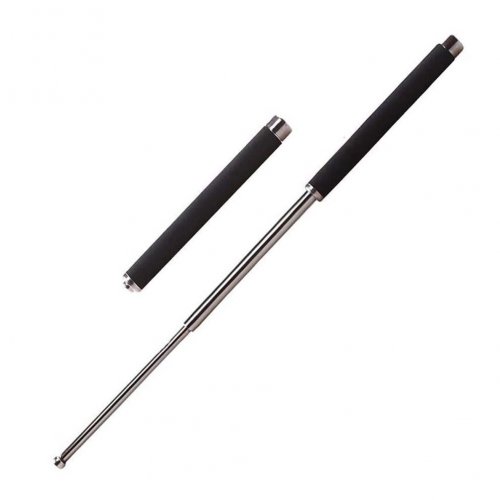 The makers of this baton knew exactly what they were going for when they decided to put it together, a rapidly deployed, non-lethal alternative to knives, stun guns, or firearms that would just as effectively put an attacker down. It doesn't hurt either that it also happens to be sturdy enough to hold up to any situation you may have unleashed it into.
Click
That's it. One word to describe it, and only one step to be able to use it. Flick your wrist once, it's out and ready to use. Flick your wrist again, this time in the direction of the aggressor, and, well, ouch. That's going to hurt.
Stay back
When retracted and put away, this baby only measures about nine inches in length. When the time comes for it to be put into action, this beast expands to over twenty-six inches, critical for keeping your opponent a good distance away from you, providing time to plan your next move.
Cost and Value
For what they are, and what they're meant it accomplish, collapsible batons are not complex machines and therefore aren't that expensive, to begin with (a definite plus), but this particular one just so happens to be especially reliable and well priced. You can't really go wrong with this one.

5

. Honbay Retractable Pointer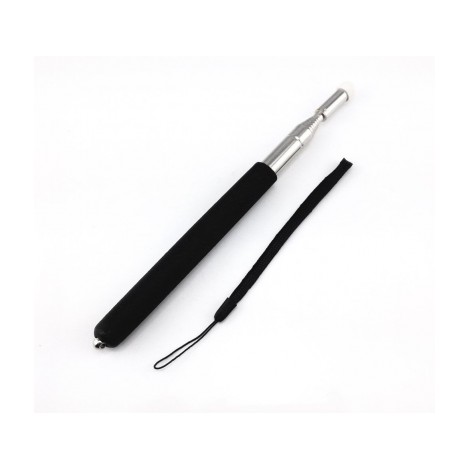 Now for a change of pace, we'll be moving away from the self-defense and outdoor activity batons, and looking at a few that are meant for simpler, yet equally important purposes, starting with the Honbay Retractable Telescopic Teacher Hand Pointer. Designed to be used in a classroom situation, the length functionality of this one makes it the perfect tool for getting your point across to a room of eager minds.
Way over there
So apparently, batons used for teaching have a much longer reach than those used for self-defense. Come to think of it, that does make sense since you need to be able to highlight information at any given time. At one meter in length, you're free to highlight away.
Presenting.
Speaking of highlighting, the reach lends to the overall aesthetic that makes this baton the ideal tool for presenting to a large crowd in a less than intimate setting (i.e. boardroom) without having to move all across the room while doing it. Though this also lets you do that too if you want.
Cost and Value
This baton has a very specific use, and to that end, it accomplishes its task exceedingly well. Normally, such a specified tool can command a fairly large price, but this one is a very affordable teaching implement.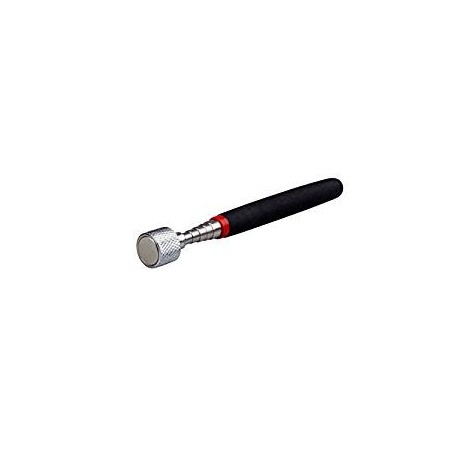 This is the first magnetic "pickup" baton I'll be mentioning, and I really like these ones. They perform a task that is absolutely critical to anybody, with back issues, mobility restrictions, or just really big hands. Often times, be it in a shop, a kitchen, under your couch, anywhere, really, you'll be handling something that just seems to slip out of your hands and tries to hide. That's exactly where this baton comes in.
When your hands are too big.
I'm going to be pretty specific here, though it applies to any situation. You're in a shop or your garage, working on an intricate piece of equipment when an important washer drops to the ground and rolls under your workbench. There are only a few inches of clearance and there's no way your hands are getting under there. Magnetic baton to the rescue!
Strong as you need it to be
I doubt you'd ever need to pick up fifteen pounds at a time with your baton, but I could be wrong, and it doesn't hurt to have that option. I can picture a time when my back is less than one hundred percent and I drop a hammer or something. I'm not going to want to bend down, and I won't have to.
Cost and Value
A very handy little device that, when you're in need of its services is an indispensable life-saving tool. Good thing, then, that it is also not going to cost you that much money at all. The value of this one is huge.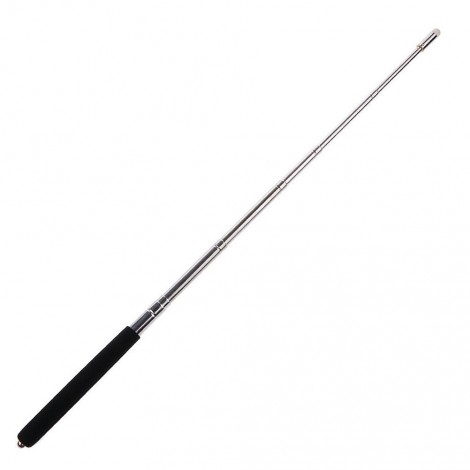 I like the clean, simple design. This hand pointer is the epitome of that. It's a very straightforward tool designed to perform a specific function without the need for superficial additions. It gets the job done, doesn't ask questions, and is more than tough enough to be there whenever you need it, for a very long time. I think the word that best sums this one up is reliable.
Feels so good
This is all about the comfort handle again. A bunch of batons already have the same feature, but this hand pointer has a covering that is just a little bit spongier, which equals softer, and in the long run, that means more comfort and less chance of nasty hand cramps.
Won't be broken
How can something so soft also be so hard? The Oulii Hand Pointer is easy on your hands, but at the same time, it was made tough and durable enough that you won't have to worry about it breaking or falling apart.
Cost and Value
It's actually pretty tough to say much about the value of this pointer. To be fair, the value is there, but it doesn't exactly boast enough features to really warrant a huge paragraph. For the features it does have, it does them very well, and is very affordable.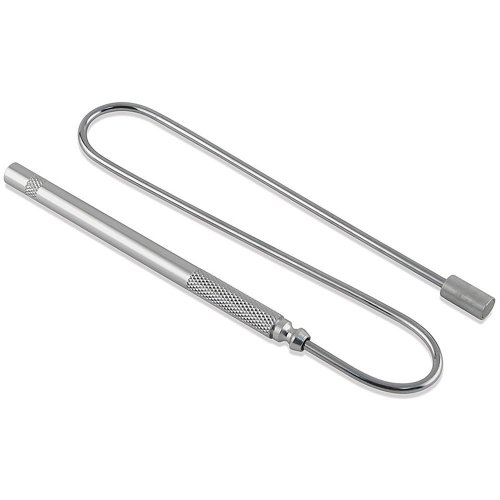 A professional whiteboard pointer at such a great cost, with a design centered around long-term use, this one by BonyTek is as close to being a workhorse as a pointer is going to get. Sure, the most pointer will do the job, but this one was built for professionals. An absolutely insane reach, removable felt tip, and no-nonsense handle gives you everything you need to get the job done with class.
How far away?
You can use this particular pointer on a surface up to forty-seven inches away. Are you serious? That just goes to show you that they weren't messing around when they put this one together.
Rust?
No thank you
It seems funny to me that not all batons are made of rustproof stainless steel, but I can understand that different uses call for different materials. For pointer sticks though, there is no excuse,
Cost and Value
As far as classroom pointers go, this is going to be one of the most expensive. That doesn't mean it costs much, it's just at the top end of its category for a price. It just so happens to be at the top of the list in quality, too, which more than makes up for it.

9

. Bykes Magnetic Pointer



These things are a godsend as it is. I won't stop bringing up their usefulness in sparing your body potential pain. Now, with this particular model, you get two in the package, meaning you no longer have an excuse to overexert yourself, or just not bother to pick up a dropped object altogether. What's even handier, is if you happen to drop your magnetic pointer on the ground, just grab the other one and pick it up!
Great for my back
Another magnetic pointer. As I see more of them, the one feature that stands out to me the most is the relief they bring to back pain sufferers. I'm not that young anymore, and this allows me to stop being so reckless and start to take it easy a bit. Work smarter, not harder, right?
Am I seeing double?
You get two for virtually the price of one. That in and of itself is a great deal, but then you take into account the fact that you get two different pointers in here, meaning you can put each one to its own task, or maybe you just need to use pointers in multiple places. Either way, you're covered.
Cost and Value
It's rare to find pointers that come in a two-pack, and it's especially rare to find them at a price that is just a bit more than most singles packs. Add to that the fact that they are both different sizes for different needs, and the value just goes through the roof.

10

. Tinksky Telescopic Pointer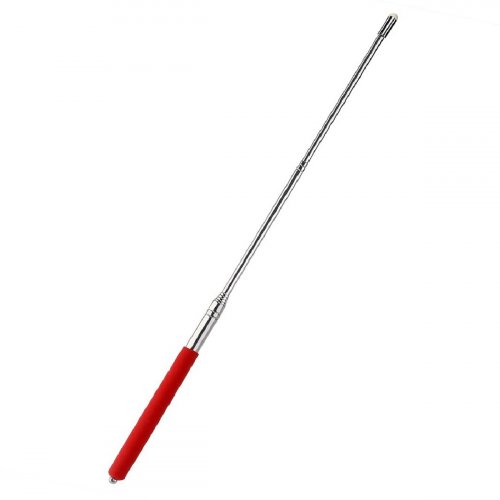 Last, but not least, is another teacher's pointer, and a sharp-looking one at that. When I first looked at collapsible batons, I always thought of them as a weapon. I had no idea how important they would become in the classroom. Almost more useful as a teaching implement than a self-defense tool, they become a must-have item for teachers everywhere. Tinksky just happens to make one of the better ones out there, combining looks, function, and price into a lightweight offering ideal for the teacher in your life.
Important aspect 1
Being light, in terms of batons, goes hand in hand with having a comfortable handle (which this also has). It all lends to your hands not cramping up into a painful claw. For anyone who uses their hands day in and day out, the relief offered by this feature is definitely welcome.
So useful
For all the pointers that I looked at, this was the first one I saw that just did more. They all work great for blackboard and smartboard presentations, but this one has been specifically mentioned for use on a computer screen and as a dog trainer. Talk about bang for your buck.
Cost and Value
If it was possible for a pointer to be considered good-looking, this would be it. It has a very professional look, yet is by far the most affordable pointer on the market, making it perfect for teachers of all types.

Subscribe to our Newsletter