Best Sleeping Pads Reviewed & Rated for Comfort
In a Hurry? Editors choice: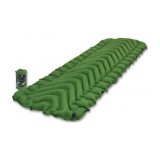 Test Winner: Klymit Static V Lightweight

Camping without a sleeping pad is doable, but definitely not desirable. The sleeping pad keeps you elevated and more comfortable, offering cushion between your body and the rough ground. By using one of these pads, you are not only keeping yourself more comfortable but also working toward preventing body soreness. Not all of them are the same, either. There are inflatable ones, thicker and thinner designs, and most are lightweight and compact enough to store in a small pouch in your camping pack or daypack. Like any other investment you make in a product, it is important to ensure your money is being spent on something that will suit your needs for years to come, and provide the right kind of support and features for you. With so much technical jargon surrounding your decision of what sleeping pad will work for you, it's easy to become confused and overwhelmed.
Standout Picks
Criteria Used for Evaluation
Use
You will want to match the style of a sleeping pad that you purchase to your planned activities when you are picking out a sleeping pad. There is an endless number of activities that you can do while you are outdoors but you can usually group your activities into one of five categories.
One category is car camping where you have immediate access to your vehicle and are therefore not constrained by the weight of your gear. Backpacking, minimalist backpacking, and thru-hiking are categories where weight is a concern since you have to carry the sleeping pad with you. You will also need to pick out the right kind of sleeping pad if you are planning on camping in the winter season.
Features
Sleeping pads come with different features that can be useful and make it more enjoyable to use the sleeping pads. You will want to look at the different features that are available for sleeping pads and pick out a sleeping pad that has the best feature set for your particular needs. There are more features than what can be discussed here, but some of the more popular features would include rails on the sleeping pad, inflation and deflation valves, and textured sleeping pad surfaces. Any of these features can make a good sleeping pad into a great sleeping pad.
You should also pay attention to the surface of the sleeping pad as this can affect how much the sleeping pad slides around, comfort, and the noise level of the sleeping pad. Some sleeping pads have a textured bottom surface that helps to reduce sliding. Such a feature can be helpful if you are somebody who tosses and turns while you are sleeping. You may also want a non-slip surface for when you are putting the sleeping pad on a cot or the bed of a pickup truck.
Size
There are some situations where the size and the weight of the sleeping pad are more important than others. For example, if you are going to be carrying all of your gear in a backpack, then you will want to consider the overall size and weight of the sleeping pad. You will also want to make sure that the sleeping pad is large enough for you to sleep on while you are using it and that it is strong enough to support your body properly. Having a sleeping pad that is sized correctly will help make sure that the sleeping pad is useful in its entirety.
When you are picking out a sleeping pad, you will need to start by considering the dimensions of the sleeping pad when it is set up. The sleeping pad will need to be at least long enough for your shoulders and your hips since these are the areas where you are likely to feel the most pressure on your body. Your core area also needs to be insulated well against the ground since your body needs heat in this area to maintain metabolic function. If the sleeping pad is too short, then you will start to feel cold at night due to losing body heat to the ground. It will also cause you to feel pain in the hips and shoulder areas as well.
Weight
You will also want to think about the overall weight of your sleeping pad as well. The air pads have the least amount of weight and should be your first choice when weight is a concern. Some of the more premium air pads can weight as little as one pound, which makes them ideal when weight is a concern. All sleeping pads should list how much they weigh on the product description and the less that your sleeping pad weighs, the easier it will be for you to carry with you.
The size and the weight of the sleeping pad should play an important role in what sort of sleeping pad you end up purchasing. You should always make sure that the sleeping pad is wide enough and long enough for your body while you are using it. The sleeping pad should also fit in your gear properly when are not using it as well. A sleeping pad that does not have the proper size will become a hassle so you should always make sure that you check the dimensions of your sleeping pad to make sure it will work before you go outdoors.
Durability
You should always think about how durable your sleeping pad is when you are shopping for a sleeping pad. Not all sleeping pads are created equally and some sleeping pads will be more durable than other sleeping pads. A lack of durability can turn into a real problem if you are on a long hike or plan on spending a long amount of times outdoors. Even if you are only going to be taking short trips outdoors, you will want to look for a durable sleeping pad so that you can get the best value for your money.
If durability is your most important concern in a sleeping pad, then you will find that the closed cell style of sleeping pad is the most durable kind of sleeping pad. This is due to the simple fact that there are no moving parts in this kind of sleeping pad so there is very little that can go wrong.
10 Best Sleeping Pads
1

. OutdoorsmanLab Ultralight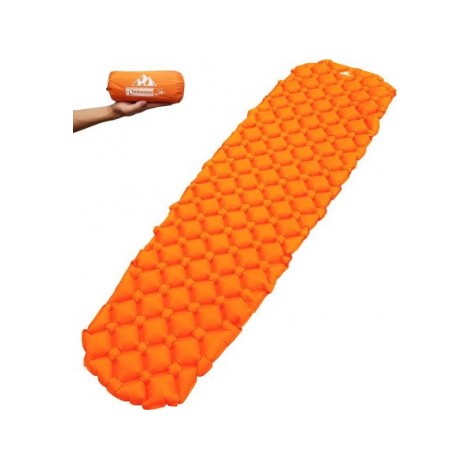 If you're looking for a pad for backpacking, or simply want your gear to be compact for easy storage, the OutdoorsmanLab Ultralight sleeping pad may be just for you. Weighing in at a measly 14.5 ounces, you'll barely notice when it is in your backpack. This product boasts the ability to inflate in 10-15 breaths, drastically reducing the dreaded time spent inflating. When fully inflated, it measures, 74" x 21.6" x 2.2" and offers an R-Value of 1.3, keeping you warm down to 40 degrees Fahrenheit. Coming in three available colors, many will firmly stand behind this product as being one of the most supportive and comfortable lightweight pads they've tried. Ripstock nylon gives you a durable material that will hold up against sticks, rocks and other abuse, and because OutdoorsmanLab backs their products up with a lifetime warranty, you'll never have to worry.
Lightweight
At a weight of 14.5 ounces, this ultralight sleeping pad packs down to a size smaller than many water bottles. This makes it the perfect choice for those who are looking for a compact pad for backpacking trips.
Diamond-Shaped Air Cells
The unique diamond-shaped, isolated air cells help limit air flow and therefore conserve heat, and provide a comfortable design that molds to your body and gives you a better nights sleep.
Cost and Value
OutdoorsmanLab has found a way to provide an ultralight, ultra comfortable sleeping pad perfect for the weight-conscious backpacker while keeping the price lower than most other lightweight pads you will find in a retail store.

2

. Klymit Static V Lightweight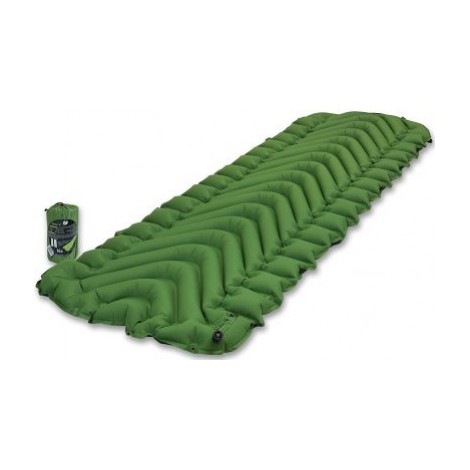 Yet another perfect pad for those interested in lightweight, the Klymit Static V features many of the same great qualities as the OutdoorsmansLab, however, comes slightly heavier, at 18.6 ounces. At an R-Value of 1.3 and dimensions of 72" x 23" x 2.5", it will keep you warm down to roughly 40 degrees Fahrenheit. Easy to inflate, it takes up to 15 breaths to do so, and packs down to a size of 3" x 8". The dynamic "V" shape of the baffles helps trap air to increase warmth, and the side baffles keep you cradled in at night, reducing your chances of slipping off of it while asleep. The sturdy polyester material is rugged enough to hold up to the elements and is backed by a lifetime warranty.
Side Rails
The elevated rails on each side help keep you on the pad at night, giving you a comforting feeling of being cradled and help keep air movement to a minimum to hold heat in.
Anti-Microbial Laminate
This added feature helps inhibit the growth of bacteria and fungus which cause odors and material damage, the perfect quality for extended camping trips.
Cost and Value
At a similar price point to the OutdoorsmanLab mentioned above, the Klymit Static V offers a comfortable, lightweight, ergonomically-friendly design without breaking the bank.

3

. Therm-a-Rest Z Lite Sol Foam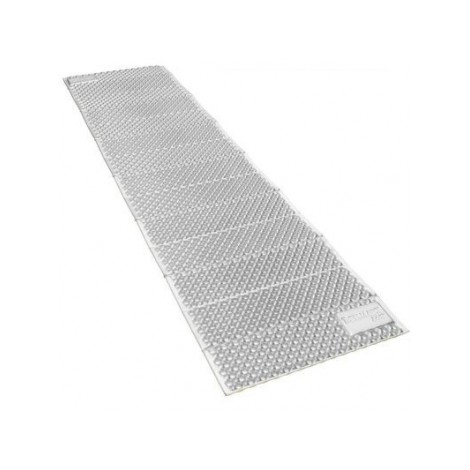 Holding functionality and warmth over comfort and luxury, the Therm-a-Rest Z Lite Sol has it all. Popular among light backpackers and mountaineers, it serves many purposes. Beyond a sleeping pad, because it is so flexible and durable, many attach it to the outside of their packs for easy access when stopping for lunch as a comfy seat, as a windbreak around a camp stove, like a pillow, etc. Due to the closed-cell foam, it is virtually indestructible. Choose from either regular or short sizes, bearing in mind that by "short", they mean that unless you are a child your feet will likely hang off the bottom, this being a popular buy for serious backpackers that want to cut down on weight. It is important to note that while this pad will keep you warm at night, it is not thick foam, meaning that if you are looking for something that will cater to comfort, this may not be the best option for you.
Reflective ThermaCapture Coating
This reflective coating in combination with the heat-trapping dimples helps to trap heat and radiate it back to your body, claiming to increase warmth overall by 20 percent.
Accordion-Style Folding
This classic accordion-style folding system is favored by many due to the simplicity. There is no fighting to fit it back in a compression sack, and it takes seconds to get ready at night and pack up in the morning.
Cost and Value
Compared to other foam pads outlined here, the Therm-a-Rest is the cheapest you can find, while still holding a classic design that lasts a lifetime.

4

. Lightspeed Outdoors XL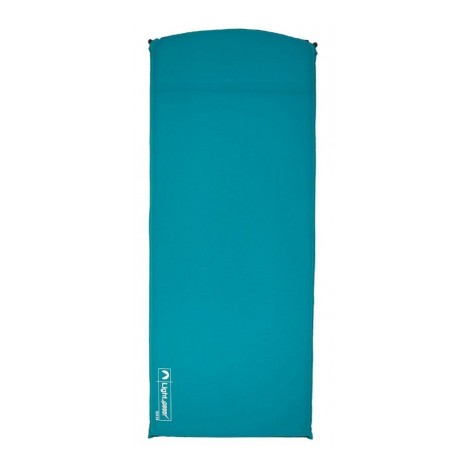 With the warmest R-Value you'll find reviewed here, coming it an amazing 9.66, and a thickness of 3 inches, you'll for sure stay comfortable and warm throughout the night, no matter the temperature outside. Weighing in at 6 pounds, it is too large to strap to a backpack and haul around, but for those looking for a sturdy, luxurious pad for car camping, this is just about the warmest you'll find. Dual valves decrease the time it takes to inflate/deflate, and while the integrated pillow probably isn't high enough to substitute a real pillow, it adds some extra height to your head. The wideness helps to keep the pad in place at night so you don't find yourself on the ground.
Thick
The 3-inch thick pad is the ultimate beast when it comes to comfort and warmth, offering an R-Value of a whopping 9.66! With the highest R-Value on the list, this is by far the warmest luxury camping sleeping pad that you will find.
Two Air Valves
One on each corner at the top of the pad, this feature is meant to halve the time it takes to both inflate and deflate the pad, reducing the time it takes to set up camp.
Cost and Value
Not surprisingly, the Lightspeed Outdoors XL is the most expensive pad we discuss, due to its insane R-Value, quality materials, and maximum comfort level.

5

. BFP Outdoors Ultralight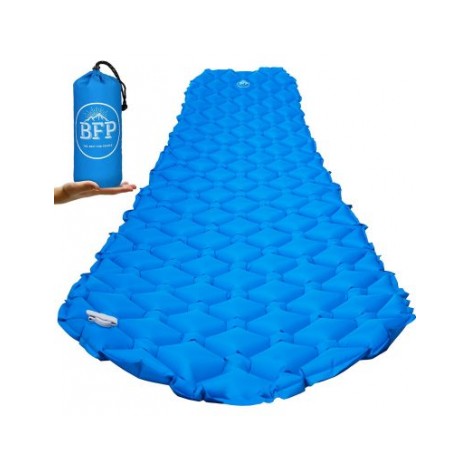 A great purchase for those interested in a pad for backpacking purposes, BFP Outdoors offers just that. Weighing in at 14 ounces, the ultralight, durable material may not be warm enough for winter escapades, but will keep you comfortable and protected from the ground in warmer weather. Packing down to the size of most water bottles, this pad inflates to 75" x 22" x 2". With a two inch thickness, even side sleepers will be protected from the hard ground. The unique, flexible material can be used in your tent, hammock or anywhere else you may want to sprawl out.
Waterproof
The durable waterproof material used on the BFP Outdoors sleeping pad means you can take it anywhere. Whether you enjoy sleeping under the stars through the night, or rain leaks into your tent, your pad will not suffer internal damage, and the 2" thickness will keep you and your sleeping bag elevated and dry.
Dual Valve
This intricate inflating/deflation valve has a two-in-one design, making it easy to inflate without air escaping in between breaths, and ultra-fast deflation for quick camp dismantle.
Cost and Value
With a similar price tag to pads previously mentioned, BFP holds up to the competition with a lightweight build. The company boasts a durable material that can be laid down anywhere without worry of tears. While it does not boast a lifetime warranty, they do offer a money-back guarantee.

6

. Klymit Insulated Static V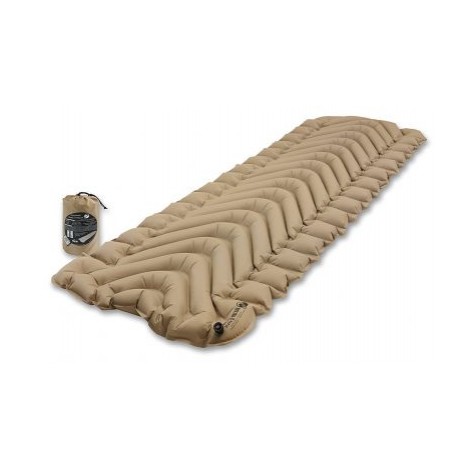 If you enjoyed the design and quality of the Klymit Static V but you wanted something that could be used in colder temperatures, this insulated version has the second highest R-Value out of our top ten picks. Weighing in at 25 ounces and packing down to 5" x 8", this can work for any occasion during all four seasons. While it does not self-inflate, it takes only 10-15 breaths to inflate and is sized at 73" x 23" x 2.5", thick enough to keep you warm on the coldest of nights. While there are other versions of the Klymit Insulated pad, this has become the most popular due to having the most durable material for a reasonable weight. You can choose from four different color schemes, and if you're not satisfied, it is also backed by a lifetime warranty.
Four Season Camping
With the second highest R-Value, at 4.4, this insulated version of the Klymit Static V will keep you warm throughout the year, which is a hard quality to find for a padded light and small enough to take into the backcountry.
Side Baffles
Featuring the same great side railings as the non-insulated Static V, you'll be kept snug on this pad with little risk of sliding off throughout the night.
Cost and Value
More expensive than most pads outlined here, for a lightweight insulated pad that can be taken into the back-country and hauled around for miles, you can't beat the price.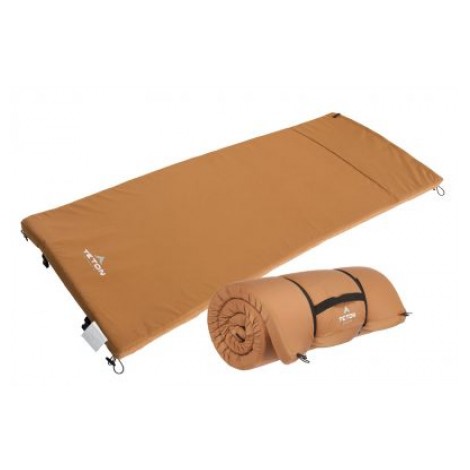 Designed specifically for the stationary camp, the Teton Sports camp pad is the perfect choice for hunting camps or other long-term camps with the use of a cot. Coming in three different sizes, which vary from 75" to 82" long, 2" to 2.5" thick, and 4.25 to 9 pounds in weight, there is something for everyone depending on preference and cot size. The thick open-cell foam is covered by removable brushed canvas, which has 4 loop and toggle cot attachments, an optional pillow inserts to keep your pillow in place, and a zippered pocket to hold electronics and other belongings. There is an attached roller assist bar to help pack it up and two compression buckles. Also backed by Teton's lifetime warranty.
Easily Secured to Cots
With loop and toggle attachment at each of the four corners, this camp pad was designed to be easily secured in place to cots to reduce movement and slippage during the night.
Durable Canvas
In true Teton Sports fashion, this camp pad has been outfitted with a thick, durable canvas outer shell, which can be easily removed for cleaning.
Cost and Value
Depending on which size you decide is right for you, each holds a different price tag. No matter which, you will be spending a larger amount than on most others discussed here, however for those who use cots or prefer foam over the air, you can't do much better than this.

8

. Alps Mountaineering Self-Inflating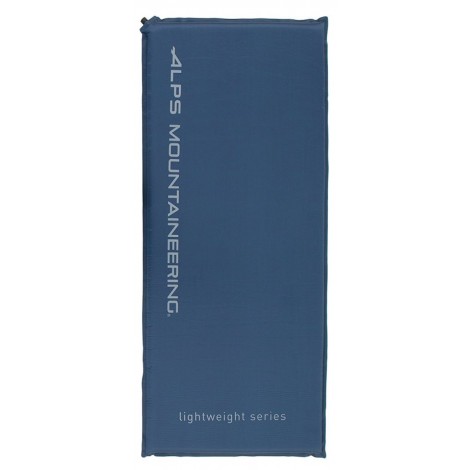 While the Alps Mountaineering pad may pack down too large for most to feel comfortable taking on a long backpacking trip, this self-inflating pad is still relatively small for others similar to it. Depending on what size you get, which ranges from short to extra long, you will receive a weight between 1.9 to 6.5 pounds. The jet stream foam sucks air in fast, the brass valve holds air inefficiently. Using polyester rip-stock fabric, you won't slip and slide around while trying to sleep and can be sure it won't get punctured easily. It also comes with a compression strap for easy packing, a repair kit, and is backed by a lifetime warranty.
Brass Valve
One of the biggest turnoffs of newer pads these days are that most companies use plastic valves. However, Alps Mountaineering has taken note that keeping a quality brass valve can drastically increase the resilience of the pad, being less corrosive and more durable.
Jet Stream Foam
The magic behind the self-inflating wonder is the jet stream open cell foam, which sucks up air quickly and deflates just as fast while adding support and insulation.
Cost and Value
With a price tag right in the middle compared to other pads outlined, it's well worth the money for those who are over the days of spending time blowing up their sleeping pads before being able to slip into bed while in the woods.

9

. TNH Outdoors Self-Inflating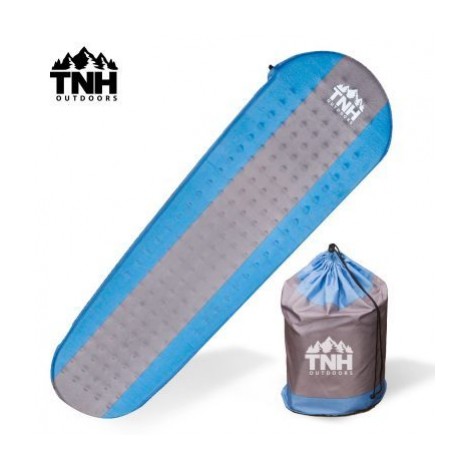 For a self-inflating pad, TNH Outdoors competes against the more expensive brand names that you'll find in stores, but for a lower price point and with the same lightweight, durable design. Weighing in at just over two pounds, it is heavier than others due to the added insulation and padding. However, with an R-Value of 4, it's harder to find a lighter pad that can keep you warm throughout the entire year. While it is dubbed "self-inflating", keep in mind that it is recommended to give one or two puffs of air to ensure full inflation. For those who can get by with a little extra weight in exchange for a warmer pad while out in the woods, this could be your answer. It is also backed by a lifetime warranty.
R-Value of 4
Due to added cushioning and padding held in by a thick polyester outer shell, TNH Outdoors has achieved an R-Value of 4, meaning you'll be kept warmer in all conditions, and meaning it is a good choice for three season (or all season depending on how cold hardy you are) camping.
Mummy-Style
Especially with self-inflating pads that generally have added bulk due to inner materials, it's important to reduce weight and size where you can. The mummy shape to this pad reduces unnecessary padding on the corners, therefore optimizing weight the best they can.
Cost and Value
TNH Outdoors has managed to hold one of the lowest prices outlined while designing a pad that not only self-inflates but is still small and light enough to stuff in your pack for a weekend of backpacking.

10

. Alps Mountaineering Pad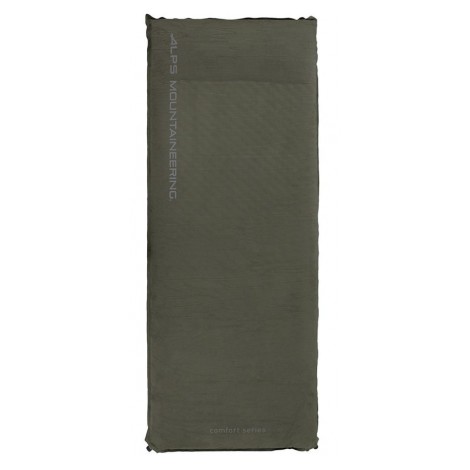 Yet another great design created by Alps Mountaineering, the comfort pad is heavier and has more padding than the lightweight version outlined above. It also has an integrated raised pillow for added head comfort. Featuring multiple sizes and thicknesses to choose from, you can truly pick out your ideal nights sleep. Featuring the high-quality brass valve, an anti-slip bottom, durable brushed suede top, and open-cell jet stream foam, this makes a great pad for front-country camping trips. Backed by a lifetime warranty.
Jet Stream Foam
Featuring the same jet stream open cell foam like the other Alps sleeping pad outlined, this helps speed up the process of inflation/deflation and increased support and warmth.
Anti-Slip
The bottom fabric features anti-slip grips which cling to the surface you set it on, keeping it right where you left it for an increased chance of you staying on throughout the night.
Cost and Value
Essentially the same price as the lightweight version previously mentioned, this pad is slightly heavier to accommodate slightly more insulation to give a slightly more comfortable nights sleep.

Subscribe to our Newsletter