Best Holster Belts Reviewed & Rated for Quality
last updated
Mar 29, 2019
Good day to you. Here we are again. What are we going to do? You'll see. I have quite a few articles on gun-related accessories, and for good reason. I truly believe that the key to safe handling of your firearms comes down to what you pair them with, and this includes a good gun holster. But if you want to ensure that your holster is stable and feels comfortable against your body, then you'll need a good holster belt. If you're not sure what to look for, then this review will help answer all of your questions while list the best models on the market!
In a Hurry? The test winner after 13 hrs of research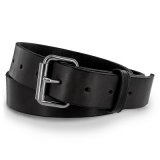 Hanks Gunner CCW
Why is it better?
100-year warranty
Fits true
Really sturdy
Reinforced buckle
In a
Hurry? Editors choice: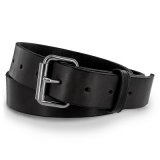 Test Winner: Hanks Gunner CCW

1
Researched Sources
10250
Reviews Considered
13
Hours Researching
15
Products Evaluated
Effectiveness
Materials
Size
Comfort
Value
By Default
BEST HOLSTER BELTS REVIEWED & RATED FOR QUALITY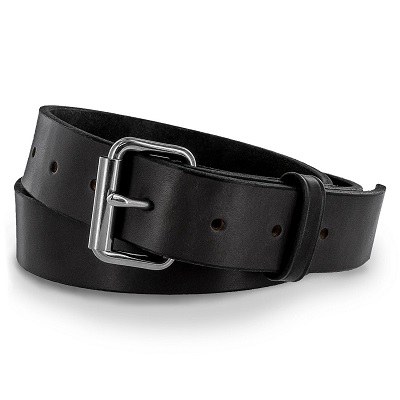 100-year warranty
Fits true
Really sturdy
Reinforced buckle
Has trouble holding full-sized handguns
Hard to adjust
This belt is a great value. It has a very simple, clean design, which isn't a bad thing, it holds up to the wear and tear of everyday use, and has a one hundred year warranty. With all that good stuff, this belt came out to play with the big boys but isn't priced like it.
Read more
Thick like borscht.
Well, thicker, and not a soup. Why is it so thick? Because Hank' Gunner is meant for daily use, and for that, it needs to be strong and sturdy. Hence being nice and thick.
Lasts forever
It comes with a 100-year warranty. Why would they give such a long guarantee? Because this belt is so durable that they really don't expect to have to honor very many of them.
Cost and Value
This belt is already very well priced and as I stated above, a very good value. But just to add to it, divide how long it's supposed to last into the cost, and now the value is insane.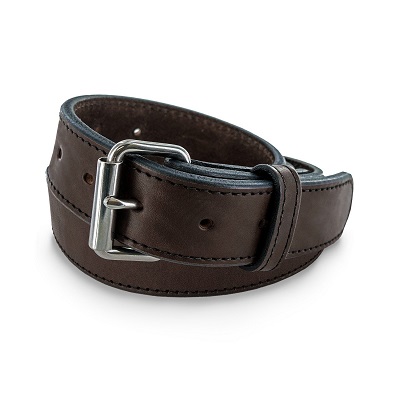 Works with many different holster styles
Extra thick for added strength
Heavy duty for everyday use
One piece leather with no filler
Can start to sag
Almost too thick to fit through belt loops
Hank's again? What can I tell you? They're just wizards when it comes to producing quality gun holster belts. This is another tough, discreet leather offering, only this time it's equally worthy for open or concealed carry. Because variety is the spice of life. Or something like that.
Read more
Concealed or open. Your choice
Do you like to show off your firearm? Are you allowed to where you live? If the answer is yes, Hank's Extreme is for you. However, if the answer is no, Hank's extreme is still for you. Off duty and want to hit the town while looking stylish? Guess what? That's right. Hank's.
That's a quality belt.
As I write this list, something is becoming clear to me. Hank makes great belts. Every once in a while, you find a product where just hearing the name evokes thoughts of quality. It's rare, but Hank's has nailed it.
Cost and Value
Just like it's fellow Hank's belt above, this is an already well-priced belt with enough features and options to take its value to new levels. The ability to choose either open or concealed carry is a great added touch.
3

. The Ultimate Concealed Carry Belt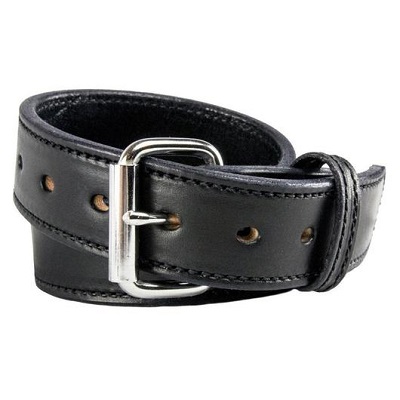 Tough handmade construction
Heavy duty buckle
Very strong
Holds up well to daily wear
Fits small
Thread frays easily
"The Ultimate". That means it's good right? It sure does, case closed. Wait, anything can claim to be the ultimate, but does this holster belt live up to its claim? Strong and well built, and stylish enough to wear as an everyday belt? I'd say this belt comes pretty darn close.
Read more
You can dress them up...
The Ultimate Concealed Carry Leather Gun Belt was designed to hold up to any situation you may find yourself in, including date night. Handmade from full grain leather, it will keep you looking sharp.
Strong like leather!
Nylon belts, while effective and usually pretty cost effective, are not very versatile as belts go. For that, you need leather. But is what leather belt can hold up to everyday use? This one right here.
Cost and Value
it's built like a leather belt, it looks good as a leather belt, and yes, it's priced like a leather belt. It's also a great holster belt and will hold up in any condition you put it in, which adds up to great value.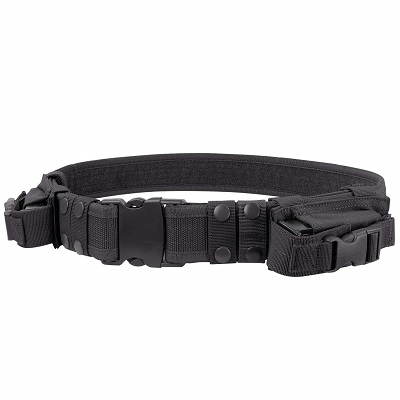 Fully adjustable for maximum comfort
Great value for the price point
Easily holds multiple items
Included pouches are very versatile
The plastic buckle looks cheap
Can be stiff
My first impression of the Condor Tactical Belt? This is a slick looking belt. With two magazine pouches and a quick release buckle, it was clearly meant to be used in any situation. Condor put their years of knowledge and expertise to work to bring you a product that does just that, all at a price that does anything but scares you away.
Read more
Use it however you want
AS A BELT. It's incredibly versatile and can be adjusted in any way you need it to be. Wanna strap a bunch of accessories to it? Do it. Want to play with it and strap it across your chest? Actually, it's been done, and it works.
How much stuff do you have?
If the two magazine pouches aren't enough for you, no worries. You can add whatever you want, from more pouches to survival gear, and the Condor Tactical Belt can handle it without skipping a beat.
Cost and Value
You know how when you go to buy something you've been needing for a while, and you inherently tend to stay away from the lowest priced offerings? I do it too. It's because we assume that that cheaply priced is cheaply made. This belt breaks that mold.
5

. Fairwin Web Holster Belt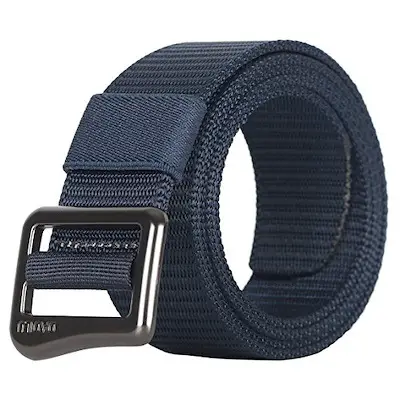 Quick drying
Can hold up to 1100 lb.
Stylish enough to wear day-to-day
Heavy duty buckle
Starts to fit loose
Feels a bit cheap
This affordable military style belt is the perfect accessory for all gun enthusiasts. It doesn't really matter whether you're an amateur or a professional because with this belt you are sure to get a quality build that provides support and security even in the most critical of moments. The belt is discreet and lightweight, ensuring optimum comfort for everyday use.
Read more
I love the outdoors!
Then you need this belt. It's lightweight and quick dry, so it's meant to be used a lot in the most strenuous situations. So go ahead, climb that mountain, your gun belt can handle it.
Good for the environment.
The FAIRWIN Men's Web Holster Belt is made from environmentally friendly 1000D nylon material (which also makes it super comfortable), so you can wear this belt and feel good about it. Go you!
Cost and Value
This belt is quite well priced considering its quality and durability. I've already said that about a lot of these belts, and in their respective categories, they are all great value. This one though takes value to a crazy new level. Definitely - money well spent.
6

. KingMoore Tactical Webbing Belt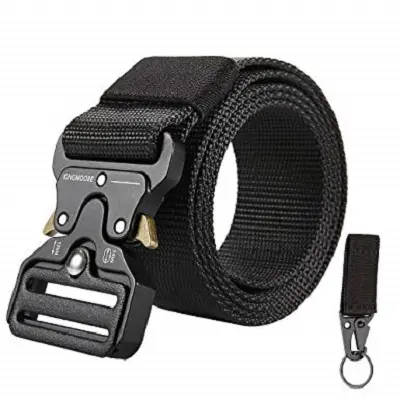 Heavy duty buckle
Easily adjustable
Fits well
Field tested to work (see above)
Lock won't fit through belt loops
Tends to fray quickly
Is this yet another nylon gun holster belt review? Bear with me for a second. Strong? Yes. Sturdy buckle? Durable? Check. Just like every other nylon belt on this list, it's pretty nondescript and doesn't stand out. Fortunately, that's exactly what you want when you buy a concealed carry holster belt.
Read more
Field tested to work
The makers of this belt wanted it to work the way they designed it to. So how did they make sure? Like anyone else, they tested it. But not themselves. They gave it to military personnel to put to real use. I'm guessing it was a success.
Won't buckle under
Really, it won't, I'm not just being clever. The buckle is made from aviation class aluminum alloy, AND it's slip resistant. Almost sounds like they made this thing to last for a really long time.
Cost and Value
With the KingMoore Men's Tactical Belt, you know what you're getting for the price you pay. It's a great belt that holds up well with other nylon gun holster belts, so you won't have any nasty surprises when you get it.
7

. UTG Heavy Duty Elite Pistol Belt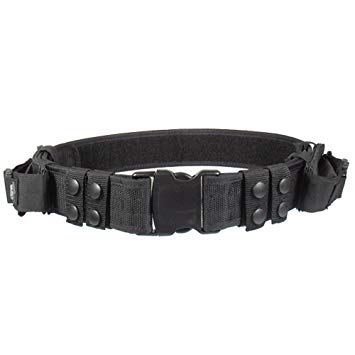 Modern design
Reinforced threads and double-edge stitched for added strength
Quick release buckle
Tons of room for magazines
Starts to wear quickly
Not very rigid
This gun belt means business. Not for the faint of heart, the UTG Heavy Duty Elite Law Enforcement Pistol Belt is meant for, you guessed, law enforcement. That's not to say the average Joe can't go and pick one of these bad boys up, because they can. If you're serious about your firearm, and I mean SERIOUS, pick this belt up. You won't regret it.
Read more
Give me my gun!
Not only does law enforcement equipment need to be tough, but it also needs to be versatile in a life or death situation. That's why this gunbelt has a quick release buckle system giving you quick access to your weapon in the heat of the moment.
It looks so cool!
Okay, this is a totally vain selling point, but if you're like me and grew up watching action movies where every hero had a belt like this, you'll want to look cool too. You might even get the girl at the end.
Cost and Value
This is a tough nylon belt that the professionals choose to get the job done, and it's very affordable to boot, so you can be sure you've made a great purchase.
8

. Wolf Tactical Nylon EDC Web Belt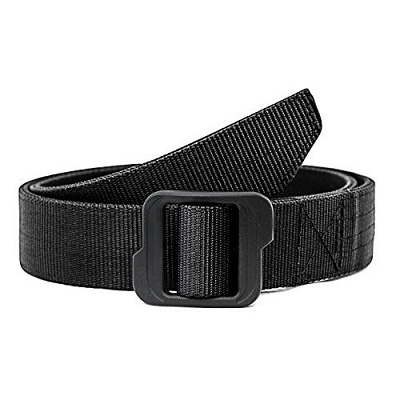 No metal keeps belt light and comfortable
Strengthening second layer of nylon
Sturdy enough to be used in multiple applications
Fully adjustable
Can't hold tons of weight
Does seem a little flimsy
A premium quality, highly affordable tactical nylon belt. That seems to be the trend these days, and boy are we lucky. There are just so many great belts to choose from. If that's the case though, what makes the WOLF TACTICAL Nylon EDC Web Belt stand out from the rest? It's pretty simple: their incredible attention to detail and quality.
Read more
Jack of all trades.
The design and construction of this belt are such that it doesn't have to be used for firearms exclusively. It's sturdy enough to hold up in several trades, from electrician to utility workers and police officers, this belt has you covered.
Does what belts do.
This may seem like a cop out, but it's a belt. It's meant to hold your pants up, possibly while carrying tools or equipment, and not fall apart halfway through the day. Luckily, this belt does all that and looks good doing it, so darn well.
Cost and Value
Priced competitively, the WOLF TACTICAL Nylon EDC Web Belt brings plenty of features, and excellent design quality with it when it cinches perfectly around your waste. That there is the value you can count on.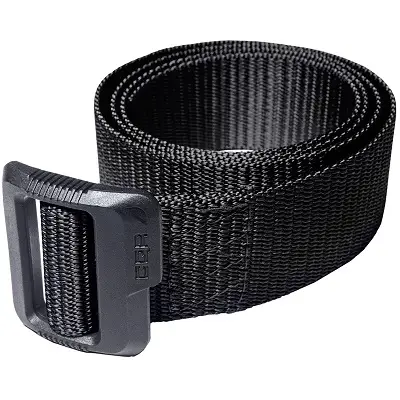 Rip resistant nylon webbing
Good variety of colors
Holds tight
Excellent price
Buckle protrudes a lot
Not the most comfortable
During the course of this review, I have seen so many black nylon belts that they all just start to melt together. This one, somehow, looks like the most basic of the bunch, with no embellishments to speak of. It's easy to mistake it for any nylon straps you may have lying around the house. Guess what? It also happens to be one of the strongest, most reliable belts here.
Read more
As I said, strong and reliable!
When you buy a belt, you generally don't want to have to buy its replacement any time soon. Nor do you want to waste too much time worrying about it, because, really, it's a belt. So you should be pleased when months or even years down the road, this one is still kicking.
Military minded.
Every product that CQR makes has at least a little bit of military performance design, offering you versatile protection in the harshest environments, and this belt is definitely no exception.
Cost and Value
What can I say that I haven't already? It's cheap. Very cheap, even, but it's not made that way. So if you want a sturdy, no-frills holster belt that won't come close to hurting your wallet, then look no further.
10

. Mission Elite Heavy Duty Tactical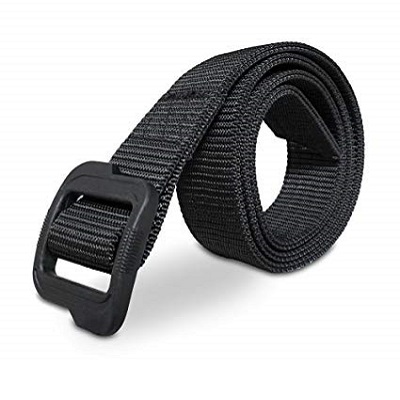 Stiffened to support any IWB or OWB holster
No metal buckle makes security checks easy
Lightweight and comfortable
Reminiscent of a thick leather belt
Threads are known to pop loose
Stretches out easily
Elite, but not elitist. This belt was made to provide military reliability for everyone who needs or wants it. A heavy-duty reinforced belt that won't break the bank, this is a great product for the average enthusiast. As a bonus, no metal in the buckle means security checks are a breeze. That's a huge plus.
Read more
Built to travel
With no metal anywhere in the construction, this belt can be strapped on and taken through the airport, or any other security checks for that matter, with skipping a beat. No metal also means lightweight, so you'll barely notice that you are wearing a belt.
Super tough
Thick, strong and reinforced mean the MISSION ELITE Heavy Duty Tactical Web Belt won't give out all of a sudden, which is good, because nobody likes being caught with their pants around their ankles. That would just be embarrassing.
Cost and Value
This is one of the pricier nylon gun belts on the market. It also, however, is built with two layers of durable nylon and is reinforced for a top of line sturdiness. Overall a solid investment.
Criteria Used for Evaluation

Effectiveness
Many people have asked the question, "Why can't I use my everyday belt as a holster belt?" Well honestly, normal belts satisfy the task of holding up your pants, maybe even carrying the weight of your phone. In reality, they just won't hold up against the added weight of your firearm. The average belt is only made from a single layer of material, which over time will stretch out under the added weight. Belts that are truly made for use with your holster and firearm are made from a double layer of material. This makes them more rigid, allowing them to hold up better over time than the average belt used for your pants. Also using a belt intended for use with holsters ensures your firearm can release from the holster properly, without any restrictions.


Materials
Nylon/Cloth/Webbed
Holster belts made from either nylon, some type of cloth (varying by manufacturer), or webbed tend to be the most common choice among the concealed carry enthusiasts. Some of the nylon belts on the market today vary widely in both the materials they are made from and the price tag that goes with them. Some are made to be so strong that it is said you can tow a vehicle with them, this type will definitely come with the higher price point. Holster belts made from cloth-like materials also hold a ton of potential benefits, known for their water resistance and durability. When you see the holster belts that are titled as being "webbed" you will want to check the materials used to create the webbing before purchasing. Some manufacturers will use a combination of materials, while others use just one material. Whichever the case may be, their potential benefits lie in the materials used in making the webbing of the belt.
Leather
When a holster belt is made from leather, it needs to be a thicker leather used to create the belt. If the holster belt is made from leather that is too thin, over time the belt will stretch, which can cause issues for you in the long run. If a leather holster belt is what your seeking, there are a few pointers for you to follow before purchasing the holster belt. A good leather holster belt will be slightly wider than your standard leather belt, look for one that is at least an inch and a half wide. To be sure your leather holster belt is rigid enough to withstand the stress and weight of your firearm, find one that has a double layer of material. For even more rigidity, there are leather holster belts on the market that will have an added layer between the double layer.


Size
As we all know, when shopping in store for any clothing item, you have the advantage of trying things on before you buy them. The same holds true for holster belts, try as many on as you need until you find what works best for you. In the event you are ordering online, there are a few strategies you can follow, to avoid the return and exchange process. When ordering direct from a manufacturer, follow the guidelines for sizing found on their website, this will help you find the right fit. Another rule you can follow, most holster belts will need to be at least 4 inches larger than your pants size. For example, if your pants size is a 34, you will want to order your holster belt in at least a 38 in size.


Comfort
It is important to purchase a holster belt that does not irritate you when placed around your waist. You want one that feels comfortable not only when your pistol is on, but when it is off as well. If the belt you purchase does not provide comfort, you will likely not wear it. That not only means you wasted money, but your sidearm may not be available when needed. When it comes to all the belt's in our review, they would provide a high level of comfort.
Another thing you want to consider is ease of use. You do not want a holster belt that looks too complex to put on.


Value
A good holster belt should last you a long time, maybe even a lifetime if not used regularly. We looked at the quality of the build and material used and compared to other models in the same price range to get a sense of value and whether it's worth the price. But it's also important that you take care of your belt.
To get the most life out of your leather holster belt, proper care and maintenance must be practiced. Applying leather conditioner regularly can help increase the lifespan of the belt. Be sure to carefully read the instructions on the conditioner before applying. However, for most conditioners, a small, dime-sized amount placed directly on a rag is sufficient enough to work both sides of the belt. Expect to allow the leather holster belt to dry for at least a couple of hours before use. Be sure to do this once a month for the life of the belt.
When not in use, store your leather belt by hanging it from a hanger or hook lengthwise. Try not to stuff it in a drawer or over a chair where you risk bending or warping the belt. Also, avoid leaving the belt in your pants overnight.
Expert Interviews & Opinions
Most Important Criteria
(According to our experts opinion)
Experts Opinion
Editors Opinion
Users Opinion
By Default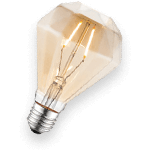 What Is A D Rating?
For nylon, the amount of material used in manufacturing the holster belt is measured by a D rating. Seek out a nylon holster belt with a higher D rating, doing so will up your chances that the belt is durable. Watch out for the width of both nylon and cloth belts, often times these belts are wider than what will fit into the loops on your pants.
The Buckle Is Important
Another type of material to consider when selecting a holster belt, the hardware used for the buckle. There are a plethora of buckle options on the market, just choose the one that works best for you. Just be sure to check out the material your buckle is made from, you want one that is made from good quality materials. This will limit the chances of malfunction as well as limiting the chance that your buckle will corrode over time.
Check Out The Sticthing
If the holster belt has noticeable stitching holding it together, try to be sure that a good quality material was used to stitch the belt together. Some manufacturers will pride themselves in that aspect, meaning they will clearly mark the material that was used. While others will not, in this case, give the belt a once-over, you should be able to pick out poor thread quality just by looking at it.
Other Factors to Consider


Versatility
When considering which holster belt best suits your needs, you may want to consider when and where you will be wearing this belt. I mean think about it, carrying concealed in an office setting will only be all too obvious when you walk around wearing a more tactical style holster belt. In this case, a good leather holster belt might just be better suited for you. When tromping through the woods, the added weight of a leather holster belt might be slightly more bothersome. For this, a cloth or nylon style holster belt might do the trick. What this really amounts to is a matter of opinion, as well as using a little common sense. Just be sure to find yourself a holster belt that is both practical and comfortable for you.
Frequently Asked Questions
q:

What is the difference between a double layer leather belt and a double layer leather belt with a core?

a:

The difference lies within the rigidity of the holster belt, a double layer leather belt with a core is the more rigid of the two. Which means it will hold more weight, without rolling over on you. This is due to the extra layer that is installed between the two layers of leather. This extra layer can be made from either plastic or spring steel. Spring steel being the better option of the two materials, as spring steel will not hold memory when it comes to shaping.
q:

How do I know if a nylon holster belt is sturdy enough to be a holster belt?

a:

For this, you will look for the "D" rating on the belt, this states how thick the nylon will be. The thickness is where you will see the durability, look for a belt with a higher "D" rating. A good rule of thumb to follow, nylon belts with a 600D rating or higher offer a good amount of durability to be used as a holster belt.
q:

What holster belt material works the best?

a:

This is truly a matter of opinion, but there are a few pointers you can follow. First, think of when and where you will use the holster belt. For an everyday wearer, a good quality leather holster belt might be a better option. As leather matches any occasion, so you can wear this holster belt even in an office setting. Nylon or cloth might be considered for those who will use the holster belt in more of an outdoor setting. The nylon or cloth tend to hold up to the elements slightly better than leather will. Another thing to consider is the price; leather tends to run higher than a nylon holster belt.
q:

What is the best type of buckle for a holster belt?

a:

There is a multitude of options on the market for buckle options. It really is best to try a few out to see what is the most comfortable option for you to use. You may like a traditional style belt buckle, rather than some of the other more complicated choices out there. One thing you should do, check the quality of the buckle itself. You want one made from good quality materials, this will eliminate any corrosion issues further down the road.
q:

What is the best width for a holster belt?

a:

Most pistol carriers prefer 1.5" belts. This width provides enough motion to reach and grab the hilt of the gun without blocking your pant pocket on your main side. You will also want to keep in mind the type of pants you wear while carrying as they also affect how well it fits and the overall use of the holster belt.
q:

How do I break in my holster belt?

a:

There are no special steps to take for breaking in your holster belt. For leather belts, bending or folding of the belt can lead to cracks. Simply allow the belt to break in naturally through normal wear.