Best Air Guns Reviewed & Rated for Quality
In a
Hurry? Editors choice: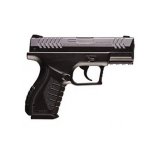 Test Winner: Umarex XBG

Air handguns are easier to handle in many aspects. To start with, they're lighter than real guns – and not nearly as dangerous. Although some air handguns are more potent than others, they have nowhere near the same firing power as a real one. The pellets they use cost much less than real bullets also. The lack of power and weight ultimately translates in ease of use and portability for a
beginner shooter
. Additionally, they have very little to no recoil, which helps with learning how to
position the gun
while firing without having to worry about the kickback. Some look more like the real thing than other and there is also a difference in power you need to consider. We've reviewed and rated some of the best on the market so you can find exactly what you are looking for!
Standout Picks
Criteria Used for Evaluation
Ease of Use
Gun preferences, just like everything else, vary from one user to another – it's impossible to create a unique gun build that fits every single user individually. However, it is possible to provide gun users with the features they need to personalize their guns back and forth at their own will. This not only makes a gun suitable for a much larger amount of users that may not like the original design, but it also gives all of its users, in general, the ability to experiment with different things.
Adaptable sights
Something as simple as an adjustable rear sight or front sight can be the difference that makes a person purchase a specific gun. There's not much thought behind this; users that may not like certain fixed sight positions are now potential customers due to the fact that they can adapt the gun to their preferences.
But, user adaptability is not just a matter of expanding the number of potential customers. It's mostly a matter of improving user experience by increasing the ways in which they can use their air handgun. If you've ever owned a gun, you'll know that there's nothing like a gun that you can adjust to your very own likings.
Firing mode
Another important aspect of user adaptability is the firing mode selection. But, more complex technologies like firing mode switches involve a significantly larger amount of changes to the gun in comparison to an adjustable sight. While multiple manufacturers offer the ability to select different firing styles, it's more uncommon than any other adaptive technology. This also means that it will make the gun more expensive in general.
However, the benefits of multiple firing modes certainly come in handy. Most users who own switchable guns believe that additional investment is really worth it when it comes to gaining access to another firing mode. When we're talking about this type of advanced adjustment, it's not only a matter of users being able to try new things. The ability to switch shooting styles can (and most likely will) become extremely helpful during activities like hunting and pest control.
Accessories
We consider the possibility of incorporating gun attachments as a huge advantage ranking-wise. Some producers make specific emphasis on applying real gun designs to their air handguns, making them resemble their real counterparts as much as possible. In some cases, this also includes making the air handguns compatible with the attachment of its firearm equivalent.
Adding attachments to a handgun is unquestionably the most popular way to customize the user experience. Whether it's a small flashlight or an aim-assistant laser, the possibility of incorporating attachments certainly gives users a plethora of ways in which they can become more comfortable with their air handgun.
Furthermore, replaceable pieces are the cherry on the cake when it comes to customization. Gun owners, both air handguns, and real firearms, usually have their personal favorite components. These can go from a customized grip to a special kind of magazine and even a specific trigger.
Because of all of these parameters, we believe that user adaptability and customization is an important factor to consider when looking for the best air handguns. Moreover, it's because of this same reason that customizable air guns had an advantage during our research, evaluation, and ranking process.
Power Source
Before going into any detailed explanations and arguments, we'd like to clarify that the firing power directly depends on the activity the gun is meant for. Firing velocity is one of the things that users look into the most when purchasing air handguns, often trying to get as much as they can. However, maximum raw power is not always something you should be looking for.
While the shooting power and velocity certainly are important, there's much more to the efficiency of an air handgun than just that. At the same time, this does not mean that you should overlook the maximum velocity of a handgun. Depending on the activity you're looking to perform (if you're interested in a particular thing, that is), you might want to reconsider how much power you want. In order to do this, you should consider the drawbacks of having too much velocity.
CO2 Consumption
Most users wouldn't normally think that too much power is a thing – and it's not crazy to think so, as it is part of the purpose of air handguns. Yet, there are actually drawbacks in using excessive power; one of them is the consumption of CO2.
The faster and stronger the shot, the more CO2 is required. At the end of the day, CO2 is what propels the ammunition. Although spring systems and air compression mechanisms may play a role in the definitive velocity of each shot, CO2 will always (or almost always) be the element that affects shooting velocity the most. Thus, in order to achieve greater shooting power, the gun requires greater use of CO2 to enhance propulsion.
Recoil
This one is a fairly simple factor; the greater the shooting force, the stronger the recoil it will create. If you remember something from your physics classes back in high school, you'll know that Newton taught us about forces and their opposite effects. Any force applied in one direction generates just the same amount of force in the opposite direction. It's pretty much the reason why you can't push a wall without moving backward.
10 Best Air Guns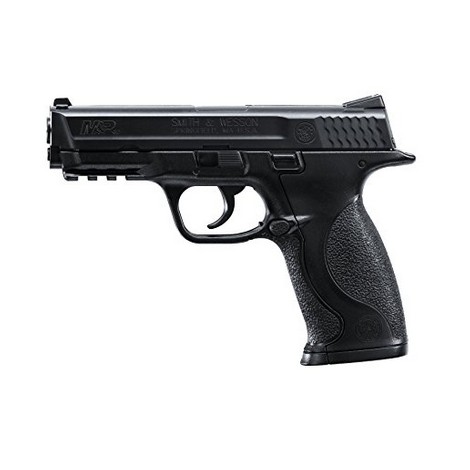 The medium-size Smith & Wesson M&P follows the standard .177 caliber BBs and a semi-automatic firing mode. The shooting velocity goes as high as 480FPS and counts with a drop-free magazine holding 19 individual BB shots. This gun is designed after one of the newest Smith & Wesson pistols and made with highly resistant and durable materials.
Shooting accuracy
The M&P is just as accurate as the real model, even fitting inside the same holsters. The accuracy of this gun is flawless within the standard handgun distance of 7.6m (25ft). Smooth firing makes efficient use of CO2 propulsion, giving you access to more rounds with the same capsule.
Enhanced sights
The fixed sights of this gun consist of a fiber optic piece on the rear sight and a white dot on the frontal sight for easier aiming. The distinctive dot assists users in acquiring target easily as faster than ever, complemented by a 480FPS propelling force for instant hits.
Cost&Value
The body, frame, and grip of this are made of a resistant polymer that is resistant to scratches and impact. Additionally, the polymer is texturized differently throughout the gun to enhance the efficiency of each component, such as the texturized handle for a better grip.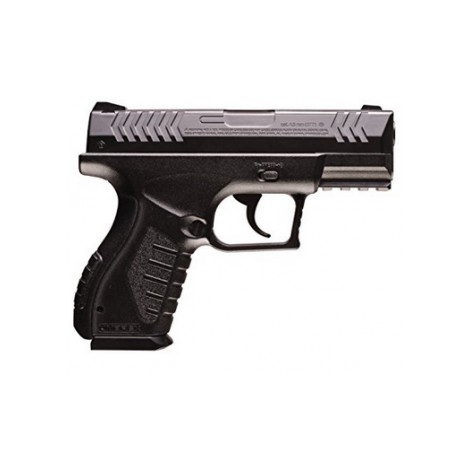 The 19-round Umarex XBG air pistol features a fully metallic drop-free magazine optimized for reloading speed. The gun is propelled by a 12g CO2 capsule that lies within the grip. The Picatinny rail makes the Umarex XBG compatible with a large list of accessories such as a laser sight or a flashlight.
Quick action pistol
If you're looking for prolonged trigger time, it's hard to get any more economical than the Umarex XBG BB gun. The design of the gun seeks the fastest handling, which includes aiming, reloading, and firing. The fixed rear and front sights are ideal for quick target selection, also shooting in double action at 410 FPS.
Rapid fire approach
This model counts with double-action shooting quality. After charging the pistol with a CO2 capsule of 12 grams, you'll be able to fire as fast as you can pull the trigger. There are no delays between shots or systems that prevent continuous fire.
Cost&Value
The efficient consumption of CO2 makes each capsule much more durable, and thus hinders the costs of using the weapon. The design of the gun is compact and light in comparison to its real fully metallic count

3

. Crosman Vigilante .177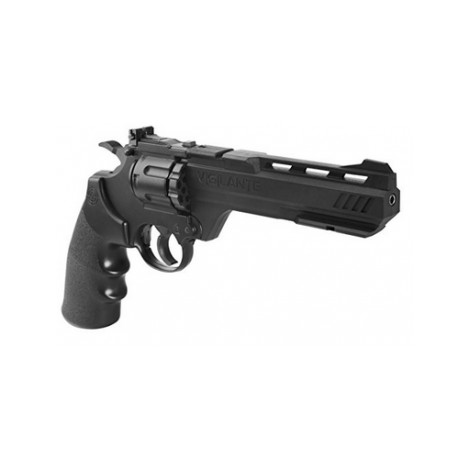 If you're looking for a modern approach to the classic revolver, the Crosman Vigilante is your best option. The fully metallic design resembles the real revolver with a realistic weight and shooting capacity.
Finger-groove trigger
The specially designed trigger acts and responds just like a real gun, offering enough resistance to not trigger itself yet sensible enough to fire comfortably. The grooving design feels very comfortable on your fingers, improving your ability to fire continuously.
Full metal frame
The Crosman Vigilante does a great job of mimicking its real counterpart with a fully metallic body and a realistic weight. The rail system is metallic as well, and the tactical design allows for certain attachments (compatible real gun attachments will work) and allowing users to adjust the rear sight.
Cost&Value
The Crosman Vigilant is capable of firing both BB and pellets. The hybrid clips allow for 10 pellet shots and 6 slots for BBs, each clip must be loaded separately and consist of two individual pieces, although they can work together in the revolver at the same time. Making this one of the more versatile models thus far.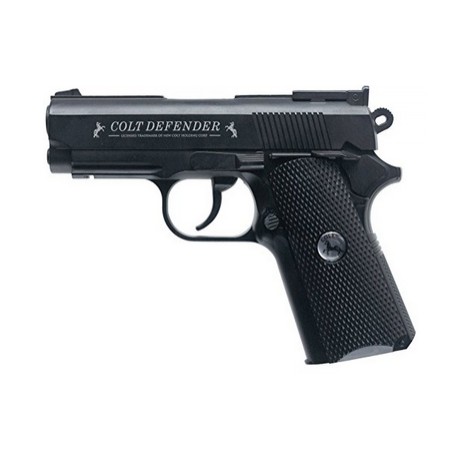 Despite being an air handgun, Colt's Defender BB edition features a completely metallic construction resembling the real weight of the gun. The magazine holds 16 shots and is integrated into the pistol near the CO2 capsule which lies within the grip. The fixed sights, both rear sight, and front sight mimic the original sights of the Colt Defender for a realistic shooting experience.
Spring powered grip release
The use of springs within the grip optimizes the release process, making it not only faster but also much smoother. This allows users to access the CO2 compartment quickly, considerably reducing the reloading time.
Efficient CO2 consumption
Thanks to the optimized CO2 intake, a single capsule of the Colt Defender runs for approximately 150 rounds before it needs refilling. Shooting slow and steadily reduces the CO2 consumption per shot, and the refill process requires no special tools in order to puncture the CO2 capsule, which features a flip-down knob.
Cost&Value
The efficient use of CO2 makes this one of the more favorable selections on our list. Pair that with its smooth firing ability and you have yourself one heck of a deal.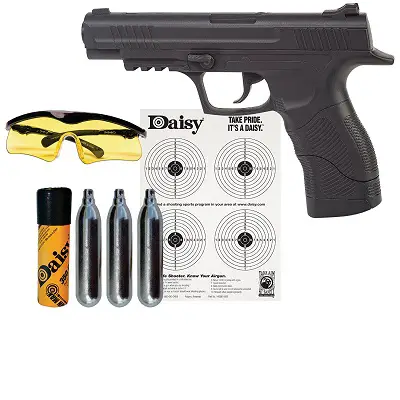 Daisy Unisex Powerline 415 Pistol is obviously one of the best choices you can make. This item comes with everything you need to get started, including shooting glasses, targets, 350 ct. BB tube and three CO2 cylinders. What really stands out about this product is its velocity. Despite its small dimensions, the semi-automatic Daisy Powerline can reach the maximum velocity of 500 fps.
Semi-Automatic
One of the best features that this product has to offer is the semi-automatic mechanism. The CO2 powered system harnesses the energy of one shot to reload the chamber for the next. If you're using this gun as a hunter, you'll gain valuable time when shooting.
Built-in Magazine
Another great feature is that this pistol has a built-in magazine in which you can store up to 21 shots. Now you never have to worry about losing or damaging it when not inserted in.
Cost and Value
So many accessories included in one kit make this a great buy. What's more, if you compare this product to others in its class, you'll be amazed to see how low-priced it is. So don't hesitate to buy it!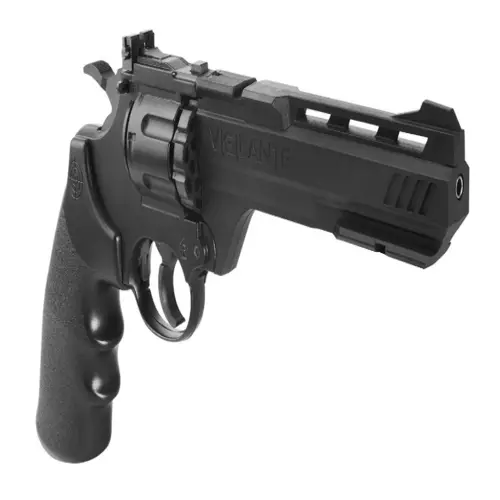 When you are looking for an air gun one of the first things you want to keep in mind is how much usage you will truly get out of it. Knowing the answer will help you find a gun that has the features you need. Featuring a classic, full metal frame revolver appearance with a modern twist the Crosman Vigilante lands on number 6. Not only is its aesthetic quite useful but its built-in qualities are even better.
Lightweight
As stated above knowing just how much usage you will be getting out of yours will further help you make the right purchase for you and your needs. Furthermore, it will help you know just how much weight you truly want to travel with. Weighing just 2 pounds, this is extremely lightweight which is perfect for those that want to travel with it constantly. Though it is lightweight do not be afraid that it won't work to its full potential, in fact, it works extremely well without missing a beat.
Rapid Fire
One of the best aspects this has to offer is its ability to rapid-fire. Every owner knows one of the best aspects of having a BB gun is that they can shoot quite quickly; however, some of them tend to get stuck along the way. This one does not! The beauty of the Crosman Vigilante is just quickly it will shoot your target without missing a beat. Furthermore, it features double-action firing so everything is done quickly and effectively.
Cost and Value
When it comes to the cost and value, it sits in the mid-range of the spectrum. Meaning you won't be paying too much or paying too little for the features you are getting. Furthermore, the price works exceptionally well when you want an effective item without missing a beat.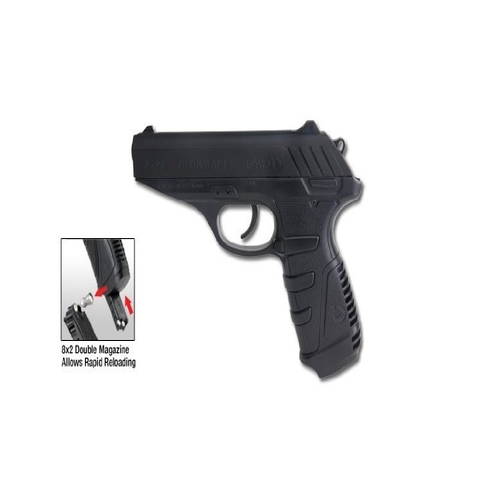 Coming at number 7 we have the Gamo P-25, with the versatility and accuracy you want and need. Having over 120 years in the business, the brand crafted this gun to offer only the best features while still being sleek and easy to use. Its all about creating a product that makes you excited to showcase it to friends and family yet ensures you always hit your target on time.
P-25 Blowback
To provide accurate shooting the Gamo P-25 showcases a CO2 pistol mechanism that enables the gun to shoot up to 450 fps using platinum ammo. Having this feature enables the gun to be quick and accurate every single time. Additionally, this attribute has blowback action and an 8x2 pellet magazine to further emphasize the accuracy element this gun showcases.
Modern Technique
Having a modern technique integrated means this can seamlessly utilize a small portion of air that moves the slide backward during shooting. Having this feature ensures the gun uses less air which will create less friction allowing the gun to shoot better.
Cost and Value
As for the cost and value of this, you are getting a pretty good price. Furthermore, the features themselves are a huge reason to purchase this one. It comes prepared to be as accurate as possible by using small amounts of air to create less friction in the gun itself.

8

. Umarex Colt Peacemaker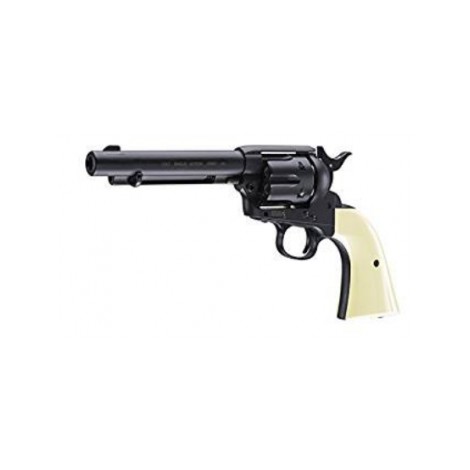 Umarex's Colt Peacemaker is an emblematic air handgun representing the guns from the Wild West. The introduction of this gun during the time made the name Peacemaker very popular. Aside from being easy to handle and shooting with, owning the Colt Peacemaker is like owning a piece of firearm history. Despite being an air gun, the Colt Peacemaker delivers the very living experience of real Colt revolvers.
Full metal frame
The construction of this revolver is completely metallic and heavy-weight, representing the weight of authentic Colt revolvers. The metallic build covers the barrel, cylinder, body, and trigger.
Real revolver action
Every aspect of the Colt Peacemaker is carefully designed to imitate the engagement of an actual revolver. The firing action and cylinder rotation work exactly like in a real Colt, with a cylinder capacity of 6 BBs propelled by the CO2 compartment in the grip.
Cost&Value
The Colt Peacemaker is a BB-cartridge-loading Single Action Army (SAA) and is extremely easy to load. Unlike traditional revolvers, the shells in the chamber make inserting the BBs and loading a really simple process. Making this a valuable asset to your shooting arsenal.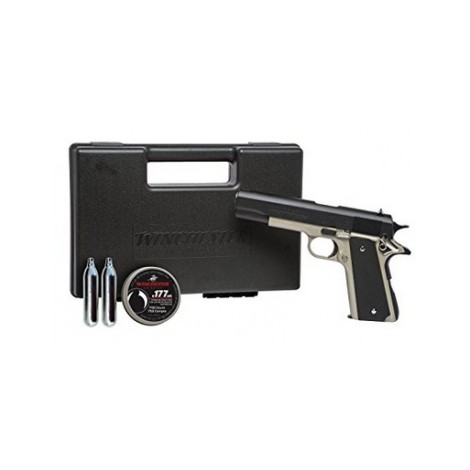 Winchester has some of the most realistic builds and functionalities you can get your hands on. New shooters quickly become familiar with the use of real guns while using the Winchester 11K air pistol thanks to the lifelike blowback action. Additionally, a metallic base adds the necessary weight to resemble a real firearm complemented with a nickel finish. The kit pistol case includes everything necessary to get initiated in shooting.
Realistic blowback action
The recoil of the Winchester 11K resembles a real firearm, allowing users to practice with BB's while conditioning them for the usage of real guns. The blowback is not violent and doesn't kick too deep. It doesn't match the full blowback of a firearm, but it gives users a very similar experience.
High power and efficient consumption
The velocity of the Winchester 11K goes around 410FPS, which is fairly enough for plinking and recreational shooting. Additionally, the CO2 consumption is strategically administrated to the gun in order to provide more shots per capsule.
Cost&Value
The Winchester 11K pistol comes with a kit case that, aside from the gun, includes two individual CO2 capsules with a 12g capacity. For ammunition, the kit offers a 750-count Winchester BB packet – the ammo from the same manufacturer is the perfect match for this gun. The case is perfect for transportation of both the gun and the accessories.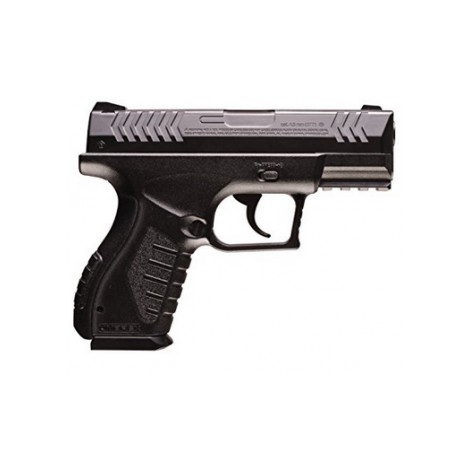 For people who are into classic German handguns, the Umarex Legends M712 is the ideal replication. The distinctive metallic design includes a broom handle – a piece of history that will bring eyes on you when going to the firing range. The frontal sight is fixed, but the rear sight can be adjusted to fit each user's personal shooting preferences.
Full auto blowback
Blowback doesn't get any more realistic than the Umarex Legends M712. The fully automatic engagement provides the user with a real gun shooting experience. The maximum potency goes as high as 350 fps, which is not the best speed, but definitely not bad for an automatic handgun. The shooting speed will decrease gradually as the CO2 cartridge is used.
Adjustable firing mode
If fully automatic firing isn't your thing, or you simply want to experience semi-automatic shooting, the adjustable firing mode is the feature you're looking for. The Umarex Legends M712 allows you to freely switch between semi and fully automatic fire. Be advised; when the CO2 runs low, the gun may fire automatically even if it's set for semi-fire.
Cost&Value
Aside from accurately resembling the classic German design, the construction of the Legends M712 gives you a very realistic experience in the matter of balance and weight thanks to the realistic metal frame weight.

Subscribe to our Newsletter