Best Ammo Cans Reviewed & Rated for Quality
In a Hurry? Editors choice: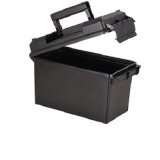 Test Winner: MTM 50 Caliber Can

An
ammo
can is a special container, usually made of metal, in which you can keep your ammunition safe. One of the main advantages of these storage devices is that it facilitates the organization of your hunting accessories. Therefore, it allows you to
carry your ammunition
without worrying that you will lose it and fall in the hands of the wrong people. It is also useful during bad weather conditions. Having several options to choose from is always a good thing while researching a product. Here, we have narrowed down the 10 most popular options. Each product offers its own benefits and helps protect against environmental damages while helping make things a bit less cluttered.
Standout Picks
Criteria Used for Evaluation
Protection
You can purchase these with several forms of protection. For long-term storage, you can find them to be rust, air, and waterproof. Another form of protection these cans might come with is the locking ability. This feature will keep ammo out of the hands of children, which is always a plus for safety reasons. We rated the products on this list on both, protection of the ammunition and from the ammunition. When a bullet becomes corroded or rusty, there is no way to bring it back to its original form and your only option is to throw away the ammunition. Each one of these controls the climate within the box, with different constructions acting as a moisture barrier.
Along with that, the cans listed are considered very durable making storage safe for each bullet. You can stack these cans or bring them out in the field, aiding in bullet damage. Every one of the ammo containers listed has different features and materials to prevent crushing of the inventory and also the box, making these storage units useful for long periods of time. After reviewing each of the cans listed here, you will learn that there is a variety of ways to prevent your investments from becoming destroyed and there is no reason to go any further without safety.
Materials
You will find these in a couple of material options, all of which offer their own potential benefits. You can find them made from steel, plastic, or other materials resembling plastic. Many are built to be both durable and dependable.
Steel
Steel cans are constructed to be virtually indestructible, they can withstand most weather conditions, as well as being fire-resistant. Most steel cans come with a rubber or foam gasket to properly seal the lid once it is closed. This option will keep moisture and air out of the can, reducing the chances for corrosion. Steel models most commonly come either with locking hardware installed or the ability to be locked. With all these features, steel cans are chosen more times than not for long-term storage.
Plastic
Plastic also holds a lot of potentials, made from thicker plastic, these cans can withstand a considerable amount of damage. They are typically more lightweight, and less awkward for traveling than the steel cans. Although most plastic cans won't come with the same water and airtight protection, they will work just fine for short term storage or travel.
With both types of cases, there are a couple of similar features that will prove to be satisfying. Both of these have some models that the lid can be totally removed. This allows for easy access to your ammo, along with easy cleaning from time to time. There are also cans from both materials on the market that can be locked. This is a great feature for safety purposes, keeping your ammo locked will prevent children from getting into it. One last quality that comes to mind, most of these cans can easily be stacked. This allows you to conserve space or helps keep things organized in your already limited spacing.
Size
This feature will depend on how much, as well as what size ammo you are looking to store. There are plenty of good options out there as far as size. It is highly recommended that you research this feature before you purchase a can. This way you can be sure which size will better suit your specific needs. If you have different types of guns and need cans for different sized bullets, you may need to get more than just one. We rated on size based on how well the design takes advantage of the space to ensure maximum capacity and how convenient the size of the can is for storage or traveling with.
Portability
A case is not only great for storing and protecting your ammunition, but it's also the best way to safely travel with your ammunition as well. Some cases are better designed for portability and feature lightweight materials and comfortable handles. Others are bulkier, heavier, and not as travel-friendly, but great for storage. When looking for your new can, be sure to keep in mind how you'll be using it so you make a better decision on the design.
Value
Most of these come in a wide variety of price ranges. You can find them for as little as $15. So if your budget is small and you don't have a ton of ammo to store, you can get sufficient plastic cans that will do the trick.
For someone who plans to store a lot of ammo, be exposed to the elements, or just plain puts their gear through the wringer you may want to consider spending a little more on your cans. You will want one made from steel and that comes with a seal to lock out moisture. These are more durable than plastic and better for long-term storage. But they do come at a greater cost ranging anywhere from $30-$100. These types of cans are slightly pricey but will provide the best quality protection for your ammo.
BEST AMMO CANS REVIEWED & RATED FOR QUALITY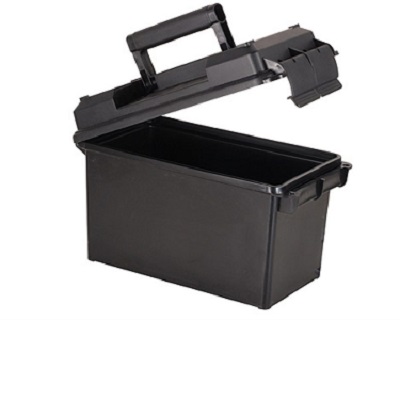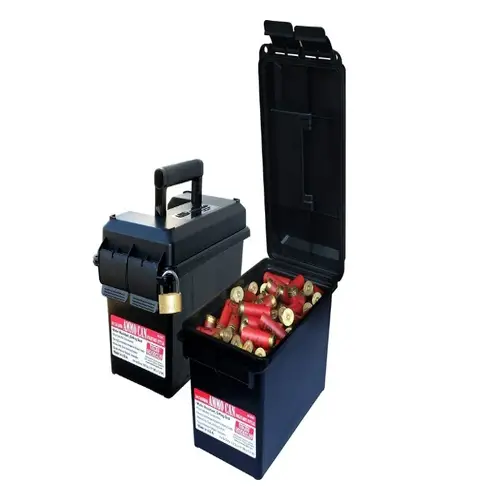 This is locked and loaded! Offering a large storage area, this can will hold large and small bullets and plenty of them. The MTM 50 Caliber Ammo Storage Can have a heavy-duty lid and a lock latch that has the ability to lock with a padlock. Built with a seal around the lid, the MTM 50 Caliber Ammo Storage Can is also water-resistant.
Polypropylene Material
The MTM 50 Caliber Ammo Storage Can is made from a great material that is super beneficial for storing ammo. The rugged polypropylene is a tough and flexible material that is resistant to several chemicals and water. Polypropylene is also incredibly flexible which helps in the prevention of damage.
Dual Latching
The MTM 50 Caliber Ammo Storage Can offer dual heavy-duty latches that will remain closed at all times while latched. These heavy-duty latches secure the box and the seal, helping maintain minimal moisture within the ammo box.
Cost and Value
The MTM 50 Caliber Ammo Storage Can has a watertight seal around the cover of the box, protecting any ammo on the inside from mold, moisture, and mildew. The dual locking top assists the seal to remain tight at all times while offering a lock like a feature. With large dimensions, this box can also store large and small ammunition.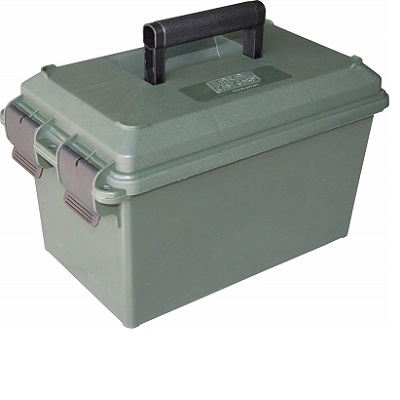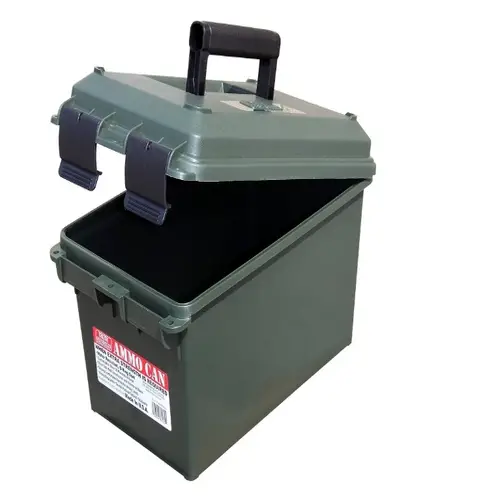 The MTM standard is a triple tabbed padlock capable ammunition box. With an O-ring water seal, this ammo container is nearly 100% waterproof, not submersible. The ammo box has a comfort handle, allowing you to completely fill up this ammo box and find comfort while carrying it, to any destination. Don't miss out on such great value!
Heavy Duty Latching
This has an excellent, safe latching system. That being said, the heavy-duty, dual latching system has 2 latches that keep the container sealed at all times and prevent moisture from entering. The dual system assists in the sealing process.
Rugged Polypropylene
The rugged polypropylene material offers a durable, flexible material that aids in the prevention of crushing. This is stackable with no damage done to the box or its contents due to the durability of the materials.
Cost and Value
The MTM Standard is full of benefits that essentially hide the price of this product. As one of the most sought after models, this is a well branded, popular case, due to the flexible durability. Being able to store ammunition has never been easier.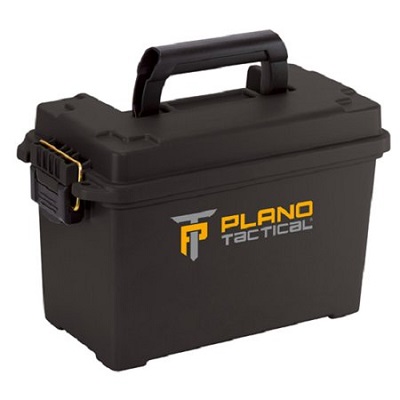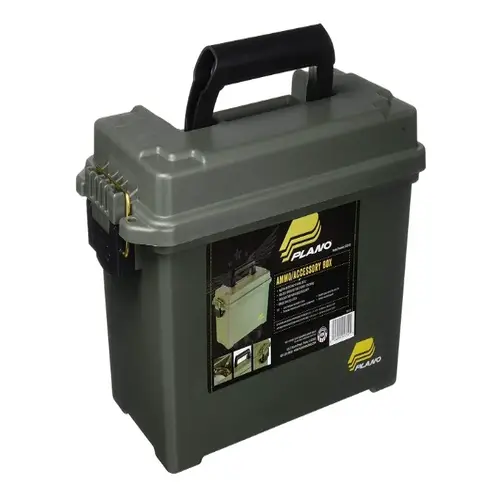 The Plano Tactical Custom Ammo Box is one of the better ammunition cans on the market due to its quality. This ammunition box is easy to transport, as well as comfortable with the comfort handle. The Plano Tactical Custom Ammo Box is designed to withstand the elements as well as carry bulk loads without skipping a beat.
Pace Saver
Depending on what you are using the Plano Tactical Custom Ammo Box for, this case is rated as a top space saver. With the ability to carry up to 1,000 rounds, you will definitely save surface space by using this case as a storage container.
Weather Resistant
The Plano Tactical Custom Ammo Box offers itself as a weather-resistant carry case for ammunition. Offering an o-ring seal, with no tray, it is guaranteed that your ammunition will be free from natural elements.
Cost and Value
At an attractive price, the Plano Tactical Custom Ammo Box is available to you with space-saving qualities. If you are looking to save space in storage or just have a safe place to store your ammunition while out in the field, then look no further. Protecting against all weather conditions, this box is likely to be on your list of top favorites.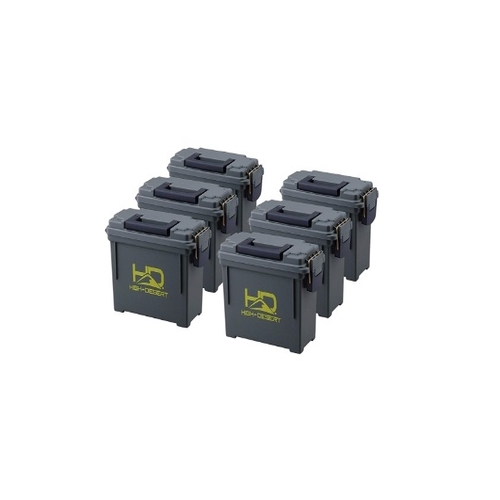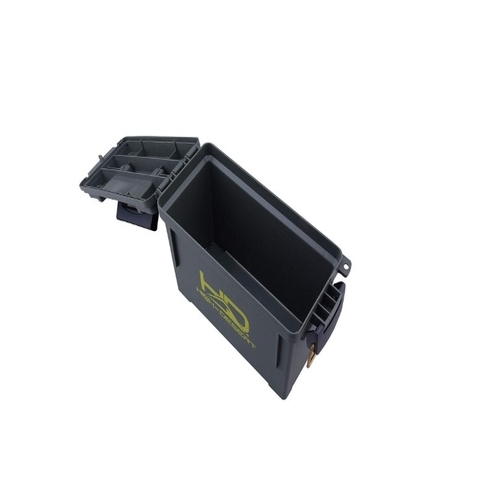 Anyone who has a firearm knows there is a huge advantage to having a place to store your ammo. Whether you prefer to have it with you on hand or in a bag having one is of the best ways of carrying as much ammo as you need without being too in your face. Measuring 11 1/2 inches in height, and 5 1/8 in width, the High Desert Plastic Ammo Boxes are ready to help you carry your ammo anywhere you might be headed too.
Water Resistant Tongue
The last thing you want is for your ammo to get wet; however, while sometimes it can be prevented other times it's inevitable, which is why having one that has a water-resistant element to it will come in handy. The High Desert Plastic Ammo Boxes features a water-resistant tongue giving you a second layer of protection against any water that might seep in. Although the cases are created out of plastic, they are extremely versatile and durable which is extremely important when you will be transporting your ammo.
Pre-drilled Holes
To add to the features this has to offer, the brand brings forth a durable, rubber-sealed lid that has pre-drilled holes on the side so you can further conceal and keep your ammo put away. Having these holes enables you to add a padlock. The holes fit standard padlocks so you can purchase anyone that best fits your needs and know your ammo will be further secured.
Cost and Value
When it comes to the cost and value of this product you want to keep in mind that this is a set of 6. So you aren't paying for one product alone you are playing for a bundle which is great for those that want one that is versatile and can hold a lot of ammo right when they need it most. This bundle is set at an extremely affordable price point so you are getting a lot for what you paid for.

5

. MTM ACR7-18 Ammo Crate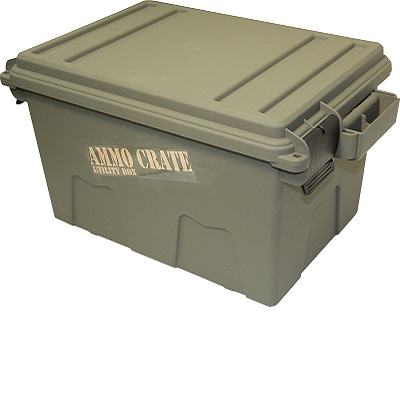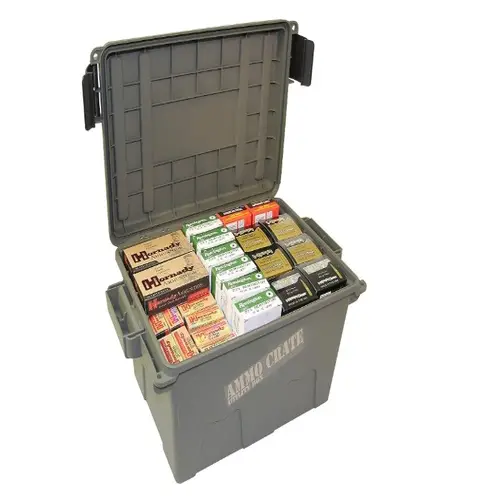 The MTM ACR7-18 Ammo Crate Utility Box has it all! Offering a large, utility crate style, this box is easy to handle and transport. This water-resistant crate offers an o-ring seal, promising to keep the good in, the bad out. Ideal for storage of mass quantities or transporting goods, you will not be disappointed in the benefits this ammo case has to offer.
Strength
Unlike most other cans, the MTM ACR7-18 Ammo Crate Utility Box can carry extreme weight. The MTM ACR7-18 Ammo Crate Utility Box is designed to carry up to 65 lbs of equipment and offers comfort handles to make it a comfortable transport.
Security
The MTM ACR7-18 Ammo Crate Utility Box is full of security features to keep your merchandise safe and in outstanding shape. Offering a dual latched feature, this case also comes with 2 padlocked tabs and side latches.
Cost and Value
With the MTM ACR7-18 Ammo Crate Utility Box, the cost outweighs the value. The strength and ability to carry up to 65 lbs makes this an attractive case for those who pack heavy. The O-ring seal, to prevent moisture from entering the box is an added protection feature that will keep your valuable mold and mildew free, for years to come.

6

. Redneck Convent Ammo Case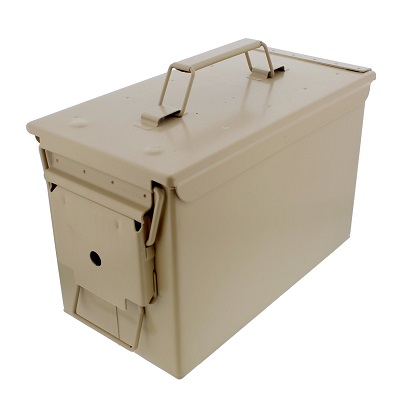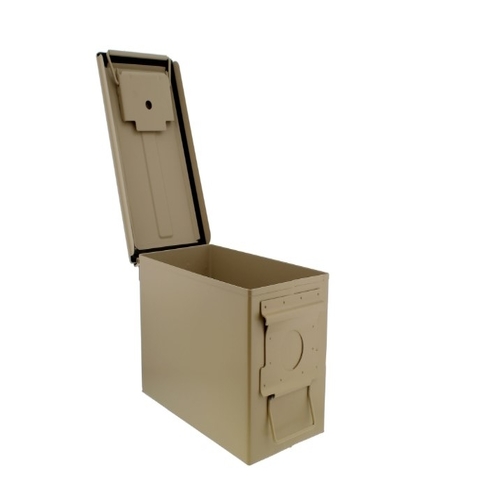 This is also a good option if you're looking for a new can. The Redneck Convent Ammo Case is made of metal, which adds a few years to its lifetime. Its design includes a strong seal that is perfect for different circumstances and environments because it doesn't permit air or water to penetrate inside. To make your experience as a gun owner even better, the folding handle allows you to carry the ammo box without demanding much effort.
Strong Seal
The strong seal of the Redneck Convent Ammo Case works as a blocker for anything that wants to penetrate into it. It prevents the smallest drop of water or dust particles from getting inside. Therefore, your ammunition is protected from getting damaged.
Solid Construction
Manufactured of heavy solid steel, this is really resistant. This means that, even if you drop it on a rough surface, it won't break. It also has a rubber seal to prevent outside elements from coming inside.
Cost and Value
The cost of this product slightly varies, depending on the size you select but is a great value all around. The seal is air and watertight, ensuring that your investment will be well protected.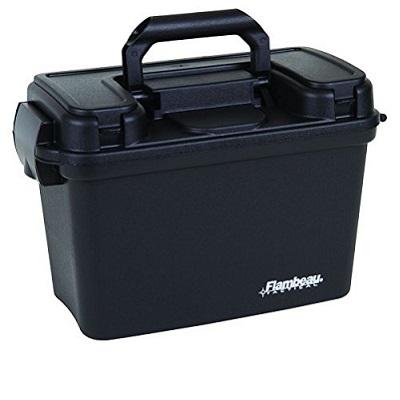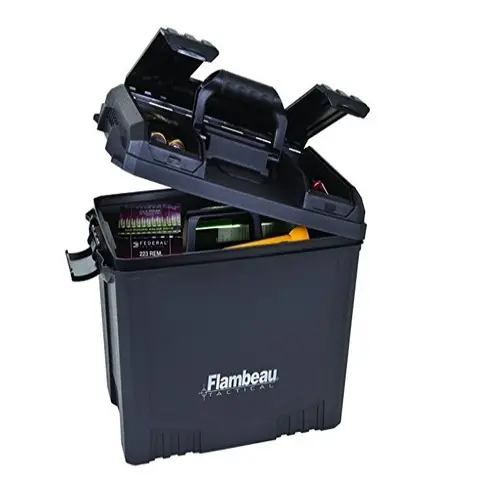 This can is wonderful for storing ammo with the original box. Designed to be rugged, so you won't need to worry about the integrity of the can in the event that it gets banged around.
Storage Space
This can will allow you to store your ammo in the box, doing away with the need to purchase trays. This particular can is rated to hold up to four boxes of 45 ammo or five boxes of 9mm ammo. giving you plenty of ammo for your trip to the range.
Can Features
This features a watertight seal along with an oversized latch for secure closing. You can also purchase a lock for this can as it does come with a hole already drilled out.
Cost and Value
This style of the can is more compact allowing for more convenient travel. You can just set your ammo in the can with the box, no more fumbling with trays to organize your ammo in the can. This can has many benefits to offer and at a great price.

8

. U.S military M2A1 50 Cal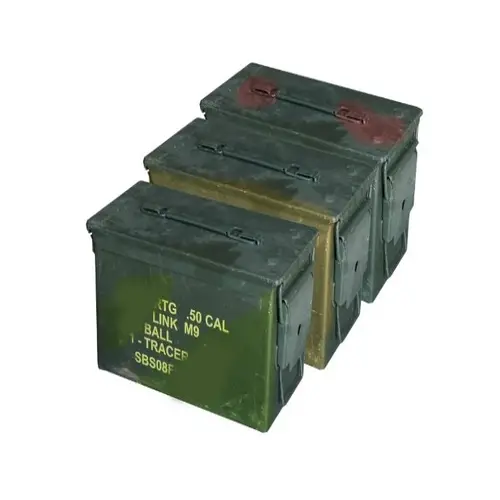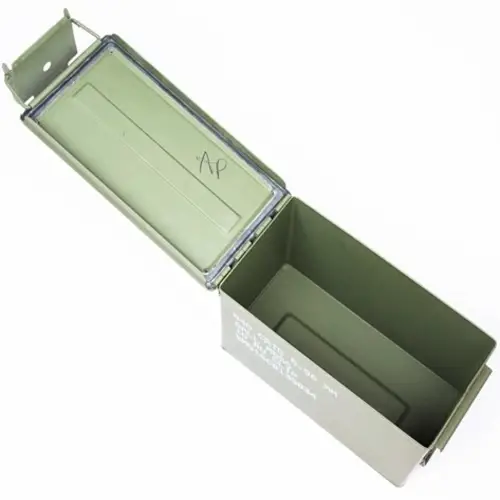 Created out of quality material and made in the USA are one of the reasons why the U.S military M2A1 50 Cal is one of the best in the market. Its made to get the job done at military standards so you know you are getting a product that works exceptionally well. Furthermore, if you are looking for a versatile, quality product look no further.
Gasket Seal
To bring one of the best products on the market, the brand created these with gasket seals. Having gasket seals as part of the product is great when you want to keep the items inside dry and safe. This particular feature helps keep everything out of the can itself the entire time. Your cans will remain safe and sealed away until you open it and use your ammo. Its all about keeping your ammo as secure and dry as possible.
Collapsible Handles
Having handles is an excellent form of adding an easy traveling format. You can easily carry and travel with them as often as you would like. However, not only do these handles add an easy form of traveling but they are collapsible which enables you to stack them one on top of the other if you decide to carry more than one with you.
Cost and Value
As for the cost and value of this product, you are getting an excellent price point. Not only are you getting 3 ammo boxes with an airtight seal paired with gasket seals that enable you to have a secure product with the security that your items will remain dry the entire time. Its an excellent option for those that want something versatile and sleek.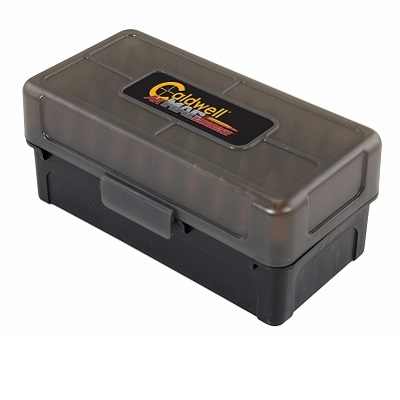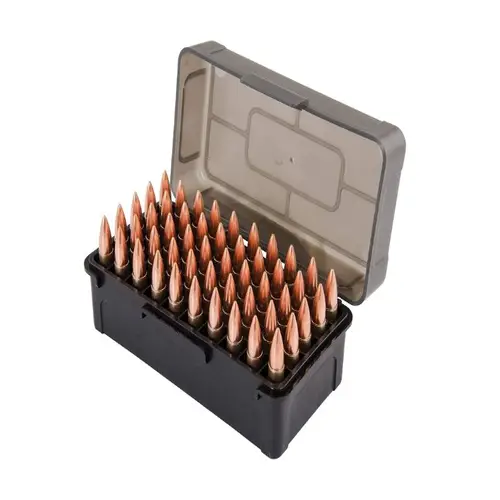 This provides a considerable amount of protection, without being heavy or awkward. Constructed from a durable plastic material, this can lets you do away with the clunky feel of the big metal cans. These are a great fit for your long-term storage needs.
Heavy Duty Plastic Exterior
Made from a stronger plastic material, these cans should be able to withstand a considerable amount of wear and tear. The lid for this case is completely removable, allowing you easier access to your ammo. While the cover is off, you can tuck it under the can, as the can fits right inside of the lid.
Multi-Pack
This comes in a five-pack, allowing you to store plenty of extra ammo. You can rest assured that with these five cans you are sure to be able to carry enough ammo for your day at the range. Some purchasers have even stated that these cans stack well in their range bags, which helps them cut down on the amount of bulk they have to carry.
Cost and Value
For a great price, you will get not just one, but five cans. Giving you a great bargain for all your ammo storage needs. Looking to store your ammo long term, no problem these cans are great for stacking in a larger cabinet. Helping you to keep your ammo and cabinet organized.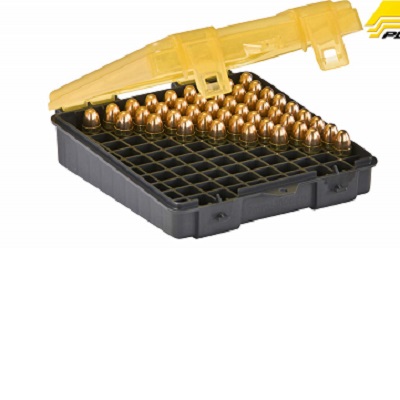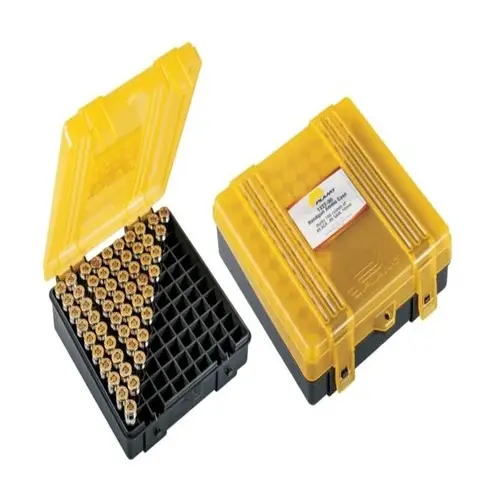 The Plano 100-Round is an excellent choice for an ammo box. Different from most cans, this ammo box has space-saving ability by being able to organize your ammunition. Airtight, this box is known to shield and protect all of your ammunition while keeping it in place. Lightweight and stackable, the Plano 100-Round is one of the most sought after!
Organization
The Plano 100-Round has an organization benefit built right in. Small cells, made of plastic will separate your ammunition. Having the ability to organize, you can use this box for carrying different rounds and not having the trouble of looking through the bullets.
Sizing
Using an angle like style, the Plano 100-Round is known to hold several different caliber bullets. The small cells and slanted covers can hold up to .45 Long Colt bullets.
Cost and Value
Small and convenient, this ammo box has it all. With the ability to organize several different sized bullets, you are guaranteed to have a hassle-free storage container. This is most beneficial for storage and transport purposes, as it is small and lightweight.

Subscribe to our Newsletter