Best Portable Jump Starters Reviewed & Rated
In a Hurry? Editors choice: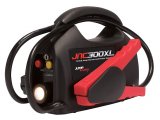 Test Winner: Clore Automotive Jump-N-Carry JNC300XL

What is in your
car's emergency kit
? Road flares, bottled water, blanket, snacks. Those are all very good to have. Jumper cables, portable jump starter...wait, no jump starter? What are the cables for then? Sure, if you're in an urban area, you should be able to find somebody to help you out, but what about in the country, or in the bush?
I grew up in a very cold place. Eight months of
cold winter
and there were a few times when we went outside to start the car, and it was dead. We didn't park in a garage, and the cold will do that to you. Hopefully, you're now thinking of picking up a
portable
jump starter. That's a great idea! Which one though? There are a few different sizes and styles, how do you make the best choice? By reading on a bit while I run down what I feel is a solid selection of the best, most reliable.
Standout Picks
Criteria Used for Evaluation
Portability
Most cars and trucks are pretty limited for space, so you need to be very discerning when planning what to store with you on the road.  Fortunately, most portable jump starters today offer a fairly large capacity while not taking up any more room than the palm of your hand.  Of course, this isn't true of all chargers, since some vehicles require much larger amounts of power than a compact model can provide.  Even those, however, are able to easily fit into most car trunks or truck beds.
Size
While in most cases, the output of jump packs relative to their size, there are exceptions.  Many of the pocket-sized versions offer outputs of between 500-1000 amps, enabling them to jump start and charge most makes of personal vehicle.  These ones are literally pocket-sized and can fit anywhere you may have a bit of extra room.
For larger autos, such as logging trucks or construction equipment, there are much larger and therefore more powerful portable jump starters out there.  These, like the Schumacher SE-4022 2/10/40/200 Amp Manual Wheeled Battery Charger on the list above, can provide enough charge to jump-start several large vehicles, making them ideal for fleet operations.  As such, they are larger than the rest and are usually mounted on wheels to make them easier to transport from place to place.
For more in-between needs, there is a variety of "backpack" sized jump starters, that aren't meant for big trucks, but rather for anything that you might fancy having at home.  This includes your car or truck, obviously, but also extends to recreational vehicles such as boats, quads, or even small aircraft.  
Power Source
Once again, size does equal power, but not always.  For the average commuter, all they need is reliable power at a moment's notice, and enough of it to get through the day.  In that case, the small, pocket-sized chargers that can easily fit into a console or glove compartment are the ideal choice.  Most of them are versatile enough to fully charge practically any type of personal vehicle on the road today.  They can work with either gasoline or diesel engines and large capacity ones at that.  A lot of them can go up to 7.0L gas, or 5.5L diesel, which equates to most of the smaller to midsize trucks you're likely to find.
Sometimes, that just isn't enough power.  That's where moving up in size will help you, but keep in mind that you are going to be sacrificing weight and portability.  However, if that's not an issue, or if you have no other options and you need the power, the larger jump starters can start everything from large trucks to RV's and boats, and even semi trucks for the largest models.
10 Best Portable Jump Starters
1

. Clore Automotive Jump-N-Carry JNC300XL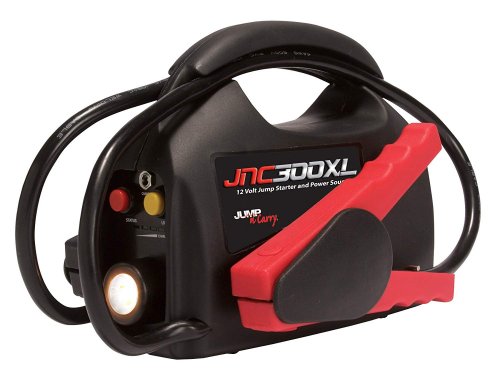 Whether your vehicle is big or small, the Clore Automotive Jump-N-Carry gets the job done! Multiple reviews on Amazon claim, "This thing could jump-start a dead cow!" This is a powerful unit but is still compact enough to fit in your trunk without taking up to much storage space.
Great For Cold Climates/Winter
This is an Absorbed Glass Mat (AGM) lead-acid battery driven unit. Not Lithium Ion (LION). A critical plus, as if left in a car and gets very cold, most LION powered batteries lose all power at around 20 degrees F. Lead acid batteries do not (though lose much of their capacity at 0 F). This makes a world of difference if being used in a temperate or northern climate where the heavy cold can seasonally be expected and the cold "kills" your battery.
Small, Lightweight, & User-Friendly
Weighing in at only 9 pounds, this jump-n-carry charger is nice and small. Don't let its size fool you though, it really packs a punch! Most people said they could start their car/truck/SUV within 10 seconds of being connected to it. The charger comes with a case for storage and a manual to teach you how to use it. This model even has a built-in flashlight!
Cost and value
This model might seem a little more pricey than other models its size, but just like everything else in sales; you get what you pay for. This model is extremely powerful. You can jump-start any size vehicles and boats; even if the battery is completely dead. The gauge is also really helpful to determine how much battery is left in it so you know when to charge it up.

2

. DBPower 600A 18000 mAh Portable Jump Start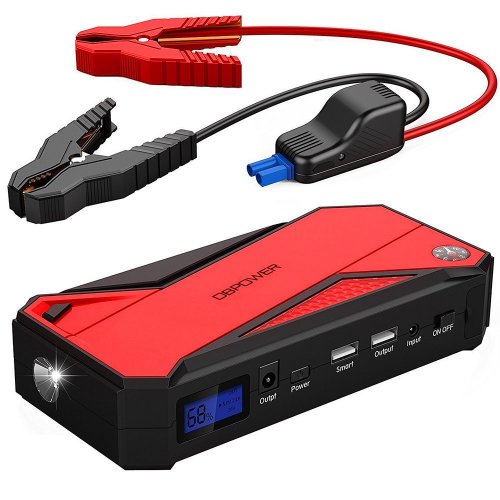 Now, this is an interestingly built product. Unique looks aside, the DBPower 600A Portable Jump Start will get you going when you're stuck, bottom line. I don't mean just your car, either. With 2 USB ports, input/output, and even a flashlight, there is almost nothing it can't do to help you out. Keep one handy, you'll be glad you did.
Powerful & Compact
You can jump-start your vehicle (up to 6.5L gas or 5.2L diesel engine) up to 20 times with 600 amps of peak current and heavy-duty clamps and cables. Equipped with on/off switch to save its charge when not being used. Best of all, this jump starter is small enough to fit in your glove box or even your purse.
Keeps on going
The new-added LCD screen can show the exact amount of remaining power so you will never again have to guess how much charge is left. The screens are also equipped with a compass that can help you find your way home when you get lost in the wild.
Cost and value
I'm not going to lie, thus jump starter is on the higher end of the scale. It's a solid, reliable starter that won't leave you stranded, and is small enough to take with you anywhere and save you from more than just car battery problems. Can you put a price on peace of mind?

3

. Rugged Geek RG1000 Safety 1000A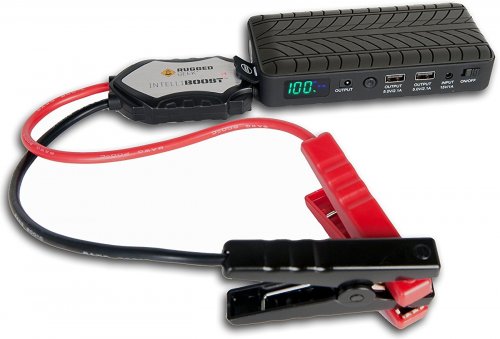 This is a jump starter. It jumps cars that are dead. That's all you need, it does its job, you're happy. Just in case, though, they decided to cram in a flashlight, power bank, and air compressor. I mean, that's alright, but what, no bottle opener? No propane bbq? I guess we can't have it all. Oh yeah, all the things it does do work incredibly well too. Seriously, how did they do it?!?
In a class of its own
When you hear the phrase "class leading", you tend to pay attention. In this case, it's the rugged exterior shell that houses the wealth of gadgets contain within.
All those ports
Most of the chargers and jump starters I`ve looked at recently have the capability to charge multiple devices at one time, but none that I`ve seen actually have dedicated ports for specific devices. I like that. It just feels like that`s a better way to do things.
Cost and value
For something relatively small and compact, the price will jump out at you just a little bit. Once you take into account the fact that what you're holding us a jump starter/power pack/flashlight/air compressor, you start to feel better about your purchase.

4

. Jump-N-Carry JNC 660 1700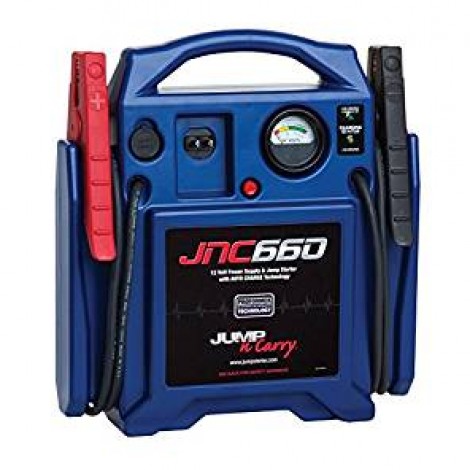 I don't know what it is, but to me, this jump starter looks like a robot. It's probably not, but it is a handy high tech device. Given its larger size, it packs a tonne of power to get you wherever you need to go, and its built for maximum efficient performance, so you're not just carrying a jump starter with you. You're carrying peace of mind.
Stretch!
Here's a novel idea, when making something as life saving as a portable jump starter, let's try to make sure you include jumper cables long enough reach in almost any circumstance, say 46"? Oh, you already did that. Good.
Tough as nails
For all the help the Jump-N-Carry JNC Jump Starter offers to the downtrodden and otherwise stranded motorist, it would be pretty futile if it wasn't housed in a tough sturdy shell. Luckily, they thought of that too.
Cost and value
In its class, this one of the better values. Why? The combination of a lower price point and high end functionality all packed into a sturdy housing. You'll buy a jump starter for insurance, you'll buy this one for everything you need.

5

. Noco Genius G750 6V/12V .75A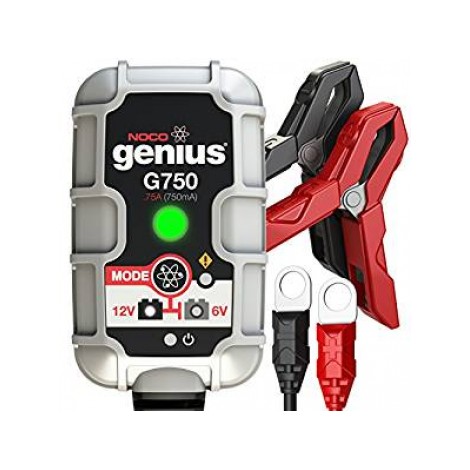 Another NOCO Genius charger. They must make good stuff. They look like they can hold up to the job well. I know, judging something on looks alone is a terrible idea, and in the case of jump starters, looks should have no bearing at all. There is, however, something to be said about a product that gives a sense of competence with appearance alone.
See what's happening
Most of the time, you have no idea what's happening with your chargers. You just have to blindly hope everything works out. Not this time. NOCO threw on a visual diagnostic tool so you can always be in the know.
Waste not want not
Not every situation requires full power, yet most jump starters just give juice indiscriminately, regardless of needs. The NOCO Genius UltraSafe Smart Battery Charger decided not to be wasteful, and will actually minimizes consumption when it makes sense.
Cost and value
It doesn't offer the greatest range of power and versatility, but boy oh boy is it incredibly well priced. It's a trusted product, it's cheap, so it's totally worth it to pick this one up and just throw in your car for emergencies.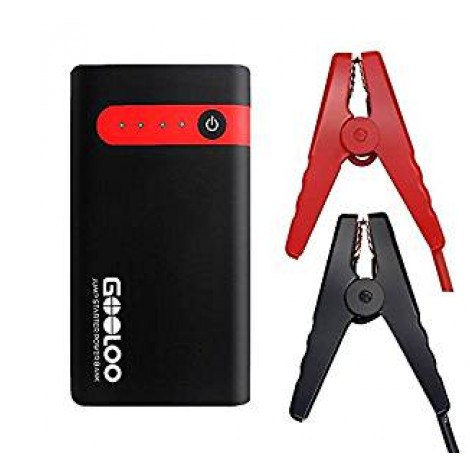 By all accounts, this is your basic, run-of-the-mill jump starter. It won't win any awards for innovation, and it won't revolutionize the industry. Since when is that a bad thing? It does the job you bought it to do and can be counted on for a long time. To me, that's everything.
Brightens your day
This isn't the only jump starter to come with a flashlight, but that doesn't mean this isn't a handy feature. You try dealing with a dead battery in the dark, then let me know how unimportant it is.
Help!
Let's hope this feature gets used very seldomly. I can't imagine the situation required to make use of this feature, but on the off chance it is needed, you'll be forever thankful you had this versatile tool at your side.
Cost and value
For what you're getting when you purchase the GOOLOO 450A Peak Car Jump Starter, it's very reasonably priced. While it isn't necessarily the top of the line, it also won't put you out a bunch of money. Perfect for getting the job done without many bells and whistles.

7

. Noco GB40 1000 Amp 12V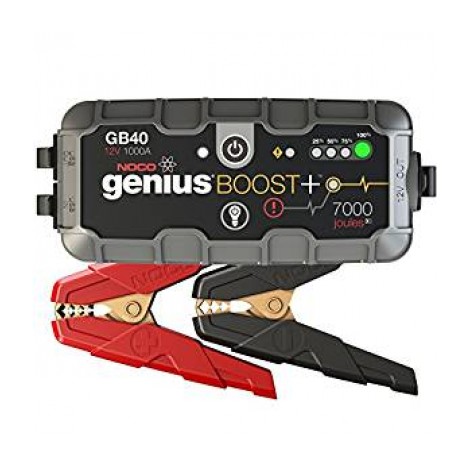 Now, this thing has got to be serious, because it looks like it doesn't mess around. Look at it! It's small but beefy like a scrappy underdog running back that nobody thought would get drafted. Well, surprise, it's here, and it is loaded with capacity and insane power. I suggest you take a chance on this one, it might shock you.
There's no spark
When I was a kid, we had a very old car that often needed a jump, and would always spark. Scared the heck out of me. So imagine my surprise to learn that these clamps are spark proof. No more cowering for me!
Full power
A lot of jump starters claim high amperage performance, yet have a separate number in their ratings that represents the actual amount being used, and it's usually disappointing. Not so with this one. This kind of transparency is the mark of a quality product.
Cost and value
Wow. Everything about this otherwise miniscule NOCO offering is big. Power, functionality, reliability, everything. That includes the price tag, but if you need trustworthy power without messing around, count on this one.

8

. DbPower 500A Peak 12000mAh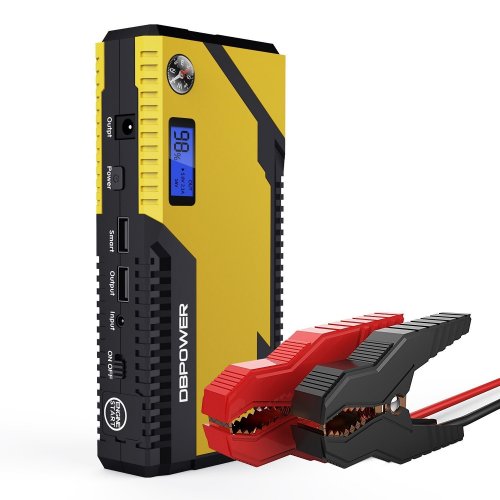 DBPower is a name that I'm starting to see more and more as time goes on. They are quickly cornering the market on reliable, portable power, and it's all due to their high standards that go into each of their products. A jump starter isn't a novelty, it needs to perform with little notice, and this one is going to do just that.
Always in touch
Having an LCD display on your jump pack should almost be a no-brainer, yet so few actually have this feature. By adding it on their product, DBPower enables you to know exactly what's going on at all times.
Where are you?
This is a feature I never thought I'd see on a jump pack, yet there are a couple models that offer them. Breaking down is bad enough, add in an unfamiliar environment, and that's scary. NOw you never have to worry about finding your way.
Cost and Value
Just based on looks alone, I would say that this charger is built to last. Luckily, it is, and it will hold up in any situation, making it absolutely worth the few dollars more that you will spend.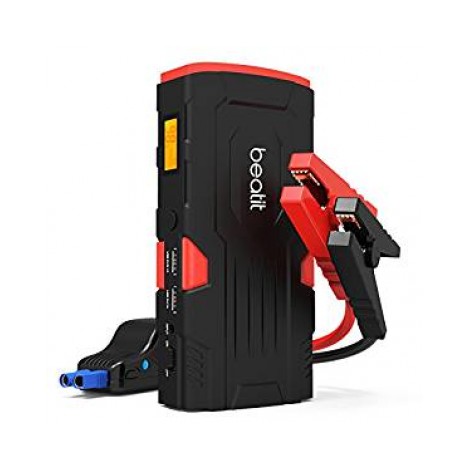 This is essentially an update on the last BeatIt jump starter up above. It does the same things, only to a greater degree, what with having greatly increased power and everything. So why is it on this list? Three reasons. Quality for one, you can never say too much about that. Second, with the increase in power, this one can handle different needs. Finally, it's the same size as its less powerful cousin. To me that's crazy.
What do you get? I'll charge it
That's not a cocky statement, but rather it's a sign of confidence. That confidence is warranted too, as this jump starter is meant to jump everything from cars and trucks, to boats and motorcycles. You've got a vehicle that needs charging? This is the charger for you.
Twice as fast
When I looked at the smaller version of this charger, I mentioned something about the power bank. Not only can you charge your phone or whatnot, but you'll be able to do it up to 2x faster than most other power banks. That's a neat little bonus.
Cost and value
This isn't expensive. The other one I reviewed isn't expensive. This company likes to make high-quality affordable products meant to help you out of a jam. How nice of them!

10

. Nekteck Multifunction Car Starter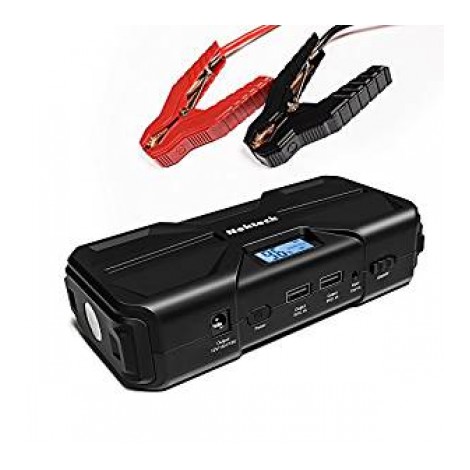 Nektek wanted to build a convenient charge everything device when they thought this one up. Boy did they succeed. Another jack-of-all-trades that's way more than just a jump starter, the Nekteck Multi-function Car Jump Starter is perfect for the person who can never sit still, and just has to get out and keep busy.
Built tough
It looks like it was well constructed and it feels nice and sturdy. This tells me that we've got a product on our hands that is going to last a very long time, providing power without fail.
Reverse polarity protection
I've seen that a lot while researching for this buying guide, and I've learned that it is absolutely critical for the safety of the charger, your car, and yourself. It helps prevent power surges, over-charging, and any number of potential hazards.
Cost and value
Nektek's product description for this starter emphasizes its ability to get you going in times of need. To compliment that dedication is a very reasonable cost, leaving little reason not to have one in your car.

Subscribe to our Newsletter