Best Portable Jump Starters Reviewed & Rated
What is in your car's emergency kit?  Road flares, bottled water, blanket, snacks.  Those are all very good to have.  Jumper cables, portable jump starter…wait, no jump starter?  What are the cables for then?  Sure, if you're in an urban area, you should be able to find somebody to help you out, but what about in the country, or in the bush?  I grew up in a very cold place.  Eight months of winter cold, and there were a few times when we went outside to start the car, and it was dead.  We didn't park in a garage, and the cold will do that to you.  My dad would just next door, and get a jump.  Great.  Then, one day in December, we decided that it would be a great idea if we went out and chopped down our own Christmas tree.  After we got it strapped onto the roof, we jumped in the car, eager to warm up.  The car was dead.  No phone, no passing cars, nothing.  It was a scary moment, especially for an eleven year old kid who needed to get home to his video games.  That is just one of an endless possibility of scenarios that you don't want to experience.
Featured Recommendations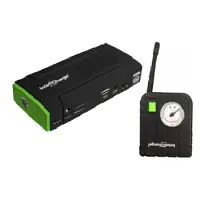 InteliCharge X1 13600mAh

Our rating
Tire Compressor Bundle
Price:

See Here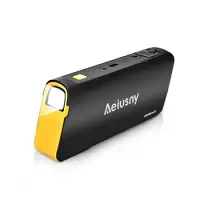 Aeiusny 750A Peak

Our rating
Up to 6.0L Gas Engine
Price:

See Here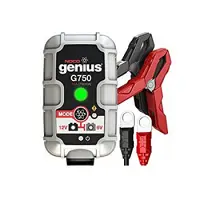 Noco Genius G750

Our rating
Impact & water-resistant
Price:

See Here


Hopefully, you're now thinking of picking up a portable jump starter.  That's a great idea!  Which one though?  There are a few different sizes and styles, how do you make the best choice?  By reading on a bit while I run down what I feel is a solid selection of the best, most reliable.
15 Best Portable Jump Starters
1. InteliCharge X1 13600mAh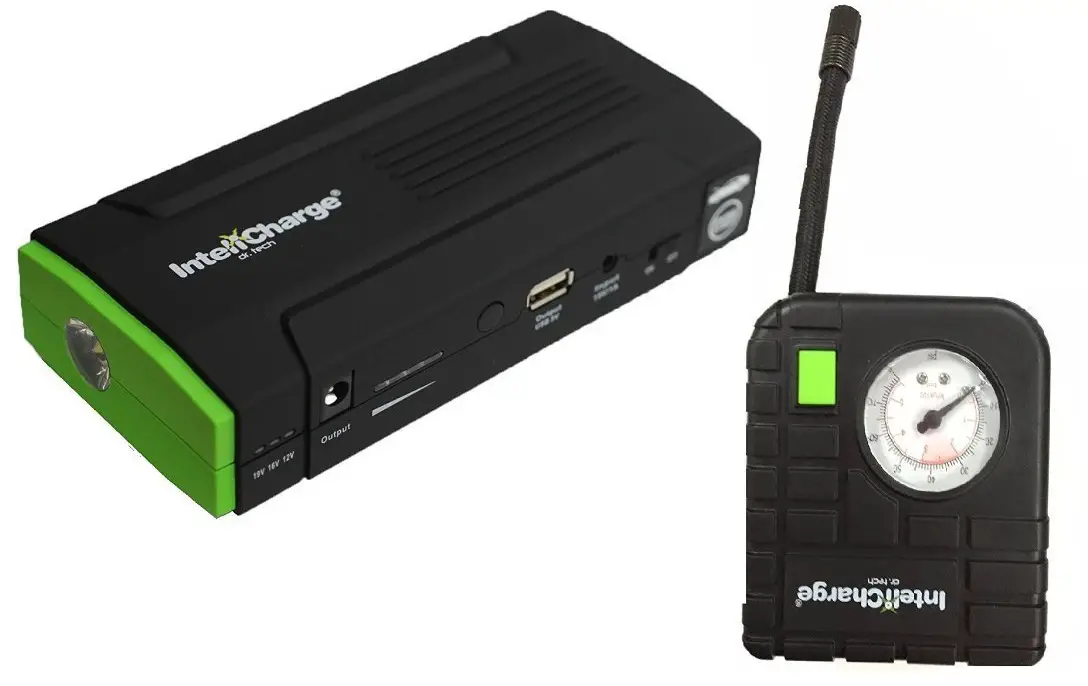 This jump starter is your one stop solution for your everyday charging needs. It comes equipped with adapters all over the place, allowing you to have all the power you'd want at your fingertips. To go along with all that versatility, it's a very well built, sturdy piece of equipment guaranteed to hold up under any circumstance.
Expand to see more
So much stuff!
Laptop adapter, car charger, mobile adapter, power adapter, jumper cables, and a case to store it all in. You'll be hard pressed finding enough devices to charge.

Give me air
When my son was younger, he was starting to get into sports. That's great, until his basketball started deflating. It's crazy how you never think to have an air pump handy. We didn't, and it's still sitting there, flat and unused. With this jump starter, you'll never be left flat, thanks to its invaluable compressor.

Cost and value
Just based on included accessories alone, this is a great value. It comes with everything you could ever need, and each piece has a specific function you never thought you needed, but will come in handy.

Lots of gadgets to play with
Built in air compressor
Emergency light
Starts a dead battery
Can't hold a charge long
Not overly durable
2. LifeBox Car & Truck 10000 mAh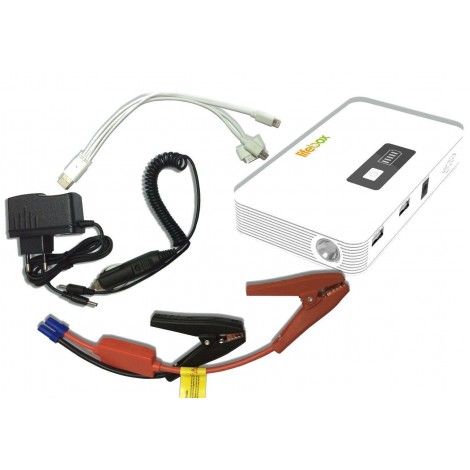 This isn't just a jump starter, this baby's a whole kit full of power. It has a really sleek design, paired with unequaled functionality, and a whole bunch of peripherals included to do whatever it is you need to get done. Life Box went for convenience when they made this, and that is a very key aspect when you're out in the cold trying to get going again.
Expand to see more
Time to sleep
When it's time for the LifeBox Car & Truck Jump Starter to get to work, it does so without question. When the job is done, but you haven't had a chance to unplug it, this charger will stop wasting power and go to sleep, prolonging the lifespan of the charge.

Use it over and over
You can count on the LifeBox Car & Truck Jump Starter to get your car or truck going over twenty times on a single charge. That's a great deal reliability for such a small box. Not having to worry if your charger has enough juice is a great relief.

Cost and value
It's got the power and features of one if the bigger charging units, and the price tag of the more compact ones. Size-wise it's a bit bigger than a compact one, but I think that's a very fair trade off.

Two job specific USB ports
Sleep mode to conserve power
Many uses on a single charge
Long lasting high powered flashlight
Weak housing
Can overheat
3. Nekteck Multifunction Car Starter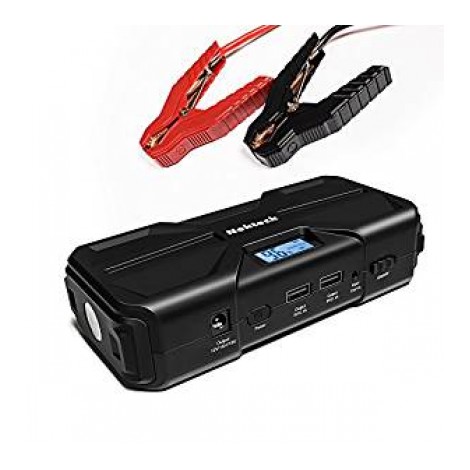 Nektek wanted to build a convenient charge everything device when they thought this one up. Boy did they succeed. Another jack-of-all-trades that's way more than just a jump starter, the Nekteck Multi-function Car Jump Starter is perfect for the person who can never sit still, and just has to get out and keep busy.
Expand to see more
Built tough
It looks like it was well constructed and it feels nice and sturdy. This tells me that we've got a product on our hands that us going to last a very long time, providing power without fail.

Reverse polarity protection
I've seen that a lot while researching for this buying guide, and I've learned that it is absolutely critical for the safety of the charger, your car, and yourself. It helps prevent power surges, over charging, and any number of potential hazards.

Cost and value
Nektek's product description for this starter emphasizes its ability to get you going in times of need. To compliment that dedication is a very reasonable cost, leaving little reason not to have one in your car.

Dual USB ports
Lots of power
Sleek design
Rugged construction
Can't start a dead battery
Weak battery clips
4. Aeiusny 750A Peak 18000mAh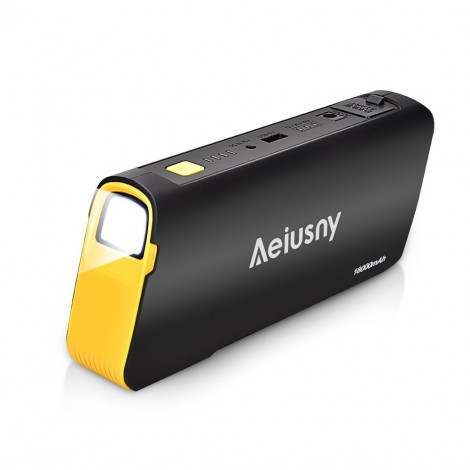 It's crazy how much this jump starter is capable of achieving, especially given its compact size. You've got your car and your electronic devices covered for power, and on top of that, if you're in a jam in the dark, it's got a very bright flashlight so you can see what you're doing. What's even better is that it will do all those things for you, several times over thanks to its huge capacity. It's almost scary how much it can do.
Expand to see more
Packs a punch
I can't get over how powerful this is. I recently wrote a buying guide for power banks, and this jump starter is about the same size. Yet it has enough power to start your car? What witchcraft is this?

Quick as lightning
With its smart charging point, the Aeiusny USB Jump Starter will detect what type of device you've got plugged in, and use its 18000 mAh capacity to charge them at a rate of 2.1A/3.5A, double the usual speed.

Cost and value
Going back to what I was talking about above, for all the features crammed into this little device, you wouldn't think twice to see the price tag in three digits. What about if it cost much less than that? Unbelievable? It's true.

Great deal of power for tiny size
Fast charging function
Protects your devices
Great for camping
Not very durable
Inner battery is loose
5. Life Bolt Portable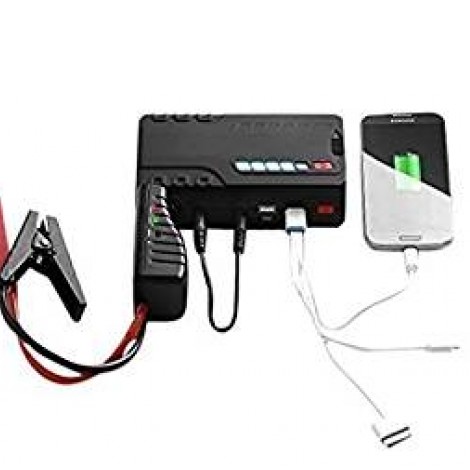 Now this is an interestingly built product. Unique looks aside, the LifeBolt Portable Car Jump Starter will get you going when you're stuck, bottom line. I don't mean just your car, either. With its built in power bank and a set of laptop adapters, there is almost nothing it can't do to help you out. Keep one handy, you'll be glad you did.
Expand to see more
A workhorse
I've looked at quite a few portable jump starters for this article, and I can say that not many offer the ability to charge your laptop. This one embraces the opportunity, and includes everything you need for the task.

Keeps on going
How would you feel if one day, when your car won't start, you pull out you jump starter, and it's dead. It was only in there for a couple if weeks. That's not very reliable, as well as a potentially scary situation. With LifeBolt's charger, it won't happen.

Cost and value
I'm not going to lie, thus jump starter is a bit on the expensive side of things. It's a solid, reliable starter that won't leave you stranded, it will just cost you a few dollars. Can you put a price on peace of mind though?

Indicator lights
Included laptop adapters
Starts a dead battery fast
Long battery life
Flimsy screen
A bit pricey
6. BeatIt Tech 600A Peak 14000mAh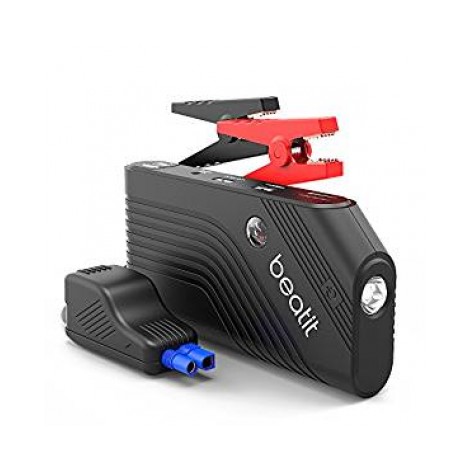 BeatIt, as in beat it if you don't think it matters which jump starter you buy. Beat it as in BeatIt Tech, a company that strives to bring excellence to the world of portable jump starters. As aesthetically appealing as it is functional, the designers put a lot of thought and attention to detail in order to ensure a quality product that you can be as proud of as they are.
Expand to see more
What should I charge first?
Versatile is a word that should jump out first whenever you log on to your computer to search out jump starters, yet so often, it seems to be overlooked. Not this time. Jump starter and power bank? Of course. Flashlight? Well yes, a few jump starters are including this handy feature. Compass? Sure, why--wait. Really? Yes. It will help you out of any emergency situation.

So tiny
Okay, I've already talked about all the neat things this jump starter is capable of. It seems almost too good to be true. So what's the catch? Let me guess. It's massive right? It would have to be in order to hold all that stuff. Well, no. It's really quite compact.

Cost and Value
Again, it just does so much to help you out of a jam, what does it matter how much it costs? These days it matters more than ever, as consumers are finding themselves needing to go to any lengths to get a good deal. Or, you could just buy this jump starter and feel like you got a steal. Because you did.

6 features in one
Very small footprint
Charge any device
Very easy to use
7. Beatit 800A Peak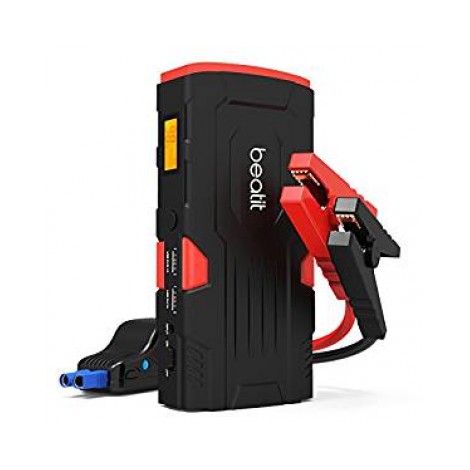 This is essentially an update on the last BeatIt jump starter up above. It does the same things, only to a greater degree, what with having greatly increased power and everything. So why is it on this list? Three reasons. Quality for one, you can never say to much about that. Second, with the increase in power, this one can handle different needs. Finally, it's the same size as its less powerful cousin. To me that's crazy.
Expand to see more
What do you got? I'll charge it
That's not a cocky statement, but rather it's a sign of confidence. That confidence is warranted too, as this jump starter is meant to jump everything from cars and trucks, to boats and motorcycles. You've got a vehicle that needs charging? This is the charger for you.

Twice as fast
When I looked at the smaller version of this charger, I mentioned something about the power bank. Not only can you charge your phone or whatnot, but you'll be able to do it up to 2x faster than most other power banks. That's a neat little bonus.

Cost and value
This isn't expensive. The other one I reviewed isn't expensive. This company likes to make high quality affordable products meant to help you out of a jam. How nice of them!

Recharges quickly
LED indicators
Smart protection clamps
LCD screen
Battery leads are short
A bit large for a compact model
8. Rugged Geek RG1000 Safety 1000A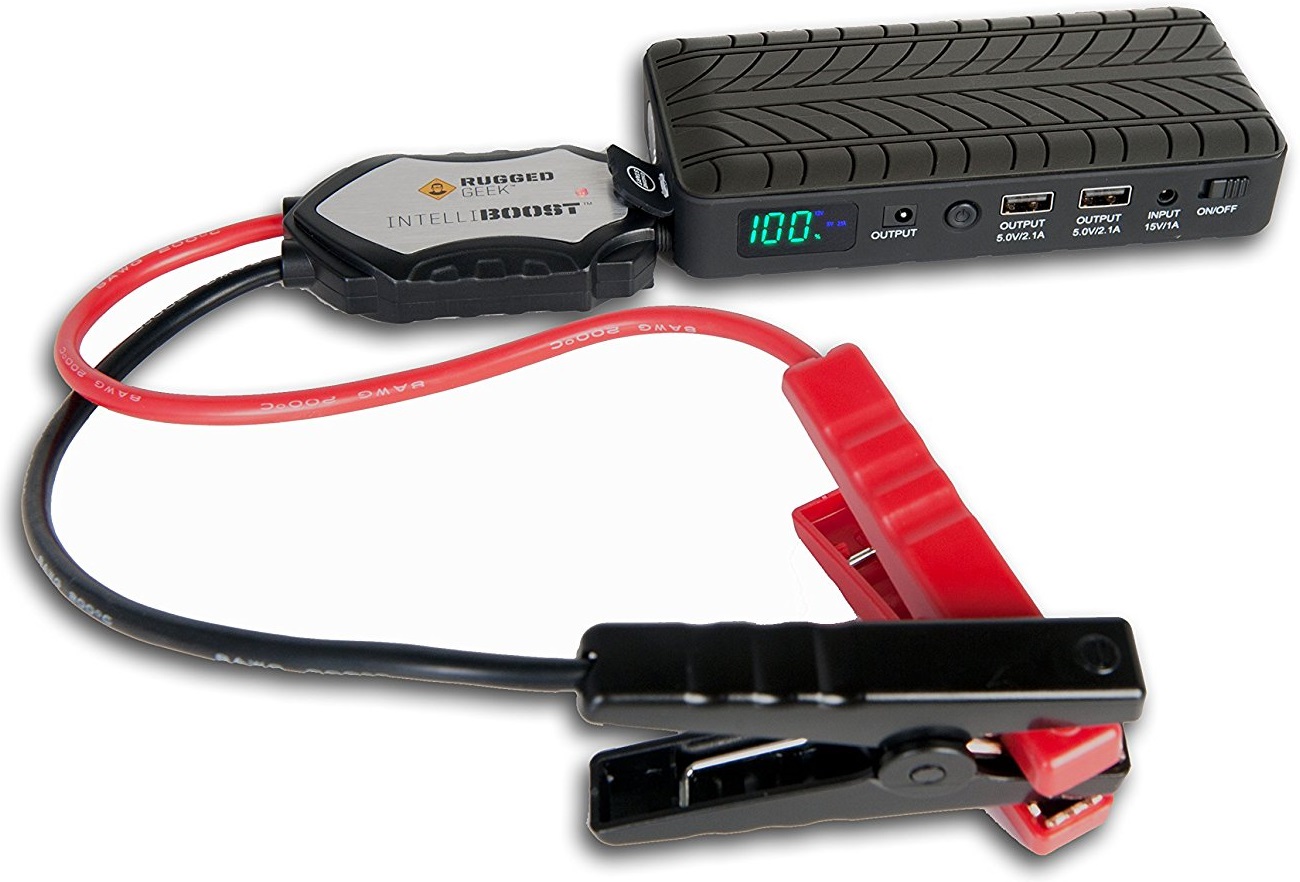 This is a jump starter. It jumps cars that are dead. That's all you need, it does its job, you're happy. Just in case, though, they decided to cram in a flashlight, power bank, and air compressor. I mean, that's alright, but what, no bottle opener? No propane bbq? I guess we can't have it all. Oh yeah, all the things it does do work incredibly well too. Seriously, how did they do it?!?
Expand to see more
In a class of its own
When you hear the phrase "class leading", you tend to pay attention. In this case it's the rugged exterior shell that houses the wealth of gadgets contain within. I guess if you're gping to load ut up you should protect it.

All those ports
Most of the chargers and jump starters I`ve looked at recently have the capability to charge multiple devices at one time, but none that I`ve seen actually have dedicated ports for specific devices. I like that. It just feels like that`s a better way to do things.

Cost and value
For something relatively small and compact, the price will jump out at you just a little bit. Once you take into account the fact that what you're holding us a jump starter/power pack/flashlight/air compressor, you start to feel better about your purchase.

Class leading construction
Dual charging ports
Dedicated laptop charging port
Soft shell case included
Doesn`t work on all models
Not the best battery clamps
9. Jump-N-Carry JNC 660 1700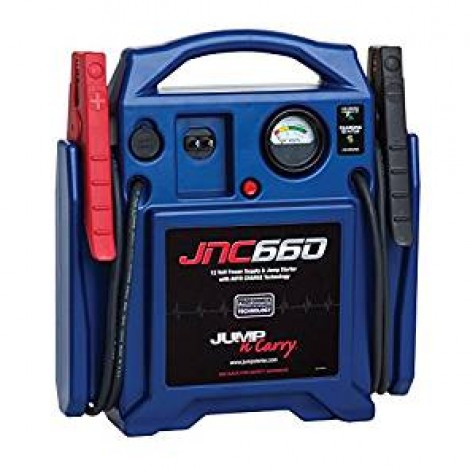 I don't know what it is, but to me this jump starter looks like a robot. It's probably not, but it is a handy high tech device. Given its larger size, it packs a tonne of power to get you wherever you need to go, and its built for maximum efficient performance, so you're not just carrying a jump starter with you. You're carrying peace of mind.
Expand to see more
Stretch!
Here's a novel idea, when making something as life saving as a portable jump starter, let's try to make sure you include jumper cables long enough reach in almost any circumstance, say 46"? Oh, you already did that. Good.

Tough as nails
For all the help the Jump-N-Carry JNC Jump Starter offers to the downtrodden and otherwise stranded motorist, it would be pretty futile if it wasn't housed in a tough sturdy shell. Luckily, they thought of that too.

Cost and value
In its class, this one of the better values. Why? The combination of a lower price point and high end functionality all packed into a sturdy housing. You'll buy a jump starter for insurance, you'll buy this one for everything you need.

Huge cable reach
Heavy duty case
Handy voltmeter
Great value
Doesn't hold a charge very long
10. Stanley Fatmax J7CS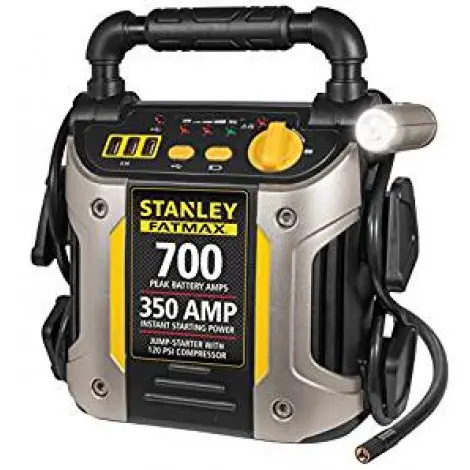 This is one of the big boys, capable of charging a tank if you need. Not actually, but hopefully you get the exaggeration as a means to highlight the fact that this jump starter is here to work, no matter what the task. It's big, well built, and able to handle extreme temperatures and environments. My hat's off to this juggernaut.
Expand to see more
Triple outlet
Not only is this machine going to jump start your vehicle, but it's also going to allow you to give power to your three favorite devices, at one time. As excessive and seemingly unnecessary as that is, you've got to think that there's somebody out there who needs a feature like that, otherwise they wouldn't have added it.

Loud noises!
If you're out and you need to use this charger, it's likely that you don't have time to wait around staring at it while it works. The problem is, if you leave, something bad may happen, causing damage to your battery or vehicle. That's why they put a loud as sin alarm on here, so you can go about your day.

Cost and value
This monster has the size and features built onto it to appear to be a very expensive unit. It handles most workloads admirably without fail, yet it costs a fraction of what you'd expect, coming in under what a lot of smaller, more compact versions go for.

Multiple uses
Three outlets
Audible alarm
Jump starts a wide range of vehicles
Compressor not foolproof
Doesn't hold a charge very well
11. Noco Genius G750 6V/12V .75A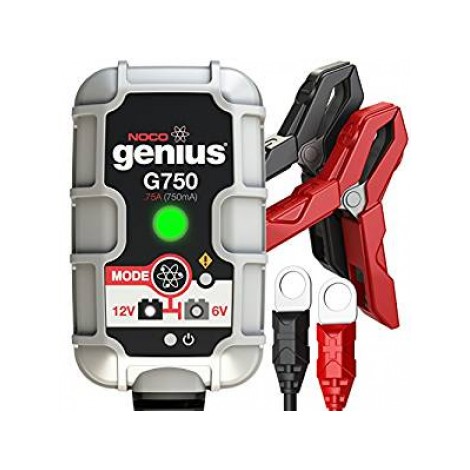 Another NOCO Genius charger. They must make good stuff. They look like they can hold up to the job well. I know, judging something on looks alone is a terrible idea, and in the case of jump starters, looks should have no bearing at all. There is however, something to be said about a product that gives a sense of competence with appearance alone.
Expand to see more
See what's happening
Most of the time, you have no idea what's happening with your chargers. You just have to blindly hope everything works out. Not this time. NOCO threw on a visual diagnostic tool so you can always be in the know.

Waste not want not
Not every situation requires full power, yet most jump starters just give juice indiscriminately, regardless of needs. The NOCO Genius UltraSafe Smart Battery Charger decided not to be wasteful, and will actually minimizes consumption when it makes sense.

Cost and value
It doesn't offer the greatest range of power and versatility, but boy oh boy is it incredibly well priced. It's a trusted product, it's cheap, so it's totally worth it to pick this one up and just throw in your car for emergencies.

Visual diagnostic tool
Intuitive charging
Controls energy consumption
Impact and water resistant
Overheats
Not the sturdiest
12. Gooloo 450A Peak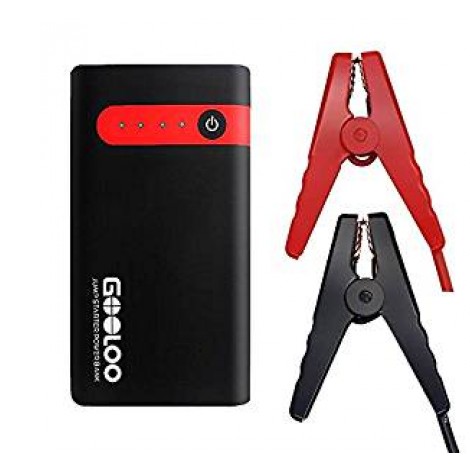 By all accounts, this is your basic, run-of-the-mill jump starter. It won't win any awards for innovation, and it won't revolutionize the industry. Since when us that a bad thing? It does the job you bought it to do, and can be counted on for a long time. To me, that's everything.
Expand to see more
Brightens your day
This isn't the only jump starter to come with a flashlight, but that doesn't mean this isn't a handy feature. You try dealing with a dead battery in the dark, then let me know how unimportant it is.

Help!
Let's hope this feature gets used very seldomly. I can't imagine the situation required to make use of this feature, but on the off chance it is needed, you'll be forever thankful you had this versatile tool at your side.

Cost and value
For what you're getting when you purchase the GOOLOO 450A Peak Car Jump Starter, it's very reasonably priced. While it isn't necessarily the top of the line, it also won't put you out a bunch if money. Perfect for getting the job done without many bells and whistles.

Smart battery clamp
Built in flashlight
S.O.S. function for emergencies
Good compact size
Takes awhile to fully charge
Flimsy shell
13. Suaoki T10 400A Peak 12000mAh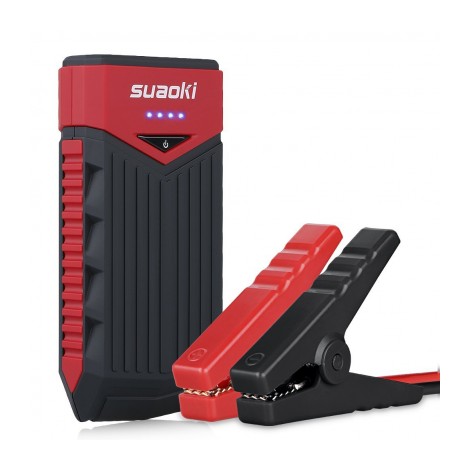 Right off the bat, the Suaoki T10 Car Jump Starter has a look that puts it in a class of its own. Good thing then, that they built it to have features and functionality to back that have it deserving that distinction. It's not going to wow you with a bunch of extra gadgets. All it's going to do is jump start your vehicle. The fact it performs so well is what puts it here.
Expand to see more
Great power for the size
It's small enough to fit in your glove box, but powerful enough to jump start all types of vehicles multiple times without having to worry whether it will work, or leave you stranded.

Freezing cold? No problem.
Clearly this charger is built to last. It's rated to hold up in weather as cold ad -140°F. Now, if it ever gets down to being that cold, you've got other problems. In the meantime, just know that you can rely on it.

Cost and value
One of the perks of being on the smaller side of things is usually the price, and this one is no exception. A poor trade off though is that you would sacrifice power and performance. This baby does things differently.

More than enough power
Works in extreme conditions
Two USB ports
Very portable
Breaks easier than others
Doesn't hold a charge long
14. Aickar 500A Peak 12000mAh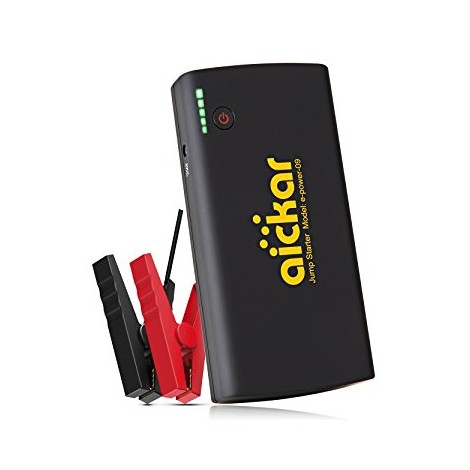 I like this one. I mean okay, I like all of them, that's why they're here. I really like this one. For some reason, everything about it screams safe. If I'm stranded, I feel like I can trust this one to be my lifesaver. Of all the features possible in a portable jump starter, I think that is hands down the most crucial one.
Expand to see more
Take it with you.
Yes, it is compact and portable, most of them are. Most, however, don't come with a super handy case so you can keep everything all neat and tidy. This one does, and that is very welcome.

So powerful
Here's a neat trick this jump starter can do: it can easily jump start your car or truck engine, virtually regardless of the size, and not struggle while doing so. I don't know about you, but I think that's just neat.

Cost and value
Definitely on the higher end of pricing compared to similar sized devices. How many of those devices can charge almost all types of vehicle? Not many. This one can. That equals great value.

Powerful enough to start most cars
Also acts as a power bank
Very durable alligator clamps
Come with a case for convenience
Charge indicator is deceptive
Flimsy battery clip
15. Noco GB40 1000 Amp 12V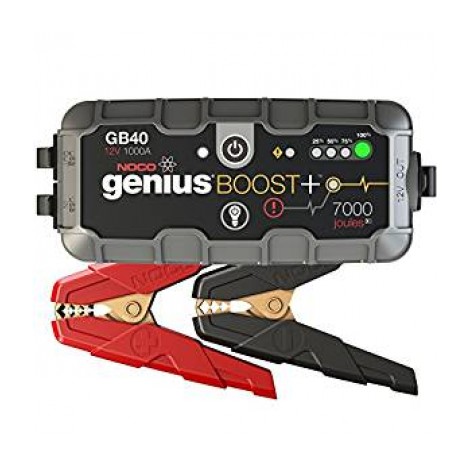 Now this thing has got to be serious, because it looks like it doesn't mess around. Look at it! It's small but beefy like a scrappy underdog running back that nobody thought would get drafted. Well surprise, it's here, and it is loaded with capacity and insane power. I suggest you take a chance on this one, it might shock you.

Expand to see more
There's no spark
When I was a kid, we had a very old car that often needed a jump, and would always spark. Scared the heck out of me. So imagine my surprise to learn that these clamps are spark proof. No more cowering for me!

Full power
A lot of jump starters claim high amperage performance, yet have a separate number in their ratings that represents the actual amount being used, and it's usually disappointing. Not so with this one. This kind of transparency is the mark of a quality product.

Cost and value
Wow. Everything about this otherwise miniscule NOCO offering is big. Power, functionality, reliability, everything. That includes the price tag, but if you need trustworthy power without messing around, count on this one.

Full power jump starting
Charges most any USB device
Ultra bright flashlight
Spark proof clamp
No wall adapter included
Buttons are touchy
There you have an extended look at the best portable jump starters on the market.  Hopefully, you also have more of an idea of how critical something like this can be, especially if you spend an extended period of time in more isolated areas.  So if you don't already have one, I'd suggest hoping in your car and picking one up soon.  They're portable, so in most cases, the only room they take up is in your glove box or console.  How ironic would it be, if when you go out to your car, finally determined to get one, stick the key in the ignition, and it won't turn over.  You left your lights on overnight.  What now?  Well hopefully in that scenario you're just at home, so you can just make a phone call or ask a neighbor, but what about next time?  I'd hate to say I told you so.  You'll never need a portable jump starter more than when you don't have it, and that can be a bad situation.