10 Best Fishing Vests
last updated:
Feb 01, 2019
Whether you're fishing in your favorite stream, standing on the shore, or casting from your boat, a high-quality fishing vest can make your day on the water more enjoyable. Having your fishing gear conveniently stuffed in a pocket can save you the hassle of carrying a tackle box.
With a multitude of pockets in which to store your fly boxes, lures, leaders, or other necessary tackle, a fishing vest only adds to your enjoyment. This buyers guide takes an in-depth look at ten of the most popular fishing vests on the market, taking the guesswork out of the selection process so you can purchase the vest that best suits your needs.
In a Hurry? The test winner after 4 hrs of research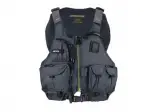 NRS Chinook Fishing PFD
Why is it better?
Comfortable
Highly functional for fishing
Attention to detail
Both a vest and a PFD
In a
Hurry? Editors choice: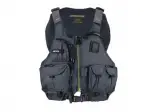 Test Winner: NRS Chinook Fishing PFD

Durability
Overall Fit
Weather Resistance
Value
Style
By Default
Top 10 Picks
1

. NRS Chinook Fishing PFD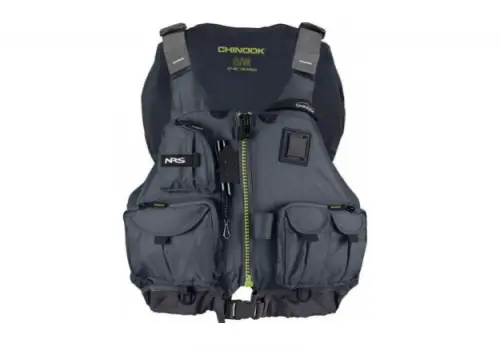 Comfortable
Highly functional for fishing
Attention to detail
Both a vest and a PFD
A little pricey
Pockets are small
This vest combines the convenient features of a fishing vest with the need to wear a PFD while in a boat. This is the ideal choice for kayaks, canoes, any small watercraft when you need to carry your gear, but don't want the hassle of bringing a tackle box. It has roomy pockets on either side for carrying a variety of tackle and also features a coil tool retractor for handy storage of often used tools such as a forceps. The lower back is made of mesh to allow for ventilation on warmer days.
Superior Comfort
Most PFDs are cumbersome or don't fit right, so nobody wants them. This PFD vest is so comfortable, you won't realize you're even wearing it. It has a roomy front entry to make it easy to put on and take off, plus it has eight adjustment points to make sure it fits just right.
Attention to Important Details
This vest is way more than just another PFD, boasting features that are necessary for fisherman. It has seven front pockets for storing fly boxes, extra tippets, and other tools needed for a fun day on the water. In addition, the vest is equipped with a D-ring on the back to carry a trout net, rod holder loops, a strobe holder loop for attaching a light for low light conditions, and a coiling tool retractor conveniently.
Cost and Value
While this vest is definitely on the high side of the price spectrum, when you consider all of the outstanding features offered it's still a great value. Remember, this isn't just a vest, it's also a PFD. This is a fantastic fishing vest that's worth the money.
2

. Autumn Ridge Fly Fishing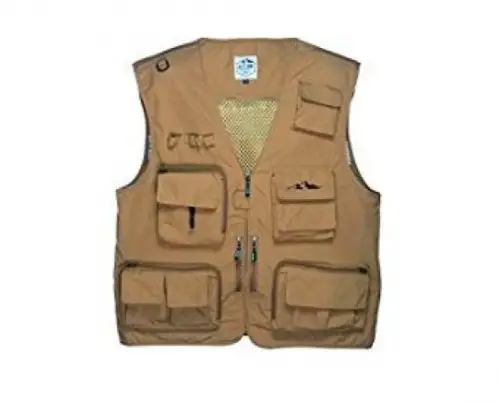 Lots of pockets
Padded shoulders for extra comfort
Lightweight water resistant material
The rear outer shell can be opened for increased ventilation
Sizing runs small
Quite a bit of velcro that can catch on everything
This vest is equipped with 16 pockets to stow all of your gear, including a large interior pocket. Padded shoulders add extra comfort, so a stuffed vest is still comfortable. This vest is lightweight, and the back outer shell can be unzipped and rolled into a zipper pocket at the bottom rear of the vest, exposing a mesh back to make it even lighter. It has a front zipper and velcro closure, and the pockets also have zippered compartments as well as flap pockets with velcro closures to make accessing your gear easy.
Pockets, Pockets, Pockets!
Loaded with 16 pockets to keep gear close at hand, this vest is a wearable tackle box. The four main pocket compartments feature both a zipper pocket and a front flap velcro closure pocket for easy gear retrieval. In addition, there is a small velcro closure pocket, and a very large interior pocket. This vest is loaded with storage options.
Lightweight Comfort
Made from lightweight water resistant polyester, this vest features padded shoulders to add an extra layer of comfort. The rear outer shell unzips and can be rolled into a rear zippered pocket, exposing a mesh back to provide extra ventilation when the weather heats up.
Cost and Value
This vest is affordably priced in the middle of the range for comparable vests. With so many compartments and extra comfort features, this vest is a great value for the money.
3

. Allen Gallatin Ultra Light


Big pockets for the size of the vest
Cooler than traditional vests in the summertime
Solid construction made with strong materials
Easy to put on and take off
Heavy despite the minimal design
Uncomfortable neck strap with D-ring placement
This strap pack vest gives up some bulk, but still offers a lot of space for storage in several roomy pockets. Each side has front and back side mesh pockets, and zippered pockets with enough space to comfortably hold fly boxes. There are also small zipper pockets near the top of each side, plus a D-ring on the neck piece to hang a trout net.
Big Pockets
This vest has large capacity pockets to store large fly boxes and other fishing tackle. The front mesh pockets are perfect for storing tippet reels. There are also two small velcro pockets, perfect for small bags of sinkers, swivels, cutting tools, etc. For a vest that basically doesn't have a back shell, it definitely doesn't give up any storage space.
Minimal Design
This is a non-traditional vest because it's pretty much a shoulder strap with front pockets. At first glance, it doesn't appear that it can hold much gear, until you start opening up the zippers. This vest is loaded with room storage options, but doesn't have the added bulk in the back. This is a great vest to wear on hot days.
Cost and Value
This is a high quality vest made from good materials, nice zippers, and solid stitching. It's not some cheap vest that's going to fall apart after a couple uses, so the price point is perfect. It's at the lower end of the pricing spectrum, so it is a great value for the money.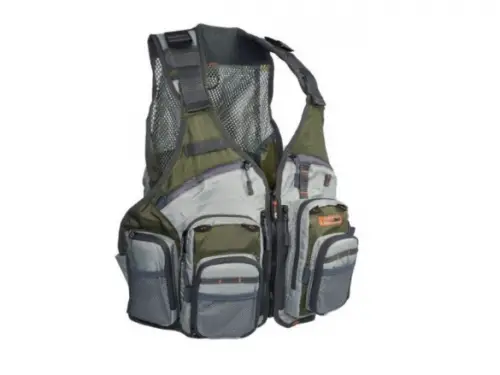 Lots of pockets of various sizes
Well laid out design
Mesh back for cool comfort
Two waterproof pockets
Drink holder pocket
Hemostat holder is unreliable
Net loop D-ring sits low on the back, making it difficult to retrieve your net
This adjustable vest is lightweight and loaded with features that make it a premium choice for the serious fisherman. With a mesh back, this vest offers cooler comfort on hot summer days. The shoulders have built-in adjustment straps to cinch up for a perfect fit. This vest is loaded with lots of pockets of various sizes to make carrying your gear in an organized fashion so much easier. It's equipped with a rod holder so you can tend to your flies or lures with both hands free. It even has a drink holder pocket so you can carry a water bottle.
Tons of Pockets
The pocket layout on this vest is extremely well thought out. There are zipper pockets of various sizes to hold multiple fly boxes of different sizes, mesh pockets for leaders and tippet spools, two zippered waterproof pockets to carry important items you don't want to get wet (like your cell phone), and even a drink holder pocket on the side. In addition, there is a large zipper pocket on the back of the vest so you can carry a rolled up raincoat or poncho. The built-in net has a built-in foam fly holder to keep your favorite flies front and center.
Adjustable Comfort
Not only is this vest highly functional, its made of high-quality materials that offer outstanding comfort. The vest is made from ripstop nylon for excellent durability and comfort. The shoulder straps are adjustable for optimal fit and comfort. The back is constructed of mesh to offer ventilation to keep you cooler in the heat of summer.
Cost and Value
This vest is an exceptional value at its price point. The combination of excellent quality construction and attention to detail make this a vest a must have, and it is definitely priced to sell.
5

. Rothco Uncle Milty - Khaki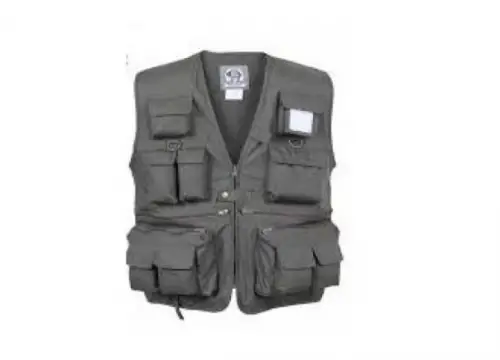 Good variety of pocket sizes
Drying patch for flies
Rod holder
Interior pockets
A warm vest for cool days
Low-quality front zipper
Uncomfortable when the vest is full of gear
Made from 55% cotton and 45% polyester this vest is made strong and offers warmth on cool days. It features many small flap pockets, four large zipper pockets, and two medium sized interior pockets. It has fly drying patch on the upper left pocket to keep selected flies close at
hand. The vest is equipped with a rod holder, and D-rings on the front to make it easier to clip on retractable zingers.
Variety of Pockets
This vest comes with lots of pockets to keep your gear organized. The small pockets are perfect for holding small tools like line nippers, fly floatant bottles, leaders, etc. The larger pockets are great for fly boxes, or lure cases. The medium interior pockets are a nice touch not always found in fishing vests of similar price.
Important Details
While most fishing vests come with lots of pockets, this one adds the little touches not always found that make it a good choice. The fly drying patch above the left breast pocket not only allows flies to dry before putting them back in the box, it's also a convenient place to keep often-used flies so you don't have to constantly dig through your fly boxes. The rod holder is a great feature to free up a fisherman's hands for tying on new flies. The front D-rings add yet another nice touch because they provide two more stable attachment points for zingers to keep important tools like forceps close at hand.
Cost and Value
This vest is appropriately priced at the lower end of the pricing spectrum. While it is a quality vest, it's more basic than higher end vests. Overall, this fishing vest is a good value for the money.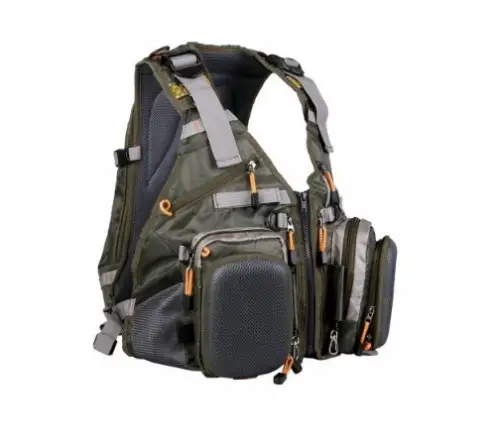 Backpack storage combined with a highly functional vest
Outer shell fly box pockets
Good sized pockets
Extra attachment points for carrying gear
Mesh vest for cool comfort
Shoulder straps aren't durable
Might be too large to wear for extended periods of time
This is a combination vest/backpack so you can carry everything you need for a full day of fishing. This vest is loaded with storage space, front and back. It includes all of the "extras" that an experienced angler comes to expect on a high-quality vest/pack, like a rod holder, lots of loops that serve as attachment points for zinger retractable tool holders, shell pockets equipped with fly patches to keep your most often used flies conveniently stored at your fingertips.
The pack storage on the back includes an expandable main pocket so you can carry large items like a rolled up raincoat, or any other bigger items you can't typically stuff into a fishing vest.
Tons of Storage
This vest pack does not disappoint. The pockets on te back are roomy, and also come with side straps that connect to the vest to hold them snug. The main back pocket is expandable, and features two zippers for ease of entry into the pocket. A nice detail. The outer shell of the secondary back pocket has a strip of loops sewn in case you want to hang even more gear from the bag. The pockets on the front of the vest offer two shell pockets with fly patches to keep your most often flies easily accessible. Behind these pockets are large zipper pockets perfect for fly or lure boxes. Above these are two angle slash zipper pockets for smaller items. Just a ton of storage throughout this vest pack.
Highly Functional Construction
In addition to the more than adequate storage, this vest pack makes good use every bit of space available. Rod holders are important to keep your hands free for tying on lures or flies. There are also little orange loops that serve as easy attachment points for retractable zinger tool holders. The vest itself is made of mesh to keep you cool, an important consideration when carrying so much gear in the backpack portion.

Cost and Value
This vest/pack is right in the middle of the pricing range for fishing vests, making this a true bargain. When you consider all of the features and benefits the vest pack offers, this one offers exceptional value for the money.
7

. Redington Clark Fork Mesh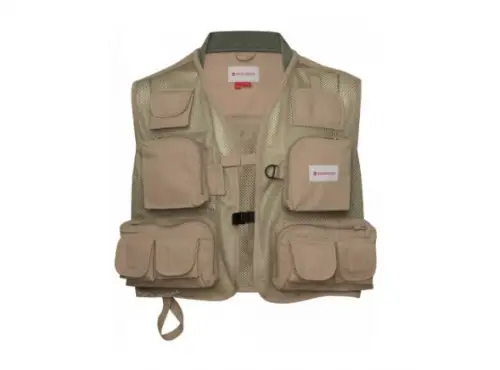 Lightweight mesh body which is perfect for hot days
Well thought out design. Very functional
Rod holder for hands-free tying
A good variety of pocket sizes.
Comfortable fit
Cheap zippers on pockets
Pockets are too small for large fly boxes
This is a lightweight mesh vest with eleven pockets for ample storage. Equipped with a rod holder to free up both hands for tying on flies or fishing lures. The front has no zipper and closes with a small buckle and a velcro closure. The top left pocket is equipped with a D-ring, which is ideal for connecting a retractable zinger to keep your forceps (hook remover) or line nipper close at hand while on the water.
Mesh Shell for Comfort
The body of this vest is made from mesh material so you can stay cool on hot summer days. It will also dry quickly after a day on the water. Even when the pockets are full, this vest doesn't feel overly heavy.
Good Storage Space
With eleven pockets available for gear storage, any angler can hit the water well-equipped for a full day of fishing. The two front bottom zipper pockets are large enough to carry medium sized fly boxes or lure boxes. The mid chest pockets also offer good functional space to keep leaders, tippets, fly floatant, line nippers, etc. close at hand.
Cost and Value
This vest is priced at the lower end of the pricing spectrum, so it offers excellent value for the money. Some thought went into the design of this vest, so it is highly functional for a day on the water. This is a great first vest for someone that plans on fishing during summertime.
8

. Eidlvais Men's Multi-Pockets Vest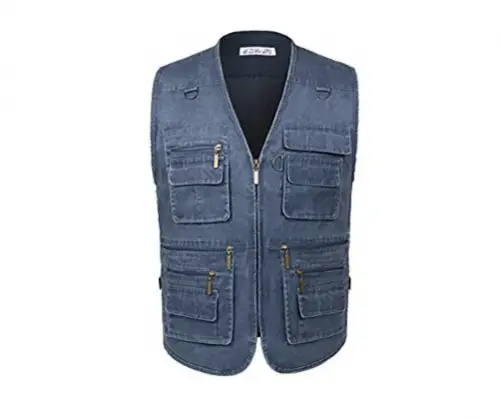 Lots of well-placed pockets
Stylish
Comfortable
Versatile
Handy pockets with lots of zippers are ideal for outdoor sports like fishing. The lightweight Eidlvais Multi-Pocket Vest is suitable for all seasons. The vest can be worn by women and girls also.
Pockets
The vest has lots of pockets that are well-placed. The majority of the 14 pockets have zippers. Velcro is used to faster a few of them. Most of the things you need can be carried with little inconvenience while your hands are free.
The pockets enable the wearer to remove uncomfortable items from pants pockets. The pockets are of various sizes. The inside pockets have won favor with many people who purchased the vest. Interior pockets fit an iPad mini. The number of pockets makes the vest great for fishing, hunting, camping, and travel with room to spare.
Versatile
It is lightweight and ideal for summer. It is suitable for outdoor hiking and traveling. The vest fits the bill for the weather in the 40s. It keeps the upper body warm while preventing the need for a heavy shirt or jacket. The vest is ideal for events that call for a lot of space for items that need to be secured.
Some interesting uses cited by people who bought the vest were wearing it when metal detecting and for Lvad patients who have a heart pump. The inside pockets are useful for carrying batteries unseen.
Cost and Value
The Eidlvais Men's Multi-Pocket Vest is a great buy. The vest is well made. It looks and fits like vests that cost twice the price. The jacket is comfortable and easy to wash. The material is durable and sturdy, 65 percent polyester.
The multiple pockets are ideal for sunglasses, a compass, cell phones, and other paraphernalia. The vest is perfect for late fall and early spring. The zipper is on the left side which is unusual for a man's vest. The vest is economically priced. For the money, you get low-end quality fabric that has quality workmanship and stitching and middle-quality zippers.
9

. Master Sportsman 26-Pocket Fishing Vest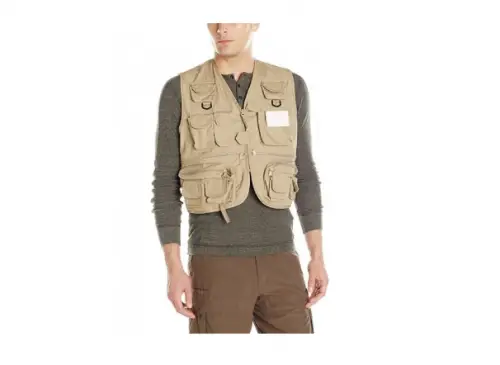 26-pocket design
Zipper front closure and large rear pocket
Removable fly patches
Rod holder and rounded zipper pockets
The rolled back flap is a bit uncomfortable when riding in a vehicle.
Fit and usefulness are among the first things that a fisherman looks for in a vest. A vest that does not fit well is of little use. The Master Sportsman Fishing vest meets both demands. This is a vest for fly fishing.
Pockets
The 26 pockets provide plenty of space to store tackle. A large front pocket can hold a cell phone, a knife, and miscellaneous equipment. Bottom front pockets are big enough to hold a six compartment tackle box.
Smaller velcro flap pockets provide space for items that require quick access like extra leaders, water thermometer, or hook hone. Several zippered pockets on the vest front offer secure storage for things such as sink tip wallets, spare spools, and fly boxes. The back of the best also has a large zippered pocket ideal for storing a rain jacket or a bottle of water.
Other Features
Around the neck of the vest is a neoprene collar that is comfortable to wear. A mesh back has a nylon flap capable of being unrolled from the waist pocket and zipped into place when the weather is cold.
Both the nylon and mesh fabric are comfortable and soft. There is a foam block for storing hooks and flies. Front D-rings serve as anchor points to hold hemostats and nippers on zingers securely. Back D-rings provide a place to fasten a landing net.
Cost and Value
The classic fly fishing style is a bargain-oriented vest. The 26 pockets provide space for all gear to have its dedicated pocket. This is a simple fly vest having pockets for everything. When fishing in rivers for trout and salmon, easy access to gear such as a knife, pliers, lures, etc. is needed. The vest provides easy access.
10

. ZSHOW Mesh Multi Pockets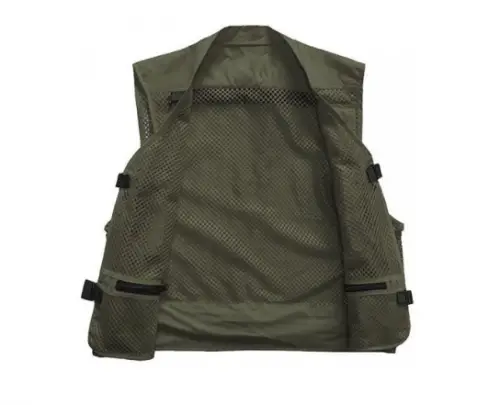 Lightweight mesh for cool comfort
Minimal design for the angler that doesn't need a lot of pockets
Four D-rings and a hook clip for attaching tools
Removable rear panel to make it lighter on hot days
Pockets are very small
Sizing runs small
This vest is good for the fisherman that doesn't need a lot of pocket space. It has six small pockets for very limited gear storage but has four D-rings and one hook clip to serve as attachment points for gear that can be carried on retractable zinger tool holders. The vest is made of a lightweight mesh and has a removable outer shell on the back that can be taken off on warmer days. The shoulders are made of nylon for extra comfort.
Lightweight Mesh Comfort
This is a very lightweight vest, made of mesh material to keep you cool on hot days. The back is removable to make it even lighter.
Functional Without Bulk
This vest is perfect for the angler that doesn't need a lot of pockets. The six pockets are all pretty small. This would actually be a good vest for the angler that just fishes for panfish, where the necessary gear is minimal. The pockets are large enough to carry one small fly or jig box, some split shot sinkers, extra hooks, leaders, and tippets. The four D-rings and hook clip work well for attaching clip-on tools.
Cost and Value
This vest is on the lowest end of the pricing spectrum, and for a good reason. It's a good entry level vest for the fisherman on a tight budget. It isn't made from high-quality materials, so it isn't built to last. Considering the low price point, this vest offers pretty good value for the money.
Criteria Used for Evaluation

Durability
Criteria Used to Evaluate Fishing Vests
This fishing vest buying guide looked at a wide range of styles of fishing vests and showed the most important features that customers value. At this point in the article, we wanted to shift from talking more about the products and rather more about how we were able to come to such strong conclusions about what the best fishing vests were. Now, as you might imagine, it can be quite difficult to pick out a product in an aisle of hundreds of different options.
As a result, consumers pick out a product and assume it's the best. However, as many of us can attest, this is not always the case. So, in this, we knew that we needed to take a measure to evaluate each product.
This is where we would like to introduce the idea of the Criteria Used For Evaluation. The criteria are just our measurement and analysis system for evaluating each product for your consideration. Before a product can even be considered for our list, it underwent intense evaluation and analysis.
Each product was measured from 7 different facets or characteristics that, in our opinion, are the most important aspects of fishing vests. The criteria helped us highlight the best products on the market. It also helped how previous consumers touted each of these ten products. So, without further ado, let's continue on this journey.
Number and Size of Pockets
When it comes to fishing vests – one of the most important things that we took into consideration was the number and the size of the pockets. You see, when it comes to fishing vests, it's really all about the tactical features. If you are going to be on your boat, fishing canoe, or even standing on the edge of the beach – a fishing vest is your best friend for storing any loose items, like line, lures, or even hooks.
So, when we were evaluating each product, we carefully looked at images and even thoroughly read the product description to ensure that each product was offering our readers enough space to keep their fishing tools and equipment safe.
Also, we always looked to see what consumers were saying about their experience with the product, in the specification to the pockets. You can assure that each product on our list offers the best, spacious pockets for all your fishing needs.
Quality of Materials
After assessing the pockets – the next thing that we quickly looked at was the quality of the materials. We needed to, before putting a product on our list, that the vest was made from only the best materials in the industry.
Now, before we continue, let us give you a small lesson. When it comes to materials – producers have a wide spectrum of materials they can pick from. So, when you are purchasing a fishing vest – you need to be in the place to know that the vest was designed and built that way for a reason.
With this knowledge in mind – we carefully analyzed each product, looking directly at all the material utilized to construct the vest, including the exterior of the vest, the interior of the vest, and even the pockets.
From there, we looked through hundreds of different consumer reviews to see what people were saying about the product and the materials. In doing this exercise, we were able to highlight the most reputable and praised products in the industry today!
Ventilation and Breathability
If you are a frequent fisherman or fisherwoman, you know that fishing in the spring, summer, and even fall time can get hot, especially when fishing on the waters. With that in mind, if you are wearing a fishing vest, sitting in the middle of a lake, pond, or even ocean, it can get even hotter.
So, when we were evaluating these products, we wanted to help alleviate this problem by selecting vests that were made with superior ventilation. Now, this was easy for us. Reason being, we can quickly look at the material list and see if the company is utilizing some mesh, which is known for enhancing the breathability.
Additionally, this is a huge selling factor for many products, which you might have collected from reading our buying guide. With that being said, manufacturers are proud to share this unique piece of innovation.
Now, as always, before you are quick to purchase any product, especially based off of ventilation, do yourself a favor and check with previous consumers to ensure that they had a positive experience. In doing this, we can ensure that these ten products are the best in class.
Durability
The last thing that anyone wants is to purchase a fishing vest and, after a few minutes on the water, all the sudden, a pocket breaks or the vest falls apart. With that being said, we wanted to make sure that any product that we featured in our buying guide was made from the most durable materials and designed with durability top of mind.
Now, we were able to draw some reliable conclusions as to how durable a product is – just based off of reading how the company described their product. Companies that infused their vest with durability and longevity are proud of it – and can share proof of this, talking about the materials, the stitching, and other innovations.
Additionally, companies that are focused on durability, often offer their audience some degree of assurance, in the form of a warranty or guarantee. If we found a product that did not match this, it was removed from contention.
Comfortability
Since you are going to be wearing a fishing vest all day, we wanted to ensure that, whatever product we shared with you today, it was made from comfortable materials and offered some range of comforting features, whether that be adjustable straps, padding, or anything else. So, as we looked at each product, we carefully studied each product and how the manufacturer described comfort to the consumer.
We wanted to know all of the specifics. Now, typically, pictures speak volumes regarding comfortability. In this, we took whatever information we could find, performed extra research, and consulted with customer reviews to create an opinion as to how comfortable these products were.
Cost and Value
The last thing that we want to share with our readers today has to do with the cost and value. Throughout our article today, we shared with our readers a bit about the price and value of each product. Now, this was a glimpse into the in-depth research that we performed on this criteria.
Essentially, we took the time to scan the entire market for fishing vests, tracking the changes and fluctuation of prices and costs. From there, we took that information and utilized it as we evaluated each product based on its value. We wanted to know how much value a consumer was receiving, given its price point.
Expert Interviews & Opinions
Most Important Criteria
(According to our experts opinion)
Experts Opinion
Editors Opinion
Users Opinion
By Default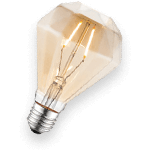 Is it worth it?
Fishing vests can make fishing so much easier by eliminating the need to carry a separate tackle box. Depending on the amount of gear you like to bring with you when fishing, a good vest can keep your gear right at your fingertips.
What to consider
The main considerations when buying a vest are the number and size of pockets, the breathability / cool comfort offered, and the little "extras" that separate the great vest from the cheap bargain basement variety.
Frequently Asked Questions
q:

Are fishing vests also flotation devices?

a:

No. We do not want any readers to confuse fishing vests with flotation devices. These are two completely different types of products with two completely different goals and purposes.
q:

Are fishing vests waterproof?

a:

One would assume that all fishing vests are waterproof, right? After all, they are to be worn while fishing – which can be a wet outdoor sport. However, as we were performing our research, we were shocked to see that many products did not come designed with waterproofing features. Now, that is not to say that these products won't help defend against some water. Many products that we highlighted on our list, as you will notice, are water-resistant, which is a lesser grade of material.
q:

Can you infuse a hydration pack into a fishing vest?

a:

Typically, most fishing vests are designed so that an individual can infuse a hydration pack. However, you should not purchase a product under that assumption. If you are in the market for a vest that can – be sure to read the product description to ensure of this. Otherwise, you might be in for an unpleasant surprise!
q:

Are the sizings true to fit?

a:

When it comes to sizing for fishing vests, you should always do your extra research. The reason being, not all products are true to fit. Consider this: the way that one company makes a vest is different than another.

Construction includes the physical design, the features, and even the materials. So, we encourage all readers to inquire about the sizing chart before making a purchase. Now, not only this! You should also take it a step further and look at what previous consumers are saying about the sizing, which can be located in the customer review section.
q:

Can you store fishing lures, hooks, and line in a vest?

a:

This is a great question. As we explained above, one of the most important features of a fishing vest comes down to the size and number of pockets. The reason being, these vests are designed for fishermen and fisherwomen to be able to fish on rivers, lakes, or even the ocean with the ability to store important gear, tools, and equipment – that are also easily acceptable.

For example, some fishermen might store plyers clippers in their fishing vest for that quick moment they need to snap their line or help grab ahold of a lunker. So, to answer your question, yes, almost any fishing vest can store fishing lures, hooks, or line.
Subscribe to our Newsletter