Best Rifle Sling Products Reviewed & Rated for Quality
In a Hurry? Editors choice: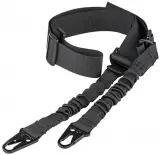 Test Winner: CVLIFE 2 Point

There are a lot of small gear items that go underestimated in their overall importance. But, one piece of gear specifically helps to ensure the safety and security of that one big dollar item, your rifle, that would mean the end of the hunt if anything happened to it.

We're of course talking about the often overlooked rifle slings. In order to not only free up your hands, but keep your rifle securely in your control, the best rifle sling must be able to also live up to rough environments and repeated stress from use. And even though rifles are getting lighter and lighter over time, due to new technologies, the rifle sling still has to carry the weight, which can vary depending on accessories and attachments. Keep your gun safe and secure when not in your hands. get a solid rifle sling that gets the job done right.
Standout Picks
Criteria Used for Evaluation
Durability
This is an important factor that needs to be taken into consideration, especially if you like going for long hikes. The last thing you need is your sling to break on you while out and about. The material and quality of the build will determine how durable your rifle slings will be. Keeping this in mind, look for brand names that have a good reputation for producing gun accessories. Check out reviews and see what other customers had to say about the quality of the product and if it lasts.
When we talk about the material, we're not only talking about the strap part, but also the rings, hooks, buckles, and any other part of the sling that helps keep it together and strapped onto your body. If you're going to be using the sling for a heavy-gun, then you'll want materials that can handle the load. This may cost a little more but at least you won't have to worry about your gun falling.
Adjustability
Not everybody is the same size and your gun sling should be able to adjust accordingly. It's important that you are comfortable when you're carrying your rifle or you'll get tired quickly. It can also lead to accidents like dropping your gun or bumping it into surrounding objects. Check out the quality of the buckles and see how easily they can be adjusted. Now it's not only important that you can easily and quickly adjust the sling to fit you comfortably, but it also needs to hold. If it slips or gets loose while on the move, then an accident is bound.
Compatibility
If you're an avid hunter or just enjoy your firearms, then you most likely have more than just one rifle. As you know these accessories can really add up in costs. Having one or more rifle slings that is compatible with different styles of rifles is a big plus.
This not only saves you space but money as well. It also allows you to get used to one style of sling that you can use efficiently for all your guns. When checking out slings, read features and specifications and find out if it is compatible with different styles of rifles. If you can, try to sling on and see how it feels and try to imagine your different rifles on it.
Weather Resistance
If you've been hunting before, then you know that you'll be facing all types of weather, and your new rifle sling needs to be able to withstand it. Look for something that dries quickly and remains light even when wet. Your rifle slings need to be able to perform in the freezing cold, rain, and heat. If they have metal pieces, make sure they are rust-proof. A good way to tell how well your rifle slings will last in difficult weather is to read what other reviewers have said about the product as well.
Value
Rifle slings aren't necessarily expensive, but you still want to make sure that you are getting your money's worth. For value we considered the price to quality ratio, it's overall durability and compatibility. Will this sling really be of help when out in the field or will it give up on you? Another factor we looked at is the warranty and guarantee offered by the brand. How much does the company stand behind its product? The models on this list are the best on the market and are a valuable accessory to have whenever going out on a hunt or hike.
12 Best Rifle Slings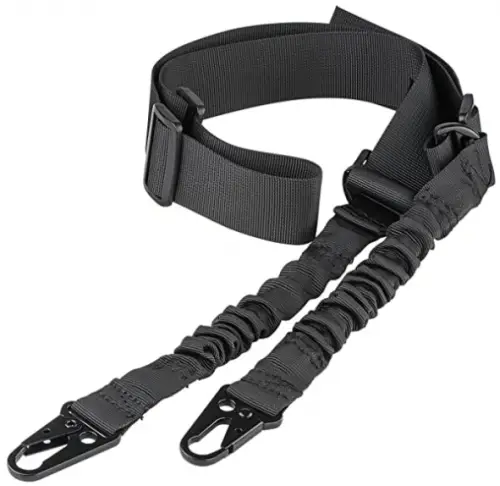 One of the things that we like the most about the CVLIFE rifle sling is the opening of the attachment hooks. In all, this sling is solid overall, earning the top spot. Another big seller for us is the price. Usually the old saying "you get what you pay for" tends to be true, especially at the worst possible moment. Not really the case with this one.
Simple Yet Solid Design
As mentioned above, we really like the attachment hooks. The opening is much wider than a lot of other slings with metal hook attachment points. This is actually a bigger deal than it sounds. This means that you'll be able to attach to rifles with thicker rings. So you'll be able to easily switch from weapon to weapon. This rifle sling is probably not for heavy-duty or combat use, but for gun matches, day in the field, or seasonal hunting trips, it will get you there and back securely. The elastic shock absorption portions of the sling help reduce the tightening up when climbing or bending while on the move.
Easily Adjustable
You won't have to take the rifle off your back to make adjustments to the sling. Simply pull the section of the exposed strap to tighten.
Durable Materials
The durable nylon will last quite a while under normal use conditions. You can adjust as much as you need without putting premature wear and tear on it.
Value and Cost
Value vs. cost is often an individual thing. What is worth a pretty penny to some may not be for others. This price tag on this sling is affordable to pretty much anyone. This is even an affordable option for people who are into airsoft who don't want to throw out a ton of cash on gear.

2

. Blue Force Gear Vickers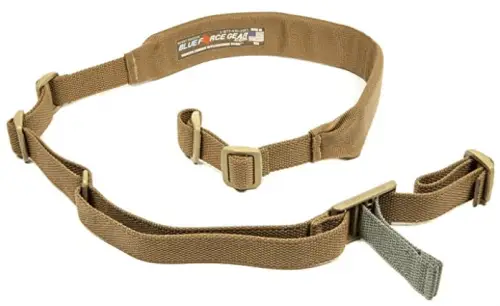 If you're looking for a great tactical rifle sling, try this one from Blue Force gear which was developed with a lot of help from Larry Vickers, a former 1st SOFD Delta operator who has put a lot of great tactical gear into the market where it counts.
Color Options
The Vickers sling is available in nine colors. Four solid and five camouflage patterns, including Multicam. The hardware also matches each camo scheme.
Durability Options
You can actually have a little control over the durability in the type of hardware you choose. For most of the available color options, you are able to pick whether you want plastic or metal hardware. Just remember that metal might mean slightly heavier and noisier when knocking into other gear. But it will last longer. Plastic is a better choice for wet environments though.
Attachment
The attachment points are silent. There are no metal clips that you'll have to worry about silencing with 100mph tape, or however you like to clean your gear quiet.
Securely Sling Your Weapon
Once you get it attached, there are no clips to worry about accidentally pinching open and coming loose. The sling goes on and it stays on.
Adjustability
You won't have to play around too much to get a better adjustment. There is a pull tab that you just yank on to tighten or loosen for different scenarios. This allows you to worry less about the fit and more about the function. Keeps focus on your rifle.
Cost and Value
Not what most would call a cheap sling. It was designed by a master in the tactical community though, so the design input alone adds quite a bit of value to anyone who is going to be working under rigorous conditions where the gear has to perform at 100%.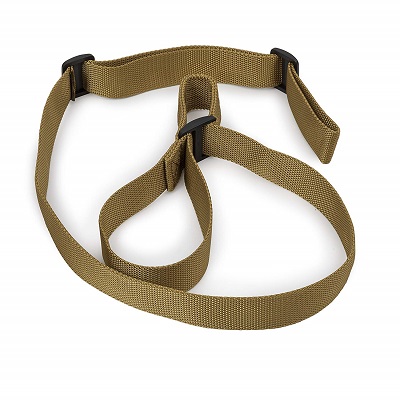 STI steals the show with their rifle slings and makes it as the overall best choice on the list. Fighting off fierce competition, the company adds in just enough extras to make their sling the 'it' product.
Easy Adjustments
Users can make adjustments without disconnecting the rifle sling, saving time and frustration. This on the fly adjustment feature is useful in many ways and makes up the backbone of the product.
Features
With this one there is no worry about getting twisted up in the strap as it boasts about being tangle-resistant. Another potentially great feature with this one is the fact that it won't cause chaffing to your shoulder on that trek through the woods.
Cost and Value
The best on the list maintains the same low price integrity of the competitors. With the value level of this product being a perfect 10, it's a safe purchase if you need a sling.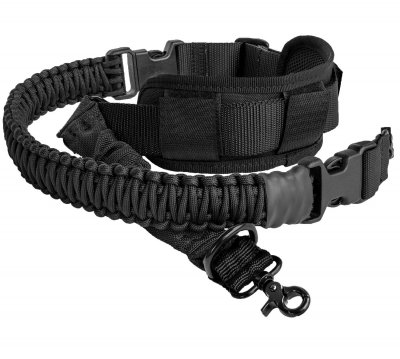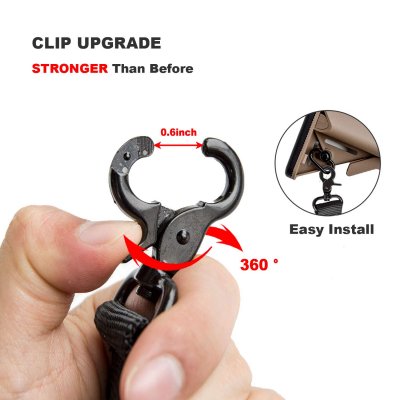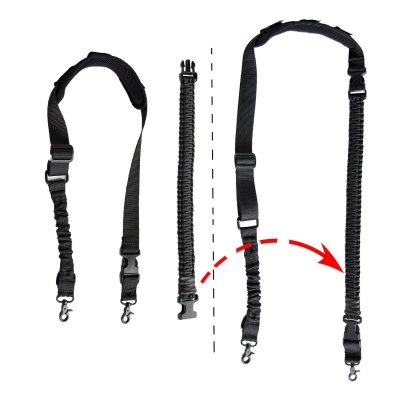 A great looking strong rifle sling the Lahne tactical has everything you need to keep your rifle snug and safe and ready for use. It's made of nylon webbing that will ensure it stays long-lasting and it has a wonderful padded shoulder pad to ensure that it won't put too much strain on your shoulder. To make things even better the paracord strap can be taken off the sling and used as an emergency strap just in case.
Nylon Webbing and Paracord Construction
Both of these heavy-duty materials do one thing, they make sure that this sling is going to last nearly forever if you take care of it. The Nylon webbing is virtually indestructible and the paracord is not only flexible but incredibly durable, so much so that in a pinch you can take the paracord material off of the sling and it will act as an emergency strap.
Fit's most Rifles
The large open metal clip ensures that this sling will fit with most rifles. It's easy to open and use and also allows 360 degrees of rotation to allow maximum flexibility and maximum effectiveness when you need to pull up the rifle and sight quickly.
Cost and Value
This is a great bargain and we're big fans of Lahne Tactical. Since the sling is so well designed it's almost like you're getting a multi-use piece of equipment that's not only going to help you lug your gun around but also allow you to use it to set up camp when you're done with the day's hunt.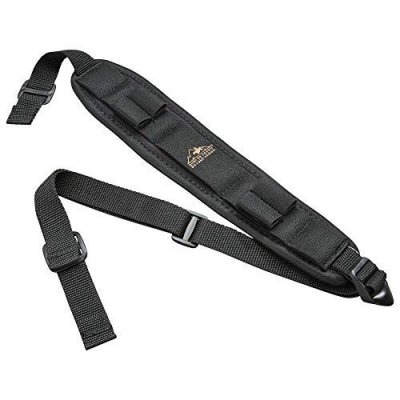 This is just a well made tough strap that has a wide shoulder strap to keep you comfortable and is designed to be a simple and effective way to minimize any shoulder pain and maximize your ability to enjoy a full range of motion during your hunting hikes into the outback.
Neoprene Comfort Stretching
The wide shoulder strap ensures that the weight of your rifle will be distributed more evenly all over your shoulder so that decreases the felt weight of this rifle sling. It also is built with non-slip grippers that keep the rifle in place as you walk.
Shell holders on strap
This is a nice little feature that allows you to keep up to four shells on hand just in case. This doesn't seem like much until the time comes when you need just a few extra shells and don't have the time to dig through your pockets.
Cost and Value
This sling comes at a great price and we're big fans of Butler Creek. They make a no-nonsense sling that feels like it's built by hunters for hunters.

6

. Mossy Oak Mason Creek Leather Sling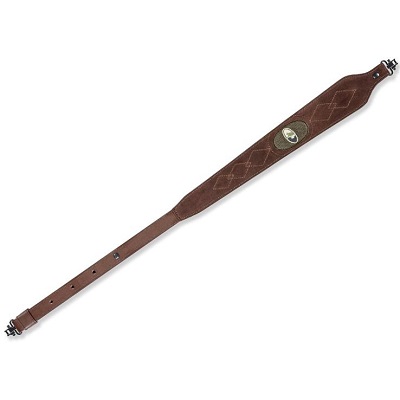 This leather sling can qualify as a great throwback sling for buyers that like tradition. With a nice visual touch and familiar smell, the strength of this sling is more than presentation.
Good Swivel Motion
The swivel motion is just about perfect and is the best part of this sling. It feels natural when attached to large weapons, and won't even get in the way while you use it.
Good Size Adjustment
With this one, you can adjust the size for what you need. It can be easily slid to make this one as large as 36 inches. Making it accommodating for most hunters.
Cost and Value
Authentic leather usually runs for a much higher price, yet this sling is low priced. That's a great value for both the short and long-term.

7

. 550 lb Paracord Survival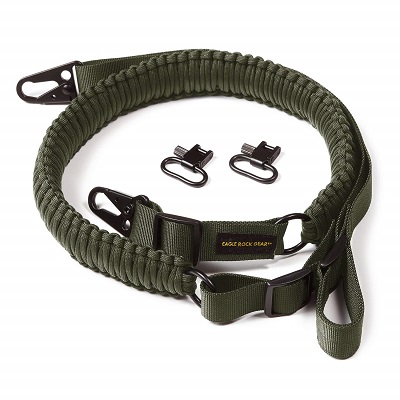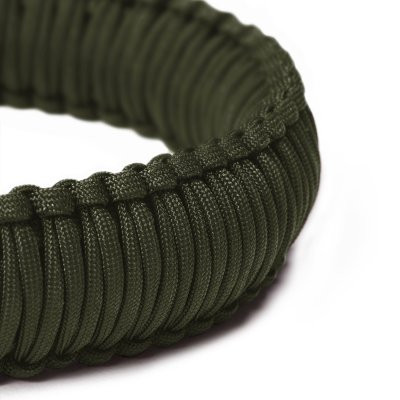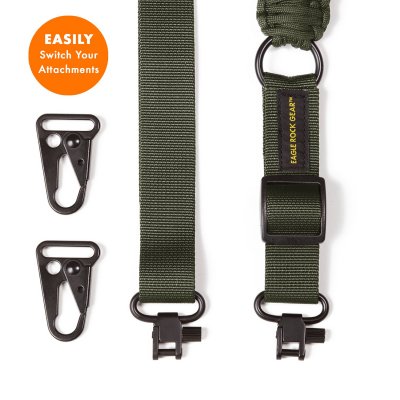 Consider this another paracord-type rifle sling on the list that gets a perfect score for usefulness. In order to separate itself from the #6 sling on the list, Para-Cord-Belts added in some extra features.
Strong As An Ox
The material to make this sling is rot resistant and is 550 pounds of commercial paracord. You can add a lot of weight and yet it won't get bogged down at all.
Warranty
This little number comes with a lifetime warranty, which lets you know that this company feels comfortable standing behind its product.
Cost and Value
This sling is low priced and comes in a bit lower than the other products on the list. So the value really hits home for buyers that like the paracord option.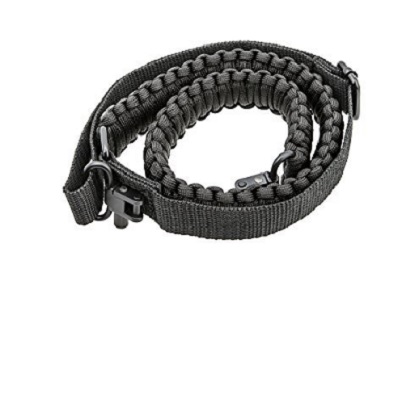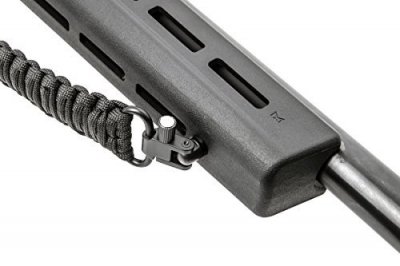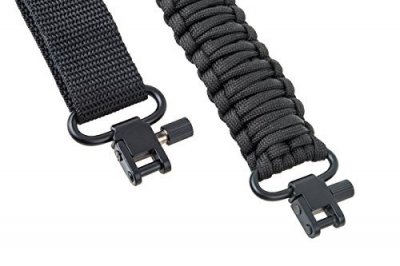 Now about this point in the list is when the slings start to get really creative. This model from Ace Two Tactical may, in fact, be the most incredible thing to come into the industry in years.
More Than A Sling
This doubles as a paracord and can be used for multiple things like rope, fishing, and more. There is also the benefit of looking different than other slings on the market.
Versatile
Being that this is a partial paracord design, you can take this with you on all your outdoor excursions. One never knows when they may need a way to fish or even a tourniquet in the event of an emergency.
Cost and Value
This is one of the best overall values on the list and at a low price. You'll get more use out of this than you realize.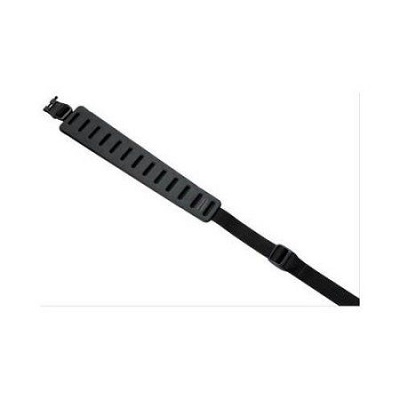 Known for its toughness, this is the most notable in the series. The Claw does what it is supposed to beautifully, adding comfort and value to any weapon.
The Best In The Series
Fans of the company's other slings will find The Claw reigns supreme. It takes all of the great things about their other products and brings them together quite nicely.
Features
Available in a variety of different colors, you should have no problem making these blend in. Another feature this has is the fact that the shoulder pad was created to have a non-slip design. Reducing the amount of struggling you do to keep the sling resting on your shoulder.
Cost and Value
Buyers that want a balance between comfort and durability will get the most value out of this sling. It's a low priced option that won't fail you when needed the most.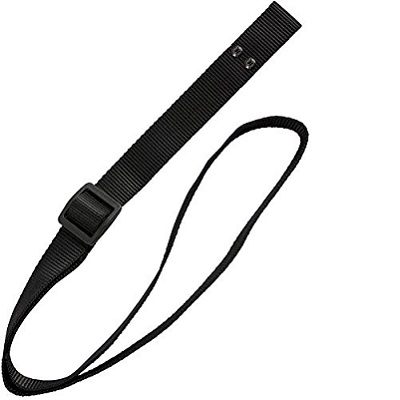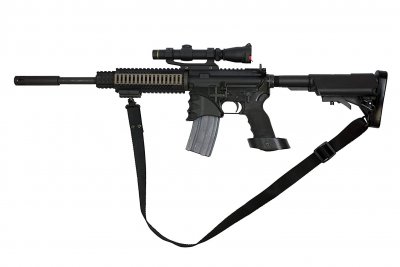 Think of this product from Red Rock Outdoor Gear as another sling on the list that concentrates on core features. The difference is there is a standout feature with this product that makes it unique.
Semi-Permanent Installation
Once you install it the first time there won't be any accidental unlocks. The semi-permanent installation is more secure than a temporary one and makes your weapon one with the sling.
Weather-Resistance
You definitely want something that is built to withstand the elements you will be out in. After all what good is a sling that only has the potential to be used once? Red Rock made sure to pack their sling with a good amount of weather-resistance so that it will last time after time.
Cost and Value
There is good value in this sling for users that want a semi-permanent solution. The price is low and it passes all of the quality tests for a great sling.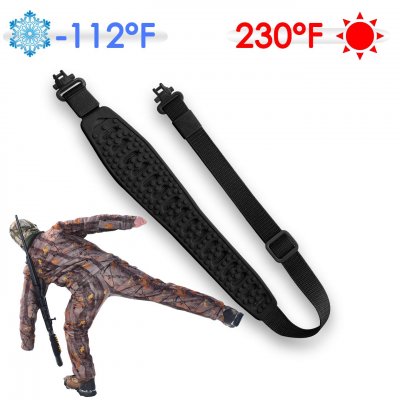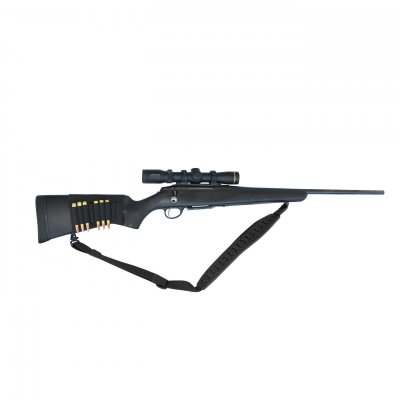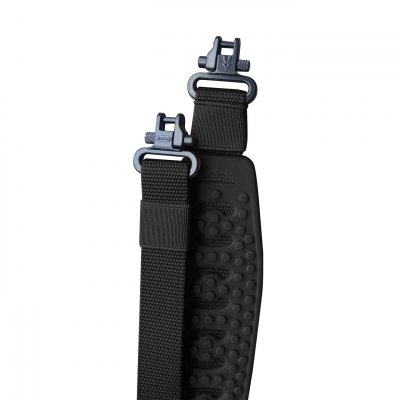 This swivel comes with what it says is a patented all-direction anti-slip design. What this means to you is that these rifle slings will keep your rifle where you want it and it will allow you a full range of motion during your hunt. We also like that the swivels are tough and built to withstand weather and also fit most rifles.
Broad Working Temperature Range
This sling is built to withstand all kinds of extremes, hot and cold. The goal here is to make sure that the sling can sit in a hot or cold truck for weeks or months and not get brittle or fade. It's simply built to last.
All Metal Swivels
The swivels are built to last as well. They're all metal so they won't break and they do fit most rifles so this is a great all-purpose sling.
Cost and Value
This sling comes in at about the mid-range as price goes. But it's a simple and a strong piece of equipment and it's designed to last nearly forever so it's a bargain as far as we're concerned.

12

. Docooler Military Tactical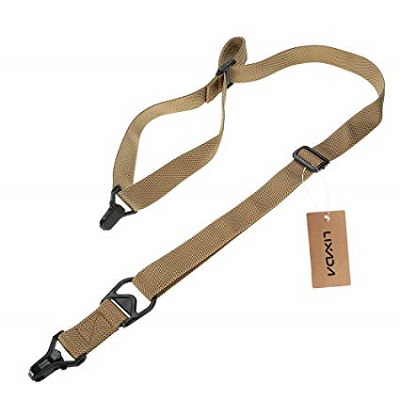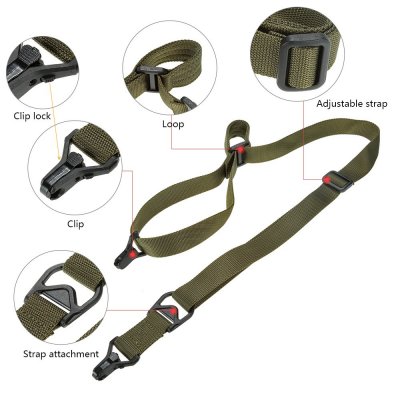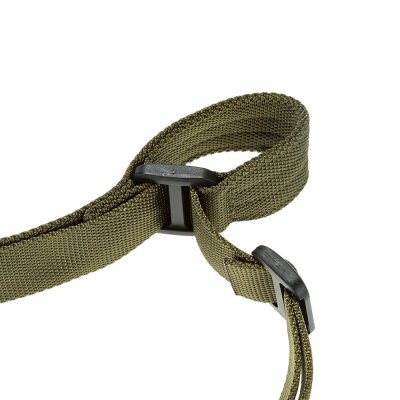 With Docooler in charge, customers have been treated to great products for a while. Their take on the rifle slings is good and doesn't get too far away from the basics.
Distinct Colors
Available colors are dark green, earth and black. That's more than enough to get the ball rolling for customers that like to mix and match styles.
Added Safety
This one is designed to help with keeping your firearm secured while on the sling. The system used is called the two-point. Which is as simple as it sounds. Basically two points are used to secure the rifle to the sling. In the event, one clip fails there will be another one in place.
Cost and Value
The price is low, which is something that will be seen a lot with the other slings on the list. With the different color options, the value is above average.

Subscribe to our Newsletter