Best Hunting Gaiters Reviewed & Rated – 2021
In a
Hurry? Editors choice: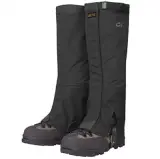 Test Winner: Outdoor Research Crocodile

Some of the most fun, exciting and popular outdoor activities include hunting, hiking, and jogging. But in order to have a great experience, you need suitable equipment. Gaiters are a pair of coverings for the lower half of the legs, worn mainly by people who go walking, climbing, or enjoy other outdoor pursuits. Their aim is to stop dirt and water from entering your shoes.

There are many types of gaiters and the right pair depends on the kind of activity you have planned and the weather and trail conditions you expect. They are great for keeping your feet dry and protected from the elements. Whether you spend a lot of time outdoors, or just go camping once a year, it's always important to stay protected. Check out our list of the top-selling models in the market and find a pair that meets your needs now!
Standout Picks
Criteria Used for Evaluation
Water Resistance
If the gaiters do not resist water, then they will do little to stop your feet and ankles from getting wet.
That is why water resistance is an important part of purchasing hunting gaiters. There are a few different ways that hunting gaiters are made to be water-resistant, but they tend to come down to the construction of the item and the materials it is made from.
You will want to begin by checking what materials are used to make the gaiter. Generally speaking, synthetic fabrics work better at resisting water than fabrics made out of natural materials. This is because synthetic fabrics are polymer-based and therefore repel water rather than absorb it as natural fibers do.
The construction of the hunting gaiters will also play an important part in making sure that they resist water. Many hunting gaiters feature dual or triple-layer construction. In other words, they will have an out shell and an inner lining.
Triple-layer gaiters may have a water-resistant or waterproof member in the middle layer. At a minimum, you should look for hunting gaiters that have two layers. The exterior layer should be a water-resisting shell that is designed to block water from snow, rain, mud, etc.
Materials
There are some areas where you won't want to wear hunting gaiters that have a hard shell, while other times you will want to look for hunting gaiters that have a softer shell and are more flexible.
Where you are walking outdoors will be a determining factor in how hard you need the shell to be.
However, sometimes hard shell hunting gaiters are unnecessary. For example, if you are walking in the winter, then chances are that much of the undergrowth has died off due to the season.
Nevertheless, you may still find it beneficial to wear hunting gaiters that are not hard or soft either. It may be more convenient for you to purchase a pair of hunting gaiters that are suitable all year.
If you are not concerned about animal attacks and you are in an area where the plant life isn't too sharp, then you may find it sufficient to purchase hunting gaiters that offer a mildly hard shell and more flexibility.
Versatility
Some hunting gaiters are designed to favor certain hunting conditions and are engineered with a specific purpose in mind.
If this is the case, then you may want to consider where you are going to be hunting and what sort of conditions you will face. For example, some kinds of hunting gaiters are designed for dry and mild conditions while other options are meant for winter weather. When you pick the proper kind of hunting gaiters for the conditions that you plan on hunting in, you will find that you get better protection and performance.
You should always take the time to consider the conditions that you will find yourself hunting when you are purchasing hunting gaiters. Some conditions call for tough and durable hunting gaiters. This will be in areas where there is a lot of undergrowth, thistles, or harmful animals such as snakes. You may also find yourself in damp and wet conditions. If this is your situation, then you should try and find hunting gaiters that resist moisture and help you stay warm. That way your legs do not end up feeling cold and damp while you are hunting.
People who are hunting in dry conditions that do not have a lot of undergrowth may get away with wearing lightweight hunting gaiters. These gaiters are more geared for keeping stuff out of the bottom of your shoes. Finally, if you are going to be in an area with ticks, then you might want to look for gaiters that are treated to repel insects.
Overall Fit
Hunting gaiters are sold at different heights.
The height of the gaiter will determine how much protection you get from the gaiter while you are spending time on the trail. You can pick from three different heights starting with over-the-ankle, mid-calf, or knee height. As the gaiter gets taller, it will offer you more protection, but that also means that the gaiter will be warmer and may weigh more.
You should try and match the gaiter to as close to what you need when you are purchasing a hunting gaiter. That way, you will be more satisfied with the overall purchase.
Features
Hunting gaiters come with a wide variety of features, some of which you may find to be useful.
You usually find that hunting gaiters that have more features will be a higher quality set as opposed to a lower quality pair of gaiters. In many cases, the features found on the gaiters will directly impact how long they will last and how well they will work.
When you are purchasing a set of hunting gaiters, you should try and make yourself aware of how the different features found on the gaiters will impact how well they perform. This a certain way to make sure that you are happy with your overall purchase rather than frustrated and disillusioned.
Water resistance and waterproofing are two features that are commonly found in hunting gaiters. Spending time on the trail can lead to moisture exposure from plants, brush, rain or snow. For this reason, it is typical to see hunting gaiters that resist water or are completely waterproof.
In addition to being waterproof, many hunting gaiters are made with fabrics that resist abrasion. Once again, gaiters are exposed to scratching and rubbing from the undergrowth, and you do not want to end up with a pair of hunting gaiters that are unable to withstand such stress. You do not want to experience your gaiters getting caught and tearing because they could not resist abrasion.
The next feature isn't common, but it is still available to people who are specifically looking for it. Once and a while you will run into a pair of hunting gaiters that have insect repellent build into the gaiters. The idea is to keep annoying and biting insects off of you and your clothing.
15 Best Hunting Gaiters
1

. Outdoor Research Crocodile
Outdoor Research shows up on the list with one of their high-end models. Buyers that want one of the best in the industry will find these gaiters to be a quality buy.
A+ Materials
Using 100% Nylon for the upper leg (70D) and Condura (100D) for the inner leg, there are only a handful of better gaiters in the entire industry. You can count on these to be your go-to pair of gaiters for years.
Lightweight
No one wants a set of gaiters that will way their legs and feet down. That only tires you out and makes it seem like your treck to and from your stand is neverending. Outdoor Research has done away with the added weight for this set.
Cost and Value
This is one of the most expensive gaiters on the list, as they come out to about the average-high price. Even if they cost more than some hunting boots, it's a necessary accessory if you're outdoors a lot.
Very few buyers have been disappointed with this purchase, and it provides everything you would want from a pair of gaiters. When paired with high-quality boots, it's an unstoppable combo.

2

. Sitka Stormfront Gaiters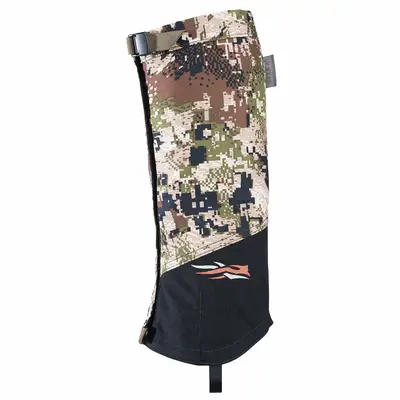 The Sitka Stormfront gaiters are the perfect pair for hunting. They feature technology to keep you covered and protected. These make our list because of their construction and benefits while you're out in the field.
GORE-TEX Technologies
The Sitka hunting gaiters feature GORE-TEX technology material that helps block out water and wind. They are designed to be both breathable and weather-proof at the same time. While wearing these, you can expect to be comfortable and protected in whatever weather condition you are hunting or exploring in.
Other technologies
Along with water and wind protection, these gaiters are insulated to keep you warm and they are also treated to be odor-resistant. This combination makes these gaiters the perfect pair for your hunting trip.
Cost And Value
This option is one of the priciest on this list, but it has a lot to offer. The three layers of protection and waterproofing.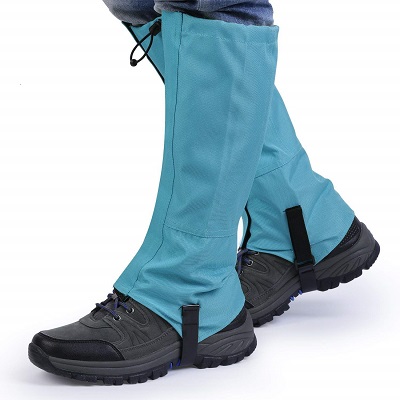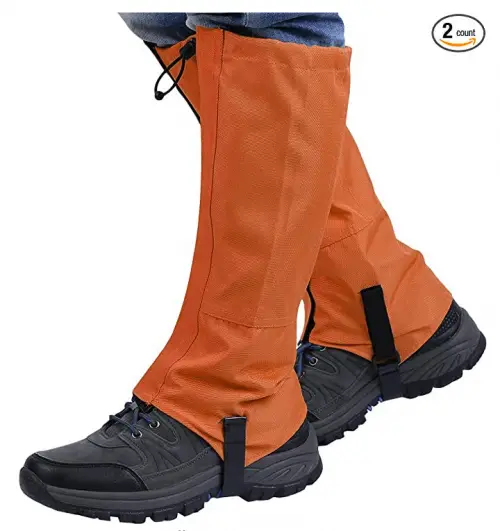 Thanks to their superior quality and advantageous features, customers place the OUTAD Legging gaiters among the best products on the market in this category. They are made from high-quality fabric that is not only tear resistant and durable but also allows air to flow through for great breathability. They are small, lightweight, and come in five different colors.
Oxford Fabric
These are made of 600D Oxford fabric, which is known for its durability and breathability. The unpredictability of weather or terrain you are stepping on won't be a problem since OUTAD Legging Gaiters gives you confidence that you are protected.
Easy to Fasten
Comfort is an important factor you need to consider when choosing the right leg coverings. This is why these feature a metal hook that can be fastened and adjust to ensure a secure and comfortable fit.
Cost and Value
The price varies, depending on the color and size you select, but you can be assured that you are getting your money's worth. OUTAD is so confident in their product that they offer a money-back guarantee.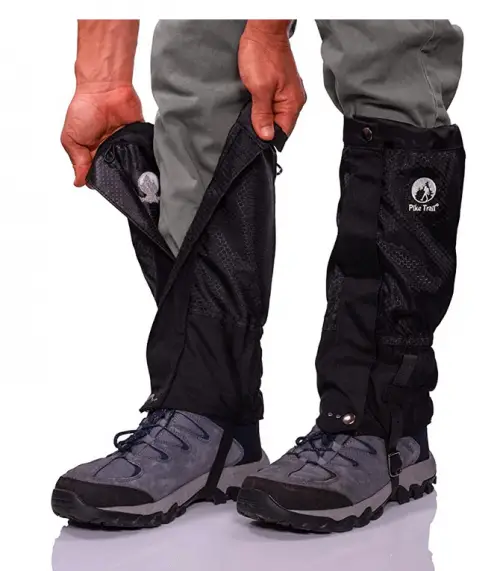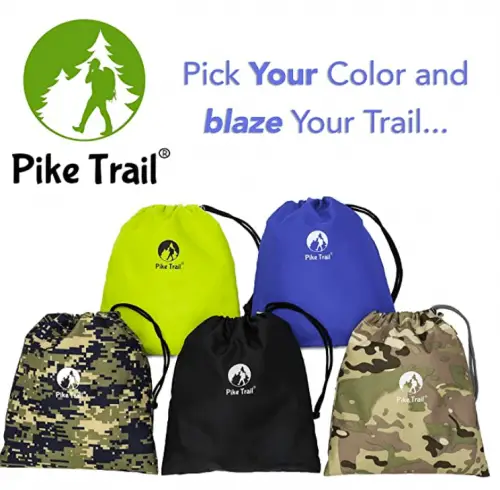 This design from Pike Trail provides users with all of the advanced features you need out there in the wilderness no matter what the weather. This design is incredibly lightweight and comfortable and works overtime to keep your gear dry and clean, even when you get down in the mud and dirt. Plus, they are offered in a few unique colors that are worth checking out.
Tear-Resistant Polyester
The very first thing that we noticed about this design is that it is constructed from quality materials. It is composed of multiple layers of tear-resistant polyester that are still breathable and lightweight so that they won't weigh you down on long trips.
Color Options
They also come in a few different color options that include neutral shades such as black and black and camo, as well as bright options that include blue and yellow. They are able to be quickly and easily adjusted to fit all sizes of users and boast a durable shoe buckle so that they stay in place as you make your way throughout your day.
Cost and Value
The best part about this option is that it comes in at a price point that won't break the bank. This affordable design is packed with features for a light and easy fit, and your durable layer of fabric creates a good distance between mud and your clothing so you can stay dry and comfortable all day long!

5

. First Lite Brambler Gaiters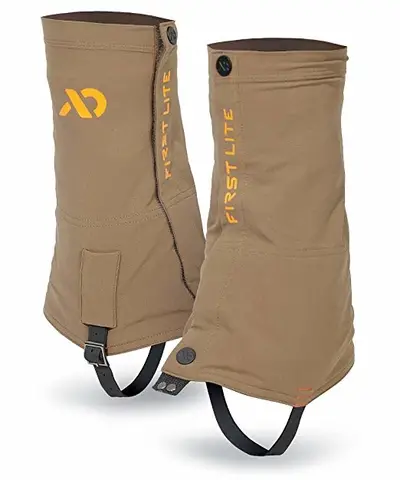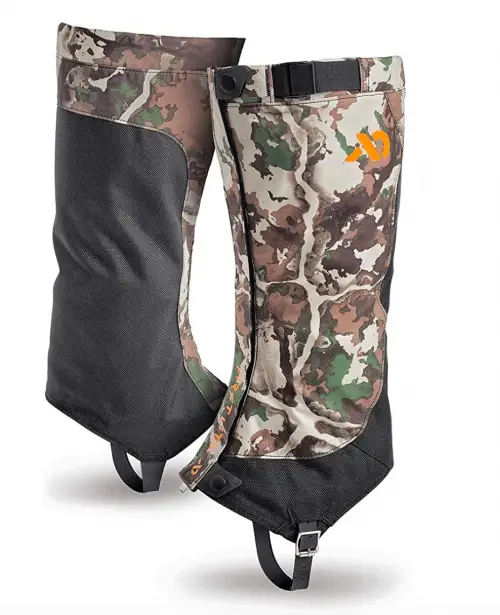 The First Brambler gaiters are designed to be comfortable and lightweight to wear without sacrificing durability and waterproofing. Additionally, these gaiters are breathable.
Adjustable fit
This option has an adjustable calf strap that helps with a customized fit. While some reviews say that these could be longer, they are designed to be comfortable to wear, stay in place, and keep the water out.
Durable design
These gaiters feature coated nylon straps which are designed to withstand activity. The insteps are Condura constructed with tough seams that won't rip.
Cost And Value
This pair of gaiters is at a moderate price range that all things considered are pretty affordable. The way they are constructed, the way they fit and the waterproofing make these First Lite Brambler Gaiters worth your interest.

6

. Kenetrek Hunting Gaiters


The Kenetrek Hunting gaiters made our list because they are easy to wear and perform well. They are designed to slide on easily over whatever boots you're wearing. They are also designed to stay in place whether you're dealing with water or deep snow.
Waterproof Stormblocker membrane
These gaiters feature a tough liner that keeps water out. So, whether you are in water or snow, you will keep dry. Even with the complete protection, these gaiters are still breathable to wear.
Reliable fit
You won't have to worry about them slipping and sliding around. They feature top web straps and cam lock buckles that let you adjust the gaiter. Overall, these have a snug fit from hook and loop closures, snaps, straps, and buckles.
Cost And Value
The price of these gaiters ranges depending on the size that you choose. Still, they are pretty affordable.

7

. Outdoor Research Rocky Mountain High
Outdoor Research makes our list yet again with this Rocky Mountain High design. What users love most about this option is that it is composed of quality materials and latch on to your body and will not budge all day long. They cost a bit more than most, but they are worth every penny if you need something comfortable, reliable, and durable.
Hypalon Instep Strap
What makes this option stand out from the pack is that it has a Hypalon instep strap at the base that hooks up and around your ankle. Combined with a stretchy ankle, this design won't shift up your leg no matter how active you are all day long. It works to stay in place while still providing you an excellent range of motion in your ankles.
Wicks Away Water
It is also composed of 100 percent nylon with a 420D packcloth leg panel that wicks away water, moisture, rain, snow, and mud incredibly effectively. While some designs make your legs feel like they are trapped inside paper bags, this option is incredibly breathable as well as lightweight.
Cost and Value
Any design from Outdoor Research is considered to be the best of the best. What makes the Rocky Mountain High option worth checking out is the reinforced features in the base that helps it stay firmly in place from sunup to sundown.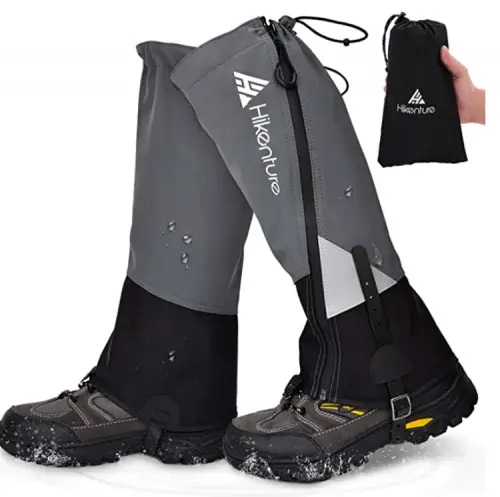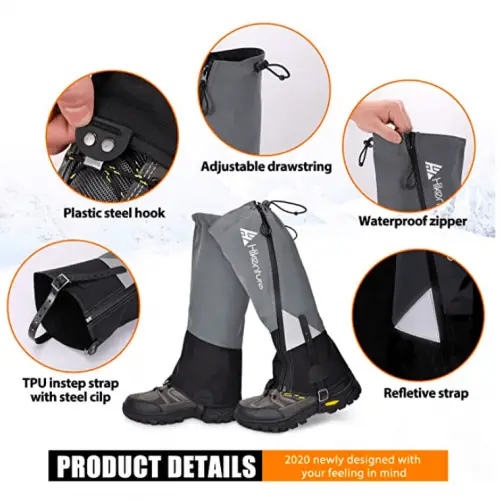 Hikenture is a brand that crafts products with hunters in mind while keeping the price tag low. What we lost most about this sleek design is that it is packed with advanced features to keep your legs not only warm and dry, but comfortable as well. It has a myriad of adjustable features, and clocks in at a price point that won't break the bank.
Full-Length Zipper
What makes this style unique is that it boasts a full-length zipper that makes it easy to take on and off without taking off your shoes. The durable zipper is completely waterproof, so you don't have to worry about rain and snow penetrating the zipper. It is also composed of 600D Oxford Nylon that is sewn in multiple layers to wick away water and mud.
TPU Ankle Strap
This design also boasts a durable TPU ankle strap with a steel buckle for added durability and a more secure fit. It doesn't have an elastic band at the ankle, which means that it drapes over your shoes or boots a little better than some of the other designs that we have seen out there on the market.
Cost and Value
For those in the market for something that is made for hunters in mind, this option from Hikenture is an excellent choice. Its full-zip design makes it easy to take on and off as needed, and it is made from premium materials that hold up well over the years. Plus, it comes in at a super affordable price point.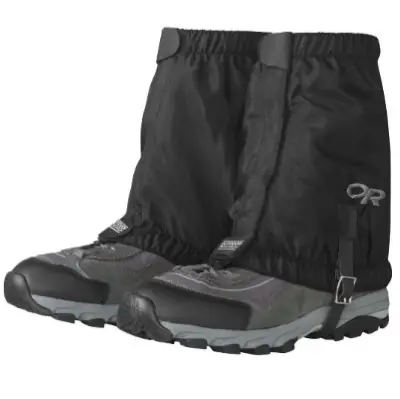 Now things start to get interesting with the Rocky Mountain Low Gaiters. Outdoor Research has done some really good business with this model, and it continues to impress customers.
Not Bulky At All
Wearing gaiters don't have to add uncertain bulk to your legs or feet. With the low top design in effect, it's as close as possible to not wearing them at all.
Stays Closed
Never deal with gaiter popping open again. These have added a closure to ensure they will stay closed when you need them to. Perfect for those who truck through the snow or even marshy areas.
Cost and Value
Although they come close to being the average price, they fall more within the low-average range. With the high rate of fits with all sizes, this is a good value. It's secure, has great sizing and is competitively priced for gaiters. Depending on these for protection won't be a problem at all even for a hardcore outdoorsman.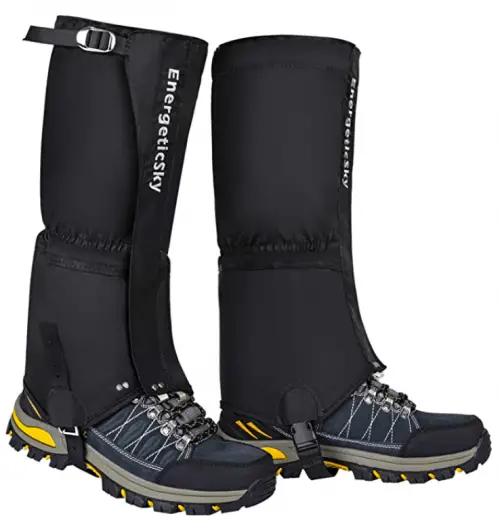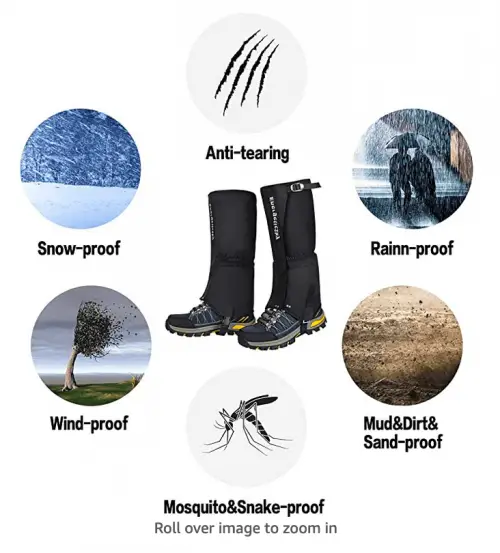 If you need something durable for those cold winter months, this design from EnergeticSky is built to take cold temperatures and snowy trailheads. They may be a little heavier than some of the other designs, but the heavier materials work to keep your legs warm and toasty and dry. We love that this design is built tough and comes in at a price point that is one of the most affordable designs out there on the market.
Completely Waterproof
This design is composed of multiple layers of 1000D Nylon that is tear-resistant and completely waterproof. The multiple layers of material make this design a little bit stiffer than some of the other designs that we have seen, but it also makes it ideal for snowy trails or protecting you against bug bites in warmer climates as well.
Velcros Straps
It also utilizes velcros straps when you need to adjust it to fit your legs perfectly to craft an airtight shell against the elements. The middle layer of this design is composed of insulated and waterproof materials that trap warm air inside and work to wick away snow and rain.
Cost and Value
If you are in the market for something designed for snowy and cold weather trails, you can't go wrong with this design from EnergeticSky. It's important to note that the thicker materials are a little less breathable than some of the warmer weather options that we have seen, so they may prove to be a little hot when worn in the summertime.

11

. Outdoor Research Verglas
If you hate the idea of hot and stiff, this light and easy design from Outdoor Research is worth checking out. What we liked most about this design is that it is one of the lightest designs out there on the market. It is composed of tough materials that work to wick away mud and moisture without weighing your down. It may cost a little bit more than most, but we feel that it is worth every penny!
Nylon 70D Ripstop
What makes the Verglas stand out from the pack is the blend of materials used. It is composed of 100 percent Nylon 70D Ripstop on the outside shell that is tear-resistant. It boasts an interior shell that is made from Cordura 500D wicks away moisture to keep your legs happy and dry.
Adjustable Top Strap
We also like that this design boasts Outdoor Research's patented Hypalon instep strap with a steel buckle to affix firmly to the base of your shoes or boots. It also boasts an adjustable top strap that means that this won't fall down around your ankles by the end of the day, and it fits securely enough that it won't cut off circulation to your feet!
Cost and Value
If you are in the market for something durable, lightweight, and breathable, the Verglas design from Outdoor Research is worth checking out. We love that it is composed of a blend of durable materials as well as features that will feel like you aren't wearing anything at all.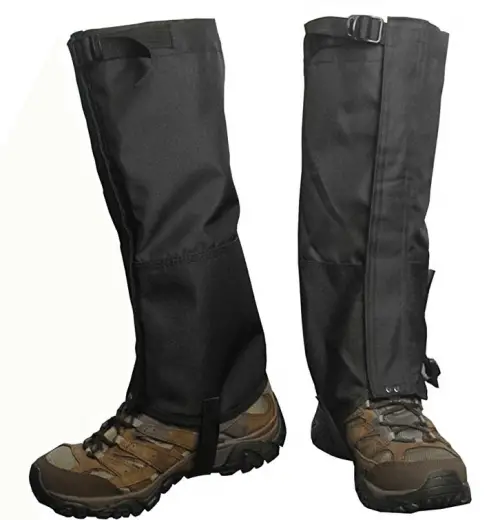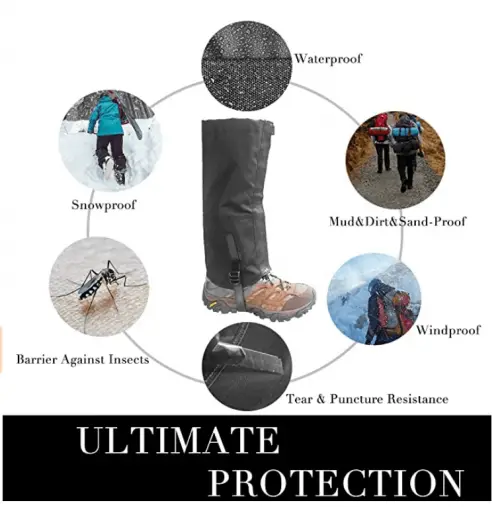 If you need something versatile that is built to work in all seasons, this option from Frelaxy is an excellent choice. It boasts a slightly higher profile than many of the other designs we have seen, which works great at protecting your gear. It is made from lightweight materials that work to wick away rain, mud, and snow all year. Plus, various sizing options ensure that you get the fit that is right for you.
Many Size Options
Many of the designs out there on the market are offered as one-size-fits-all. This design from Frelaxy comes in a wide variety of sizing choices so you can make sure that you purchase a style that fits you perfectly without being too loose or too tight. Plus, it is offered in a standard black or heather grey color option.
Durable Materials
The materials used for this design are composed of incredibly durable materials that are resistant to tearing and are completely waterproof. It is made from 900D & 420D Oxford fabric that is super lightweight and ideal for wicking away water, mud, or even snow. If you need something for all seasons, this is a great choice.
Cost and Value
The best part about this versatile design from Frelaxy is that it comes in at a price point that won't break the bank. It boasts a higher profile than many others which gives you more protection, and it comes in a wide variety of sizing options for a perfect fit. If you need something that works all year round, this design is worth checking out.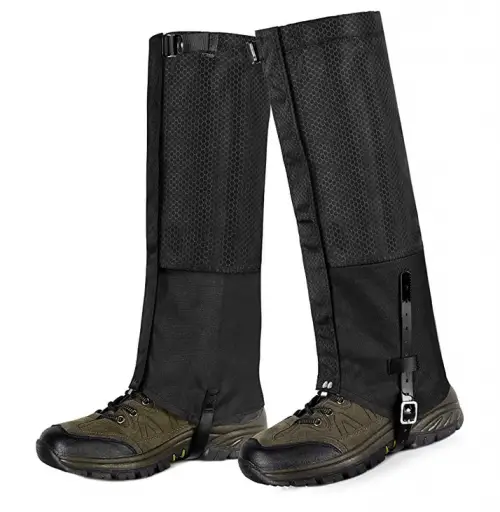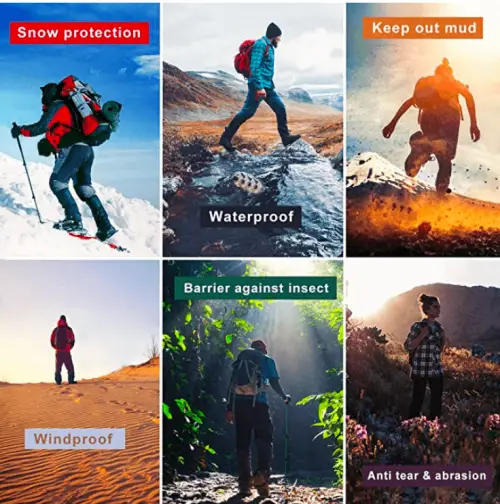 Unigear is an industry leader with vast experience in manufacturing high-quality outdoor equipment and their leg gaiters are a great example. They are made from 300D Polyester and 600D Oxford fabric, giving you a very durable and long-lasting item that is rip, puncture, and water-resistant.
Multi-Functional
These are a great choice for anyone who enjoys different outdoor activities. They are firm, yet comfortable enough that you can easily move around without feeling constrained.
Fits Different Sizes
To ensure that you receive something that fits you right, the leg gaiters produced by Unigear are available in 4 sizes. They even provide an easy to read the size chart.
Cost and Value
The cost differs depending on size and color. However, it is worth mentioning that this product not only is priced comparatively low, but it also has a lifetime warranty. Therefore, if the Unigear Leg Gaiters seem unsatisfactory to your needs, don't hesitate to let them know!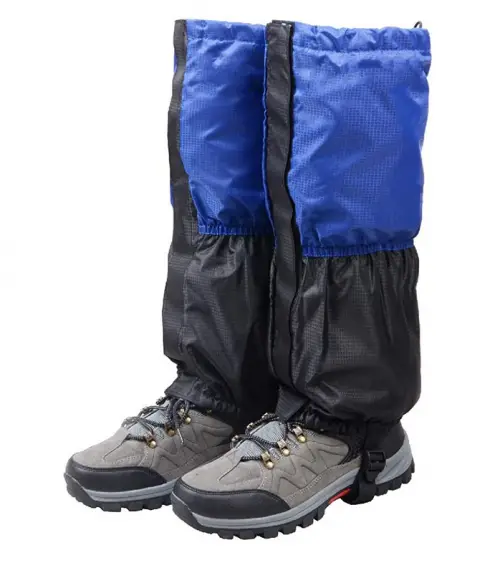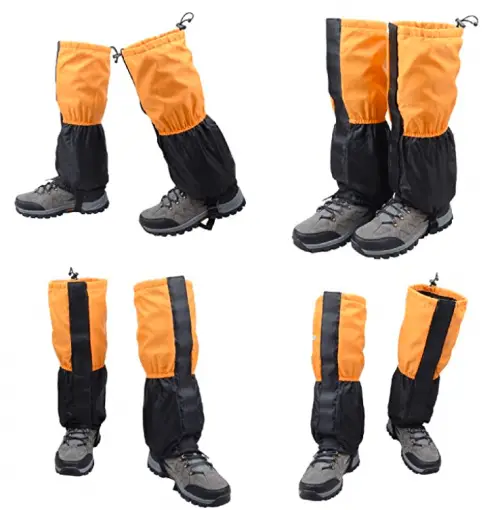 Triwonder has a very reliable pair of high snow leg gaiters for both men and women. Even if it isn't advertised as such, these are a really good fit for both.
Breathable Fabric
Along with the high resistance to cold, the fabric won't leave you uncomfortable. Enough air will get in while still keeping the unwanted cold air out.
Versatile
These make a great addition to all your outdoor gear needs. Yes, you heard the correct all gear. These are not just good for hunting. They are great for hiking, shoveling snow, or fishing. Versatility can really relieve the pressure your wallet will feel purchasing separate gear for all your activities.
Cost and Value
A pair of these won't run high at all and are a low cost even when compared to the rest on the list. With the way they are built, it should last years of abuse. Buyers that want a safe pair of gaiters will get their money's worth with this Jteng product. With only a small investment this could turn into a sure winner.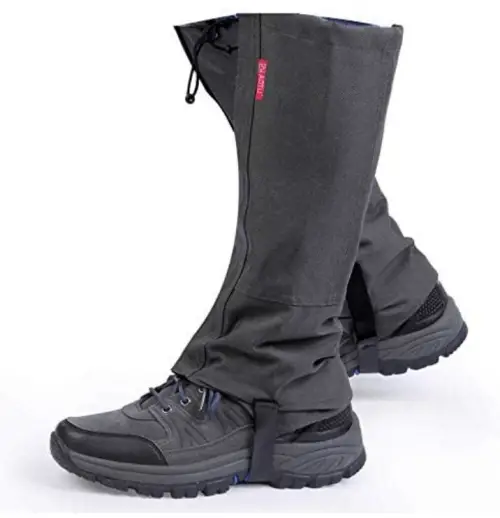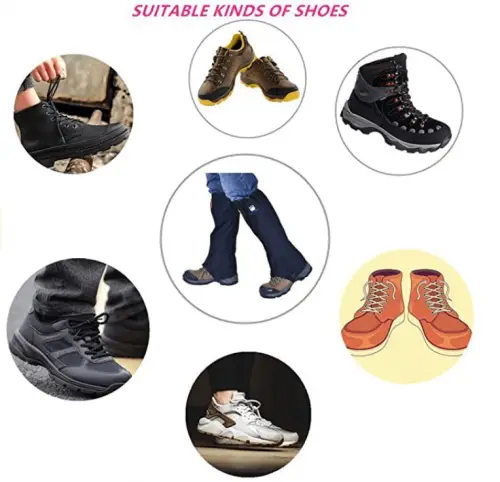 Simplicity is the name of the game when it comes to this design from Winis. We love that it is made from quality materials that are so tough they are able to tackle winter conditions. Despite its heavy-duty materials that higher profile, this design clocks in at one of the most affordable price tags out there on the market.
Oxford Fabric
The very first thing that we noticed about this option is that it is composed of 600D tear-resistant Oxford fabric. This material is slightly stiffer than some of the more lightweight options out there on the market, but it is incredibly effective at wicking away snow and mud. Plus, it boasts a higher profile that runs higher up on your leg than some of the others that we have seen.
Ease to Put On
One thing that users really love about this option is that it is easy to take on and off, as well as adjust. It unzips completely so that you can easily take them off and on without taking off your hiking boots. It uses a stretchy nylon ankle hook to hold them securely in place, and a drawstring at the top to prevent them from shifting down around your ankles.
Cost and Value
If you are in the need of something that is built for cold weather climates as well as snow, this option is a really great choice. We love that it comes in at a price point that won't break the bank, and it doesn't skimp on the quality of materials used.

Subscribe to our Newsletter