Best Black Powder Rifles Reviewed and Rated
We have come a long way with the muzzleloader just in the last 10 years. In fact, the number of people hunting muzzleloader now is astounding to me. With that ratcheting up in demand of course comes a slew of products onto the market that are looking to fill the gap. Some are quick fixes that were thrown together to capitalize on a market that is seeking out innovation and growth. Then, of course, there is the opposite side of the coin and that is the very best in black powder rifle design. Those who wear the passion on their sleeves.
Featured Recommendations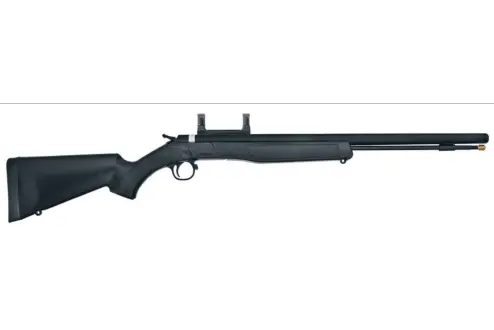 CVA Wolf Muzzleloader

Our rating
Lightweight
Accurate
Price:

See Here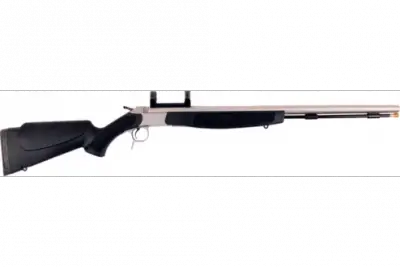 Traditions Pursuit G4 Ultralight

Our rating
Accurate
Lightweight
Price:

See Here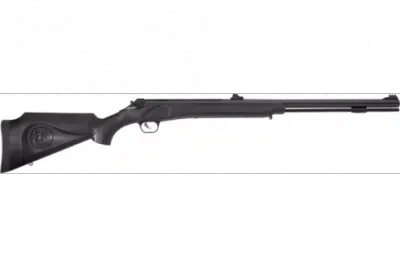 CVA Optima V2

Our rating
Comfort
Scope and Case
Price:

See Here
In this muzzleloader buying guide, I will look to wade through the surprisingly diverse market for these rifles. In doing so I would like to bring some useful information to the forefront. Whether you are new to the world of black powder or simply looking for a new weapon this guide will give you some insight on what is offered. I will use my experience as well as the experience of others to break these weapons down along with the actual specifications of the weapons themselves.
Before you really dig into this buyer's guide for muzzleloader rifles I want you to pause for a moment and consider your state. See there are several states across the union that have restrictions on owning muzzleloaders. Naturally, I would hate to see your heart set on one of these great guns only to have it broken when you realize you cannot hunt with the weapon in your state. Sure, you could take it over state lines but that all requires a ton of thought and planning. Let's look at those states that are restricted before moving into the buying guide.
On another note, I have come to the realization that many people think muzzleloaders are not beholden to the federal gun laws of the US government. These weapons often do not fit under the same umbrella as traditional rifles, shotguns or handguns. In fact, there are parts of the federal gun law that do exclude muzzleloaders from their restrictions. That said you must again be careful of state laws as well. If you are not allowed to buy a regular gun or think it wise to buy a muzzle without following the proper procedures, you may want to think twice.
Now let's get into our best powder rifles reviews!
10 Best Black Powder Rifles
1. CVA Wolf Muzzleloader This gun has a such a powerful look about it. Sometimes just the design of stock and barrel like this one is enough to get a buyer excited. The best part about this rifle is that it is not all looks for the sake of looks. It features added recoil padding and a quick release breech plug.
Expand to see more
Lightweight
This rifle is a built for a smaller framed individual or even a younger hunter. That said it is still a solid rifle that has an incredibly lightweight design for hauling and hiking up and down terrain. This .50 caliber rifle is about the best value on the market.

Crushzone Recoil Pad
This add on promises to reduce the recoil by as much as 40 percent. That'll come in handy if you're doing a lot of shooting.

Cost and Value
This rifle has received rave reviews for the low price and ability to get the job done. It has also received incredible reviews on things like accuracy and durability. It also comes with the added bonus of a scope mount in place. It is prepared to take your muzzle loader experience to the next level.
• great value
• accurate and effective
• lightweight design
• Breech doesn't close tightly
2 Traditions Pursuit G4 Ultralight The Pursuit really is just a beautiful specimen. There are some rifles that play the part and this is one of them. Its gorgeous Chromoly flute barrels contrasts so well with the camo design on the grips and stock. I am always enamored by the names for various camo patterns and this on does not disappoint. Rugged Mossy Oak Break-Up is how they describe this pattern.


Expand to see more
Lightweight
Underweight compared to the average muzzleloader this weapon tops out at 5.75lbs which is hard to believe. This is a claim that Thompson held strong to in the creation of the Pursuit and makes its namesake easier to achieve. It also comes standard with a cerakote finish that will increase the durability of the weapon over time.

Bore Sighted Scope
This weapon comes with a bonus factory installed bore sighted scope that is shockproof, multi-coated features a duplex reticle. Of course, it's not the best scope on the market but it gets you started and that is very important at the lower price point that this weapon offers.

Cost and Value
This is a solid gun for a good price. Plus all the extras make this a wonderful gun and its low weight makes it a good starter gun for a young enthusiast.
• Super lightweight
• Beautiful design
• Durable
• Scope included
• Breech doesn't close properly
3. CVA Optima V2 If you are looking for one of those weapons that could hand on your wall in the living room the Optima has that look. It's visually dynamic with its stainless steel and black matte combination. It's one of the more beautiful black powder rifles I have seen. Not to mention it comes standard with a Konus 3-9X40 scope and a bonus gun case!


Expand to see more
Ambidextrous Stock
This weapon has put an emphasis on comfort and usability with many of its features. It boasts an ambidextrous stock and hammer spur. The comfort also extends to the palm saver ramrod. CVA has taken award winning parts from its other weapons and built around them to create the Optima V2. This winning combination makes this a great rifle for the price.

Highly Accurate
From a customer's point of view, this rifle has incredible out of box accuracy. Most reviewers claimed this gun was nearly ready to go from its first couple shots. The accuracy made buyers very comfortable shooting this gun even at some very long distances. There was also a number of CVA shooters who were merely replacing their old models and still impressed with the quality.

Cost and Value
This gun wins out prize as best value. Even though it comes in at about the middle of the road when it comes to price. But it has a lot to recommend it to a black powder shooter. The out of box accuracy and the little details like the ambidextrous stock and and hammer spur mean your paying less for a lot of extras that will raise the price on similar guns.
• Unrivaled customer reviews
• Emphasis on comfort
• Beautiful look
• Bonus scope and case
4. Thompson Center Impact This is a reasonably priced rifle from a great brand that is full of value-added features. This Thompson offers the ability to remove sections of the stock to size it appropriately to any shooter. The break open hood also makes this gun a great option for left and right-hand shooters. The QLA muzzle speeds reloading time as well.


Expand to see more
Lightweight
At just 6.5 lbs. this weapon carries well and one review put it out in the field chasing antelope for two days. Once the time was right this customer took his goat with a very accurate shot. In the field, you will not have issues with this weapon when it comes time to shoot.

Easy Primer Access
This gun comes with a break open hood that allows easy access for cleaning. The goal here is to make what could be a difficult process a little easier.

Cost and Value
This is a middle of the road cost gun. It gets some heat for being difficult to clean but overall
its a great gun for the price.
• Ability to modify size on a muzzle
• Durable
• Highly Accurate
5. Remington Model 700 Ultimate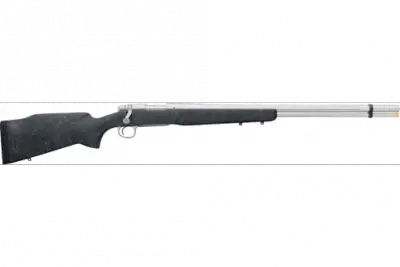 This black powder rifle was particularly noted for its size. If you are a big guy and looking for a muzzleloader that looks and feels less like a toy in your hands the model 700 is the option you have been looking for.

Expand to see more
Big Stopping Power
This weapon is built on the legendary model 700 receiver and claims to have stopping power and accuracy that will rival a centerfire rifle. This is an incredible set of benefits coming from black powder rifle. It boasts a U.M.I ignition system that has owners shooting 300 yards with accuracy. This guns accuracy is backed up by customer reviews as well.

Long Range
This gun comes with an advertised 300 yard range. That's huge for a muzzle loader. And that's part of what makes this gun pricey when it comes to our next review topic.

Cost and Value
For a muzzleloader, this weapon is expensive. There is no getting around the cost that is at least double your average muzzleloader. Still, if you are looking for a serious weapon that can shoot nearly as far as your hunting rifle with a great reputation to back it up the Model 700 is the gun for you
• Legendary design
• Stopping power and accuracy
• Sizably a larger rifle
6. Traditions Buckstalker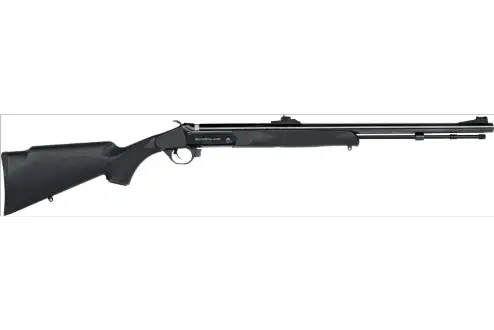 That great muzzleloader look is built into this rifle. It has the look of something you would bring out on the Serengeti in the late 1950s to take down an elephant. I find this all black and powerful look appealing especially when shooting black powder. This gun comes with much of the standard features one would come to expect from a 21st-century muzzleloader.

Expand to see more
Speed Load System
The speed load system makes this rifle easier and quicker to reload. The Buckstalker also comes standard with an accelerator breech plug to comes off easily without the use of excess tools. The extended hammer offers ambidextrous use.

Lightweight
This lightweight alloy from puts the gun right at 6lbs and is a wonderful weight to be slung over your shoulder all day.

Cost and Value
This comes in on the cheaper side when it comes to muzzle loaders. With its lightweight design and low price this makes it a great gun for anyone who wants to give muzzle loaders a try.
• Lightweight design
• Ambidextrous
7. Thompson/Center Pro Hunter FX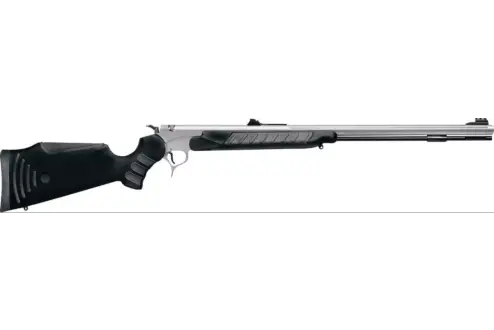 The Pro Hunter a sleek weapon it may be the wrong word but it's what comes to mind when we look at its design. This weapon carries a steep price tag in comparison to some of the other great weapons in this guide. That said it also has performance and customer reviews to back that price up. At the very least give the Pro Hunter a look if you are in the market. I will articulate why below.


Expand to see more
Durable
The durability of this weapon is even further increased by the weather shield finish over its beautiful fluted barrel. The Flex Tech recoil reducing technology makes this rifle a little easier on the shoulder as well. Like many muzzles, this weapon claims easy open breech and faster reloading potential as one of its many features.

Highly Accurate
When it comes to accuracy this rifle has received great reviews and many people were taking big animals with this muzzleloader. I read a review of this rifle holding true beyond 200 yards. That is an impressive start to me.

Cost and Value
Another expensive entry in our list. But this is a really high quality gun for people who've been doing this for some time. And there's a lot to recommend this weapon, its high accuracy and high durability make this gun more of a long term investment.
• Durability
• Recoil reduction
• Accuracy
• Issues with sighting this rifle
• Jams Easily
8. CVA Accura V2 Long Range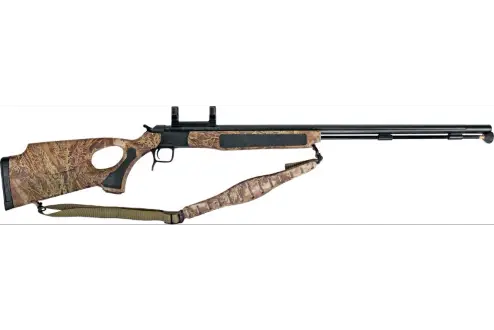 CVA consistently impresses with their muzzleloaders and the Accura is no different. This weapon is just another example of the full package rifle. The beautiful design is something to marvel at and though many would like to discount the confidence one has in their rifle performance is important but it sure feels good to be carrying around a beautifully crafted weapon as well.


Expand to see more
Stainless Steel Barrel
The combination of the 30-inch Nitride stainless steel barrel and bullet guiding muzzle work together to create great functionality in this gun as well as the long range potential it claims. Because of the longer barrel, however, this gun boasts a weight of over 7lbs which is by no means a crushing blow. Still, it's not the delicate 5.75lbs of the lightweight model reviewed above.

Durasight Scope Mount
Beyond the features of the rifle itself, it also comes with a Durasight Dead On one piece scope mount for adding whatever optics you prefer to this great rifle. CVA continues to provide great rifles for their prices and this particular one is no different.

Cost and Value
CVA is one of those gun companies where some would argue that you're paying for the name. Maybe so as this is a pricey expensive gun. But that being said whether or not the name has anything to do with it you're also getting an incredibly high quality, well manufactured gun.
• Accuracy at a distance
• CVA quality and affordability
• Unique stock design
• The heaviest gun reviewed
9. Traditions Deer Hunter Flintlock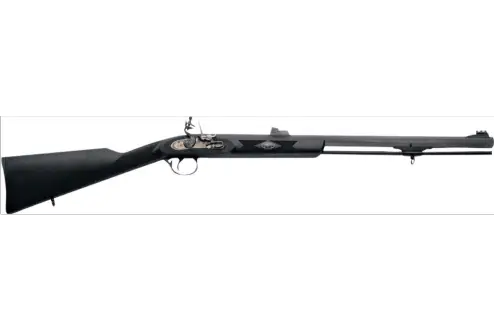 Surprisingly enough this weapon is the only woodgrain rifle that is included in this buyers guide. There is something to be said about that traditional look and feel of the woodgrain stock. It's a beautiful thing. This rifle has been designed with the look of a traditional muzzleloader with the performance of a modern day weapon.


Expand to see more
Flintlock Design
Perhaps one of the great highlights of this weapon is the traditional flintlock design. The flintlock offers a serious spark that is the backbone for igniting the power. Not to mention the nostalgia that goes along with such an old world technology.

Lightweight
Because of all these traditional specs (hardwood, trad flintlock), you will be surprised to find out that this gun is right at 6lbs in weight which is decidedly a lightweight weapon for the type. This weapon also shoots sabots, full-bore sized bullets and patched round balls.

Cost and Value
The uniqueness here is the selling point for the deer hunter. Hunting with this rifle is like taking a step back in time. This can all be achieved at a price point that is pretty average in the muzzleloader market.

• Traditional flintlock design
• 24" octagonal barrel
• Shoots full-bore-sized bullets and patched round balls
10. Traditions Trade PA Pellet Flintlock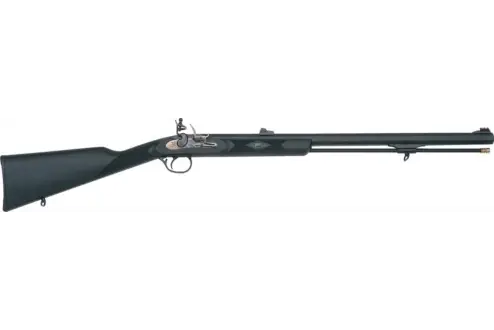 I thought we should round out this buyer's guide with another great flintlock from Traditions. The PA Pellet offers some of the same nostalgia of the Deer Hunter but there are some stark differences in the guns. You will spend $50 more on this rifle than the Deer Hunter and that's not the only difference.


Expand to see more
Fires different kinds of pellets
This weapon has the ability to fire either traditional or synthetic pellets. It offers the same octagonal barrel as the Deer Hunter but also features Williams fiber optic sights. Not to mention the powerful flintlock offers a dependable spark for ignition.

Flintlock Style
Customers who bought the PA Pellet are very pleased with owning a flintlock for the price. The accuracy is noted in both of the reviews I read. To me, the most telling feature is that this, like many others, mentioned a method for easy cleaning due to a removable breech. This claim holds true with this Traditions model.

Cost and Value
A bit pricier than a lot of the other guns on this list but about half of the really high end guns we've compiled here. But its ability to shoot a number of different kinds of pellets makes this a really interesting gun to round out our list.
• Flintlock design for dependable spark
• Traditional or synthetic pellets
• Accuracy
Decision Time
In my opinion, the muzzleloader experience should be a more intimate one than that of the .308 hunt. I often times wonder about just how efficient and powerful the muzzleloader gets before it crosses that line into just being another rifle in terms of accuracy and distance for the kill. What is the allure of shooting an animal at 200 yards with a muzzleloader? Of course, that will not stop technology and the growing effectiveness of these weapons. It is, however, a question I often ask myself.
This list of best black powder rifles was compiled to help aid both the beginner and the expert in their search for a new rifle. There are very real challenges to getting your hands on a rifle that works for you! That said I can only hope this guide offers a starting point in your journey towards your next muzzleloader.