Best BlackHawk Holsters Reviewed & Rated for Quality
In a
Hurry? Editors choice: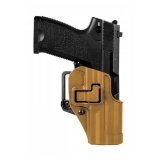 Test Winner: Serpa CQC

Whether you're a gun enthusiast or a hobbyist, you've most likely heard of Blackhawk. As an industry leader of innovative outdoor products, you can count on high-quality items that will satisfy your sporting needs. They work with prestigious and well-regarded brands in order to provide you with gear that won't let you down. We know you want to get the best and the safest performance out of your favorite outdoor activities, including hunting and
target shooting
, and Blackhawk
holsters
can provide it. Although each model is different and comes with its own benefits, they are all made with the type of craftsmanship you come to expect from them. We've reviewed the best-rated holsters they have to offer in an effort to provide you with the best choices on the market!
Standout Picks
Criteria Used for Evaluation
Ease of Use
Being able to pull out your gun quickly and effectively in an emergency situation can make a difference between life and death. And the last thing anybody wants is for the gear to restrict that effectiveness too much. BlackHawk understands this and made sure their holsters grant you that effectiveness.
Safety Hazards
These holsters are best known for their "auto-lock" system/technology. The company ensures that your gun is safely in its holster. Not flopping around in it when you're walking. And, most importantly, not pulled away by somebody else when in the heat of the battle. Training is important and available to users of BlackHawk's patented SERPA "auto-lock" technology.
Durability
BlackHawk raises the bar away from the polymer plastic that's been used since the '60s. Their polymer is of high-density and mixed proportionally with carbon fiber materials. The other parts of their holsters are made of stainless steel and brass, For their holsters that don't rely on metal or polymers; the nylon and leather they use are of high quality. These holsters are widely known for their durability and long-lasting toughness. Conceal carriers, police, security officers, and soldiers mainly choose BlackHawk's holsters with little regrets.
Fit
The holsters have been designed to make sure they fit onto your person, and the guns fit into them, without difficulty nor issues. If fitting does become an issue; there are fellow gun enthusiasts on websites like YouTube, the people at BlackHawk and the dealers who sell the holsters who are more than happy to help.
10 Best BlackHawk Holsters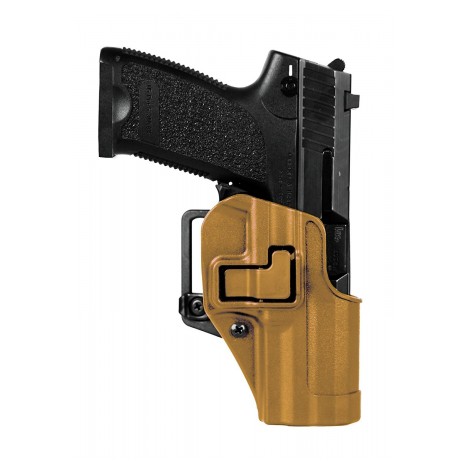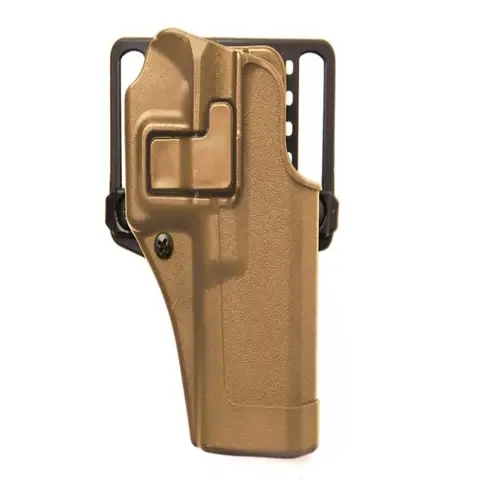 Blackhawk Holsters are typically known for their smooth draw. This holster, however, takes it up a notch with their Serpa Auto-lock technology. It allows for a quick draw, easy re-holster, and better all-around security, meaning your weapon isn't going anywhere until you tell it to. All this comes in a sleek package that draws no attention when concealed.
Retention
With the side button release, the extra level of retention provided means that your pistol can't just be ripped from its holster, nor will it just slide out accidentally. Where you go, it goes.
Paddle? Belt loop? How about both!
How do you wear your holster? It doesn't matter. The SERPA CQC Concealment Holster eliminates that question by providing both. You could switch it up and use both, just to keep things interesting, if you really wanted.
Cost and Value
As what is probably one of the most popular holsters, the Serpa CQC Is priced well enough that you likely won't look back on your purchase with any regrets.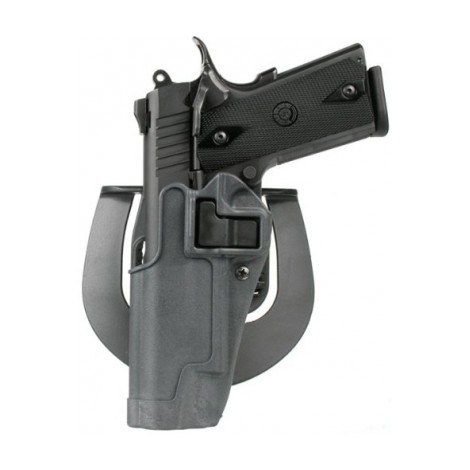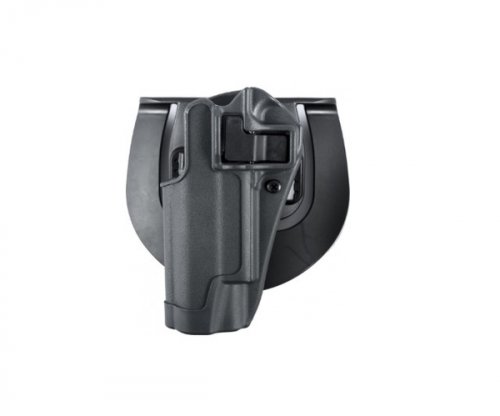 Hey civilian, nice holster. This is specifically built to be an everyday concealed carry or range holster, and has the durability to prove it. Since it is for everyone, essentially, it has a smooth, quick draw, and adjusts easily to fit your needs. Strap it on, slide in your weapon, and you are good to go.
Customize your angles
A math nerd's dream holster, really. Where do you want to draw from? The world is your oyster with this holster. For those who hate to choose, choose this holster.
Once it's in, it's locked in!
As is typical with BlackHawk products, once you hear the audible click, your gun is in there, by your side, where it belongs. Bonus, while it's in there, it fits perfectly, so it won't rattle around, either.
Cost and Value
Given what it offers for security, draw speed, and aesthetics, the Serpa Sportster Holster offers great value for a reasonable price. Without question, you won't be disappointed.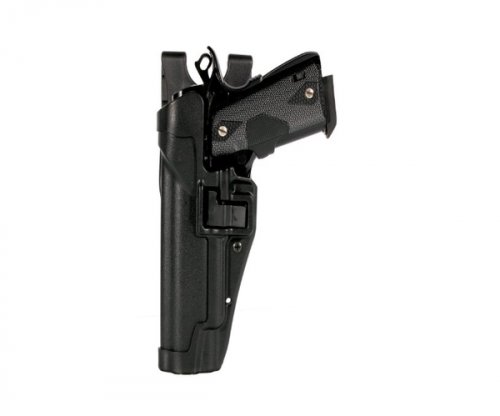 When seeking to find an upholster that gets the job done you want to ensure you get your hands on a durable product with an added dose of protection. Constructed to protect your weapon the SERPA Level 2 Duty Holster, comes in at number 3.
Passive Retention
The point of having a holster is being able to carry and hold your weapon safely without showcasing it to the world. However, to do that you need to have some sort of retention from your holster. The SERPA Level 2 Duty Holster provides just that. Featuring a passive retention detent screw already included in the holster you can adjust the fit of your gun. The screw itself is positioned in a way that you can screw and unscrew it depending on the size of your gun. Having this feature will help you customize just how well your gun of choice will fit.
Small Profile
Keeping your weapon concealed is one of the main uses of having a holster, this one does a great job at that, due to having a small profile. Showcasing a full-length holster body, it sits quite close to your body so its display is as minimal as possible. Having this small profile aspect allows your gun to be as community-friendly as possible. Its the perfect form of having a quality item that doesn't scream "I have a weapon on me."
Cost and Value
Anyone who has ever purchased a BlackHawk Holster knows quality is always up-to-par with all their items, this one is no exception. Therefore, you know the cost will be justified. This product is priced exceptionally well, but it does depend on what size holster you need. The smaller your holster, the cheaper the price. Keeping that in mind, this holster can hold numerous different size Glocks.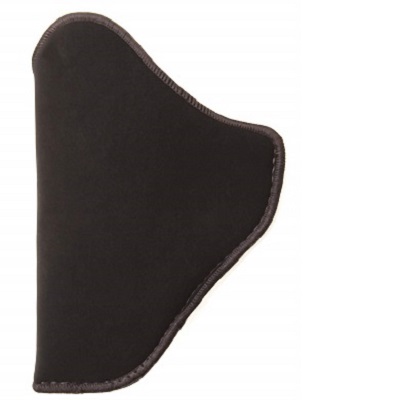 If you're looking for a less complicated holster for your gun, then this is the right model for you. The ITP 73IP00 is a simple pistol holder that fits 2"-3" Barrel small and medium double-action revolvers. The belt clip makes it easy to connect to your pants or belt, which makes it's great for hunting and security. The three-layer nylon laminate ensures that it will feel comfortable even if it is against your skin.
Ultra-Thin
Thanks to the ultra-thin layers of nylon laminate, this product feels pleasant next to your skin. It's great if you prefer to keep your weapon concealed.
Easy Draw
Because you never know the exact moment when you need your gun for self-defense, this holster won't stand in your way. The nylon lining permits you to draw your gun in a second. In some circumstances, this can save your life!
Cost and Value
Having such a simple design makes the ITP 73IP00 one of the lowest-priced products in this category. However, the cost varies depending on your selection. You can opt for right or left orientation and different sizes from 0 to 9.

5

. Serpa Level 3 Tactical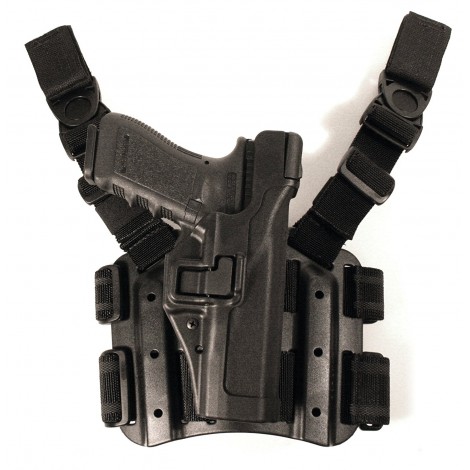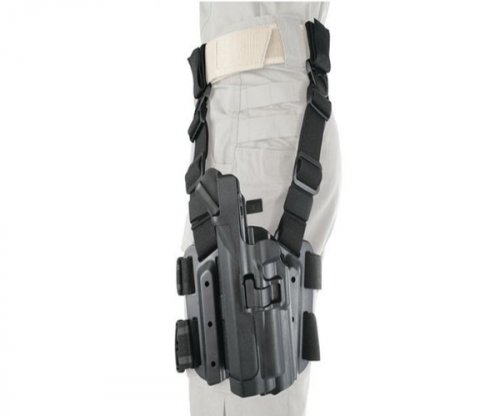 Top of the line. Every company has a product that customers and critics consider their crown jewel, it's this one right here. It's a tactical holster, so it needs to be well built. Check. It cannot restrict movement. Check. It HAS TO have a wealth of safety features to help keep the user safe, Bingo. This holster was made for a specific situation, and it fits the bill to a tee.
Safety first
Did I say the wealth of safety features? Yes, I did. The leg strap was designed to stay put, thumb-activated pivot guard for added security, and immediate retention upon re-holster are just a few of the features that make this holster super safe.
Great mobility
One of the most uncomfortable things with using this type of holster is unwanted movement. This selection eliminates that for you by implementing a design that reduces the unwanted movement.
Cost and Value
The SERPA Level 3 Tactical Holster is one of the pricier holsters on this list. With all the features included to improve safety, security, and function, it is worth it. Remember, the people who use this holster on a regular basis rely on it to perform, and boy does it.

6

. Serpa L2 Tactical Holster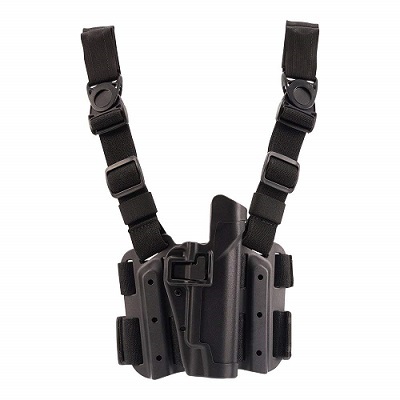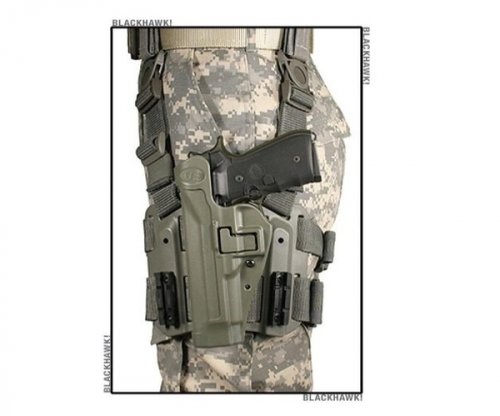 This is one of the best-reviewed holsters produced by BlackHawk. It has the ability to fit snuggly to your leg. This means that you'll feel comfortable while wearing it. The form of the harness suspension system is ideal because it distributes weight evenly and keeps holster vertical when kneeling. This holster is also easy to mount and dismount thanks to the swivel buckles. It also features rubberized leg straps, reducing the likelihood to slide.
Flexible Thigh Platform
One of the best things about this holster is its flexibility and ability to conform to your thigh size. What's more, you won't feel any inconvenience because you're the one who makes the necessary adjustments!
Superior Maneuverability
This particular model was designed to allow easy and comfortable maneuverability. They are also equipped with swivel buckles that make mounting and dismounting as simple as possible.
Cost and Value
The price is varies depending on hand orientation, size, and color. If you want your holster to blend in with your clothes, don't worry! You can choose from a large range of colors and sizes.
7

. Serpa Level 3 Auto Lock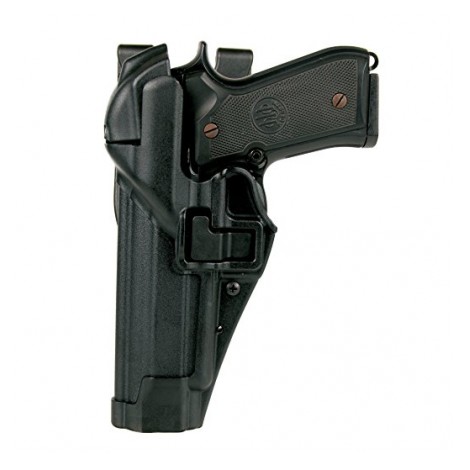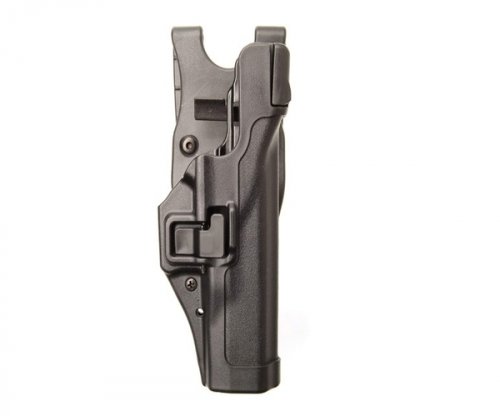 Level 3 retention holsters are pretty standard for law enforcement use. BlackHawk went and added their SERPA technology for superior retention, creating a holster that allows for rapid draw perfect in high-stress situations. You've got draw speed, natural release, and a cut down body with a tapered trailing edge for optimal concealment. What more could you want?
Excellent duty holster
It does what it's supposed to do. What more could you ask for with a holster that's relied upon by so many people? Whether on duty or at the range, it will do the job, admirably, again and again.
Release system ease of use
In a high-pressure situation, when you need your weapon in your hand, NOW, this holster will not let you down. It gives you a full grip, for a nice, natural release.
Cost and Value
Whatever it costs for the feelings of safety, confidence, and reassurance that this holster gives you, it's minimal at best.

8

. Leather Inside-The-Pants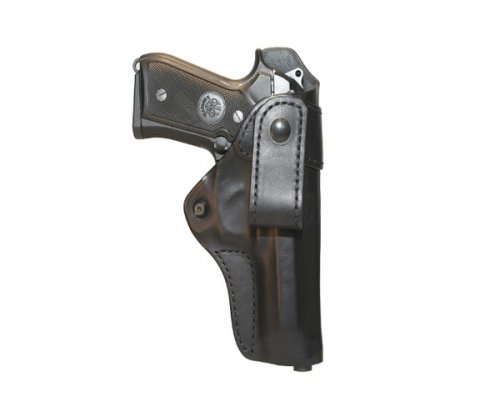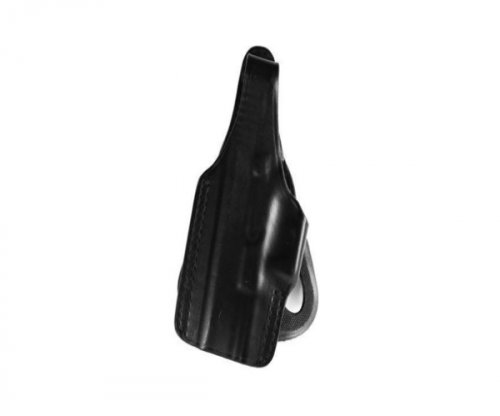 If you are seeking something a bit more upscale, with quality, the Leather Inside-The-Pants holster is an option to consider. Unlike the nylon options, this leather one is a bit more elastic to your personal needs and your weapon of choice. With this holster, you have the option of learning which drawing form works best for you, due to how it was constructed.
All-Leather Exterior
As previously stated the exterior is made completely made out of all-leather. Having a leather exterior works quite well due to how moldable it is. Unbeknown to many, leather is quite stretchy. Its one of those materials that stretch in multiple directions, which in return creates this customized aesthetic. Any handgun you place inside of it will comfortably fit right in. Furthermore, the leather is paired with an adjustable tension screw that allows you to choose the level of retention the holster itself has. Having this feature is excellent for those that want to purchase one holster to hold multiple guns.
Adjustable Belt Loop
To be as comfortable as possible, this holster comes prepared with an adjustable belt loop. Its all about being able to adjust to what you are already wearing. Therefore, you want your holster to simply clip on. This one does just that with ease. You can easily and quickly mount it to your belt for added upper body stability. It adds an extra dose of durability to your holster as well.
Cost and Value
When it comes to the cost and value this item is priced quite fairly. Due to it being created out of leather you might assume that the price with being on the pricier side, but that is not the case. You are getting a quality product, that is quite durable and adjustable all at once. Furthermore, you have the ability to use multiple multiple handguns with this holster as it will mold to what you need it for.

9

. Omnivore Streamlight TLR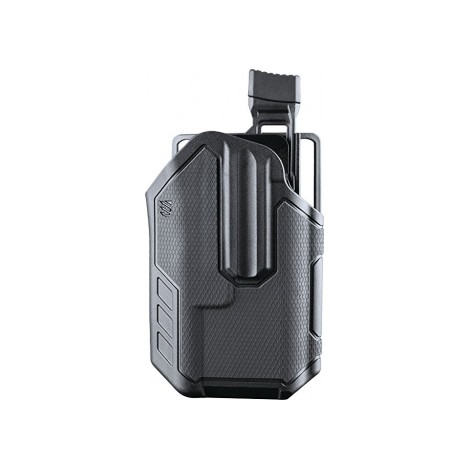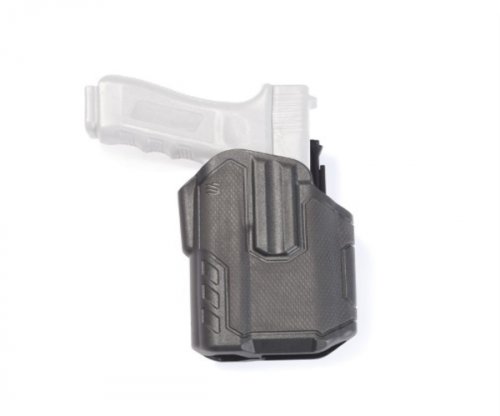 Omnivore. That implies that this holster shouldn't be picky, and it's not. With over 150 pistols equipped with an accessory rail, you'll be hard-pressed to find a gun it doesn't like. It is an extremely versatile holster that goes out of its way to make users happy.
So many guns!
This holster can fit many different types of pistols to ensure you can carry the right one for the occasion. While it is pretty huge, that just increases the range of weapons it can hold.
Like a tank
It looks good, it fits well, it's designed well. All around, the holster was built to perform, and for a long time at that. If you fear commitment, stay away, because this holster isn't going anywhere anytime soon.
Cost and Value
For as solid-built as the holster is, it would be perfectly acceptable if it was also expensive. It's not. BlackHawk missed an opportunity to charge a lot more when they built it, given the quality.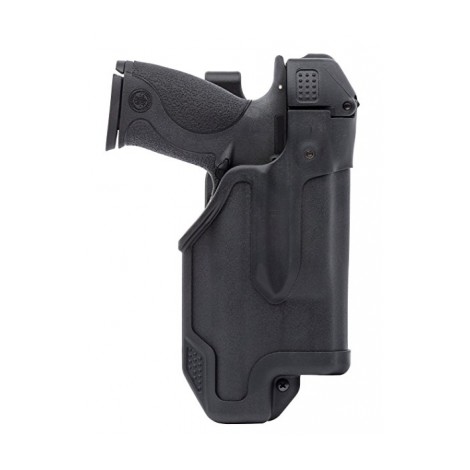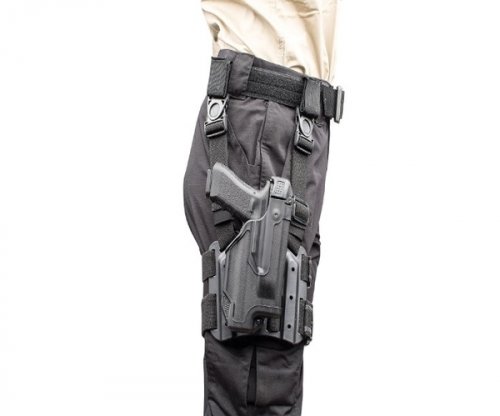 This holster has three levels of retention. THREE. That gives the EPOCH Level 3 Light Bearing Duty Holster the highest level of security that BlackHawk offers. It also fits several types of lights, locking on and not letting go. That in and of itself demands attention and should be enough of a selling point. But wait, there's more.
Compatibility!
It's hard enough to find any light bearing holsters worth talking about, so to find one with so many options is a breath of fresh air. Not only does it fit lots of gun/light combinations, but it also holds them well, too.
The Hold
Not only was this one designed to hold your firearm securely in place. It was also developed to allow you a quick and smooth draw of the weapon. Promising you that while drawing the weapon you won't get a snag.
Cost and Value
Not a value-priced holster per se, but if you factor in how many lights it's compatible with, that really doesn't matter. If you need a light-bearing holster, it's affordable and well made, so why don't you own one?

Subscribe to our Newsletter