Best Columbia Pants Reviewed & Rated for Quality
In a
Hurry? Editors choice: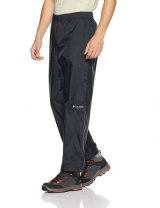 Test Winner: Columbia Rebel Roamer

Just about everyone can agree that it is important for pants to be rugged, strong, and stylish. Columbia pants live up to the expectations of the consumer by meeting all three points (
also see Carhartt pants
). These
pants are made for the outdoors
and offer many features and benefits that people to be tangible.
Columbia
pants are known for looking great and feeling comfortable. They come in many styles that pair well with other Columbia wear like
jackets.
It is because of their great looks and excellent engineering that Columbia brand pants are an excellent choice. They are designed for rugged outdoor use as well as casual indoor wear. The pants last longer and continue to look great even after many wash cycles. These are just but a few reasons why so many people choose Columbia pants.
Standout Picks
Criteria Used for Evaluation
Fit
Waterproof pants will often be worn over other clothes, so make sure the fit is appropriate as the outside layer on your lower half. Proper water protection will often require that the cuffs, waistband, and even collar are adjustable, which can aid in a custom fit. The layer closest to your skin should have moisture wicking capabilities. In cold weather, you need an insulation layer and a weatherproof outer shell. Some of our picks can take care of all of these needs, with the right combination of materials, fit, and ventilation.
Adjustability can be a big plus. Drawstring waistbands can allow for instantly tightened or loosened fit, of which your preferences may vary as you go from activity to activity. If you are doing heavy exercising, from a tougher trail to a good long run, you will want something that gives you more freedom to move than, for example, casual warm-weather cotton pants.
Materials
Synthetic materials can provide varying grades of weatherproofing. Even those pants that are not completely waterproof can still keep moisture away from the skin with moisture-wicking technology and, when they do actually get wet, most synthetic fibers will dry quickly.
Fabrics are also rated for various sun protection factors. The UV protection is often just as critical as water resistance and although it's often overlooked when considering non-beachwear, we hope that you will keep it in mind year round in all your activities.
It can be uncomfortable to wear pants that just feel like a rubber shell. If that is a concern for you, look for pants that have polyester or other soft fabric linings. This will be a huge boost to the comfort rating of your pants, especially if you won't be wearing them over another layer.
Durability
Ripstop nylon is extremely durable and resists tearing. Double and triple stitched seams are also good indicators of lasting craftsmanship. Reinforcement in "key" areas can also help cushion and protect when crawling or sliding up and along rocks and trails. Long lasting materials are also key when you are investing in good quality outdoor gear. You need to move freely without worrying about runs and holes ruining your fun.
Versatility
Season(s)
In the late winter/early spring, you might start out your day needing long pants and end the day wishing you had something lighter. Lightweight but protective long pants can help with temperature fluctuations, as can convertible pants. Obviously, the variety of lengths in Columbia's pants line gives a myriad of options for every climate and season. One of our picks even has completely removable legs!
Sport/Activity
Obviously, every activity will have its own ideal clothing. There are pants that are more suitable for walking, running, hitting the trails, and doing all of these activities in snow versus rain or sunshine. We tried to keep in mind the wide breadth of activities that our readers engage in so that there is a good selection for everyone.
Also, let's be real…we want to have function and fashion. Not all of our time is spent outside, so the look of these pants is also a critical piece of our evaluation. When you're hanging out at the lodge after a day on the slopes, you want to be able to relax in comfortable and stylish gear.
Water Resistance
Waterproof clothing needs to be completely waterproof, including the cuffs, seams, and closures. You also need proper ventilation because as you go about your active day, you will likely sweat, and true waterproof material can keep moisture in just as well as it keeps moisture out. You'll have a serious comfort issue if you can't dry off or have the moisture wicked away.
Subscribe to our Newsletter