Best Waterproof Pants Reviewed & Rated for Performance
In a
Hurry? Editors choice: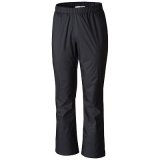 Test Winner: Columbia Storm Surge

It is very hard to predict the weather and it can affect some of the outdoor activities people like to participate in. There are many products out there which are geared towards the outdoor enthusiasts and it's hard to decipher which ones are truly made for a specific activity. When it comes to rain, sleet, and
snow
, there is nothing worse than being wet for the rest of the day and it can make your activity very unpleasant. This article will break down some of the best
waterproof
pants out on the market and which ones are worth the investment. Many people will wonder why there are so many different products out there when looking for waterproof pants. This article is meant to help narrow down which pair is going to provide the best experience for your criteria while keeping you dry in the process!
Standout Picks
Criteria Used for Evaluation
Materials
Waterproof pants, in the past, were generally relegated to being comprised of a few specific materials, such as polyester or nylon. While these did the job as far as being waterproof, they left a lot to be desired when it came to appearance, versatility, and comfort.
Now, thanks to innovations in the world of textiles, waterproof pants can be made from virtually any materials. This is thanks to the increased popularity of waterproof coatings and laminates. With these products, manufacturers can construct their pants for any purpose that they want, and then later cover them in a Teflon or polyurethane solution to give them the added bonus of being waterproof. While this essentially solves the problems of nylon and polyester in terms of comfort and aesthetic, the range of motion becomes restricted.
As tacky as nylon is considered to be, for people who need to be outside for a long time and need to be able to move, it is still the better fabric. Also, nylon and polyester tend t be much more rip and tear resistant, which is why they are often used in outer shells of various outdoor clothing.
Fit
Much like in fabric and price, the type of materials used are going to play a major role in the way the pants fit. For example, pants made from natural fibers such as cotton are going to be very stiff. As such, there is no give to the material, so they only fit a small selection of body styles. This forces manufacturers to be as accurate as possible in their sizing. Otherwise, a belt will be required which will solve the problems around the waist, but still leaves a poor fit in the seat, thighs, and legs.
Synthetic fabric, like nylon, is much more forgiving. Since they are a lot less stiff, they don't have a lot of structure to them and require the addition of elastic waistbands, or lower bands with drawstrings. The benefit of these waistbands is that they fit the size of the person a lot more easily, and can suit a wider range of body styles. These pants still tend to fit quite a bit differently in the thighs and legs, but this is usually intentional as these pants are meant for a higher level of activity.
Style
Although you chose waterproof pants for the protection, you still want to look good wearing them. For this criterion, we not only look at the aesthetically pleasing the design is but also how practical it is. Does it come with pockets and closures to protect your belongings? Can the waist be adjusted? How many colors are offered? This option not only make the pants look better, but they also make them more useful. Other special features in the design to look for include:
Waterproof: When an article of clothing is able to completely keep out water, either by the natural makeup of the material, or through a chemical coating, such as rubber, or some polymers.
Water resistant: A garment is able to prevent water from getting into a degree, but not entirely. They usually use a Durable Water repellent (DWR) coating on the outside of the clothing that will repel small amounts of water.
Polyurethane: A synthetic substance used to coat clothing and prevent water from penetrating. Usually laminated onto the clothing to seal it.
Breathable: Usually a trademark of natural fibers, it is the fabrics ability to allow air circulation to reach the skin, thereby preventing sweating.
Shell: The shell is the part of the clothing that is exposed to the elements, which protects against water. There are three types of shells: soft shell, hard shell, and hybrid. Soft shells are water resistant and keep the wearer dry by wicking away moisture. Hard shells are thicker, and tend to be completely water- and windproof. A hybrid shell will blend the best features of both hard and soft, being highly breathable yet essentially waterproof at the same time.
Value
People use waterproof pants for different reasons, so obviously, the cost is going to be a factor. For those who just want a pair of pants that will keep them dry while they're out in the rain, they aren't going to want to pay all that much. Some people, though, are required to work in wet conditions, and therefore waterproof clothing becomes much more important.
When it comes to waterproof work pants, the materials used are going to need to be tougher. Thicker, and not as loose as those found in athletic pants. In a lot of cases, these will be just working pants that are sprayed with a Teflon coating in order to make them waterproof. Because of the thicker fabrics and industrial coatings, these waterproof pants are going to cost more.
Breathability
For those who just like to play in the rain, athletic pants that are thin and light are preferred, especially for runners or hikers. These pants need to be breathable, lightweight, and loose enough to allow full freedom of movement. As such, an exterior waterproof or water-resistant shell is all that is needed and can usually be purchased for relatively cheap.
One of the biggest things to look at when purchasing waterproof pants is the breathability factor. Breathability includes the type of technology used to keep you dry from weather conditions while also allowing the inner layer to wick away the moisture from your skin. The type of technology the pants use is vital to the overall experience and quality of the product. As much as we would like all waterproof pants to be similar, and buying them to be easy, it can be much more difficult than that.
BEST WATERPROOF PANTS REVIEWED & RATED FOR PERFORMANCE
1

. CQR Tactical TLP104 / 103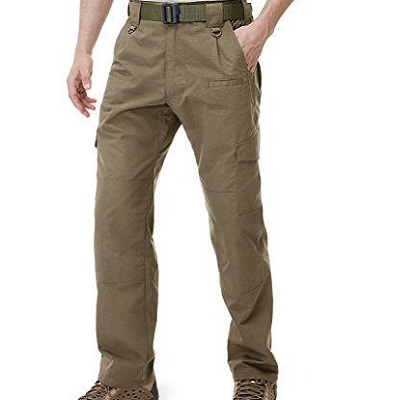 CQR tactical gear is similar to a military design of similar products. CQR specializes in long-lasting durable fabric materials to help protect against extremely harsh conditions. They include Duratex Fabric and cargo pockets. The material is also fade, shrink, and wrinkle resistant.
Duratex Fabric
Duratex material negates the effect of liquid liquids, including water and oil, dirt and dust. This fabric also uses rip-stop technology and has excellent durability.
8 Multi-Purpose Cargo Pocket Design
The 8 pocket design offers plenty of pockets for various equipment you may need while using these pants. The pants also provide the rip-stop design to prevent your tools or equipment from destroying the pockets.
Cost and Value
The Duratex Fabric is a durable product and seems to prevent the product from deteriorating. The price of these pants falls somewhere in the middle of the price range among all the products on the market. They are geared for someone who may be an outdoorsman or could use a heavy duty work pant.

2

. Geval Softshell Fleece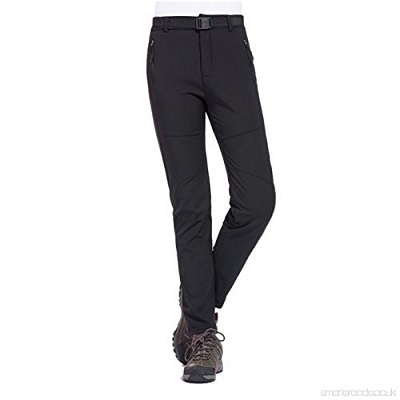 Geval provides us with an outdoor pant design that can handle some of the harshest temperature conditions and also provides a waterproof exterior. The surface layer has a water-repellent breathable coating while the inside provides a fleece lining to keep you warm. These pants would be more suitable for substantially cold conditions where it is necessary to have several layers.
Layered Design
The pants have three layers including a surface layer that is waterproof, a mid layer that is high-end fiber fabric, and an inner layer made of polar fleece. This design is ideal for cold weather sports and recreation.
Slim Fit
These pants include a slim fit design to prevent the pants from being baggy. he pants have a zipper closure to make sure to fit the person's body and provide a comfortable and warm feel.
Cost and Value
These pants are a great value considering the number of layers of material and what they can be used for. They are great quality and range in the middle of the pack between other waterproof pants on the market.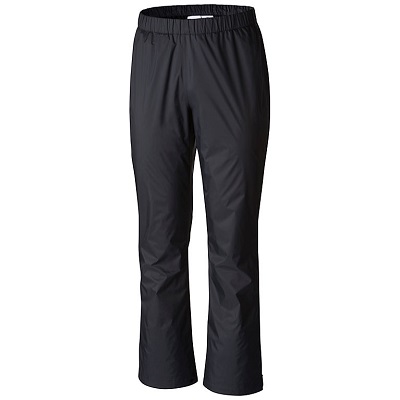 These pants seem to know how to take care of you when adverse weather conditions come your way. The Columbia Storm Surge Pants are built to withstand some the worst rain and wind conditions and are equipped with Omni-tech on the exterior to provide the protection you are looking for in those conditions. These pants are mesh-lined but can easily be slipped on and off over long underwear or another layer in colder conditions. The pants include a drawstring elastic waist and are machine washable.
Omni-Tech
Omni-tech is a proprietary product that provides waterproof protection for many Columbia products. Omni-tech keeps mother nature out and still allows the inside of the pants to breath while providing a dry and comfortable experience.
Drawstring Closure
These pants have an elastic waistband and drawstring closure to give the proper fit and maximum protection. They are also easy to slip on and off for removal.
Cost and Value
Columbia makes very durable products. The price of these pants is in the middle of the road in comparison to some of the similar products. Omni-Tech is one of the best waterproof/breathable technologies on the market and provides maximum protection for the user.

4

. Grundens Gage Weather Watch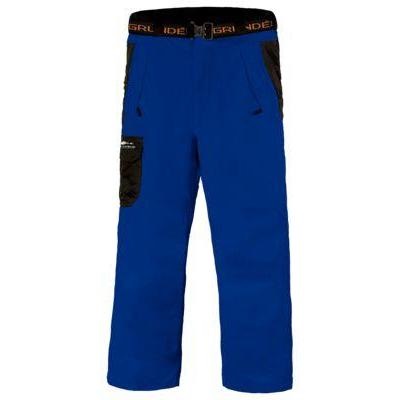 Some of you may have heard about Grunden's since they are worn by the Bering Sea crab fisherman and known to be one of the superior products on the market when it comes to clothing that handles harsh and extreme environments. The Gage Weather Watch Trouser offers a waterproof and breathable design and taped seams to ensure you will stay dry. The trousers also have multiple pockets, leg zippers, and velcro cinch on the ankles.
Velcro cinch on ankles
This feature provides protection against ticks, bugs, and other insects who might try to enter under cuffs of your ankles. The ankle closure will help prevent bites in certain terrains or areas.
Leg Zippers
Along with having velcro cinch on the ankles, there are also leg zippers to help take off the trousers without having to remove your boots or shoes.
Cost and Value
Grunden's are a bigger named product and will be a little more expensive than some of the other products listed. They do have some additional features and are geared more towards fishermen and hunters.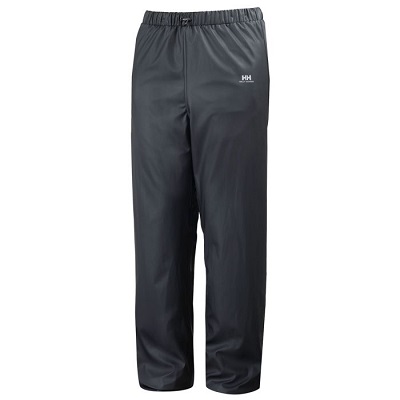 The Helly Hansen Voss Rain pants have a waterproof design and can be used for everyday use or more intensive outdoor pursuits. They include a drawstring elastic waistband and are a pull-on style pant. These pants include the Helox+ technology and provide an optimal combination of protection and style.
Helox+ Material
These pants provide the ideal protection against everyday elements you may face working outside in the yard or traveling to your place of employment with the assistance of Helox+ material. This provides the material with optimal durability.
Quick-dry Lining
The quick-dry lining provides comfort and helps to aid in the breathability of the pants. This is a cloth material so it is less likely to stick to your skin as you are wearing them.
Cost and Value
These pants are one of the less expensive waterproof pants on the market and are a good value for the price they are listed at. They provide defense against all the elements but may not be as durable as some of the other products on the featured.

6

. Red Ledge Thunderlight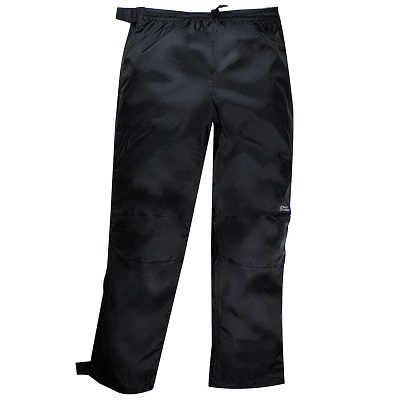 Red Ledge offers a light waterproof product which comes in both a full zip and pull on design. They offer their very own Tcore waterproof coating that also allows significant breathability, along with a ripstop taffeta made of nylon and a durable finish. The full-zip design comes in a handy if you can't remove your shoes and also include exterior storm flaps to protect against rain and snow.
T-Core Waterproof/Breathable Coating
Red Ledge uses its T-Core product to help prevent the outside environment from getting in; also allowing the product to breathe so you don't get sweaty and warm from usage. Red Ledge also has a durable water repellent finish on the pants to help the rain to run off the pants as you are wearing them.
Velcro Tabs
These pants have Velcro Tabs located on the side near the drawstring and at the cuffs at the bottom to provide a more customized fit to the product and the person wearing them.
Cost and Value
Red Ledge offers a great product but they also are one of the most expensive pants on this list. The T-Core is one of a kind and offers some of the best waterproof technology on the market.

7

. Arctix Waterproof Insulated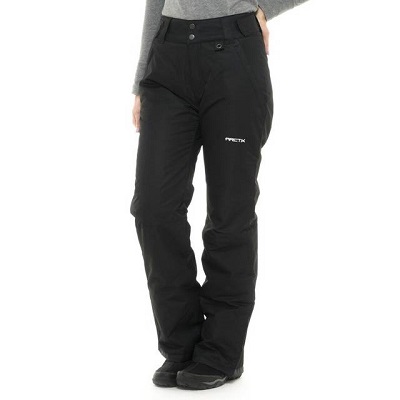 Arctix waterproof insulated pants provide both durability and comfort. They are perfect for cold and wintery conditions. They provide ThermaTech insulation and ThermaLock coating to keep snow and rain out and also keep you cool and dry inside.
ThermaLock Coating
Thermalock coating is a wind/water resistant coating on the outer layer of these pants to offer the optimal protection against the elements.
ThermaTech Insulation
Thermatech insulation is located in the inside layer of the pants. It provides a breathable material to wick away moisture to keep a dry environment inside the pants so people don't get sweaty and wet.
Cost and Value
This product is one of the less expensive heavy duty waterproof pants out on the market. The quality and price are a great value for someone who spends a lot of time outside in cold conditions.

8

. Clothin Fleece Lined Softshell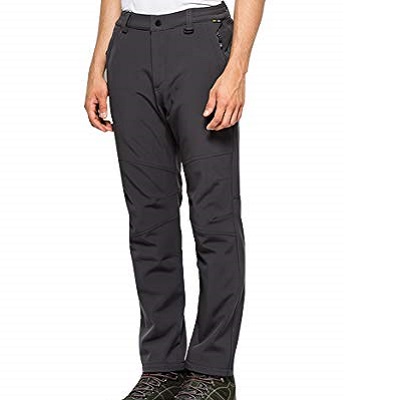 Clothin provides a soft shell waterproof and breathable cargo pant that can be worn for everyday use or for light outdoor activities. The outer layer has a durable water resistant finish while the inside includes a micro-fleece lining with moisture wicking technology. There is plenty of pockets that include both velcro and zipper pockets in this unique design.
Durable Water Repellent Finish
The durable water repellent finish on the outside keeps the rain and snow from penetrating the pants while allowing the inside to stay breathable for the user.
Micro-Fleece Lining
The micro-fleece lining is a soft and breathable material to keep inside feeling dry and warm with the fleece. This is ideal for a cooler outside temperature and for hiking, camping, and other outdoor events and activities.
Cost and Value
The micro-fleece offers a cozy feel, while the soft shell is durable for moderate usage. The Clothin pants run a little more in price than other similar pants. The biggest advantage to these pants is the pocket design on the cargo pants which includes both velcro and zipper pockets.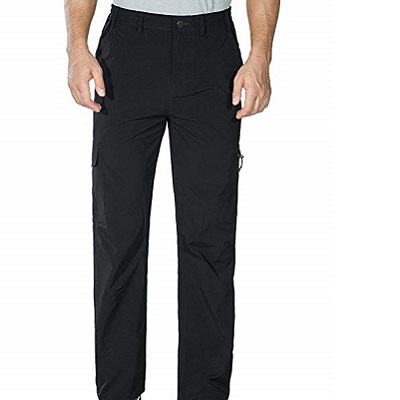 These pants have a cargo design which is super lightweight and breathable. They can be worn for everyday use or for outdoor activities such as hiking, fishing, and walking. They also are water-resistant and quick drying for the person on the go.
Lightweight and breathable
These pants are good for everyday activities while not being bulky. They are very breathable and also allow the person not to feel wet and sweaty after participating in outside fun.
Multi-pockets
The multi-pocketed cargo pants provide plenty of space for anything you may be carrying with you on your trip. Most of the waterproof pants on the market have no pockets or a limited amount of pocket space which can be a burden for some activities outdoors.
Cost and Value
The Nonwe outdoor pants are a more affordable product with adequate quality for the price. If someone is in the market for a lightweight and water-resistant product with pockets, it is one to consider.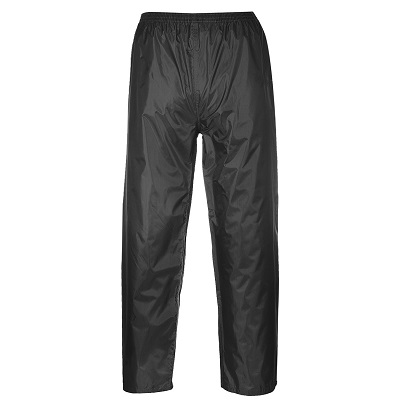 The Portwest S441 Rainwear Waterproof Rain Pants weren't made for any fancy purposes, and they won't be seen as the fashion trendsetter, but that's just fine. These aren't so much for casual wear as they are for those people who happen to work in wet climates and need a reliable pair of pants to keep them dry. For that purpose, they do an excellent job.
No water in here
These are fully waterproof pants. Not just in terms of the coating on the surface of the material, but also in the fact that the waist fits snug, and the hem cinch closed, so you will be dry, without a doubt.
Can't go wrong on the price
These pants are made to be used on the job by anybody who wants to keep dry, and they allow them to do this at a very low price. That kind of peace of mind is hard to find.
Cost and Value
These are pretty basic pants as far as design goes. They are meant to keep your legs dry, and they do just that. They won't win any awards for innovation, but you can't go wrong with the low price.

Subscribe to our Newsletter