Best Insulated Gloves Reviewed for Warmth & Quality
In a Hurry? Editors choice: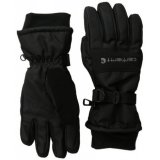 Test Winner: Carhartt W.P.

Anytime we are going to be spending time in the cold outside, we should consider wearing
insulated
gloves. Insulated gloves are really important because they protect our hands from the harmful effects of cold weather. The cold can cause minor injuries such as dry skin or it can cause major injuries such as frostbite. Insulated gloves guard against this by trapping your natural body heat around your hands thus creating a thermal barrier. Insulated gloves come in many different styles. Some of these
gloves
are extra thick so that you stay protected in the extreme cold. Other gloves are thinner and are ideal for when you are only going to be in the cold for a short period of time. They are great for applications such as driving a car or spending a short amount of time
shoveling snow
.
Standout Picks
Criteria Used for Evaluation
Insulation
Most people will agree that gloves do not have a lot of value if they are not warm. The purpose behind wearing insulated gloves is to keep your hands warm. We need to protect our hands from injuries that are related to the cold such as skin chapping all of the ways to frostbite. Furthermore, our time outside is much more enjoyable if our hands do not feel cold and rigid.
We should always try and find winter gloves that accomplish such goals. Generally speaking, thicker gloves will be much warmer than thinner gloves so you should try and purchase the thickest glove that you can use for your activities. If you aren't planning on using your hands then you should purchase the thickets pair of gloves that you can find. Otherwise, you will need to strike a balance between what is warm and what you can actually use.
Leather gloves are a great balance that comes between bulky and thick gloves and thin gloves. Many popular brands of work glove manufacturers make leather gloves. The leather is a great material because it is thick and durable. It is easy for the manufacturer to attach an interior lining that is made out of fleece or Thinsulate to the inside of a leather glove. The leather is also nice because it helps you grip items easily.
In addition to the thickness and the material of the gloves, you will also need to consider how well the gloves block wind and moisture. Even thick gloves will feel cold if they are unable to stop cold air from penetrating through the glove and to your skin. The same also holds true regarding water. Cold water and cold air will have a negative impact on how well the gloves are able to keep your hands warm. You should try and find gloves that are able to address these concerns while you are wearing them.
Overall Fit
How the gloves fit is just about as important as how well the gloves keep your hands warm. It is always best to pick out gloves that are the proper size for your hands. If the gloves are too small, they will feel uncomfortable and you may wish to take them off. Gloves that are too small may not be able to insulate and warm your hands as well because the thermal layers end up getting compressed. Compressed thermal layers are unable to trap air and therefore, your body heat. They will also make your hands feel as if they are in a vice which can be extremely uncomfortable.
Gloves that are too large have a different set of problems. We most certainly do not want our gloves falling off of our hands. It can be really annoying to have to pick up a glove that slipped off of your hand and fell to the ground, but worse yet, you may end up losing your glove which means you no longer have a pair of gloves. Gloves that are too big can get caught on objects such as machinery, trees, or other items which can lead to accidents or even injury. Finally, gloves that are too large may not be able to create a proper thermal barrier around your hands due to the extra space which can cause your hands to feel cold.
The gloves should ideally have a snug fit. They should never feel tight or restrictive as those would be signs that the glove is too small. Your fingertips should fit the end of the glove's fingertips but without pressing against the end of the gloves or leaving a lot of extra space. If the gloves feel correct in the fingertips, then you should move on to checking the palms. The palms should be the right size for your hands. Men's gloves will usually have a larger palm area than women's gloves will. You should always keep in mind that everyone has different sized hands so sometimes it worth trying the same sized glove that is made by different manufacturers.
Ease of Use
The fingertips of the gloves are also highly important. Most of the time we use our fingertips as a way to interact with objects are in our environment. We use our fingertips to interact with our smartphone or mobile devices. People who work with fasteners or tools will generally need to use their fingertips. Even people who are just holding a pair of keys may separate the keys with their fingertips.
People who work with their hands may also need to sacrifice some warmth for improved dexterity. It can be extremely difficult to work with tools such as a screwdriver or socket wrench while you are wearing thick gloves. This is why many people who need to use their fingers will turn to thick gloves. An alternative to thin gloves is also the style of gloves where you can expose your fingertips. Such a feature allows you to quickly use your fingers when you need to use them and then cover your fingers when you are done without having to put you through the trouble of removing your gloves.
Durability
Most people purchase gloves that they intend to use for a couple of winter seasons. This is why it matters that the gloves are constructed to be long-lasting and durable. Nobody appreciates taking a pair of gloves to the ski slopes only to have those gloves rip and tear the first time they fall down. When you are considering purchasing your gloves, you should take a good long look at the exterior shell of the glove to makes sure that it is well constructed. Gloves that are worth their money tend to be long-lasting and will endure several winter seasons at least.
While the shell material is important, you will also want to consider the quality of the stitching. Good stitching will last and it will stay in place while you wear the gloves. When the stitching is of a poorer quality, the threads will start to become loose and may even unravel. Not only does this make the gloves look shoddy and worn out, but it could also turn into the seams becoming undone and separating altogether.
If the glove has features such as palm and gripper material, then you will want to examine how this layer is attached to the glove. Low-quality gloves will simply have such layers glued onto the glove while higher quality gloves will glue and stitch these layers. If the layer is glued on, then it is likely that it will start to separate from the rest of the gloves. It can fall off altogether or worse, get caught on something and either damage the glove or cause an accident. Gripping layers that separate from the glove are a tell-tale sign of poor craftsmanship.
10 Best Insulated Gloves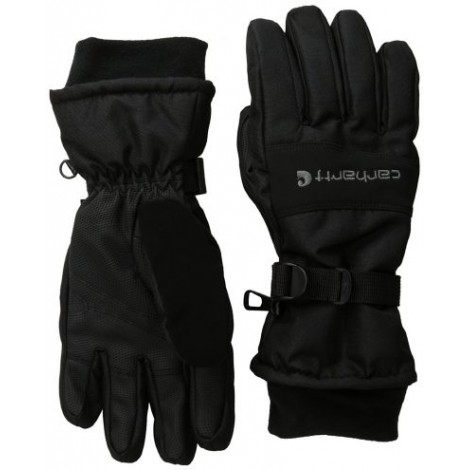 Many people turn to Carharrt brand clothing when they need to stay warm. The brand is known for making high quality and durable products that are intended to help you stay warm and protected in even the most extreme of cold weather. These gloves are no exception. They are fully insulated gloves that are reinforced and feature wicking technology to help you stay dry.
Waterproof Lining
The inside of the gloves features a waterproof lining. The waterproof lining is a critical feature because it stops water from melting snow from reaching your hands. This keeps your hands dry and therefore warm inside of the gloves.
Moisture Wicking
The other way these gloves keep your hands warm and dry is by offering moisture wicking technology. Your hands can still become wet through perspiration so it is very important that the lining can remove that sweat from your hands.
Cost and Value
These gloves have an average price tag. They get their value by offering features such as waterproof lining and moisture wicking technology. These gloves are reinforced for extra durability which also helps to make them into a great purchase.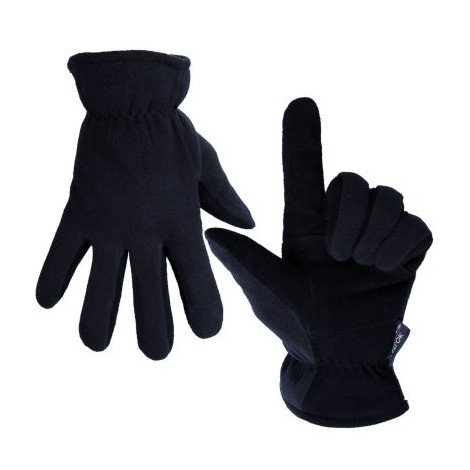 Here is another brand of insulated gloves that are rated for up to -20 degrees below zero Fahrenheit. These are the ideal gloves for the extreme cold. They feature a layer of hollow fibers and microfibers which traps warm air from your body around your skin. The interior lining is made out of fleece for extra warmth and comfort. The exterior shell is made out of deerskin leather for extra durability.
Heatlok Thermal Layer
Heatlok is the company's patented system which is composed of hollow fibers and microfibers. This technology creates a thermal barrier which traps your warm air but locks out cold air. The result is warm and cozy feeling hands.
Fleece Lining
The glove's lining is made out of fleece. Fleece is known for being a warm material that is also extra soft and feels good on the skin. That helps make these gloves an ideal choice when you want warmth and comfort.
Cost and Value
These gloves have a slightly below average price which makes them into a great value. They offer high-end features such as the Heatlok layer and the fleece lining but do so at a lower price when compared to other gloves.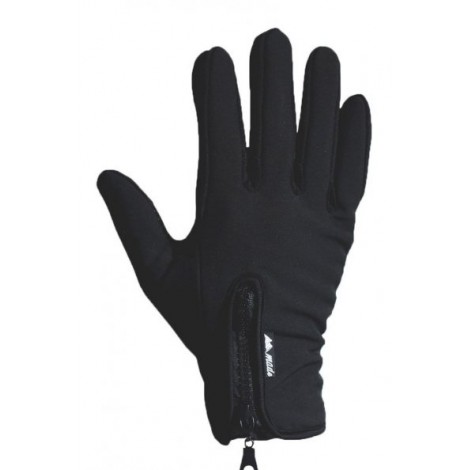 Here is a pair of tight-fitting gloves which are ideal for active users who need to keep their hands warm. These gloves are made from a thinner material and are recommended for 32 degrees Fahrenheit or warmer. They are compatible with a touchscreen device so you can easily answer a phone call while wearing these gloves. The gloves also have a zippered cuff so that fit snuggly around your wrist.
Touchscreen Compatible
The gloves are made out of a material that is compatible with a touchscreen. This allows you to interact with your mobile device without having to expose your hands to the chilly weather.
Zippered Cuff
The wrist cuff is zippered which creates an extra snug fit. You will not need to worry about these gloves slipping off of your hands when you are performing athletic activities.
Cost and Value
These gloves have a high cost when compared to other gloves. They justify their price tag by offering features not found in other gloves. For example, these gloves allow you to use a touchscreen and the cuffs are zippered.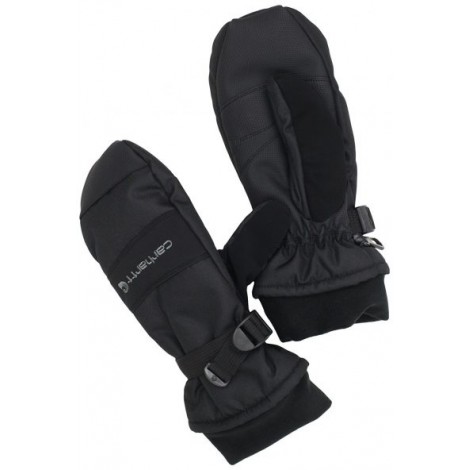 Mittens are an excellent choice for especially cold temperatures because they can keep your fingers much warmer than what gloves can. These mittens are made by Carharrt and offer technology to help keep your hands extra warm. For example, there is a FastDry lining that wicks away perspiration from your body and keeps your hands dry. The mittens are made out of a polytex shell which is extra durable.
Polytex Shell
The mittens feature a Polytex shell. This shell provides strength and keeps the mittens from tearing or ripping from normal wear and tear. This feature makes these mittens into the ideal working mittens.
Stretch Fleece Cuff
The cuffs have a stretch fit and are made out of fleece. The stretch fit is important because it keeps the mittens from slipping off of your hands while working. They also lock in body heat. The fleece adds additional warmth and comfort.
Cost and Value
These mittens have an average price as compared to other gloves. They get their value by adding features such as stretch fit cuffs and moisture wicking. The Polytex shell adds additional strength and helps these mittens to be long-lasting.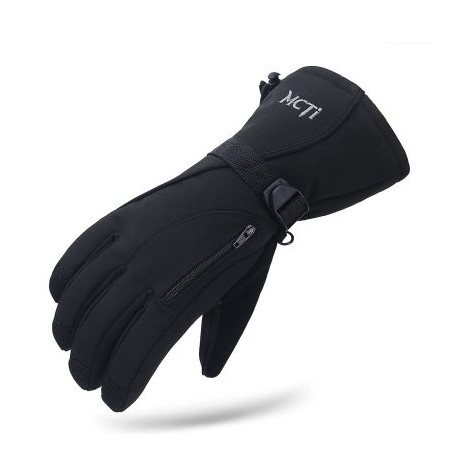 If you are looking for a pair of high quality and high tech gloves then look no further. These gloves offer Thinsulate, which is a technology made by the company 3M. These gloves are both waterproof and windproof, which makes them an excellent choice for activities such as skiing, snowmobiling, or snowboarding. You will feel extra warm while wearing these gloves because your hands will stay dry and will be protected from cold and wind.
Water and Windproof
These gloves are constructed from three different layers so that they are waterproof and windproof. There is a TPU membrane which locks water away from your hands. You can literally be in the snow for hours without your hands getting wet.
Zipper Pocket
These gloves have a small zipper pocket located on the top size. It's an ideal place for you to carry items such as keys or an ID card. You can even store credit cards or cash in these pockets.
Cost and Value
These gloves are high-cost but justify their price tag by offering plenty of features. For example, the gloves have a 40-gram layer of Thinsulate which is made by 3M. They are also fully waterproof and windproof.



These gloves are highly ideal to wear if you are going to be in the snow all day long. They are fully waterproof, which keeps melting the snow away from your hands. They also have gripper palms and fingers so that you can pick up items without them slipping out of your hands. You can purchase these gloves in a wide variety of colors, which makes it easy to match them to your coat.
Waterproof
These gloves use Thinsulate, made by 3M, to provide the gloves with a waterproof lining that keeps water away from your hands. This feature makes these gloves ideal for use in the in the snow.
Gripper Palm and Fingers
The palms and fingers have a gripper material. This allows you to pick up items while wearing these gloves without having to worry about dropping them. The gripper provides prevents items from slipping out of your hands.
Cost and Value
These gloves have a price that is slightly below average. They get their value from the fact that they have features such as Thinsulate and gripper material on the hands. These features make these gloves a great value when combined with a lower price.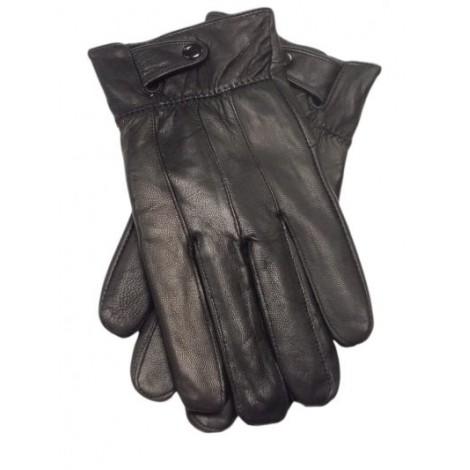 Sometimes you need gloves to look good and keep you warm for a short period of time. These full sheep skinned leather gloves are ideal for activities such as driving. They are ideal for when your car is still cold but will warm up shortly. The gloves are perfect for everyday use because they are thinner and are compatible with a touchscreen device. This makes them the ideal driving gloves.
Insulated Sheep Skin Leather
These gloves are made from sheep-skin leather that is insulated for extra comfort. This makes the gloves look great while still providing warmth and comfort. They are great for everyday use since they are thinner than full-blown snow gloves.
Touchscreen
You won't have to take these gloves off to answer a phone call or take a photo because they are compatible with touchscreen devices. This adds a lot of conveniences because people shouldn't have to remove their gloves to use their smart-phone.
Cost and Value
These gloves have a below average price which makes them a great value. They offer features such as touchscreen compatibility and leather which are found in more expensive gloves. The high-quality features and low price make these gloves into a bargain.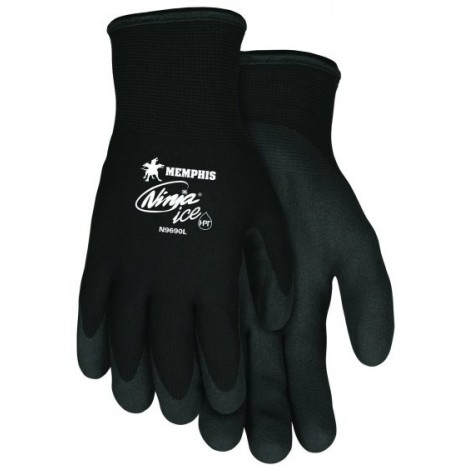 This pair of gloves is ideal when you need a thin glove that keeps you warm. Some people work with their hands in cold conditions and need a way to stay warm without the bulkiness found in other brands of gloves. These gloves provide features such as warmth, water-resistant, and remain soft and flexible in even extremely cold temperatures. Such features make these an ideal working glove.
Coated Fingertips
The gloves feature coated fingertips which are used to keep the tips of your fingers warm and dry. They also allow you to use your hands normally even when you are working with small and delicate items.
High Gauge Liners
The exterior shell is made from a fifteen gauge nylon material while the interior liner is made out of a seven gauge brushed acrylic material. This helps keeps your hands warm without adding bulkiness to the gloves.
Cost and Value
These gloves are low cost and are rich with features which makes them into an excellent value. You will be protected from the cold and wind while wearing these gloves yet you won't pay a lot of money for them.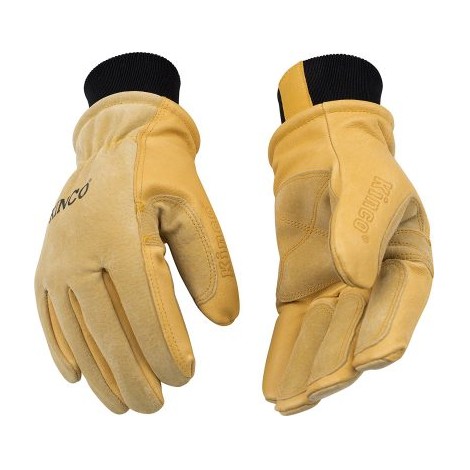 These are a pair of thermally lined gloves that are made out of pigskin leather for extra durability. They are an excellent choice for outdoor gloves because they keep your hands warm while remaining durable. The gloves are coated with wax so that they are waterproof and keep your hands dry from melted snow or other liquids. Finally, the palms and fingers have a leather patch for extra reinforcement.
HeatKeep Lining
These gloves feature a propitiatory lining called HeatKeep which creates a thermal barrier and locks in your body heat while keeping cold air away from your hands. This technology makes these gloves an ideal winter glove choice.
Pigskin Leather
Pigskin leather is known for its durability. These gloves are made out an exterior pigskin leather which makes the glovesPigskin Leather resistant to issues such as tearing or abrasion. This makes these gloves into ideal work or ski gloves.
Cost and Value
You can expect to see an average price for these gloves. They offer features not found in other gloves such as pigskin leather which makes these gloves an excellent value. These gloves are long lasting and durable making them into a great purchase.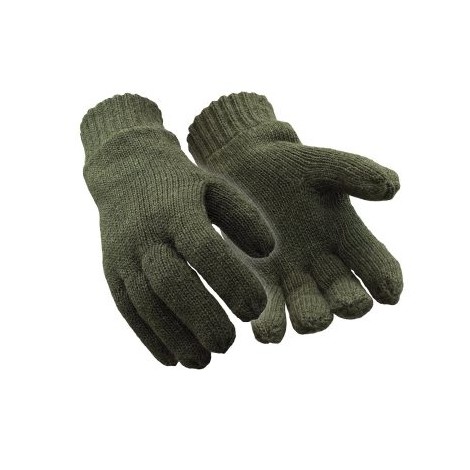 If you are looking for an all natural way to keep your hands warm, then you should check out these fleece lined gloves made by RefrigiWear. The gloves are made from a 100 percent ragg wool exterior shell. The is also a Thinsulate lining and a fleece lining on the interior. These features help keep your hands warm and dry which makes them an ideal glove for the winter weather.
Wool Outer shell
Wool is one of nature's best insulators. The outer shell of these gloves is made out of 100 percent ragg wool. This material is one of nature's warmest fabrics. The wool will help protect your hands from the cold.
Thinsulate Layer
These gloves feature a Thinsulate membrane which waterproofs the gloves. This makes the gloves highly ideal for snowy weather since water from melting gloves will not reach your hands. Dry hands are warm hands so this feature is definitely a bonus.
Cost and Value
These gloves have an average price which makes them a great value. They get their value by being made from ragg wool and by having a waterproof barrier. Your hands will feel very warm and cozy while wearing these gloves.

Subscribe to our Newsletter