Best Carhartt Pants Reviewed & Rated for Quality
In a Hurry? Editors choice: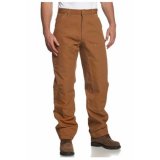 Test Winner: Carhartt Double Front

Whether you're hiking, hanging out with friends, enjoying an outdoor adventure, or just simply relaxing at home, pants are an essential item for your comfort and overall experience. The right pants should not only look good but feel good too. If you live an active lifestyle, then you will also need apparel that is functional and durable as well. When it comes to high-quality clothing designed to withstand the toughest environments, Carhartt stands above the rest.
Standout Picks
Criteria Used for Evaluation
Materials
This was important criteria to take into consideration because it's the fabrics that often distinguish work pants from the rest of the crowd, especially now that wearing them in an everyday setting has become so commonplace.  Using the right fabrics is necessary when putting together a good pair of pants, because it needs to be thick and sturdy enough to hold p to heavy use day after day, light enough to still breathe, and have enough given to them so you can move around as freely as possible. There are only a few select materials that perfectly fit the bill, those being denim, canvas, and in some cases, ripstop nylon.
Denim is by far the most widely used fabric in the manufacture of work pants, and this has been the case since they were first patented by Levi Strauss in the late 1800s.  When Strauss realized how strong, durable, and cheap to produce denim was, he scrambled to create a high-quality pair of work pants that was quickly adopted by factory workers across the United States.  Because denim is made from cotton, it is a natural fiber which makes it especially breathable, keeping your body cool even in the summer.  On top of that, it's also quite rigid which helps it resist tearing, through this also limits mobility as it has very little give.  
Canvas is a very sturdy plain woven fabric currently also made of cotton, or sometimes linen.  It Though it differs from denim due to the type of weave, it loses none of the strength.  It's not used very often in work clothing anymore but is still a good choice because it is quite a bit lighter and stretchier than denim, making them more comfortable, especially in warmer climates.
The least common material, ripstop nylon is nonetheless rising quickly in popularity thanks to its incredibly strong reinforced weave making it very close to being tearproof.  It's also very light and extremely breathable, though the material itself is fairly flowy, making it a potential hazard to heavy machinery.  It also melts very easily, so make sure to stay away from open heat sources.
Durability
In this case, style refers less to the look of the pants, but rather to how it will function.  The most common styles are cargo pants and carpenter pants, but work pants also come in a plainer slack style known as chinos, offering less versatility but having a more professional look.  
We've already covered the specifics of cargo pants and carpenter pants elsewhere, but it doesn't hurt to take another look at these are the style you'll most likely encounter.  Choosing the perfect work pants is mostly decided by functionality, and these two pairs offer the most.  They each allow you to carry several tools and other items while still freeing up your hands, and are roomy and comfortable enough to get you through a heavy work day without too many problems.
For those occasions where extra carrying space isn't a necessity, there is also a pair with a classic design tailored to have you looking good while at the job site.  Worn more commonly in a supervisory role, these aren't so much for heavy construction, but ideal for when you have to be at work, but still meet with clients.  
Bottom Line
Ripstop: A woven fabric, most commonly nylon, that is reinforced to help make them more resistant to rips and tears when in the middle of working.
Inseam: The measurement of the length of the seam on the inside of the leg for the crotch to the bottom.  This is the number used when determining the length of the pants.
Cargo pants: Loose fitting casual or work pants with large patch pockets on the sides of the legs.  
Carpenter pants: THese are usually jeans with many pockets and belt loops to carry a large number of items.  These are loose around the legs to accommodate the increased capacity.
Rise: The distance from the middle of the crotch seam to the top of the waistband.  This determines where the pants sit on a person.  An improper rise can affect mobility while at work.
Denim:  Denim is a sturdy cotton twill fabric, very popular in the construction of pants due to its durability and breathability.
Dungaree: Another name for pants made with a blue denim fabric, or jeans.  It's an Eighteenth-century term that isn't very widely used today.
Canvas: A material used in pants that isn't as rigid as cotton, allowing a bit more range of motion and comfort while still being durable.
Twill: A fabric woven to have a surface of parallel diagonal ridges.  Denim and corduroy are both examples of twill textiles.
Top 10 Picks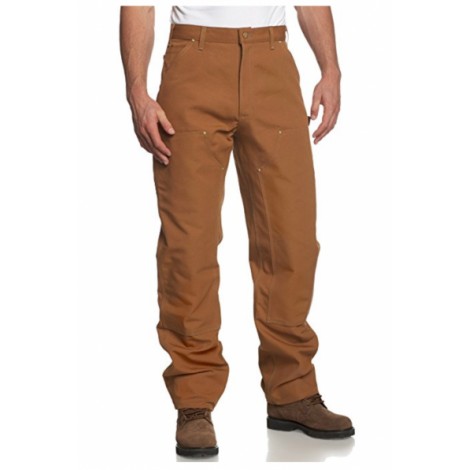 These Work Dungarees by Carhartt are an excellent, durable work pant. It is made from 12 ounces, heavy cotton material to bring more durability for grittier jobs. Their straight leg style remains fashionable for the everyday wearer with three different colors to choose from (Brown, Black, and Gravel). These Dungarees are cut at the natural waist to offer a looser feel and a full seat and thigh. With 19 inch long openings for work boots, there is no going wrong with these pants for the everyday worker.
Double Front
The double front is a unique feature that gives the Work Dungarees a more durable fit. The doubled 100% cotton material creates a thick pant to minimize the number of tears from heavy work. Additionally, its double front comes with room to accommodate knee pads for prolonged kneeling.
Reinforced Utility Pockets
Reinforced cotton material is found on the back of the pants and the utility pockets. This allows you to carry heavier objects without worrying about tearing or ruining the pants.
Cost and Value
The Double Front Work Dungaree Pants are on the more expensive side of Carhartt pants. This is mainly due to their extreme durability, double front, reinforced material without losing comfortability and style. This makes them the perfect pants for any heavy duty job.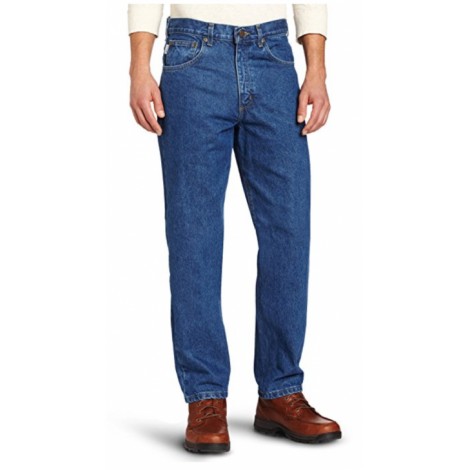 The Tapered Leg is one of the best denim jeans by Carhartt. It was made to last long with exceptional durability found in its 100% heavy cotton material. The style is better known for its classic 5 pockets allowing plenty of room for utility items. Additionally, the lips of the pockets do not fray with its reinforced material.
Tapered Leg
The tapered leg is an important feature in these Carhartt jeans. This creates a tighter area around the ankles. It also allows you to tuck the pant into boots for convenience or a military-esque style.
Relaxed Fitting
The Tapered Leg Jean by Carhartt is made for comfort. Sitting at the natural waist, it provides more than enough room for both the seat and the thigh. Because of the tapered legs, these pants have a loose fit without looking baggy.
Cost and Value
These jeans are considered the average price for Carhartt Pants. Although this largely depends on the size, these pants offer a durable work pant with tapered legs, relaxed fitting, and 5 pocket style creating a lot of value. These are a great denim pick for the everyday worker.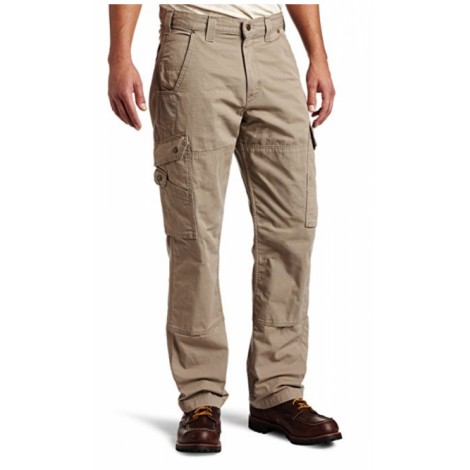 The Ripstop Work Pant by Carhartt is an exceptional work pant. With double-front construction and cordura lined pockets, these pants were built to last. Not only do these pants come with a relaxed seat and thigh, but they also have a gusseted crotch for easier movements. With 5 colors to choose from, you can match the Ripstop Work Pants to your style.
Ripstop Fabric
The Ripstop Work Pant was created with ripstop fabric that is comprised of 9.25-ounce cotton. Additionally, the pant was woven with cross-hatch pattern in order to reinforce its durability. Both the fabric and cross-hatching create a pant that is resistant to wear and tear.
Multiple Cargo Pockets
Carhartt Ripstop Work Pants features 6 total pockets. With 2 large back pockets, 2 side pockets and 2 oversized cargo pockets, these pants are able to hold any gear. The Cargo pockets also come with multiple utility pockets for smaller items such as phones.
Cost and Value
These pants are on the more expensive side of work pants by Carhartt. With this in mind, you still get a pant that will last long, carry many utility items, and is still a relaxing fit. This makes its value well above the cost securing it a position in the top 3.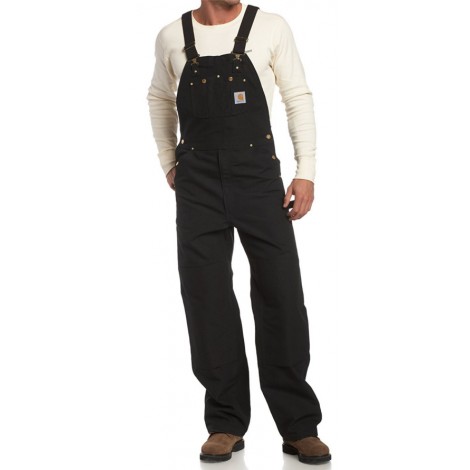 I wanted to included some overalls here for the sake of variety, because they are still pants, and sometimes you're doing a job that is more strenuous or messier and requires more protection. They are built with a bib that covers most of the chest and attaches to the shoulder. They still sit the same and are just as comfortable.
Tough stitching
Usually when a manufacturer wants to make sure that their product is tough, they will reinforce it with double stitching. That wasn't good enough for Carhartt. They wanted to be absolutely sure that your work pants will last for the long haul, so they triple stitched it. They don't take chances.
Easy on the knees
Not only do these pants have reinforced material at the knees to improve comfort and prevent wear, the legs were also made larger to accommodate kneepads on the inside if the pants.
Cost and Value
These are a bit more expensive than most of the others on this list, and the sole reason for that is the extra material used. They are still the same great, reliable work pants you'd expect from Carhartt, there's just a bit more of them.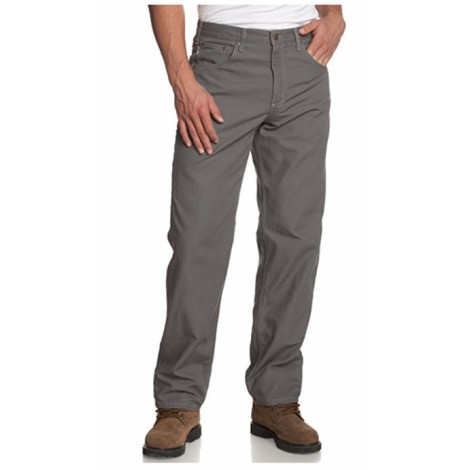 The Carpenter Pant is a low rise, relaxed fit pant. Carhartt created these pants featuring pockets for gear and cell phones. Additionally, they are reinforced for greater durability with strong inseams. Because it is used with a lighter cotton material than previous pants discussed, the pant is lightweight and won't weigh you down. Its lower weight and pockets make it a multi-functional design as they can be worn in casual outings in addition to work pants.
10 Different Colors
The Carpenter Pant comes in 10 unique colors from charcoal to khaki. With so many different choices, this allows you to customize the pants to fit your own personal style.
Over 19 Inch Opening
The best feature about these pants is their wide 19 inch leg opening. This allows you to get the pants around any oversized work boot without hassle. Small things like this feature makes the Carpenter Pant a great work pant.
Cost and Value
These Carhartt pants are one of the more cost-effective options. Although this may vary on size, for a reasonably low price you get a great, long-lasting carpenter work pant with large leg openings, many different styles to choose from, and a low, comfortable rise.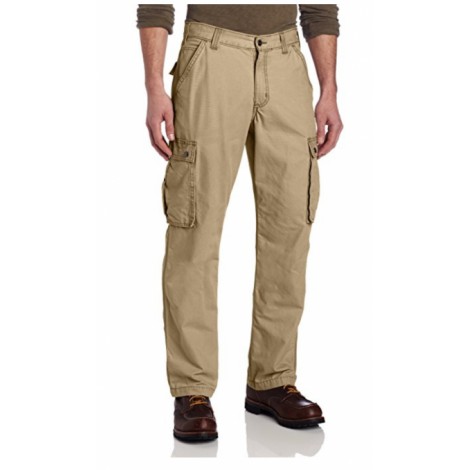 The Rugged Cargo Pants are a great mix of fashionable and useful. With a "rugged" color scheme and cargo look, they are neither baggy or slim fit. Their relaxed style, found in may Carhartt pants, sits below the waist for more comfort in the back. Together this provides a casual and comfortable pant. Made out of 100% cotton, they are built to last a long time.
Large Cargo Pockets
The Rugged Cargo Pants comes with oversized cargo pockets on either leg able to hold an Ipad. In addition to two back pockets and two side pockets, these pants can hold any gear making it great for hiking adventures.
Strong Belt Loops
The reinforced sewn-on belt loops provide a great feature. With strong seams on top of a durable pant, they can hold heavy utility belts and other large belts.
Cost and Value
These pants fall in the average price range for Carhartt pants. For a fair price, you maintain a strong cargo pant with featured strong belt loops and oversized pockets. This creates a great mix of work and leisure in a pant.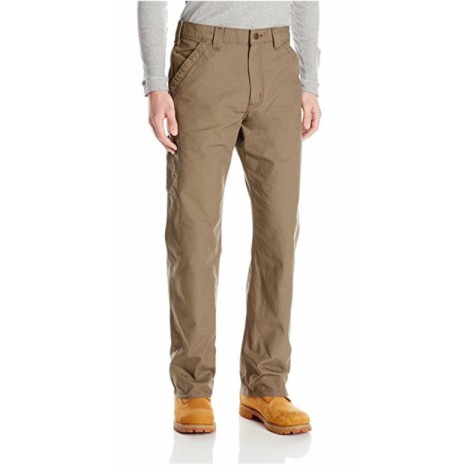 The Canvas Work Pant from Carhartt is versatile. With styles such as tan and khaki, these pants can go well with any button up shirt for a more dressier occasion. In addition to an excellent style, they maintain much of Carhartt's durability features seen in other work pants. Sitting at the natural waist, these pants are relaxed and give plenty of room for the thighs.
Hammer Loop
Not only does the Carhartt Canvas Work Pants come with a sturdy belt loop for utility belts, but they also come with hammer loops. This gives you easy access to tools that fit the hammer loop without an addition of a utility belt.
Lightweight
Made out of 8-ounce cotton material, these Canvas Work Pants are lighter than its Carhartt brothers. Weighing in at less than 2 pounds, they are perfect for outdoor adventures, long workdays, or the casual hangout.
Cost and Value
These pants are around the average price for Carhartt pants. What makes these pants exceptional is their unbeatable versatility for both a dress wear and work pant. With hammer loops, durable cotton material, and only weighing in at 2 pounds, these are a great choice from Carhartt.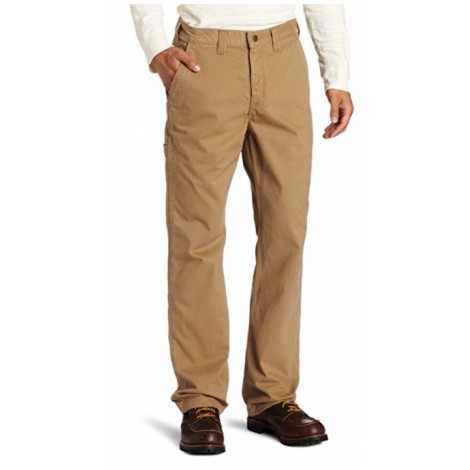 The Carhartt Rugged Work Khakis are a great classy khaki pant look. Even though they are khakis, Carhartt created large leg openings for work boots and used a strong durable material. Although they are tighter than the other products discussed on this list, they still offer soft material for all-day comfort. Together, with its features, this pant is perfect for the classy worker on the go.
9.5 Ounce Cotton Material
Unlike other khaki pants, the Rugged Work Khakis from Carhartt are a thicker, more durable design. Made out of 9.5-ounce ring spun cotton material, they are built to last and can be used in a rougher environment.
Khaki Design
Unlike the other Carhartt products on this list, these khaki pants were created for a more formal occasion. Their khaki pressed, straight leg design offers a more clean look than other work pants.
Cost and Value
Although cost may depend on sizing, this would fall on the more expensive side of Carhartt pants. Even though they are less cost-effective, they still provide exceptional value with a more formal classy khaki design mixed with a rugged Carhartt work pant.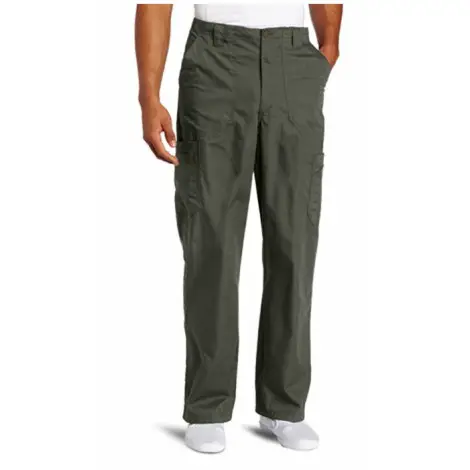 Sometimes workers aren't in the field or on a construction site, but they are in a hospital. The Carhartt Scrub Pants are the great scrubs for hospital workers. They come fully equipped with 8 cargo pockets so you can fit any necessary gadgets or equipment. They also come with utility loops for belts or additional gear. These scrubs were built to be comfortable with sanded insides and a roomy loose fit.
Drawstring and Elastic Back
The Scrub Pants come with a full drawstring that tightens and loosens the pants without a belt needed. In addition to a drawstring, it also comes with an elastic back that can adjust the size for up to 2 inches. With so much size variation, this can accommodate any body type and has a higher fit expectancy rate.
Unique Material Blend
The Scrub Pants by Carhartt were made with a blend of 55% cotton and 45% polyester. This unique blend creates the foundation of durability with interwoven fabric found in all Carhartt products while still maximizing comfort.
Cost and Value
Not only were these pants designed for comfort and durability for everyday hospital workers, but they were also made to not break the bank. For a low cost, you can have a great scrub that fits well and accommodates storage needs.

10

. Carhartt Dungaree B13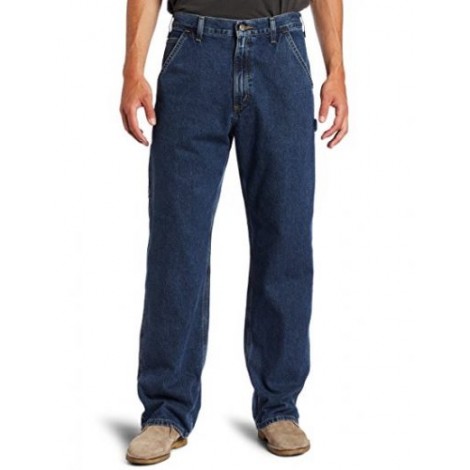 Now we're going to slow things down a bit with a nice, classic pair of denim work pants. Carhartt is well known for their high quality work clothes, as this entire buying guide can attest to, and it's a nice, albeit rare, treat to find that trusted workmanship translated into a well made, versatile pair of jeans.
So much room
Work pants, and especially denim pants, are notorious for being a bit of a tight fit. You need to find the exact size for your body type, or it just won't work. To remedy that, Carhartt included a full seat and thigh, making them a lot more forgiving and comfortable.
Can hold anything
The Carhartt Men's Washed Denim Original Fit Work Dungaree has been designed with eight tool and utility pockets, as well as a hammer loop, making sure that you'll be on the job with everything you need.
Cost and Value
You get a lot for the price of these pants in terms of comfort and function, resulting in a high quality pair of work pants that are a great value. The added bonus of how good denim looks is always nice too.

Subscribe to our Newsletter