Top 10 Cargo Pants Reviewed & Rated
In a Hurry? Editors choice: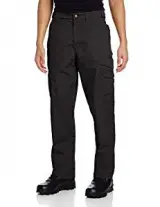 Test Winner: Tru-Spec Men's 24-7 Tactical Pant

Cargo pants were originally
designed for the military
as they were tough and had a looser cut. One of their more distinguishable features is the multiple pocket design. Pockets were created to carry items when walking long distances by foot conveniently (we also recommend
Carhartt
pants). Today, they have become popular as a casual pant style in modern men's fashion. Although today's designs are not as durable as their military ancestors, cargo pockets are still an essential feature. With so many companies and styles, finding the right pair can be difficult. When looking into a new pair, what features should you be looking for? Well look no further we have compiled a great list of potential comfort for you.
Standout Picks
Criteria Used for Evaluation
Comfort
All of the other bells and whistles put together can't overcome the dismay of uncomfortable pants. With so many options for fit, style, and material, it would be unacceptable not to incorporate comfort into your criteria. Drawstring adjustable waistbands, convertible lengths, moisture-wicking technology, and breathability can take the design from so-so to perfection. In a hot climate, you need pants that are light and cool. In colder climates, you need coverage without compromising feeling and movement.
Features
A pair of pants can technically have an infinite number of pockets. But if they'll only hold a thimble, they're not very useful. The best are designed with a respectable amount of pockets that are deep enough to carry things securely, but not so large as to cause a billowing effect. Different styles also come with various mechanisms of closure. Some have zippers; some have Velcro closures. The amount of security you choose will be largely dependent upon the reason you want to wear the cargoes. For outdoor activities, you need to be sure not to lose your keys or other small objects. Zippers are likely your most secure option. If you are spending time in crowded areas, security may be your biggest concern, but a sturdy Velcro or snap closure will be enough to stave off a pickpocket.
Effectiveness
For many people, wash-and-wear-ability is of critical importance. Ironing is a chore, and there are only so many times you can re-run the dryer before you start feeling a bit wasteful. Make sure you choose materials that fit your lifestyle. If you are going to be hiking or working outside, delicate fabric is not going to make much sense. Look out for a wash and wear pants or wrinkle guard technology, as well as stain resistance so you can wear your cargoes with freedom.
10 Best Cargo Pants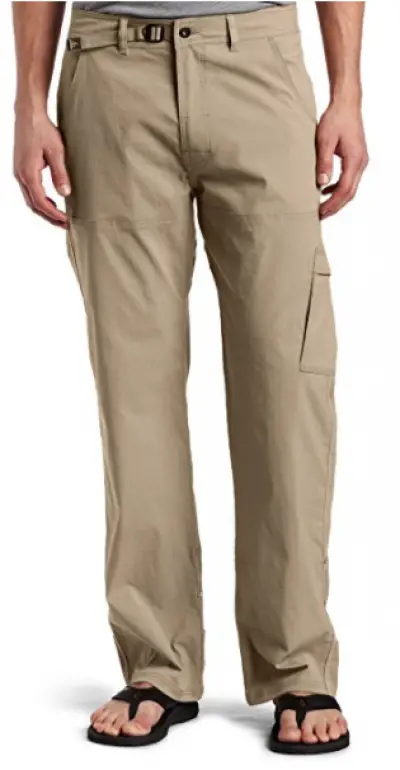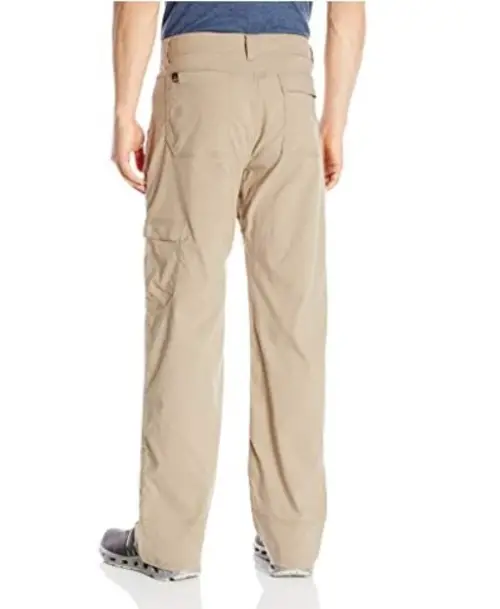 The Stretch Zion was created in 1992 by prAna in the hopes to produce a lightweight pant that is great for outdoor activities. From the city to the outdoors, these offer a comfortable pant that is durable for any exercise. Made of out 97% nylon, they offer UV protection from up to 50+ UPF and contains a water-repellent finish. With mesh pockets and a spacious side cargo pocket, there is plenty of room to fit small gear. Additionally, the inseams are ventilated to provide a more breathable pant on hot summer hikes.
Stretch Zion Material
The Stretch Zion was made of Nylon allowing it to stretch easier over your body type. In addition to this material being water-resistant, it also possesses quick-drying properties in case you do get them wet on your outdoor adventure.
Roll Up Leg Snaps
For extra ventilation, the Stretch Zion's by prAna allow you to roll the legs up halfway between your knee and ankle and snap them in place. Apart from ventilation, this also adds the ability to enjoy a different style than cargo.
Cost and Value
The PrAna Stretch Zion's are on the more expensive side. Although they may be more expensive, they provide exceptional value with their stretch zion material allowing you to dry off quickly and feel more comfortable. Along with the roll-up leg snaps and comfortable fit, this pant is a great addition to any hikers' gear.

2

. Tru-Spec Men's 24-7 Tactical Pant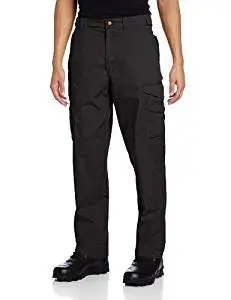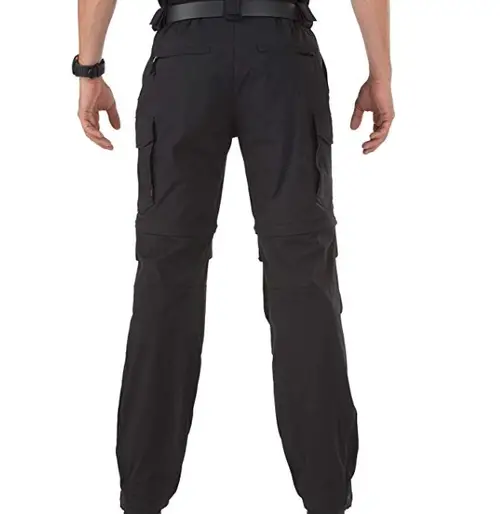 The striking good looks, comfort, and exceptional fit take these pants to new territory where single-function tactical pants have never ventured. Tru-Spec 24-7 pants fit well and are comfortable.
Design
They are designed for both on-duty and off-duty wear. The two-inch-wide belt loops and slider waistband provide a better fit than many others. The zipper is YKK brass. The pants are made of polyester/cotton ripstop fabric. There are no visible gathers caused by the self-adjusting slider waistband. The comfort-fit waistband eliminates adjustable side tabs. A Teflon coating gives the durability of the pants and makes them stain-resistant.
Other Features
The reinforced knees have openings for knee pads. The pants are breathable and lightweight. The loose cut of the pants does not look baggy. Until the newness wears off after a few washings, the fabric rustles when it rubs together during walking. After being washed, the noise diminishes.
Cost and Value
The pants are not strictly military grade. They do copy tactical designs worn by SWAT officers. The price makes them a steal. The durable pants are made more reliable by the built-in knee pad pockets and reinforced knees. They are water-repellent and stain-resistant also. The pants are designed for style, durability, and functionality. They can be used for a range of outdoor activities. You cannot beat these pants for comfort or utility.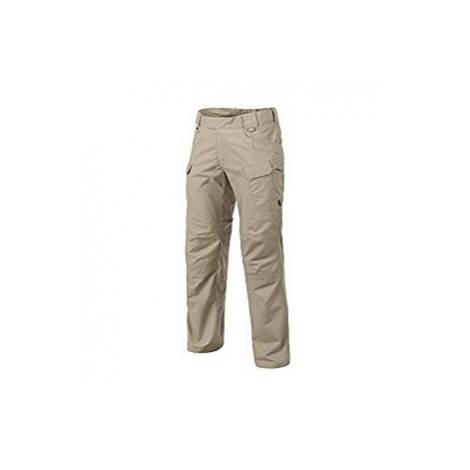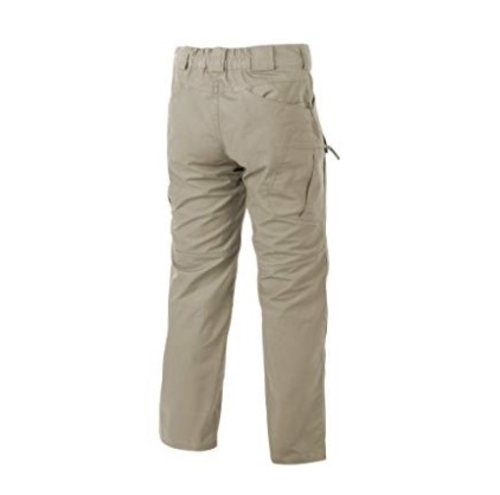 Hey, nice pants. These pants from Helikon have the dual purpose of both looking good as well as being useful in tactical situations. That's because tactical, or military pants as they're also known, are basically powered up cargo pants. Knowing that these ones can serve both needs tells me that I'm getting a solid pair of clothing when I buy them.
Any weather is good weather
One perk of these pants being designed for tactical use is the fact that they are, for all intents and purposes, climate-proof. They can easily keep out the rain, and resist tears and rips.
Breathes well
The materials used in constructing these pants are made from mostly natural fibers, giving them an inherent level of breathability that can keep you cool and dry during even the most intense moments.
Cost and Value
As far as just a pair of pants is concerned, these can be expensive. That, however, is before you take into account the weatherproofing and just solid all-around construction. You do end up getting quite a bit for your money with these ones.

4

. Wrangler Authentics Classic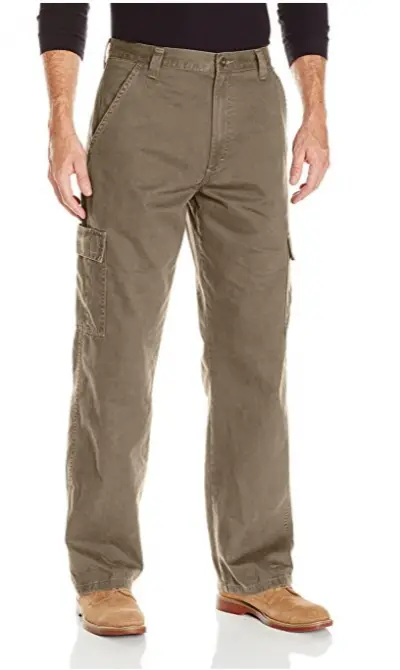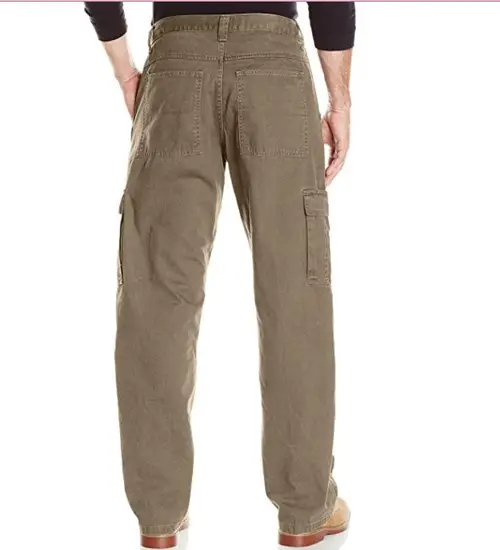 Wrangler is known for its jeans, but in addition to their denim collection, they have been designing cargo pants for over 70 years. With their fashion-forward Authentic Classics', they offer a product that is both stylish and comfortable. Its flat-front and relaxed sides is a great crossover between khaki pants and casual cargo. Its side patch pockets are around 6 inches deep allowing you to hold any cell phone or small item. With 10 colors to choose from, there is no going wrong with these.
Twill Pattern
The diagonal twill pattern found in the Authentics Classic Cargo creates a more durable fabric that will last longer. Additionally, this type of weaving is less likely to wrinkle and shrink giving you the classic cargo look longer.
Comfortable Fit
These Wrangler cargoes have a loose seat and thigh. In addition, they contain a straight silhouette feature for a more relaxing and casual look. Overall, these items have an 84% fit expectancy. Less than the Dockers, but still considerably high.
Cost and Value
The Authentic Men's Classic Cargo is more cost-effective than the Dockers Comfort Cargo D3. For a lower price, you get a durable, comfortable, and stylish pant that can last you a long time.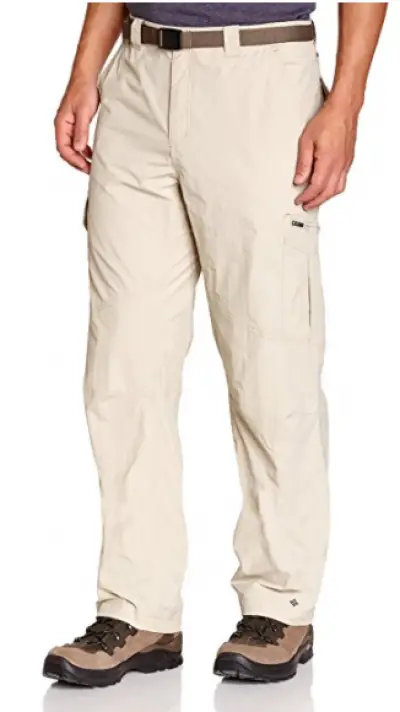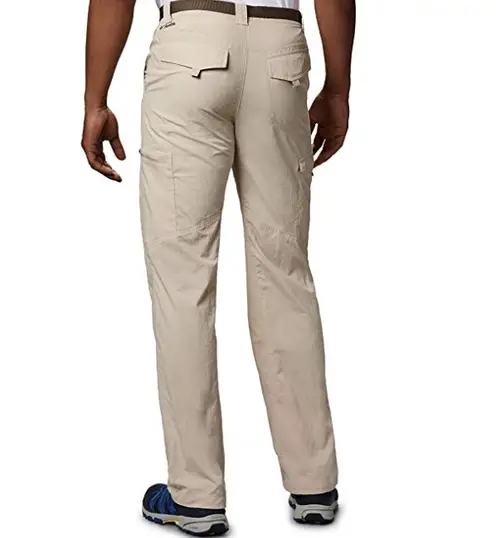 The Silver Ridge by Columbia is a great outdoor option. With a nylon and polyester mix, these pants can protect you from up to UPF 50 with Columbia's Omni-Shade technology. With 9 different colors to choose from, you can customize these pants to fit your specific style. The Silver Ridge has two secured multi-functional pockets on either side to protect your gear from the elements.
Omni-Wick Technology
This special design by Columbia helps the Silver Ridge Pant be more breathable. The material wicks away moisture and sweat to cool your legs down on hot or humid days.
2-Way Elastic Waistband
They have two elastic waistbands on either side. This two-way waistband offers a comfortable fit for any size by giving an additional 2 inches without restricting.
Cost and Value
Although the price can vary depending on size, they are still considered the average price. They derive their value from both the Omni-Shade and Omni-Wick technology, a wide range of color options, and its two-way elastic waistband. This makes them a great pant for any outdoor enthusiast.

6

. Dockers Comfort Cargo D3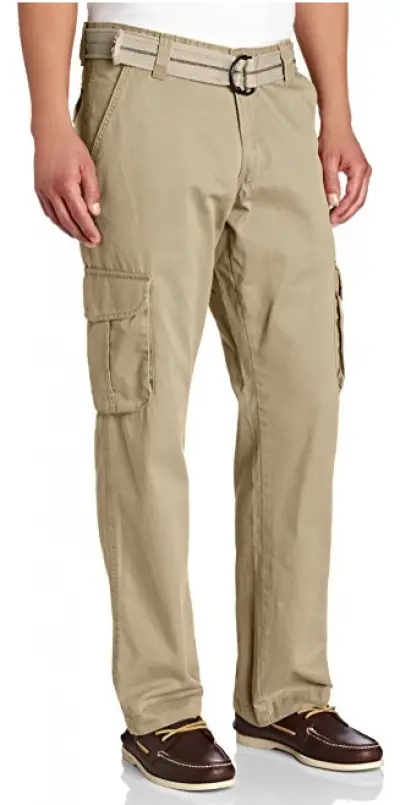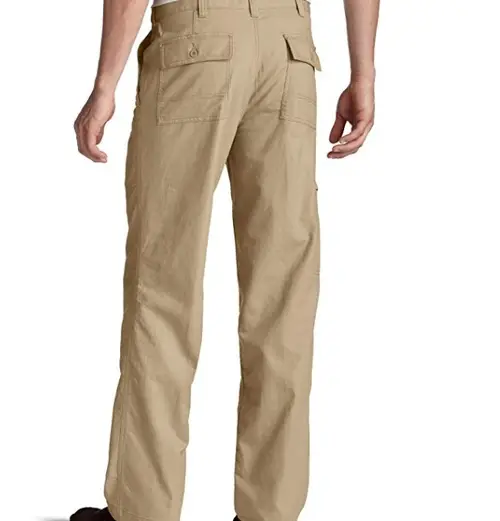 The Comfort Cargo D3 by Dockers is an excellent comfortable pant that is stylish. Created from 100% cotton material, it not only looks great but feels great too. It's flat front feature keeps the style casual while essential cargo pockets. The right leg consists of a zippered pocket for additional protection for your items. With its featured roomy fit and classic style, these pants are versatile and can be used in many different situations.
Expandable Waistband
The Men's Comfort Cargo D3 looks to extend comfort all day with its expandable waistband. This can add up to 2 inches of extra room making sure you can fit into the khakis with no problem. With its roomy thighs and butt, this product has a fit expectancy rate of 86%.
Classic Fit
The classic fit combines casual men's wear with classic khaki styles. Together, this creates a sleek look that goes well with the flat front feature.
Cost and Value
For a well-designed pant with featured zippered pockets, classic style, and expandable waistband, there is no beating its tremendous value. Although it costs around the average price for Dockers pants, it maintains a high value making it first on our list.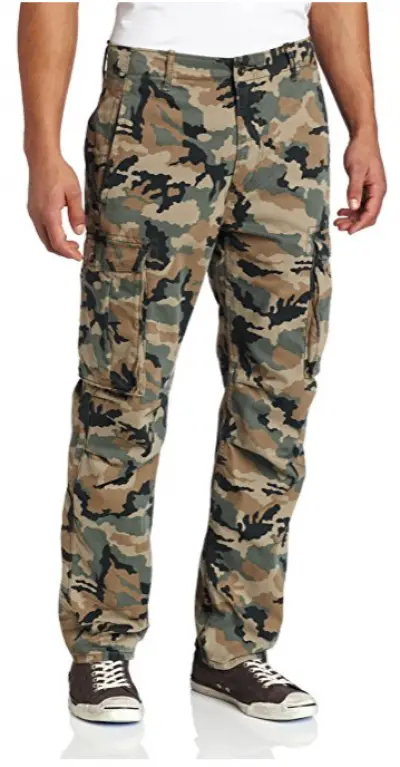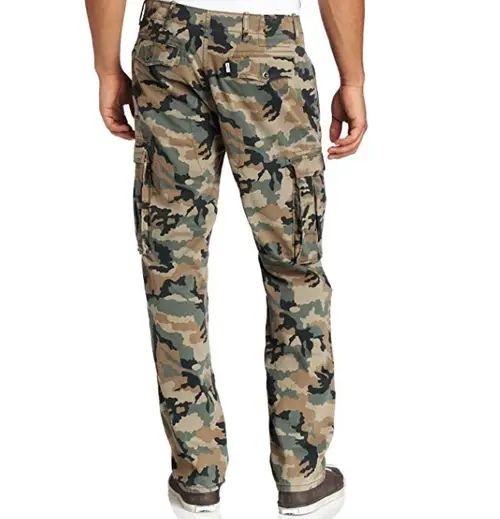 Levi's, a leading denim designing company, created the Ace Cargo over 10 years ago. These pants were built for utility with large cargo pockets on the side and slant pockets for convenient reach. Made out of 100% cotton, this product will breathe easily and feel comfortable on the skin. This product is unique as it offers multiple camo looks relating back to the original use as a military outfit. In addition to camo, they offer 5 other colors for even more versatility.
Ruching Look
The Ace Cargo by Levi was designed with a slight ruching look at the knee. Because the fabric is gathered and pleated to create this ruching effect, the pants are a more young and modern style that can work well with many outfits.
Soft Twill Fabric
In addition to maintaining the twill pattern for more durability and a long-lasting look, the Ace Cargo also contains soft cotton material. This soft twill fabric is a great combination of durability and comfortability.
Cost and Value
The Ace Cargo would be considered a little more expensive than the other top 2 on our list. Although it may be less cost-effective, it offers a comfortable and durable fabric with a unique style only offered by Levi's.

8

. Wrangler Authentics Relaxed Fit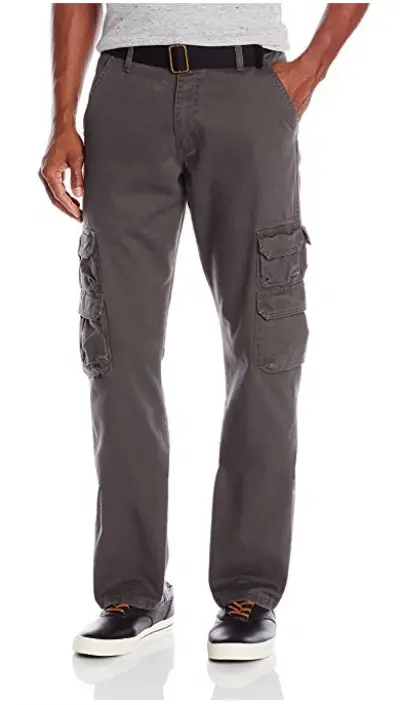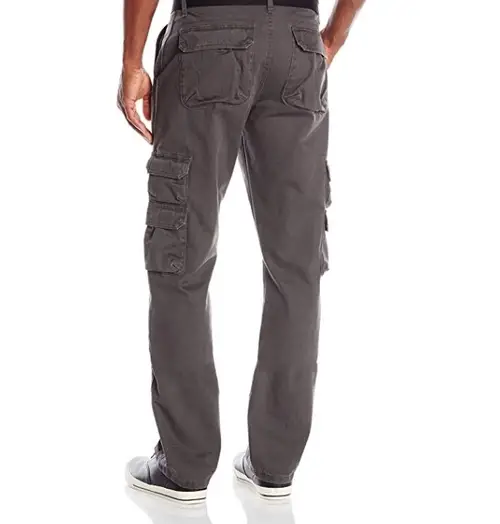 These have the same twill pattern technology as its Authentic Classic Cargo brother. This gives you a strong durable material that will last you a long time. Instead of the classic khaki look, these were designed with a straight and slim look to accommodate taller individuals. Its relaxed seat and thigh maintain the level of comfort that Wrangler prides itself on.
6 Cargo Pockets
The Authentic Twill by Wrangler comes with 6 stacked cargo pockets. The top two are smaller pockets for limited storage space. Underneath those are large flap pockets for considerably more room. Together this creates a lot of additional space for you and your gear.
Stain Resistant
They also come with stain-resistant technology so you can keep a clean look on the job. You can be more relaxed knowing you don't have to worry about spills or blemishes.
Cost and Value
The Wrangler Authentic Twill is more cost-effective than its competitors. With a lower cost, you still gain twill pattern pants with 6 cargo pockets and stain-resistant technology. This creates a great value deal for those looking to try the classic style.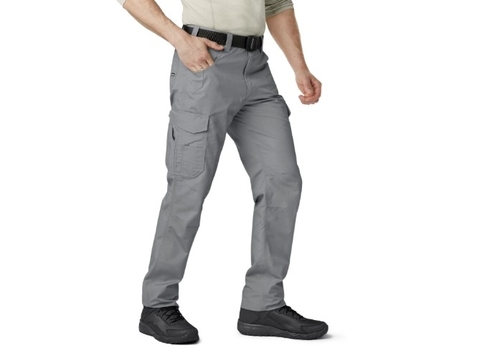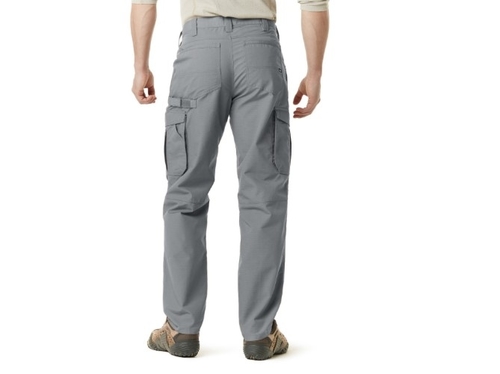 Everyone knows purchasing a pair of cargo pants that are versatile and can get the job done without being overbearing or restrictive is not the easiest thing to do. You can almost consider it a challenge. If you are on the market for a versatile yet comfortable, look no further these CQR Tactical Pants are one of best in the market.
Durable Material
One of the features that stands out from most about these pants is the material. Constructed out 65% polyester and 35% cotton, these pants are extremely durable and reliable. Furthermore, they have a unique rip-resistant material weaved into them to ensure they are as rip-proof as possible. To further enhance its rugged feel the brand added wrinkle, fade, and shrinking resistance so that you as the consumer can feel comfortable wearing them to church or to work. Thus giving you peace in mind, that these pants will remain intact, for a longer period.
Built-in Repellent
As stated above the materials that these pants are constructed out of is one of the reasons why they are so versatile and functional. So, not only are you getting a quality product that is built to last and can be used in multiple different scenarios but the fabric has built-in repellent. The repellent will help keep liquid, dirt and other sticky residues from remaining on the pants. Think of it as a form of keeping the pants as clean as possible for as long as possible.
Cost and Value
When it comes to the price you are getting a mid-range value. Furthermore, when you take into consideration how versatile and sturdy these pants are then you will notice just how valuable and reasonably priced these pants area. Additionally, they come in an array of color selections to choose from, so you can get a product that not only will last a long time but is something you can use for a multitude of occasions.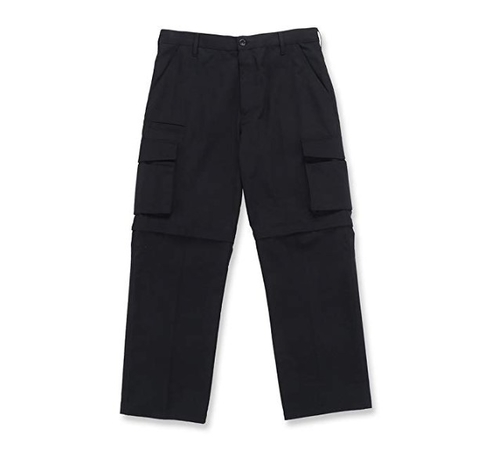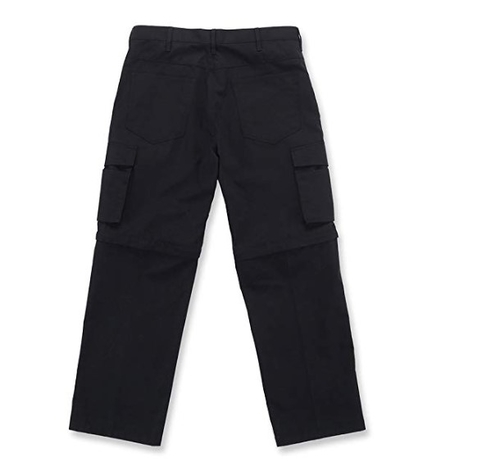 Having a pair of pants that you can wear on multiple occasions is always a good idea. Thus why these have become quite popular in recent years. With that being said, the Bienzoe Men's are truly one of the best options to choose from when it comes to finding a pair that will get the job done effortlessly.
Attention to Detail
One feature that truly makes these pants a top contender to us, is how much attention to detail the brand focused on. While these might seem like a traditional design they are anything but. Featuring water-resistant, breathable quick-dry fabric that is paired with Omi-shade sun protection, you are getting the best of the best. You have the ability to wear these pants when it's raining or in extreme sunlight and know that you will be protected. Just like if you wore these pants to an event, they will protect you without being obvious to the naked eye.
Large Pockets
Featuring large pockets these pants become even better. The large pockets are great when you need a space to place bigger items while you are on the go. Furthermore, you are getting front and back pockets for an added dose of convenience. It's all about getting the most out of what you are wearing.
Cost and Value
When it comes to the cost and value of this item you are getting a mid-range price. Furthermore, with the features that you are getting plus the ability to select which color works best for you, you are getting somewhat of a bargain.

Subscribe to our Newsletter