Best Flannel Jackets Reviewed for Extreme Cold – 2023
In a Hurry? Editors choice: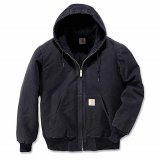 Test Winner: Carhartt Quilted Flannel

Many jackets can be worn year-round; however, nothing exemplifies fall and winter style like the perfect flannel jacket. The best flannel jackets reminisce to the rustic, outdoor nature of this strong, yet comfortable wearing fabric. Many brands are finding better and newer ways to modernize them for today's men and women. Regardless of where you find yourself in the outdoors, there is always room for one more flannel coat in your wardrobe.

Some of the best flannel jackets for the cold are not only durable but look good as well. We made sure to select durable, comfy and super warm options that are sure to keep you cozy outdoors facing the elements as well as indoors during the colder winter months.
Standout Picks
Criteria Used for Evaluation
Comfort
During our evaluation process, it was important that each option on the list was super comfy to wear.
This may mean including different features such as adjustable waists, shoulder vents, or softer insulation. There have been thousands of customers who have purchased a flannel jacket that looked comfortable; however, it was stiffer than a wooden board. This is why we truly tested each option and checked customer reviews to see whether there were any complaints when it came to comfort of wear.
Effectiveness
Usually flannel jackets are the ultimate goal for those who are looking for a casual jacket that is extra warm.
So, in our research, we paid special attention to insulation and similar features aimed at keeping you warm. If you want to purchase a jacket that grants warmth, pay close attention to options that are known for their insulation and lining.
Durability
Every single flannel jacket is built from unique materials. Understanding what a jacket is made of, including the interior lining, pockets, and any other feature is important.
In some cases, brands use high quality cotton. In other cases it's some other material known for its durability. In any case, it's always good when a brand offers you money back guarantee. We did include a few options that come with such a warranty!
11 Best Flannel Jackets
1

. Carhartt Quilted Flannel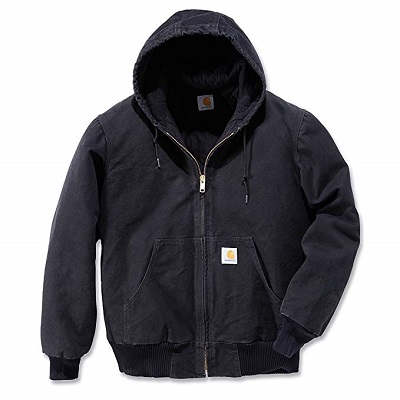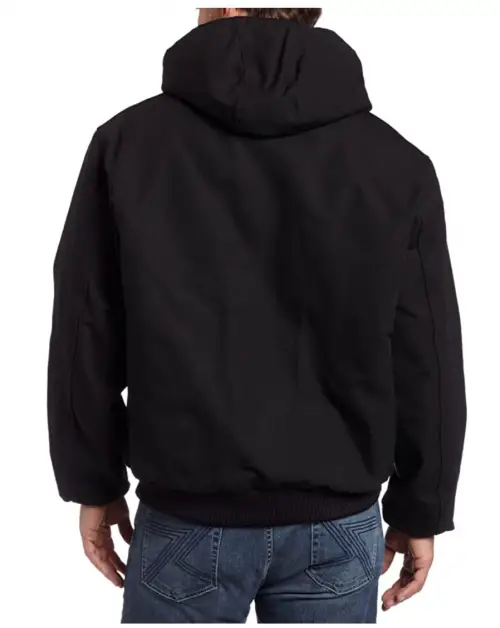 The Carhartt flannel jacket is hands down the best option we found out there. This jacket is built from some of the strongest and most durable materials, also granting extreme insulation and protection from wind and cold.
12-Ounce Cotton Sandstone Duck Fabric
Understanding what materials are used in creating a flannel jacket speaks volumes about the quality of the manufacturer. This specific jacket was built from 12-ounce 100% cotton sandstone duck. What this means is that it's designed for the cold. Additionally, this fabric is lined with quilted flannel and nylon to promote a softer and more comfortable feel.
Rib-Knit Cuffs
Have you ever purchased a jacket or sweatshirt just to find out that the cold weather kept getting to your skin? Carhartt sought to prevent this problem by creating rib-knit cuffs and a waistband. What this means is that you can control and prevent any extra cold air from seeping through the most-prone areas. Partner this with heavy-duty lining and insulation and you have one great jacket.
Cost and Value
This option is the most expensive on our list. However, this is one of the best-built flannel jackets on the market today. There are even 11 different colors to pick from – you can't go wrong!

2

. Volcom Field Insulated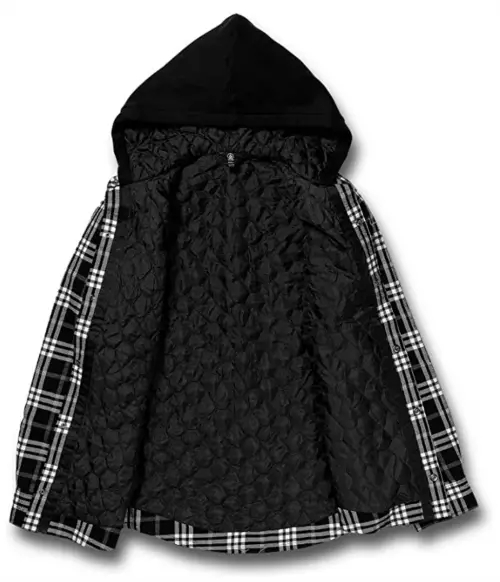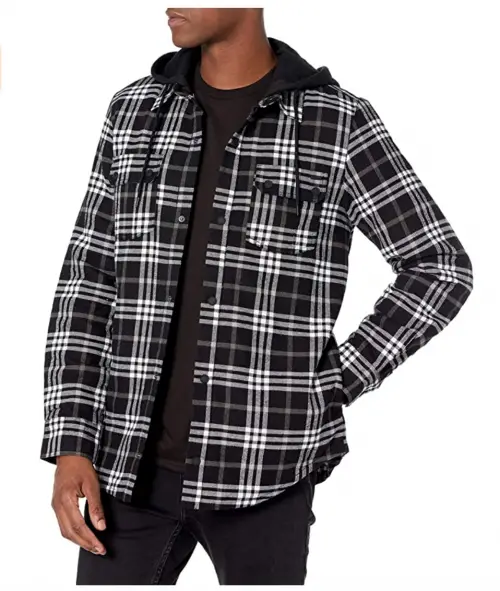 If you want an extra layer to keep you nice and toasty, look at the latest Volcom flannel jacket.
Adjustable Features
This option features a popper fastening along the front of the piece, allowing you to adjust the jacket easily so it is either closed or open. It comes with cuff snaps, giving you the option of having fitted cuffs or loose cuffs that can be rolled up. 
Comfortable Design and Materials 
Made from 100% cotton this snow flannel jacket is super soft to wear against your skin. Featuring a good amount of insulation, you will not be caught cold. The large hood also provides additional warmth and protection around your neck and head. The jacket includes a set of side seam hand pockets and chest pockets, giving you lots of space to store personal belongings. Available in two color options, you can choose from either black or army. The piece is also available in a variety of sizes ranging from X-Small to X-Large. 
Value and Cost
Sold for a high price, this is another of our more expensive jackets in our collection. If you are looking for a thicker, warmer item, this is a great pick. However, it may be too expensive for some. 

3

. Legendary Whitetails Archer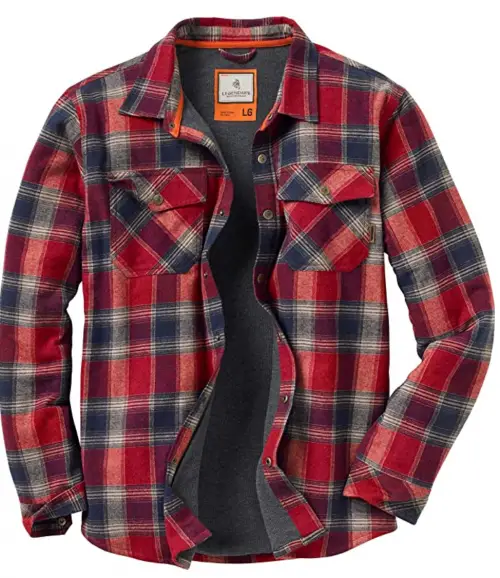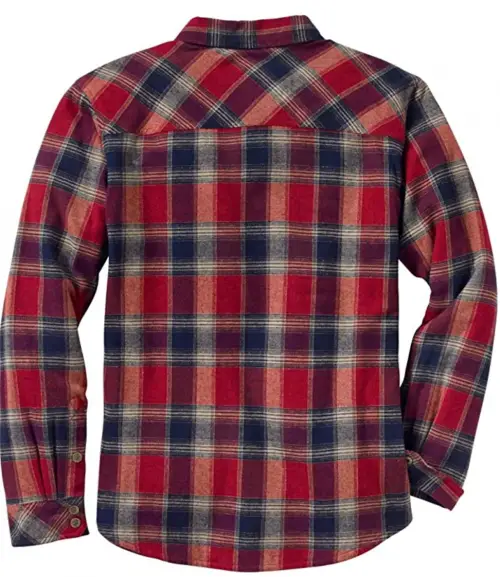 This option was constructed with the very best materials. This includes the company's patented snaps and embroidery, poly-fill insulation, and much more.
High-Quality Build
If you are looking to pick out the best flannel jacket on the market, you need to pay close attention to the materials used in constructing it. This flannel jacket was made from materials including 100% cotton yarn-dyed plaid and a mixture of cotton and polyester. Due to this, it features extended durability than typical flannel jackets.
Fully Poly-Fill Insulation
What makes this jacket great for those winter months is the fully poly-fill insulation.
Cost and Value
This specific option is considered costlier. We would like to mention though that this is one of the manufacturer's cheaper flannel-based products and honestly, it's worth every penny.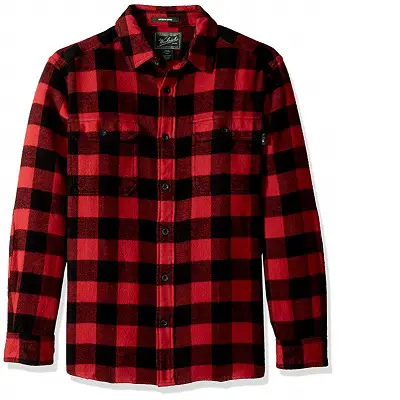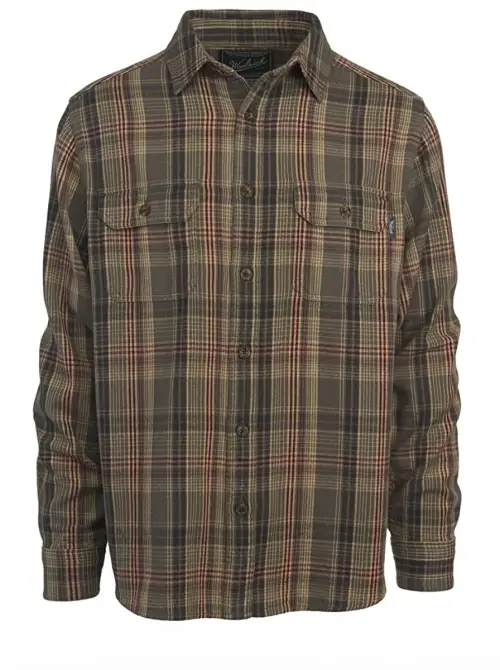 This jacket has become popular because of the high-quality designs, long life-expectancy, and great cost-to-value ratio. If you are looking for a specific flannel design or color, chances are, this brand has you covered!
32 Different Pattern or Color Options
Are you shocked at the idea of having over 32 different patterns or color options to pick from? It's quite staggering when you think about it. In fact, there are so many different options and styles, you might need to scroll through the list multiple times to pick out your favorites. However, given the low cost you might end up wanting to purchase multiple!
7 oz. Heavyweight Cotton Flannel
The one area that caught our attention was the inclusion of 7-ounce heavyweight cotton flannel material. For those who do not know, this is high-quality and thick cotton.
Cost and Value
This option is competitively priced. The brand itself is well known and is considered a leader in this industry – hence their pricing strategy.

5

. Dickies Women's Quilted Flannel Jacket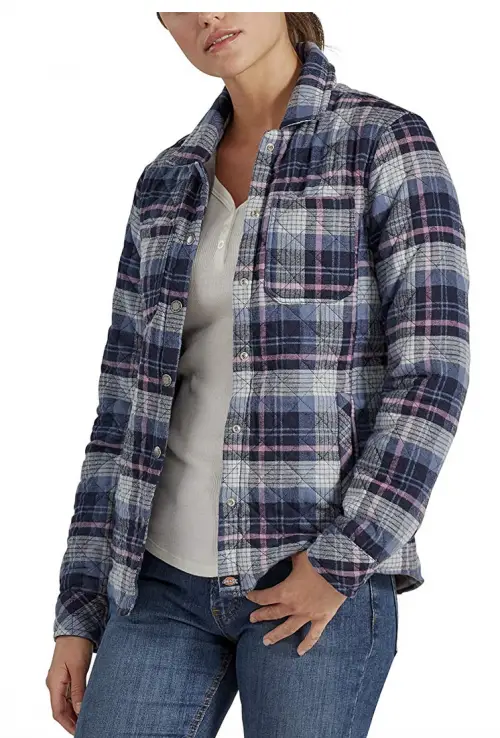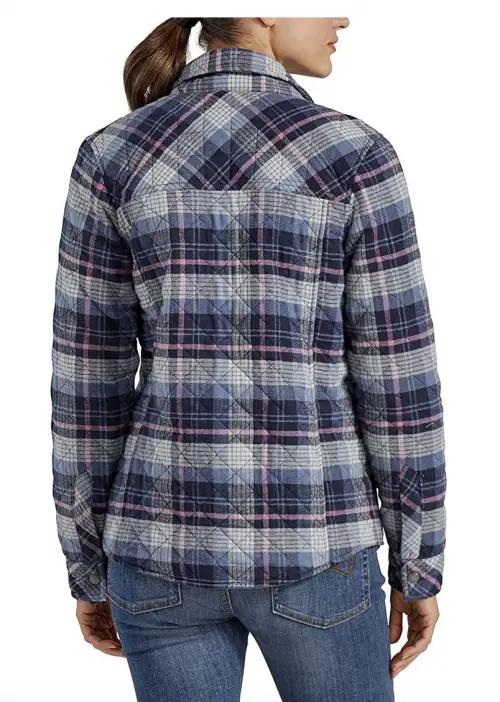 Sometimes some of the best flannel jackets are the more understated ones. Rather than a jacket, this piece from Dickies offers a women's quilted flannel shirt that can be worn with a light top underneath or simply on its own.
6 Different Patterns and Color Options 
The jacket comes in 6 different patterns and colors giving you lots to choose from. Some of the options include Black/ Red Heather Buffalo, Blue Two-Tone Herringbone, and Navy/Dusky Orchid Paid. 
Brushed Flannel Shell 
Made from 100% brushed flannel cotton, this shirt is great for wearing all year round, either on its own or under an item. The piece features a quilted jersey lining, providing the warmth needed in the colder months. Constructed with princess seams, this gives the piece a more feminine silhouette. The shirt has two welt pockets on the chest and two pockets on the lower front part of the shirt. 
Cost and Value 
Sold for a mid-price, Dickies have taken the traditional flannel jacket and have given it a lighter, feminine twist. If you love flannel jackets but want something a little different, this is a great option. Slightly more expensive than some of our other items, this women's shirt jacket may not be to everyone's taste and budget, but we are certain some women will love it!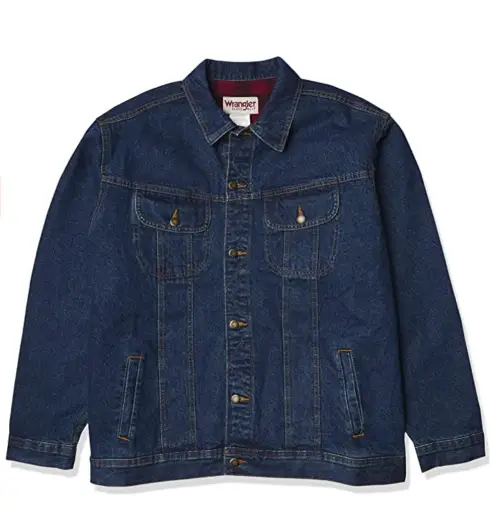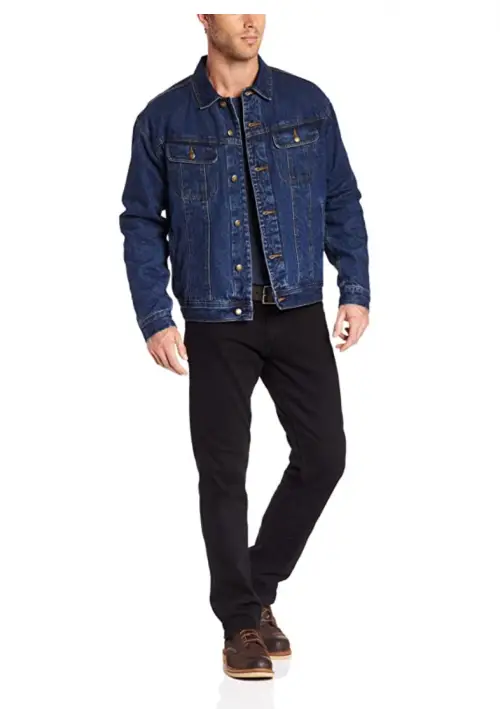 This jacket has definitely been named one of the best on the market today. When buying from Wrangler, you can be sure you are investing in their quality denim and cotton materials.
Denim and Cotton Materials
Many consumers have raved about the impressive touch and feel of the exterior part of the jacket. Additionally, traditional flannel lovers believe the interior lining is the major selling point.
Adjustable Features
What sets this jacket apart from other flannel jackets on our list is the fact that here, you can adjust the waist of the jacket. The reason behind these adjustable features is to provide the opportunity to maximize their comfort. Partner this with secure and tight button cuffs and you get a super warm jacket.
Cost and Value
This flannel jacket was designed by one of the most notable brands when it comes to denim. As a result, the price is slightly higher.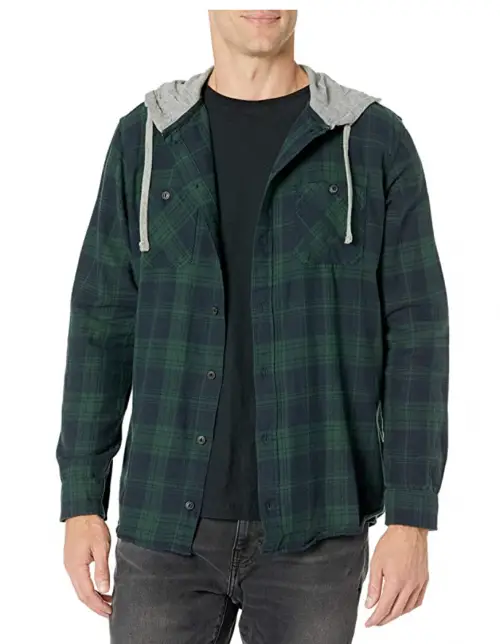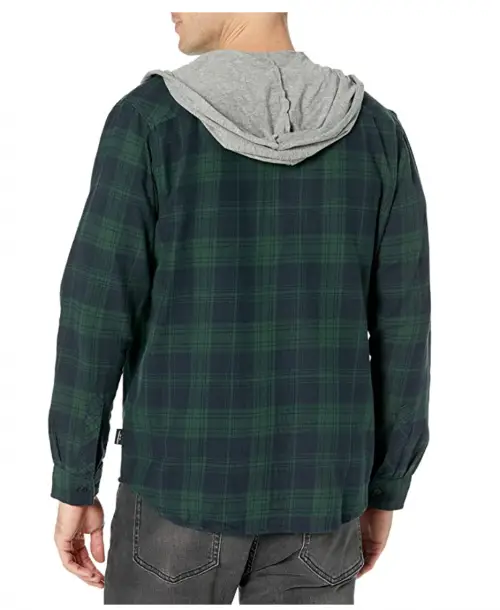 If you are looking for a simple flannel jacket that can be used all year-round and is durable enough to last for a few years, the UnionBay flannel hoodie is something you should consider. With over 11 different color patterns to pick from, you will find that options are nearly endless with this brand.
11 Different Patterns and Color Options
This shirt jacket comes in over 11 different varieties to choose from, which is incredibly exciting.
Great for Layering
Whether it's winter or summer, this is a great flannel jacket that can be used alone or as an additional layer under a heavier jacket. You may even opt to wear thermals underneath for maximum comfort, flexibility, and warmth. The options are endless.
Cost and Value
This option is not expensive at all. If you are looking for something good and simple at an affordable price, this is exactly it.

8

. Volcom Women's Hooded Flannel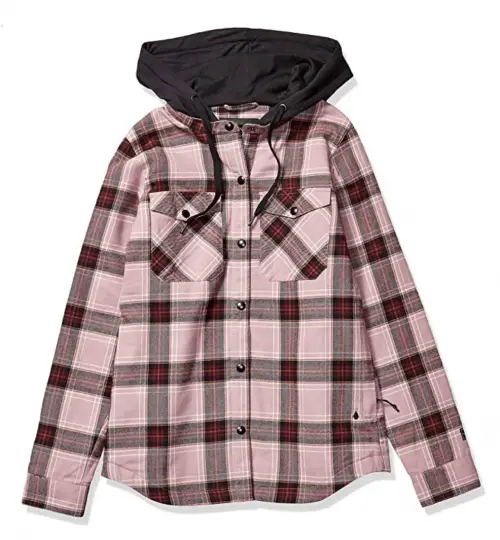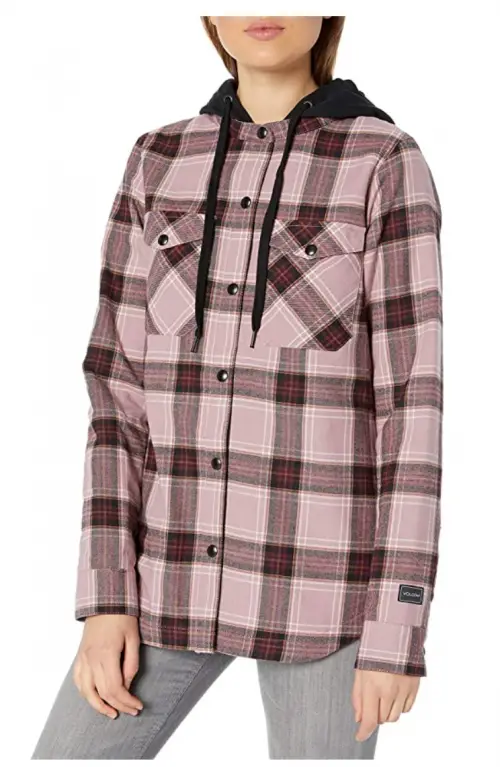 Volcom is known for their flannel jackets and this Volcom women's hooded jacket is one of their best!
5 Different Pattern and Colour Options 
 
The jacket comes in 5 different pattern and color options giving you lots to choose from. Colour varieties include Black, Stripe, Purple Haze, Bone, and Navy. 
Comfortable Design and Materials 
Extremely comfortable and cozy to wear, you will not want to take this jacket off for a single second! Made from 60% cotton, this jacket will be lovely and soft alongside your skin. Featuring a long-oversized fit, the jacket has a hood with drawcords, allowing you to tighten the hood. The jacket uses poppers to fasten close to the jacket and along with the two front chest pockets. The flannel hooded jacket comes in a variety of sizes ranging from X-Small to X-Large.  
Cost and Value
This is among the most expensive option in our collection. If you have a big budget to spend, this is a lovely piece of clothing to purchase because it will keep you warm in colder weather. It also offers a longer, oversized fit that allows you to snuggle up in. However, this piece may be too overpriced for some budgets. 

9

. CQR Flannel Lined Shirt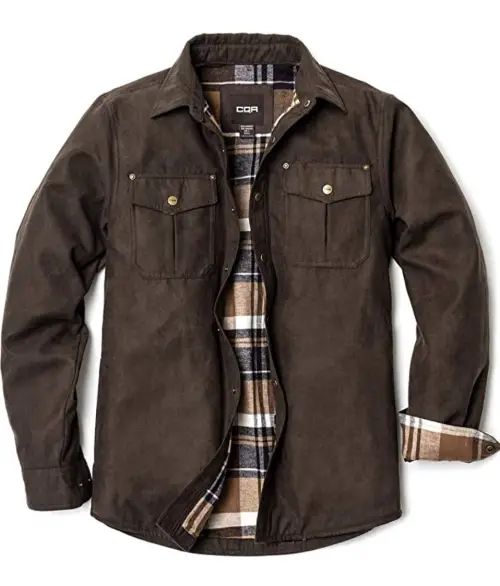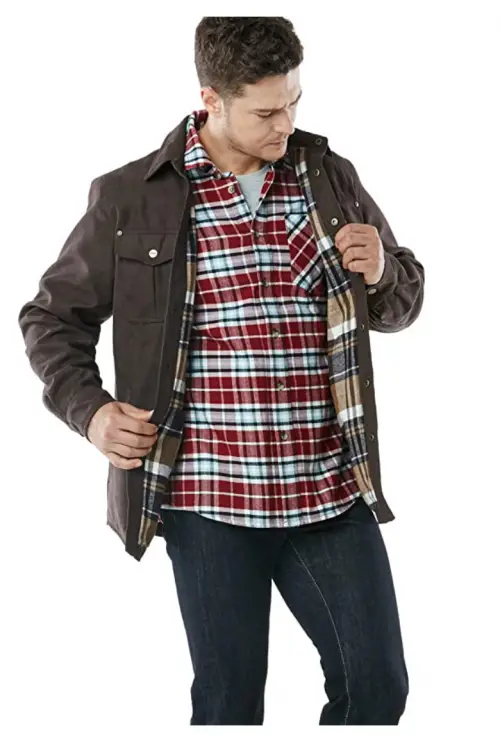 Flannel fabric is normally featured externally, however, the designers at CQR have opted for a more understated look where the jacket is lined with a flannel shirt and has a brushed suede outer part.
Flannel Lined Shirt Jacket 
The flannel lining is made from 100% cotton and has a traditional plaid pattern, consisting of horizontal and vertical bands in two or more colors, varying in width. Available in 8 different color variations there really is something for everyone. 
Comfortable Design and Materials 
This is one of the most comfortable cold weather jackets in our collection. Built for mobility, the jacket has been constructed with rear pleats, providing a relaxed fit and full functional movement. The sleeves can easily be adjusted, featuring hard fast snaps around the cuffs. The jacket also has dual pockets and full-front snap closure. The faux-suede outer is exceptionally durable and will certainly keep the cold out, leaving you nice and warm. The jacket's inner lining is made from yarn-dyed 100% cotton, making the inside of the jacket super soft and toasty to wear. 
Cost and Value
Featuring a faux suede outer, this is one of the more durable jackets in our collection. Sold for a mid-price, you are getting a lot in return for your money with this flannel lined jacket. 

10

. Legendary Whitetails Camp Night Berber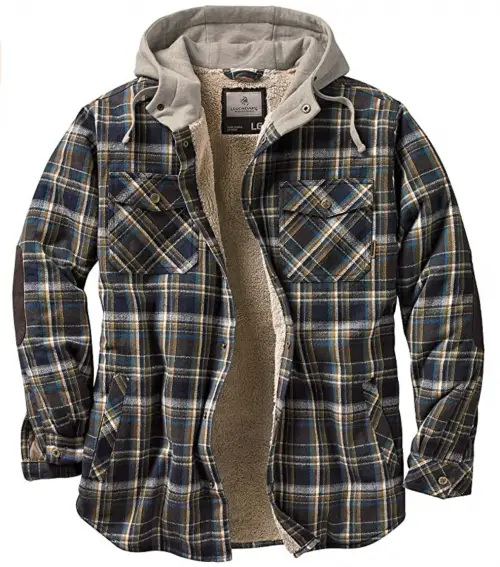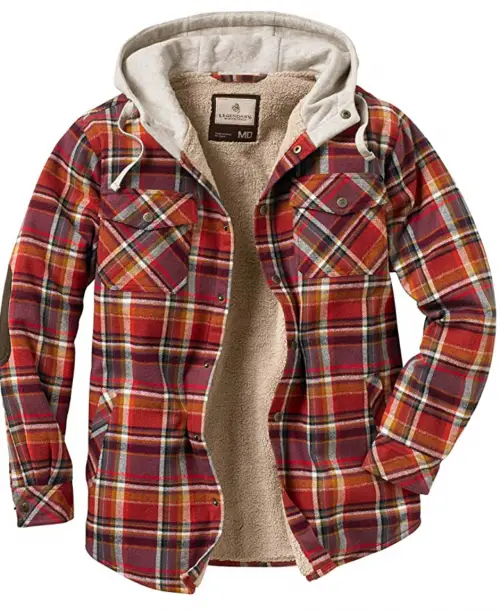 The second option from Legendary Whitetails on this list is a fantastic jacket if you are looking for a quality product. Stylish, soft, and well insulated, you will not want to be without your Legendary Whitetails coat this winter.
Soft Berber Lining 
Legendary Whitetail has lined their jacket with a thick super soft Berber material and insulate it with poly-fill so you will never feel the cold. The large hood is also lined with Berber, for ultimate warmth.  
High-Quality Build 
This hooded flannel shirt jacket is certainly built to a high quality. As well as the Berber lining, the jacket features a full polyester brushed flannel shell with a 100% cotton lining. The coat also has smooth quilted lined sleeves for amazing comfort, warmth, and easy on/off movement.
Great design choices throughout the jacket include reinforced elbow patches and twin chest pockets. The side pockets are also embroidered with the Legendary Signature Buck. When it comes to color choices, this jacket is available in 5 different designs. It also comes in a range of sizes varying from Small to XX-Large T. 
Cost and Value 
If you have a bigger budget to spend, this option should be at the top of your list for must-have buys.

11

. Wrangler Riggs Hooded Flannel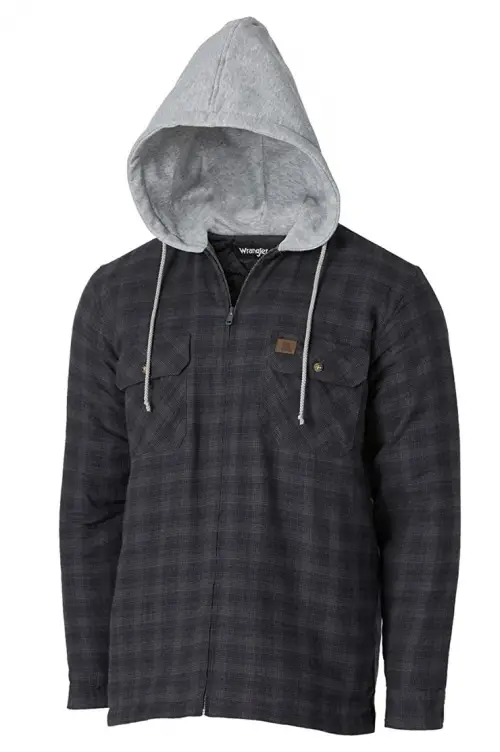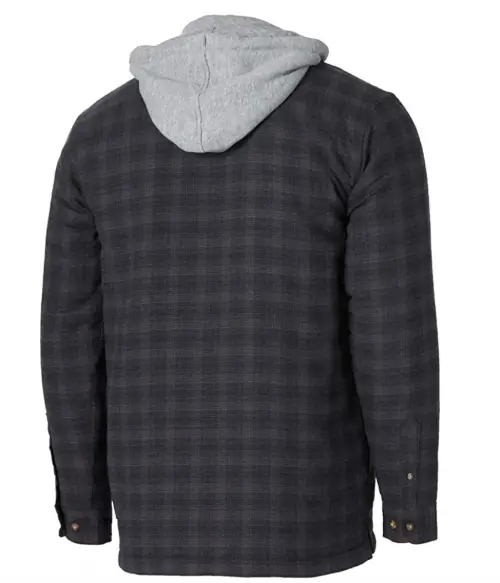 This Wrangler Riggs hooded flannel jacket is a great option if you are looking for a more casual jacket to wear to work. Durable enough for daily wear, this jacket will look great worn with a range of clothes including jeans, chinos, or cords as well as a shirt.
Great for Layering 
Whatever the weather, the jacket is great for layering. The relaxed style jacket offers a looser construction that allows you to move more freely while wearing multiple layers. 
Comfortable Design and Materials 
Made from 100% cotton flannel, the jacket is super soft to wear and will certainly keep you warm when you are outside. The jacket's lightweight insulation consists of a quilted lining that provides extra warmth without being too bulky. Extra coverage also comes in the form of an adjustable three-piece hood that features drawstrings. The piece has two side seam pockets, giving you somewhere to store your wallet or phone. The jacket includes a zipper closure and is machine washable. 
Cost and Value 
Available for a mid-price, this flannel jacket from Wrangler is a great alternative to your coat. Being stylish, lightweight, and warm, this jacket has heaps to offer. Unfortunately, it only comes in one color and the sizes are quite limited. 

Subscribe to our Newsletter