Best Work Pants Reviewed for Comfort & Durability
In a Hurry? Editors choice: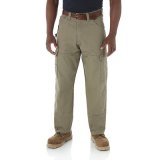 Test Winner: Wrangler Riggs Workwear

Imagine you are on the job, in the field, in the hospital, in any situation that requires you to do more than sit at a desk, and you go to perform your duties and all you can focus on is how rough or thin your work clothes feel. It's distracting, and worrisome if you fear every time you make a move your clothes are on the verge of ripping.
Pants
that you can comfortably and reliably work in do come in a variety of designs and use different materials specifically crafted for an abundant amount of uses. It's quite important to make sure the pair you have can give you the ultimate performance and wear for the job you have to do. This guide will review 10 of the best pairs of pants on the market to give you a better idea of what you need to have.
Standout Picks
Criteria Used for Evaluation
Materials
It is often thought that denim is the best material for this type of products. Denim is thick, tough and hard wearing and is suitable for a wide variety of jobs. Whilst this material is a traditional use in the manufacturing process, it can be too bulky to wear for long periods, it can – by its nature, be restrictive, reduce free movement and not be very flexible. It is a heavy material so it will retain heat, and possibly make you feel uncomfortably hot and it is neither water-resistant or quick to dry. If you work outdoors for any length of time; the last thing you want is damp clothing that is uncomfortable and can lead to skin abrasions.
Modern technology means these no longer have to be uncomfortable and replaced frequently. Many methods of production use blends within the manufacturing process, this combines trusted traditional fibers like cotton and mixes them with man-made materials. This allows plenty of end fabrics that are designed to work with you and keep you comfortable. Some may have a special coating, be waterproofed or water-resistant, they may be breathable and quick drying. These combinations can make the difference between a good day and a bad day.
Use
Of course, when you know what work you will be doing then you can choose your clothing. Work pants are generally just what they say they are – quality clothing for work. You don't want to be spending good money on a nice pair of trousers and wear them to do something that's 'not too messy or rough'…only to find them ruined or to potentially cause injury to yourself because they are not up to the job. The design of the clothing should be appropriate for the job, you don't want super skinny lycra-like clothing for fixing up the garden fence! And thinner cotton pants are an absolute no-no for chopping wood or building.
Undeniably the type of work you do should determine what you will be wearing. Work pants for different jobs will need different attributes, you may need a pair with extra thickness in certain areas – like on the thigh or knee. Padding and tough features are key to making sure you are kept comfortable when you're working. If the job involves chemicals – the best way forward is to either ensure your employer provides suitable protective wear, or see a specialist so you can make sure your health and safety are the priority.
Fit
Another thing to think about when you're looking for your next pair is the overall fit. Like the differences in sizing, the fitting can make an impact on wearability. If you are in a more physical and active role, a relaxed fit may be more convenient because it will not reduce flexibility. The width of the thigh and seat can vary too, and if you are well built around that area it may be worth an extra look at dimensions before you buy. There are loose fitting, wide fitting, comfortable fitting, and close fitting – of course, each will provide different feels and closeness to the skin, how you best feel comfortable will be your aid to choose.
A possible plus that you may want, is a work pant that has a wider bottom so you can pull them on and off over work boots. This can be especially useful if your new items are worn over lighter day wear, or if you simply want quick and easy access and removability. For instance, if you are covered in extreme dirt or something dangerous and need to get out of your pants quickly. If you're soaked from being caught out, or worse still wet and cold – a rapid removal is an ideal answer for a quick return to comfort.
Features
When you're off to work or set out to do some home DIY, the last thing you want is to have to keep returning to your toolbox for bits of kit. A good pair will have pockets of varying sizes and inconvenient, easy to reach positions so you can have all the important stuff close to hand. Another feature to look for is hooks and loops which enable you to attach tools and kits to yourself when they are too bulky for pocketing. Velcro straps can also help you to reach tools with ease when mobility is restricted.
If you're on your knees for any length of time, then knee padding is going to be important, some designs have thick pockets of padding around the high-stress areas. And another option can involve a tougher patch sewn onto the outside to ease pressure on your knees. Adjustable waistbands can be a great feature because they allow you to fit your individual size. If you're wearing the same pants day in and day out – you will know that one size definitely doesn't fit all.
Value
Other than your tasks at hand, there's nothing more important when you have an all-hands-on job than feeling comfortable during your entire shift. Standing, bending, sitting, you name it. The minute you know you have a tough job to do, you know you need a decent pair of work pants. The last thing you want are fabrics that will be uncomfortable, delicate and that will wear out quickly. Likewise, you don't want to be wearing your best pants for a dirty job when you know they are likely to get ruined.
We rated pants in this criteria based on how much they cost compared to the quality and their overall durability. Some of these are really tough and worth the money, while others not so much. You should also check out what reviewers have to say about the product as well.
BEST WORK PANTS REVIEWED FOR COMFORT & DURABILITY
1

. Wrangler Riggs Workwear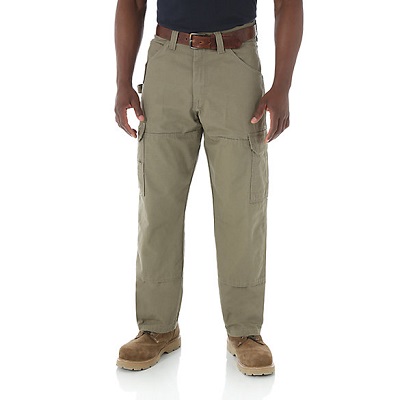 The Wrangler Riggs Workwear pants are designed in a rugged fashion and are a stylishly relaxed fit. They have smart contrast leather additions on a front pocket and top lined on the back pockets. They are available in seven colors and in both ripstop fabric and dura-shield denim. All are designed to be tough and hard wearing, being made from 100% cotton. They have a button fly and benefit from having belt loops placed for even security around the waist.
Breathable
The Riggs Workwear ripstop fabric pants are ideal for a variety of working environments due to the breathability of the fabric and boast being tear resistant. The denim pants have protective dura-shield to prevent abrasion to the exterior and retain color.
Features
These work pants have Cordura lined back pockets, are complemented with an action gusset and the trademarked room2move fit. They have a variety of pockets and a hammer loop for maximum convenience when reaching for the important tools.
Cost and Value
The balance between the cost and value of the work pants is equally focused and the trusted Wrangler brand lives up to its name with the toughness and hardy design. These pants are very good value for money.

2

. Carhartt Washed Dungaree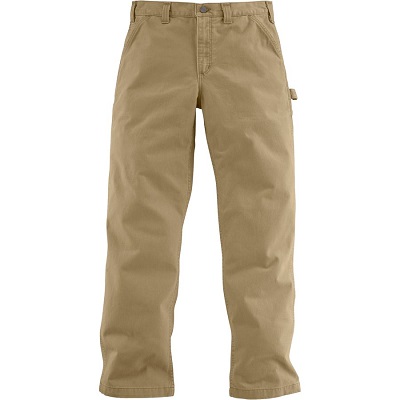 These Carhartt washed duck work dungarees are produced with cotton for functional comfort and durability. The original fit pants are designed for complete practicality when working and benefit from a hammer loop, and a wide range of utility pockets for convenience. They sit comfortably on the hip and have a wide 19" leg opening so are easy to get on and off over work boots. The heavyweight material is only 12 oz so retain a flexible and comfortable fit during the working day.
Reinforced
The Carhartt washed duck work dungarees are reinforced in high-stress areas around the back pockets, and the seat and thigh design are full so there is strength where it's needed most. The thicker weave also makes it ideal for wearing in warmer temperatures.
Easy care
These pants are fully machine washable and boast a flat-front which isn't bulky. The slim waistband and slanted side pockets all add to the easy care these pants require, easy to wash, dry and wear over and over in relative comfort.
Cost and Value
The Carhartt brand is well known and trusted for quality products, these pants do not fail in delivery and the easy care bonus, coupled with the features that are fitted as standard - ensure these work pants are a very good value for money.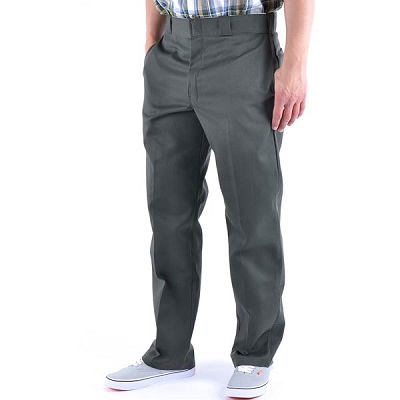 These Dickies Original are manufactured with 65% polyester and 35% cotton, and they are available in a wide range of colors. They boast being tough and have a classic rise that will rest on the waist and have tapered legs. They are comfortable for a variety of different work requirements and are cut in a timeless design that features a hemless bottom, which makes them less likely to snag and pull apart with long-term use. They benefit from being available in two leg lengths of 37" and 39" so less chance of them dragging underfoot.
Stain Release
The Dickies Original has an in-built stain release which will reduce the build-up of stains and give the pants a longer life by maintaining the appearance. This not only gives them a longer life but also reduces the cost of constantly renewing the working wardrobe.
Versatile
The toughness of these traditional work pants means they are versatile enough to be used in a wide range of work environments. The fabrics used, boast being 'indestructible' and are made easier to use with the clasp closing for the top so no struggling with buttons.
Cost and Value
The trusted and well-known brand of Dickies has been around since 1922, and the expertise and production used in the manufacturing of these pants mean assurances of both cost and value. The lengthy life that is attainable with these makes them excellent value for money.

4

. 5.11 Men's Taclite Pro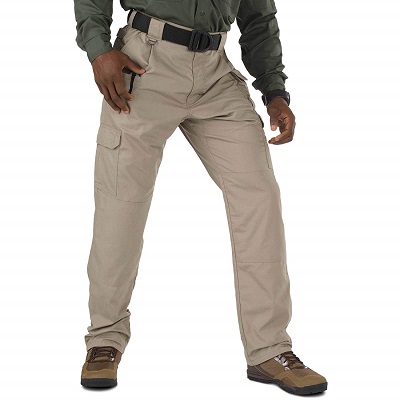 The 5.11 Tactical # 74273 pants are made with a polyester and cotton mix - 65% and 35% respectively and are designed to be super tough ripstop. They are treated with Teflon wear-resistant finish which makes them ideal for a wide range of work activities. The quality of the material is produced with longevity in mind and this makes them last even during the toughest of roles. This is boosted with a triple-stitched reinforcement and efficient inner additions to enhance the life of the work pants.
Closures
The quality YKK zippers ensure a safe and comfortable durable opener, and incorporated Prym snaps and a clip loop for better-defined use. They also benefit from a flexible and strong gusset for maximum comfort and dexterity when working.
Pockets
These 5.11 work pants come with useful D-rings on the hip area and benefit from two practical cargo pockets and an extra pocket sized right for a valuable cell phone or even a magazine. The generous bands on the waist allow for a belt to ensure they stay put and comfortable.
Cost and Value
The 5.11 Tactical are at the middle end of the market, but the quality and overall features that come with the work pants, ensure that these will be a great purchase that is not only fully functional but is also designed for longevity and comfort.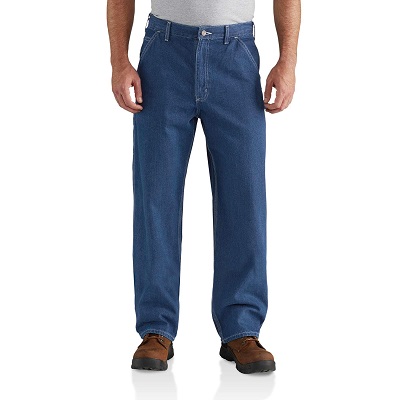 The Carhartt washed denim work pants are designed as dungaree relaxed fit, and they are made from 100% cotton and are heavy duty for tough working days. They are available in four denim shades and boast being machine washable. They have a useful wide leg opening and bottom for quick access and removal with work boots. The style is versatile and can be viewed as smart casual as well as standard work pants.
Multi-Pockets
These washed denim work pants benefit from having eight pockets incorporated into the design, all of varying sizes and at placements where reaching the work kit is handy and convenient. There is also a useful hammer loop for added functionality.
Denim
The work pants are denim by design and weigh only 11.75 oz, they also benefit from a zipper fly so no fiddly buttons to contend with. They are easy care too, being able to machine wash them at home makes them practical and functional.
Cost and Value
The price of these Carhartt washed denim work pants is balanced nicely with the overall quality and features incorporated into them. The comfortable, relaxed fit and substantial storage pockets make these a great value and a good addition to any work wear.

6

. Dickies Scrubs Gen Flex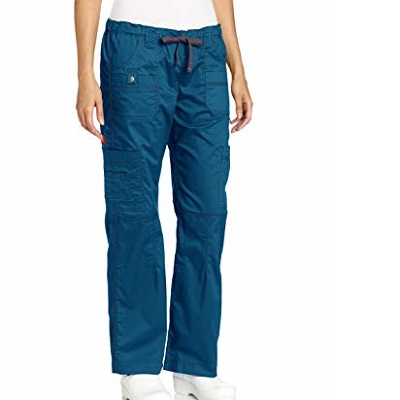 These work-ready pants are available in a vast array of colors and are produced with 52% cotton, 45% polyester, and 3% spandex for ultimate comfort. They are designed as low rise and have a comfortable straight leg, incorporated into the elasticated waist is an inner drawstring so they are individually sized. For added flexibility, they have wide belt loops so the waist size can be fully adjustable to improve dexterity during any work activity.
Style
The Dickies Scrubs Gen Flex benefit from the extra style with a contrasting top stitch that is achieved through multi-needle sewing. This gives a boost of having that extra style in a work environment that is better emphasized in the overall comfortable fit.
Multi-Pockets
These work pants benefit from seven pockets, two generous cargo pockets, two front patch pockets; one of which has an elastic loop, two back pockets and an interior pocket for personal valuables. They also boast pen holders on the outside for easy to reach items.
Cost and Value
These mid-range work pants are extremely good value. The level of comfort they provide with the materials and the stylish fit, coupled with the range of pockets and the elasticated waist - ensure they are an excellent all-rounder and well worth the money.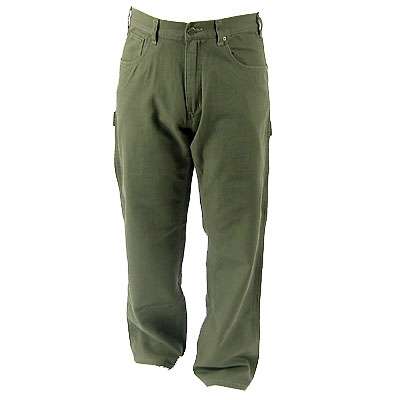 These Carhartt Loose fit work pants are manufactured with 100% ring-spun cotton canvas, they are designed loose for comfort and freedom of movement. They benefit from having two hammer loops, and five varying sized pockets for tool storage that are easy to reach for convenience. To boost this, there is also an added pocket suitable for a cell phone, They have a wider leg opening to fit over work boots and further improve the overall functionality of them.
Lightweight
The work pants are light to wear and this means freedom of movement and benefits from a full seat for maximum comfort. They are designed to fit comfortably on the waist and reduce rubbing and pulling on the hips when in use with tools.
Comfortable
The loose fit design of these pants means they are comfortable to wear for long periods at work and allow proper freedom of movement. The hard wearing fabric is designed to be both tough, practical and comfortable in most work environments.
Cost and Value
The quality of these work pants combined with the features like the extra pockets, and the overall light feeling they have, make these a worthwhile purchase. The loose fitting and the functionality of them, on top of the toughness - ensure great value for money.

8

. Cherokee Workwear Scrubs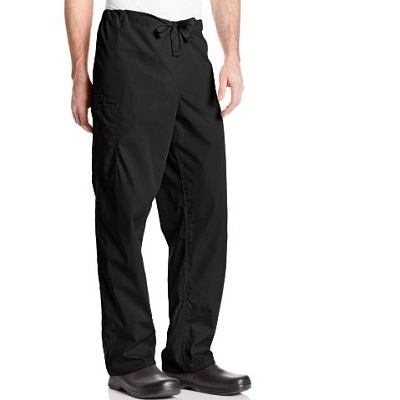 The Cherokee workwear is available in a wide range of colors and is manufactured with blends of 55% cotton and 45% polyester for the white, and for the colors - 65% polyester and 35% cotton. They are a comfortable design and are practical for a variety of work environments. They also benefit from having a natural rise casual look. These Cherokee workwear scrubs are ideal for warmer temperatures and environments due to the light .96 oz weight they come in at.
Easy Care
These pants are fully machine washable and this gives them a great bonus. They are easy to wash and dry. The light production of these pants makes them practical and multi-functional.
Pockets
The Cherokee pants boast a cargo type pocket and an inside pocket suitable for personal valuables, and the added bonus of the drawstring waist means they are more practical because of the ease of getting them on and off.
Cost and Value
The features that come as standard with these pants, including the pockets and the drawstring waist, added to the overall versatility and easy care - ensures that the balance between cost and value is equally matched and they are a very good purchase.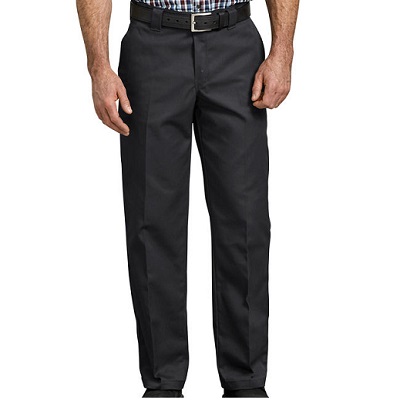 These Dickies relaxed fit are made from comfortable 100% cotton, and the duck-cotton garment washed work pants are hard wearing and versatile. They benefit from being triple stitched in the high-stress areas at the seat, side, and waist for extra strength. Another strengthening addition is the brass rivets strategically placed to reduce wear on high rub areas. They are designed wide fit at the bottom so can be easily put on and taken off over work boots for extra convenience.
Tight Weave
The relaxed fit jeans are tightly woven which gives longevity in use and reduces rips and tears. The extra room provided by the fit is more comfortable around the seat and thighs and so makes them ideal for a wide range of work activities.
Versatile
These work pants have a useful hammer loop, and handy tool pockets conveniently placed so it is easy to reach. The 1.6 lb weight resolves restricted flexibility and helps to improve free movement in daily work tasks.
Cost and Value
The overall cost and value of these work pants are on an equal par, the comfort and ease of use combined with the hard wearing duck-cotton weave, make these economical and practical and consequently an excellent purchase.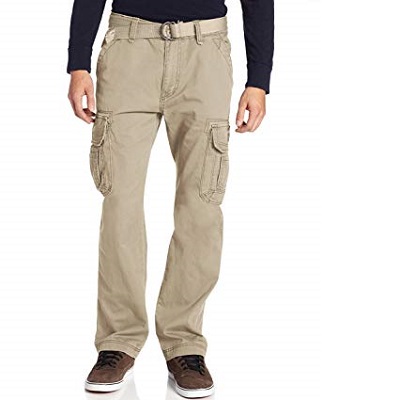 These classic Unionbay Survivor work pants are manufactured with 100% cotton and are available in a wide variety of colors and sizes. They have side cargo pockets that are easy to reach. The belted waist allows for individual fitting and they benefit from a zip fly for convenience. These work pants are comfortable to wear and the seat and thighs are not tight so they do not restrict free movement or cause chaffing. They also benefit from having deep pockets so there is enough room for a variety of tools to be kept within easy reach.
Quality
The overall quality of these Unionbay work pants is excellent, they provide durability with toughness, soft materials, and comfort. The belt loops also allow adjustment on the waist so they can be made into the perfect individual fit.
Versatile
These Unionbay work pants are designed in a traditional way that allows them to be used for casual going out as well as for work wear. The classic cut and comfortable fit mean they can be used for a wider variety of everyday uses.
Cost and Value
The features offered in these traditional cargo work pants, combined with the comfort fit they benefit from, and the extra deep pockets ensure both cost and value are well balanced and these are a great buy for the price.

Subscribe to our Newsletter