Best Waterproof Gloves for the Outdoors Reviewed
In a Hurry? Editors choice: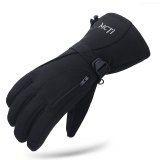 Test Winner: MCTi Waterproof Ski Gloves

The search for the perfect glove can sometimes seem like a daunting task. There are fancy kinds of gloves and there are practical gloves for keeping your hands warm and protected. These are the
gloves
you put on when you intend to get deep into the frozen wet stuff and make a statement. These gloves are the ones we're talking about today. This guide will review 10 widely available
gloves
to give a balanced overview of them; with the intention of making the choice of getting the right
waterproof
glove for the job in hand.
Standout Picks
Criteria Used for Evaluation
Fit
An important consideration when buying gloves is how snug are these going to fit? But further along, that line is how am I effectively going to seal my gloves shut so that no cold air can get into them at the bottom? There are several options here and one is certain to fit your needs.
The most simple one, while perhaps not the most effective one, is to just have the gloves be tight fitting so that they seemingly seal simply by putting them on. That works great if the gloves do in fact fit like a glove, but if they are even a little bit too big can cause a problem. It is super easy to just slip them on though, so if ease is what you're looking for this may be the style for you.
Another option is a zipper. This is a great option because it will allow you to really get a good, snug fit. This is a common option for thinner gloves and serves its purpose there well. However, the big con here is what happens when the zipper breaks? Because of this, it does give limit the longevity of your gloves.
An option that has been popular for a very long time is the drawstring. This works great with bigger, bulky gloves that are more common in really cold winter sports – high speed, high wind, and potential for a much colder atmosphere. It allows you to secure the glove nice and tight, despite how snugly the glove fits otherwise. The obvious downside here is that you will only really see this option with big, bulky gloves.
Advanced Features
In today's world, you are getting left behind very quickly if your product isn't compatible with a smartphone. Gloves obviously pose a huge barrier to the ability your phone has to sense your fingers in order to be responsive. The last thing you want to do though when you're out in the freezing cold is take off your glove in order to respond to a text.
How can they make gloves touchscreen compatible? There are several options, but a couple of the most popular involves either making the gloves with conductive material or sewing on conductive patches at the fingertips. As with anything, both options have their pros and cons, but if being able to text without removing your gloves is important to you, you will likely be satisfied with what you're able to find.
Most gloves that allow you to use a touchscreen while wearing them are of the thinner variety. It's a tradeoff you make when you're aiming to be able to function as your naked hand does. This can make them significantly less warm, and depending on exactly where you are, that may or may not be the deal breaker.
Water Resistance
Okay, so you have waterproof (or water-resistant) gloves that you feel confident will keep any water going from the outside in, but what about any moisture that happens inside of the glove? Yes, we all sweat even when it's cold outside. In fact, if we have geared ourselves appropriately, we are all very likely to produce enough sweat inside of our gloves to have it be noticeable. How can we prevent that water from becoming a problem?
That is solved by a glove's moisture wicking ability. Most are built to wick the moisture from around the skin so that it doesn't build up. This will allow you to stay warm and, just as importantly, comfortable for all of the time you are looking to spend outside.
To be aware though, that thinner gloves are going to reach their capacity much sooner than thicker ones. This should be compensated for due to the fact that you likely aren't going to buy thin gloves that you would use for running to go snowboarding in. Buy wisely and according to the sport or activity you are looking to do in the cold and you are more likely to be satisfied with your purchase.
Size
One of the most important decisions you'll make when purchasing your gloves is what size to buy. As with most things, sizing can vary widely between manufacturers causing much confusion. It's important to measure your hand correctly so that you can read the sizing charts and know where you fall without a doubt.
To do this, you want to measure around (full circle) the largest part of the palm of your dominant hand. What you are going for here is the circumference. You will then use this number to compare to each individual size chart and know what to get!
Top 10 Picks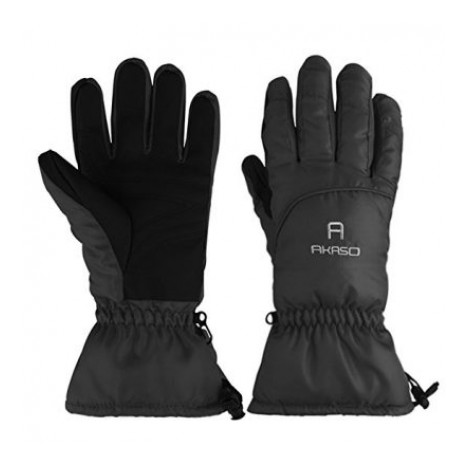 The Akaso gloves are manufactured with high-quality fleece insulation which gives the bonus of a thick soft inner. This adds warmth and retention and is comfortable next to the skin. They are made with contemporary materials and this gives them more waterproofing and windproofing qualities that make them more comfy, snug and practical.
3M Thinsulate
The layers of 3M Thinsulate provide essential breathability whilst being thin enough for ample dexterity. The trusted brand ensures confidence in cold temperatures for longer periods.
Drawstring Closure
The gloves benefit from a drawstring closure to help maintain heat and keep the wind out. This not only traps warm air in - but it keeps the chill and the cold out.
Cost and Value
The bonus Thinsulate layers and extra features make these gloves exceptional value for the money. The gloves are high quality and the contemporary design and materials used, guarantee a good buy.

2

. MCTi Waterproof Ski Gloves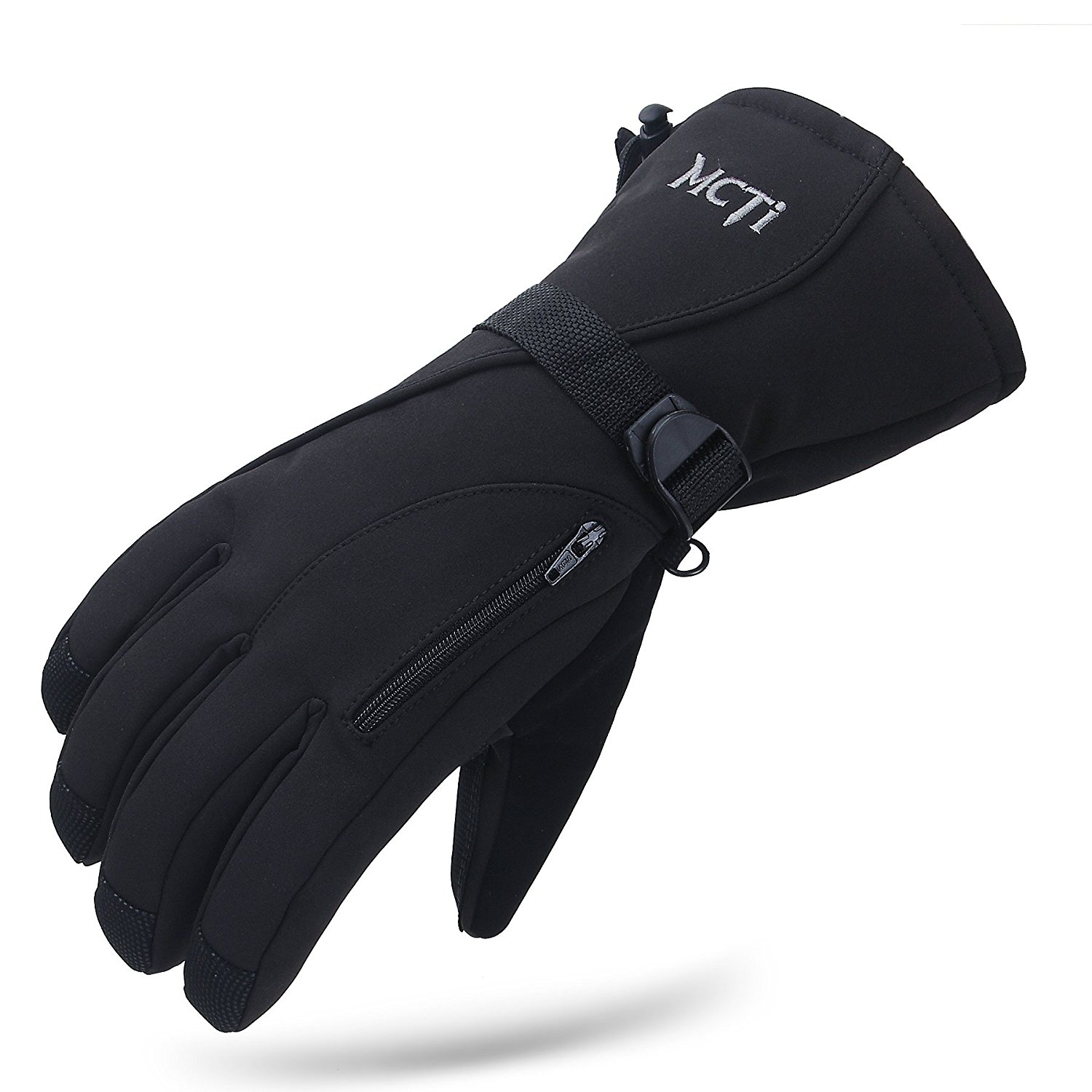 These winter ski gloves are perfect for protection against wind and water, they boast being breathable and comfortable to wear. The inners are soft and the overall feel of the glove is flexible; which in turn improves its' versatility. They are designed for extreme snow sports and a must but for the hardy outdoor pursuits to guarantee warmth for longer periods.
Adjustable Wrist Straps
The gloves benefit from a fully adjustable cuff which allows for a perfect, airtight comfy fit. This keeps warmth locked in and prevents slipping, dropping and chill penetration.
Thermal
The thermal qualities of these gloves ensure proper protection from the cold with the insulated interior. The warmth provided by the thermal interior seconds the wrist for keeping warm in and cold out.
Cost and Value
These gloves are ideal for a wide range of outdoor activities and this provides reasonable value for money. They are equally good on practicality and value; plus being designed for extremities adds a bonus to the value.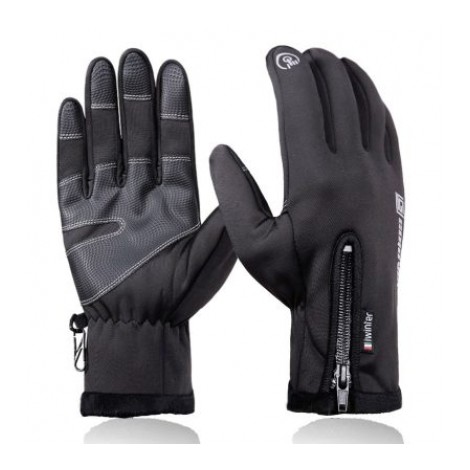 These Cycling Gloves are made from high-quality fabric and boasts having a modern waterproof and windproof system. This will ensure optimum warmth and protection when and where needed as a priority during outdoor activities. The hands are usually first to hit the cold, and the windproofing and waterproof qualities of these gloves; gives a practical edge at beating the chill.
Sensitivity
The gloves offer the bonus of having metal fibers in them to enable touchscreen use, so reduces the loss of heat from having to remove gloves. This is a must in the cold, keeping in touch and maintaining communication when on outdoor activities.
Anti Slip
These cycling gloves benefit from an anti-slip palm which gives greater confidence in gripping. When the need arises for holding equipment like canes or shovels, these qualities give confidence against slipping and potential injury.
Cost and Value
These gloves are definitely matched on cost and value, the warmth and comfort in use is good value for money. The extra confidence against inclement weather and wind, along with the gripping technology - make these gloves an ideal and worthy purchase.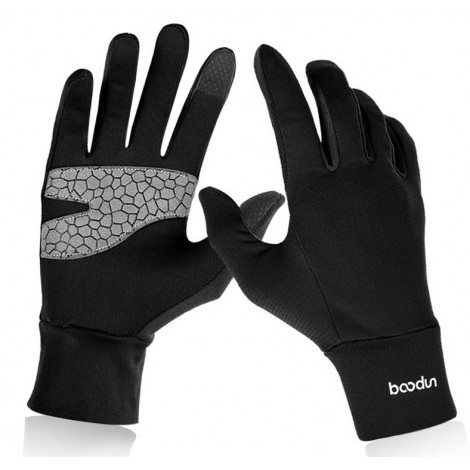 These Sporty Gloves boast being breathable, windproof and waterproof. They have the added bonus of allowing the use of touch screens; an excellent security feature when out and about in cooler conditions. With added wicking to the interior, they give confidence that although nice, warm and snug - they will not allow a build up of sweat.
Reinforced Stitching
The gloves have specially reinforced stitching for peace of mind and confidence in the product in inclement climates. The stitching can be of concern when out on activities, and the reinforcement on these Sporty Gloves - mean one less thing to be concerned about.
Stretch Fabric
The Sporty Gloves are made with spandex and allow them to stretch with movement to aid dexterity. This is important because each time the gloves are worn - they mold to the individual hand and this creates more warmth and comfort.
Cost and Value
These gloves are unbeatable when it comes to equality with cost and value; and the bonus of predicted longevity of use. The flexibility of them coupled with the high-quality materials; make them an excellent buy.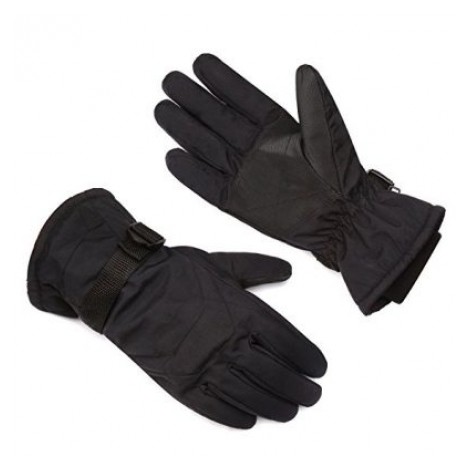 The MPHABON ski gloves offer updated material selection; improving the overall warmth and comfort with versatility for most temperatures. They are stylish in design and provide a snug fit. They boast being both windproof and waterproof and this is a must when activities are outdoors, the gloves are specially designed for use in snow activities and are thus warm for long periods outdoors.
Slip proof
These gloves have anti-slip patches on the palm and give confidence when handling equipment in freezing weather. This feature is invaluable when holding safety equipment and increases confidence in the user.
Wrist Cuff
The slip-on wrist cuffs enable easy to use and provide a snug fit against the elements. When on outdoor activities in the cold, the need for fast cover and achieving it makes these gloves' wrist cuffs a definite bonus.
Cost and Value
These gloves are at the lower end of the market but this does not detract from the overall value for money. The features included are well balanced, and the lifetime guarantee gives the purchaser more confidence in the product.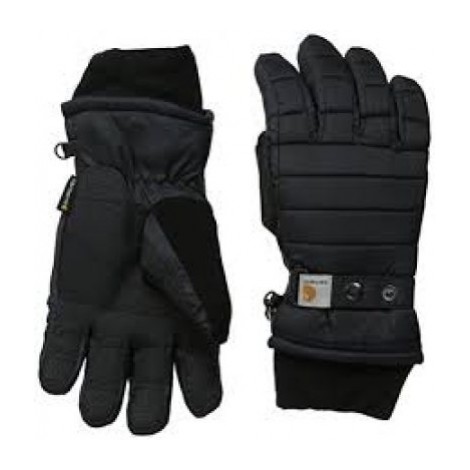 The Carhartt Women's Breathable Gloves are versatile and benefit from not only having a microfiber lining; they also have a comfortable stretchy fleece cuff. They are also quilted and thus are practical in inclement climates. Not only are they stylish, but they are also manufactured to snugly fit where most unisex products can be loose.
Rip Stop
These gloves are cleverly made from recycled ripstop material which gives them the quilted taffeta shell. The outer shell both serves in practical terms and in terms of being wearer friendly and stylish.
Wicking Inserts
The Carhartt gloves boast fixed wicking inserts for sweat protection and warmth retention - invaluable for cold weather. This means that not only will they keep hands warm, but they also prevent irritation from sweat.
Cost and Value
The balance between cost and value of these gloves is nicely balanced, and the added bonus of style coupled with the taffeta shell, make these a practical buy for the discerning customer.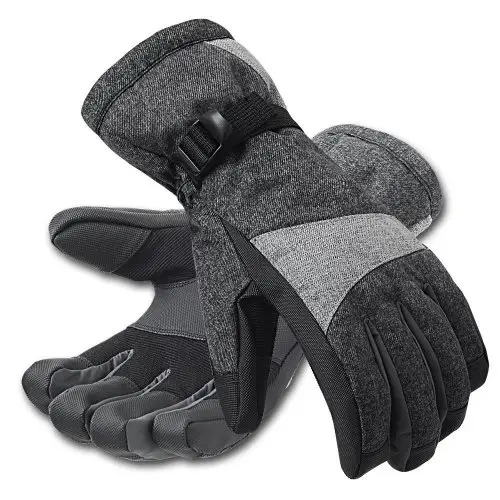 The MUSAN Winter Ski Gloves are manufactured with specially treated, stylish denim. They boast being both windproof and waterproof and this is due to the 3M Thinsulate lining. The sizing of these gloves makes them fully universal and are suitable for all. The new 2017 design brings them right up to date and this is balanced with the extra features.
PU Anti slip
The glove incorporates PU anti-slip palms and fingers for confidence when handling equipment. The need for having a good, tight grip on equipment in bad weather conditions is an advantage for safety.
3D Curved Fingers
These gloves boast an enhanced sewing technique which enables comfy, curved fingers. They are comfortable to wear and versatile for a number of outdoor pursuits.
Cost and Value
The gloves are good value for money when consideration is taken for the extra bonus features for warmth. They are packed with practical features which make it an excellent purchase.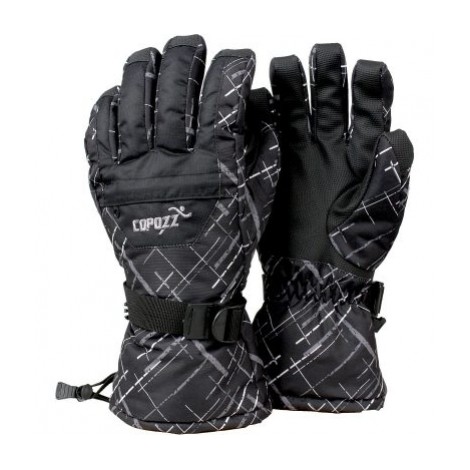 These COPOZZ gloves boast being suitable for lengthy use in low temperatures. They have the benefit of a double locking windproof design for optimum protection; this also keeps snow from slipping in at the wrist. And this stylish glove design is suitable for all, the different colored designs and versatility make them ideal for any extreme sport.
Wicking
Inside these gloves is a wicking function for the prevention of sweat builds up, keeping palms comfortable. This is an invaluable feature as it not only keeps the hands warm, it prevents uncomfortable sweat build up.
Zip Pocket
The added bonus with the gloves is the zipped pocket for the safe storage of small personal items. When on outdoor pursuits, the pocket is ideal for keeping keys handy for convenience inaccessibility.
Cost and Value
These gloves are equally matched on both cost and value, and the extra functions are a worthwhile bonus. The useful zipped pocket and internal wicking are an undeniable benefit with these gloves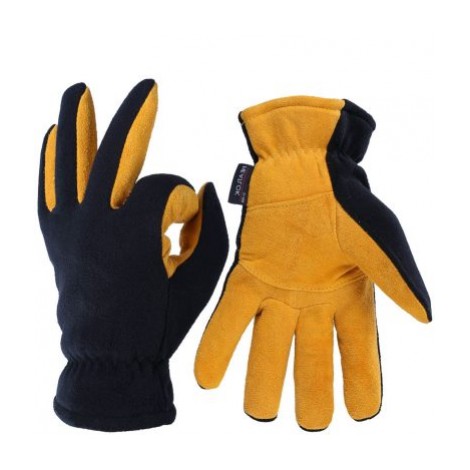 These Ozero Winter Gloves offer a quality product made with deerskin leather palm and have a warm, thick polar fleece inner for superior comfort and total protection. They also benefit from a nonbulky design for dexterity. The high quality of the deerskin means they will not give a reason for concern when handling important equipment.
Heatlok System
This Heatlok System is able to trap warm air and increases the thermal qualities of these gloves. Thus allowing the wearer to stay out for longer and not be concerned with heat loss.
Elasticated Cuffs
The wrist cuffs on these gloves give the user added warmth security by keeping the fit snug and close to the skin. By providing a breaker on the wrist, warmth is retained and wind/cold are deflected.
Cost and Value
These gloves are excellent value for the money when taking into consideration the extra features that come as standard. The wrist cuffs alone and the benefits they provide - ensure excellent value for money.

10

. Mountain Made Outdoor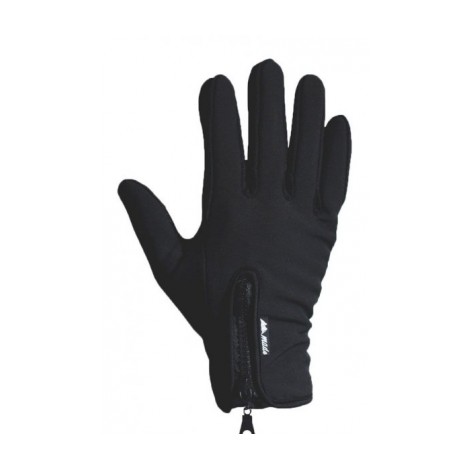 These Mountain Made Outdoor Gloves offer both warmth and protection from the elements. They are produced with a mix of 88% Polyester, 6% Spandex, and 6% PVC Rubber. This gives them an edge because they allow dexterity in movement whilst participating in most outdoor activities. They also benefit from being breathable at the same time as providing heat retention.
YKK Zipper
The added feature of quality YKK Zippers means these gloves have added security and confidence when needed most. The branded zipper means issues with catching and rusting can be avoided.
Thermal
Mountain Made Outdoor Gloves are also thermal and have Windstopper technology; giving optimum comfort in any seasonal activity. The weather surprises many with its changeability; these gloves provide no-fuss proofing against fluctuations.
Cost and Value
These gloves are exceptional value for the purchase price, the added features of extra windproofing ensure they are a useful, worthwhile purchase for anybody partaking in outdoor pursuits.

Subscribe to our Newsletter