Best Swim Suits Reviewed & Rated for Quality
In a Hurry? Editors choice: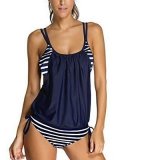 Test Winner: Dokotoo Tankini

There are plenty of times where we need to cool off on a hot day. One way to do so is to play in the water. Many people will spend their time at the beach or in the
swimming pool
. You can see plenty of people swimming, snorkeling, surfing or even scuba diving on such days. Even if we aren't in the water, there are plenty of times where we want to wear as little clothing as possible so that we can soak up the sun and get a nice tan. Having the right
swimwear
is important on such days so that we can enjoy summer life to its fullest. In an effort to help you find the best style that suits your needs, we've compiled a list of the best on the market!
Standout Picks
Criteria Used for Evaluation
Materials
Polyester is the most common fabric for competitive swimmers. This is because polyester suits typically are resistant to chlorine. They are made of strong and flexible fibers that help to maintain their longevity. Polyester suits are soft and comfortable feeling and will not shrink. They tend to be a bit more difficult to put on because polyester isn't a very stretchy fabric. Because of its durability, suits made of polyester tend to be priced a bit higher and, as such, are sometimes difficult to find in stores that aren't specifically swimwear oriented.
Spandex is another popular fabric. These suits are typically very stretchy and feature a form-fitting fit. They're priced mid-range and are easy to find in most department stores. They have fantastic elasticity and stretch but sometimes if spandex suits aren't blended with another fabric, they can become itchy. They typically don't hold up as well in chlorine as other material options. Aftercare is very important when investing in a spandex suit.
Nylon is one of the most common material options these days. It's often blended with Spandex for added elasticity and comfort. Nylon suits are very lightweight and durable. They will dry quickly and don't absorb water as much as other materials. Nylon suits are typically priced much lower. Fabric tends to fade, though, especially if the suit is not properly taken care of post-swim. It's also not as chlorine-resistant as polyester options.
Polyester PBT is a newer material type that features a variety of polyester with added stretch. Suits made of this material offer the durability of polyester suits while also boasting more flexibility, quicker drying times and lower water absorbency. PBT suits are cost-effective and chlorine-resistant. They're perfect for outdoor swimming as the sun won't fade the fabric as easily as other material options.
Xtra Life LYCRA is another material type that is similar to spandex but typically longer lasting. It's comfortable, chlorine-resistant and features more elasticity than regular spandex. Xtra Life LYCRA is designed to resist deterioration from heat as well as sunscreen lotions up to ten times longer than other fabrics. These features do come with a higher price tag, however. Eventually, though, products with this material will lose their shape.
Comfort
There are infinite articles on the internet that detail how to find a fit "for your body type", but it should be noted that whatever you feel comfortable in is a great option. If you're comfortable in what you're wearing, you'll not only have a great time participating in your water-based activities but you'll be less concerned about the thoughts of others as well.
It's important that purchase a product that you are comfortable wearing. Some choices are shorts style items that cover your legs more. If you are looking to show off your legs, then you can consider purchasing a bikini or brief bottom option. These will usually offer support and shaping which helps you feel more confident.
Women's choices generally pay attention to the tummy and bust. It is important to make sure your choice top offers you the proper support while you are wearing it. Many tops also offer shaping and padding so that you look great. Tummy control is another area where women's choices pay attention to. Many help smooth the tummy so that it looks flatter while you are wearing it.
Style
If you're not a competitive swimmer, chances are you'll care more about the aesthetics of your choices rather than how they perform.
There are many styles on the market for both ladies and men. On our top ten list here on TheGearHunt, you'll find water shorts as an option for men. But for the ladies, there are more style options such as bikinis, swim dresses, suits with "boy legs", tankinis and one piece. This is just a small sampling of the different swim styles available on the market for women.
Features
Some of the options on our list offer Ultraviolet Protection Factor (UPF) to help protect you from the harmful rays of the sun. This protection comes from the fabric the product is made of. For example, some polyester fabrics feature a UPF of 50+. This means that up to 98% of the UV radiation will be blocked by the fabric. Meanwhile, a UPF rating of 24 means that up to 95.9% of the UV radiation can be blocked.
If you're serious about protecting your skin from harmful UV rays, it is not a bad idea to consider choosing darker colored items. Darker colors often offer far better protection from the sun, especially once the fabric gets wet. If we're looking at two choices, one light colored and one dark colored, both rated with a UPF of 50+, the darker colored suit will be better at protecting your skin, especially during water activities.
Use
It's often important to look at what types of activities you'll be participating in when wearing your choice. Certain activities may require different types or fits of suits.
If you plan to swim competitively, taking a good look at fit as well as material options will be important. Competitive swimmers typically don't wear suits for their aesthetics, but instead, for the benefits, they will provide competitively. A swimmer with a competition on their mind will want to choose a product that features minimal drag in the water while providing both support and coverage. Items with an open back are made for high-level swimmers who require the freedom of movement that kind of style allows. If you're a woman with a larger bust, you might want to look into suits with an ergonomic back that features inner bras and/or adjustable straps.
If you're searching for a cute suit to wear on the beach, you'll probably be more apt to care about color, style, fit and take those into consideration when making your decision.
BEST SWIM SUITS REVIEWED & RATED FOR QUALITY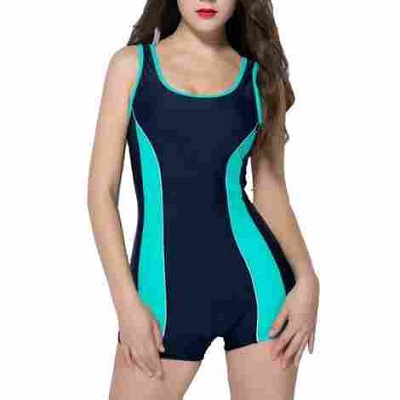 If you are trying to show off a sports body that has lots of curves without a lot of skin, then you may want to take a look at this boyleg option from BBeautyln. This one-piece suit offers a racerback, built-in bra, and tummy control. It has boyleg shorts for your legs. The one-piece suit is highly shaping and gives you a great look and feel.
Dual Layered
This option has dual layers for both an excellent look and excellent comfort. The outer layer is made from a blend of nylon and spandex while the inner layer is made out of polyester.
UPF 50+
People who spend time outdoors know all too well about the potentially harmful effects of UV radiation. The fabric has a high UPF rating so that you will not get sunburned in your covered areas while wearing this.
Cost and Value
This product has an average price but offers excellent value for the money. It is dual-layered for extra comfort and offers UV protection. The suit also has lots of features including tummy control.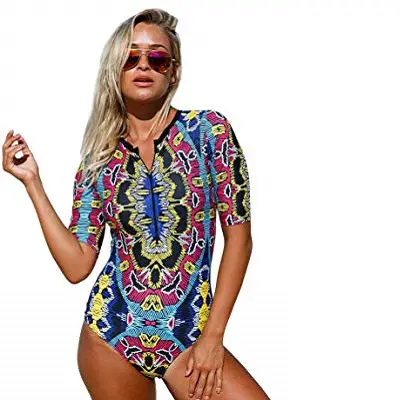 This is another one-piece option that is designed to help you look great and feel sexy. It has a zipper closure on the front so that you can easily get in and out of it. It features half sleeves so that your shoulders and arms are covered to your elbows which helps to reduce tan lines. The top of the swimsuit pins.
Zip Front
You can wear this either zippered or unzip it depending on how much you want to show. The top of the color pins which allows you to completely close the front of the suit if you chose to do so.
Half Sleeves
This product covers your shoulders and the top half of your arms. Not only does this offer a unique look but it also prevents you from getting tan lines and sunburns. The suit also covers your back up to your neck.
Cost and Value
This option has a price that is slightly below the average. It is an excellent value because it offers an extremely sexy look with the front zipper and it covers your back, shoulders, and arms.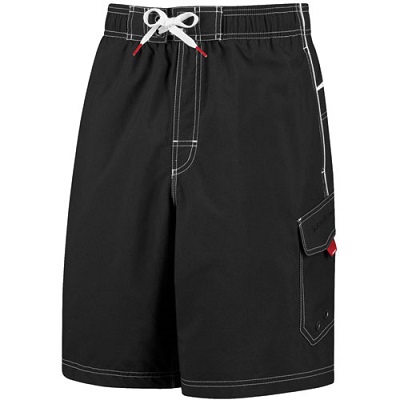 Here is a pair of shorts that are designed to be worn in the water and then dries quickly. These swim pants by Speedo are made out of soft yet durable polyester fabric. It feels great thanks to the microfiber brushing and it even features pockets on the side for items such as your keys. You can expect these shorts to dry quickly thanks to the VaporPLUS fabric.
VaporPLUS Fabric
The shorts feature a trademarked fabric that is designed to allow the shorts to dry quickly after you have been in the water. This prevents you from tracking water into places such as your home or vehicle after you have been swimming.
Side Cargo Pocket
These shorts have a cargo pocket on the side. The cargo pocket provides you with a great place to store items such as keys, wallet, phone, or other items. Just make sure you remove items that can get wet first!
Cost and Value
You will see these shorts at a price that is average for swimwear. They get their value by offering features such as quick-drying fabric and plenty of pockets. You can expect these shorts to be long lasting also.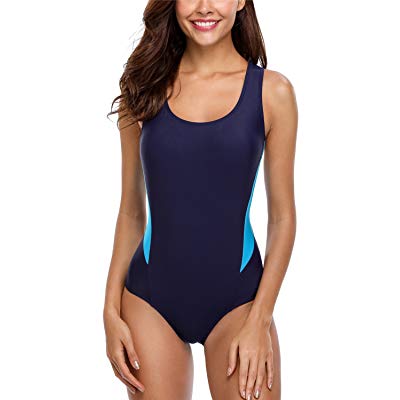 This is a sporty looking option that will stay in style year after year. It is made out of high-quality nylon and spandex which offers great elasticity while still feeling soft. It has wide shoulder stapes and offers a halterneck back design so that you feel both sexy and charming. The cups are padded and you can remove the pads to wash them.
Removable Cup Pads
The chest area features cup pads that are removable. You can remove the pads to wash the bathing suit or replace them if they are the wrong size or get worn out. This helps you feel well shaped and supported.
Nylon Spandex
The fabric is made out of a blend of nylon and spandex. The result is a material that conforms to your body and dries quickly. It is extra soft so that it feels great against your skin.
Cost and Value
You should expect to see this bathing suit at an average price. It gets its value by being made out of a high-quality fabric that is long-lasting and durable.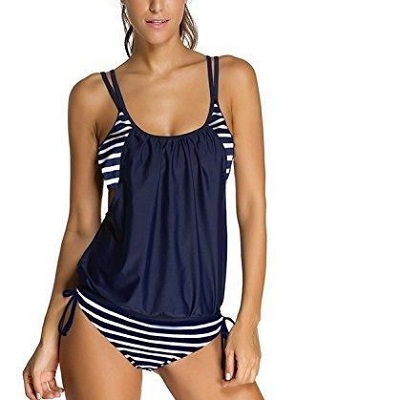 If you are looking for something that you can wear as both a casual top or something that you can wear in the water then this top may be for you. This tankini can be paired with plenty of different clothing including garments such as swim shorts, yoga pants, or active bottom. It has a layered design that makes it into a fashion statement.
Built-in Sports Bra
This top has a built-in sports bra that is fully adjustable. This allows you to look sexy and feel supported while you wear this tankini in the water or out on a night.
Banded Bottom
The bottom of the shirt has an elastic band so that it fits tight against your waist. This keeps the tankini from moving up on your body and revealing your stomach.
Cost and Value
This product has an average price when compared to other swimwear. It gets its value by being highly versatile. You can wear this top with your favorite bottoms or with other clothing.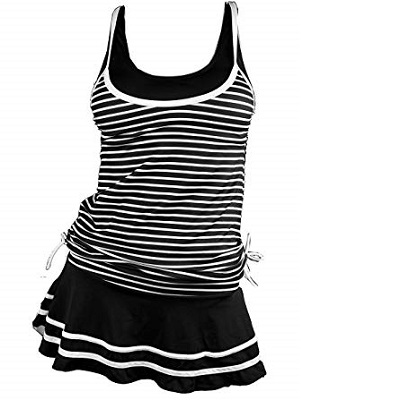 If you would rather not show off your stomach, you may want to consider this tankini by MiYang. This tank top style option allows you to keep your torso covered but is still made out of the same material that other products are made from. You can wear this shirt on its own or with other swimwear if you want to dress in layers.
Multi-cup Sizes
This garment has removable and replaceable cup pads. This allows you to insert the cup that fits you best so that you are fully supported while wearing this. It will help you look great and improve your confidence.
Tummy Control
The fabric is a blend of nylon and spandex which is designed to pull in your tummy to help it look flat. This helps you look and feel great while you are spending time at the beach or at the pool.
Cost and Value
You should expect to see this item have a price that is higher than average. It is priced higher because it is a full shirt style option that has features like adjustable cup sizes and tummy control.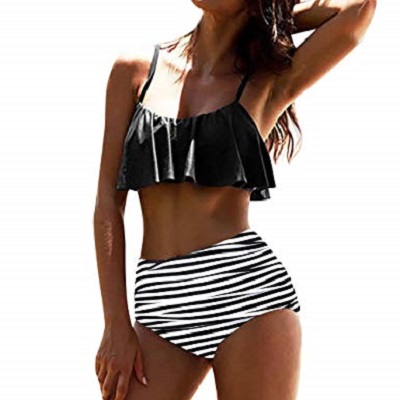 This is another option that offers a retro style. It has a 1950s look which means that it comes with different floral patterns and a high waist. The material is made of a highly breathable polyester and spandex blend fabric. It will dry quickly after it gets wet so that you can cool off with a swim and then get back to tanning.
Adjustable Halter Top
The top of the bikini is a halter top style and is fully adjustable. This allows you to adjust it to your specific needs and get the proper covering and support which helps you look great and feel confident.
High Waist
The high waist is a nice feature if you aren't looking to show off your tummy. Rather than being low cut, the bottom features a 1950s style look where the waist comes up to your navel.
Cost and Value
This product has a price that is slightly above the average price for swimsuits. It gets its value by being made out of a quick dry fabric that breathes well. The top is also fully adjustable.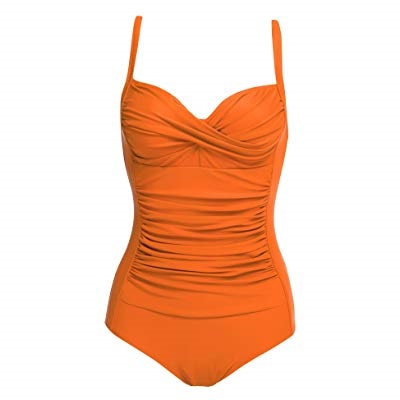 This is a great choice for a monokini that smooths your tummy and your hips so that you can look great and feel confident while you are in the sun. It offers a vintage look so that you have a more laid-back look and feel. The straps are fully adjustable so that you can make it fit perfectly while you are wearing it.
Classic Coverage
This monokini offers a classic coverage so that you aren't showing off all of your skin while wearing it. It has a full back so that people will only see your curves rather than your skin.
Smoothing
The fabric has a tight feel that smooths out your tummy and your hips. This allows you to look great and feel more confident while you are wearing this bathing suit. This option does a great job of shaping your trouble areas.
Cost and Value
This bathing suit has a price that is slightly above the average when compared to other products. It gets its value by offering plenty of coverage that helps shape your body while concealing it.

9

. Dixperfect Bathing Suit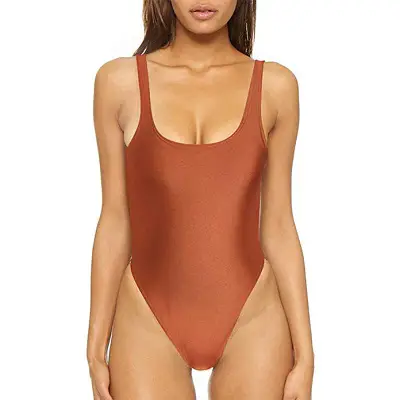 If you are looking for a trendy one-piece suit that you can wear underneath a pair of jeans, then you may want to take a look at this suit. This one-piece suit is cut high to help your legs look longer. The jumpsuit is comfortable to wear because it is made out of a blend of nylon and spandex so that it fits and looks great.
Comfortable
This bathing suit is made out of a blend of 82% nylon followed by 18% spandex. The result is a product that looks and feels great on your body. There are no pads in the chest area which improves comfort.
Versatile
Since the bathing suit is tight-fitting, you can easily wear a shirt and a pair of shorts or pants over the top of it. This allows you to wear clothing to the beach and put it back on when you are done swimming.
Cost and Value
You should expect to see this jumpsuit priced averagely when compared to other options. It gets its value by being both super comfortable and sexy. This bathing suit is tight fitting to show off your curves and shape your figure.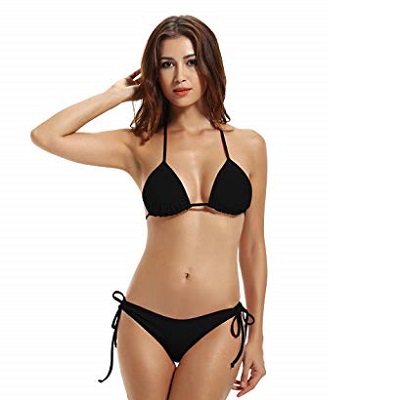 This is a side tie bikini product. It helps you look sexy while you are at the beach and it is highly ideal for both swimming and tanning. The bikini top and bottom are tied so that you can untie them as needed to avoid tan lines. You can easily adjust it as needed thanks to the tie straps as well. The top has removable padding also.
Removable Padding
The top piece is a triangle top that features push up padding. The padding helps shape your breast while keeping them fully protected and covered. You are free to remove the padding if you do not like it.
Lots of Colors
You can purchase the bikini in twenty-six different colors and patterns. This allows you to find the perfect style. You can match it to your skin tone as well as your other beach clothing so that you look your best.
Cost and Value
You will see this sold at an average price. It has an excellent value because it is made out of long-lasting fabric that looks and feels great. You also get features such as padding and full lining.

Subscribe to our Newsletter