Best Prana Pants Reviewed for Comfort & Style
In a
Hurry? Editors choice: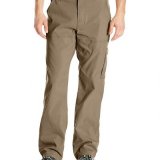 Test Winner: Prana Stretch Zion

Enjoying the outdoors doesn't mean that you have to wear thick layers of clothing which make it difficult to move around and feel comfortable. At the same time, you do want to be dressed properly to ensure that you can enjoy your activities in safety. You need specially designed apparel that combines functionality and practicality. We are talking about high-quality and comfortable sporty gear that can be worn during your everyday routines.

There is one company in particular that has built quite a reputation, thanks to its great message, mission, and products. Do you know what brand we are talking about? Of course, it's prAna.

*Please note, for the sake of this article, we are going to prefer to prAna as Prana.
Standout Picks
Criteria Used for Evaluation
Materials
When it comes to any product, the most important aspect to take into consideration is the materials used in construction. In truth, you must consider that each product is designed intentionally. In other words, manufacturers have reigned as to what type of materials they use – and there are dozens upon dozens of types of materials to pick from! With that being said, before we began to develop a list of the best pants from this company – we knew that Prana was a well-known manufacturer who has built a reputation on the quality of their products. So, as we began to evaluate different products, it made it very easy, as far as material evaluation was concerned, because each product is made from the very best materials, given the functional use of the pants. Now, to add to our research, we did take the time to consult with previous customers regarding their thoughts on the materials of the pants. What we can say is that the products featured in our guide today are the very best pants in terms of materials offered by this brand.
Durability
When you purchase a pair of pants, do you expect them to last for many months or years, or that they break and wear quickly? Of course the question is rhetorical; however, without doing proper research, you can never guarantee the durability of the product. Now, going into this article, we knew that the Prana brand was infamously known for their high-quality products and product guarantees. So, we knew these products were durable; however, we wanted to ensure that, in creating the best in class list, only the very best of products would receive the spotlight. To do this, we took the time to observe each pair of pants in pictures and by the description. We wanted to learn how the pants were created and what materials the manufacturer used. From there, we also wanted to know what they did to ensure and support the pants from not breaking or wearing and tearing. In light of this, this company indeed goes to extreme lengths to ensure maximum durability. We took the time to also look at what previous customers were saying about this. We can say that each product on our list is incredibly durable and is boasted by previous consumers to help future consumers, like you!
Style
Functionality
What makes the Prana brand such a powerful and popular fashion choice comes down to their products' functionality, specifically, their pants. Here, their pants are not designed for one specific activity. Going into this research and evaluation, we took into consideration all of the different uses that consumers may need from their pants. In this, we were quite shocked and taken aback by the amount of functionality that comes from this company's pants. Every single product featured on our list today can be used in almost any environment. Whether you are seeking a pair of pants for yoga, casual work day, school, hiking, or even a shopping day around the local mall – these pants can rise to the occasion, and more! Now functionality is an imperative aspect to take into consideration. Many companies tend to produce pants for specific needs – you won't find that here. To ensure this, we double checked with previous customers and most customers that highly recommended this brand and their products.
Design and Appeal
It's safe to say that one of the more difficult characteristics to take into consideration is the design and appeal. Reason being, we typically say that design is the least important characteristic, however, since pants do have a visual appeal to them, the design and appeal of the piece of clothing is kind of important. In addition to this, the way that one consumer sees a pair of pants is different than other. So, as we began to evaluate different pants from this manufacturer, we made it our intention to only highlight the very best products that provide consumers with numerous color or design options to pick from. Now, the best part about Prana is that many of their designs are incredibly pleasing to the eye, as many consumers have noted, both men and women. In addition to this, we always double check to make sure that the colors that are featured online match what consumers receive in person. To do this, we consulted and looked at what previous customers were saying.
Comfort
Have you ever purchased a pair of pants just to find out they were incredibly uncomfortable after a few hours of wear? Better yet, you tried to sit in the jeans and it was uncomfortable and the stitch ripped? This has happened to thousands, if not millions, of people around the world. Now, as prior to creating this list, we took the time to seriously consider the comfortability factor in each product. Comfort is important, almost as important as the materials, durability, or functionality, of a pair of pants. Now, to do this, we carefully looked at how the manufacturer discussed comfortability in the product description, what types of materials the company utilized, and what previous customers were saying regarding comfortability. Since comfort is a primary concern and need for pants – almost all previous customers will reflect upon the comfort of the materials.
Value
When it comes to evaluating any product, one of the most important characteristics, in our opinion, stems down to the cost to value relationship. You see, all consumers are passionate about ensuring they are getting their money's worth for a purchase, right? Well, the easiest way to do this is through measuring the cost and value of a product. Every single product on our list today underwent the same exact type of process. First, we took the time to look at the price of each pair of pants, in comparison to what Prana was charging for other pants. Now, it's important to note that, since we are comparing different products from the same manufacturer, the pricing table may not be incredibly different. Additionally, because it's all from the same company, it makes it easier to draw conclusions regarding the price of the product. With that being said, after we had a deeper understanding of the price of the product, we observed the amount of value packed into the pair of pants. Understanding the materials, features, and functionality, made it incredibly easy to notice the cost-to-value relationship. We also took the extra step to see what consumers were saying about the product and their thoughts regarding the quality of the product in comparison to its price tag.
10 Best Prana Pants
1

. Prana Regular Inseam Halle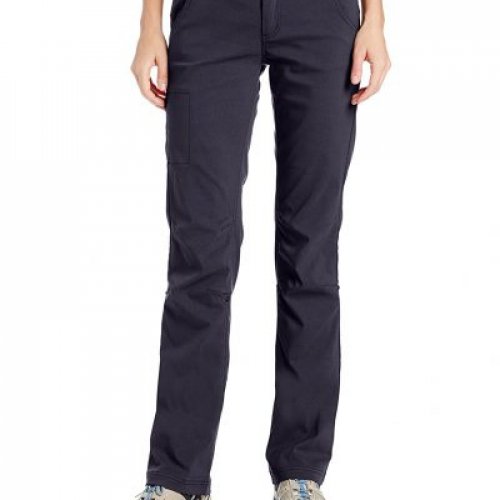 As the modern-day movement is among us, more people now than ever are going out in nature, hiking, climbing, spending time outside, traveling and most importantly, being active. With this in mind, there has been a rise in demand for products, gear, and services that allow people to fulfill their adventurous desires even more effectively. This is where the Prana Women's Regular Inseam Halle Pant comes in, where a relationship of expert design and adventurous spirit is formulated. Let's look at why these pants are becoming more and more popular.
Perfect for All Conditions
What makes this brand so unique and enduring is the fact that they have created a product that is perfect for virtually any condition. The reason being is that these pants offer a cross-functional design that is extremely durable and also flexible for almost any outdoor moment. Whether you love to travel solo or hike as a pair, these pants will be your companionship on any trip. With 97% Nylon and 3% Spandex, these pants are can manage moisture while also being durable. They are reinforced at the knees and are versatile for practically any occasion.
Stash Pocket
It is without a doubt that adventurous moments call for different items. Whether you need a small flashlight at night or a lock for your mountain bike, the stash pocket allows anyone to store their most important and valuable items. Strong enough to fit a cell phone, keys, or other valuable, the stash pocket is a blend of expert engineering with functionality. You can be sure that your valuables will be safe and secure with the stash pocket.
Cost and Value
These particular pants are formally designed for adventurous people that want outdoor pants that can bend, stretch, and allow for maximum comfort. However, they also serve as relaxing pants. With this in mind, the cost is somewhat pricey but considering what you are actually receiving for such valuable material, the cost is reasonable and fair.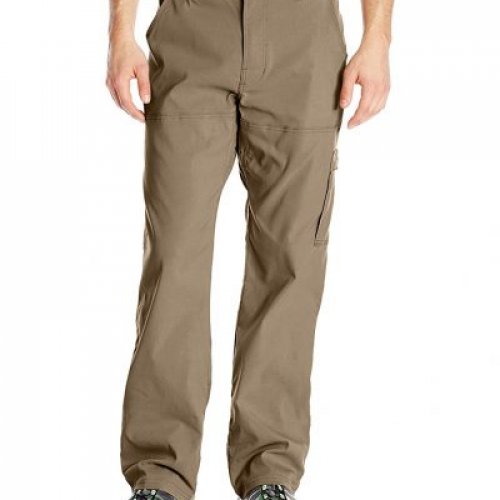 As times change, more people are calling for specifically designed clothing that fit their everyday activities. This is where this particular manufacturer delivers, offering a blend of functionality and lightweight design that can surpass all expectations. The Prana Stretch Zion Pant is one of the best inventions since butter and bread, offering adventure-seekers the ability to accomplish practically any outdoor goal that they have while doing so in a functional and safe method. Let's look at why these pants are the best addition to your many outdoor goals!
Comfortable
We all know that to be able to climb tall mountains, bike hours on a trail, and go camping for days we need to wear clothing that is comfortable and durable. This is where these pants deliver an experience that will be memorable. The reason being is because you will remember more of the goal, task, and experience than the moments you spent complaining about the discomfort. With these pants, discomfort does not exist with their extremely flexible design and construction materials, which includes the original stretch Zion fabric that has been touted by consumers and fans.
Water-Resistant
With a water-repellent finish, these action pants are known as one of the best in the industry. The reason is that the pants are designed to withstand even the toughest of terrains. Since the goal is to produce a quality product that any outdoor lover can wear, it makes sense to include water resistant material. The product is made from 97% Nylon and 3% Spandex and the Zion Fabric is water repellent, allowing a person to climb the tallest mountain even on rainy days.
Cost and Value
When evaluating cost and value we take into consideration other products within the same brand and different brands. We can say that this product offers high amounts of value for a fraction of what it can potentially cost. The reason being is that they are designed with adventure seekers and travelers in mind, offering a clever solution to a problem many people have; flexibility and water. With the flexible material and water-repellent technology, these pants are a great addition to any outdoorsman's closet.

A clever minded cultural change has created brands that are centered around making everyday products even better. This is where this particular pant manufacturer shines, offering a wide selection of products for every individual's needs and goals. The Prana Men's Brion Pant is known as the every-day classic pant that you can both take to church and then go mountain climbing in. This best-selling pant manufacturer has created a solution for everyday use alongside adventure lovers seeking comfort and mobility. Let's look at two important aspects of these pants!
Versatility
Do we really have the time to switch clothing between tasks? If you just got out of an important meeting and want to go hiking, usually you would want to switch clothes, right? However, with these specifically designed pants, a person can manage all their daily tasks while wearing comfortable pants that are ready for any occasion. These pants are not only stylish, but they are also ideal for the adventure seeker needing a handful of important features.
Functionality
When it comes to adventure or travel, functional clothing is ideal. Therefore, it is no surprise that these pants offer the solution that many adventure seekers are needing. They offer everything from wrinkle-resistance to quick-drying properties in the case of heavy rains. With the same benefits as the Stretch Zion pants, they are water and abrasion resistant, so an individual does not have to stop the fun just because a little rain is getting in the way.
Cost and Value
Many individuals believe that a product of this caliber can cost in the hundreds. However, it is the sheer ability to do practically any imaginable task that makes this product so valuable to many people. The design, functionality, and value for these pants cannot be measured. With this in mind, the surprising cost of the pants is even more of a reason to consider them as your next everyday pants.
With more design options than ever before, brands are going out of the way to supply new ways for old classic looks. At times, there also comes along a design that keeps our attention. The Prana Kara Jean Pants will capture any user and any person at first glance. These pants are designed with style and function in mind. These specific pants are actually this company's best-selling fitted jean brand, offering plenty of versatility and style functions. Let's look!
Function
The function of these pants knows no bounds, making individuals incredibly happy in the process. These pants are not only designed to look extremely pleasing to the eye with an urban, yet classic look, these pants are designed with functionality. The material allows for maximum flexibility, allowing an individual to hike, climb, run, and move effortlessly with them. In addition, women can wear these perfectly tailored pants either cuffed or long, depending on the mood and the occasion.
Plenty of Color Options
Have you ever matched your mood to your clothing? We all have! Therefore, it is safe to say that this brand appeals to practically any mood, traveler, and personality, only adding to the wide array of options they have available for every type of consumer. It's not just the functionality that makes these pants incredibly appealing, it is the endless amount of color options to choose from. Depending on your style and mood, you can choose from red, pink, orange, blue, and even white. This makes it easy for a customer to pick a style they will be truly happy with.
Cost and Value
These particular pants, a person would expect to spend hundreds for, no exaggeration. Considering the styling, the functionality, the urban appeal, the trusted brand, and the endless color choices, it is a surprise to many when they consider the cost to value. The cost is significantly low than the competition and the value of the pants is known to withstand the test of time. If you want a quality product that is sure to last a while that also serves your daily purpose, these pants are worth your consideration.

For consumers looking for a practical design alongside a sturdy build, these pants may seem like a dream come true. The functional design of these specific pants was built with adventure seekers but comfort addicts in mind. Let's talk about the Prana Men's Sutra Pants, a blend of comfort lounge-like pants that you can climb a mountain in.
Design
The selling factor with these pants is how sturdy they are. The design allows for maximum mobility and flexibility for the consumer, without tearing or ripping. With this in mind, these pants are a phenomenal option for a person seeking loose comfortable pants while traveling or out in nature. The reason behind the design is the sustainable woven hemp blend that allows an individual to trek through the toughest terrains while feeling comfortable doing so.
Trusted Company
This manufacturer is known for the quality products that can withstand the test of time and this one is no different. Known as one of the preferred companies for outdoor pants that look like everyday wear, these pants are ideal for lounge like situations but can be trusted enough to take on a long hike or a bike ride.
Cost and Value
When calculating the cost to value it is important to evaluate exactly what you desire in your pants and then before purchasing make sure the pants fit that criteria. As far as seeking pants that are durable, resistant, clean looking, comfortable, soft, and can withstand the test of time, these specifically designed pants offer that and more. For the price, these are considered low to mid-level cost pants, while offering medium to high value.
Switching up this list is the Prana Men's Bronson Pant; a blend of precision and durable execution brings individuals everyday pants that can withstand any task at hand. With these exclusively designed pants, adventure seekers can achieve anything. The motto is these pants, 'know how to get it done.' This could not be any truer. With strengthening materials and an aesthetic design that looks timeless, these pants are worth a second look.
Fabric
Have you ever said that you are wearing stretch organic cotton canvas fabric? Well, with these specifically formulated pants, an individual can wear organic cotton alongside a peached finish that creates an exceptional fabric that is sure to last. The goal behind this fabric is so it can be taken anywhere and withstand anything. With this durable material, an individual can feel secure that they are wearing an expert piece of craftsmanship from a trusted company.
Design
Alongside strong fabric is expert design. Therefore, it is no surprise that such a memorable company has created a product that is designed to last. The reinforced riveting allows for maximum durability. Now, the triple needle stitching adds a collection of power and confidence that only a person wearing these pans can feel. Lastly, the inseam is fully gusseted offering a full range of motion for hiking, running, climbing and performing other important physical stunts.
Cost and Value
The cost to value ratio of these pants goes unmeasured. We can easily say that these pants have been known to cost on the medium range of what pants normally cost. However, it is the value that is the most important aspect. These highly valued pants not only offer plenty of durability and function, they also come in a variety of color choices, making it a sensible solution to anyone that wants design, flare, and strength in their outdoor pants.
7

. Prana Zion Convertible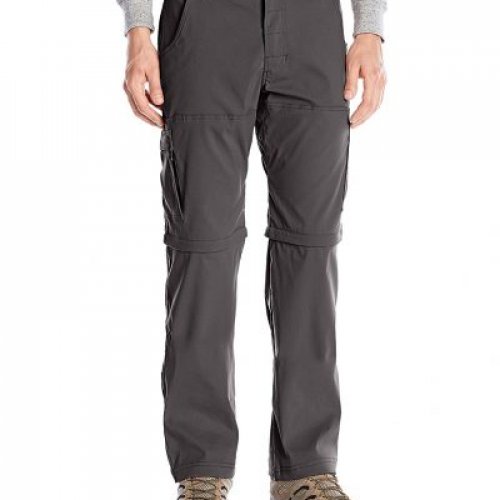 When a brand offers a new solution to a product that is already a fan-favorite, there comes a moment of skepticism. However, this moment was bypassed when the Prana Stretch Zion Convertible Pant was introduced, a genius way to offer multiple use pants to consumers looking for a handy product that can withstand adventurous environments. These particular pants are designed like cargo pants, with functionality and expert quality in mind. Let's look at two important points to consider.
2-Way Design
The 2-way design of these pants makes it the everyday solution for all individuals. They look sharp enough to be taken to a nice dinner but offer the functionality to be worn as shorts. How do they do this? Well, they are considered "zip-off" pants. Essentially, in the knee area, there is a 360-degree zipper that allows for the bottom half of the pant leg to be removed. This serves the purpose of helping the pants become shorts, allowing the individual to choose how they wish to appear at a moment's notice.
Fabric
Made from 97% Nylon and 3% Spandex, this quality craftsmanship product is made to withstand almost any adventure. With this fabric, an individual can run, climb, hike and perform numerous activities all while being comfortable in a fabric that is also durable and flexible. Lastly, the all-weather finish allows for the fabric to be abrasion and water resistant, meaning the adventures don't stop because of a little bit of rain.
Cost and Value
When calculating the cost of such a versatile product, it is important to note all that it can do and offer before coming to a conclusion. With this in mind, the value that these timeless pants provide is immense. Whether you chose to wear them as shorts or pants for an evening out and about, these pants look nice enough to be an everyday wear item. The cost is reasonable and in alignment with industry standards.

It is time to discuss when style meets functionality. Can there be such thing as fitted cargo pants? Cargo pants have been known to be bulky, heavy, and full of pockets while fitted jeans are known for their slim and stylish appeal. Well, this question is what brought along the Prana Women's Meme Pant, a genius solution to women that desire style and functionality all in one beautifully designed product. Let's take two points into consideration about this performance clothing item.
Design
The design is inspired with urban appeal and tactical features. The design offers a midrise look with fitted and skinny leg appeal. However, all of this is just a bonus, the true purpose of these pants was to blend cargo pants and modern adventure seekers together. These pants, design-wise, offer cargo pockets at the side for an individual to be able to carry their valuable. They also offer seam details at the knee area.
Fabric
An urban look accompanied with plenty of functionality is only matched by the beautiful design of these cargo pants. The fabric itself consists of 97% nylon material and 3% spandex, bridging the two together creates a space for flexibility, easy mobility, and durability. Therefore, these pants are known as the ideal everyday wear pants for users that want to merge style and adventure together.
Cost and Value
Alone, the unique style of these cargo pants offers a solution to an industry that has not introduced such features and aesthetic appeal in many products. With that said, the cost is considered a mid-level price, which appeals to practically everyone. With plenty of value from withstanding the test of time to the cargo style that we have come to know and appreciate; these pants are a great solution to outdoor lovers that want extra carrying space in a modern and tight fit.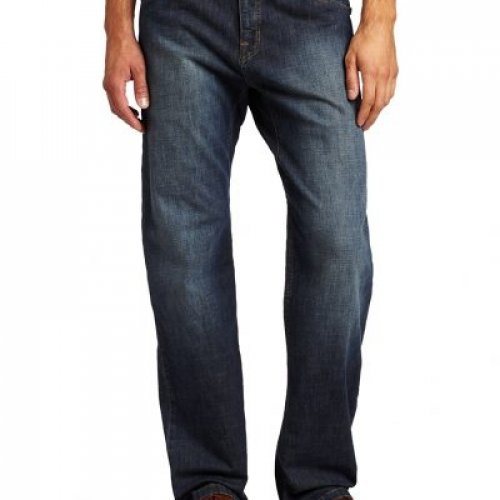 We have discussed pants that can withstand the many adventures that nature lovers embark upon and we have covered pants that act as cargo pants with an urban flare. How about we dive into the world of denim? This is where a blend of functionality and style meets to create the Prana Men's Axiom Jean. Known as the full-range stretch denim jeans, these comfortable jeans allow for full range motion due to the design, functionality, and style. Let's cover two important aspects of these jeans.
Design
The design of these jeans resembles modern-day jeans, with over four different color options to choose from; stone wash, charcoal wash, military green, and indigo. These jean pants, however, offer a different design than regular or conventional jeans. They offer a gusseted inseam area for a greater range of comfort and movement, meaning an individual can go both hiking in these pants and out to a restaurant without worrying about them tearing or breaking in the most important areas.
Fabric
As we have come to know and appreciate this brand, the fabric used has a purpose. With jeans that offer the opportunities of adventure, they are made from 99% cotton and 1% spandex, for a blend of convenience and comfort. The spandex gives the jean the stretchy feeling that an individual requires for certain movements while the cotton fulfills individuals need for comfort.
Cost and Value
When taking cost and value into consideration, many of this manufacturer's product are considered mid-level to high-grade products, which means they may cost a bit more than other pants or jeans. However, what you receive in return is a valuable product from a brand that has created a trust among their customers. This particular jean and pant company is focused on real-worth wearable solutions to everyday adventure seekers.

Lastly, we have come to one of the fan-favorite products of this brand. Known for their expert design and craftsmanship, this manufacturer has raised the bar when offering wearable and comfortable solutions to both adventure seekers and overall people that want a stylish and comfortable fit. However, what about yoga lovers seeking both comfort and style? Let's discuss the Prana Men's Sutra 30-Inch Inseam Pant, a blend of comfort, aesthetic appeal, and lightweight design.
Design
Known as one of the best yoga pants in the industry, the design behind these pants is clear; provide a desirable and comfortable solution to yoga lovers and people that want lounge like pants. These pants are not only aesthetically nice to look at, but they are also quality pants that are comfortable, offer plenty of roomy space to move around in and allow an individual to feel free while wearing them. With the 30-inch inseam, an individual can wear these and feel relaxed all day long.
Fabric
When a product like this comes on the shelf and the design is pleasing as this one what could make it better? Well, the fabric of course. The fabric that these pants are made of includes Hemp, Recycled Polyester, and Lycra, to form an organic blend of materials that make a person feel as if they are a part of a relaxing movement. The materials used also aid against itching or possible friction.
Cost and Value
We have come to expect by now that this brand only offers high-end quality products. Therefore, it goes without saying that the build quality of these relaxing pants goes far beyond the cost. As a valuable solution to yoga lovers and consumers seeking comfortable pants to lounge in, these pants are in the mid-level range cost. However, the cost should not deter a person from considering them. The functionality alone is worth it. The style is just a great bonus.
Subscribe to our Newsletter