Best High Sierra Backpacks Reviewed for Durability & Functionality
In a Hurry? Editors choice: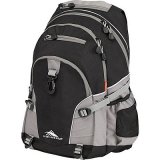 Test Winner: High Sierra Loop

Backpacks can be a person's best asset. We can use them for all sorts of purposes which include traveling on an airplane, hiking, going to the gym,
school
, and work. Many backpacks are built for strength and durability because we expect them to handle the heaviest loads. There are a lot of reasons are why many people turn to High Sierra brand
backpacks
. The brand is known to be well designed and provide users with the features mentioned above. We can expect High Sierra backpacks to be rugged and durable. They also look great and are comfortable to wear. If you're looking for a high-quality backpack, then this list features a wide variety of different styles that you are sure to love!
Standout Picks
Criteria Used for Evaluation
Materials
The materials used to manufacture backpacks can vary, and some are specifically designed to be weather resistant, and for toughness to reduce the wear and tear that can lead to rips and weak spots. The last thing you need is to get to your destination to find your backpack has been 'leaking' your possessions on the way. In the earlier designs, the wax coated cotton canvas was widely used because it is tough and hard-wearing. Downsides with this material include weight – and it has a tendency to absorb moisture which can lead to mold and mildew build up.
Contemporarily, textured nylon is more common in specialist manufacture due to its versatility and quality. The synthetic materials are popular today and often come combined with the use of Cordura and Kodra, these two man-made fabrics are light-weight, are water resistant/proof and are tough at reducing tears from abrasions and scuffs. The advancement of technology used in modern backpack design means they are more reliable and more suitable for longer periods and for the ability to carry more weight securely. Another cheaper fabric commonly used is polyester, this fabric is as versatile as nylon and is associated with the lower end of the overall backpack market.
Use
The first thing you need to decide when buying a backpack is what you are going to be using it for, and in what circumstances. The range of different designs is wide, and most have generic specific features for a variety of purposes. If you are looking for a day to day backpack, there will be less requirement for extra features such as extra 's' clips for attaching trekking kit. And likewise, if the backpack you are looking for is for long-haul hiking – the more features in the design for the added kit will be a must. Another important pointer is the size and payload, there's not much point buying a 5ltr backpack for a weekend away from basic amenities, you need to take into consideration the size that will be best suited to the amount of kit you need to take.
Supporting straps and full strap adjustability are a must-have feature for any type of use, the straps need to be padded and comfortable so as not to cause chaffing and burrs on the skin. A supplementary chest strap and a hip strap are excellent for weight distribution; and will provide some support for traveling for long periods. Specific backpacks will vary in the strap supports depending on their overall size and weight capabilities, so it is important to have an idea of what you want to carry on your back.
Features
Of course, with any requirements for a backpack – the consideration for extra features needs to be assessed before purchasing. For normal every day use the features required may be minimal but non-the less important, for example, secure internal pockets for valuables. The straps should be fully adjustable and if the backpack is for more weightier trips, the support from the chest and/or hip belts are highly advantageous and beneficial for comfort. Many backpacks have stretch features incorporated into their manufacture, so it is easy to expand the capability of it to suit your needs.
For longer trips and hikes, the increased requirement for added features needs to be taken into account. Many backpacks which are designed for this purpose have ventilated backs, this is ideal for comfort, as is an adjustable length. A pocket for water, maps, valuables are all necessities when you are on a longer haul. And some backpacks have added 's' clips so the extra kit can be readily attached to the exterior for quick access. Extra pockets on hip belts are also very useful for storing high-value belongings such as wallets, keys, etc.
Style
The type and design of backpacks are usually geared for particular purposes and they are varied over the market. Standard backpacks are usually straightforward and are designed with shoulder straps and a top carry handle for ease of use when you need access to the interior. They generally have an exterior front pocket and sometimes side mesh for storage, these basic designs are ideal for every day use and short trips out. However; designs vary quite substantially depending on the size, larger backpacks have the added support straps whilst the smaller only have basic thinner straps.
Ideally, for a specialist backpack – you need to consider different use capabilities because of the rise in price. Side slung backpacks are suitable for lightweight carrying – but do not distribute weight evenly and so is not ergonomically supported. Hiking backpacks can have multi-use versatility because they have divided interiors for separating kit, and a variety of different sized exterior pockets for carrying more kit. They can have built-in extensions which make them easy to expand when required, and Velcro straps for attaching items that do not need to be as protected.
Value
When you are looking for your ideal backpack, the variety and choice can be mind-boggling. Of course; you are going to be looking for not only the best value but also the initial layout. At the lower end of the market you can find backpacks for occasional use, and basic every-day use – the price will often determine the overall quality of the product. If the backpack is for light use then the cheaper may be a better option, but this does mean a compromise on materials and versatility.
It could be a better option to spend a little more for a backpack to ensure it will give plenty of life for any use you want it for. The higher end of the backpack market often incorporates newer technological advantageous features and materials. Ease of use, comfort are only two reasons to purchase a decent backpack, features like anti-abrasion and waterproofing are very important factors too. This is not to say that the backpacks at either end are superior; the reason for buying your backpack is something only you can decide on – and whatever the budget there is a backpack on the market for individual preference.
BEST HIGH SIERRA BACKPACKS REVIEWED FOR DURABILITY & FUNCTIONALITY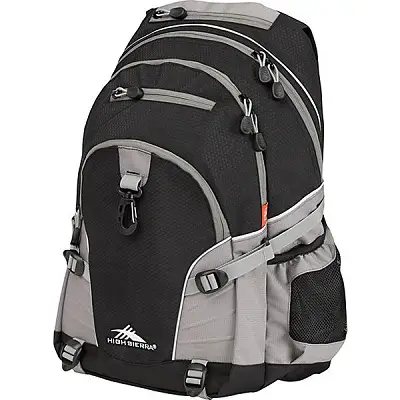 The Loop backpack by High Sierra is specifically designed for the trail. It offers features such as side compression straps and hanging accessory pockets. Such features allow you to attach extra gear to the outside of the backpack. This is the perfect way to carry hiking gear such as sleeping bags or tents because you can attach them to the backpack. The shoulder straps are specifically designed to help you carry extra large loads.
Lower Adjustable Straps
This backpack comes with lower adjustable straps which are used to attach extra gear to the backpack. You can use these straps to attach items such as a sleeping bag or a tent. This makes it an ideal backpack for outdoors.
Tablet Sleeve
It is not uncommon for people to bring small devices such as tablets with them, even if they are spending time outdoors. The backpack has a specialized sleeve that is specifically designed to carry and protect a tablet or other mobile devices.
Cost and Value
This backpack as a cost that is slightly less than average. It is an excellent value because it is made out of long-lasting 600D Duralite fabric and offers ways for you to attach additional gear to the exterior.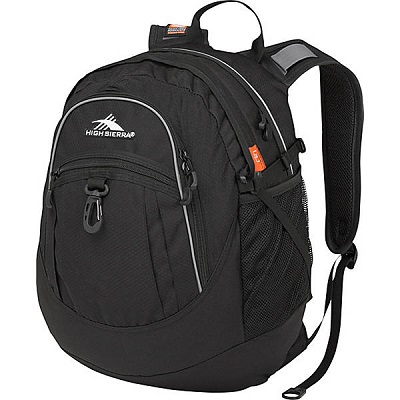 The Fat Boy is the perfect general usage backpack. It has features such as specialized organizer pockets, tablet sleeve, and media pockets. You can carry heavy loads in this backpack because it offers features such as side compression straps and extra wide and padded shoulder straps. Item in the backpack will stay organized thanks to the organizer sleeves located in the main compartment.
Suspension Straps
The shoulder straps have a special suspension system that helps with carrying heavy loads. The suspension system works by reducing the shock you feel when heavy items bounce up and down inside of the backpack. Reduced shock makes it easier on back muscles.
Organizer Compartment
The interior of the backpack has a special organizer compartment that allows you to keep small items organized. It has places for keys, headphones, calculator, pens, and pencils. There is a special key fob which you can use for your keys.
Cost and Value
The Fat Boy has a price that is below the average. The price turns this backpack into an excellent value because you will receive many of the same features found in high priced backpacks without having to pay extra for them.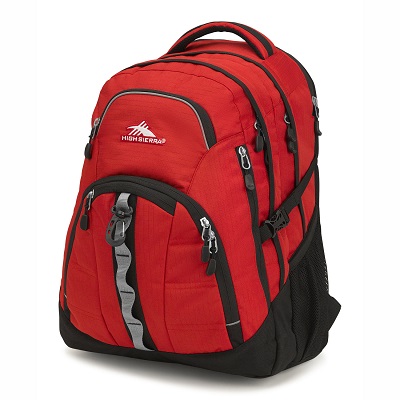 The Access is a great laptop for students and business professionals. It comes with multiple compartments that allow you to easily organize items such as books, notebooks, and binders. There is also a dedicated laptop sleeve which can store laptops as large as seventeen inches. Tablet users will also notice the dedicated tablet sleeve which allows for the easy storage and access to tablet devices.
Rain Cover
If you are going out in the rain, then you will find that tuck away rain cover to be a worthwhile feature. The rain cover helps protect the contents of your backpack by keeping water out of the interior pockets.
Loop Daisy Chain
The front of the backpack has a series of loop daisy chains that are heavy duty. You can use these daisy chains to clip additional items onto the exterior of the backpack. This is a great feature for outdoor or gym users.
Cost and Value
This backpack has an average price. It is a great value because it offers many of the same features found in high priced backpacks without you having to sacrifice quality. The backpack is made of high-quality material so that it's long lasting.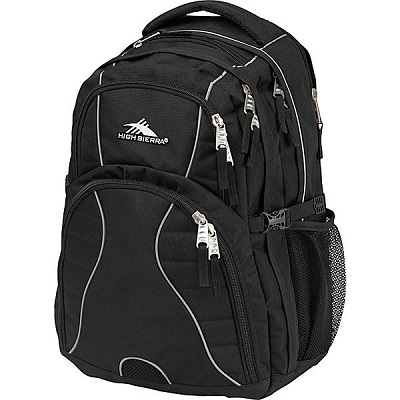 The Swerve is the perfect backpack for college or the office thanks to its focus on electronic devices. This backpack is specifically designed to allow you to safely and easily carry both a laptop and a mobile device. It offers plenty of pockets which includes a media pocket which is perfect for your smartphone or an MP3 player. The computer sleeve allows you to fit laptops that are as large as 17 inches.
Laptop Pocket
This backpack comes with a laptop pocket that is specifically designed for large laptop computers. You can fit laptops into this pocket that are as large as seventeen inches. The pocket is fully padded so that your laptop is guarded against impacts.
Tablet Sleeve
Many people carry a tablet device with them so this backpack also offers a tablet sleeve. This helps keep your tablet separate from your laptop and allows you to easily access your tablet when you need it.
Cost and Value
You should expect to pay a price that is slightly above the average for this laptop. It is an excellent value because of its focus on technical users. The backpack is built to last and does an excellent job of protecting your electronics.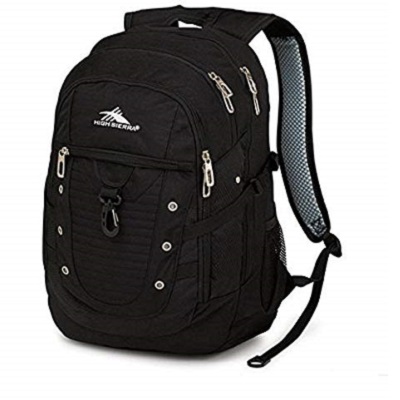 The Tactic backpack is a premium backpack that is perfect for school, business, travel, or sports. It has a wide array of storage pockets and organizers. This will help you find the perfect spot for all of your gear inside of the backpack. You will have no trouble carrying heavy loads since the backpack is constructed out of heavy-duty material and thick shoulder straps which are fully padded and adjustable.
Fully Padded Laptop Sleeve
Laptops are both expensive and fragile. It is critically important that laptops are protected from impacts because they are easily damaged. This backpack protects your laptop device by having a specialized laptop pocket which is fully padded to protect your laptop.
Monster Hook
Hanging the backpack up is a very common use and this backpack is prepared for the job thanks to its monster hook. The hook is designed to support the backpack even when it is completely full so that you don't have to put the backpack on the floor.
Cost and Value
The Tactic backpack has an average price when compared to other High Sierra backpacks. It gets its value by offering features such as laptop and tablet sleeve along with plenty of specialized storage pockets. The backpack is also durable and long-lasting.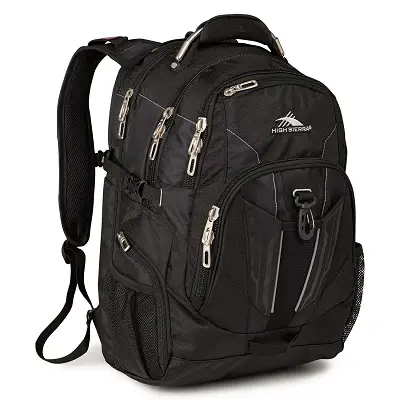 This stylish backpack comes in a choice of contrasting colors, it is produced using duralite tech weave and is hard-wearing. It benefits from having multi-compartments to ensure safe deposits of different items. The padded laptop compartment can accommodate sizes up to 17" and keeps vital tech secure, this gives peace of mind to prevent knocks and bangs when traveling for any reason.
TSA friendly
A great bonus with this laptop backpack is that it is TSA friendly so it is appropriate for flying with, saving time and effort at the checkpoint. The zippered dividers in the backpack mean quick and easy access to any personal belonging; saving time and effort.
Adjustable
The shoulder straps have suspension and the sternum strap is fully adjustable; this aids comfort and means more ergonomic balance. The main handle is also reinforced with cable for greater peace of mind when carrying valuable tech and personal gear.
Cost and Value
This multi-use, adjustable and TSA friendly backpack has everything the discerning traveler may need, the extra features included mean that this product is very well balanced on both cost and value. The smart design and hard-wearing exterior make it an excellent buy.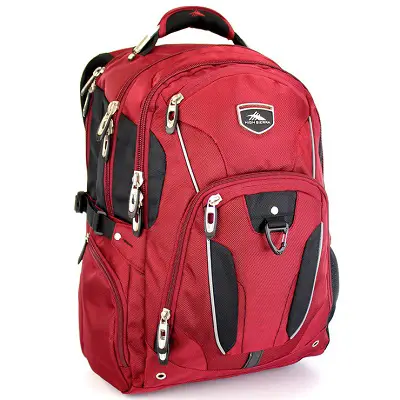 This stylish backpack comes in a choice of three colors; black, blue and red. These colors are contrasted and are complemented by piping around the contrast. It is designed with a padded compartment so it can hold a laptop (up to 17") comfortably, and benefits from having a separate pocket especially for a tablet. The cushioning it provides enable the weight to be distributed and therefore decreases possible strain on the back.
Pockets
The High Sierra Elite backpack comes with a variety of interior compartments and pockets. There are pen pockets, mesh pockets, a lidded media pocket, and even a key fob. These features give this backpack the versatility to be used for a number of activities, and the extra-large interior means more space for essentials.
Practical
The weight of this backpack is less than 4lbs so does not hinder the interior space capacity. It also has a handy sleeve on the back panel so it can be slid onto a wheeled travel bag, this adds to its overall versatility and its functional multi-use properties. The Elite benefits from being water resistant so less to worry about on trips out.
Cost and Value
This High Sierra Elite backpack is excellent value for money, it is versatile and multi-functional which make it useful for a variety of activities. The overall quality of the materials and construction of this backpack make it a worthy purchase that will endure most day to day activities.

8

. High Sierra Appalachian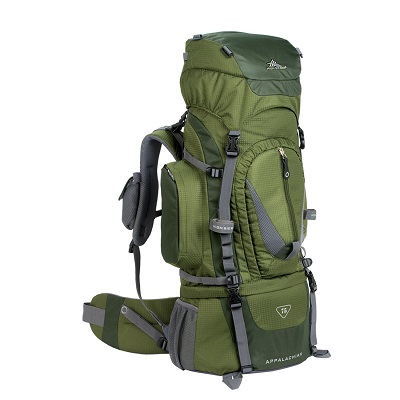 This High Sierra Appalachian 75 benefits from having a top loader main compartment which helps to keep valuable kit safe. This incorporates a gusseted drawstring closure and a fully adjustable lid. It comes in a choice of four colors with complimenting contrasts. Space inside is suitable for even the longest of hiking trips and gives added peace of mind with the top entry.
Frame bar
The Appalachian has an adjustable aluminum frame bar that is contoured, and this can be made to fit the shape of the back for more comfort and less chaffing. The single bar benefits from being light and increases the stability of the backpack.
Padding
It has a comfortable foam back panel that is formed in a way that allows air movement whilst it is worn and reduces heat and moisture retention for more arduous treks. The generous hip belt and shoulder straps are also padded for extra comfort where it is needed most.
Cost and Value
The cost and value of this backpack are equally matched, the confidence gained from using a quality product is priceless. The framework and large capacity are more than adequate for most trips – and that makes is excellent value for money.



The High Sierra Curve is an excellent general usage backpack. You can use this backpack for activities such as school or work because it has organizer compartments for items such as books, notebooks, and binders. It also works well as a gym or sports bag thanks to its large main compartment that provides you with room for clothes and shoes. It also exterior water bottle pockets which make it great for a hot day.
Media Pocket
The backpack has a specialized media pocket located in the front compartment. The pocket has a headphone port so that you can connect headphones to your device. This is the ideal place for items such as small tablets or your smartphone.
Front Load Main Compartment
The main compartment is front loaded and comes with different organizers. You can use this pocket for items such as books, notebooks, binders, or even a small laptop. The organizers allow you to separate the items so that you can find what you need quickly.
Cost and Value
You can expect to pay a price that is well below the average for this backpack. It gets its value by offering features such as large pockets that have organizers and media pockets. The backpack is also made from durable material.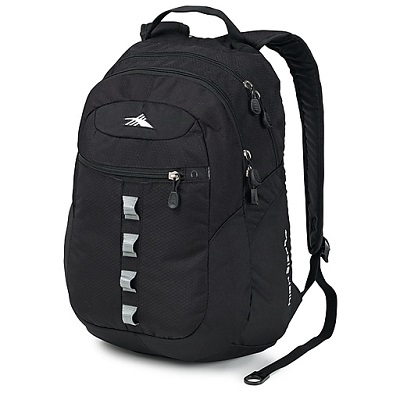 The Opie is the perfect backpack for the trial. It has featured such as daisy chain loops which allow you to attach extra gear to the exterior of the backpack. You will also find specialized slots and windows that allow you to securely store items such as ID cards, keys, and money. The backpack has a media pocket with a headphone port which is perfect for a smartphone.
Daisy Chain Loops
The exterior side of the backpack has daisy chain loops. These are highly durable loops that allow you to easily attach items to the outside of the backpack. It's the perfect spot to attach extra shoes or boots for the trail.
Id Pockets
Another great feature offered by this backpack are pockets that are specifically designed for items such as ID cards, keys, and money. They securely store these critical items but do so in a way that also lets you access them quickly.
Cost and Value
This backpack has a low price which makes it into a bargain when you consider all of the features it has to offer. You won't pay a lot, but will still get a great backpack that is perfect for the outdoors.

Subscribe to our Newsletter