Best Handheld Massagers Reviewed & Rated for Quality
In a Hurry? Editors choice: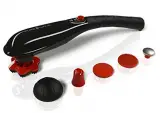 Test Winner: PUREWAVE CM-07

It would be nice go to a qualified massage professional and let your cares be kneaded away. But eventually, you can find yourself under stress at the most inopportune times; and you are unable to find immediate relief when you need it most.
This is where handheld
massagers
come in. They are ideal for home use after a hard day's work, or when you wish to get in some 'alone' time for yourself. They are portable, so you can pack it in your suitcase for a business trip or purchase a compact unit and carry it in your purse.
Even though handheld massagers do not offer the same treatment as a professional, they still can provide an effective massage. We've done the research and rounded up a handful of the top handheld massagers on the market, so that you would not have to.
Standout Picks
Criteria Used for Evaluation
Power Source
Some handheld massagers have a smaller motor that only massages the surface. When shopping for a massager, take into consideration that you will need one with plenty of power so that it can effectively provide a good massage.
The majority of portable massagers are designed to last for about 12 hours of actual running time. This works best for massagers that are given as mother's day presents, or are used one or two times and then stored away. This would not be effective if you are planning on using it consistently.
We will look into the 2 categories of portable handheld massagers:
Electric - Electric portable massagers uses a power cord to start working. The power that is needed varies along with the nature of the device. Deep tissue massagers require more power to operate versus gentle massagers. Similarly, a multipurpose massager excels over a basic massager in the amount of power needed. Corded power devices are the recommended option, since they help to give stronger power consistency. But, if the power cord is not long enough, usage can become a hassle.
Rechargeable – Rechargeable massagers seem to gain more popularity due to their portability. They come with a rechargeable battery; which is convenient when traditional power sources are not available. Some others have removable lithium batteries. One downside with these types of massagers is that you will be replacing the batteries quite often. In addition, when the battery dies, the intensity of the device is affected. These factors alone will financially add to the overall maintenance and cost of the device.
A rechargeable massager is less expensive to an electric one in comparison. They can be effective for providing a deep tissue massage as long as you can find the ones that are specifically tailored for that.
There are massagers on the market that comes with a car adapter. You can easily plug your device into the car's cigarette lighter and enjoy a massage whenever you are on the road. You do not have to worry about your battery running out of power. Your ideal massager will depend on your preference and what you value most.
Weight
The weight of a massager is a bit of a compromise. A handheld massager has to be sturdy for it to last a long time. In addition, the weight provides stability when the motor inside is running at a high speed. However, if the massager has a powerful motor and weighs too little, the unit would start to shake and rattle. Your item should feel solid, but not too heavy.
Product Purity
A reputable brand does not mind jumping through hoops to ensure product purity. Part of this process includes having a product tested, filling out a progress report, and getting it approved by a certifying body. The last thing a consumer wants is faulty wiring or an electrical part that touches their body and it backfires. It is easy nowadays for a company to import a sub-standard product and sell it without an assessment. When buying from a reputable source, always check for an inspection label.
Ease of Use
The major factor to consider is ease of use. Certain units are easier to use than others.
Elongated handheld massagers are good for hard-to-reach areas. They have a thinner frame which allows you to hold the handle comfortably and are easier to use. These units have one massage head. So it will take more time just to massage a larger area of your body.
Shorter massagers are also easy to use. They provide you with an easy-to- use handle. These units can reach your back without complications. However, it may be hard to reach certain areas, especially if you have short arms or hands.
Wide massagers have an added benefit to them. These units use one wide node versus one or two massage nodes. The wide attachment contains smaller mechanisms that work together - producing an effective massage session. They cover larger areas in quicker time
Portability
The portability of a handheld massage is determined by whether or not it comes with a power cord and the actual length of the cord itself.
Cordless massagers are the most portable. These can be used anywhere once they are charged. You can use them indoors, outdoors, or at work.
Some handheld massagers are provided with long power cords. These cords allow you to move around the power outlet, and offer pretty good portability.
Other massagers are provided with a short power cord. These units can be at a disadvantage to the user as you will need to remain near a power outlet, or use an extension cord each time you need to use the massager.
10 Best Handheld Massagers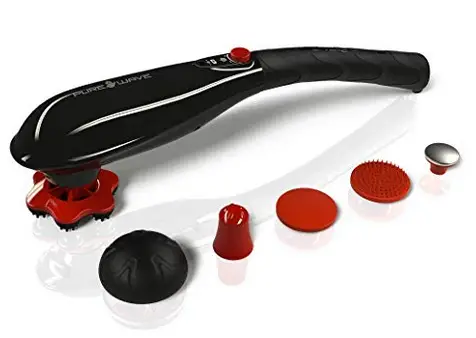 The person who is looking for a handheld massager that tackles the smaller areas of the body will receive the benefits of this portable charger. The PUREWAVE – CM-07 is a percussion massager and a vibrating massager rolled into one. It comes with six different attachments which is ideal for targeting smaller muscles. The product dimensions of this unit measure 16.5 x 2.8 x 3.5 inches.
Provides a Deep Tissue Massage
This PUREWAVE model provides a deep tissue massage and is used by physical therapists, sports trainers, and chiropractors to speed up recovery. It is deemed safe for use and effective for self-massage therapy.
6 Massage Sticks
This powerful unit comes with 6 attachments. The attachments do what they are designed to do. Each one is made for massaging a different area of the body and helps to relieve pain from these areas. Offering reliability, flexibility, and quality, that's precisely what this handheld massager offers.
Cost and Value
Along with improving blood circulation, the PUREWAVE facilitates back treatment as well. It is both durable and portable. PUREWAVE is the perfect unit for the person who incorporate massages as part of their daily routine. PADO offers a 90-day satisfaction guarantee. Products returned must be in their original packaging. They will provide a full refund minus shipping costs. Warranty picks up after 30 days of receipt, with a period of 1 year.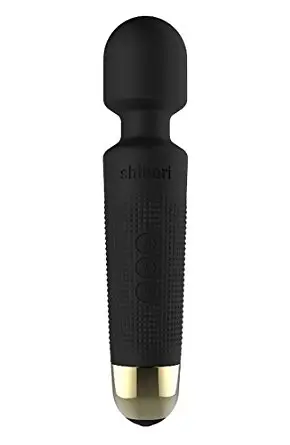 The Shibari massager is the perfect size for a wand vibrator. It is compact, yet large enough to feel the impact. You can carry it around in your purse. Depending on how you angle it, the head is shaped in a way that will provide a narrow or a broad stimulation. This mini handheld massager is durable and just as effective as the fancier wands that are on the market. The product dimensions measure 8.9 x 1.8 x 0.7 inches, and weighs 10.4 ounces.
USB Charger
The most important aspect of the Shibari Mini Halo is that it is USB chargeable. It comes with its own charging cord. The charging port is located at the bottom of the massager and includes a pierceable port cover. This is beneficial, as it protects the device from any liquids entering it and damaging the unit.
20X Pulsation Settings
The Shibari Mini Halo has three control buttons. The top button cycles through the eight power levels. The middle button allows you to select from 20 pulsations. When you turn it on, the unit starts at the highest power setting and the control of a button brings it down one notch. Between the variety of patterns and intensities, nearly everyone can find a setting that suits their needs. The head of the massager is flexible.
Cost and Value
In spite of the high power when you turn it on, this is a quality unit! It is water-resistant, body-safe, powerful, and rechargeable. Compared with other models, this wand is a solid pick! Shibari offers 1 year of exchange or refund coverage through their warranty. Your item will be replaced if you are not satisfied with your product.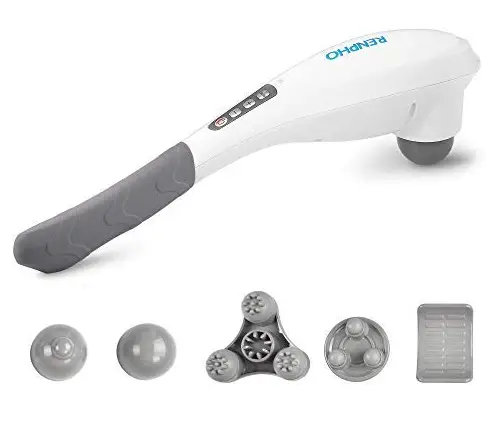 The RENPHO deep tissue massager is a cordless model that you can take with you without the worry of being dependent on a nearby electrical outlet. This handheld unit can ease any tension in almost all of your muscles and joints. It is powerful enough to be used daily and wherever you need it. It is useful on those stressful days and for use after physical activities and sports. The product dimensions are 15 x 3 x 4.5 inches, and weighs 1.76 pounds.
Percussion Technology
The first element that stood out was the percussion technology of the unit. It offers the ultimate in relaxation. It features a shut-off timer that will turn the unit off after 20 minutes. There is no need to worry about it overheating.
Powerful Motor
The RENPHO massager is designed with a powerful motor of 3600 pulses per minute. This power provide a deep tissue massage. The motor is built to be long-lasting. The Li-ion battery is included. This combination of strength and durability will keep you relaxed, massaged, and stress-free.
Cost and Value
The RENPHO handheld massager is perfect for the person on the go. The battery life and the portability make this unit an attractive choice. The company offers a 12 month warranty for all items purchased. Customers must submit their Amazon order ID to register for the warranty.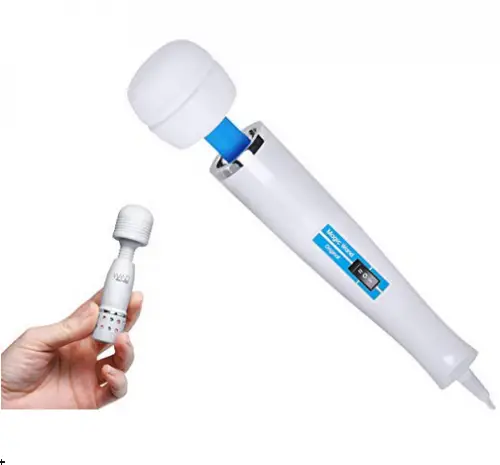 The Original Magic Wand is designed with durable, lightweight materials. This model returned to the market in June 2013, with a modified graphic design and improved engineering. You will be provided with an authentic Magic Wand. The product's dimensions measure 14 x 4 x 4 inches, and weighs 1.6 pounds. This model includes a softly molded wand massager attachment.
Durable Design
The Magic Wand's design is rather large. It is sturdy, moderately heavy, and undeniably indiscreet. The handle itself measures 9-inches long. The top of the shaft is made of blue, bendy plastic and measures about 1 inch. The "neck" of the wand keeps it flexible, which allows the head to move slightly. The head itself is made from white, slightly squishy vinyl, which is firm but not stiff.
Vibrates Heavily
This model is designed with a heavy duty motor that operates powerfully. The vibrations it provides are deep, as it comes with 2 vibrating massage speeds and 3 control options.
Cost and Value
The Magic Wand Original has been America's number one choice for a personal massager for the past 30 years. For a more personalized massage or to soothe aching muscles, this massager is an ideal choice that has earned rave reviews for decades! It has unmatched quality and strength, and is built to last. Magic Wand offers a 30 day warranty from the date of purchase. In addition, it is backed by a 1 year warranty.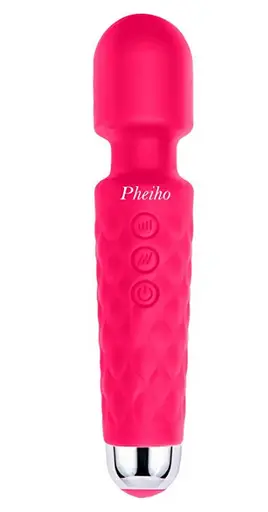 The Pheiho Power handheld massager is portable and can be taken everywhere you go. It is perfect for traveling and comes with velvet, smooth pouch. The massager is wireless and is also 100% water-resistant. The product dimensions are 8.2 x 1.7 x 1.2 inches, and weighs 7.2 ounces
Multifunctional
The first important aspect of the massager is that it's multifunctional. This compact device is perfect for use as a massager, even though it is best used for smaller areas of the body. Don't let the size fool you! This device will help you get to those 'hard-to-reach' areas to relieve body aches and pains, muscle tension, and helps with sports recovery.
High Quality Battery
The Pheiho massager is equipped with a high quality battery that has long lasting performance and is rechargeable. It comes with a LED indicator that flashes to inform you when it is charging. Once it is fully charged, the indicator light will remain solid. No more worries regarding battery replacement. Plug it into a USB port, wait for an hour, and it is ready to use!
Cost and Value
This massager is made from premium-grade silicone. It has a realistic feel to it and is 100% safe for your skin. You will feel like you came out of a spa! It is worth its weight in value. Pheiho ensures that their products are available at a price their customers will appreciate. If you are not satisfied for any reason, they will send a replacement or issue a refund.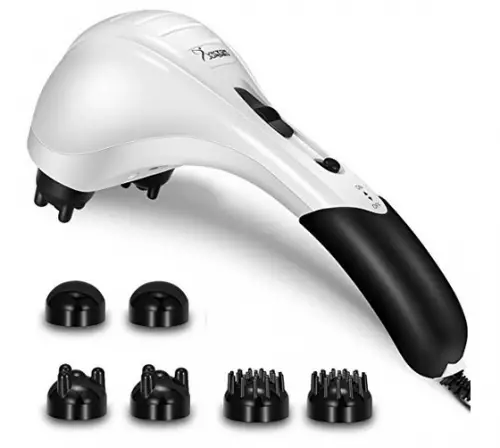 The VIKTOR JURGEN handheld massager comes with removable heads which allows for several massage options. You can use it on all areas. This massage has a balanced design that provides a better coverage and distribution for the weight. With multiple settings, you can create whatever type of massage you need, whenever you need it. The product dimensions are 6.7 x 5.5 x 14.6 inches, and weighs 3.45 pounds.
Double-head Massager
This unit is designed with a double-head massager that imitates a 'real' tapping massage. The handle features a covered non-slip grip that enhances user convenience. It comes with 3 removable heads to provide the user with a range of massage settings to choose from.
User Convenience
The VIKTOR JURGEN massager is highly compact and lightweight, offering users the convenience of using it in the home, car, or at the office without difficulty. This device comes with an extra long charging cord that provides for easier utilization of the massager.
Cost and Value
VIKTOR JURGEN offers professional grade massaging at home. No need to spend money on massage services or systems. You are able to perform the process yourself, just by switching it on! The massager is reliable, valuable and cost-effective. The company stands behind their products by ensuring their units are free from defects for a period of 1 year. VIKTOR JURGEN will provide a refund or a replacement warranty if you are not completely satisfied with your purchase.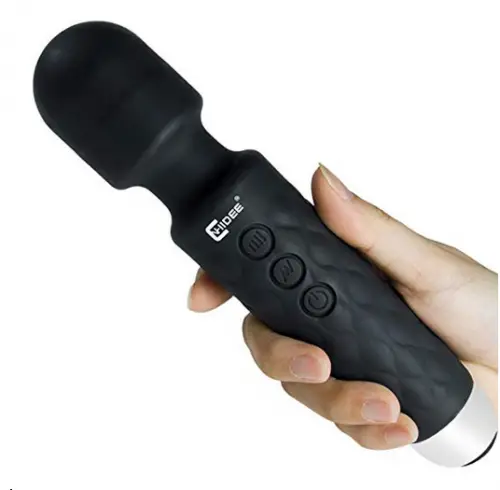 CNHIDEE handheld massager has been promoted for pain and stress and has proven to improve blood circulation. With this unit, you can easily add these benefits into your daily routine. With its rechargeable battery and quiet motor, the massager is a great choice for revitalizing tired muscles. The product dimensions are 7.9 x 1.6 x 1.6 inches.
Whisper Quiet Motor
The CNHIDEE massager is designed with a whisper-quiet motor. You are able to choose between multiple speeds and enjoy the benefits of wireless stimulation. Plug the AC adapter for charging and the massager will be ready for use. It takes about 1 hour of charging time and can be used for 1.5 hours before it will need to be recharged. No need for a permanent network connection. You can take it with you everywhere!
Medical Grade Silicone
The massager is made from premium quality silicone. It is toxic-free and feels comfortable on bare skin, with the motor power concentrated in the head. This allows you to focus the massage directly on the problem area. It comes with a flexible head that moves comfortably wherever you apply the pressure.
Cost and Value
The CNHIDEE massager has escalations and pulsations that will provide an effective massage. Even though it is used externally, you will feel the effect in your muscles. It is safe to use on the shoulders, neck, or back! CNHIDEE provides a 1 year warranty on their items. If there are any issues, you can contact them via Amazon market and they will issue a free replacement.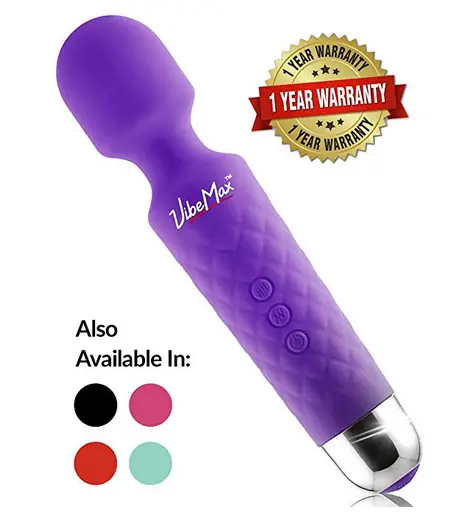 The VibeMax personal massager is compact and powerful - making bulky, large wands a thing of the past. It is great for workout recovery or for stress relief after a hard day's work. It is an effective treatment for aches and pains. You can choose from 20 pulse patterns and 8 vibration settings. The product dimensions are 1.6 x 1.6 x 7.8 inches.
Built to Last
This unit offers cordless functionalities and is built to last. It provides a faster charge and lasts longer versus compatible models. It takes 1.5 hours for it to fully charge and provides over 3 hours of usage before it will need recharging again.
Adjustable Speed
Whether you are looking for a high intensity or a low soothing massage; with the VibeMax handheld charger, the choice is yours! With 20 vibrating stimulation patterns and 8 powerful speeds to choose from, you will be certain to find the right setting that is perfect for you.
Cost and Value
VibeMax is committed to providing a hassle-free refund policy for consumers. They will provide a 1 year refund or replacement warranty if you are not completely satisfied. Return the item with its original packaging within 30 days to receive a full refund.



This unique and portable massager is made from ABS and a medical silicon brand. The unit provides an effective massage experience. It is totally waterproof and is easy to clean. You can use it for yourself, or give it to someone as a gift. The product dimensions are 7.87 inches in length, 1.77 inches in diameter, and weighs 0.96 ounces.
Cordless
With this massager, there is no wire needed. The Comfy Mate multi-speed massager can be used for the entire body; including the neck, arms, shoulders, foot, and back. This unit equips 1800 ma battery power. It comes with a USB cable so you can charge your massager through a plug or a PC.
Powerful Wand
The Comfy Mate provides an extremely quiet, but powerful massage. It comes with a power turbo mini-motor with 5 speeds and 20 vibrations to choose from, depending on your preference.
Cost and Value
The Comfy Mate handheld massager is controlled by only two buttons and is incredibly easy to use. These factors give this model great value! The massager comes with a 100% satisfaction guarantee and a 60-day refund policy. If there are any problems, you can contact the manufacturer to request a full refund or an exchange.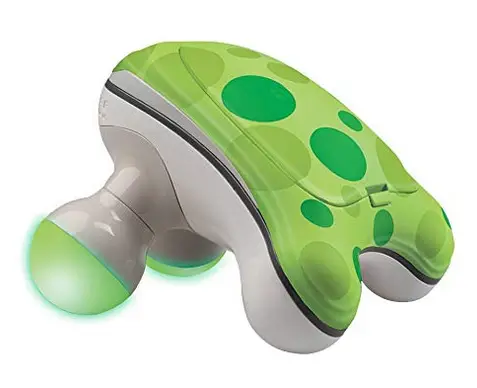 The HoMedics Ribbit handheld massager provides a rejuvenating vibration massage that is lightweight. The feet illuminate and come in a choice of assorted colors for stylish enjoyment. The colors come in orange, green, or blue. It is a handy massager that can bring you temporary relief for tired achy muscles. The product dimensions are 4.3 x 3.9 x 3.2 inches, and weighs 4.6 ounces.
Ergonomic Design
The HoMedics massager has an ergonomic design. It reduces stress and tension, enabling you to perform a deep-tissue massage by applying more pressure to the affected area. This device is designed for the whole body. It provides a vibrating massage and can be used as a recovery tool after sports or a workout.
Battery Operated
The massager is battery operated and completely wireless. You can perform a relaxing DIY massage anywhere. It requires 3 AAA batteries to operate the massager and is included with your purchase. Add a muscle massage into your daily routine or you can add one to your nightly regimen after a hard day's work.
Cost and Value
HoMedics stand by their products. Each product is created with the highest quality components and is designed for years of dependable use. They back every product with a 90 day limited warranty. Refer to your product's instruction booklet for more information.

Subscribe to our Newsletter