Best Handheld Massagers Reviewed & Rated for Quality
last updated:
Oct 08, 2020
It would be nice go to a qualified massage professional and let your cares be kneaded away. But eventually, you can find yourself under stress at the most inopportune times; and you are unable to find immediate relief when you need it most.
This is where handheld massagers come in. They are ideal for home use after a hard day's work, or when you wish to get in some 'alone' time for yourself. They are portable, so you can pack it in your suitcase for a business trip or purchase a compact unit and carry it in your purse.
Even though handheld massagers do not offer the same treatment as a professional, they still can provide an effective massage. We've done the research and rounded up a handful of the top handheld massagers on the market, so that you would not have to.
In a Hurry? The test winner after 8 hrs of research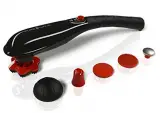 PUREWAVE CM-07
Why is it better?
Dual motor design
Professional grade
Speed and intensity controls
Acute and repetitive percussion therapy
180 minutes running time
In a
Hurry? Editors choice: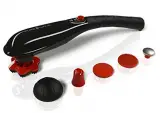 Test Winner: PUREWAVE CM-07

8
Interviewed Experts
30
Researched Sources
14k
Total Readers
1600
Reviews Considered
8
Hours Researching
10
Products Evaluated
Power Source
Weight
Product Purity
Ease of Use
Portability
By Default
10 Best Handheld Massagers
Criteria Used for Evaluation

Power Source
Some handheld massagers have a smaller motor that only massages the surface. When shopping for a massager, take into consideration that you will need one with plenty of power so that it can effectively provide a good massage.
The majority of portable massagers are designed to last for about 12 hours of actual running time. This works best for massagers that are given as mother's day presents, or are used one or two times and then stored away. This would not be effective if you are planning on using it consistently.
We will look into the 2 categories of portable handheld massagers:
Electric - Electric portable massagers uses a power cord to start working. The power that is needed varies along with the nature of the device. Deep tissue massagers require more power to operate versus gentle massagers. Similarly, a multipurpose massager excels over a basic massager in the amount of power needed. Corded power devices are the recommended option, since they help to give stronger power consistency. But, if the power cord is not long enough, usage can become a hassle.
Rechargeable – Rechargeable massagers seem to gain more popularity due to their portability. They come with a rechargeable battery; which is convenient when traditional power sources are not available. Some others have removable lithium batteries. One downside with these types of massagers is that you will be replacing the batteries quite often. In addition, when the battery dies, the intensity of the device is affected. These factors alone will financially add to the overall maintenance and cost of the device.
A rechargeable massager is less expensive to an electric one in comparison. They can be effective for providing a deep tissue massage as long as you can find the ones that are specifically tailored for that.
There are massagers on the market that comes with a car adapter. You can easily plug your device into the car's cigarette lighter and enjoy a massage whenever you are on the road. You do not have to worry about your battery running out of power. Your ideal massager will depend on your preference and what you value most.

Weight
The weight of a massager is a bit of a compromise. A handheld massager has to be sturdy for it to last a long time. In addition, the weight provides stability when the motor inside is running at a high speed. However, if the massager has a powerful motor and weighs too little, the unit would start to shake and rattle. Your item should feel solid, but not too heavy.

Product Purity
A reputable brand does not mind jumping through hoops to ensure product purity. Part of this process includes having a product tested, filling out a progress report, and getting it approved by a certifying body. The last thing a consumer wants is faulty wiring or an electrical part that touches their body and it backfires. It is easy nowadays for a company to import a sub-standard product and sell it without an assessment. When buying from a reputable source, always check for an inspection label.

Ease of Use
The major factor to consider is ease of use. Certain units are easier to use than others.
Elongated handheld massagers are good for hard-to-reach areas. They have a thinner frame which allows you to hold the handle comfortably and are easier to use. These units have one massage head. So it will take more time just to massage a larger area of your body.
Shorter massagers are also easy to use. They provide you with an easy-to- use handle. These units can reach your back without complications. However, it may be hard to reach certain areas, especially if you have short arms or hands.
Wide massagers have an added benefit to them. These units use one wide node versus one or two massage nodes. The wide attachment contains smaller mechanisms that work together - producing an effective massage session. They cover larger areas in quicker time

Portability
The portability of a handheld massage is determined by whether or not it comes with a power cord and the actual length of the cord itself.
Cordless massagers are the most portable. These can be used anywhere once they are charged. You can use them indoors, outdoors, or at work.
Some handheld massagers are provided with long power cords. These cords allow you to move around the power outlet, and offer pretty good portability.
Other massagers are provided with a short power cord. These units can be at a disadvantage to the user as you will need to remain near a power outlet, or use an extension cord each time you need to use the massager.
Expert Interviews & Opinions
Most Important Criteria
(According to our experts opinion)
Experts Opinion
Editors Opinion
Users Opinion
By Default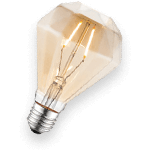 A massager can help improve the quality of sleep
Massagers have a relaxing effect on the body, resulting in a better quality of sleep. Studies show that the body's stress levels are significantly lowered during a 10 – 20 minute massage. You are able to fall asleep faster and sleep more comfortably.
A massager is a great treatment for exertion soreness
Exertion soreness happens when you start to exercise or you change your exercise regimen. This type of pain in the muscles can also happen when you pick up a new sport. Handheld massagers help with exertion soreness by stimulating the muscles. Massage sessions increases recovery when heated therapy is administered
Massagers help to improve and increase blood circulation
Handheld massagers activates deep muscle tissue and increases blood circulation. This can help with painful joints and treats aching muscles.
Massages help to make your skin glow
Your skin will have a rosy glow when the blood is stimulated under the skin. Handheld massagers that are used regularly will produce this effect. An added benefit is that some units have attachment heads that works as skin scrapers
Other Factors to Consider

Accessories
Not every portable massager comes with attachments, regardless of their price tag. You will want a massager that comes with alternative attachment nodes. Most manufacturers do provide these in which you are able to customize them according to your needs.
There are various ones that provide a range of massage techniques. Apart from the nodes that provides a kneading massage, you can experience the benefits these different types offer.
Wide Massage Node
This node usually delivers a soothing and comfortable massage.
Results: You will feel relaxed and relieved from both mental and physical stress. The wide massage node helps you to achieve deeper sleep after each massage session.
Rolling Massage Node
With the function of this node, you will receive a circular massage.
Result: It not only helps to increase blood flow on the affected areas, but also, relaxes stiff muscles. However, it is not built to provide a deep-tissue massage.
Scraper Massage Node
This massage node helps to decrease the appearance of dead skin cells.
Result: By improving blood circulation underneath the skin, this node aids in achieving soft skin that glows. It also helps to decrease the signs of aging.
Scalp Massage Node
This node will provide a deep scalp massage.
Result: Increases blood circulation and boosts hair growth.
Shiatsu Massage Node
Very few massagers offer this massage technique.
Result: This massager emulates a professional, deep-tissue massage to relieve aching and sore muscles and joints.

Adjustability
A massager which allows you to adjust the speed is an important purchasing factor. By changing up the speed, you are able to personalize your massage settings and experience. Muscle tone gets weaker when you age. A good massager with a powerful speed is able to penetrate through and relax the muscle. If you are especially planning to use it for the whole family, finding one with an adjustable speed is a must.

Versatility
How versatile is the massager? Not only should a hand-held massager have multiple heads, you should be able to choose the type massage you prefer. You want a device that can offer a full-body, head-to-toe massage - and then some.
Massagers come with a variety of functions to which the device massages you:
Speed/ Intensity
The intensity or the speed of the massager should also have options. The reason being is that some people have thinner skin while others have thick. If someone with thicker skin uses a massager with low intensity, it will not provide the best results and vice versa. Another factor to consider is that some parts of the body require less power or pressure than others. Ignoring this fact can cause a health hazard. Hence, intensity selection is an important factor.
Modes
Mode selection is often the most underrated and often overlooked. The modes of a massager help with achieving different rhythms and results. If you are looking for a soothing effect, you can simply choose a different rhythm.
Some handheld devices operate well when used only for the shoulders or neck, while others operate better when it is used for the back. A basic model will work for specific areas and tend to be less expensive. A higher-end massager provides settings that will help you target all body areas. These are the massagers to consider if you do not have a specific body area to treat. They usually offer more features and attachments than the basic models and will provide an effective massage.

Advanced Features
A massager with heat options is an added bonus, since it helps with blood circulation while releasing muscle tension. Handheld massagers come with heating functions. Infrared heating is the most recommended due to the fact this type of heat penetrates the muscles better and provides a relaxing and soothing effect.
Massagers with heat functions have thermostatic sensors attached to prevent overheating. This is ideal if you do strenuous work, exercise, or play sports. The heat will provide effective relief to sore muscles and stimulate blood flow. Should you not choose this function, you can switch it off by changing the controls.

Comfort
There are two sub-components when you factor in the model of a handheld massager:
It should be constructed so that it can be used on most areas of the body without having to strain yourself or get into an awkward position to use it.
And it should feel sturdy when you grip it.

Value
There is no compromise when it comes to ensuring quality of an item. A quality-made product reduces the risk of defects. Plus, you can appreciate its benefit and value more.
Always check the warranty when choosing a device. Having one will help if an issue arises within a certain period of time. The buyer can then replace the device with the best option. Thus, it is important to ensure that a refund or a replacement is an option before leaving the counter.

Durability
It is very common that one type of massager can fulfill the requirements of many people. Therefore, is would be a sensible decision to choose a device which is made of a durable material. In the case of electric massagers, the motor must be strong enough to run through multiple sessions.
Subscribe to our Newsletter