Best Neck Gaiters Reviewed & Rated for Warmth
In a Hurry? Editors choice: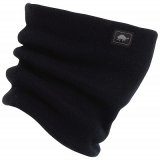 Test Winner: Turtle Fur Original

As the cold weather approaches, it's important to take measures to stay warm when spending time outdoors. Whether you are a hiker, runner, trekker, or simply taking your dog for a walk, the cold fall and winter weather can be harsh and can do plenty of damage to your skin. This is why it's vital that you take protective measures towards safeguarding any sensitive areas. While your torso and legs are covered by your winter wear, the one area susceptible to cold air in your neck.

Neck Gaiters are one of the best lines of defenses for those of you who wish to keep your neck and chin warm while out in the fall and winter winds. We are here to present the best neck gaiters on the market today, all of which are very much worth your consideration.
Standout Picks
Criteria Used for Evaluation
Materials
Since we are researching neck gaiters, we knew, right away, the most important aspect of a high-quality product is the material that the manufacturer used to construct it. Now, you should know that each type of material has its own set of advantages and disadvantages. With that, we highly suggest, before doing any formal evaluation, getting clear on what type of neck gaiter you need. Are you working outside in the winter months? Are you seeking a neck gaiter to protect from the sun or wind? From there, you can begin to eliminate products based on the type of materials used.
The most common materials that manufacturers are using today are:
Polyester
MicroFiber
Wool
Spandex
When selecting products that are considered the best in class, we paid close attention to how companies would discuss the materials used in their product. What we learned was that higher-end neck gaiter makers would proudly talk about their process and share with consumers the benefits of their materials. Companies that tend to mention very little information on the materials, forcing you to do added research, are simply not worth it.
Value
One of the most important criteria for us during the selection process the idea of the cost and value ratio. What this means is that we were interested in the cost that companies were charging in consideration of the value infused into the threads of the product. After extensive research, we can conclude that many companies tend to charge in-or-around the competitive price range, which sort-of balances the playing field away. As a result, when it comes to neck-gaiters while the cost is a strong determinant for consumers, it's clear that value speaks more volumes. In fact, you can find neck gaiters that are loaded with more value than other products and are cheaper.
Durability
When purchasing any product, whether a neck gaiter or not, you want it to last! This is a natural concern for every single consumer. With that being said, when evaluating different neck gaiters, we only wanted to find products that boasted long-lasting materials and could withstand extensive use. To do this, we kept a lookout for products that featured unique durability features. This may mean a double-layer build, stronger than normal materials, or reinforcing features. Since these products are made from an assortment of fabrics, we also looked at pictures to evaluate the build and design. We wanted to ensure and minimize the risk of any fibers or threads fraying – or anything of that nature. On top of this, another great way to evaluate the durability of a product is to consult with previous consumers. See how long the product has lasted for others.
Style
At the end of the day, after evaluating the materials and the assortment of features, consumers tend to care about the visual appeal of the product. Let's be honest – if you could choose a high-quality and long-lasting neck gaiter that was offered in your favorite color, would you opt-into buying it? Or – would you settle for another similar product that is offering the product is a regular or standard white, black, or grey color. Chances are if you are like many other readers, design and colorations matter, which is why we evaluated products based on these specific criteria. We wanted to find manufacturers that were creating products based on quality but offered consumers the option to purchase a different color or pattern. We recommend, prior to purchasing any neck gaiter, figuring out what features or designs are most important to you.
10 BEST NECK GAITERS REVIEWED & RATED FOR WARMTH
1

. Tough Headband 12-in-1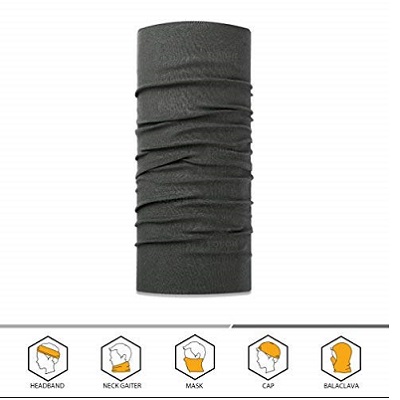 The Tough Headband 12-in-1 Headwear is considered one of the best neck gaiters on the market today. Consumers have crowned this product as the champion of the industry due to the high-quality design and build of the product alongside the 12 different ways to use the gaiter and over 16 different colorations and designs to choose from. On top of this, the manufacturer offers all consumers a lifetime warranty for all their products. Does it get any better than this?
12 Different Uses
One of the unique facets of this product is its ability to be multifunctional. In fact, this neck gaiter can be used in 12 different ways, including as a headband, face mask, bandana, neck gaiter, helmet liner, and even balaclava. So, whether you are skiing and snowboarding, working in the snow, or doing some hiking in the mountains, this neck gaiter has an endless amount of opportunities for how you can wear it.
Lifetime Warranty
This neck gaiter has become a fan favorite not only because of it's immense usability and color options, but the company also provides consumers with a unique lifetime warranty on any of their products. In other words, if you are unhappy with their product, or should anything happen to the quality of their products, the customer service team will work with you and replace it. On the market today, there are not many companies that can compete with this warranty.
Cost and Value
As the leader in the industry today, this product is priced slightly below the entire competition. This may be shocking to some readers, especially when you look at all of the value-packed into this product. This neck gaiter is built from the best material on the market today, comes in 16 different colors and patterns, built with reflective properties, and can be used in over 12 different ways. The best part is, should anything go wrong, the consumer can return it or ask for a new one. All of this value is cheaper than almost every single product on this list! It's clear who the winner is.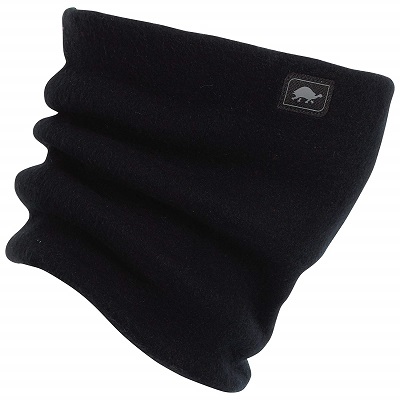 Out of the industry today, one of the most popular neck gaiters on the market today is the Turtle Fur Original Turtle Fur Fleece - The Turtle's Neck Gaiter. This product quickly became a fan favorite due to the high-quality 100% acrylic fleece materials used in constructing the product. Those who have used the Original Turtle Fur Fleece before will find great value and use in this specific neck gaiter. If you are an active winter athlete, this product may be for you.
Soft and Warm Fleece
What made this product such a popular option in the industry is the unique materials used to build it. The manufacturer chose to use 100% acrylic fleece, which is what makes this product so soft. In addition, the material used also does a great job at retaining heat, keeping the user warm, even during the coldest winter days.
14 Different Colors
We always like to pay close attention to the color or design options that manufacturers offer consumers. Here, consumers may pick from 14 different bright and vibrant colors for their neck gaiters. Colors range from white to crystal to even tea rose! This is a great feature, seeing as a neck gaiter can be considered a fashion piece as well. All of the colors are bright enough where individuals can be seen a distance away.
Cost and Value
When it comes to comparing different neck gaiters, it's important to look at how a product is priced in comparison to its value. For this specific product, it's priced slightly higher than the rest of the competition. However, while that may turn some consumers in a different direction, consider the benefits that this product offers. Here, you can pick from 14 different colors and own a neck gaiter from the Original Turtle Fur Fleece. The product is made from the original 100% acrylic fleece, which is one reason why so many people are purchasing this product today. So, as far as value goes, this is a worthy competitor to consider.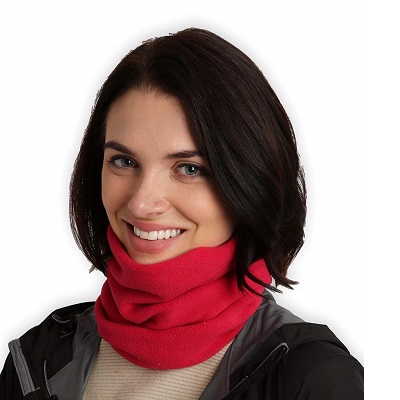 Touch Headwear Fleece Neck Warmer is one of the more popular choices of neck gaiters on the market today. This product is one of the only ones that come in six different unique designs and colors, all of which are reversible, giving consumers even more control over how they want their product to look. Additionally, it's clear this company is dedicated to quality, given their unique approach to making this neck gaiter. For those of you who are looking for a cost-friendly option, check out this one!
Double-Layered Neck Warmer
If you are wanting to know why this product has made our list, it's all in the double-layered neck warmer design. This product was made to keep consumer's necks warm and safe from whatever cold weather is happening outside. The company utilizes ToughTech technology to help increase heat retention alongside microfiber materials to keep your face and neck comfortable at all times.
Lifetime Warranty
One area that we always take into consideration when evaluating different products is warranties. In truth, it's quite rare to find companies that offer anything other than a limited warranty. With this neck gaiter, the manufacturer is offering their consumers a lifetime warranty, should anything ever happen with their product. It is suggested that you read the specifics of the warranty before purchasing.
Cost and Value
Out of the many different products on this list, this neck gaiter is priced to match the rest of the competition. With that in mind, this product does offer some great value, making it a considerable option. With over six different unique designs to pick from, a lifetime warranty and a unique double-layered neck warmer design, this is a great neck gaiter for anyone seeking to keep their neck warm in winter, without having to pay a pretty penny.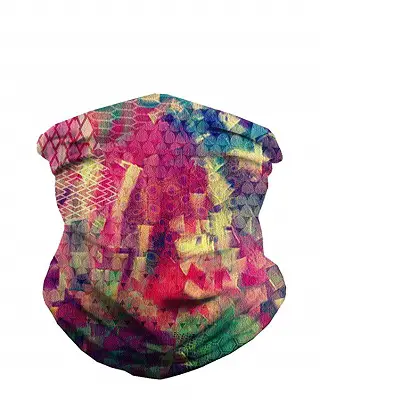 The iHeartRaves Seamless Face Mask is quickly becoming one of the most preferred neck gaiters by consumers today. This can be directly attributed to the unique and stunning designs offered by the brand, alongside its multifunctional uses. Whether you are planning on using this neck gaiter for concerts in the summer or skiing down a mountain – this product is certainly worth any consumer's consideration seeking a quality neck gaiter.
Multifunctional Design
Many neck gaiters on the market today are only created for one sole purpose: to protect your neck. The manufacturer of this product realized a massive opportunity by creating a multifunctional neck gaiter. What this means is that this product can be used for many different activities, or in many different ways. You can wear this product as a neckerchief, headband, wristband, mask, hair-band, and more!
Quick Dry Technology
The creator of this product injected the material with quick dry technology. This is a unique innovation that helps keep the material dry, even when it's raining or snowing. Typically, neck gaiters take a couple of hours to dry, should they get wet. With this product, consumers have mentioned noticing the quick dry technology within minutes. Due to its lightweight design, this is a considerable option for all consumers.
Cost and Value
It's always important to compare the cost of a product to the amount of value that a manufacturer puts into it. As far as price is concerned, this product is relative to the entire competition. So, the biggest deciding factor comes down to value. With that in mind – what set's this product aside from the entire competition is it's unique and stunning designs. Many people have purchased multiple neck gaiters simply because of the appeal. Additionally, the product has great value for those who are seeking warmth from the cold. In total, this is one valuable and cost-friendly product.

5

. Carhartt Fleece Neck Gaiter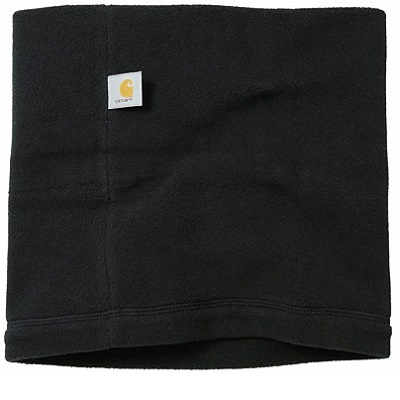 If you are a fan of the Carhartt line of products then it's time to consider one of their best products, the Carhartt Men's Fleece Neck Gaiter. This product has made a mark in the industry as one of the top-notch neck gaiters given its name and unique material build. While the company is not focusing on infusing a wealth of features or innovations into this product – you are purchasing a simple, high-quality and durable neck gaiter to keep the neck warm. With no bells and whistles, this product is a great choice for those seeking a pure, 100% neck gaiter.
High Quality Design and Build
To stand aside in a saturated market of products, brands need to do something different. Instead of creating a product with multiple colors and designs, this brand went straight for quality. Here, you can anticipate a high-quality design, made of only the best materials. In fact, this product is made from 92% polyester and 8% spandex, both of which are meant for comfortability, warmth, and a snug fit.
Durable
In light of the materials and design of this product, it's safe to say that this product is built to last. Unlike many other neck gaiters on the market today, which happen to fray very easily, this product can last for many years, if it's taken care of properly. In fact, one word of caution, according to the label, this product is only allowed to be hand-washed.
Cost and Value
Considering the costs of neck gaiters is a vital component of knowing what product to buy. This specific one is actually priced slightly higher than the rest of the competition, but not by too much. The reason for the higher cost can be attributed to the brand that made the product. As far as value is concerned, there is no added features or added value put into this product. This is a simple neck gaiter made from high quality, warmth-retention materials. If that is what you are seeking, this is certainly worth your consideration.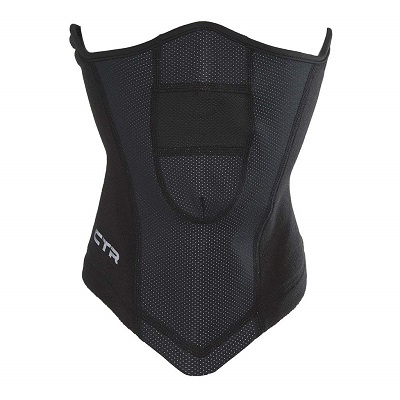 The Chaos Hats Chinook Micro Fleece Neck Gaiter is probably one of the best options on our list today. If we can be honest, there are not many products that you can find that are redefining the word "cheap", especially in the neck gaiter market. This product is incredibly cost-effective and loaded with some great features. Whether you are new or not, this is a must-try purchase for consumers.
Windproof Face Mask
We always keep a look out for products that are offering unique features and innovations during the evaluation stage. This product caught our attention because of its unique proclaimed windproof face mask. What this means is that users can insert a windshield to help protect their face from rain, sleet, snow, or whatever else might be falling from above. If you are an athlete, work outside, or enjoy the winter weather, this feature will most certainly come in handy.
Micro Flex 4 Way Stretch Fleece
Understanding the materials used to create a product is a great way to learn about the quality, durability, and usability. This neck gaiter is made from MicroFlex fleece materials. As a result, this product is incredibly lightweight yet masterfully helps to retain heat and, at the same, push out moisture that is building up in the neck region. Partner this with the 4 way stretch innovations and you have one great neck gaiter.
Cost and Value
As far as cost as concerned, this might be the cheapest product on our list. Now, when consumers typically hear the words "cheap", they associate that with the value of the product. This is simply not the case with this product. This product is loaded with value and features, including its high-quality build, windproof facemask features, and great durability. If you are looking for a cost-friendly neck gaiter to start your journey, this is a great selection.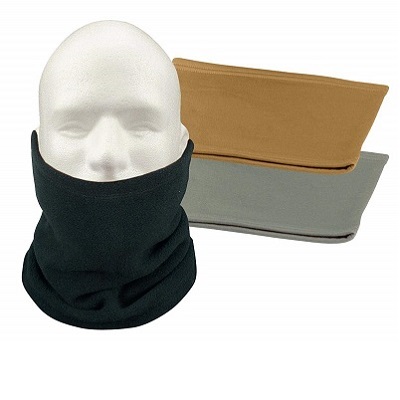 The Rothco Polar Fleece Neck Warmer is a great option for consumers that are seeking a product to keep their neck warm in extreme winter conditions. This product is made from 100% polyester materials. As a result, you can anticipate this neck gaiter to be lightweight, comfortable, and a professional at retaining heat. With four different color and pattern options to choose from, this may just be a great, cost-effective choice.
Extreme Conditions
What really sets this product aside from some of the cheaper neck gaiters on the market today is that this product can handle extreme weather conditions. In fact, many consumers have boasted about how they were able to ski, snowboard, and even shovel snow without a glimpse of cold air brushing their neck. This can be directly attributed to the high-quality design and 100% polyester materials.
Multiple Uses
Many other products that consumers can purchase today are only for the neck-use. This specific neck product is actually marketed to handle multiple different uses. For example, consumers may use this neck gaiter with a watch cap, as a face mask, or balaclava. Whatever your needs may be, chances are, this product can rise to the occasion.
Cost and Value
Out of the many different products that you have read about on our list, this neck gaiter is one of the more cost-friendly options. In fact, this product is priced at the same costs as our number one neck gaiter. This product is known to help keep consumers warm in even the most extreme weather conditions. Thanks to high-quality, 100% polyester materials, wearing this product is easy and comfortable. We would like to say that, given the price point, you may want to consider purchasing the number one neck gaiter on the list first.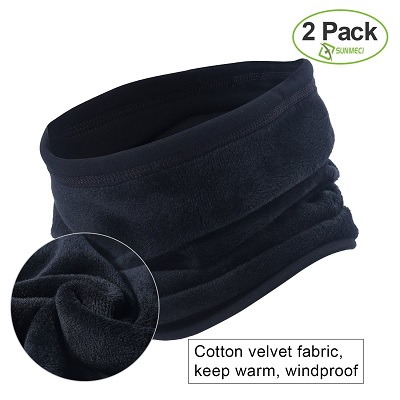 If you are looking for a high-quality neck gaiter that has been proven effective, perhaps you should consider the SUNMECI Winter Neck Gaiter Warmer Windproof Dust- Face Mask. This product entered the market and capture consumers' attention by storm because of the high-quality materials and unique two-sided use. Additionally, the creators have said that their products were tested by high-quality machinery for effectiveness and durability. In other words, this product might just be the real deal.
Premium Materials
As we said above, one of the reasons why this product became so popular was because of the premium materials that the company is using to create it. The fabric used is a premium cotton velvet material that is incredibly soft, comfortable, and great at retaining heat for the user. The best part about this material and design is that it can also help minimize wind. So much so – the company markets this product as wind-proof.
High Durability
What does durability mean to you? Evidently, you want a product that lasts, right? Well, this neck gaiter was established and founded on the principals of durability. To secure consumers that this product will last multiple uses, the manufacturer tests each product with multiple machines to ensure it's quality. Additionally, the utilize a highly-advanced sewing pattern and technique to help promote a great life-expectancy.
Cost and Value
This is one of the only products on our list that is not priced based on competition. In fact, this is one of the only ones that is based on value. While this product may be slightly more expensive than the top three products on this list, and be slightly newer, this neck gaiter poses a significant threat to the throne. Not only is this made from premium materials, but consumers can also choose the way they wish to wear this. You can wear it as a face mask, beanie, or even a pirate hat. How will you wear it?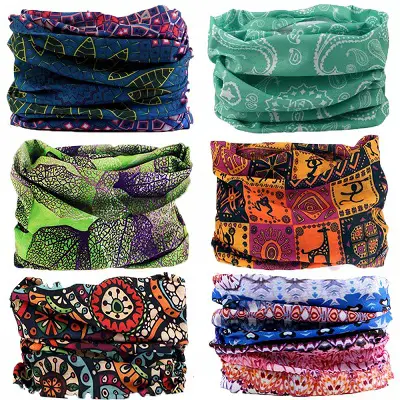 If there is one company that is approaching the market differently, it's NEXTOUR Headwear and Next Gaiter. Here, you are not going to find your traditional fleece neck gaiter. This company sells a wide variety of colors and designs for consumers to pick from, all of which are sold in different size packages. Additionally, these products are built from lighter and thinner materials, making these neck gaiters better fashion pieces than warming pieces.
12 in 1 Features
There are only a few products on our list that have the unique capabilities of allowing consumers to use their products in different ways. This specific neck gaiter can be used in over 12 different ways. You may choose to use it as a sweat headband, balaclava, face mask, beanie, or even a hairband. The options are endless with this neck gaiter.
24 Different Designs and Colors
The reason why consumers are constantly promoting and touting this product is due to the 24 different design and color packages that you can pick from. Each package has an assortment of related colors and patterns, which either come in a package of 6 or 12 neck gaiters. That's right, for the same price as one neck gaiter that other companies are offering, you can get up to 12! Is that a deal or what?
Cost and Value
If you are looking for a cost-friendly product that offers some great value, this neck gaiter is it. Here, consumers have the option to purchase from 24 different designs, all of which come in packages of 6-12. In other words, consumers can select custom colors and patterns in packages of 6-12 for the same cost as many other neck gaiters on this list. If that's not enough reasoning, perhaps you can consider the quality built into each of the products. Whether you are running, biking, or seeking some extra warmth, this product can help balance the winds.

10

. Buff Original Headwear


The Buff Original Multifunctionality Headwear is a great neck gaiter that is infused with some new features. Today, this product is often considered one of the main competitors to some of the best products on this list. Consumers can choose from dozens upon dozens of different colors and designs, making this not only a warming and comforting neck gaiter but also a fashion piece.
Quick Dry Technology with Moisture Wicking
One reason why many consumers are choosing this neck gaiter is that of its quick dry technology, which happens to also include moisture-wicking. This feature is incredibly beneficial for individuals that are planning on working or exercising outside during a snowstorm or monsoon. Additionally, due to the moisture wicking feature, this neck gaiter can help release and prevent the build-up of moisture and odors.
Over 12 Different Uses
There is a reason why this product is called the multifunctionality headwear – this product can be used in over different ways, making this one great and adaptable piece. Consumers can use this product as a neck gaiter, hair tie, face mask, cap, and even balaclava. Whatever your needs may be, this product can help exceed your expectations.
Cost and Value
When looking at this product, one of the first things that popped out was the cost. Based on the simple design, you might assume that this product would be quite cheap; however, this neck gaiter is one of the most expensive on our list today. Now, this should not deter consumers from considering this product. In truth, the manufacturer did infuse a lot of value, including 100% microfiber polyester, 100% seamless construction, quick dry technology, and multifunctionality. There is a reason why many consumers have chosen this product over others on our list.

Subscribe to our Newsletter