Best Nike Sports Bras Reviewed & Rated for Quality
In a Hurry? Editors choice: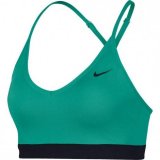 Test Winner: Nike Pro Indy Sports Bra

Nike:
The name itself is synonymous with sportswear. Why else would we call running shoes "Nikes"? It's pointless to go into just how big an impact this company has had on
clothing and sportswear
because, well, you already know, you've likely worn something Nike made at some point in your life. And this list focuses on a very specific type of sportswear made by Nike: Sports Bras. Man or woman, the value of a good sports bra should never be understated. They keep the breasts supported and secure while
working out
, help to wick away a lot of the sweat that would otherwise hinder your ability to exercise, and generally help you to keep moving forward while working out,regardless of what it is you're actually doing. Get ready to sweat in one of these top 10 sports bras.
Standout Picks
Criteria Used for Evaluation
Features
There are quite a few ways in which a sports bra can rise above its peers, including adding in some extra features that can give it a leg up on the competition.
Back closure
Not every bra does this like how most normal bras are clasped in the back. Most sports bras are the kind that you just pull on over your head like a particularly tight, small shirt. However, back closure type sports bras are known to be a much more comfortable fit and easier to get on for people who are especially well endowed and don't like having to fiddle with everything to get it all straightened out. A bit of a tip before moving on: when fitting a brand-new back closure sports bra, use the furthest hook, as this will help the bra stretch out properly.
Underwire
Having a good underwire is very important when you're wearing a sports bra while very well endowed. If you hadn't noticed, there's this trend in this list and definitely outside of it, where a lot of sports bras don't offer quite the same amount of support for well-endowed women like other women. Underwire helps with this by adding an extra bit of support to the bra. Making underwire bras in very high demand.
Band
Unlike the other two, the band of a sports bra is a non-negotiable feature, a sports bra needs a band. Which is why your sports bra's band should thoroughly meet all expectations. For one, it needs to be able to effectively and firmly wrap itself around your ribcage, with exactly as much grip as necessary, but not too much so as to not strangle you with it. A good way to test this is by tucking two fingers under the band, between it and your body, but no more than two fingers. You generally have two options, either narrow or wide bands. If you can, try to get the wide bands, as they support you far more during sporting activities.
Comfort
When exercising, comfort and support are two vital assets. A lot of people like to view sports as being rough and tough and reject the notion that support and comfort are as important as they are. These people do not deserve recognition and shall thus henceforth be ignored. Anyway, Sports bras need to provide comfort and support above all else, because otherwise, why are you wearing them? How much comfort and support was provided to the wearer was a major deciding factor in what sports bra got onto the list.
Because the less a woman is thinking about her sports bra and the discomfort it's causing her chest and torso, the more she's able to focus on the sport or exercise routine she's doing, to begin with.
Overall Fit
It should go without saying, but generally, you need to make sure that the thing you're putting on (and spending potentially upwards of $200, but that's neither here nor there) actually fits you comfortably. It's estimated that around 80% of women wear sports bras that aren't the right size for them at all. This is because, in all honesty, finding the right size sports bra is next to impossible. Let's start with the obvious; no two clothing companies size their clothes via the same metric, so keeping a good scale is very hard as it is, but because of the stretchy nature of sports bras, it's easy to get confused what size is right for you and what isn't.
When it comes to fitting, you need to look for two things: cup size and circumference. If your sports bra meets these two criteria when it comes to your chest, then you should be in the clear. If nothing else, you shouldn't feel much discomfort when wearing them while working out. The best way to decide whether a sports bra fits or not is simple: walk around wearing it. Does it feel good walking around? No? Then it likely won't feel good when jogging while wearing it.
Materials
Nike only uses the sturdiest fabrics to make their sports bras but also making sure that they're the comfiest and the most flexible. It's an interesting tightrope to walk, and it doesn't always work, but as the case is shown with the ten on this list when it works, it really works. The sports bras are comfortable, sturdy, able to stretch out however they need to in order to give you as much freedom of movement as you need, and are in general, really good sportswear for high or low impact exercise. And since it's made from 70% polyester, it's machine washable and can be used again like new just an hour or two later.
Style
Just because you're working out doesn't mean you can't look good. If it did, sports bras wouldn't come in so many different colors, patterns, and designs as they do. While yes, the racerback and the v neck do serve legitimately beneficial uses to the extension of your muscles, that's not why most people wear them. They wear them in order to look good, and what's so wrong with that?
10 Best Nike Sports Bras
1

. Nike Classic Padded Sports Bra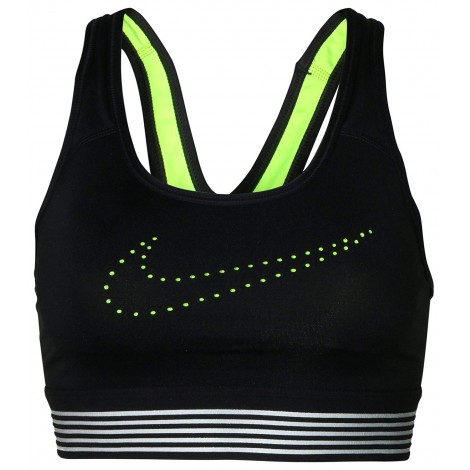 Nothing quite beats the classics. This padded bra has been the standard fare for Nike sports bras, and to this list, it's still among the best. Its simple design, but ample support makes it one of the finest choices for sports bras on the market even to this day.
Removable pads
Not every woman needs padding in her sports bras, so the Classic makes sure to include different kinds of pads, which can be removed altogether if you don't need it. Which is very convenient for women who have trouble dealing with padded sports bras.
Balances bounce minimization without hindering movement
When wearing a sports bra, one problem you face that isn't talked about enough is balancing out proper support and minimizing bounce without negatively affecting how well you move. Luckily, the Nike Classic Padded Bra does just that, preventing your breasts from bouncing too much while still giving your torso and arms complete freedom of movement.
Cost and value
Not a bad deal for a sports bra of this quality.

2

. Nike Pro Rival Sports Bra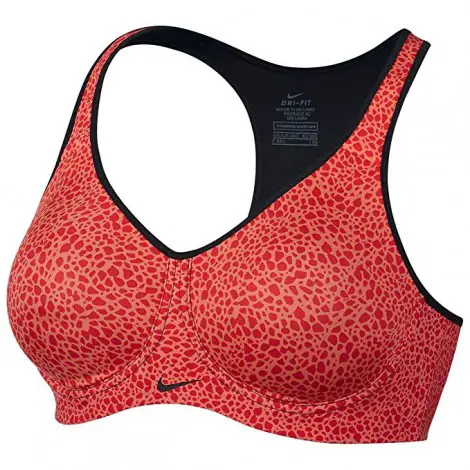 Rounding out our list, we have the Nike Pro Rival Sports Bra. When you get down to brass tacks, this sports bra is really just a Pro Hero with a Racerback design. However, don't take that to mean that this sports bra has nothing to offer, because the truth is quite the contrary.
Adjustable shoulder straps
Even if you're the right size for a sports bra, that doesn't always mean you'll fit just right and snug. Everyone has different proportions and those need to be accounted for. Which is why the Pro Rival allows full adjustability for the shoulder straps, letting you adjust as needed.
Dri-FIT
It would be odd that other sports bra companies don't use Dri-FIT technology for their sports bras, considering how useful they are. But then most other sports bra companies don't have the money to throw around that Nike has, so they get to have all the fun with this ultra-comfortable, light breathing fabric that's perfect for a sports bra.
Cost and value
The biggest downside of this sports bra is its cost, which ranges from $57-160 at least. A price that it would have earned if it had done anything all that new, but it really doesn't.

3

. Nike Pro Indy Sports Bra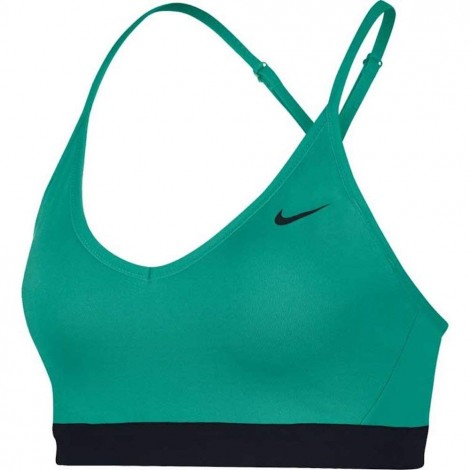 Here we have the Nike Pro Indy Bra. This sports bra offers a fair deal of support during vitality exercises, both high and low. Its design is low cut and offers a uniquely feminine detail for those who want to stay girly even while getting in shape. That's not the only thing it has going for it, however.
Dri-FIT Fabric
Dri-FIT fabric is the fabric used by default by Nike to make all of their highest quality sports bras, and there is a very good reason for why they do this. Dri-FIT fabric is very good at finding that balance between keeping the skin dry and sweat free and managing to still be comfortable to wear at the same time.
Removable cups
The cups in a sports bra have their place, certainly, but they aren't always needed or sometimes just not wanted. Fortunately, the Nike Pro Indy lets you remove the cups in this sports bra if you so desire. This leads to lighter support while combining that with natural definition.
Cost and value
Regardless of the size of the bra you choose, the price range is a very good deal for a sports bra of this quality. So, if you want quality but want to stay economically minded, give this bra a shot.

4

. Nike Pro Classic Sports Bra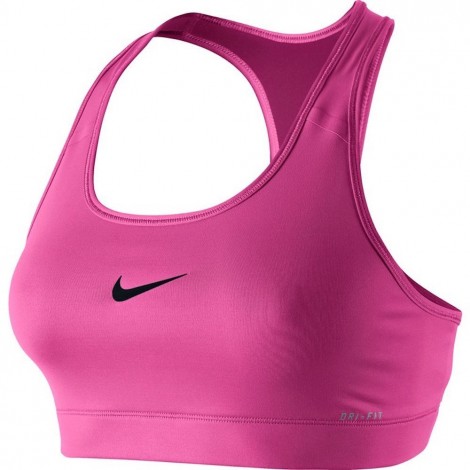 Next up we have the Nike Pro Classic Sports Bra. The Pro line has drawn some confusion because they fail to see the difference between the normal classic sports bra and the pro sports bra. But rest assured, there are some remarkable differences.
Safer to run in low light
Going for a jog at night sounds like the most relaxing thing in the universe, and for the most part, it is. However, if you're running near, say, a highway, and you're about to cross the street, then that may lead to some real problems. Luckily, with a simple change to your purchase, you can have your sports bra come with a reflective detailing that makes running at night or even just low light significantly easier for everyone involved.
Racerback design
The design of the sports bra, more than what it's made out of or how well it supports, is the most important aspect of any sports bra, so it's no accident that the Pro Classic goes for a racerback design. Besides being really cool looking, it also really helps out your muscle extension. Making it an invaluable aid when jogging or exercising.
Cost and value
In terms of the size range, the prices you may end up paying, in all honesty, is a pretty good deal for a sports bra of this high quality.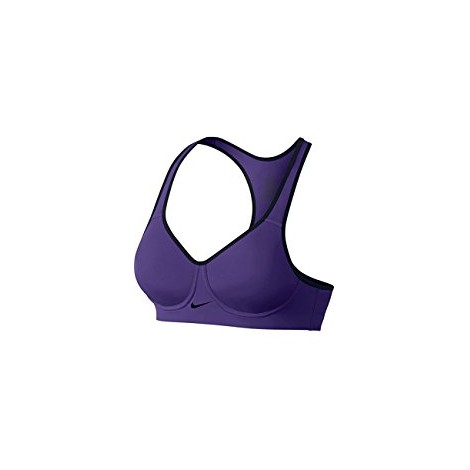 Up next we have the Nike Rival. This high support bra sports a lot of interesting features that keep it two slots above the bottom spot. As to what those features are, you'll just have to read on and see.
Adjustable fit
This sports bra comes in an adjustable racerback design, featuring straps that offer a full range of motion, as well as a custom fit. Not everyone can fit into every sports bra, so it's important that every sports bra be at least a little adjustable, even if you are the right size for it.
Removes distractions
Minimizing bounce is a major demand that women have from their sports bras, for reasons that should be rather obvious. Fortunately, the Rival has a pretty ingenious way of going about this in a new way. Using an elastic band rather than the occasionally uncomfortable underwire, this bra provides a full rounded, locked in feel. Meanwhile molded, wire-free cups reduce the bounce.
Cost and value
The cost of this sports bra depends on whether or not there's a sale going on or what size you're looking for. But either way, it's a rather fair price for a sports bra of this quality.

6

. Nike Indy Modern Sports Bra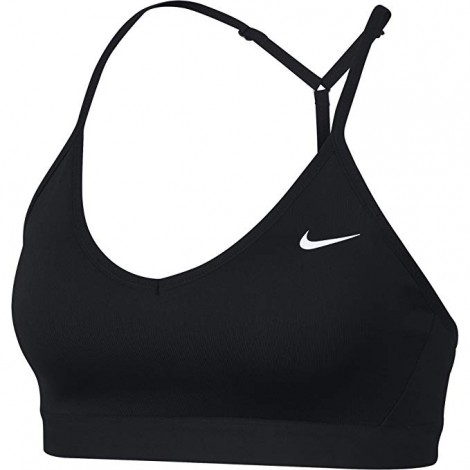 Now we come to the Nike Indy Modern. This sports bra offers light support with breathable strap design and removable pads. This means that you don't have to worry about overheating during low impact workouts, because this bra keeps you both cool as a cucumber and high and dry.
Strappy design
From racerback to V-neck, and now straps. These three designs are the best designs out there for sports bras because they offer full support while still promoting good muscle extension and a complete range of motion. It's true for those other two designs and it's true here.
Removable pads
When doing low impact workouts, you don't really need the pads in your sports bra. So thankfully the Indy Modern lets you remove the pads when you're working out in low impact workouts. So now you can do those workouts without having to worry about overheating because of the unnecessary padding.
Cost and value
The Nike Indy Modern stands at one of the cheapest price ranges on this list, depending on the size. Which is more than a fair deal if you're working out on a budget.

7

. Nike Dri-FIT Pro Hero Sports Bra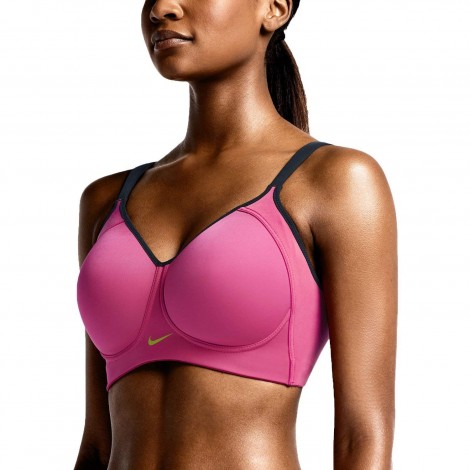 Next up we have what is considered by many to be the flagship title in the maximum support line: The Pro Hero Sports Bra. The Pro Hero is a fully customizable bra with adjustable straps and hook-and-eye clasps that make it easier to use. Is that all it has to offer? Far from it, actually.
Complete impact support
There's always some part of the comfort missing with a sports bra, but this is not so with a Pro Hero Bra. Outfitted with those adjustable shoulder straps and hook-and-eye closure chest band we mentioned before, this sports bra provides maximum comfort as well as impact support.
Full Padded lining
This is a special feature that is unique to the Nike Pro Hero, at least among Nike sports bras. Adding to the moisture wicking abilities of this bra is a full mesh padding throughout the bra, which helps to stretch and cool the bra as you move, ensuring that, while the bra will wick away any sweat you excrete, you won't excrete that much because the bra breathes so well.
Cost and value
Depending on the size, this sports bra is very reasonably priced for what it's offering you. A sports bra like this with other companies is usually priced much higher, but Nike's is both functional and affordable.

8

. Nike Victory Compression Sports Bra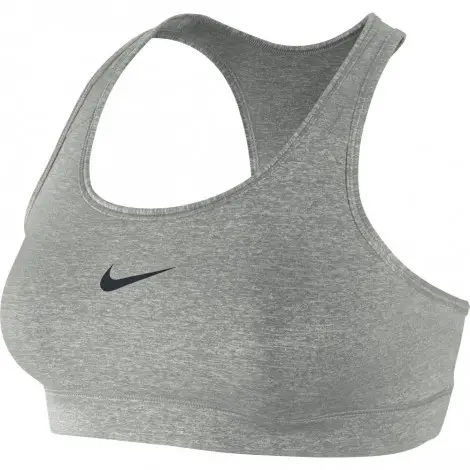 In the entire Nike canon, not just confined to the sports bra section, the Victory Compression sports bra is one of the most praised clothing lines that Nike has ever put out. And it really isn't hard to see why, as this truly is one of the absolute best Nike bras you can find on the market right now.
Snug fit with most sizes
With other sports bras, though they will adjust as long as you find the right size, that adjustment period is rarely the most fun process in the world. There's always a bit of tightness and a little bit of growing pain. Thankfully the Victory does not have this issue, providing a snug, comfy fit even during the adjustment period.
Odor resistant
If there's one thing that nobody wants to deal with, it's a smelly sports bra coming off an equally smelly human. With other sports bras, they seem fine while you're exercising, likely because your senses are focused on everything else, but the second you get home you notice just how smelly your sweat has made them. Thankfully, the Victory is famous for being resistant to odors. While not completely impervious, it takes a great deal more than your average sports bra.
Cost and value
Depending on the size you choose, you could end up paying a much better deal than what our #1 spot was giving you, especially if you in the market for a plus size sports bra.

9

. Nike Swoosh Sports Bra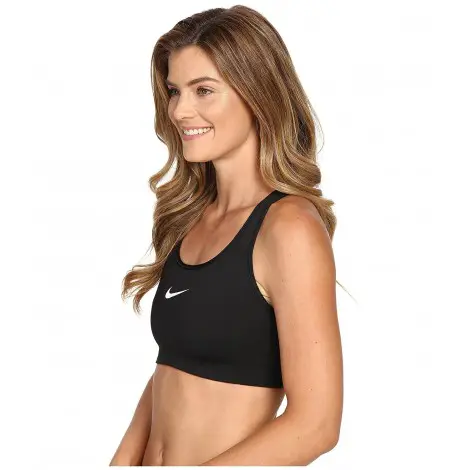 These flexible bras offer a medium support appearance, while happy customers have often cited that this bra worked wonders in high impact activities. All without sporting the usual price tag for a high impact bra. What else does it have to offer? Let's find out.
V-Back Design
Like the racerback design, this sports bra features a design, in this case, the V-back, that's not only stylish and fashionable but also boosts muscle extension by quite a bit. While this is not vital to your exercise routine, it more than helps when you really want to tone those muscles.
Doesn't weigh you down
Wearing a sports bra can be both a freeing and restrictive experience if your sizing isn't exactly right. Or sometimes it could just be that your sports bra is made out of bad materials. But whatever it is, sometimes the thing you bought for maximum support ends up being dead weight. Fortunately, the Nike Swoosh provides excellent support while still managing to be lightweight enough that you don't feel bogged down by it.
Cost and value
This bra can get pricey in larger sizes. While always nice to provide those larger sizes for women, it would likely be better appreciated if they were cheaper.

10

. Nike Motion Adapt High Sports Bra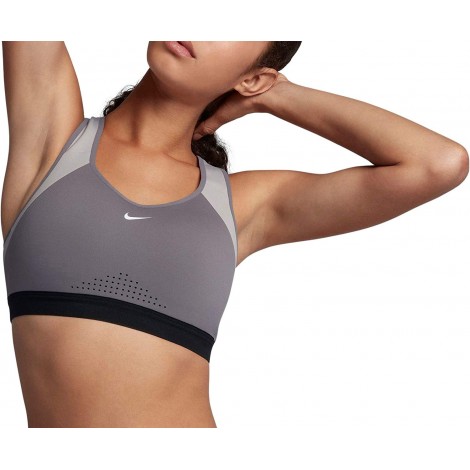 An unfortunate trend on this list is that there isn't much support for women with larger busts, larger breasts, etc. and that is a legitimate problem with sports bras, something meant to support women while they exercise. Fortunately, Nike Motion Adapt to help combat this problem. What else does it offer? Let's find out.
Underwire for maximum support
The secret to this bra's ability to hold up larger bust sizes and support them the way they need to be supported is that the sports bra has a wider underwire that holds up larger breast sizes. This leads to better support. While the band could certainly be longer, what it does have has proven to be enough for most customers.
Maximum comfort
With sizes going as far up as 34DD, this sports bra offers maximum support and comfort. Through its brilliant blend of materials, this bra manages to be supportive and functional all at the same time.
Cost and value
The price range of this sports bra ranges, give or take. Since this size is pretty much the same regardless of size for once, this is a very fair deal all things considered.

Subscribe to our Newsletter