Best Rainfall Shower Heads Reviewed & Rated for Quality
In a Hurry? Editors choice: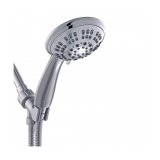 Test Winner: ShowerMaxx Premium

Have you ever just listened to the sound of the rain? It's an almost ethereal experience, isn't it? If you've ever thought about the rain like that, then we can give you something just similar enough; a rainfall showerhead.

Rainfall shower heads are one of the most popular forms of shower heads on the market right now. There's just nothing out there that quite matches the feeling of them, save for standing in the rain, and even then, unless you live out in the woods where no one can see you, you can't be naked in the rain, so you know, what's even the point? Which is why we're counting down the top ten best of these shower heads, here today. So, prepare to feel refreshed while you read on about the best options available on the market today.
Standout Picks
Criteria Used for Evaluation
Size
Size
The average size range of a rainfall shower head is between 6-20 inches, and sometimes even more than that. Of course, we went with the assumption that the people reading this list were going to be average consumers who may not have walk-in showers that can handle a shower head that's 20 inches wide. So, the range we deemed to be ideal was between 6-16 inches. This seemed to match up with the majority of commercial shower sizes.
The size of your shower is important because it dictates how much of your body is covered at once when you turn the shower head on. A bigger (and for the record, we are referring to bigger in width) shower head is a shower head with more nozzles to work with and fall back on should one happen to break or get clogged. And speaking of clogs.
Ease of Use
Ease of cleaning
There are few activities quite as tedious as cleaning your shower and shower head, aside from writing a thesis paper about the drying of paint. And you do need to clean your shower head, make no mistake. Not only will it help unclog any lime or other built-up materials from your nozzles, so your shower returns to peak efficiency, but it also removes any dirt and germs that love growing where there's water, and would then get all over you when you turn the shower on.
So you do need to get it done, but you probably have a million other things you could be doing, so you want to do it quickly. This was a big criterion for us when compiling this list, and thankfully, the above entries provided many things you should look for if this is a priority.
The big thing you should look for is the right material used to make the shower head's nozzles. We looked for shower heads whose nozzles were made from silicone gel or clear rubber. This is because they're more flexible, so when you go to scrub, it's easier to work with them. And clear rubber is easy to see through, so you can tell early when you need to wash your shower head down.
Ease of installation
Finally, there's the ease of which these shower heads are installed. And this is going purely by the shower heads themselves, leaving the arms they may come with out of the equation entirely. We're assuming the arm works just fine and the head is all that needs replacing. In which case, we specifically looked for shower heads that required no tools and took little time or shenanigans to actually get it on there and working properly. It's 2018, after all, and as you can see from the entries of this list and elsewhere, this is not hard to do. But when you add in the arm to the equation, then you introduce some complications. Because not all arms are wall mounting arms, some are overheads. And that means you have to find a pipe or connect this arm to a pipe, that will allow it to work from overhead. And that, as you can imagine, will get very pricey, very fast.
Durability
Arm Durability
A shower head is only half of the equation, as there's also the arm that the head is attached to. And the arm is arguably significantly more important than the head. Because when the head breaks, as long as it's still attached somewhat firmly to the arm, you're fine. But if the arm breaks, then there is no longer anything to stem the constant stream of water coming from the pipes. And before you know it, your bathroom has flooded, and you have quite the number of bills to pay. You need to make sure that the arm of your shower head is of top quality, will never leak, and will never break off. Incidentally, this is also why so many people prefer smaller shower arms with a tiny head. Less weight and length to break that way, you see.
Value
Price
As we said, the price of a shower head, and rainfall shower heads specifically, tend to vary wildly with not much in terms of consistency as to why some are priced more than others. Indeed, we have several entries on this list that are almost arbitrarily more expensive or cheaper than others, as they all operate basically the same and even have the same features and materials used in the construction. But with that said, it does give some solace. We guarantee if that one shower head you've had your eye on with all the features you've been looking for is too pricey, there's likely one just like it made by someone else that costs around half of that first one.
Top 10 Picks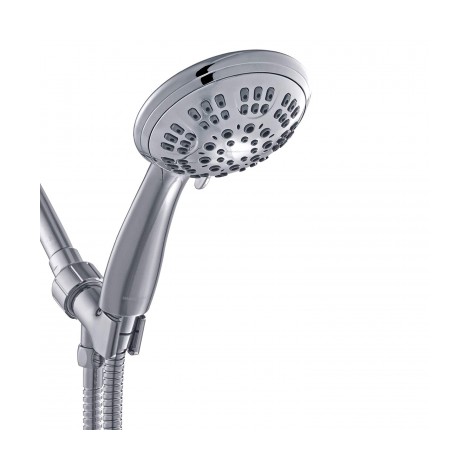 Kicking off our list, we have the ShowerMaxx Premium Showerhead. Have you ever wanted to go to a spa, but the nearest one is too far from your house for it to be worth it? Well, you can bring the spa home to you, with this premium rainfall showerhead. How does it work? Let's find out.
Precision engineered high-pressure nozzles
With this showerhead, you can bring the luxury of the spa shower home with you. This showerhead utilizes 90 precision-engineered high-pressure water jets, to give you that complete, soothing experience, which will leave you feeling rejuvenated and refreshed. And if you don't like the angle it's pointing in, don't worry, the head is completely adjustable.
Beautiful ABS and chrome polish
No, this shower head doesn't have a six pack, hush you. What we mean is that this shower head is made from high-quality ABS materials and topped with the most exquisite chrome polish. Making this one of the most beautiful appliances in your house.
Cost and Value
Shower head prices are an odd topic, because while there is an average price for them, as with all things, what determines how high or low the price becomes is a bit tricky to tell. But nonetheless, this shower head is very affordable for one of its high quality.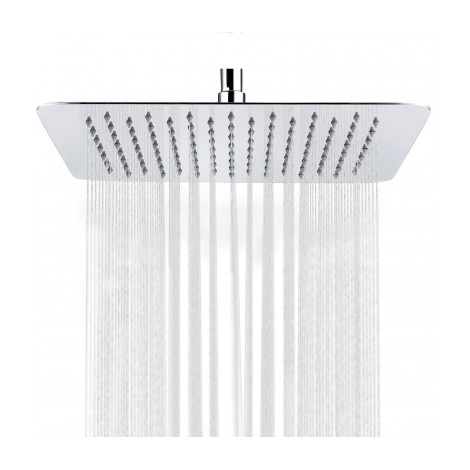 In our second-place spot goes the SR Sun Rise Luxury 12" Shower Head. Unlike some of the other entries on this list, as well as what you normally expect from shower heads, this one is directly above you. This allows the water to come down on top of you directly, living up to the title of rainfall as it showers you in warm water.
Silicon gel nozzles
Easily one of the most obnoxious parts about owning a shower is the dreaded yet inevitable limescale build up. But fortunately, this shower head has found a way around this problem; making the nozzles out of silicone gel. What this means is that not only does the water flow out even easier than usual, but limescale build up is basically impossible, and even if it does get dirty, silicone gel is much easier to clean than the mainstream materials.
Air energy technology
When the water pressure is down with most shower heads, getting a good shower is next to impossible. That's because most shower heads rely on water pressure to move the water through the pipes. But this shower head utilizes air energy technology to keep the water flow at a constant rate, even when the water pressure is nearly gone.
Cost and Value
The price of this shower head is a good bit more expensive than the previous model. While not an unreasonable price, by any means, it's still a high enough price to give you a reason to pause.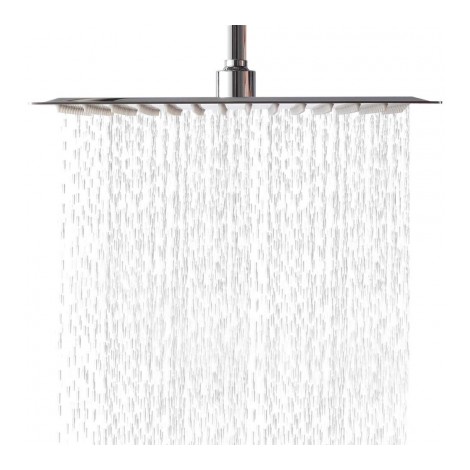 Finishing up our top 3 section of the list, we have our #3 pick, the Lordear Ultra Thin Rainfall Shower Head. This rainfall shower head will give you the optimum rainfall experience that you're looking for. High praise, we know, so let's see how they measure up.
Stainless steel construction
Are you as sick to death as the rest of the world of shower heads that have the highest quality metal one minute, then you find the one part made of flimsy cheap plastic, and that's the actually important part of the shower head? Well if you are, and you should, then this product is for you. Made from high-quality #304 stainless steel 100%, you won't find a centimeter of this shower head that's made from anything less than the best.
Silicone nozzle
It's not that silicone never gets sediment or residue or any other kind of bacteria or grime. What makes a silicone nozzle so great is that it is so much easier to clean than a regular nozzle. This is due to the natural flimsiness of silicone, which here works in its favor since your brush can really get deeper into the nozzle to clean it thoroughly.
Cost and Value
This shower head comes at a very reasonable price. Not as low as the #1 entry, but for the high-class treatment and quality features that it offers you, it's definitely worth every penny.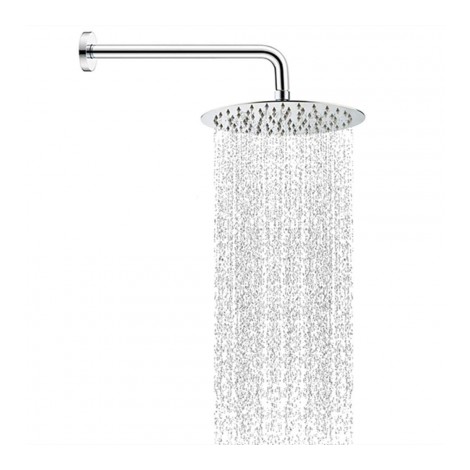 In our #4 spot, we have the Artbath Extra Large Rain Shower Head. This 12" super large rainfall shower head is what you use when you really want to feel like you're standing outside during a storm, as well as when you want one of the most thorough washings that you can experience in a shower.
Freely adjustable
The straight down rainfall shower is nice and appealing, but not everyone has that luxury. Some people, in fact, most people, need their shower heads to come from the wall. So, in this case, it's a good thing that this product is completely adjustable. So whichever direction you need it to be pointing in, just give the swivel ball a little turn, and you're all set.
Universal fit
Installing a shower head can be a hectic experience, especially when it's your first time doing so. There's usually so much measuring, and misspent money on wrong shower heads, and so much more. But thankfully, this shower head has a universal fit to any pipe and doesn't even require any tools to install.
Cost and Value
This shower head is a bit more expensive than the previous entry, but nothing too unmanageable. It skirts the line at being pricey but manages just narrowly to avoid it.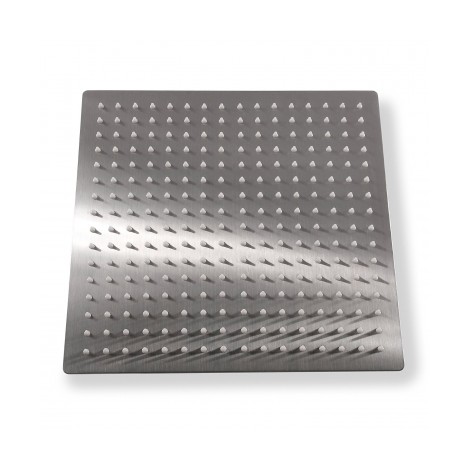 Coming in at #5, we have the KiaRog Rain Brushed Shower Head. This is one of the more famous models of rainfall shower heads, and as we will soon see, it doesn't take long to discern why. This is one of those models where, small or large (or in this case, large and extra-large) you're guaranteed the perfect shower to start your day.
Clear rubber nozzles
One problem with silicone nozzles, that it shares with normal nozzles, is that they're foggy in color, making it hard to tell when lime is starting to build up, so you don't know until the nozzles start getting clogged. If you would rather handle that stuff before it becomes a problem, then the clear rubber nozzles of this shower will be just what you're after. With these, you can see right through the nozzles to see if they need any cleaning. And if they get damaged, don't worry, as this shower head comes with enough replacement nozzles to last you a while.
Remarkably thin
Not everyone has a large, spacious shower that they can freely move around in while they bathe. So, if you need as much room as you can get your hands on, the 2mm thickness of this shower head will be just what the doctor ordered. This shower head is about as thin as a shower head can reasonably get, leaving the rest of the shower all to yourself.
Cost and Value
We have another shower head that tows the line between being affordable and being expensive. So, if your budget can fit this shower head in, we recommend you highly consider this head for your shower. It may not look like a lot, but it will pay out in dividends if you take care of it.

6

. Hiendure Stainless Steel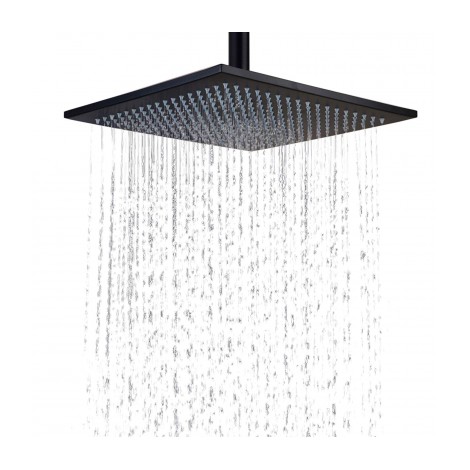 Starting off our final 3 entries, we have our #8 spot, the Hiendure Stainless Steel Rain Shower Head. Bit of a mouthful, we agree, but nevertheless, this is a very nice shower head that belongs in anyone's shower, so long as you can fit a shower head on your bathroom ceiling.
Adaptable installation
This shower head is equipped with plumbing inlet connections which suit almost all kinds of shower arms. So, when replacing your old shower head, you don't have to add on the extra hassle of having to replace the shower arm on top of it, when it works fine. You can just stick this head-on in replacement, and watch the magic happen.
Oil rubbed bronze finish
The chrome look is nice and all, but it doesn't match a lot of decors, especially if you love personalizing and designing your bathroom along with the rest of your house. A chrome shower head will just stick out like a sore thumb. The oil rubbed bronze finish on this shower head, on the other hand, blends in with a wide variety of different style and decors.
Cost and Value
The main drawback to this shower head is the price. Sure, it has other problems, like being strictly overhead and no adjustment for the head section, but the price is unreasonably expensive. Especially for a shower head that doesn't really offer as much compared to previous entries.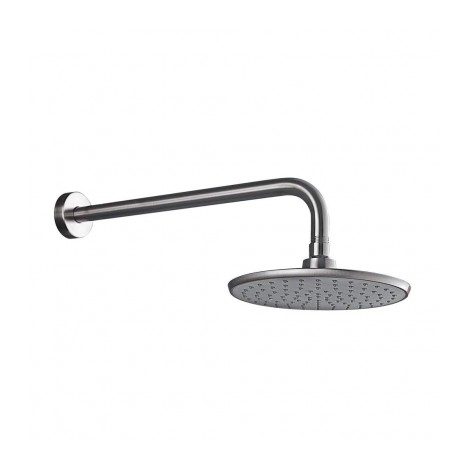 Coming in at #7 is the Purelux Rainfall Shower Head. This shower head isn't nearly as wide as the other entries, but one upside is that it then doesn't weigh down the arm. It's also great if you simply don't have that kind of space in your shower. What else does this simplistic shower head have going for it? Let's see.
Sturdy arm
You need the arm of your shower to stay in one piece and be the most durable part of your shower. This is non-negotiable - end of the discussion - because if that thing breaks, you've just flooded your bathroom. Which is why the arm of this shower head is one of the most durable on this list. Tough, thick, and made of solid stainless steel, once you put this arm in, it isn't coming out for anyone.
Attached flow restrictor
Bills can be the death of us these days, wages haven't grown in years. Meanwhile, costs have only skyrocketed. Fortunately, one bill you have control over is the water bill, which only climbs if you use a lot of water during the month (this is why you stop your faucet from dripping, just so you know). And one way you can control this is through this shower head's included flow restrictor. The flow rate of this shower head is no more than 2.0 gallons per minute, which will save you thousands.
Cost and Value
While previous entries towed the line between being affordable and expensive, this one kind of just saunters through the grey area near the line. Some retailers have it rather expensive, some have it rather affordable. It depends on who's selling, much more than previous entries.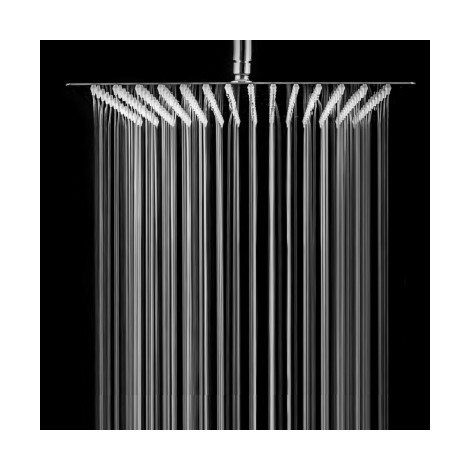 In the #6 spot, we have the Sarlai Rainfall Shower Head. When you're looking for the best of the best of shower heads, you'll notice that a lot of them start to look and sound alike. We have the formula for what makes a good shower head pretty well handled at this point, so if some of these are starting to blend together, that's why. Nevertheless, this is still a shower head that's more than worth your time and money.
Superior body coverage
We've seen rainfall shower heads with plenty of nozzles for sending out the water, up to 90 is our record so far. However, this shower head tops that, easily, boasting 100 nozzles to completely soak your entire body within seconds. No more sitting there as your body slowly stops shivering inch by inch, now your head to your toes are completely drenched almost immediately after turning on the shower.
Thinnest on the list
Keeping up the trend of bucking what we already established, this is also the thinnest entry on the list, bar none. This tops the previous entry by just a little bit by coming in at just 1.5mm thick. And yet it pumps out water like it's a mainline to the nearest fire hydrant. Isn't technology great?
Cost and Value
Despite the kind of technology that had to have gone into making a shower head this thin and yet this flawlessly functional, this shower head comes in at a very fair, reasonable price with most retailers. Not the cheapest on the list, mind, but definitely cheaper than most would peg it to be.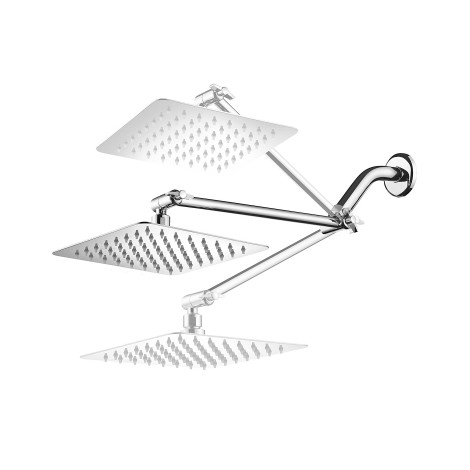 In our second to final entry, we have our #9, the HotelSpa Adjustable Rainfall Shower Head. Thankfully, we're back to adjustable shower heads that you can have either above you or jutting out from the wall. And this is a great shower head to come back to that norm with, as the HotelSpa Shower Head is one of the best.
Easy to clean
Even with other easy to clean entries on this list, you still needed a bottle of cleanser, and you then needed to scrub rather hard to make sure it all came out. But with this shower head, all you need is a damp rag and a minute or two of vigorous rubbing, and then you're done. Quick, painless, and efficient cleaning.
Extendable arm
Shower head arms can be annoying sometimes because they can't be too adjustable, or the weight of the head may cause it to burst. But if you like to have your shower cover as much of your body as possible, as thoroughly as possible, then the arm of this shower head, with its extendable joints and 2 way vertical movement will be just what you're looking for.
Cost and Value
While not the cheapest on this list, it's a solid half of what our previous entry was charging you, which is always a plus. And add onto that the unique nature of the shower arm and how wide and thin the arm is, and this seems like a better deal by the second.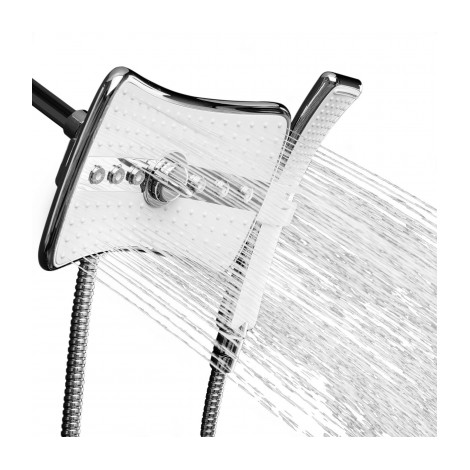 And in our final entry, our #10 spot, we have the AKDY 9" Rectangular Quad Function Rainfall Shower Head. Shower companies need better naming people. But anyway, you may be a bit wary about this entry since it's at the bottom, and there are circumstances that put it there, but when you judge the best, something's at the bottom. And this shower head runs laps around almost any other shower head out there.
Hoseheads
10 entries in, and we finally get to one of the most famous features of shower heads: the hose head. This is when the shower head has an additional, smaller head that's attached to a hose. This way, you can use it to wash yourself down more thoroughly than you would with a normal kind of shower head.
Highest nozzle number
The big advantage of having that extra head is that you have even more nozzles to work with. And the nozzle count on these shower heads adds up to be the highest number of nozzles we've showcased on this list, at a whopping 118.
Cost and Value
For what you're getting out of it, this shower head is actually very reasonably priced. Sure, it's nowhere near the cheapest entries, in fact generally it tends to cost twice those, but generally speaking, it could be far more pricey.

Subscribe to our Newsletter