Top 10 Rechargeable Flashlights Reviewed & Rated
In a Hurry? Editors choice: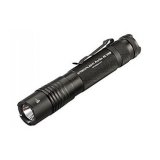 Test Winner: Streamlight 88052 ProTac HL

When bad weather strikes there are a few things you have to have: A
weather radio
and some source of light. We know many people who have candles in a specific place in a few rooms in the house. We applaud these people for being so incredibly well organized. For us though, we know we have a rechargeable flashlight, and we know, 'kinda' where it is, but if we have to get to it in a hurry, or worse in the dark, then we might just be out of luck, and spend a bit too long without lights. We can't solve that problem for you, but we can make sure that when you find your flashlight it's going to work.
Standout Picks
Criteria Used for Evaluation
Ease of Use
The first criterion that we looked at was how easy it was to use the flashlight. This covers cycling through the various modes, changing and charging the built-in batteries and any additional settings. Flashlights with minimal buttons on the surface are preferable so that they can be easily used in the dark. We excluded products that require more than one hand to turn on the flashlight.
Battery Life
Battery effectiveness was based on how quickly the built-in batteries charged, their ease of removal, the cost of battery replacement and the level of brightness when the batteries were run low. Some rechargeable flashlights automatically dim brightness to conserve battery life, however, we prioritized flashlights that do not have this feature.
Size
We evaluated product size (length only) in relation to weight. This ensured that most of the products could comfortably fit into pockets, small bags, and other carrying items commonly used during camping, hunting, or other common outdoor activities.
Durability
We evaluated product durability against factors such as scratch resistance, the strength of the casing and water resistance. but didn't put all of the focus on resistance to elements like water. So being waterproof didn't guarantee a high ranking, even if it is a desirable quality. Durability was all about how much of a beating the housing of the flashlight could take.
Scratch resistance ranked high, and little things like buttons worked their way into our final decision in the durability criteria. The tougher the flashlight, the higher it is ranked. Some of these flashlights gained great favor for being usable in hunting sessions, proving that you didn't need a specialized model for the activity.
10 Best Rechargeable Flashlights
1

. Streamlight 88052 ProTac HL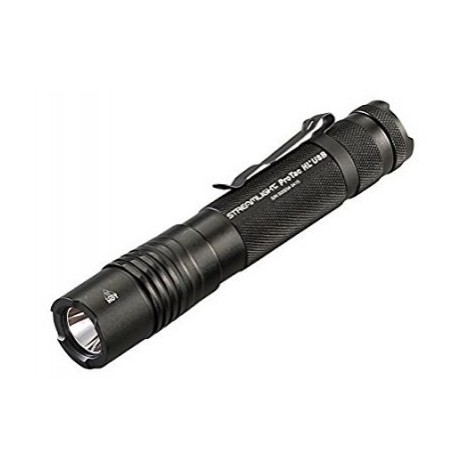 The Streamlight ProTac is a handy little LED flashlight that packs a big punch. It fits in your pocket but gives off 850 lumens of the bright LED light. It has a handy clip and a rechargeable battery with an included USB charging cord. This compact flashlight boasts Streamlight's TEN-TAP technology with three user-selectable programs including high/strobe/low, high only, and low/medium/high. It is IPX4 water-resistant and offers 1-meter impact protection.
TEN-TAP One-Handed Operation
This little, yet powerful, flashlight is ultra-portable and fits in a back pocket. It is small enough to be operated with one hand and has a click-button at the end of the flashlight. This button offers Streamlight's TEN-TAP function which means you can tap the button to change between a number of brightnesses and strobe settings.
Interchangeable Batteries
Although rechargeable batteries are the most economical way to go, this handy-dandy flashlight offers the capability to use two 3-volt CR123A batteries as well. This is nice because if you forgot to charge your backup rechargeables then you won't be left in the dark.
Cost and Value
The size of the flashlight doesn't really correlate to the size of the price tag with this little guy. However, Streamlight is a trusted name in the field of flashlights and it is a very reliable and powerful flashlight for the price.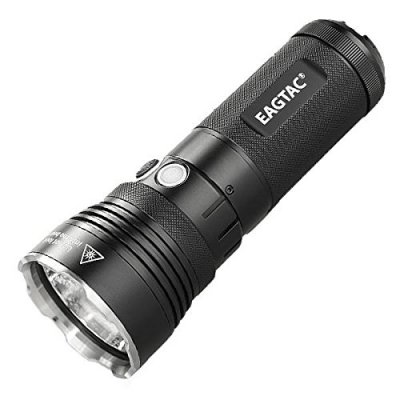 This is a lot of flashlight for such a small package. It may be small but it packs quite the punch when it comes to lumens or brightness. However, you want to gauge it this light is going to put out as much light as you may need even though it fits easily in the palm of your hand. Not only that but it has a guaranteed beam distance well over 400 yards so it should throw light on whatever you're trying to see, or find.
Ion Rechargeable Battery Pack
The industry standard but we really like the fact that Eageltac decided to throw 2 battery packs into the mix just in case you need some extra wattage when the power's out for days at a time. This is one of those things that you don't think about until you need it desperately.
Powerful LED lights
Not only do you get over 4000 lumens of light out of this little light that can, but you also get a maximum range of almost 500 yards. If you're outside bad weather can cut both those numbers but generally, you should be able to get some light on whatever you're looking for.
Cost and Value
This light does not come cheap. But if you're looking for a light that's exceptionally bright and will last for a long time when there's no electricity than this light is going to serve you well.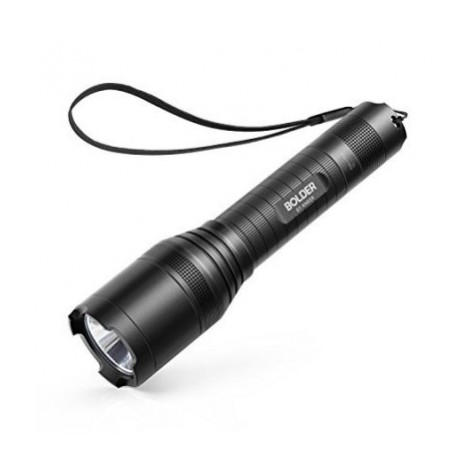 This super bright tactical flashlight is one of the most economical rechargeable flashlights on our list. With a smartly-designed pocket-sized chassis and anti-slip grip, it can fit in your pocket or backpack with ease. The adjustable focus will give you 900 lumens of broad or spotlight coverage. It is water-resistant and lasts up to 6 hours on a charge. The powerful Anker Bolder LC90 offers high, medium, low, strobe, and SOS modes. This little light really is durable, powerful, and can even be charged using an Apple lightning cable.
Durable Apple MFi Certified Cable
This flashlight comes with a micro USB lightning charging cable so you can charge it up with this or you have the option to charge it using an Apple devices' lightning cable! It contains a unique authorization chip issued by apple so it is guaranteed to sync and charge with any lightning device. The cable itself, called the Anker Powerline, is reinforced with bulletproof aramid fibers, making it more durable than most standard cables.
Water Resistant
The Anker Bolder LC90 is IP65-rated water-resistant so you can use it in heavy rain without worry. It is an excellent choice for campers, hikers, fishers, because of its water-resistance. In fact, this handy flashlight is a great choice for anyone to keep in their car or purse!
Cost and Value
This is one of the most affordable flashlights on our list. It is not only economical but it is a really great value because you get a flashlight that can shine up to 2 football fields in length at 900 lumens for a small price.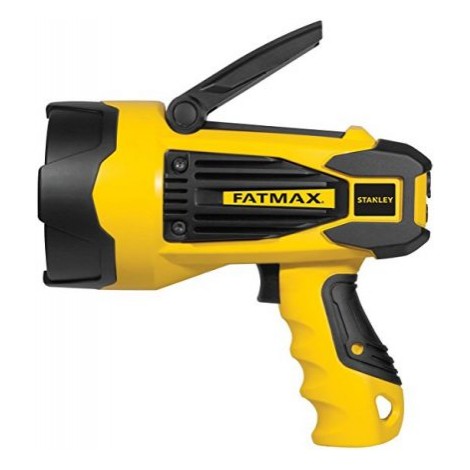 If you are looking for a bigger rechargeable flashlight, the Stanley Fatmax SL is an excellent option. This sturdy spotlight offers a collapsible and pivoting stand and lockable trigger button so you a prop it up and work hands-free. Giving off up to 920 lumens, you won't be left in the dark with this flashlight. It has a heavy-duty bezel and charges using the included AC or DC adapters. Once charged, this flashlight will last up to 7 hours lit.
Pivoting/Collapsible Stand
Sometimes, you need to put your flashlight down but you don't want it aimed straight up at the ceiling or pointed right at the wall. With the Stanley Fatmax SL, you'll be able to prop this flashlight up easily using the pivoting and collapsible stand. This is a handy option for working in the dark or using it as a light source while camping or on the beach.
One-Handed Operation
The trigger on/off switch makes this flashlight super easy to operate one-handed. You pull the trigger once for low, once for medium, once for high, once for off: easy peasy.
Cost and Value
This is not an expensive spotlight, yet it's not the cheapest flashlight on our list. It is a very durable and easy to use spotlight and is an excellent value for the price that you pay.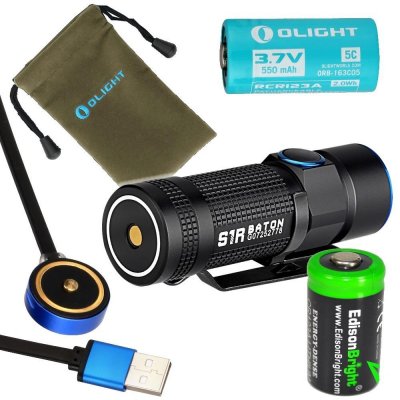 We're not sure why they decided to call this light turbo, but we appreciate Olight's gumption. Still, this light is plenty powerful, with a maximum of 900 lumens. But one of the great things about this light is that it's rechargeable on the go and comes equipped with a magnetic charging port. It's also handy and fits in the palm of your hand and also comes with a handy carrying case.
Easy Recharging
The light comes with a rechargeable battery and you can recharge it via USB or on the go with a simple magnetic charging port located on the back end of the flashlight. It recharges fast and if you just don't want to deal you can put in normal batteries but those won't be automatically rechargeable.
TIR Lens
There's a lot of science involved here but this stands for Total Internal Reflection Lens. What this means is that the lens is built to ensure that the lightest possible is being reflected in a way that's it's heading straight out of the flashlight. What this means for you is that you get a sharply focused beam of light as opposed to a more diffuse wide range of light.
Cost and Value
Highly Affordable. Not much more to say but based on some of the lights on this list you can come to get a solid, easily rechargeable flashlight for not much money that will serve you for as long as the rechargeable battery holds out, and that could be decades. So if you're looking for an inexpensive but not cheap flashlight this is the light for you.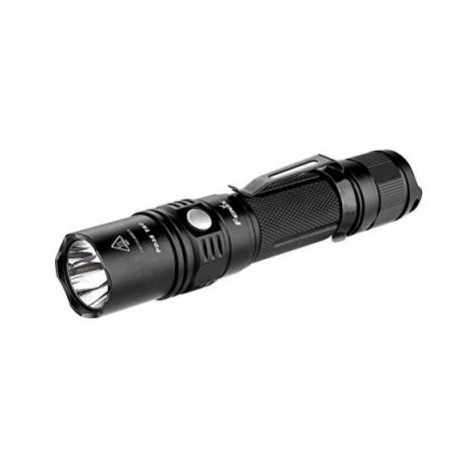 Talk about small and mighty! This 5.5" tactical flashlight puts out an astounding 1000 lumens and can shine up to 200 meters. This little light offers two different switches, one on the side (outdoor mode) and one on the tail (tactical mode), which is mighty handy. It has many different light options when setting to the outdoor mode and also has a memory function. It is very durable, made of aircraft-grade aluminum and has to overheat protection to avoid high temperatures. This is definitely one of the more powerful compact rechargeable flashlights.
Two Modes
The tactical mode is enabled when the tail switch is pushed and is great if you just need to shine the light briefly. You just have to click it once for on and once for off and you get a steady bright 1000 lumen beam shining where you point it.
Memory Function
When in outdoor mode (pushing the switch on the side), there are many different light options: eco, low, mid, high, and turbo. When you turn the flashlight off using the tail switch (when set to outdoor mode), the memory function will allow you to turn on the flashlight immediately to the last setting it was on before turning it off.
Cost and Value
For what you get in this little high lumen tactical flashlight, the price makes it an amazing deal. You definitely get your money's worth when you purchase this one.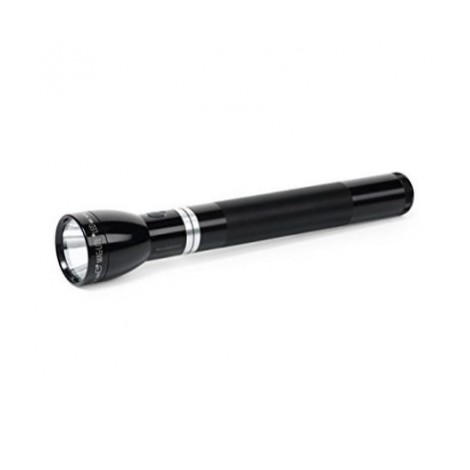 This is a full-size rechargeable flashlight that casts a pretty far beam. It offers 643 lumens of bright LED light and can shine up to 400 yards, which is twice as far as some of the smaller rechargeable flashlights. The Maglite RL 1019 offers four different modes to choose from: general, outdoor, law enforcement, and tactical. Within each mode, there are three different light functions ranging from eco to strobe. It also has an adjustable focus for a spot beam or peripheral light.
Adjustable Beam
Like most Maglite lines, the RL 1019 allows you to adjust the beam of the flashlight with an an-easy-to-use turn of the flashlight head. You can adjust the beam from the spotlight to floodlight which gives you more peripheral light quickly and easily.
QuickClik Mode Adjuster
One great thing about this flashlight is that it is very user-friendly. Within each mode, there are three different light settings. For mode one, click once; mode two, turn off and click twice; mode three, turn off and click three times. Super simple!
Cost and Value
For a full-size rechargeable dependable flashlight, this one is priced pretty reasonably. It comes with charging accessories, including the battery, so it is a decent value.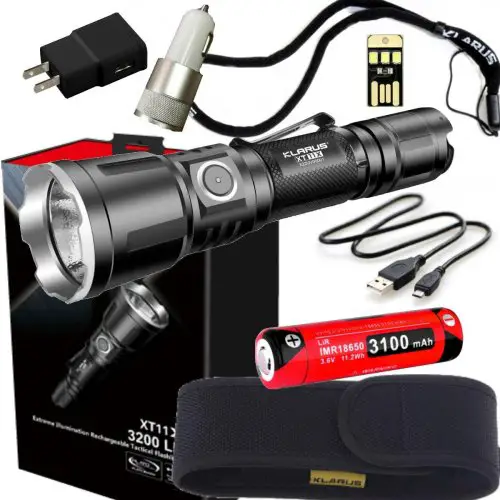 Not only does this flashlight look cool, but it has two lights that are just going to throw more light on whatever you're trying to see. It has a look that's reminiscent of a tazer so in the dark it might just keep you safe as well as well lit. It comes with a holder and lanyard as well as a handy USB charger.
Dual Beams
While this may not seem like much of a big deal, the fact is that the two lights not only allow you to get more light on things that are close to you but create a wider swath of light if you're just trying to see what's out in the dark.
Easily Rechargeable
We love this new generation of lights that comes with a simple USB charger. No need to plug the whole light into the wall and the USB minimizes the muss and fuss, all you need is a wall socket and you can set this light aside for when you need it.
Cost and Value
This comes in at about the midrange, so it won't set you back too much. If you're looking for a solid rechargeable light, this is going to do you well.

9

. ThruNite TN42 Searchlight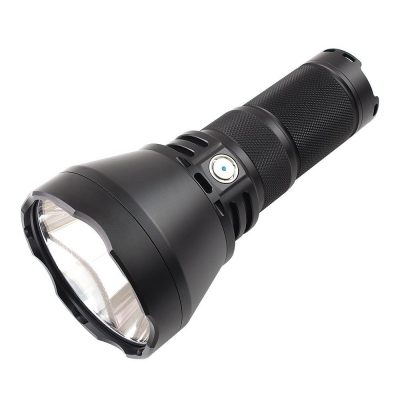 The Thrunite TN42 is an amazingly powerful searchlight offering six different modes; the brightest of which shines a staggering 2000 lumens! This is a full-sized flashlight and the most powerful light thrower on our list. It can shine up to a whopping 1550 meters - that's 5,085 feet - that's almost a MILE. So this isn't the standard flashlight you give to your 9-year-old girl scout to go camping with (for fear she may blind fellow scouts), it's definitely meant to be used for a purpose.
Staggeringly Bright
If you are an overachiever, this is the flashlight for you. At 2000 lumens, it can be seen almost a mile away. Yet, to protect this powerful flashlight from overheating, the handheld searchlight has built-in ThruNite ITC technology which automatically lowers the brightness when the light gets to 80 degrees centigrade.
Firefly Mode
On the flip side, the ThruNite TN42 offers 5 other modes including a very dim light mode called "Firefly" which gives off only .80 lumens. This is handy for just trying to see something briefly without waking others up or as a nightlight while camping. In fact, while in firefly mode, the battery can last up to 58 days.
Cost and Value
The ridiculously powerful ThruNite TN42 carries a bigger price tag than any other flashlight on our list. But if it's the power you're looking for, you'll find it in this rechargeable flashlight for sure.

10

. Streamlight 77553 Ultrastinger


This full-sized flashlight is the longest on our list, coming in at 11.5" long and weighing a little over 1 ¼ pound. This is a big flashlight for anyone looking for something that feels a bit sturdier in the hands. It shines up to 1100 lumens and 510 meters (1,673 ft). This flashlight comes with a convenient wall-mountable charging cradle with an LED charge indicator on it. This is the most durable flashlight on the list in terms of impact resistance.
Impact Resistant
Many of the flashlights on our list don't match up to the impact resistance of this big guy. This flashlight has been rated to withstand up to a 3-meter impact. Flashlights have a number of inner workings that could cause them to stop working if dropped from a height like this, but the Streamlight Ultrastinger should withstand a ten-foot drop without fail.
Snap-In Charging Cradle
One great feature of this flashlight is its charging cradle. It easily attaches to the wall and plugs in. Then you snap the Streamlight Ultrastinger into its charger easily and it starts charging right away. It has a handy LED charging indicator on it so you know when it's charging. No worrying about plugging micro USB cords in or anything like that; this flashlight snaps in and out of it's charging cradle quickly and easily.
Cost and Value
Although not the priciest of flashlights on our list, this big puppy is up there in terms of price. However, it is an excellent product with quality manufacturing. If you are looking for a heavy-duty powerful, easy to use a flashlight, you'd be happy with this one.

Subscribe to our Newsletter