Best Rechargeable Flashlights Reviewed & Rated for Quality
As one of the world's more underestimated modern conveniences, flashlights offer help in many circumstances. Whether you are an avid camper in need of helpful illumination at your campsite, an imaginative kid playing in your blanket fort, a late night dog walker, or if you are looking to navigate your house during a power outage, flashlights are supremely helpful. Though helpful, one major downfall is the need to stock up on batteries of all different sizes for your assorted flashlights. Sometimes, as luck would have it, you may run into the issue of not having the correct size or number of batteries lying around that you need when you need them, which can be pretty annoying.
Featured Recommendations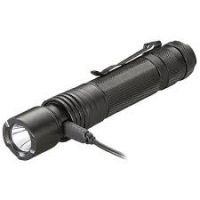 Streamlight 88052 ProTac HL

Our rating
Interchangeable Batteries
Price:

See Here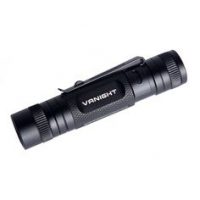 Streamlight 66133 Stylus

Our rating
Unbreakable Lens
Price:

See Here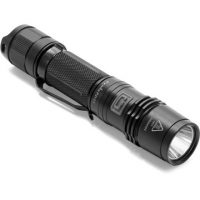 Fenix PD35

Our rating
Two Modes
Price:

See Here

The solution to that problem: invest in a rechargeable flashlight or two. There is an astounding number of options out there to choose from; all offering the benefits of a flashlight with the convenience of rechargeable batteries. Along with the great number of choices, rechargeable flashlights come with different options when it comes to size, how they are charged, and brightness. We've put together a comprehensive list comparing the benefits and features of each.
15 Best Rechargeable Flashlights
1. Streamlight 88052 ProTac HL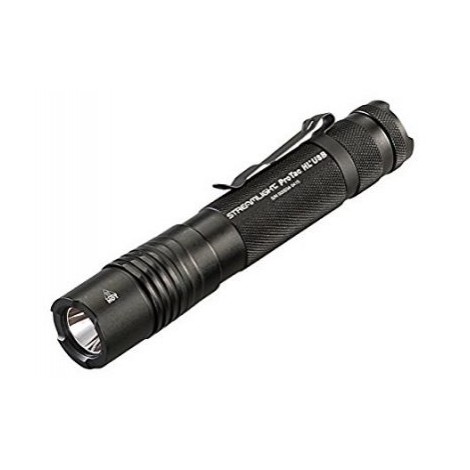 The Streamlight ProTac is a handy little LED flashlight that packs a big punch. It fits in your pocket but gives off 850 lumens of bright LED light. It has a handy clip and a rechargeable battery with an included USB charging cord. This compact flashlight boasts Streamlight's TEN-TAP technology with three user selectable programs including high/strobe/low, high only, and low/medium/high. It is IPX4 water resistant and offers 1-meter impact protection.
Expand to see more
TEN-TAP One-Handed Operation
This little, yet powerful, flashlight is ultra-portable and fits in a back pocket. It is small enough to be operated with one hand and has a click-button at the end of the flashlight. This button offers Streamlight's TEN-TAP function which means you can tap the button to change between a number of brightness and strobe settings.

Interchangeable Batteries
Although rechargeable batteries are the most economical way to go, this handy-dandy flashlight offers the capability to use two 3-volt CR123A batteries as well. This is nice because if you forgot to charge your backup rechargeables then you won't be left in the dark.

Cost and Value
The size of the flashlight doesn't really correlate to the size of the price tag with this little guy. However, Streamlight is a trusted name in the field of flashlights and it is a very reliable and powerful flashlight for the price.

Pocket-sized (3.25" long, 1" wide)

USB Charging Cable Included

Anti-roll face cap to prevent rolling off surfaces

TEN-TAP technology

Water Resistant

Pocket Clip
Some say battery life isn't long

On button can be touchy/turn on when you don't want
3. Anker Bolder LC90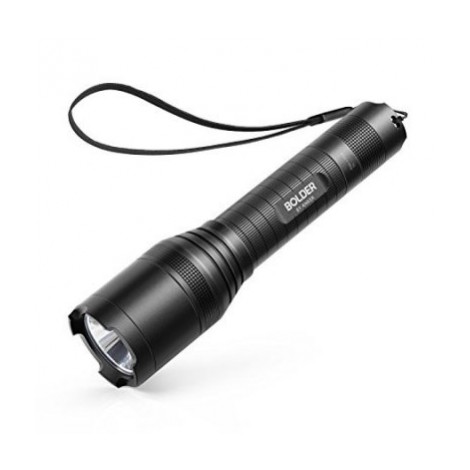 This super bright tactical flashlight is one of the most economical rechargeable flashlights on our list. With a smartly-designed pocket-sized chassis and anti-slip grip, it can fit in your pocket or backpack with ease. The adjustable focus will give you 900 lumens of broad or spotlight coverage. It is water resistant and lasts up to 6 hours on a charge. The powerful Anker Bolder LC90 offers high, medium, low, strobe, and SOS modes. This little light really is durable, powerful, and can even be charged using an Apple lightning cable.
Expand to see more
Durable Apple MFi Certified Cable
This flashlight comes with a micro USB lightning charging cable so you can charge it up with this or you have the option to charge it using an Apple devices' lightning cable! It contains a unique authorization chip issued by apple so it is guaranteed to sync and charge with any lightning device. The cable itself, called the Anker Powerline, is reinforced with bulletproof aramid fibers, making it more durable than most standard cables.

Water Resistant
The Anker Bolder LC90 is IP65-rated water resistant so you can use it in heavy rain without worry. It is an excellent choice for campers, hikers, fishers, because of its water-resistance. In fact, this handy flashlight is a great choice for anyone to keep in their car or purse!

Cost and Value
This is one of the most affordable flashlights on our list. It is not only economical but it is a really great value because you get a flashlight that can shine up to 2 football fields in length at 900 lumens for a small price.

Affordable

Compact design

Water resistant

Multiple mode options

Apple Mfi certified cable

Last up to 6 hours on charge
Double click to change modes

Holes in end for lanyard don't allow it to stand up as torch
4. Stanley Fatmax SL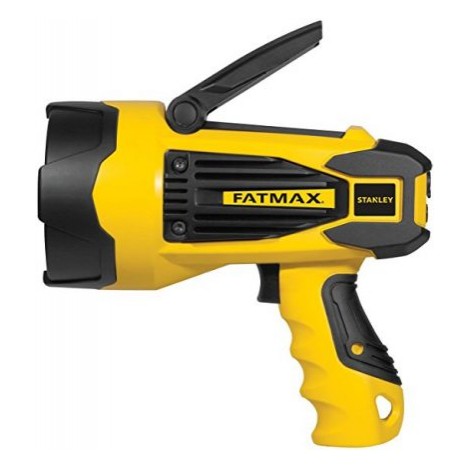 If you are looking for a bigger rechargeable flashlight, the Stanley Fatmax SL is an excellent option. This sturdy spotlight offers a collapsible and pivoting stand and lockable trigger button so you a prop it up and work hands-free. Giving off up to 920 lumens, you won't be left in the dark with this flashlight. It has a heavy duty bezel and charges using the included AC or DC adapters. Once charged, this flashlight will last up to 7 hours lit.
Expand to see more
Pivoting/Collapsible Stand
Sometimes, you need to put your flashlight down but you don't want it aimed straight up at the ceiling or pointed right at the wall. With the Stanley Fatmax SL, you'll be able to prop this flashlight up easily using the pivoting and collapsible stand. This is a handy option for working in the dark or using it as a light source while camping or on the beach.

One Handed Operation
The trigger on/off switch makes this flashlight super easy to operate one-handed. You pull the trigger once for low, once for medium, once for high, once for off: easy peasy.

Cost and Value
This is not an expensive spotlight, yet it's not the cheapest flashlight on our list. It is a very durable and easy to use spotlight and is an excellent value for the price that you pay.

One handed operation

Bright 920 Led lumens

Pivoting/Collapsible Stand

Charge lasts up to 7 hours

Battery can stay charged up to 12 months
Some say it doesn't last

Not water resistant
5. Streamlight 74751 Strion HL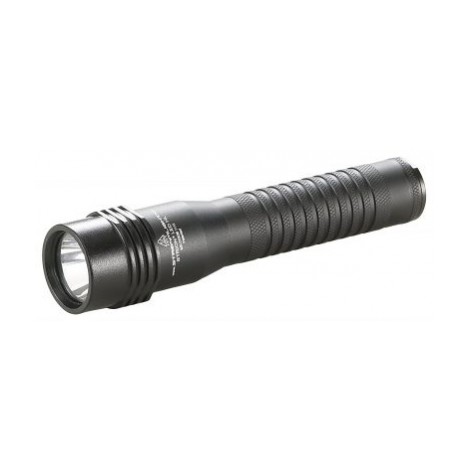 Streamlight offers an array of different kinds of flashlights. Their HL series delivers High Lumens and is great for smaller areas where you don't need the beam of light to travel a very long distance. The Strion HL gives you a wide beam with a high lumen output (500 lumens) in a compact design. This 5.9" flashlight is a great everyday tool to have around the house or to keep in your car. It's also an excellent choice for anyone needing to attach a flashlight to their belt for job purposes because it's a great size. It has a non-roll head so it won't travel if you set it down.
Expand to see more
Multipurpose Everyday
This is an excellent flashlight for everyday use. It isn't the brightest as far as lumens go, but sometimes you don't need a ridiculous amount of lumens to get the job done; 500 lumens is definitely bright! It isn't too big so can be stored easily and attached to a belt clip with ease. It does the job of a flashlight with the great feature of being rechargeable.

Durable
The Strion HL has a durable construction made of 6000 series machined aircraft aluminum with an anodized finish and is impact resistant. It is an excellent option for law enforcement or security officers because if its durability.

Cost and Value
This high lumen flashlight is more expensive than the lights listed thus far. However, Streamlight is a well-known brand in flashlights and you are paying for what you get.

Portable size

2-meter impact resistant

Shines up to 200 yards

Borofloat high temperature glass lens

IPX4 water resistant
Complaints of it dying out after a few months

Short battery life
6. Fenix PD35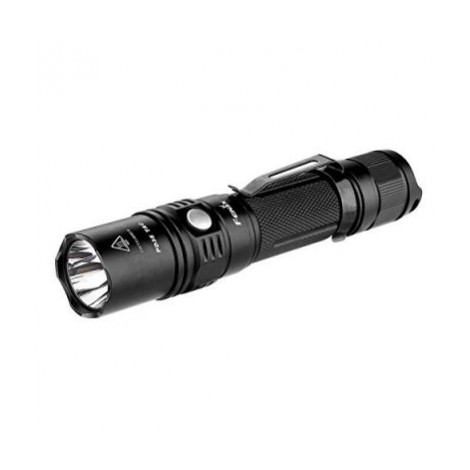 Talk about small and mighty! This 5.5" tactical flashlight puts out an astounding 1000 lumens and can shine up to 200 meters. This little light offers two different switches, one on the side (outdoor mode) and one on the tail (tactical mode), which is mighty handy. It has many different light options when setting to the outdoor mode and also has a memory function. It is very durable, made of aircraft grade aluminum and has to overheat protection to avoid high temperatures. This is definitely one of the more powerful compact rechargeable flashlights.
Expand to see more
Two Modes
The tactical mode is enabled when the tail switch is pushed and is great if you just need to shine the light briefly. You just have to click it once for on and once for off and you get a steady bright 1000 lumen beam shining where you point it.

Memory Function
When in outdoor mode (pushing the switch on the side), there are many different light options: eco, low, mid, high, and turbo. When you turn the flashlight off using the tail switch (when set to outdoor mode), the memory function will allow you to turn on the flashlight immediately to the last setting it was on before turning it off.

Cost and Value
For what you get in this little high lumen tactical flashlight, the price makes it an amazing deal. You definitely get your money's worth when you purchase this one.

Two mode options: Outdoor and Tactical

Super bright

Memory function

Overheat protection

IPX-8 water resistant (2m)
No adjustable beam

Doesn't come with rechargeable batteries
7. Maglight RL1019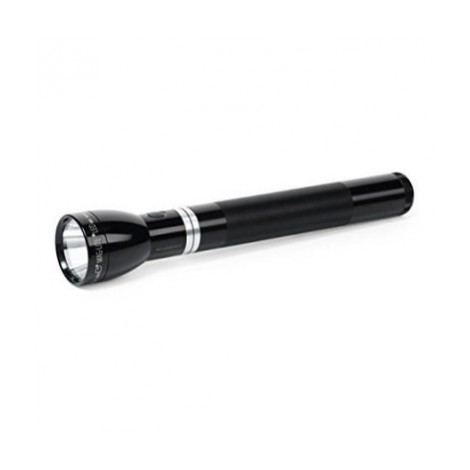 This is a full-size rechargeable flashlight that casts a pretty far beam. It offers 643 lumens of bright LED light and can shine up to 400 yards, which is twice as far as some of the smaller rechargeable flashlights. The Maglight RL 1019 offers four different modes to choose from: general, outdoor, law enforcement, and tactical. Within each mode, there are three different light functions ranging from eco to strobe. It also has an adjustable focus for a spot beam or peripheral light.
Expand to see more
Adjustable Beam
Like most Maglight lines, the RL 1019 allows you to adjust the beam of the flashlight with an-easy-to-use turn of the flashlight head. You can adjust the beam from spotlight to floodlight which gives you more peripheral light quickly and easily.

QuickClik Mode Adjuster
One great thing about this flashlight is that it is very user-friendly. Within each mode, there are three different light settings. For mode one, click once; mode two, turn off and click twice; mode three, turn off and click three times. Super simple!

Cost and Value
For a full-size rechargeable dependable flashlight, this one is priced pretty reasonably. It comes with charging accessories, including the battery, so it is a decent value.

Easy to use

Quickly adjust beam

IPX4 water resistant

Eco mode greatly extends battery light

Optional DC power cord to charge in the car

1 year warranty
Takes long time to charge

Complaints of charger breaking easily
8. Olight S1 Baton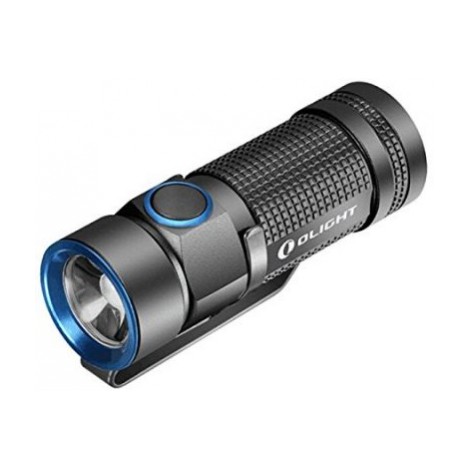 The teeny tiny Olight S1 Baton is the smallest flashlight on our list and is considered "thumb size" at only 2.4" long. Don't underestimate this little powerhouse though; it shines up to 110 yards at an amazing 500 lumens. It can use rechargeable CR123A batteries and boasts a low-profile side switch to avoid accidental turn-on. It has lots of great little features like a timer, tail cap magnet, three standard modes, and a thermal management safety program to prevent overheating.
Expand to see more
Magnetic Tail Cap
This fierce little rechargeable flashlight has a great feature that many flashlight aficionados appreciate: a magnetic tail cap. This is a bonus because not only does it mean that this little flashlight can stand upright and be used as a torch, but it can also be magnetized to any magnetic surface (i.e. a car) to allow for proper lighting where you need it without it rolling away.

Timer
There aren't many flashlights with a built-in timer. This little bundle offers a built-in timer of 3 minutes or 9 minutes. This is helpful if you need it to see for a certain amount of time but will be away from the light itself; just a handy dandy feature in this itty bitty light.

Cost and Value
If you consider price in relation to size, then the price tag might seem a bit steep. However, this little thing is an amazing tool to have on your keychain for the price. It is definitely a great value for such a powerful little flashlight.

Amazingly portable

Powerful for such a tiny flashlight

Timer function

3 available modes

Magnetic tail cap
500 lumen mode only works continuously for 1.5 minutes

Gets warm to the touch
9. ThruNite TN42 Searchlight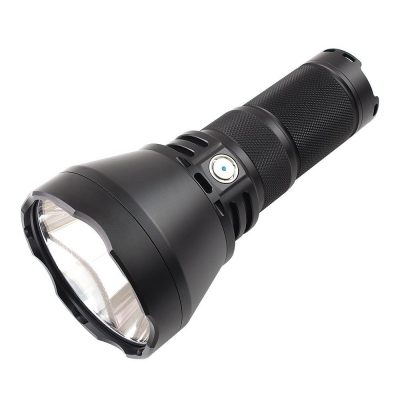 The Thrunite TN42 is an amazingly powerful searchlight offering six different modes; the brightest of which shines a staggering 2000 lumens! This is a full-sized flashlight and the most powerful light thrower on our list. It can shine up to a whopping 1550 meters - that's 5,085 feet - that's almost a MILE. So this isn't your standard flashlight you give to your 9-year-old girl scout to go camping with (for fear she may blind fellow scouts), it's definitely meant to be used for a purpose. However, it does offer 5 other modes other than turbo, including a mode called "firefly" which gives off a measly .8 lumens; barely a nightlight. In other words, this rechargeable flashlight can but used in a helicopter in search of runaway bandits, or as a faint whisper of light to help you avoid tripping down the hallway in the middle of the night.
Expand to see more
Staggeringly Bright
If you are an overachiever, this is the flashlight for you. At 2000 lumens, it can be seen almost a mile away. Yet, to protect this powerful flashlight from overheating, the handheld searchlight has built-in ThruNite ITC technology which automatically lowers the brightness when the light gets to 80 degrees centigrade.

Firefly Mode
On the flip side, the ThruNite TN42 offers 5 other modes including a very dim light mode called "firefly" which gives off only .80 lumens. This is handy for just trying to see something briefly without waking others up or as a nightlight while camping. In fact, while in firefly mode, the battery can last up to 58 days.

Cost and Value
The ridiculously powerful ThruNite TN42 carries a bigger price tag than any other flashlight on our list. But if it's power you're looking for, you'll find it in this rechargeable flashlight for sure.

Extremely bright

IPX-8 water resistant

Memory function; will turn on last used mode

ITC technology to prevent overheating

Easy to access all modes
Batteries not included

Can be dangerous for kids
10. Streamlight 77553 Ultrastinger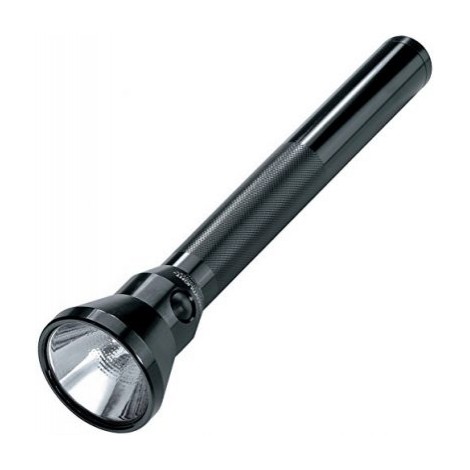 This full sized flashlight is the longest on our list, coming in at 11.5" long and weighing a little over 1 ¼ pounds. This is a big flashlight for anyone looking for something that feels a bit sturdier in the hands. It shines up to 1100 lumens and 510 meters (1,673 ft). This flashlight comes with a convenient wall-mountable charging cradle with an LED charge indicator on it. This is the most durable flashlight on the list in terms of impact resistance.
Expand to see more
Impact Resistant
Many of the flashlights on our list don't match up to the impact resistance of this big guy. This flashlight has been rated to withstand up to a 3-meter impact. Flashlights have a number of inner workings that could cause them to stop working if dropped from a height like this, but the Streamlight Ultrastinger should withstand a ten-foot drop without fail.

Snap-In Charging Cradle
One great feature about this flashlight is its charging cradle. It easily attaches to the wall and plugs in. Then you snap the Streamlight Ultrastinger into its charger easily and it starts charging right away. It has a handy LED charging indicator on it so you know when it's charging. No worrying about plugging micro USB cords in or anything like that; this flashlight snaps in and out of it's charging cradle quickly and easily.

Cost and Value
Although not the priciest of flashlights on our list, this big puppy is up there in terms of price. However, it is an excellent product with quality manufacturing. If you are looking for a heavy duty powerful, easy to use flashlight, you'd be happy with this one.

Batteries included

Easy to charge

3m impact resistant

IPX-4 water resistant

Powerful narrow beam with optimal peripheral light
Some recommend purchasing better rechargeable battery

Anodizing wears easily
11. OTYTY E7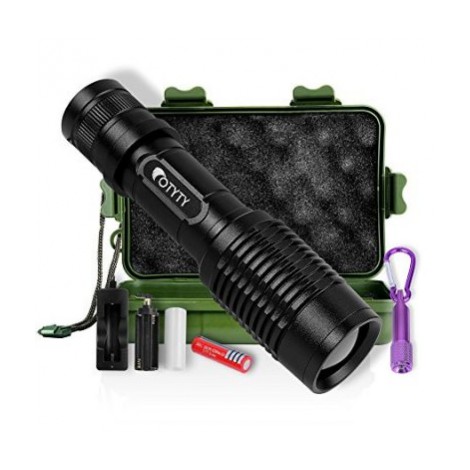 We're going to give this flashlight the most underrated flashlight on our list award. This is another pocket-sized rechargeable flashlight that packs a huge punch in the lumens department, blasting up to 1000 lumens of light into the air. It offers 5 different modes with a toggle switch that changes the mode when not entirely pressed in. It also has an adjustable focus and comes with a 1 year warranty.
Expand to see more
Adjustable Focus
This powerful little flashlight has an easy-to-use adjustable zoom focus. By simply pulling or pushing on the flashlight head you can switch from a more concentrated beam for distance to a wider peripheral beam for area with ease.

Storage Case
The compact and portable OTYTY E7 comes with a handy little green storage case that can fit both the flashlight and the charger. This is convenient for packing purposes and allows to keep everything in one place.

Cost and Value
This flashlight gets the most economical prize on our list. For the strength and features of this light, the price is amazingly low and affordable for almost anyone.

Affordable

Adjustable Focus

Handy carrying case

Can be used with the included rechargeable battery or standard AAA's

IP65 rated water resistant
Magnifying lens may come loose

Case can break easily
12. Nitecore MH25GT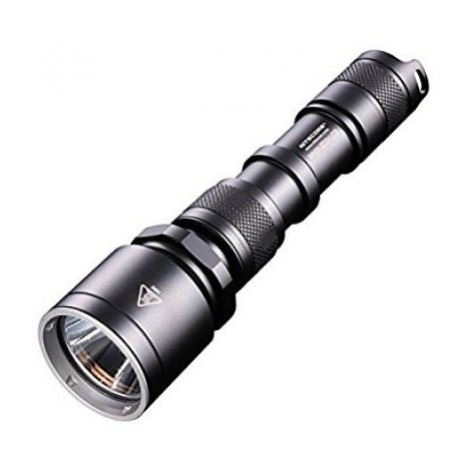 As another pocket-sized rechargeable flashlight, the Nitecore MH25GT does not disappoint. It can throw 1000 lumens up to 494 yards and can be used on the highest setting for up to an hour. The long-running battery will allow for 36 hours of light when on the lowest setting. It comes with a clip, pouch, tactical adapters and a charging USB cable. The charging port is designed to be resistant to dust, dirt, and water.
Expand to see more
Intelligent Charging Circuit
The onboard charging port on this flashlight is equipped with an intelligent charging circuit with voltage protection to allow quick and safe charging. The charging port case is designed to seal against any dust or water, thus protecting the internal components. This is a great feature because we all know what it's like to get a charging port all gunked up and not be able to charge.

Optional Accessories
If you'd like to supe up your flashlight, there are lots of optional accessories you can purchase for this one. These accessories include: a light diffuser, bicycle mount, red traffic wand, holster, remote switch, gun mount, and red, blue, or green filters.

Cost and Value
This rugged little flashlight isn't as expensive as some on the list, nor is it one of the least expensive. It's an extremely bright portable flashlight with an excellent track record with owners.

Dust/water proof charging port

Portable (6.3")

Lots of optional accessories available for purchase

Rotary switch to rapidly switch between 6 modes

Long runtime
Belt clip can pop off

Some don't like the rotary switch
13. BuySight Rechargeable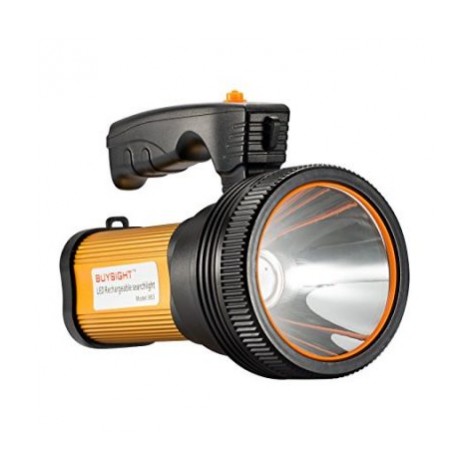 As the only other "searchlight" on our list, this BuySight rechargeable flashlight is a great buy. With this light, you can choose between two brightness modes. It is a larger flashlight that comes with a shoulder strap and has an easy to hold handle. It shines up to 1200 lumens and has a long-lasting battery. This flashlight also has an IP4 rating for water resistance so it should be submerged in water but can be used in wet conditions. It also has a handy USB port to be able to charge your portable devices.
Expand to see more
High Capacity Battery
The rechargeable battery in this searchlight can hold up to 9000mAh of charge which allows for a longer outdoor working time. This powerful flashlight has a lighting time of up to 16 hours. Not only that, but the battery is so powerful that you can even charge your portable device by plugging it into the USB port on the back of the light.

Handy Design
This isn't a tiny little pocket flashlight, it's a pretty big searchlight. Despite this, it's not incredibly heavy. It has a great grippy handle so you can hold on to it easily and comes with a shoulder strap so you won't have to hold it at all times while using it.

Cost and Value
This searchlight is super bright and very handy and comes with a smaller price tag. For such a powerful light, it's an excellent bargain.

Handy design

Included shoulder strap

Powerful battery

USB port to charge other things

Affordable searchlight
A little bulky

Only 2 brightness settings
14. SureFire P1R Peacekeeper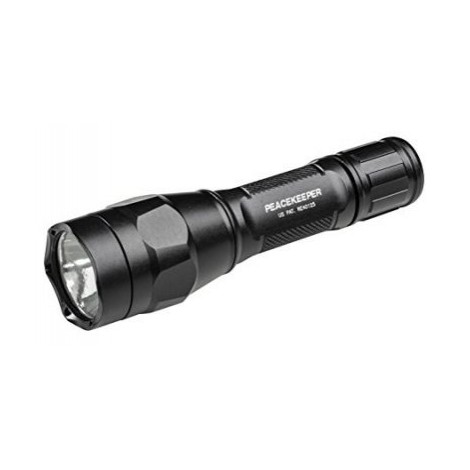 The SureFire P1R Peacekeeper is a top choice among law enforcement officers. It is a reliable pocket-sized flashlight that is easy to use and very durable. It was designed using input and feedback from law enforcement professionals because a reliable flashlight is something they place high on the list of important work tools. This model of flashlight offers dual output modes; you can press the tail button for immediate high lumens or twist the head for constant on. It offers a great throw of 600 lumens with excellent peripheral light for situation awareness.
Expand to see more
Dual Output
This is a convenient feature which allows law enforcement, or anyone, to be able to use the flashlight for multiple purposes. By pressing the tail button, the user will immediately get the 600 lumens this flashlight offers, or they can turn the head of the flashlight for constant light. By pressing the tail button off and then on again after 2 seconds, the user can obtain the lower light setting.

Virtually Indestructible LED
The extremely durable and precision-placed LED emitter and reflector are designed to give maximum output and runtime. It offers a far-reaching beam with peripheral light which are both very important in certain situations.

Cost and Value
This is one of the priciest rechargeable flashlights on our list. However, SureFire devotes a lot of time and money to research and development and emphasizes quality and reliability. If you need a flashlight you can count on, this is definitely the light for you.

High quality product backed by lots of R&D

Dual output for tactical situations

Extremely durable

Optimal peripheral light throw

Developed with LEO's in mind
15. Olight r50 Pro Seeker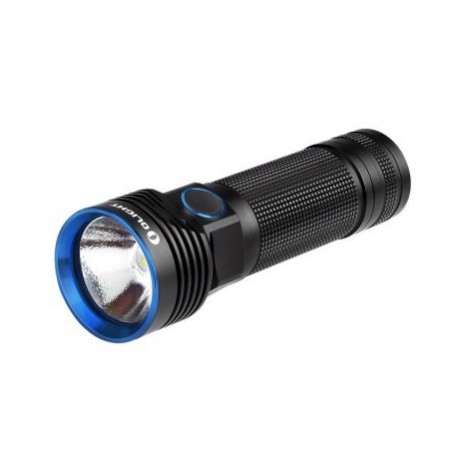 Last on our list is our brightest rechargeable flashlight. This compact flashlight can throw up to 2500 lumens at the highest setting, which is an awful lot of brightness! It boasts a heavy duty industrial silicone switch and has a red "low-battery" light on it. This light has three different modes and a proprietary magnetic charging system. It is an excellent option for law enforcement officers or for anyone looking for an excellent, bright, compact, tactical flashlight.
Expand to see more
Magnetic Charging System
One aspect of this flashlight that gets the high praises of users is its charging system. It has a magnetic end cap where you just attach the magnetized charger; no plugging in, no charging ports to worry about.


Brighter Than Bright
2500 lumens! That's amazingly bright for such a compact flashlight! For a 5" rechargeable flashlight, this one can light up the night with ease. It also offers three other modes other than turbo so you don't need to be the brightest light in the group unless you need to be.

Cost and Value
As a high-quality tactical flashlight, this light is right around the price of most in the same category. It isn't cheap but it is a good value for such a high-quality item.

Amazingly bright

Handy easy to use magnetic charging system

Heavy duty silicone switch

IPX8 Water Resistant

Low battery indicator
Can become hot in the hands

Some complain about switch feeling flimsy
15. Olight r50 Pro Seeker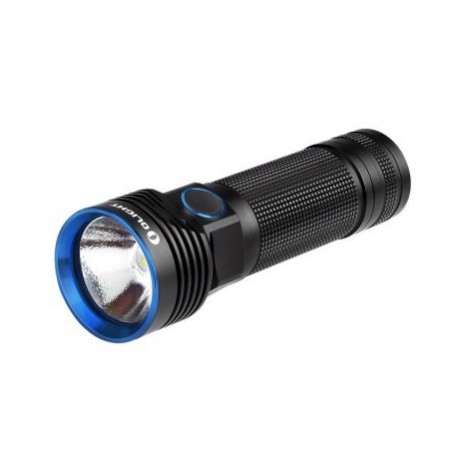 Last on our list is our brightest rechargeable flashlight. This compact flashlight can throw up to 2500 lumens at the highest setting, which is an awful lot of brightness! It boasts a heavy duty industrial silicone switch and has a red "low-battery" light on it. This light has three different modes and a proprietary magnetic charging system. It is an excellent option for law enforcement officers or for anyone looking for an excellent, bright, compact, tactical flashlight.
Expand to see more
Magnetic Charging System
One aspect of this flashlight that gets the high praises of users is its charging system. It has a magnetic end cap where you just attach the magnetized charger; no plugging in, no charging ports to worry about.


Brighter Than Bright
2500 lumens! That's amazingly bright for such a compact flashlight! For a 5" rechargeable flashlight, this one can light up the night with ease. It also offers three other modes other than turbo so you don't need to be the brightest light in the group unless you need to be.

Cost and Value
As a high-quality tactical flashlight, this light is right around the price of most in the same category. It isn't cheap but it is a good value for such a high-quality item.

Amazingly bright

Handy easy to use magnetic charging system

Heavy duty silicone switch

IPX8 Water Resistant

Low battery indicator
Can become hot in the hands

Some complain about switch feeling flimsy
There are an incredible number of rechargeable flashlights out there to choose from; from compact to full size, to searchlights, it can seem overwhelming. The best thing to do is to determine what you will be using the flashlight for and narrow it down from there. No matter what your choice is, rechargeable is definitely the way to go. Rechargeable flashlights cut down on batteries lying around in landfills and are economical when you don't have to purchase standard batteries. Some of these flashlights can blow through batteries pretty quickly when used at the brightest setting, so you want to go the rechargeable route. In the end, this list provides you with lots of options so you'll easily be able to determine the right light for the job.
How to Maintain a Rechargeable Flashlight
The rules for keeping a rechargeable flashlight healthy are a lot different than regular electronic products, and that's a good thing. Since the rechargeable battery is part of the unit and not removable, there is no worry about needing to remove the battery when it is not in use. In fact, the best tip for maintaining the unit is by discharging it. This is done by leaving it on and then recharging it back to full capacity. This method prolongs the strength of the battery for years and is a commonly used practice with smartphones.
Criteria For Evaluation
Most of the list focuses on the advancements made with small to medium sized rechargeable flashlights. There are no big performance gains by going large, and the user gets portability without losing too much power. In many professions, the larger rechargeable flashlight would be the better choice, but the industry has shown that it can pack a lot of light into smaller cases. The top three performers on the list were Streamlight Stylus, Streamlight Stinger, and Olight Baton. Just with the top three, you get a good idea of what brand made the biggest impact on the top ten list.
Ease of Use
The first criteria that we looked at was how easy it was to use the flashlight. This covers cycling through the various modes, changing and charging the batteries and of course any extra settings. Flashlights shouldn't have too many buttons on the surface, with a fairly simple setup so that they can be used in the dark. In rare cases, two-handed operation was more comfortable than a single hand setup. When this happened, we excluded the product from the list. With all of our flashlights needing only one hand to fully operate, we met the ease of use criteria without any problems.
Brightness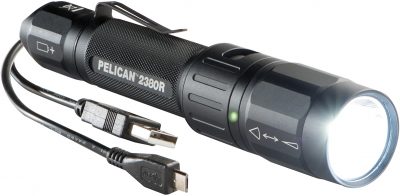 Brightness was next on our list, and we didn't show any favoritism based on the size of the product. That means a flashlight that was the size of a pen was held to the same standard as a medium sized flashlight. This was a hard criteria to go through when you factor in the brightness settings needing to be matched up. We went through all available brightness settings, matching each product's lowest, mid (if applicable) and highest settings. There was a difference in them all, with some making a big jump from the lower settings. Weight was factored in with the rankings, with some size criteria sneaking in. Since we rated brightness and power settings based on the product rather than its size, then lower weight equaled a higher ranking. The previous brightness criteria made ranking the products by weight much easier.
Size
We added in a size requirement with our weight rankings but restricted it to length. This ensured that most of the products in the list were capable of going into pockets, small bags and other carrying items not provided by the manufacturer. The weight criteria also explains how the Streamlight Stylus made it so high up the list.
Durability
We looked at durability but didn't put all of the focus on resistance to elements like water. So being waterproof didn't guarantee a high ranking, even if it is a desirable quality. Durability was all about how much of a beating the housing of the flashlight could take. Scratch resistance ranked high, and little things like buttons worked their way into our final decision in the durability criteria. The tougher the flashlight was to roughhousing, the higher a score it got. Some of these flashlights gained great favor for being usable in hunting sessions, proving that you didn't need a specialized model for the activity.
Branding

Branding is why Streamlight is on the list multiple times, with a strong showing with their Stylus and Stinger. Both products made Streamlight the best company to buy rechargeable flashlights from. They are consistent in quality and with the type of LED's they use, lasting for years without losing its top quality. The Streamlight was also a rare inclusion on the list, using a non-LED bulb. This is proof that when a company packages their flashlights with top-tier products, it can still succeed even without the use of LED. With this being a rechargeable flashlight top ten, we put major points toward how effective the batteries were.
Battery Effectiveness
Battery effectiveness was based on how quickly the batteries charged, their ease of removal, cost of batteries and of course whether they dulled the brightness when they were running low. Automatic dimming of a flashlight when the batter is low is both unnecessary and annoying. Not every product does this, but we adjusted the list in favor of the products that don't. We were able to balance the list, putting the flashlights with the best performing batteries in their proper place.
Features and Modes
Products that had the lightest modes review better with customers that have multiple uses. This is excluding brightness settings and is about looking at flashlights with SOS, strobe and other modes. Surprisingly, there really wasn't a lot of variation between all of the models. Every now and then a flashlight would introduce a unique light mode, but nothing that could be considered innovative. We broke down this criteria into a 'how well does it work' category and had much better success. Flashlights that have a laundry list of features can still fall short of expectations if those light modes are not executed well.
Design
The design criteria looked at various attributes of the flashlight products and how well they worked in everyday settings. Small things like clips, lanyards, and even rubberized material were factored in. Some of these designs made it easy to hold, while other designs were purely for aesthetics. We looked at the designs that would have the most impact on a buying decision. So while aesthetics didn't add anything to the usefulness of the product, it still shouldn't be ignored as a primary criteria.
Accessories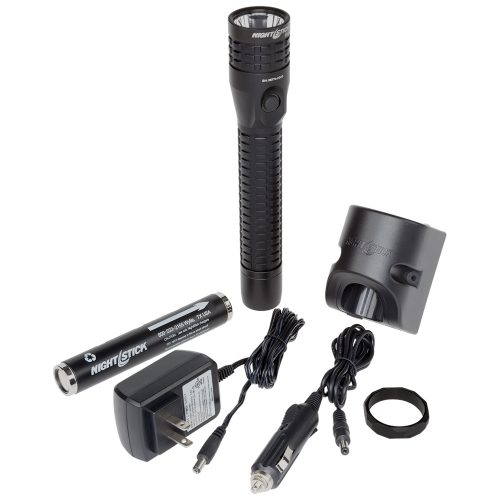 The last thing we looked at was any included accessories. Products that gained a lot of points with this criteria included everything out of the box like the charger, batteries and even a case. When a case/pouch wasn't included, we didn't penalize the product since this wasn't always needed. Flashlights like the Streamlight Stylus including a case would have been pointless. The Stinger is a different story, and would greatly benefit from having a case or pouch included. Our accessory criteria was weighed in favor of having everything in the package. The less a customer had to purchase separately to enjoy their new flashlight, then the higher the rating. Accessory prices also helped in the rankings, with the lower prices driving better products to the top of the list.
FAQs
Frequently Asked Questions
Q: Do You Have To Fully Charge Rechargeable Batteries Before Using Them?
A: This is at the user's discretion. Charging batteries to their full capacity (or discharging them then charging) before use is done to keep the battery fresh. Like all battery, misuse over the years will slowly degrade their optimal performance.
Q: How Long Do Rechargeable Batteries Last?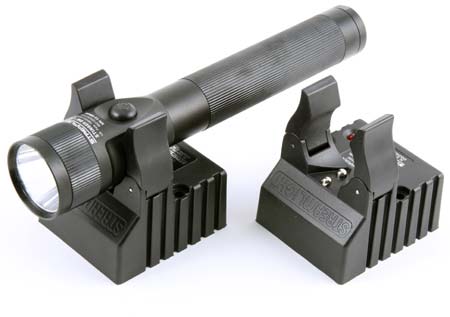 A: Rechargeable batteries lose their top capacity over time the more they are used, and this is unavoidable. The loss of top power isn't really that bad since it takes thousands of recharges to even get to that point. And even when it loses the ability to be topped off, the batteries still maximize at a good portion of their power, around 80%. The drop off isn't really that noticeable unless you are using them for hours at a time per day. But the bottom line is that it doesn't bother the brightness of the light or its normal functions other than total runtime.
Q: How Many Times Can You Recharge A Rechargeable Battery?
A: Although not brand specific, you should refer to the brand of batteries you're using for a better idea. Even then, it is not an exact science since they can't factor in how much you use the batteries and if you're discharging them correctly. Some rechargeable batteries last a lifetime if they are discharged properly, while others may begin to rapidly lose charge within a year. It all comes down to how you take care of it.
Q: What Features Are Most Important In A Flashlight?
A: Lumines, run time, bulb life. Pay attention to those three, and you'll always get the necessary model.
Q: Why Are LED's Preferred?
A: LED's have long since been the preferred bulbs for portable flashlights due to their long lasting life and energy efficiency. They are found in more than just flashlights and have become the default bulb type for a variety of home and office products. A home fitted with LED lights can save a significant amount on the energy bill, and it is so noticeable that some governments offer rebates as an incentive to switch. So how well does this work in portable form? The smaller housing of the LED flashlight gains even more efficiency, and it pretty much lasts for the lifetime of the device.
Q: Do You Need An Extra Product To Recharge?
A: This will vary since not all rechargeable flashlights come with removable batteries. If the product allows it, you can charge their batteries by plugging in the flashlight, just like you would with a smartphone. It's an ideal solution for consumers that don't want to take the batteries out. When dealing with removable batteries that can be recharged, you have the option of putting them in a supplied charger. Not all products come with a separate charger, and it may be necessary to purchase one separately. All of these differences with power options introduces a lot of customization for informed customers.
Q: What Are Some Of The Most Favorable Modes?
A: Moonlight, strobe, and SOS are the usual modes you'll get when purchasing a rechargeable flashlight. A con of many of the products on the market is that you have to switch through the various modes one by one until you find the correct mode. If there are only three modes then it isn't a big deal and can be done in one smooth motion. But when you get a product that is equipped with a lot of modes, then it can get a bit tedious until you get the hang of it. This applies to a lot of the top tier products too, so it isn't simply related to lower tier rechargeable flashlights.
Q: Will A Crack In The Glass Make The Flashlight Useless?
A: It won't make the product completely useless, but it does lower the effectiveness of the flashlight tremendously. This is most noticeable when the cracks start to introduce fog. They don't have to be deep cracks for this to happen, so even a small break could spell trouble. When the lens fogs up, the light is dull, losing a lot of the brightness needed in dark situations. You also introduce the flashlight to possible damage if water trickles down into the cracks and hits the bulb. It is recommended to always repair a crack in a flashlight as soon as possible so that it can't do further damage.
Q: Is There A Way To Prevent Shortened Battery Life?
A: There is no foolproof way to guarantee that a rechargeable battery will keep 100% of its charge for a lifetime. But you can keep it from degrading too fast, and even escape the possibility of it destroying the flashlight. Just like normal batteries, rechargeable ones are prone to leakage or explosions. This is likely to happen when it is stored in conditions where it is extremely hot. It is also likely to happen when they are left in the device for a long time without being used. Leakage due to unused batteries is common, although less likely than past types thanks to technical improvements. If you're not going to use a flashlight for weeks at a time, it is best to remove the batteries (if they're removable) and put them in a safe place.
Q: How Do You Clean A Rechargeable Flashlight?
A: Other than keeping the lens clean with a microfiber cloth, the only thing you should worry about is the contacts for the batteries. Once a month it isn't a bad idea to take the batteries out and clean the contacts with a small solution of white vinegar. This isn't just a great tip for getting rid of corrosion from exploded batteries, and it works well in general cleaning situations to keep the contacts in good shape. Make sure to get it as dry as possible with a separate towel that is lint free. Small checkups like this once a month can prolong the life of the flashlight in multiple ways, and at minimal cost.
Q: Are The Flashlights Waterproof?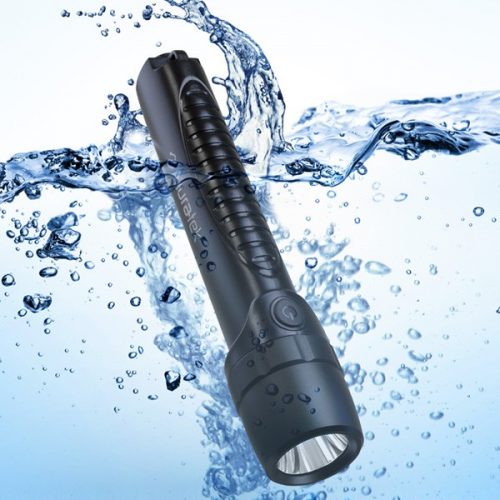 A: Only some flashlights are waterproof, and some have such low resistance to water that they get damaged by condensation. A good balance to strike is between those two types unless you are primarily going to use it in wet conditions. Rechargeable flashlights are tightly packed with a good housing, so at the very least it will provide some shielding when the weather gets out of hand. Even if a product doesn't mention specific waterproofing features, you will get decent protection if the build quality is high.
Q: Is It Important To Have A Carrying Case Or Pouch?
A: It doesn't hurt to have a carrying case or pouch, but it isn't always necessary. Some of the rechargeable flashlights available are so small that they can fit in your pockets. They also contain various things to help with carrying like lanyards and clips. With smaller devices having as much brightness as the larger ones, it only makes sense to worry about a case or pouch when you have a bigger device.
How to Make the Best Decision
Budget concerns come into play since not all the models on the list come with batteries. If money is a bit tight, then investing in a rechargeable flashlight that comes with all you need is a must. Size is something else that needs consideration and is the reason some people have a 'main' flashlight and a 'companion' flashlight. Now companion flashlights have become just as powerful as their bigger counterparts, so investing in a small model is a good idea since you can always have your best flashlight on you. Lastly, LED is the standard, but that doesn't mean it is a must. The second best item on the list is not LED, so don't let it be a deciding factor in which type you choose.
Sources