Best Rechargeable Flashlights Reviewed and Rated
You wouldn't think that rechargeable flashlights would be a bustling industry, but it turns out that choice is the best way to entice customers! With the move to LED there have been a lot of options for customers that want reliable flashlight options. And with that has come improved batteries with other emergency features. In this guide we reviewed some of the best rechargeable flashlights available out there, to win at the sport's game.
Our Top 3 Picks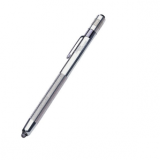 Streamlight Stylus

Our rating
Easy Use
Price:

See Here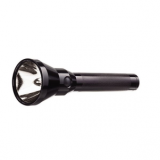 Streamlight Stinger

Our rating
295 Lumens
Price:

See Here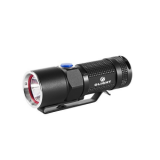 Olight Baton

Our rating
Magnetic Tail
Price:

See Here


What Are The Best Brands?
Streamlight, Olight, Ryobi and ZeroHour seem to be the brands that people flock to the most. With all of their innovative flair, these brands have climbed to the top of the list of noticeable names. Along with their name recognition have come a lot of changes in their core products, which is why some companies may be listed twice on the list.
How to Maintain a Rechargeable Flashlight
The rules for keeping a rechargeable flashlight healthy are a lot different than regular electronic products, and that's a good thing. Since the rechargeable battery is part of the unit and not removable, there is no worry about needing to remove the battery when it is not in use. In fact the best tip for maintaining the unit is by discharging it. This is done by leaving it on and then recharging it back to full capacity. This method prolongs the strength of the battery for years, and is a commonly used practice with smartphones.
10 Best Rechargeable Flashlights
1. Streamlight 65012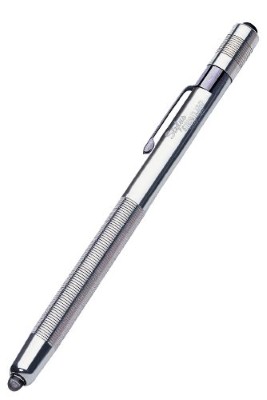 Streamlight has changed the way the industry thinks about flashlights, and even how they operate. That's why the top flashlight on the list also doubles as a stylus! The 65012 stylus is an unbelievable deal inside and out, and provides some really can't miss features with its design.


Expand to see more
A Lifetime of Light

The best LED bulb on the list goes to this model, since its solid state bulb can last up to 100,000 hours. Many users won't even get to half that time, so expect this to be the last flashlight you'll ever need. When on it lasts up to 60 hours on a single charge, which is ridiculous when you consider its size and range.

Features and Specifications

Waterproof aluminum case
Nonslip grip with clip
Length is 6 ¼ inches
Glare guard protector is included
Uses three AAAA batteries
Limited lifetime warranty

Price/Value

With a dizzying array of stylus colors and light colors, this is the best flashlight on the list by far. It just misses out on being the lowest priced on the list by a couple of dollars, so is really good on the wallet. There isn't a better value if you need a long lasting flashlight that can go anywhere.

Decision Time

The Streamlight 65012 Stylus covers all the important points when it comes to a flashlight. If you want rechargeable AAAA batteries, you can always buy them. But with such a long battery life, you won't need to.
Available with different base/light colors
Can fit anywhere a regular pen can
High intensity LED runs up to 60 hours
LED bulb lasts a lifetime
Easy use with push button and rotating tail clip
Batteries included are not rechargeable
2. Streamlight 78014

Many customers have weighed in over the years with what they think of this model, and it has received nothing but praise across the board. This is the considered the best full sized flashlight in the industry by many critics, with specifications that still beat newer flashlights coming out. And with all of the praise for LED, it manages to be a dark horse on this top ten list.


Expand to see more
Many Options

There are a lot of options for this model, starting with the multiple color selections. Then from there buyers can choose to get the flashlight with a multitude of configurations with a charger, stand, a fast charger or all of the above. There is even an option for no charger and a single NiMH battery!

Features and Specifications

Xenon-halogen gas-filled bi-pin flashlight
Adjustable focus beam
30 hours of life on one charge
Aircraft aluminum anodized body
Unbreakable polycarbonate lens
Weighs 1.1 pounds
Length is a long 11 ¾ inches

Price/Value

This is about the price you would expect for a product of this quality, and it isn't too high and is low enough to be accessible to all customers. Since there are different versions that can be purchased, then buyers can stick to what they want. Currently the available models are: 12V DC Charger/Holder, 12V DC Fast Charger, 120V AC Charger/Holder, 120V AC Fast Charger, 120V AC/DC Charger/2 Holders and just the base unit.

Decision Time

You can't go wrong with this purchase, since you'll gain control of one of the most powerful flashlights in the world. Even with no LED, it still climbs firmly into number two on the list.
A LOT of customizable options and accessories when buying
Lens is the best on the list
Variable spot to flood beam
World class Xenon-halogen bulb
295 lumens
Lifetime limited warranty
Lack of LED will turn off some buyers
3. Olight S10-XML2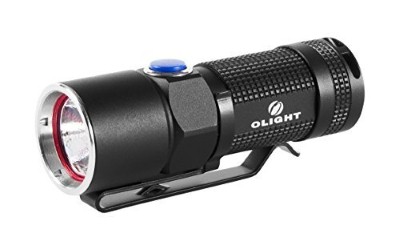 For a bump up in lumens and other features, the S10-XML2 EDC Baton is offered at the same price as the S10R. There are few minor differences, and when put side to side, the choice will come down to user preference. It's still impressive that Olight made the list multiple times, one of the few companies to do so.


Expand to see more
Magnetism

This is one of those extra features that some wouldn't consider a killer feature, but works out that way. Packed with a magnetic tail, the flashlight can sit in any position on a magnetic surface. Professional workers will find a lot of use with this if they work in shops, along with a lot of residential users that need a flashlight for their garage.

Features and Specifications

Strobe mode
400, 85, 5 and .5 lumen modes
CREE XM-L2 LED
Magnetic tail
Weighs 1.48 ounces
IPX-8 certified
Time based thermal management

Price/Value

Even without the batteries, this turns out to be a good purchase since it is low priced. Think of this as a higher spec S10R. It would have been nice of them to include batteries and a dock, but since only one type of battery is needed it's not a big deal.

Decision Time

The magnetic tail really is an awesome feature of this mini flashlight. If that doesn't inspire most customers, then a runtime of 360 hours should be all the motivation you need to make this a top purchase.
Small in size but incredibly powerful light
Lowest brightness mode lasts up to 360 hours
Aviation grade aluminum body
Can use CR123A or RCR123A batteries
Magnetic tail and belt clip makes it super portable
Batteries aren't included
4. Olight S10R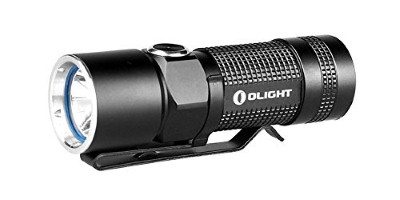 From miniature to mini comes the S10R Baton, an LED marvel that is so small it can fit in your pocket. Besides its small stature, the flashlight has a very bright light, which is amazing considering how small it is. With a workable price and lots of extras, customers should be pretty satisfied with this model.


Expand to see more
Size Matters

The S10R is the smallest flashlight on the list, and can completely disappear into your pocket or clip to your belt. A really big person will notice the flashlight is the size of their thumb! There are many situations where this can be beneficial, since not every customer wants to lug around a huge flashlight.

Features and Specifications

Micro-USB charging dock included
650mAh RCR123A rechargeable battery
Battery indicator
Overheating protection with thermal management safety program
Memory function remembers last brightness level
Reverse polarity protection when changing batteries
Weighs 2.4 ounces
Dimensions of 3x1x1 inches

Price/Value

The price is perfect for what you get, and since it comes with a rechargeable battery and dock, the value is equally perfect. The S10R has one job and it does that job very well.

Decision Time

Finding another mini flashlight at this price is almost an impossibility. With everything that is included you're getting a bargain, one that has catapulted this flashlight to number four on the list.
Smallest flashlight on the list
Uses standard Micro-USB fittings
Battery power indicator glows red for low battery
Automatically drops high output by half to manage overheating
Can also use CR123A batteries
Four brightness levels
Charging dock is lower quality than the light
Illumination could be better in certain instances
5. Ryobi Light 18V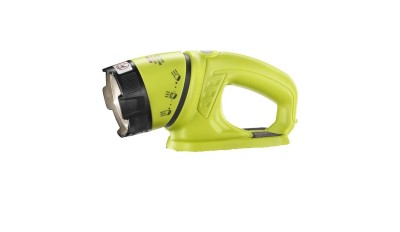 Compared to the others on the list this one will seem like it is out of place. Take another look as this Ryobi model has made several top 10 lists for a reason, and is considered one of the go to work lights in the industry.


Expand to see more
Halogen Filaments Aren't Dead

The biggest feature of the unit is that it doesn't use the superior LED technology. Not everyone is in love with LED, and this Ryobi model is a good reason why. The brightness of the light is very good in any situation, and heat is handled very well when used for long periods of time. If you are not set on getting an LED light, then this is the next best thing.

Features and Specifications

High intensity halogen filament bulb
Head swivels in multiple directions
Lightweight at only 9.6 ounces
Dimensions of 8.2×3.5×2.6 inches
Lens is removable
Durable for long periods of use

Price/Value

The price is unbeatable since it is the lowest, and the value is incredible since it can be modified as a low cost LED flashlight. The only thing that is debatable about its value is when you're a Ryobi ONE+ tools user. Because of the compatibility with the entire set, if you're a user of their other equipment it becomes a much better deal.

Decision Time

This is the most dependable flashlight available for a price this low, and since you can always modify it to your needs, it becomes the most customizable. Ryobi found a really good middle ground with this flashlight and it continues to be an unbeatable bargain.
The lowest priced flashlight on the list
Changeable lens allows LED bulb to be put in its place
Comfortable, lightweight and easy to handle swivel
Default bulb is one of the better ones on the list
High capacity rechargeable battery
Original bulb isn't LED
Is a better value if you have Ryobi ONE+ tools
6. ZeroHour Relic XR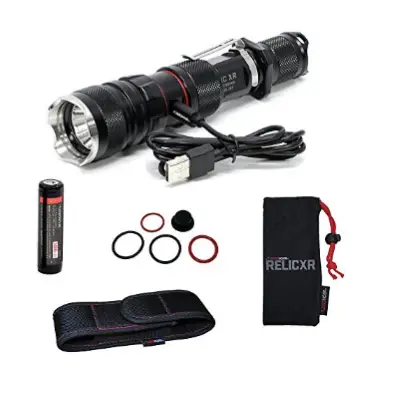 Sometimes companies forget that it is the little things that make a product great. In the case of the ZeroHour Relic XR, it is a jack of all trades and a master of none. But what it does is quite incredible, and has made it a favorite of many customers looking for an all in one flashlight.


Expand to see more
Convenience and Size

The best feature of this model is the compact size and the ability to recharge it through any standard USB port. That means you can charge it on a computer, laptop, television, some appliances and even printers. Any USB device capable of outputting power will be able to charge up the flashlight so that it is ready for use whenever, and wherever.

Features and Specifications

Variable control ring
USB charging
Waterproof battery backup
18650 lithium-ion battery
CREE XP-1 1,000 lumen LED
Dimensions are 6.2×1.5×1
Weighs 1.5 pounds
Stainless steel strike bezel
Micro USB charging cable
Microfiber carrying case and holster

Price/Value

Even if it is slightly above price, having a mountable mini LED flashlight that can be charged anywhere is an incredible bargain. This one is hard to beat, and if they had pumped up the LED just a tad bit more it would be the best on the list.

Decision Time

ZeroHour has created a flashlight that should be purchased by customers even if they have a regular LED flashlight. There is no better 'companion' flashlight that money can buy. And even when used as a regular flashlight, the Relic XR still ranks pretty high.
1,000 lumen LED is brighter than regular flashlights
Mounts to bikes or weapons
Small size
Uses the same charging cable as Android smartphones
Can charged anywhere where there is a power outlet of USB plug
Uses the included 18650 lithium-ion battery or two CR123 batteries
1 and a half hours on a single charge
Slightly expensive for its size
Some regular flashlights beat it head to head
7. Olight SR96 Intimidator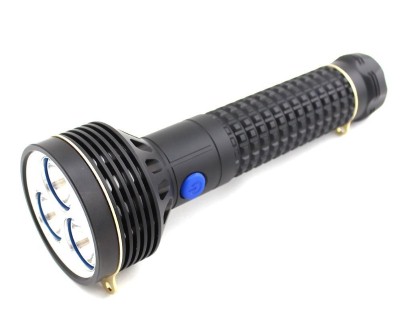 This is the first LED flashlight on the list and comes out to be one of the best. The high tech internals of the unit will make a lot of people happy, and tends to brighten up entire areas on its own. Getting into such innovative territory comes as a pretty high price, but you get a lot for the money!


Expand to see more
It's A Bright Light

The coverage of the 3 LEDs is incredible, with a brightness that really delivers what you would want from a top line flashlight. Wide areas will be covered instantly once you turn it on, and there really is no comparison when going from a regular filament bulb to LEDs.

Features and Specifications

3 CREE MK-R LEDs
4800 Lumens
Charger and 7800MAH battery pack included
Aluminum body with anti-scratching anodizing finish
Weighs 2.6 pounds
Dimensions are 10.9×3.5×3.5
Includes carrying case and shoulder strap

Price/Value

This is the Porsche of flashlights, and should be higher up on the list. But the lack of a pivoting head and the price will definitely put it out of the range of a lot of people looking for flashlights. The value is still good, and if it was a little less it could have easily been a top 3 product.

Decision Time

It's hard to overlook the price of SR96 Intimidator, which lives up to its name. Customers that want a tough, bright flashlight with an unstoppable built in battery will love this product. For a more affordable option without sacrificing quality, check further down the list.
Bright light capable of a high of 4800 Lumens
3 built in LEDs instead one 1
IPX-6 water resistance
Hard body lets it double as a self-defense device
Precision reflectors are the best in their class
Great heat dissipation
Incredibly long lasting battery
Double the price of the SL-20X
No pivoting head option
8. Streamlight 26010 SL-20X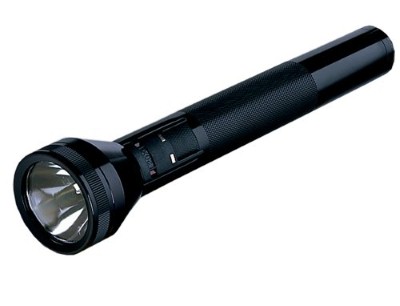 The SL-20X will be one of the many Streamlight models to make the list. Reliable and well built, this rechargeable flashlight has been used by millions worldwide. It has made several lists for the quality of the materials used in its build, and tends to last longer than under models under heavy use.


Expand to see more
Optional Styles

Streamlight offers three different styles for the SL-20X. One with a Charger which is 120 V, and one with the 12-Volt DC Charger and the aforementioned 120 V Charger. The last option is just the base unit, which is helpful for people who already have the accessories.

Features and Specifications

Aluminum which is aircraft graded with anodized finish
Unbreakable polycarbonate lens with coating that resists scratches
13 inches in length
1 and a half hours of runtime
100 hour lifetime per bulb
2 optional sleeves are included
Three position push button switch
Weighs 1.9 pounds

Price/Value

This is a high priced flashlight for a reason, and it at least gives you the option of purchasing the materials you want to come with it. When factoring in the cost of all available models, there is indeed a lot of value with this unit. This is what the pros use, and it's easy to see why.

Decision Time

Customers that want to fork out the money to get the best will have to dig deep for the SL-20X. This won't be the only time Streamlight is on the list and there are fewer products that are better.
Tough professional grade materials that will last a lifetime
Lens is as tough as the handle material
Powerful filament keeps the light shining strong
Comes with 2 sleeves rather than 1
Battery comes WITH the unit
Optional styles available so you only pay for what you want
Push button is strong and won't wear over time
One of the most expensive flashlights on the market
Battery might develop a memory issue if it isn't drained full before each charge
Not LED
9. Makita ML902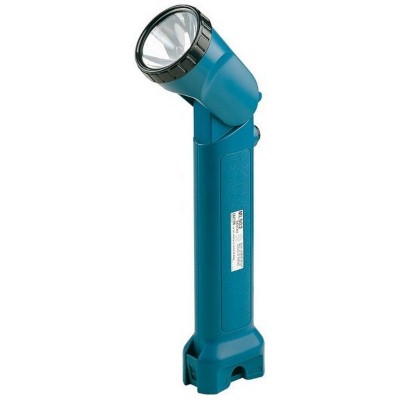 With the ML902, this model becomes the second Makita on the top list that is worth owning. There are similarities between this model and the ML120, but there are enough differences to make customers take pause when making a purchase. So why should customers consider the ML902 the superior rechargeable flashlight?


Expand to see more
Accessories Are Gold

The included carrying strap and storing case might not be appreciated at first. But when you're doing a lot of packing for a trip and the flashlight has its own little space, then it begins to make a lot of sense. Makita threw in a pretty high quality case, one that should last just as long as the flashlight it's carrying.

Features and Specifications

Storing case and carrying strap included
1 year limited warranty
Replacement bulb bundled
6 voltage battery compatible
Weighs 7.2 ounces
Dimensions are 12.5×2.5×3 inches

Price/Value

Without the inclusion of a battery or charger, the price does go up a bit if you don't already have it on hand. The ML902 is a low priced rechargeable flashlight on its own, even when you factor in buying the needed accessories. It just so happens the deal is better when you already own Makita branded 9.6 pod batteries!

Decision Time

With the same light coverage as the ML120 and a longer operating time, this is the better choice if you want a Makita product. The only reason to choose the ML120 over the ML902 is if you already own 12 volt pod batteries from Makita.
Smaller than the ML120 but provides same coverage
6 volts uses less power
Angles at 0, 45, 90 or 110 degrees
Storing case is sturdy enough to take some drops
Up to 2 hours of use on a single charge
Replacement bulb stores in head
Battery and charger not included
Not LED
10. Makita ML120

The ML120 is a basic but powerful pivoting flashlight that has a lot of expandability options. Mechanically sound and used by professionals, the ML120 will provide the light you need on demand without compromising on any other areas of light power, longevity and usefulness. It is one of the most balanced flashlights on the list.


Expand to see more
Prepared From the Start

The replacement bulb that can be stored in the head of the unit is a very good emergency option in case the original one goes out. It's also convenient, and keeps you from having to carry around an extra case or bag. Changing bulbs on the ML120 is one of the most painless experiences you'll go through.

Features and Specifications

Pivoting head with the option for multiple positions
Space bulb is included with the packaging
Shoulder strap comes bundled
Powered by 12 Volt Makita pod batteries
Resistant against moisture with sealed switch
Weighs 0.57 pounds
Length is 10 11/16 inches

Price/Value

This one is a little hard to gauge, because the price is low on the base product. But since the flashlight doesn't come with a battery or charger, that is an extra cost that has to be accounted for. Even when factoring that in this is still a good deal for most people. Just be aware that extra purchases have to be made after the initial one.

Decision Time

With the many choices on the list, the ML120 is still a great buy. Owners of previous Makita products will get the better deal, since they are more likely to have the extra batteries lying around. For everyone else it is still a great choice, but check out the other items on the list to get a better grasp of what's available.
Makita pod style batteries are incredible
Uses any 12 volt Makita pod battery
130 minutes of continuous use on one charge
Flashlight has 4 positions (0, 45, 90, 110)
Replacement bulb is stored in the head
Lightweight and can be stored in most emergency cases
Batteries and charger are sold separately
Flashlight head is smaller than their other flagship model
Not LED
Criteria For Evaluation
Most of the list focuses on the advancements made with small to medium sized rechargeable flashlights. There are no big performance gains by going large, and the user gets portability without losing too much power. In many professions the larger rechargeable flashlight would be the better choice, but the industry has shown that it can pack a lot of light into smaller cases. The top three performers on the list were Streamlight Stylus, Streamlight Stinger and Olight Baton. Just with the top three, you get a good idea of what brand made the biggest impact on the top ten list.
Ease of Use
The first criteria that we looked at was how easy it was to use the flashlight. This covers cycling through the various modes, changing and charging the batteries and of course any extra settings. Flashlights shouldn't have too many buttons on the surface, with a fairly simple setup so that they can be used in the dark. In rare cases, two handed operation was more comfortable than a single hand setup. When this happened, we excluded the product from the list. With all of our flashlights needing only one hand to fully operate, we met the ease of use criteria without any problems.
Brightness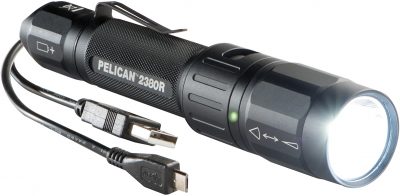 Brightness was next on our list, and we didn't show any favoritism based on the size of the product. That means a flashlight that was the size of a pen was held to the same standard as a medium sized flashlight. This was a hard criteria to go through when you factor in the brightness settings needing to be matched up. We went through all available brightness settings, matching each products lowest, mid (if applicable) and highest settings. There was a difference in them all, with some making a big jump from the lower settings. Weight was factored in with the rankings, with some size criteria sneaking in. Since we rated brightness and power settings based on the product rather than its size, then lower weight equaled a higher ranking. The previous brightness criteria made ranking the products by weight much easier.
Size
We added in a size requirement with our weight rankings, but restricted it to length. This ensured that most of the products in the list were capable of going into pockets, small bags and other carrying items not provided by the manufacturer. The weight criteria also explains how the Streamlight Stylus made it so high up the list.
Durability
We looked at durability but didn't put all of the focus on resistance to elements like water. So being waterproof didn't guarantee a high ranking, even if it is a desirable quality. Durability was all about how much of a beating the housing of the flashlight could take. Scratch resistance ranked high, and little things like buttons worked their way into our final decision in the durability criteria. The tougher the flashlight was to roughhousing, the higher a score it got. Some of these flashlights gained great favor for being usable in hunting sessions, proving that you didn't need a specialized model for the activity.
Branding

Branding is why Streamlight is on the list multiple times, with a strong showing with their Stylus and Stinger. Both products made Streamlight the best company to buy rechargeable flashlights from. They are consistent in quality and with the type of LED's they use, lasting for years without losing its top quality. The Streamlight was also a rare inclusion on the list, using a non-LED bulb. This is proof that when a company packages their flashlights with top tier products, it can still succeed even without the use of LED. With this being a rechargeable flashlight top ten, we put major points toward how effective the batteries were.
Battery Effectiveness
Battery effectiveness was based on how quickly the batteries charged, their ease of removal, cost of batteries and of course whether they dulled the brightness when they were running low. Automatic dimming of a flashlight when the batter is low is both unnecessary and annoying. Not every product does this, but we adjusted the list in favor of the products that don't. We were able to balance the list, putting the flashlights with the best performing batteries in their proper place.
Features and Modes
Products that had the most light modes review better with customers that have multiple uses. This is excluding brightness settings, and is about looking at flashlights with SOS, strobe and other modes. Surprisingly, there really wasn't a lot of variation between all of the models. Every now and then a flashlight would introduce a unique light mode, but nothing that could be considered innovative. We broke down this criteria into a 'how well does it work' category and had much better success. Flashlights that have a laundry list of features can still fall short of expectations if those light modes are not executed well.
Design
The design criteria looked at various attributes of the flashlight products and how well they worked in everyday settings. Small things like clips, lanyards and even rubberized material were factored in. Some of these designs made it easy to hold, while other designs were purely for aesthetics. We looked at the designs that would have the most impact with a buying decision. So while aesthetics didn't add anything to the usefulness of the product, it still shouldn't be ignored as a primary criteria.
Accessories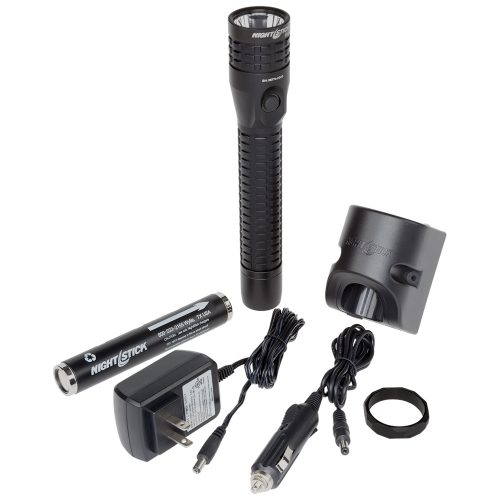 The last thing we looked at was any included accessories. Products that gained a lot of points with this criteria included everything out of the box like the charger, batteries and even a case. When a case/pouch wasn't included, we didn't penalize the product since this wasn't always needed. Flashlights like the Streamlight Stylus including a case would have been pointless. The Stinger is a different story, and would greatly benefit from having a case or pouch included. Our accessory criteria was weighed in favor of having everything in the package. The less a customer had to purchase separately to enjoy their new flashlight, then the higher the rating. Accessory prices also helped in the rankings, with the lower prices driving better products to the top of the list.
FAQs
Do You Have To Fully Charge Rechargeable Batteries Before Using Them?
This is at the user's discretion. Charging batteries to their full capacity (or discharging them then charging) before use is done to keep the battery fresh. Like all battery, misuse over the years will slowly degrade their optimal performance.
How Long Do Rechargeable Batteries Last?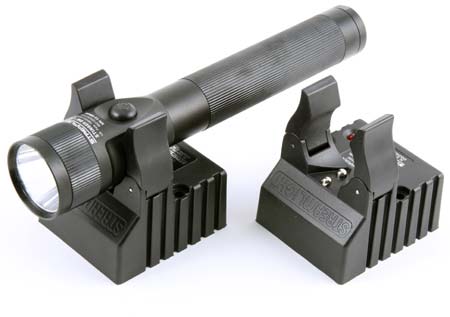 Rechargeable batteries lose their top capacity over time the more they are used, and this is unavoidable. The loss of top power isn't really that bad since it takes thousands of recharges to even get to that point. And even when it loses the ability to be topped off, the batteries still maximize at a good portion of their power, around 80%. The drop off isn't really that noticeable unless you are using them for hours at a time per day. But the bottom line is that it doesn't bother the brightness of the light or its normal functions other than total runtime.
How Many Times Can You Recharge A Rechargeable Battery?
Although not brand specific, you should refer to the brand of batteries you're using for a better idea. Even then, it is not an exact science since they can't factor in how much you use the batteries and if you're discharging them correctly. Some rechargeable batteries last a lifetime if they are discharged properly, while others may begin to rapidly lose charge within a year. It all comes down to how you take care of it.
What Features Are Most Important In A Flashlight?
Lumines, run time, bulb life. Pay attention to those three, and you'll always get the necessary model.
Why Are LED's Preferred?
LED's have long since been the preferred bulbs for portable flashlights due to their long lasting life and energy efficiency. They are found in more than just flashlights, and have become the default bulb type for a variety of home and office products. A home fitted with LED lights can save a significant amount on the energy bill, and it is so noticeable that some governments offer rebates as an incentive to switch. So how well does this work in portable form? The smaller housing of the LED flashlight gains even more efficiency, and it pretty much lasts for the lifetime of the device.
Do You Need An Extra Product To Recharge?
This will vary, since not all rechargeable flashlights come with removable batteries. If the product allows it, you can charge their batteries by plugging in the flashlight, just like you would with a smartphone. It's an idea solution for consumers that don't want to take the batteries out. When dealing with removable batteries that can be recharged, you have the option of putting them in a supplied charger. Not all products come with a separate charger, and it may be necessary to purchase one separately. All of these differences with power options introduces a lot of customization for informed customers.
What Are Some Of The Most Favorable Modes?
Moonlight, strobe and SOS are the usual modes you'll get when purchasing a rechargeable flashlight. A con of many of the products on the market is that you have to switch through the various modes one by one until you find the correct mode. If there are only three modes then it isn't a big deal, and can be done in one smooth motion. But when you get a product that is equipped with a lot of modes, then it can get a bit tedious until you get the hang of it. This applies to a lot of the top tier products too, so it isn't simply related to lower tier rechargeable flashlights.
Will A Crack In The Glass Make The Flashlight Useless?
It won't make the product completely useless, but it does lower the effectiveness of the flashlight tremendously. This is most noticeable when the cracks start to introduce fog. They don't have to be deep cracks for this to happen, so even a small break could spell trouble. When the lens fogs up, the light is dull, losing a lot of the brightness needed in dark situations. You also introduce the flashlight to possible damage if water trickles down into the cracks and hits the bulb. It is recommended to always repair a crack in a flashlight as soon as possible so that it can't do further damage.
Is There A Way To Prevent Shortened Battery Life?
There is no foolproof way to guarantee that a rechargeable battery will keep 100% of its charge for a lifetime. But you can keep it from degrading too fast, and even escape the possibility of it destroying the flashlight. Just like normal batteries, rechargeable ones are prone to leakage or explosions. This is likely to happen when it is stored in conditions where it is extremely hot. It is also likely to happen when they are left in the device for a long time without being used. Leakage due to unused batteries is common, although less likely than past types thanks to technical improvements. If you're not going to use a flashlight for weeks at a time, it is best to remove the batteries (if they're removable) and put them in a safe place.
How Do You Clean A Rechargeable Flashlight?
Other than keeping the lens clean with a microfiber cloth, the only thing you should worry about is the contacts for the batteries. Once a month it isn't a bad idea to take the batteries out and clean the contacts with a small solution of white vinegar. This isn't just a great tip for getting rid of corrosion from exploded batteries, and it works well in general cleaning situations to keep the contacts in good shape. Make sure to get it as dry as possible with a separate towel that is lint free. Small checkups like this once a month can prolong the life of the flashlight in multiple ways, and at minimal cost.
Are The Flashlights Waterproof?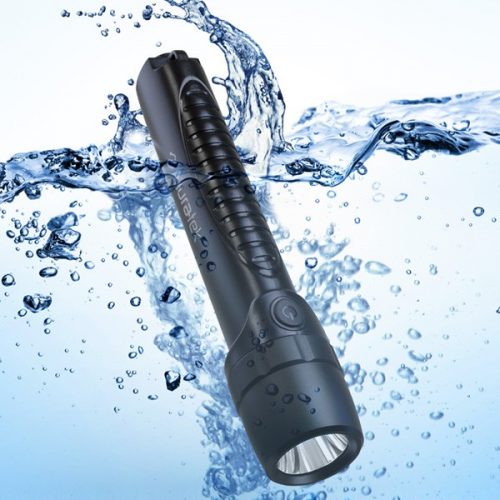 Only some flashlights are waterproof, and some have such low resistance to water that they get damaged from condensation. A good balance to strike is between those two types, unless you are primarily going to use it in wet conditions. Rechargeable flashlights are tightly packed with a good housing, so at the very least it will provide some shielding when the weather gets out of hand. Even if a product doesn't mention specific waterproofing features, you will get decent protection if the build quality is high.
Is It Important To Have A Carrying Case Or Pouch?
It doesn't hurt to have a carrying case or pouch, but it isn't always necessary. Some of the rechargeable flashlights available are so small that they can fit in your pockets. They also contain various things to help with carrying like lanyards and clips. With smaller devices having as much brightness as the larger ones, it only makes sense to worry about a case or pouch when you have a bigger device.
How to Make the Best Decision
Budget concerns come into play since not all the models on the list come with batteries. If money is a bit tight, then investing in a rechargeable flashlight that comes with all you need is a must. Size is something else that needs consideration, and is the reason some people have a 'main' flashlight and a 'companion' flashlight. Now companion flashlights have become just as powerful as their bigger counterparts, so investing in a small model is a good idea since you can always have your best flashlight on you. Lastly, LED is the standard, but that doesn't mean it is a must. The second best item on the list is not LED, so don't let it be a deciding factor on which type you choose.