Best Rechargeable Flashlights Reviewed & Rated for Quality
Flashlights may be one of the world's more underestimated modern conveniences . Whether you are looking to illuminate your campsite, safely take your dog for a late night walk, or looking to navigate your house during a power outage, flashlights offer an easy solution. Standard flashlights require batteries to operate, which can be prohibitive if the appropriate batteries are not easily accessible. Rechargeable flashlights eliminate this inconvenience and can be more cost-effective over time.
Featured Recommendations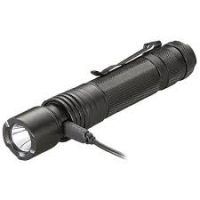 Streamlight 88052 ProTac HL

Our rating
Interchangeable Batteries
Price:

See Here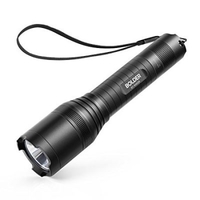 Anker Bolder LC90

Our rating
Water resistant
Price:

See Here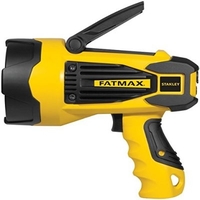 Stanley Fatmax SL

Our rating
Bright lumens
Price:

See Here

These top three rechargeable flashlights are high-performing and a solid choice. This buying guide outlines 15 top picks to meet the unique needs for a rechargeable flashlight to match your activity of choice.
15 Best Rechargeable Flashlights
1. Streamlight 88052 ProTac HL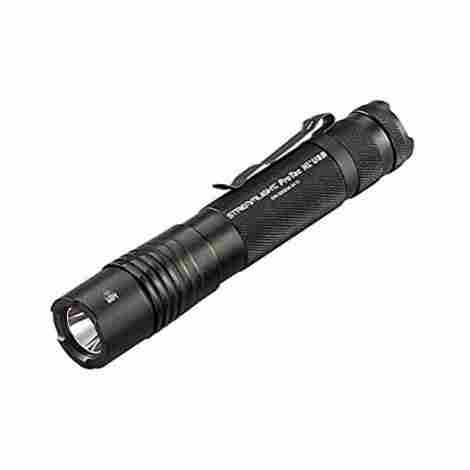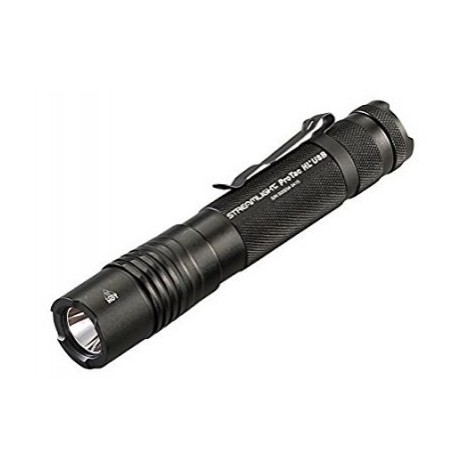 The Streamlight ProTac is a handy little LED flashlight that packs a big punch. It fits in your pocket but gives off 850 lumens of bright LED light. It has a handy clip and a rechargeable battery with an included USB charging cord. This compact flashlight boasts Streamlight's TEN-TAP technology with three user selectable programs including high/strobe/low, high only, and low/medium/high. It is IPX4 water resistant and offers 1-meter impact protection.
Expand to see more
TEN-TAP One-Handed Operation
This little, yet powerful, flashlight is ultra-portable and fits in a back pocket. It is small enough to be operated with one hand and has a click-button at the end of the flashlight. This button offers Streamlight's TEN-TAP function which means you can tap the button to change between a number of brightness and strobe settings.

Interchangeable Batteries
Although rechargeable batteries are the most economical way to go, this handy-dandy flashlight offers the capability to use two 3-volt CR123A batteries as well. This is nice because if you forgot to charge your backup rechargeables then you won't be left in the dark.

Cost and Value
The size of the flashlight doesn't really correlate to the size of the price tag with this little guy. However, Streamlight is a trusted name in the field of flashlights and it is a very reliable and powerful flashlight for the price.

Pocket-sized (3.25" long, 1" wide)

USB Charging Cable Included

Anti-roll face cap to prevent rolling off surfaces

TEN-TAP technology

Water Resistant

Pocket Clip
Some say battery life isn't long

On button can be touchy/turn on when you don't want
3. Anker Bolder LC90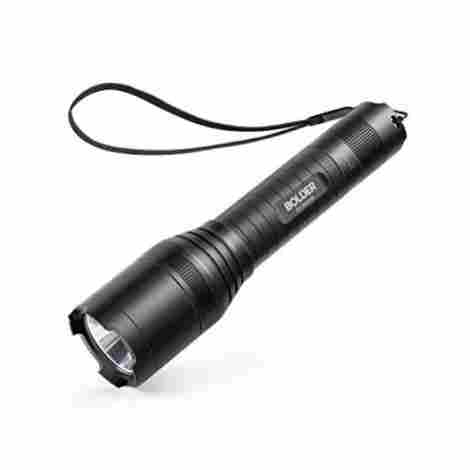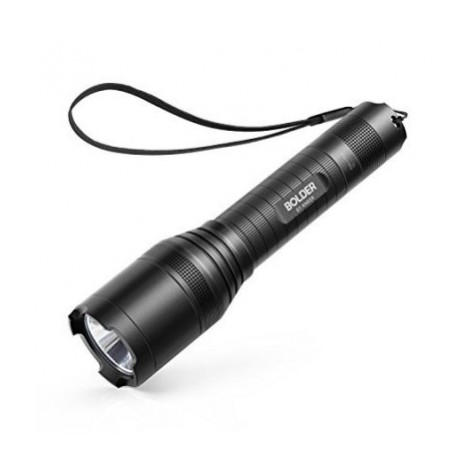 This super bright tactical flashlight is one of the most economical rechargeable flashlights on our list. With a smartly-designed pocket-sized chassis and anti-slip grip, it can fit in your pocket or backpack with ease. The adjustable focus will give you 900 lumens of broad or spotlight coverage. It is water resistant and lasts up to 6 hours on a charge. The powerful Anker Bolder LC90 offers high, medium, low, strobe, and SOS modes. This little light really is durable, powerful, and can even be charged using an Apple lightning cable.
Expand to see more
Durable Apple MFi Certified Cable
This flashlight comes with a micro USB lightning charging cable so you can charge it up with this or you have the option to charge it using an Apple devices' lightning cable! It contains a unique authorization chip issued by apple so it is guaranteed to sync and charge with any lightning device. The cable itself, called the Anker Powerline, is reinforced with bulletproof aramid fibers, making it more durable than most standard cables.

Water Resistant
The Anker Bolder LC90 is IP65-rated water resistant so you can use it in heavy rain without worry. It is an excellent choice for campers, hikers, fishers, because of its water-resistance. In fact, this handy flashlight is a great choice for anyone to keep in their car or purse!

Cost and Value
This is one of the most affordable flashlights on our list. It is not only economical but it is a really great value because you get a flashlight that can shine up to 2 football fields in length at 900 lumens for a small price.

Affordable

Compact design

Water resistant

Multiple mode options

Apple Mfi certified cable

Last up to 6 hours on charge
Double click to change modes

Holes in end for lanyard don't allow it to stand up as torch
4. Stanley Fatmax SL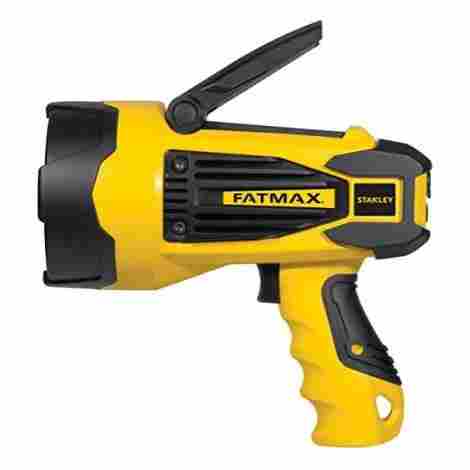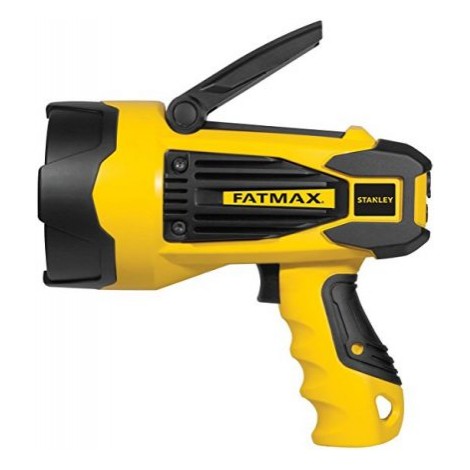 If you are looking for a bigger rechargeable flashlight, the Stanley Fatmax SL is an excellent option. This sturdy spotlight offers a collapsible and pivoting stand and lockable trigger button so you a prop it up and work hands-free. Giving off up to 920 lumens, you won't be left in the dark with this flashlight. It has a heavy duty bezel and charges using the included AC or DC adapters. Once charged, this flashlight will last up to 7 hours lit.
Expand to see more
Pivoting/Collapsible Stand
Sometimes, you need to put your flashlight down but you don't want it aimed straight up at the ceiling or pointed right at the wall. With the Stanley Fatmax SL, you'll be able to prop this flashlight up easily using the pivoting and collapsible stand. This is a handy option for working in the dark or using it as a light source while camping or on the beach.

One Handed Operation
The trigger on/off switch makes this flashlight super easy to operate one-handed. You pull the trigger once for low, once for medium, once for high, once for off: easy peasy.

Cost and Value
This is not an expensive spotlight, yet it's not the cheapest flashlight on our list. It is a very durable and easy to use spotlight and is an excellent value for the price that you pay.

One handed operation

Bright 920 Led lumens

Pivoting/Collapsible Stand

Charge lasts up to 7 hours

Battery can stay charged up to 12 months
Some say it doesn't last

Not water resistant
5. Streamlight 74751 Strion HL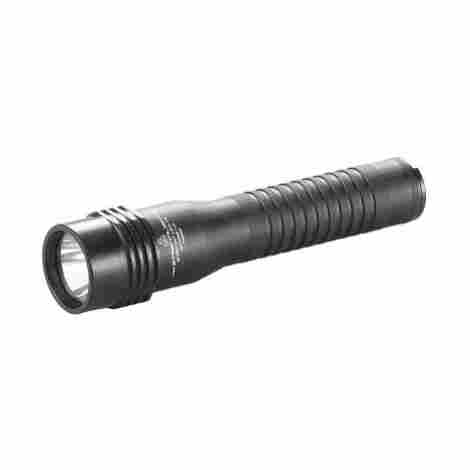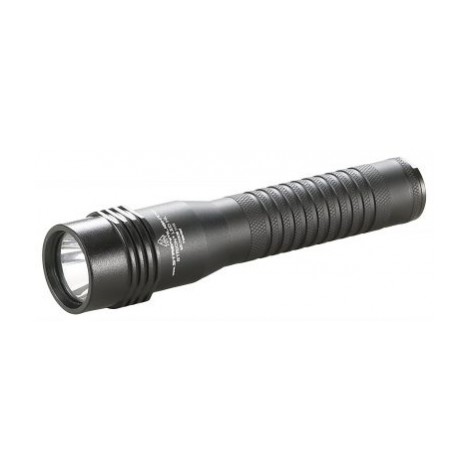 Streamlight offers an array of different kinds of flashlights. Their HL series delivers High Lumens and is great for smaller areas where you don't need the beam of light to travel a very long distance. The Strion HL gives you a wide beam with a high lumen output (500 lumens) in a compact design. This 5.9" flashlight is a great everyday tool to have around the house or to keep in your car. It's also an excellent choice for anyone needing to attach a flashlight to their belt for job purposes because it's a great size. It has a non-roll head so it won't travel if you set it down.
Expand to see more
Multipurpose Everyday
This is an excellent flashlight for everyday use. It isn't the brightest as far as lumens go, but sometimes you don't need a ridiculous amount of lumens to get the job done; 500 lumens is definitely bright! It isn't too big so can be stored easily and attached to a belt clip with ease. It does the job of a flashlight with the great feature of being rechargeable.

Durable
The Strion HL has a durable construction made of 6000 series machined aircraft aluminum with an anodized finish and is impact resistant. It is an excellent option for law enforcement or security officers because if its durability.

Cost and Value
This high lumen flashlight is more expensive than the lights listed thus far. However, Streamlight is a well-known brand in flashlights and you are paying for what you get.

Portable size

2-meter impact resistant

Shines up to 200 yards

Borofloat high temperature glass lens

IPX4 water resistant
Complaints of it dying out after a few months

Short battery life
6. Fenix PD35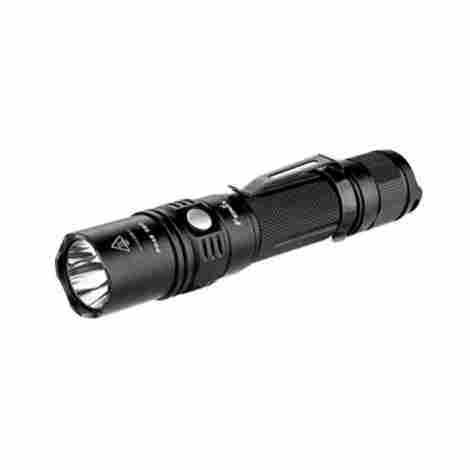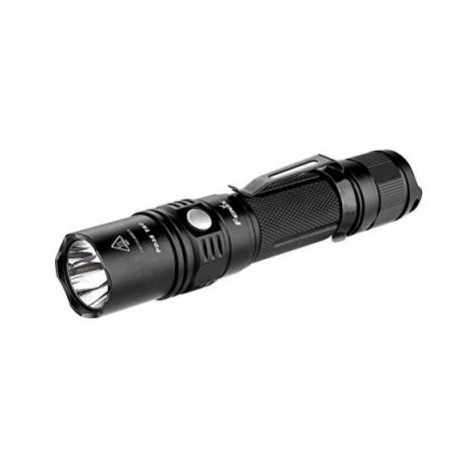 Talk about small and mighty! This 5.5" tactical flashlight puts out an astounding 1000 lumens and can shine up to 200 meters. This little light offers two different switches, one on the side (outdoor mode) and one on the tail (tactical mode), which is mighty handy. It has many different light options when setting to the outdoor mode and also has a memory function. It is very durable, made of aircraft grade aluminum and has to overheat protection to avoid high temperatures. This is definitely one of the more powerful compact rechargeable flashlights.
Expand to see more
Two Modes
The tactical mode is enabled when the tail switch is pushed and is great if you just need to shine the light briefly. You just have to click it once for on and once for off and you get a steady bright 1000 lumen beam shining where you point it.

Memory Function
When in outdoor mode (pushing the switch on the side), there are many different light options: eco, low, mid, high, and turbo. When you turn the flashlight off using the tail switch (when set to outdoor mode), the memory function will allow you to turn on the flashlight immediately to the last setting it was on before turning it off.

Cost and Value
For what you get in this little high lumen tactical flashlight, the price makes it an amazing deal. You definitely get your money's worth when you purchase this one.

Two mode options: Outdoor and Tactical

Super bright

Memory function

Overheat protection

IPX-8 water resistant (2m)
No adjustable beam

Doesn't come with rechargeable batteries
7. Maglight RL1019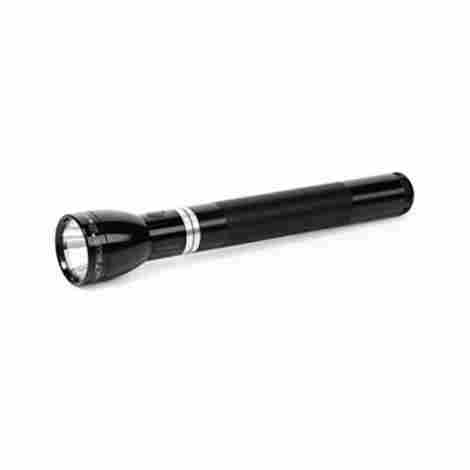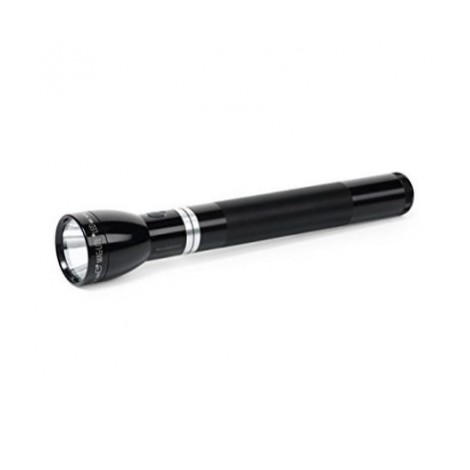 This is a full-size rechargeable flashlight that casts a pretty far beam. It offers 643 lumens of bright LED light and can shine up to 400 yards, which is twice as far as some of the smaller rechargeable flashlights. The Maglight RL 1019 offers four different modes to choose from: general, outdoor, law enforcement, and tactical. Within each mode, there are three different light functions ranging from eco to strobe. It also has an adjustable focus for a spot beam or peripheral light.
Expand to see more
Adjustable Beam
Like most Maglight lines, the RL 1019 allows you to adjust the beam of the flashlight with an-easy-to-use turn of the flashlight head. You can adjust the beam from spotlight to floodlight which gives you more peripheral light quickly and easily.

QuickClik Mode Adjuster
One great thing about this flashlight is that it is very user-friendly. Within each mode, there are three different light settings. For mode one, click once; mode two, turn off and click twice; mode three, turn off and click three times. Super simple!

Cost and Value
For a full-size rechargeable dependable flashlight, this one is priced pretty reasonably. It comes with charging accessories, including the battery, so it is a decent value.

Easy to use

Quickly adjust beam

IPX4 water resistant

Eco mode greatly extends battery light

Optional DC power cord to charge in the car

1 year warranty
Takes long time to charge

Complaints of charger breaking easily
8. Olight S1 Baton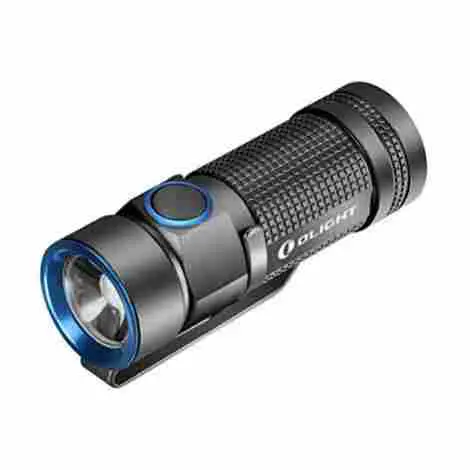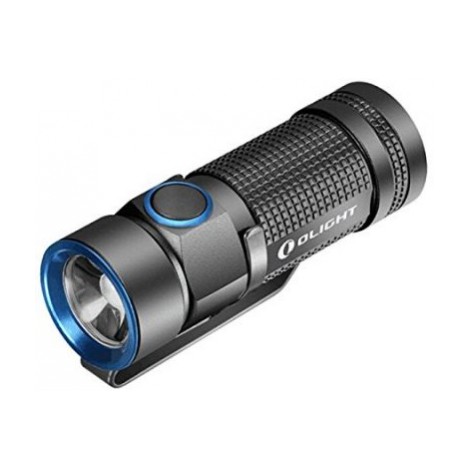 The teeny tiny Olight S1 Baton is the smallest flashlight on our list and is considered "thumb size" at only 2.4" long. Don't underestimate this little powerhouse though; it shines up to 110 yards at an amazing 500 lumens. It can use rechargeable CR123A batteries and boasts a low-profile side switch to avoid accidental turn-on. It has lots of great little features like a timer, tail cap magnet, three standard modes, and a thermal management safety program to prevent overheating.
Expand to see more
Magnetic Tail Cap
This fierce little rechargeable flashlight has a great feature that many flashlight aficionados appreciate: a magnetic tail cap. This is a bonus because not only does it mean that this little flashlight can stand upright and be used as a torch, but it can also be magnetized to any magnetic surface (i.e. a car) to allow for proper lighting where you need it without it rolling away.

Timer
There aren't many flashlights with a built-in timer. This little bundle offers a built-in timer of 3 minutes or 9 minutes. This is helpful if you need it to see for a certain amount of time but will be away from the light itself; just a handy dandy feature in this itty bitty light.

Cost and Value
If you consider price in relation to size, then the price tag might seem a bit steep. However, this little thing is an amazing tool to have on your keychain for the price. It is definitely a great value for such a powerful little flashlight.

Amazingly portable

Powerful for such a tiny flashlight

Timer function

3 available modes

Magnetic tail cap
500 lumen mode only works continuously for 1.5 minutes

Gets warm to the touch
9. ThruNite TN42 Searchlight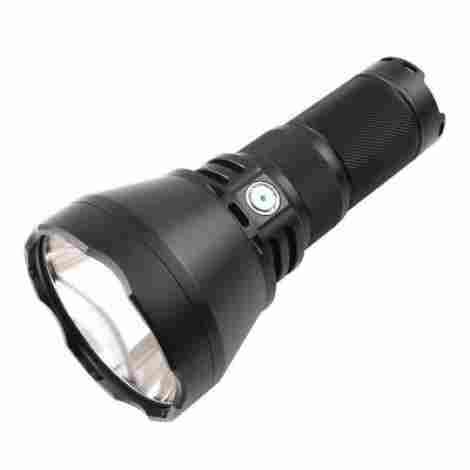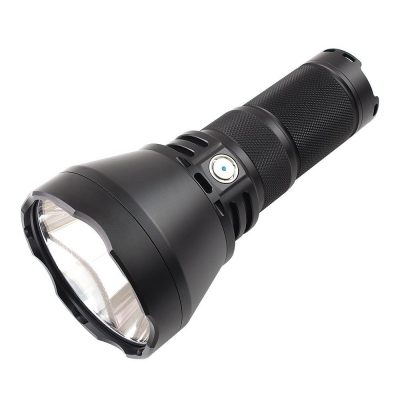 The Thrunite TN42 is an amazingly powerful searchlight offering six different modes; the brightest of which shines a staggering 2000 lumens! This is a full-sized flashlight and the most powerful light thrower on our list. It can shine up to a whopping 1550 meters - that's 5,085 feet - that's almost a MILE. So this isn't your standard flashlight you give to your 9-year-old girl scout to go camping with (for fear she may blind fellow scouts), it's definitely meant to be used for a purpose. However, it does offer 5 other modes other than turbo, including a mode called "firefly" which gives off a measly .8 lumens; barely a nightlight. In other words, this rechargeable flashlight can but used in a helicopter in search of runaway bandits, or as a faint whisper of light to help you avoid tripping down the hallway in the middle of the night.
Expand to see more
Staggeringly Bright
If you are an overachiever, this is the flashlight for you. At 2000 lumens, it can be seen almost a mile away. Yet, to protect this powerful flashlight from overheating, the handheld searchlight has built-in ThruNite ITC technology which automatically lowers the brightness when the light gets to 80 degrees centigrade.

Firefly Mode
On the flip side, the ThruNite TN42 offers 5 other modes including a very dim light mode called "firefly" which gives off only .80 lumens. This is handy for just trying to see something briefly without waking others up or as a nightlight while camping. In fact, while in firefly mode, the battery can last up to 58 days.

Cost and Value
The ridiculously powerful ThruNite TN42 carries a bigger price tag than any other flashlight on our list. But if it's power you're looking for, you'll find it in this rechargeable flashlight for sure.

Extremely bright

IPX-8 water resistant

Memory function; will turn on last used mode

ITC technology to prevent overheating

Easy to access all modes
Batteries not included

Can be dangerous for kids
10. Streamlight 77553 Ultrastinger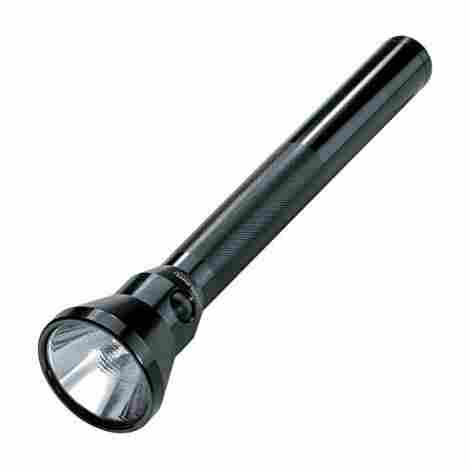 This full sized flashlight is the longest on our list, coming in at 11.5" long and weighing a little over 1 ¼ pounds. This is a big flashlight for anyone looking for something that feels a bit sturdier in the hands. It shines up to 1100 lumens and 510 meters (1,673 ft). This flashlight comes with a convenient wall-mountable charging cradle with an LED charge indicator on it. This is the most durable flashlight on the list in terms of impact resistance.
Expand to see more
Impact Resistant
Many of the flashlights on our list don't match up to the impact resistance of this big guy. This flashlight has been rated to withstand up to a 3-meter impact. Flashlights have a number of inner workings that could cause them to stop working if dropped from a height like this, but the Streamlight Ultrastinger should withstand a ten-foot drop without fail.

Snap-In Charging Cradle
One great feature about this flashlight is its charging cradle. It easily attaches to the wall and plugs in. Then you snap the Streamlight Ultrastinger into its charger easily and it starts charging right away. It has a handy LED charging indicator on it so you know when it's charging. No worrying about plugging micro USB cords in or anything like that; this flashlight snaps in and out of it's charging cradle quickly and easily.

Cost and Value
Although not the priciest of flashlights on our list, this big puppy is up there in terms of price. However, it is an excellent product with quality manufacturing. If you are looking for a heavy duty powerful, easy to use flashlight, you'd be happy with this one.

Batteries included

Easy to charge

3m impact resistant

IPX-4 water resistant

Powerful narrow beam with optimal peripheral light
Some recommend purchasing better rechargeable battery

Anodizing wears easily
11. OTYTY E7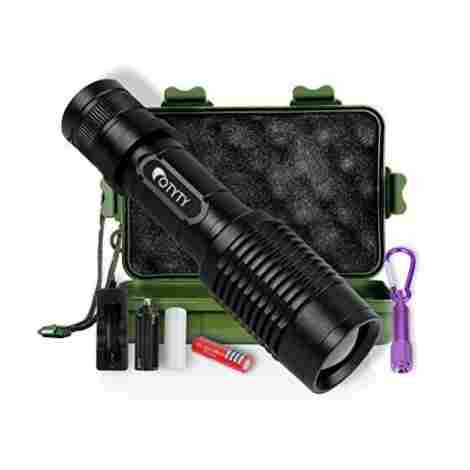 We're going to give this flashlight the most underrated flashlight on our list award. This is another pocket-sized rechargeable flashlight that packs a huge punch in the lumens department, blasting up to 1000 lumens of light into the air. It offers 5 different modes with a toggle switch that changes the mode when not entirely pressed in. It also has an adjustable focus and comes with a 1 year warranty.
Expand to see more
Adjustable Focus
This powerful little flashlight has an easy-to-use adjustable zoom focus. By simply pulling or pushing on the flashlight head you can switch from a more concentrated beam for distance to a wider peripheral beam for area with ease.

Storage Case
The compact and portable OTYTY E7 comes with a handy little green storage case that can fit both the flashlight and the charger. This is convenient for packing purposes and allows to keep everything in one place.

Cost and Value
This flashlight gets the most economical prize on our list. For the strength and features of this light, the price is amazingly low and affordable for almost anyone.

Affordable

Adjustable Focus

Handy carrying case

Can be used with the included rechargeable battery or standard AAA's

IP65 rated water resistant
Magnifying lens may come loose

Case can break easily
12. Nitecore MH25GT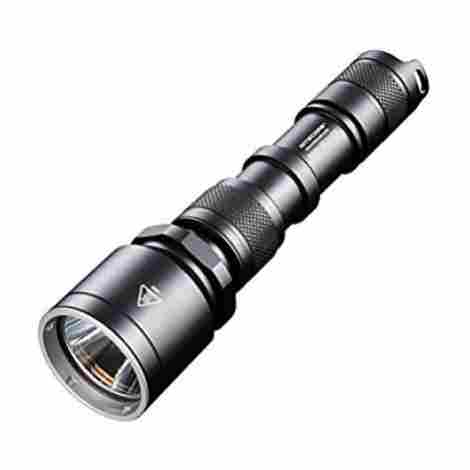 As another pocket-sized rechargeable flashlight, the Nitecore MH25GT does not disappoint. It can throw 1000 lumens up to 494 yards and can be used on the highest setting for up to an hour. The long-running battery will allow for 36 hours of light when on the lowest setting. It comes with a clip, pouch, tactical adapters and a charging USB cable. The charging port is designed to be resistant to dust, dirt, and water.
Expand to see more
Intelligent Charging Circuit
The onboard charging port on this flashlight is equipped with an intelligent charging circuit with voltage protection to allow quick and safe charging. The charging port case is designed to seal against any dust or water, thus protecting the internal components. This is a great feature because we all know what it's like to get a charging port all gunked up and not be able to charge.

Optional Accessories
If you'd like to supe up your flashlight, there are lots of optional accessories you can purchase for this one. These accessories include: a light diffuser, bicycle mount, red traffic wand, holster, remote switch, gun mount, and red, blue, or green filters.

Cost and Value
This rugged little flashlight isn't as expensive as some on the list, nor is it one of the least expensive. It's an extremely bright portable flashlight with an excellent track record with owners.

Dust/water proof charging port

Portable (6.3")

Lots of optional accessories available for purchase

Rotary switch to rapidly switch between 6 modes

Long runtime
Belt clip can pop off

Some don't like the rotary switch
13. BuySight Rechargeable
As the only other "searchlight" on our list, this BuySight rechargeable flashlight is a great buy. With this light, you can choose between two brightness modes. It is a larger flashlight that comes with a shoulder strap and has an easy to hold handle. It shines up to 1200 lumens and has a long-lasting battery. This flashlight also has an IP4 rating for water resistance so it should be submerged in water but can be used in wet conditions. It also has a handy USB port to be able to charge your portable devices.
Expand to see more
High Capacity Battery
The rechargeable battery in this searchlight can hold up to 9000mAh of charge which allows for a longer outdoor working time. This powerful flashlight has a lighting time of up to 16 hours. Not only that, but the battery is so powerful that you can even charge your portable device by plugging it into the USB port on the back of the light.

Handy Design
This isn't a tiny little pocket flashlight, it's a pretty big searchlight. Despite this, it's not incredibly heavy. It has a great grippy handle so you can hold on to it easily and comes with a shoulder strap so you won't have to hold it at all times while using it.

Cost and Value
This searchlight is super bright and very handy and comes with a smaller price tag. For such a powerful light, it's an excellent bargain.

Handy design

Included shoulder strap

Powerful battery

USB port to charge other things

Affordable searchlight
A little bulky

Only 2 brightness settings
14. SureFire P1R Peacekeeper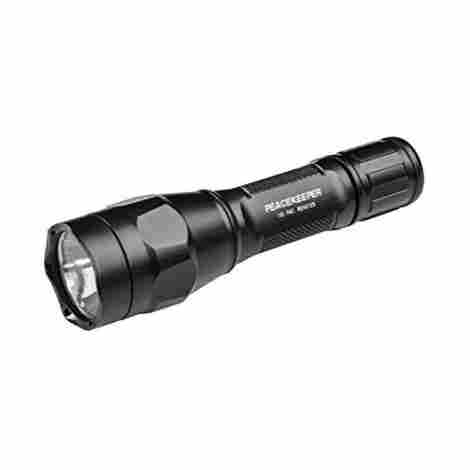 The SureFire P1R Peacekeeper is a top choice among law enforcement officers. It is a reliable pocket-sized flashlight that is easy to use and very durable. It was designed using input and feedback from law enforcement professionals because a reliable flashlight is something they place high on the list of important work tools. This model of flashlight offers dual output modes; you can press the tail button for immediate high lumens or twist the head for constant on. It offers a great throw of 600 lumens with excellent peripheral light for situation awareness.
Expand to see more
Dual Output
This is a convenient feature which allows law enforcement, or anyone, to be able to use the flashlight for multiple purposes. By pressing the tail button, the user will immediately get the 600 lumens this flashlight offers, or they can turn the head of the flashlight for constant light. By pressing the tail button off and then on again after 2 seconds, the user can obtain the lower light setting.

Virtually Indestructible LED
The extremely durable and precision-placed LED emitter and reflector are designed to give maximum output and runtime. It offers a far-reaching beam with peripheral light which are both very important in certain situations.

Cost and Value
This is one of the priciest rechargeable flashlights on our list. However, SureFire devotes a lot of time and money to research and development and emphasizes quality and reliability. If you need a flashlight you can count on, this is definitely the light for you.

High quality product backed by lots of R&D

Dual output for tactical situations

Extremely durable

Optimal peripheral light throw

Developed with LEO's in mind
15. Olight r50 Pro Seeker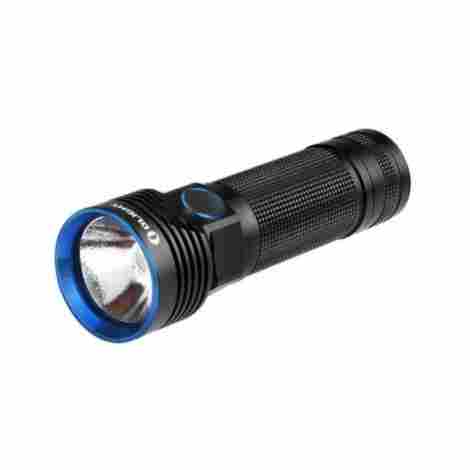 Last on our list is our brightest rechargeable flashlight. This compact flashlight can throw up to 2500 lumens at the highest setting, which is an awful lot of brightness! It boasts a heavy duty industrial silicone switch and has a red "low-battery" light on it. This light has three different modes and a proprietary magnetic charging system. It is an excellent option for law enforcement officers or for anyone looking for an excellent, bright, compact, tactical flashlight.
Expand to see more
Magnetic Charging System
One aspect of this flashlight that gets the high praises of users is its charging system. It has a magnetic end cap where you just attach the magnetized charger; no plugging in, no charging ports to worry about.


Brighter Than Bright
2500 lumens! That's amazingly bright for such a compact flashlight! For a 5" rechargeable flashlight, this one can light up the night with ease. It also offers three other modes other than turbo so you don't need to be the brightest light in the group unless you need to be.

Cost and Value
As a high-quality tactical flashlight, this light is right around the price of most in the same category. It isn't cheap but it is a good value for such a high-quality item.

Amazingly bright

Handy easy to use magnetic charging system

Heavy duty silicone switch

IPX8 Water Resistant

Low battery indicator
Can become hot in the hands

Some complain about switch feeling flimsy
15. Olight r50 Pro Seeker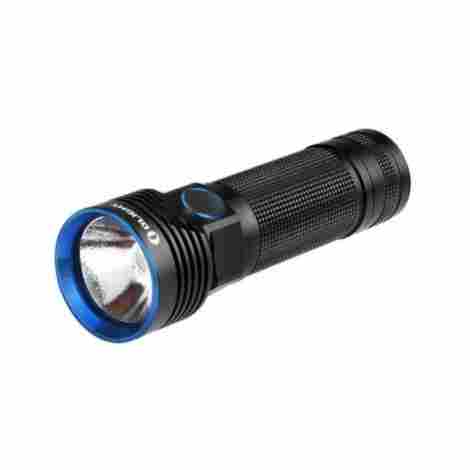 Last on our list is our brightest rechargeable flashlight. This compact flashlight can throw up to 2500 lumens at the highest setting, which is an awful lot of brightness! It boasts a heavy duty industrial silicone switch and has a red "low-battery" light on it. This light has three different modes and a proprietary magnetic charging system. It is an excellent option for law enforcement officers or for anyone looking for an excellent, bright, compact, tactical flashlight.
Expand to see more
Magnetic Charging System
One aspect of this flashlight that gets the high praises of users is its charging system. It has a magnetic end cap where you just attach the magnetized charger; no plugging in, no charging ports to worry about.


Brighter Than Bright
2500 lumens! That's amazingly bright for such a compact flashlight! For a 5" rechargeable flashlight, this one can light up the night with ease. It also offers three other modes other than turbo so you don't need to be the brightest light in the group unless you need to be.

Cost and Value
As a high-quality tactical flashlight, this light is right around the price of most in the same category. It isn't cheap but it is a good value for such a high-quality item.

Amazingly bright

Handy easy to use magnetic charging system

Heavy duty silicone switch

IPX8 Water Resistant

Low battery indicator
Can become hot in the hands

Some complain about switch feeling flimsy
Maintenance and Use Tips
Be sure to follow manufacturer guidelines for care of your rechargeable flashlight, as they function differently from other electronic products. Rechargeable flashlights may work best if you allow the built-in battery to fully drain before charging it back to full capacity.
Chances are that you bought (or will buy) your light for a specific use. If this is the case, there will be natural wear and tear. Whether you use it at a construction site out on your camping and hunting trips, it will be a critical tool that you want to function at its best every time you grab for it. Like anything, in order to make sure that this happens, it is critical that you take care of it.
Cleaning your flashlight
However, cleaning and maintaining your flashlight may seem minimal, but it is an important task. Hopefully, your flashlight is not corroded. In a few simple steps, you can prevent corrosion and ultimate destruction to your flashlight. Your flashlight will last as long as the LED does, so while you keep it in great shape, you will get the longest use out of it. Maintaining and cleaning your flashlight with the following steps 1-2 times per year will have it looking and performing like new anytime you need it.
Clean the outside
It is important to get rid of any dirt or grime from the outside of your flashlight. You can do this by using alcohol pads or other grease removal cleaner. Another great tool to utilize is a bristle brush to get into all of the grooves, too. A bristle brush can be anything from a standard brush to a toothbrush, depending on how large or small of a space you are trying to get into. The last piece to cleaning the outside of your light is wiping down the lens. The best thing to invest in is a scratch-resistant lens, which will clean easiest with a quick wipe to make it look like new.
Cleaning the Inside & Battery Contacts
Other than cleaning the outside, making sure the inside of your flashlight is clean is another crucial area. First, you will have to remove any of the batteries in your flashlight if you have them. Use the same tools as with the outside cleaning for internal cleaning. You will also want to check that the springs are working correctly as part of maintenance. As for outside cleaning where a toothbrush is handy, another household item to use especially for internal cleaning, is Q-tips. They are gentle and can get into tough to reach spaces.
Another cleaner tool that you can use is something like DeoxIT, which is a cleaner that is specifically designed to clean and enhance electrical contacts.
Lubricate
This might not seem like an intuitive part to maintaining the life of your flashlight, but lubricating the flashlight makes sure that it unscrews smoothly and that the O-rings do not dry out. One tube of lubricant will last you a long time, so this is not something that should be an expensive investment, making it even more worth the buck.
All you have to do for lubrication is simply cover the surfaces that need it. Do not cake it on. To lubricate the O-rings, make sure you cover the entire surface. If you can, fully remove the ring to do this. If you are unable to remove it, you can also just apply the lubricant over the surface while it is still attached to the flashlight. Again, you do not need to use a ton of product, only what is needed.
5 Tips for Maintenance
Avoid damaging your eyes or other's eyes when checking simple maintenance. Do not shine the light towards your eyes when checking to see if it works.

Do not exceed 6V with your rechargeable flashlight (unless instructed to by manufacturer, though it is safest to follow this tip). Make sure that the positive electrode of the battery faces the front end of the flashlight and the negative faces towards the tail. Not paying attention to this can result in burning out the circuit board. Avoid opening the circuit board if you are not trained in it.

Pay attention to your flashlight's temperature. Do not leave it out in high-temperature environments.

When you are not using your flashlight, remove the battery and store it in a cool and dry place. This will help preserve the life of both the body of your light and the battery. Also, do not overcharge the battery.

Clean your flashlight! Simply taking a cloth to the body and parts every 6 months or so will keep it performing at its peak. Adding some lubricant as suggested above in the cleaning and maintaining tips also helps. However, if the O-ring is waterproof, skip putting any oil rub onto it as this could erode the O-ring.
Criteria For Evaluation
We used the following criteria to evaluate a number of rechargeable flashlights on the market and narrowed down to the top 15 choices.
Ease of Use
The first criteria that we looked at was how easy it was to use the flashlight. This covers cycling through the various modes, changing and charging the built-in batteries and any additional settings. Flashlights with minimal buttons on the surface are preferable so that they can be easily used in the dark. We excluded products that require more than one hand to turn on the flashlight.
Brightness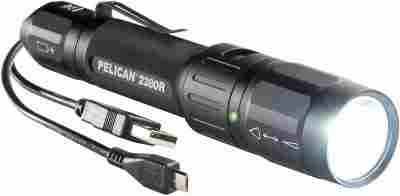 Brightness was the next criteria we evaluated. We went through all available brightness settings, matching each product's lowest, mid (if applicable) and highest settings. We rated brightness and power settings independent of its size, however we did consider product weight in relation to brightness.
Size
We evaluated product size (length only) in relation to weight. . This ensured that most of the products could comfortable fit into pockets, small bags and other carrying items commonly used during camping, hunting, or other common outdoor activities.
Durability
We evaluated product durability against factors such as scratch resistance, strength of the casing and water resistance. but didn't put all of the focus on resistance to elements like water. So being waterproof didn't guarantee a high ranking, even if it is a desirable quality. Durability was all about how much of a beating the housing of the flashlight could take. Scratch resistance ranked high, and little things like buttons worked their way into our final decision in the durability criteria. The tougher the flashlight, the higher it is ranked. Some of these flashlights gained great favor for being usable in hunting sessions, proving that you didn't need a specialized model for the activity.
Battery Effectiveness
Battery effectiveness was based on how quickly the batteries charged, their ease of removal, cost of batteries and of course whether they dulled the brightness when they were running low. Automatic dimming of a flashlight when the batter is low is both unnecessary and annoying. Not every product does this, but we adjusted the list in favor of the products that don't. We were able to balance the list, putting the flashlights with the best performing batteries in their proper place.
Features and Modes
Battery effectiveness was based on how quickly the built-in batteries charged, their ease of removal, cost of battery replacement and the level of brightness when the batteries were run low. Some rechargeable flashlights automatically dim brightness to conserve battery life, however we prioritized flashlights that do not have this feature.
Design
We evaluated design elements based on how well they worked in everyday settings. Small things like clips, lanyards, and rubberized material can be particularly helpful for tactical or high-intensity activities. . We selected the designs that have the most impact on ease of use.. While aesthetics weren't considered high priority, it still shouldn't be ignored as a primary consideration.
Accessories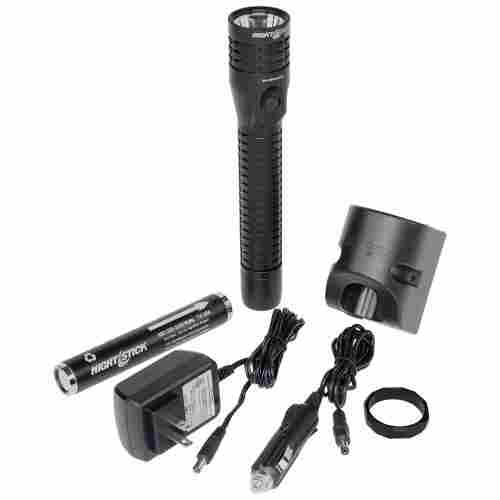 Finally, we assed any included accessories. Products that included add-ons like a charger, extra built-in batteries, attachments and a case were prioritized. The less a customer has to purchase separately to enjoy their new flashlight, then the higher the rating.
FAQs
Frequently Asked Questions
Q: Do you have to fully charge rechargeable batteries before using them?
A: You will likely need to charge the batteries before your first use. Charging batteries to their full capacity (or discharging them then charging) before use is done to keep the battery fresh. Like all batteries, misuse over the years will slowly degrade their optimal performance.
Q: How long do rechargeable batteries last?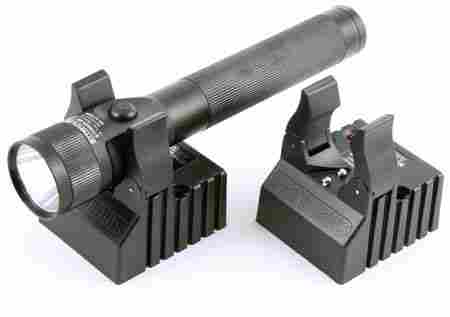 A: Rechargeable batteries lose their top capacity over time the more they are used, and this is unavoidable. The loss of top power isn't extreme since it takes thousands of recharges to degrade. When a battery loses the ability to charge to full capacity, it still utilizes a good portion of their capacity, typically around 80%. The bottom line is that it doesn't bother the brightness of the light or its normal functions other than total runtime.
Q: What features are most important in a flashlight?
A: Lumens, runtime, and bulb life are important features to consider.
Q: Why are LED's preferred?
A: LED's have long since been the preferred light bulbs for portable flashlights due to their long lasting life and energy efficiency. They are found in more than just flashlights and have become the default bulb type for a variety of home and office products. The smaller housing of the LED flashlight allows for increased efficiency, and often lasts for the lifetime of the device.
Q: Do you need an extra product to recharge?
A: This will vary since not all rechargeable flashlights come with removable batteries. If the product allows it, you can charge their batteries by plugging in the flashlight, just like you would with other electronic devices. It's an ideal solution for consumers that don't want to take the batteries out to charge them. When dealing with removable batteries that can be recharged, you have the option of putting them in a supplied charger. Not all products come with a charger, and it may be necessary to purchase one separately.
Q: What are some of the most favorable modes?
A: Moonlight, strobe, and SOS are the commonly available modes in a rechargeable flashlight.
Q: Will a crack in the glass make the flashlight useless?
A: A crack won't make the product completely useless, however it may cause the lens to occasionally fog up. They don't have to be deep cracks for this to happen, so even a small break could spell trouble. When the lens fogs up, brightness may dull. Is is also possible that water can be introduced into the flashlight through a crack. It is recommended to repair a crack in a flashlight as soon as possible to minimize damage.
Q: Is there a way to prevent shortened battery life?
A: There is no foolproof way to guarantee that a rechargeable battery will keep 100% of its charge for a lifetime. But you can maximize the use of your flashlight by following all manufacturers guidelines for care, use, storage, and charging. If you're not going to use a flashlight for weeks at a time, it is best to remove the batteries (if they're removable) and put them in a safe place to avoid corrosion.
Q: How do you clean a rechargeable flashlight?
A: As always, follow the specific product guidelines for cleaning instructions. Typical cleaning may include wiping the lens with a microfiber cloth and light cleaning of the battery contacts.
Q: Are the flashlights waterproof?
A: Only some flashlights are waterproof, and some have such low resistance to water that they may be damaged by condensation. Consider the level of water resistance you'll need for your preferred activity when selecting a flashlight.
Q: Is it important to have a carrying case or pouch?
A: A carrying case is a personal preference and likely depends on your intended use. Some rechargeable flashlights are small enough to fit in your pockets. Other accessories such as lanyards and clips may also be available.
Sources