Best USB Fans Reviewed & Rated for Quality
In a Hurry? Editors choice: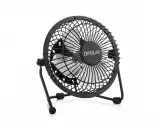 Test Winner: OPOLAR F401

USB fans are a nifty gadget that is the working person's answer to efficient yet effortless cooling. They are also a simple and powerful tool that is powered using your very own computer or other USB ports. The fan itself is small in size which makes it the perfect choice for
personal cooling
or fitting effortlessly on any desk. Life can get downright nasty during the summer when it's miserable outside or inside. So take that heat miser by the horns and get yourself one of these fans. Watch your coworker's wilt as you ride that heatwave like a Beach Boy! The great thing about a USB cooler is its ease of use and the fact that it operates via a USB port means no struggles with impractical electrical or
extensions cords
. Any of our top 10 USB fans listed below are sure to keep you cool all summer long.
Standout Picks
Criteria Used for Evaluation
Top 10 Picks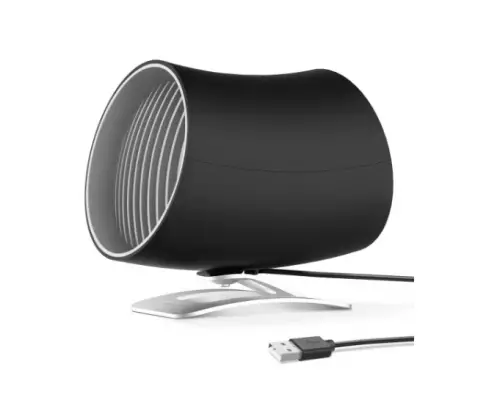 We just love this little baby. It not only works likes a charm but it looks super cool at your desk. Is it a light or is it a fan or a paperweight. The fact is it's a twin turbo structure that pushes the air much like a hurricane. It doesn't have blades so it doesn't get dusty like the fan you have now and it also has a few speeds. This baby is a triumph of form and function so it gets out top spot hands down.
Twin Turbo Structure
Here's how this works twin turbos drive the air in opposite directions. That increases the inner pressure and pushes air out in a uniform quiet fashion. And we like that. The inner turbos also won't get coated with that sickly post winter office dust that carries all kinds of nasties.
Single Touch design
No knobs on this baby, it's like a clapper. One touch and it's on another and you can change the fan speed another and it turns off! How cool is that? Now we're still not convinced about the Internet of things turning every appliance we have into an internet portal, but we do like our tech and we like the attention to detail the folks at Aikoper put into this fan.
Cost and Value
Definitely in a high-tier price range, but this is a pretty high-quality instrument. It's modern looking and it's quiet and it's just a bundle of the best fan tech you can imagine so for us we recommend dropping a few extra dollars and getting you one of these.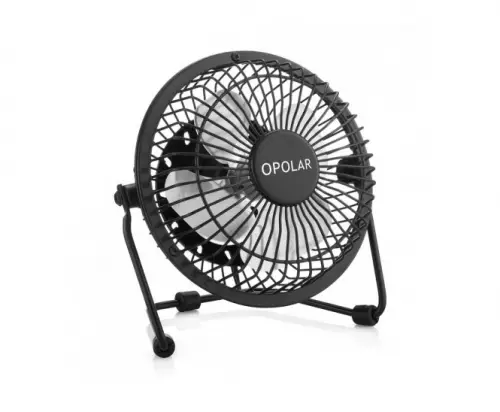 OPOLAR is another trusted manufacturer of the personal cooling device and their F401 mini USB fan does not disappoint their reputation. The F401 features 4-inch blades that are encased in a sturdy metal frame of 6 inches as well as a 3.9 foot USB cable. The small size is perfect for displaying the sleek design on any desk and the fan's quiet operation makes it the ideal choice for any environment.
Versatile
The fan's small size means that you can take it anywhere with you. In addition, the fan's base can easily be adjusted to install it in several places. Simply place it on your desk, or adjust the base to hang it over your cubicle wall.
Quiet
This USB fan is completely quiet when it operates. While it offers only one-speed setting, the F401 works effectively and quietly to keep you cool without disturbing people around you.
Cost and Value
This device is reasonably priced and offers immense value for money. The device's versatility makes it easy to travel with and can easily be installed wherever you go. The device's metal will ensure durability for years to come.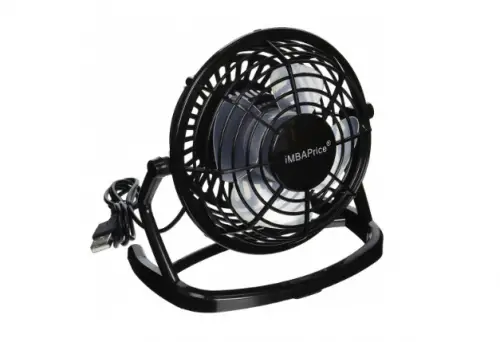 Get the ultimate in personal cooling with this desk fan from iMBAPrice. This fan promises powerful cooling with its strong plastic blades encased in a sturdy frame. This fan can easily be adjusted to provide some cooling comfort in any direction. Despite its cooling power, the device is small yet sturdy enough so you can take the fan with you wherever you go.
Adjustable
This fan was designed with personal cooling in mind. It comes with a durable and long enough USB cord for easy placement. Moreover, the fan itself can easily be adjusted to provide efficient cooling in the direction you choose.
Durable
The fan features 4 blades made of hard plastic. However, these blades are protected by a high-quality frame. In addition, the fan sports a sleek yet sturdy design that won't easily be knocked over or slip off your desk.
Cost and Value
This is arguably one of the most cost-efficient fans currently available on the market. Despite its low price, the fan still delivers in its cooling capability as well as its overall quality.

4

. MILIJIA USB Powered Tent Light with Ceiling Fan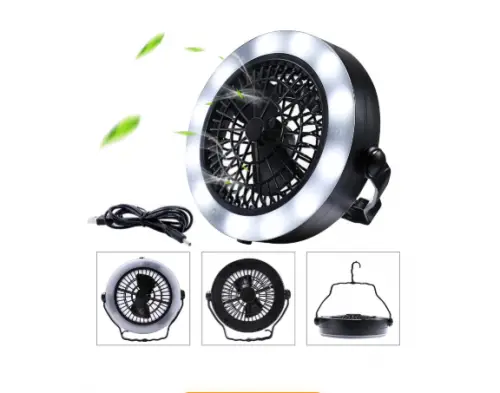 Now, this little number gives you not only air but light and there are days when a little extra illumination might be helpful. Especially if you're in an office that still relies on the scourge of seeing people everywhere, fluorescent lighting. We'll leave that for another product but in addition to the light, you get a nice looking fan with three different speed settings and an adjustable base that lets you point the air exactly where it needs to go. It's a nice dual purpose fan that works both in and out of the office.
Battery or USB Interface
Very useful if you have to get up for a while and move away from your desk and need a fan to beat the heat. But keep in mind if you're running the light and the fan at the same time the batteries will only give you about 3 hours of constant use. The Light alone will last 30 hours and the fan alone will last six. It's a nice option if you have to unplug but want to take your fan with you.
Single Button, 3 Settings
The fan itself has three different speeds, that's helpful, and the same button will turn on and off the light, and adjust the light intensity. The single button helps add to the aesthetics of this light, which we like.
Cost and Value
Pretty cheap. The lighting element adds a few dollars to the price tag but we do like the dual use element of this particular light so if you're looking to stay cool and shed a bit of extra light onto your workspace consider this simple little fan.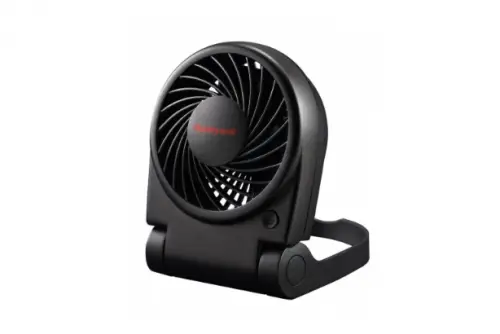 The Honeywell HTF090B is an old-faithful when it comes to personal fans and has proudly decorated thousands of desks for the last few years. This cheap and compact fan, however, still delivers when it comes to cooling. This fan operates either via a USB port or using AA batteries, which gives it optimal mobility. With its innovative carrying handle, you can take your fan with you wherever you go.
Battery or USB powered
This nifty fan can be powered using either a USB port or AA batteries which gives the fan even more utility. While this is ideal for a desk fan, the AA battery option is sure to appeal to those who dislike dealing with an overflow of cables.
Carrying Handle
The HTF090B has a unique handle that will empower you to customize your cooling experience. The handle can be used to simply place the fan on your desk. However, you can easily adjust this handle to carry the fan around or to hang it up.
Cost and Value
The Honeywell is one of the most cost-efficient options featured on our list. Despite this, the device is durable and reliable and definitely does not compromise on cooling power.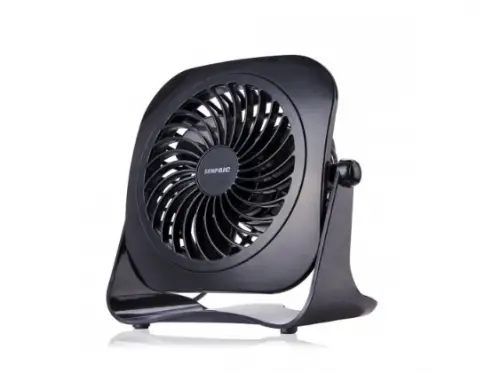 This sleek desk fan features a unique square design that's made from high-quality, durable plastic. The fan is small enough to comfortably fit on cramped working spaces without compromising on its cooling ability. This desk fan has two fan speeds to satisfy most personal cooling needs. Lastly, the fan has a rubber base to sit securely on any surface.
Sturdy
Despite being made entirely out of plastic, the Senpaic is a sturdy and durable product. In addition, the bottom of the fan features rubber padding that will secure the fan safely on any surface.
Energy Efficient
USB fans are inherently energy efficient since they don't require energy from an electrical outlet but from your computer. However, the Senpaic fan is even more energy efficient than most models since it requires a minimum of 5 V to operate efficiently.
Cost and Value
The Senpaic Personal Fan is very moderately priced compared to similar models on the market. This fan can cater to most cooling needs, is made of durable material, and will save electricity. Definitely worth the buy!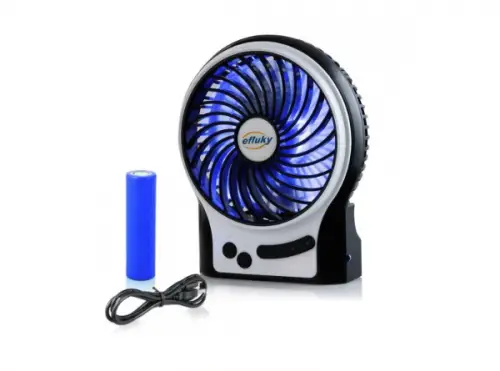 The desk fan from Efluky is likely to turn some heads both for its cooling power as well as its futuristic design. This fan offers three different fan speeds as well as a built-in blue light. However, the true selling point of this fan is that you can charge it via a USB port and use it wirelessly for up to 3 hours. This fan is ideal for those who prefer a more mobile fan.
Built-in Light
While the light may seem unnecessary and even bothersome in a corporate or educational environment, it can be a useful tool during camping trips, or for using the fan in a child's bedroom. You can easily turn the light on and off using the controls on the device.
Charging Capability
Unlike other USB fans, this one can be charged via a USB port and used wirelessly. The attached cable resembles that of an Android smartphone. One single charge will provide a battery life of up to 3 hours.
Cost and Value
While the Efluky is perhaps one of the more costly USB fans available on the market, there are several features to redeem this price. The built-in lighting, its ultra-silent motor as well as its cordless ability are all major features that few other USB fans offer.

8

. Fancii Small Personal Desk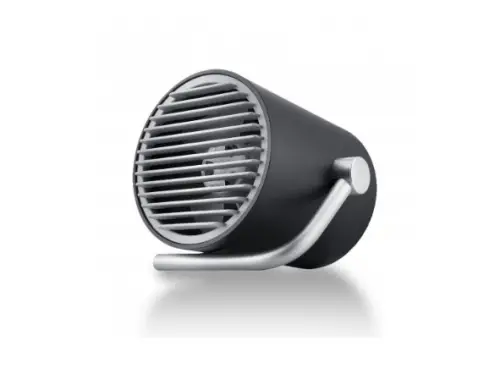 Fancii's personal desk fan was designed with simplicity in mind. The device offers two fan speeds that you can conveniently adjust using the device's touch control. Despite its small size, the device utilizes twin turbo cyclone blade technology to maximize the airflow for the ultimate personal cooling experience. The fan boasts 40% more efficiency and 25% less noise than similar products on the market and has an adjustable handle for versatility.
Twin Turbo Cyclone Blade Technology
This innovative piece of technology is a major factor in this fan's cooling power. By utilizing technology, Fancii has produced a device that is compact, yet manages a surprisingly powerful airflow capability.
Portable
With its sleekly designed handle, you can carry your Fancii fan with you anywhere you go. Moreover, this compact device can easily fit in your handbag, backpack, or briefcase and will fit on any desk.
Cost and Value
This device is one of the more expensive options when it comes to USB fans. The higher price can be attributed to the device's immense cooling capability that promises to be 40% more efficient than the average desk fan available.

9

. OPOLAR Portable Travel Mini Fan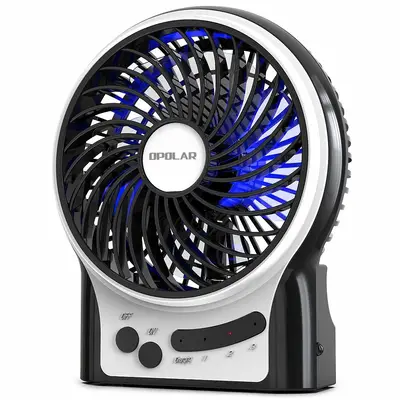 This portable USB-powered fan from OPOLAR is easy to take with you wherever you go. Whether you need some cooling off at your desk, on a hike or at the gym, you can use your laptop or any device with a USB port, charge it up and you're good to go. It's also easy to pack up into a bag, so you can take it with you because of its compact size.
Three speeds
This fan offers three speeds of wind. According to your demands, you can set the fan at low, medium or high speed. On a single charge, you can get this relief anywhere from 3-13 hours depending on how full of a charge you have.
Strong but quiet
This fan offers low, medium and high-speed power, but does so quietly. This means that this fan is great for in the office or next to your bed while you sleep because it won't disturb you or others around you by being too loud.
Cost and Value
This fan is affordable and worth the price because of its powerful airflow, LED light up feature, compact size and quiet performance.

10

. Holmes Heritage 4 Inch Fan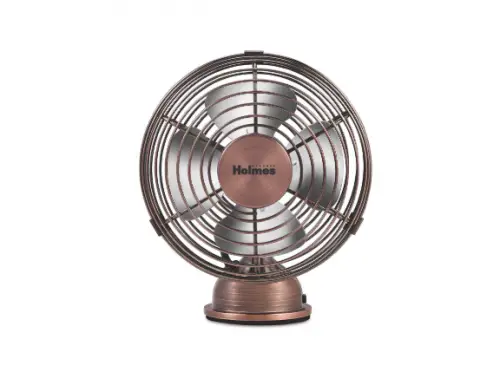 Aesthetically speaking this is one of our favorites just for the brushed copper. It gives it a very retro feel, plus it's actually made of metal. But guess what it also moves air quite well, so while this is just a basic fan, it's a nice looking piece and you can be confident it'll keep things just cool at your desk.
Tilt Adjustable
So this doesn't just sit idly on your desk, you can adjust the air direction even though it looks like it just sits flush on the counter. This is a nice element considering the blades are pretty small at 4 inches. Being able to get the air exactly where you want it is a nice selling point.
Metal Construction
No flimsy plastic here, this looks like metal because it is metal. Oil rubbed stainless steel to be exact with a copper finish. This just adds to the appeal of this classic little fan.
Cost and Value
This fan falls in the midrange when it comes to cost. But the fact that it has all metal construction and a very appealing retro look kicks it up a few notches when it comes to USB fans. This is a little fan that can and will find a nice home on any desk.

Subscribe to our Newsletter