Best USB Fans Reviewed & Rated for Quality
Let's face it, in the midst of a sweltering summer, it's inevitable that at some point your bosses are going to put the notion of saving a few bucks on A/C over your personal comfort. That's just where we are. When faced with the stark realities of capitalism, you can do two things. You can gripe about it, and call facilities ask for more cool air, complain and thus have your bad attitude be forever be remembered by middle and upper management. Or, you can fight the man, get down with some modern technology and get a small USB powered fan that will allow you to work all day in comfort. And as a bonus, you will be praised for your ingenuity and get that raise you always wanted, and an office with its own individual thermostat.
Seriously though, life can get downright nasty during the summer when it's miserable outside and miserable inside. So take that Heat miser by the horns and get yourself one of these fans and watch your coworker's wilt as you ride that heatwave like a Beach Boy!
Featured Recommendations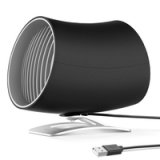 Aikoper Personal Fan

Our rating
Discreet Cooling
Price:

See Here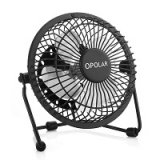 OPOLAR F401

Our rating
Quiet
Price:

See Here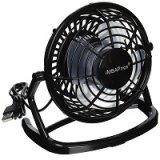 iMBAPrice USB-MFAN

Our rating
Adjustable
Price:

See Here

This nifty gadget is the working person's answer to efficient yet effortless cooling. The USB-powered device is a simple yet powerful tool that is powered using your very own computer or any other USB port. The fan itself is generally speaking small in size which is great because its small size makes it the perfect choice for personal cooling. The small size also works well in corporate areas since it fits effortlessly on any desk.
The great thing about a USB cooler is its ease of use. Most high-quality fans can be easily adjusted to fit in anywhere and everywhere and the fact that it operates via a USB port means no struggles with impractical electrical cords or extensions. Despite its small size, the USB fan still packs a punch in its cooling capabilities. For anyone chained to their computers or desks this summer, a USB fan is a definite must-have tool to survive this summer.
Any of our top 10 USB fans listed below is sure to keep you cool and calm all summer long.
10 Best USB Fans
1. Aikoper Personal Fan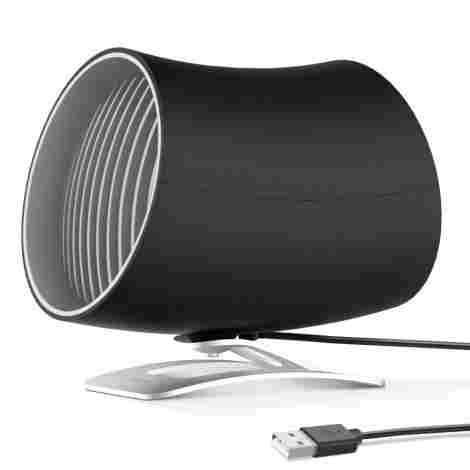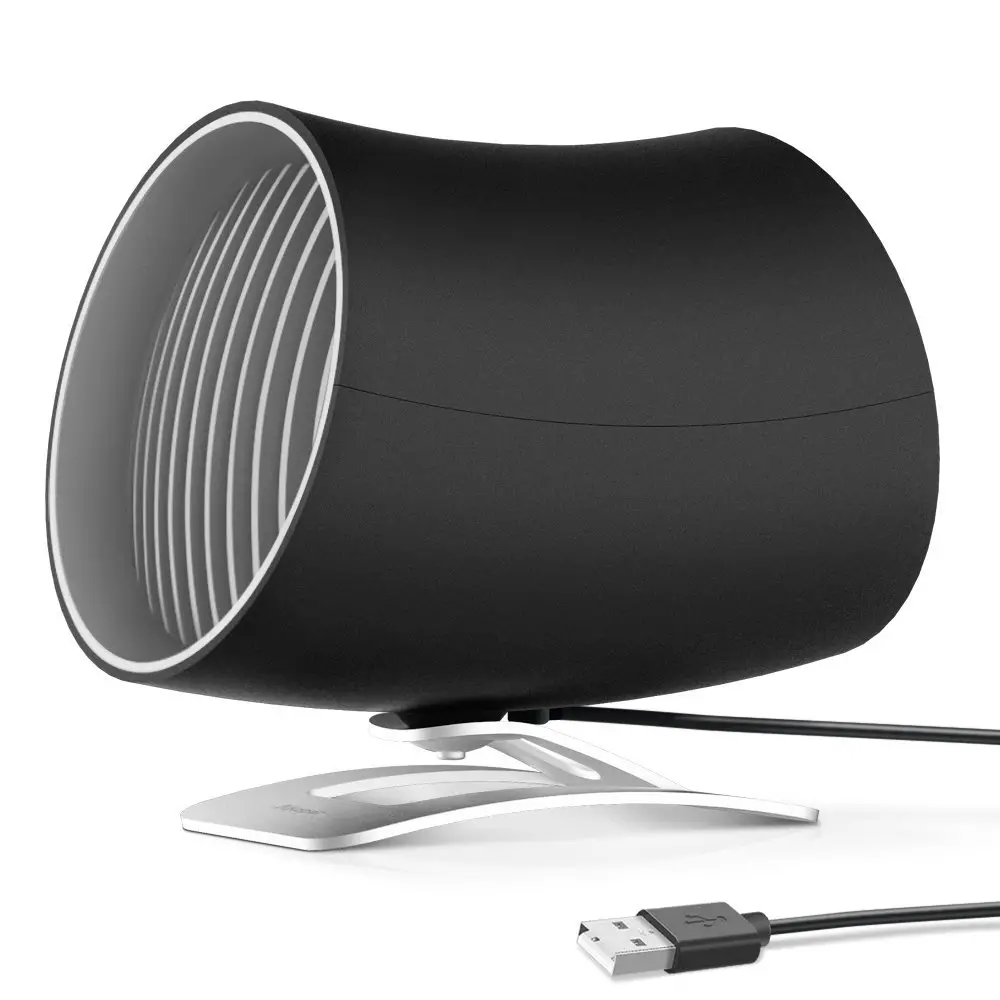 We just love this little baby. It not only work likes a charm but it looks super cool at your desk. Is it a light or is it a fan or a paperweight. The fact is it's a twin turbo structure that pushes air much like a hurricane. It doesn't have blades so it doesn't get dusty like the fan you have now and it also has a few speeds. This baby is a triumph of form and function so it gets out top spot hands down.
Expand to see more
Twin Turbo Structure
Here's how this works twin turbos drive the air in opposite directions. That increases the inner pressure and pushes air out in a uniform quiet fashion. And we like that. The inner turbos also won't get coated with that sickly post winter office dust that carries all kinds of nasties.

Single Touch design
No knobs on this baby, it's like a clapper. One touch and it's on another and you can change the fan speed another and it turns off! How cool is that? Now we're still not convinced about the Internet of things turning every appliance we have into an internet portal, but we do like our tech and we like the attention to detail the folks at Aikoper put into this fan.

Cost and Value
Definitely in a high-tier price range, but this is a pretty high-quality instrument. It's modern looking and it's quiet and it's just a bundle of the best fan tech you can imagine so for us we recommend dropping a few extra dollars and getting you one of these.

• Turbo Technology
• Two Speeds
• Touch Controls
• One-year Warranty
• Quiet
• Not Very Powerful
• Randomly Turns On and Off
2. OPOLAR F401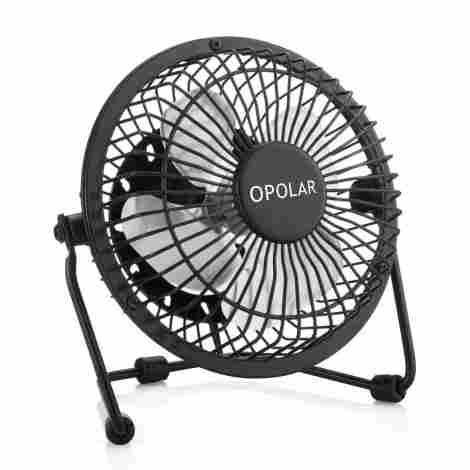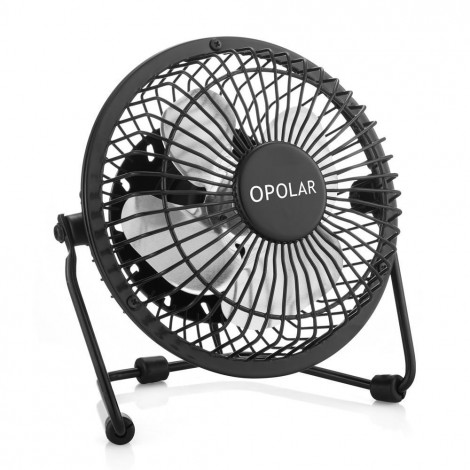 OPOLAR is another trusted manufacturer of the personal cooling device and their F401 mini USB fan does not disappoint their reputation. The F401 features 4-inch blades that are encased in a sturdy metal frame of 6 inches as well as a 3.9 foot USB cable. The small size is perfect for displaying the sleek design on any desk and the fan's quiet operation makes it the ideal choice for any environment.

Expand to see more
Versatile
The fan's small size means that you can take it anywhere with you. In addition, the fan's base can easily be adjusted to install it in several places. Simply place it on your desk, or adjust the base to hang it over your cubicle wall.

Quiet
This USB fan is completely quiet when it operates. While it offers only one-speed setting, the F401 works effectively and quietly to keep you cool without disturbing people around you.

Cost and Value
This device is reasonably priced and offers immense value for money. The device's versatility makes it easy to travel with and can easily be installed wherever you go. The device's metal will ensure durability for years to come.

Blades protected by a metal frame
Adjustable base
3.9 foot USB cable
Comes in different colors
Quiet
The motor may rattle at times
Only offers one speed
3. iMBAPrice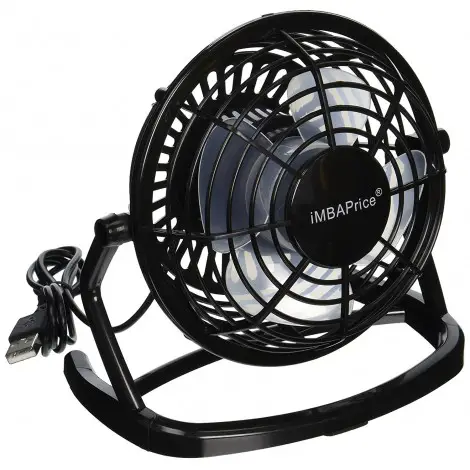 Get the ultimate in personal cooling with this desk fan from iMBAPrice. This fan promises powerful cooling with its strong plastic blades encased in a sturdy frame. This fan can easily be adjusted to provide some cooling comfort in any direction. Despite its cooling power, the device is small yet sturdy enough so you can take the fan with you wherever you go.

Expand to see more
Adjustable
This fan was designed with personal cooling in mind. It comes with a durable and long enough USB cord for easy placement. Moreover, the fan itself can easily be adjusted to provide efficient cooling in the direction you choose.

Durable
The fan features 4 blades made of hard plastic. However, these blades are protected by a high-quality frame. In addition, the fan sports a sleek yet sturdy design that won't easily be knocked over or slip off your desk.

Cost and Value
This is arguably one of the most cost-efficient fans currently available on the market. Despite its low price, the fan still delivers in its cooling capability as well as its overall quality.

Adjustable Direction
Quiet
ON/OFF switch for easy operation
Not the most durable product
4. MILIJIA USB Powered Tent Light with Ceiling Fan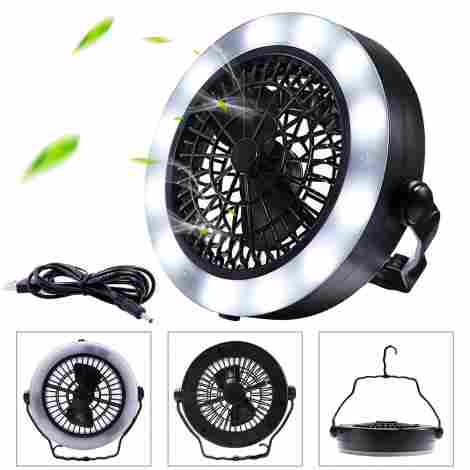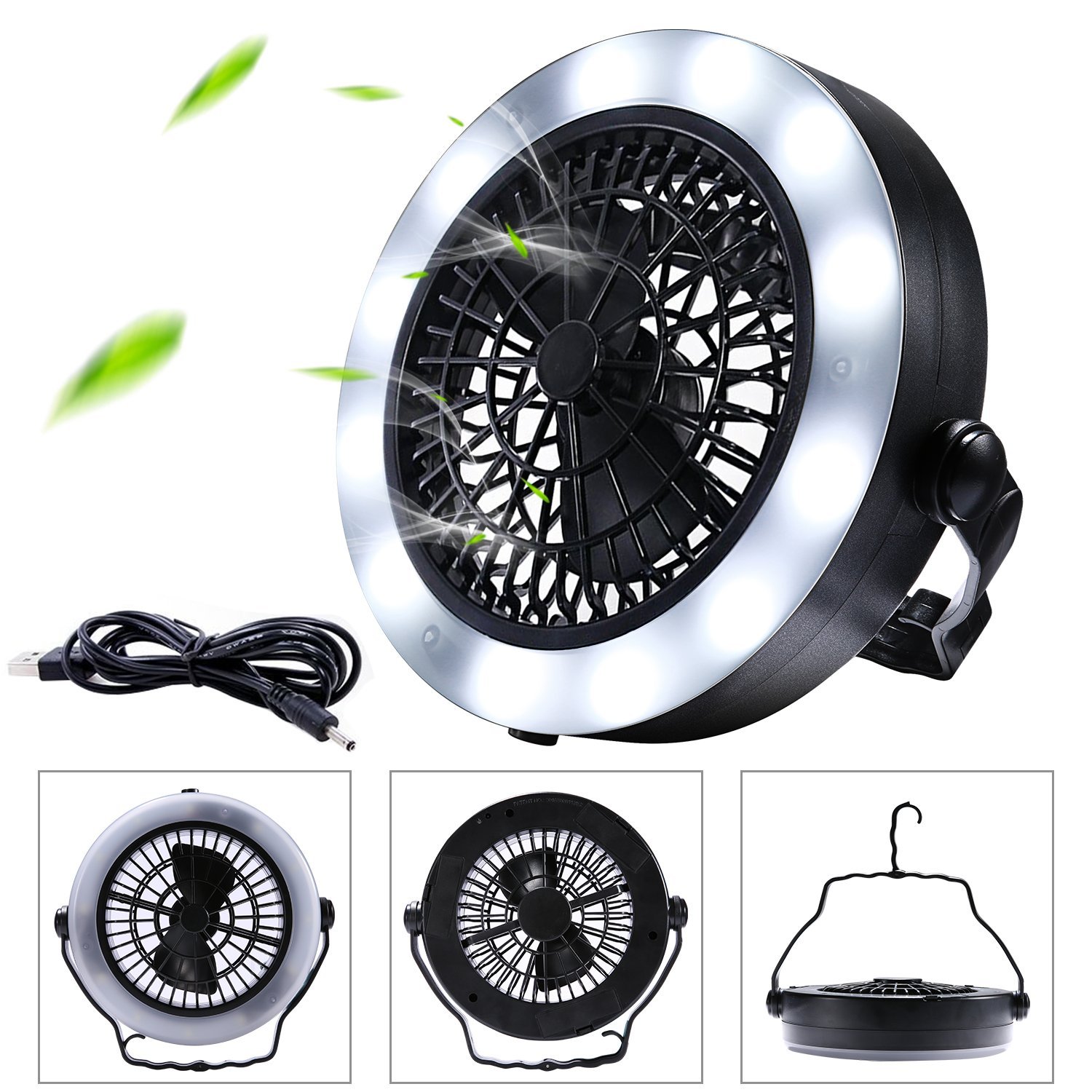 Now this little number gives you not only air but light and there are days when a little extra illumination might be helpful. Especially if you're in an office that still relies on the scourge of seeing people everywhere, fluorescent lighting. We'll leave that for another product but in addition to the light you get a nice looking fan with three different speed settings, and an adjustable base that lets you point the air exactly where it needs to go. It's a nice dual purpose fan that works both in and out of the office.
Expand to see more
Battery or USB Interface
Very useful if you have to get up for a while and move away from your desk and need a fan to beat the heat. But keep in mind if you're running the light and the fan at the same time the batteries will only give you about 3 hours of constant use. The Light alone will last 30 hours and the fan alone will last six. It's a nice option if you have to unplug but want to take your fan with you.

Single Button, 3 Settings
The fan itself has three different speeds, that's helpful, and the same button will turn on and off the light, and adjust the light intensity. The single button helps add to the aesthetics of this light, which we like.

Cost and Value
Pretty cheap. The lighting element adds a few dollars to the price tag but we do like the dual use element of this particular light so if you're looking to stay cool and shed a bit of extra light onto your workspace consider this simple little fan.

• Dual USB/Battery Power
• 3 Different Light/Fan Settings
• Adjustable Base and Hanging Hook
• 6 Hours of Battery Powered Fan Time
• Great For Indoors or Outdoors
• Not Powerful Enough
• Batteries Drain Quicker than Advertised
5. Honeywell HTF090B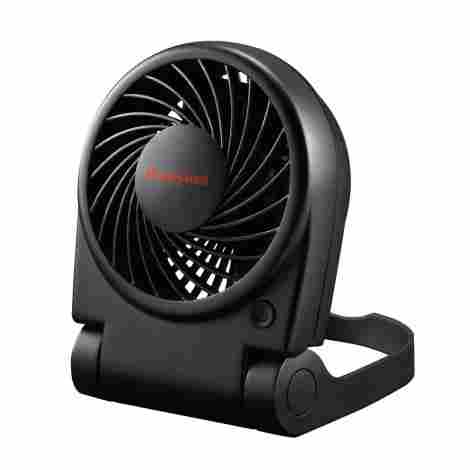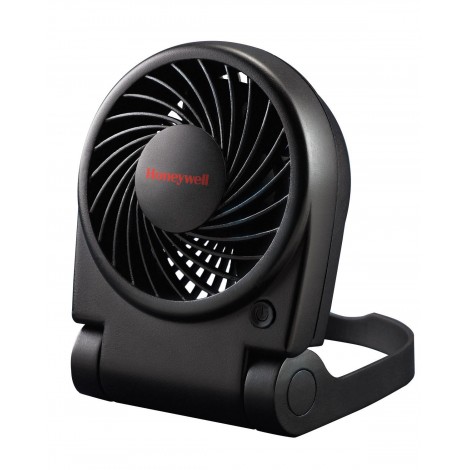 The Honeywell HTF090B is an old-faithful when it comes to personal fans and has proudly decorated thousands of desks for the last few years. This cheap and compact fan, however, still delivers when it comes to cooling. This fan operates either via a USB port or using AA batteries, which gives it optimal mobility. With its innovative carrying handle, you can take your fan with you wherever you go.

Expand to see more
Battery or USB powered
This nifty fan can be powered using either a USB port or AA batteries which gives the fan even more utility. While this is an ideal for a desk fan, the AA battery option is sure to appeal to those who dislike dealing with an overflow of cables.

Carrying Handle
The HTF090B has a unique handle that will empower you to customize your cooling experience. The handle can be used to simply place the fan on your desk. However, you can easily adjust this handle to carry the fan around or to hang it up.

Cost and Value
The Honeywell is one of the most cost-efficient options featured on our list. Despite this, the device is durable and reliable and definitely does not compromise on cooling power.

USB or battery operated
Carrying handle
Portable
Cost-effective
6. Senpaic Personal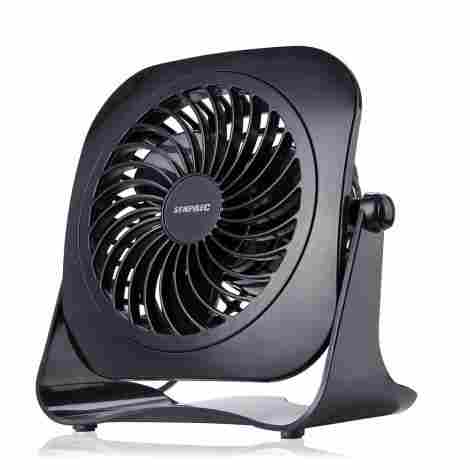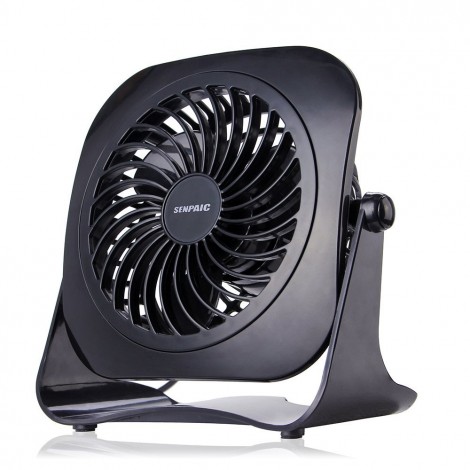 This sleek desk fan features a unique square design that's made from a high-quality, durable plastic. The fan is small enough to comfortably fit on cramped working spaces without compromising on its cooling ability. This desk fan has two fan speeds to satisfy most personal cooling needs. Lastly, the fan has a rubber base to sit securely on any surface.

Expand to see more
Sturdy
Despite being made entirely out of plastic, the Senpaic is a sturdy and durable product. In addition, the bottom of the fan features rubber padding that will secure the fan safely on any surface.

Energy Efficient
USB fans are inherently energy efficient since they don't require energy from an electrical outlet but from your computer. However, the Senpaic fan is even more energy efficient than most models since it requires a minimum of 5 V to operate efficiently.

Cost and Value
The Senpaic Personal Fan is very moderately priced compared to similar models on the market. This fan can cater to most cooling needs, is made of durable material, and will save electricity. Definitely worth the buy!

Rubber base
Sleek, square design
Two-speed settings
Cost-efficient
Easily adjustable
Noisy
Motor susceptible to problems
7. Efluky Mini USB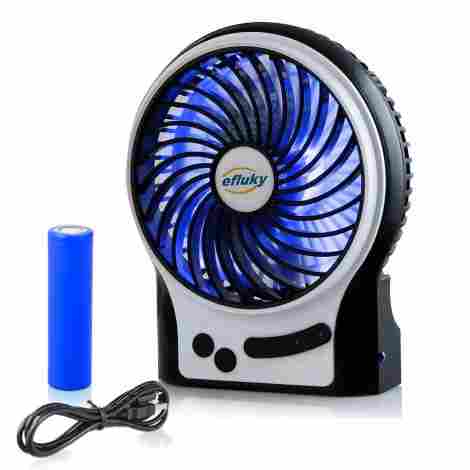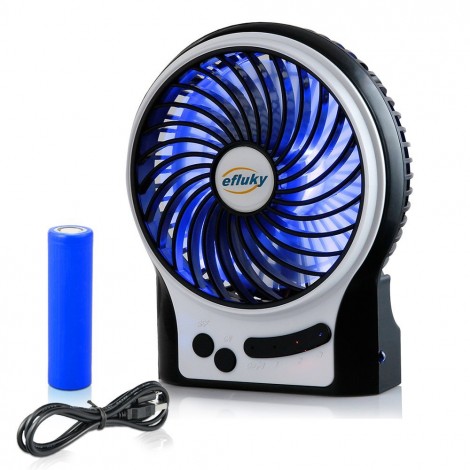 The desk fan from Efluky is likely to turn some heads both for its cooling power as well as its futuristic design. This fan offers three different fan speeds as well as a built-in blue light. However, the true selling point of this fan is that you can charge it via a USB port and use it wirelessly for up to 3 hours. This fan is ideal for those who prefer a more mobile fan.

Expand to see more
Built-in Light
While the light may seem unnecessary and even bothersome in a corporate or educational environment, it can be a useful tool during camping trips, or for using the fan in a child's bedroom. You can easily turn the light on and off using the controls on the device.

Charging Capability
Unlike other USB fans, this one can be charged via a USB port and used wirelessly. The attached cable resembles that of an Android smartphone. One single charge will provide a battery life of up to 3 hours.

Cost and Value
While the Efluky is perhaps one of the more costly USB fans available on the market, there are several features to redeem this price. The built-in lighting, its ultra-silent motor as well as its cordless ability are all major features that few other USB fans offer.

Built-in light
Battery life of up to 3 hours
Quiet
3 Fan Speeds
Portable
Expensive
Battery susceptible to damage
8. Fancii Small Personal Desk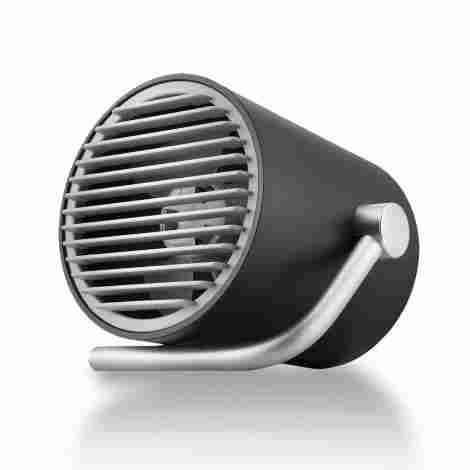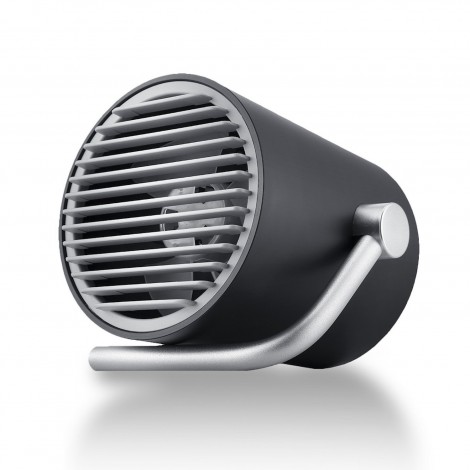 Fancii's personal desk fan was designed with simplicity in mind. The device offers two fan speeds that you can conveniently adjust using the device's touch control. Despite its small size, the device utilises twin turbo cyclone blade technology to maximise the airflow for the ultimate personal cooling experience. The fan boasts 40% more efficiency and 25% less noise than similar products on the market and has an adjustable handle for versatility.

Expand to see more
Twin Turbo Cyclone Blade Technology
This innovative piece of technology is a major factor in this fan's cooling power. By utilising technology, Fancii has produced a device that is compact, yet manages a surprisingly powerful airflow capability.

Portable
With its sleekly designed handle, you can carry your Fancii fan with you anywhere you go. Moreover, this compact device can easily fit in your handbag, backpack, or briefcase and will fit on any desk.

Cost and Value
This device is one of the more expensive options when it comes to USB fans. The higher price can be attributed to the device's immense cooling capability that promises to be 40% more efficient than the average desk fan available.

Twin turbo cyclone blade technology
Folding handle
Quiet
40% More Efficient
Only needs 5V of power
Expensive
No padding at the base
9. Holmes Heritage 4 Inch Fan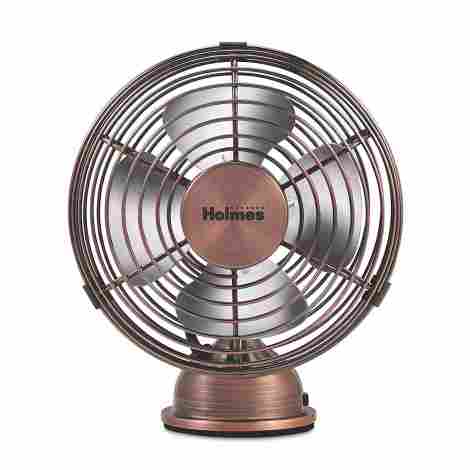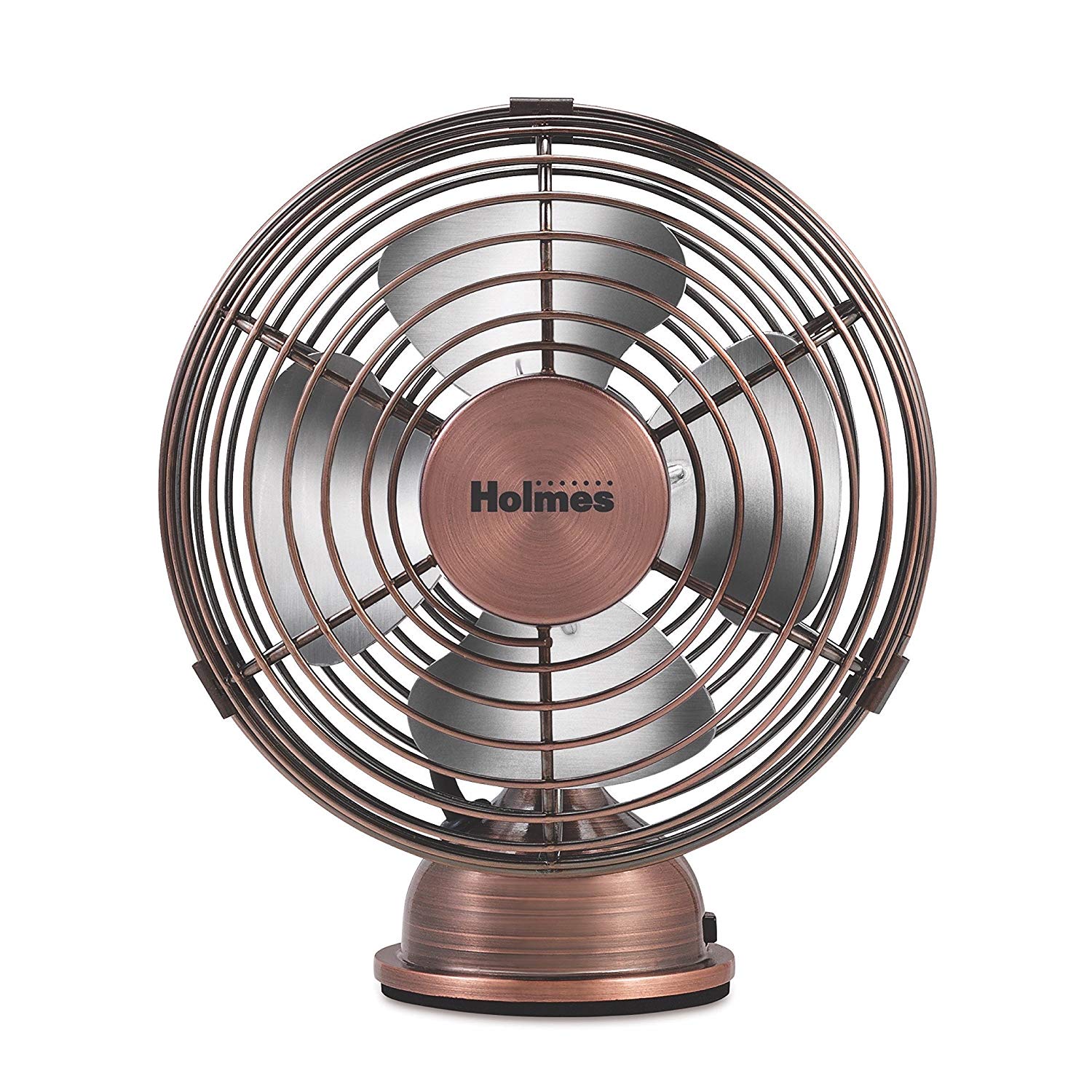 Aesthetically speaking this is one of our favorites just for the brushed copper. It gives it a very retro feel, plus it's actually made of metal. But guess what it also moves air quite well, so while this is just a basic fan, it's a nice looking piece and you can be confident it'll keep things just cool at your desk.

Expand to see more
Tilt Adjustable
So this doesn't just sit idly on your desk, you can adjust the air direction even though it looks like it just sits flush on the counter. This is a nice element considering the blades are pretty small at 4 inches. Being able to get the air exactly where you want it is a nice selling point.

Metal Construction
No flimsy plastic here, this looks like metal because it is metal. Oil rubbed stainless steel to be exact with a copper finish. This just adds to the appeal of this classic little fan.

Cost and Value
This fan falls in the midrange when it comes to cost. But the fact that it has all metal construction and a very appealing retro look kicks it up a few notches when it comes to USB fans. This is a little fan that can, and will find a nice home on any desk.

• Oil Rubbed Stainless Steel Construction
• Copper Finish
• Adjustable Direction
• Retro Look
• 4 Inch Blades
• USB Cable Doesn't Fit
• Doesn't Blow Particularly Well
10. Keynice Clip Desk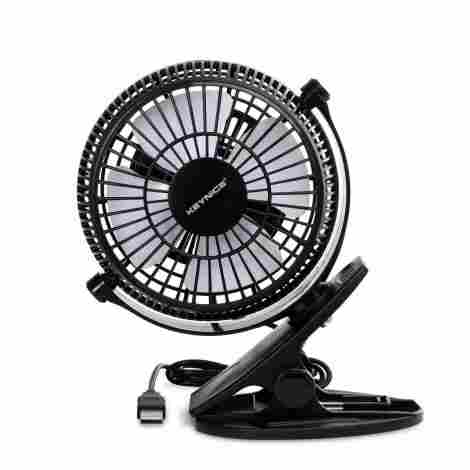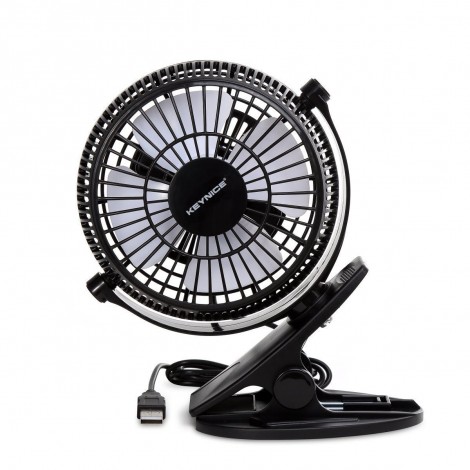 This tiny desk fan from Keynice is one of the surprisingly few models that offer a clip-on design. You can simply clip on this compact fan onto almost any surface to experience a personal and powerful cooling breeze. The fan head can rotate up to 360 degrees which makes the fan easily adjustable. Lastly, the fan offers two fan speeds that can be adjusted using the device's controls.
Expand to see more
Clip-on Design
The unique clip-on design will ensure that your fan stays securely in place and prevent any falls or slips. Moreover, the clip-on design gives you more diversity in where to place your fan and could potentially save you desk space.

Rotating Head
The fan head has the ability to rotate a full 360 degrees with ease. This allows you to direct the airflow in any direction for maximum efficiency. Simply twist the head manually in your desired direction.

Cost and Value
This fan is somewhat pricier than other similar products on the market. This is perhaps because of its powerful airflow and innovative clip-on design that will save you space and enhance the device's versatility.

Clip-on Design
Two-speed settings
Quiet
Rotating head
Despite their tiny size, a USB powered fan is the long-awaited solution to every overheated individual slaving away behind their computer.
A USB-powered fan can be a useful tool for everyone for a variety of reasons thanks to their unique design and versatility. A USB fan provides you with some personal cooling relief, however, they can also easily be used for your computer. Computers that are older or routinely perform complex tasks are especially prone to overheating. Using a USB fan might go a long way in preventing your device from overheating and preserving the computer's integrity.
While they are impressive little cooling devices, they are much more energy efficient than traditional fans or air conditioners. A USB fan purely uses energy resources from your computer without taking any significant toll on your device itself. This makes a USB fan the perfect solution for the environmentally conscious.
Lastly, the sheer utility of a USB fan makes them the ideal choice for a variety of situation. They were designed to be portable and durable to be able to function perfectly in almost any situation.
Find out below how you can choose the perfect USB fan to suit your specific needs.
Criteria Used in Choosing the Best USB Fans
Size
One of the most attractive benefits of a USB-powered fan is its compact size. However, the size varies between different brands and models which makes it important for you to distinguish which size will suit your needs best.
The best way to determine your ideal size fan is to consider the space in which you will use it. Once you've determined the space, such as a desk, bedside table, etc, you should measure the surface and determine how much of this space you are willing to allocate to your new fan.
Ideally, your chosen USB fan should be able to fit comfortably on your chosen space without overpowering it. You should have enough room left on the surface to still comfortably use for its original purpose and be able to reach and adjust your new USB fan without effort.
The measurements of each brand name and model should be freely available either on its box or on the website's product description.
Fan Speed
Much like traditional fans, several USB fans offer different fan speeds for your convenience. Fan speed is universally measured in Revolutions Per Minute (RPM).
Significantly, several USB fans offer only a single fan speed, which is reasonable considering the fan's small size. However, certain fans offer two to three different fan speeds, typically ranging from 500 RPM to up to 1800 RPM. The lower RPM equates to a slower blade rotation, while a higher RPM means a faster blade movement and subsequently more powerful breeze.
The product description will generally state if the USB fan offers more than one speed as well as how you can control the speeds.
Working Environment
The environment in which you intend to use your USB fan will play a significant factor when you choose your ideal model. The two biggest factors to consider when you assess your working environment is climate and noise level.
Individuals who live in hotter climates might prefer fans capable of producing a higher RPM and airflow, while those in mild and colder climates might not need such powerful devices.
In addition, individuals who intend to use their fans in libraries, classrooms or formal areas of business, might require a completely silent fan, while those who intend to use the fan in the home might not mind some noise.
By ensuring that your USB fan will adapt to your intended environment, you can get the most out of your new fan.
Intended Use
USB fans are only suitable for personal use, which makes it important that you should consider who will be using this fan and under what conditions.
When buying a fan, you should consider the main person who will be using it. Consider factors such as what age this person is and how capable they are of operating the fan. When buying the fan for a young child or elderly individual, your top concerns should be safety and user-friendliness. You can buy more complicated and high-tech models for a teen or adult.
Also, consider where and when this individual will be using their fan the most. If you're buying this fan for a student or working professional, they might prefer fans that are small and quiet. In contrast, an individual who needs the fan for camping and traveling purposes might prefer a model that is highly adaptable and offers the option of included batteries or using via USB cable.
Safety
Safety should be a top priority when purchasing any new device, and this is no different when it comes to USB fans. While they may be small in size, choosing the wrong USB can still cause damage.
You should first consider the blades of the product and the materials that they are made of. A blade made out of thick inflexible plastic or metal can cause harm to someone who accidentally gets their fingers in the way of the blades. For smaller children especially you should try and buy a USB fan whose blades are made out of soft plastic or foam. If this is impossible, ensure that the blades are covered by a metal frame that cannot be penetrated by small, inquisitive fingers.
Other safety considerations should be whether or not the fan is waterproof (if used in damp or wet conditions), whether the USB cord is durable and won't break to potentially expose harmful wiring as well as whether the fan will stay in place securely.
Base
The base of the USB fan is another important consideration as a sturdy base is essential to prevent potential slips and breakages.
The base of a fan should be sturdy enough to support the full weight of the fan and to keep it securely in place. Look for a base that is heavier in relation to the fan so that it will stay put and won't get knocked over and potentially fall and break.
Another consideration is the materials used at the bottom of the base. The bottom of the base should be covered in some protective material, such as rubber pads, to protect the surface from potential scratches.
Adjustability
Since USB fans were designed for personal use, it's vital that your chosen fan can actually be easily adjusted to suit your needs.
There are few things more annoying than a fan whose cooling breeze is unable to reach you. So before purchasing your new USB fan, you should make sure that the fan is capable of being adjusted to your preferred position.
When shopping around for your perfect fan, look out for features such as a rotating fan head, adjustable base, or a gooseneck. This will be an indicator that you can comfortably adjust the fan to suit your needs.
Unique Added Features
It is worthwhile considering any extra features that your fan may offer that other similar products don't as these extra features may greatly contribute to your cooling needs.
Some fans, for example, feature built-in LED lights, which is perfect to use in a child's bedroom or on camping trips. Other fans may offer to be operated either via batteries or USB port which is ideal for the individual on the go.
When selecting your fan, fine comb the product description to identify any special added features that might enhance your user experience.
FAQ
Frequently Asked Questions
Q: What USB ports are compatible with a USB fan?
A: USB ports are universal which means that your fan can be plugged into any USB port regardless of the device that offers the USB port.
Examples of where you can plug in your fan include a computer, laptop, power bank, car with USB adaptor, any universal USB adaptor.
The main consideration here is that your chosen USB port is capable of supplying your fan with the minimally required 5V of power to work effectively.
Q: How do I clean the fan?
A: Dust gathers quickly on fan blades which can aggravate allergies and contribute to an unhygienic environment. Keep your fan clean by regularly wiping the blades and device with a damp soft cloth.
You can easily dismantle the metal frame of certain USB fans to effectively wipe off dust and grime. Just ensure to reassemble the metal frame after cleaning.
Q: What are fan speeds?
A: Fan speeds refer to the speed at which the fan blades rotate. This movement is measured in Revolutions per Minute (RPM). A slow rotational movement will have a lower RPM than a faster movement. Faster movements also produce a more powerful breeze than their lower counterparts.
Q: How do I control fan speeds?
A: Not all USB fans offer multiple fan speed settings. However, those that do will generally allow you to adjust the speed using the controls located on the device itself.
For the best results in adjusting your fan speeds, consult the included instruction manual on the best way to safely adjust your fan speed.
Q: Is there a way for me to plug the fan into an electric outlet?
A: Yes, there is! USB fans are ideal for desk use, but you don't necessarily have to plug them into your laptop or computer. You can plug your USB fan cord into a USB adaptor for an electric outlet, such as the ones used to recharge smartphones.
Before doing so, please ensure that your USB adaptor provides a minimum of 5V so that your USB fan may work effectively.
Q: How quiet is a USB fan?
A: Most USB fans are significantly quieter than traditional fans, but this does not necessarily mean that they are completely silent. Fans especially tend to omit some level of noise if they are adjusted to their highest speed setting.
If you do require a completely quiet fan, however, firstly look at the materials used to construct the fan blades. Hard plastic or metal blades are generally quieter than blades constructed out of foam or soft materials.
It may also help you to read the product description as well as user reviews about the fan's noise level before you make your final decision.
Q: How much electricity does a USB fan use?
A: USB fans have the benefit of being energy efficient and use much less energy than traditional fans. This makes USB fans not only environmentally friendly but will certainly help your electricity bill.
While different fans will have different energy outputs, the average USB fan will use an average of 2.5 watts per hour. In comparison, a traditional fan can use anything between 70 and 100 watts per hour, depending on its size and fan speed.
Q: How long is the USB cord?
A: The length of your included USB cord will vary depending on your specific brand and model number. However, the majority of fans will include a cord of between 3'9" and 5'9" which is certainly long enough to afford you optimal mobility.
Q: Can you use a USB to cool your electronic devices?
A: You can certainly use a USB fan to provide some relief to overheated devices during the summer. However, this is not an adequate long-term solution.
If your device persists in overheating, you are advised to have your device repaired by a qualified technician. Please note that a device that regularly overheats is a potential danger to yourself and the device itself.
Q: Where can I use my USB fan?
A: An undeniable perk of the USB fan is that you can use it almost anywhere. While USB fans have become popular among working professionals for their utility in the workplace, this is far from their only use.
A USB fan can essentially be used wherever there is an available USB outlet. You can easily use a USB fan in the home. Position it on your nightstand for energy efficient cooling while you sleep or place it in the kitchen to keep you cool while cooking in the summer.
USB fans are also ideal for outside use, such as camping trips or summer barbecues. Simply plug your fan into a fully charged power bank to keep yourself cool.
USB fans have millions of innovative uses and empower you to keep cool on the go.
Q: Is a USB fan safe to use in a child's bedroom?
A: A USB fan is an ideal solution for cooling in a child's bedroom since they are energy efficient and provide an effective cooling breeze while still being gentle enough on young children.
USB fans are safe to use in a child's bedroom, provided that they are safely secured when in use. Use a fan that has a sturdy base or one that can be clipped onto the surface. This will prevent them from being knocked over and causing potential damage.
Another important consideration is the fan blades that could potentially cause harm to small fingers. Choose a fan where the blades are enclosed in a metal frame. The openings in the metal frame should be small to ensure that kids won't poke their fingers through it.
Lastly, look out for added features such as built-in lights so your fan can double as a nightlight to help you save on energy.
Sources
Wikipedia, Computer Fan
Wikipedia, Enhanced Mini-USB
EZVid, Top 10 Best USB Powered Fans