Best Running Compression Socks Reviewed & Rated for Quality
In a Hurry? Editors choice: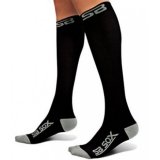 Test Winner: SB Sox Compression

What is it exactly that compression socks do? Simply put, they improve blood flow, can lessen pain and swelling in your legs and they can cut the chances that you'll end up with potentially deadly deep vein thrombosis.
Compression
socks have become incredibly important and required for most athletes over the last several years. The high riding and snug fitting compression socks offer up plenty of benefits for the runner.
Running
can be hard on the body, feet,and legs. Finding ways to make running more successful starts here, with
compression
socks. Reviewing this list will give you an in-depth look into the best compression socks on the market, today!
Standout Picks
Criteria Used for Evaluation
Compression
Compression socks offer different kinds of compression levels and it is important that you find a pair of compression socks that are appropriate for your needs. The three main levels of compression are 15-20 mmHg, 20-30 mmHg, and 30-40 mmHg. You will also find that many compression socks have a graduated compression. Picking the best compression level will make sure that the socks perform at a level that is correct for your situation.
Runners should look for compression socks that have a 15-20 mmHg or a 20-30 mmHg compression rating. The lower rating is intended for daily usage. They will help improve your blood circulation and muscle recovery without feeling way too tight on your legs. These socks should be your first choice when picking out compression socks for running because they offer many of the benefits that you need in compression socks.
The 20-30 mmHg socks are intended to be worn by people who have a medical condition or need additional support. People who have swelling, varicose veins, or spider veins should consider wearing these socks since they are designed to help with those medical issues. 20-30 mmHg socks are also beneficial to people who are recovering from injuries. Runners who are recovering from an ankle sprain or feel shin splints might feel better relief by wearing higher compression socks.
The final compression level, 30-40 mmHg is not intended for runners. This is the highest level of compression and it is intended to manage severe medical conditions such as blood clots, severe swelling, lymphedema, or severe varicose veins. People also wear these socks after surgery as well. Runners who try to run with these socks may have trouble running since the socks are likely to feel too constricting and will make it hard to move. You should only run with these socks when it is absolutely necessary.
Compression socks for runners also have graduated compression as opposed to uniform compression. Graduated compression means that the socks have the highest level of compression around your feet and your ankles and they are less restricted as they move up your leg. The graduated compression serves two main purposes. One purpose is to make it easier for you to put the socks on and take them off. This is because the socks do not fit as tight where your leg is wider so it becomes much easier to slide them up and down your leg.
Materials
Compression socks generally fall into three different style categories. There are fabrics that resemble leggings or dress socks. You will also find sheer fabrics and there are also socks made out of high tech blends of materials. The type of material matters because it is directly connected to how the socks look, perform, and how long they will last. If you purchase socks that are made out of a material that is not suited for running, then you will be disappointed as well the compression socks perform when you use them.
The compression socks that are made out of opaque fabrics are considered a "middle of the road" kind of compression socks. These socks are generally made for everyday use and tend to made to last. For this reason, many runners may choose to use these kinds of socks because they are widely available and can be used for running and general wear.
Compression socks that are made out of sheer fabrics should not be worn for running. This kind of sock is made to be fashionable, lightweight, and transparent. Compression socks made out of sheer fabrics are intended for women to pair with their wardrobes.
The final type of compression socks tends to be made out of high tech fabric blends that are designed with athletes in mind. This type of sock is the best choice for runners. They are designed to be durable enough that they will last under the high demands that athletes expect out of their clothing.
Fit
Compression socks come in different length and you should consider the length of the socks when you are picking out compression socks. Some compression socks are only ankle high, while other compression socks can go all of the way up to your thighs. The length of the compression socks will determine where you will see benefits and relief from wearing the socks. You should always make a determination about the length of your compression socks so that you can find the socks that will fit best with your running style and needs.
Comfort
To start with, you should make sure that you are able to put the socks on and take them off without too much trouble. Many online reviewers complain about how they are unable to wear their compression socks because they are too tight. While it is important for running compression socks to be tight, they should not be so tight that you can't wear them.
Compression socks that are too tight will feel constricting and it will make it hard for you to run or jog in them. Most athletes should purchase compression socks that have the least amount of pressure and only go to socks with higher compression if needed. Likewise, you should also make sure that the socks aren't hard to take off when you are done with them. You should be able to slide the socks on and off as needed.
You should also make sure that the socks breathe well and are moisture wicking. Many runners and athletes feel sweaty when they have finished running. The last thing we want from any athletic clothing, but especially our socks, is to have them trap our body sweat. Our bodies sweat to regulate body temperature. When our clothing interferes with that process, we can end up feeling extremely uncomfortable because we will feel as if we are trapped in an oven.
The final area to check for comfort is your toes. Sometimes compression socks fit too tightly around your toes and feel constricting in this area. It is important that your toes do not feel squashed or smashed against the end of the compression socks. Instead, they should feel normal and you should be able to wiggle them freely. It is highly unlikely that you will find your compression socks to be comfortable if they are too tight around your toes.
Durability
Durability matters a lot when purchasing compression socks for running. Many compression socks tend to be higher priced so you should expect the socks to last you for a while when you purchase them. You should always check that the socks are made out of high-quality materials that resist tearing and abrasions. The material should be thin enough to allow the socks to breathe, but it also should not be so thin that the socks wear out prematurely. You should expect the stitching to last as well. There should not be any loose threads that can pull or get caught. You should also make sure that the stitching is reinforced.
One of the most important indicators of how durable the socks are is how long they maintain their compression. If you find that the socks lose their compression quickly, then it is likely that the socks are low quality and you should switch brands. Although all socks will eventually lose their compression, you should expect the compression to last for a while even after frequent use. If the socks have padding on the bottom of the feet, then you should plan on the cushion lasting for a while. Checking all of these features are a way to make sure that you will get the best life from your compression socks.
Top 10 Picks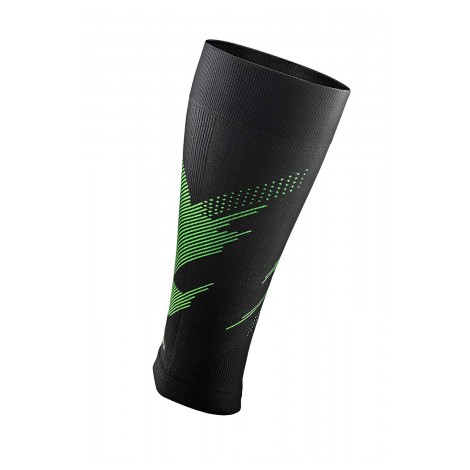 A great alternative to socks, these sleeves are an excellent choice for running and general use, as they are much faster to put on and take off. Made from the finest materials, these are both comfortable and extremely long-lasting. The fabric is moisture wicking which helps you keep cool and dry. In addition, they're treated with Polygeine, which actively inhibits the growth of odor-causing bacteria. All in all, these sleeves are designed to provide you with all-day comfort and support while offering you health benefits such as reduced swelling and additional blood circulation.
Polygeine
Any sort of athletic endeavor necessarily entails sweat and stench and a shower afterward. There's no cure-all for any of that. However, these sleeves have been treated with relatively new technology--called Polygeine--which works actively to inhibit the growth of any odor-causing bacteria. It'll help you stay smelling fresh even as you're sweating.
Proof
Lots of companies claim that their products are state-of-the-art; lots of them make bold claims. Rockay has taken it a step further. They've actually included documented proof with every purchase--via Swisslastic--of the superiority of the compression of their sleeve.
Cost and Value
If you're looking for a sleeve to get the job done well, then these are it. They are admittedly more expensive than other options out there on the market, but the phrase "you get what you pay for" is particularly apt here. Our verdict? Worth it.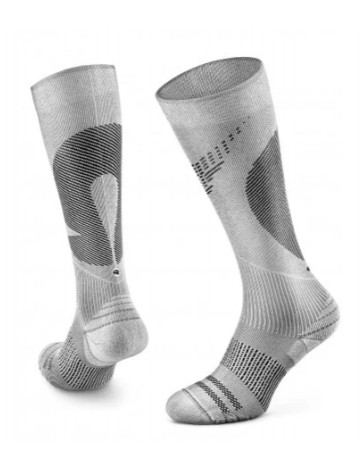 The Vigor compression socks are one of a kind for running. With you in mind, these compression socks were designed to create a healthy environment and a comfortable atmosphere. Being the highest-rated compression sock on our list, the Vigor gets the job done, with its quality rated, graduated compression. With so many other added features, you can't go wrong with this purchase.
Graduated Compression
The Vigor has an excellent graduated compression at 16-23 mm Hg. Graduated compression is designed to keep the best and most circulation in your legs and feet while applying the right amount of pressure where it's needed and decreases up the leg to keep your blood circulating, all the way to your heart.
Materials
Vigor makes a loud impact on the list. The reason for this is that they are designed with the runner and the planet in mind. Not only do you get excellent graduated compression, good circulation, and more, but you also get a piece of clothing made from recycled materials. The incredible comfortable materials are also designed to wick away moisture and assist in a scent-proof and bacteria-free zone. You can't go wrong with an option like this.
Cost and Value
The Vigor is an excellent option for anyone searching for a good quality compression sock. Rockay believes in their product so much, it is backed by a lifetime warranty, so you won't ever have to worry about being without this excellent option.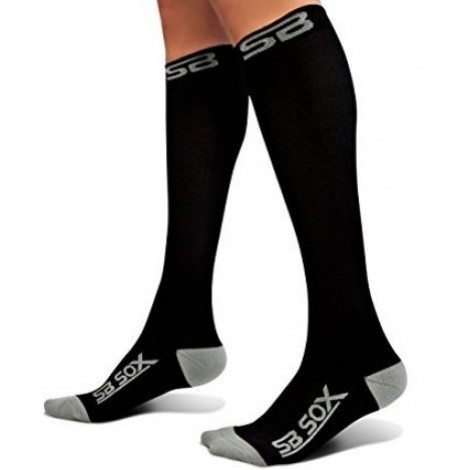 The SB Sox Compression Socks are one of a kind socks that will keep your legs and feet feeling comfortable all day. Available in four different sizes, anyone can slide into these socks and feel the comfort that they offer. Lightweight and breathable, the SB Sox Compression Socks will add to comfort while maximum durability will make these socks last a lifetime. Why wait any longer for a good set of compression socks? Get into the comfort, today!
Breathability
The SB Sox Compression Socks offer an excellent breathable material that assists in wicking away moisture and keeps a constant airflow. The properties in this moisture wick material allow sweat and other moisture to turn into vapors and move out of the sock with ventilation. These socks will protect against sweat and moisture build-up, keeping the feet comfortable all day.
Reinforced Heel and Toe Cushion
The SB Sox Compression Socks are an all-around safe sock that has been designed to maintain stability and comfort. These socks are designed to relieve all discomfort without affecting natural movements. That being said, the SB Sox Compression Socks are truly one of a kind. Stability has never been more rewarding!
Cost and Value
With so many added benefits to the SB Sox Compression Socks, you are bound to stay comfortable and have outstanding circulation. With the moisture-wicking properties that the SB Sox Compression Socks have to offer, you can be sure that your feet will stay healthy and dry throughout your entire day. At an amazing price, you can't pass up the SB Sox Compression Socks.

4

. VitalSox Italy Compression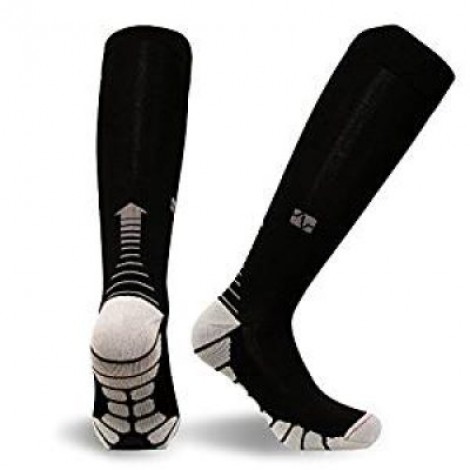 The VitalSox-Italy Compression Socks has so much to offer the feet and legs. These compression socks are incredible for good circulation and healing properties after a long morning run or a day-long marathon. Added technologies keep your feet and legs healthy and disease free. Moisture-wicking, these socks will keep your feet dry, during and after your run. Don't miss out on the VitalSox-Italy Compression Socks.
Quick Drying
The VitalSox-Italy Compression Socks have an excellent technology that allows your feet to remain dry during your daily running activities. The quick drying polypropylene allows for a constant airflow to circulate throughout the sock, keeping these compression socks dry at all times.
4 Way Stretch
Compression socks are designed to help maintain healthy circulation of blood. The VitalSox-Italy Compression Socks have a 4-way stretch that gives added circulation and great blood flow to the lower extremities. The 4-way stretch also allows for easy on and off of the compression sock, making life a little easier, too!
Cost and Value
The VitalSox-Italy Compression Socks are amazing for you and your feet. Keeping constant circulation will allow for a quick healing process by keeping fresh blood consistently flowing to damaged tissues. The VitalSox-Italy Compression Socks is a one of a kind product that will carry you for miles.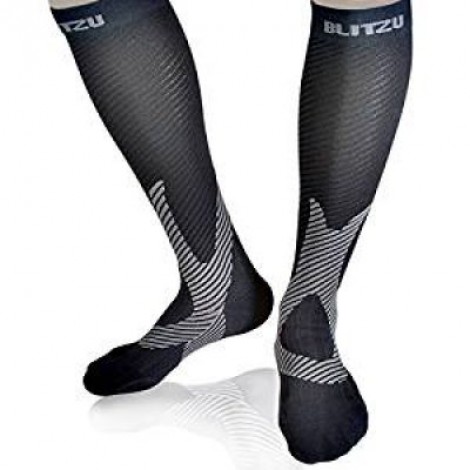 The Blitzu Compression Socks are an all-around amazing compression sock that offers great compression and support to sore or healing legs. Made to stabilize and comfort, these socks have a natural feel and flexible feel that will keep you on your toes all day. Maximum muscle recovery comes with these compression socks as they are designed to pump oxygen and pull out lactic acid.
Everyday Use
The Blitzu Compression Socks are used for a wide variety of health-related diseases. Also, these socks are well known for their popularity while working out or running. With the flexibility in these socks and a comfortable feel, these socks are made for everyday use. Talk about major durability!
Versatile
The Blitzu Compression Socks have been made to be versatile so that you can use them before, during or, after a long run. Once the Blitzu Compression Socks go on, they are sure to stay on and be comfortable, all day long. Why miss out on such a versatile compression sock?
Cost and Value
The Blitzu Compression Socks offer outstanding relief from everyday pains of running. Having a pair of these compression socks, you can be sure to feel a quick and painless recovery from every workout. Flexibility and support, the Blitzu Compression Socks are top-rated for one reason, great compression.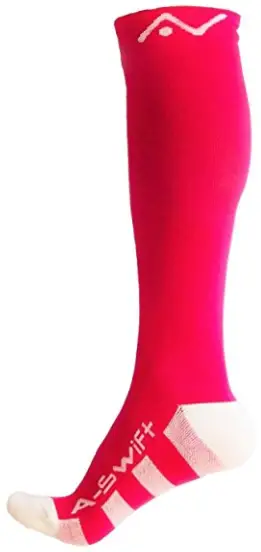 The A-Swift Compression Socks were made to keep healthy blood flow to all lower extremities. By reducing lactic acid, these socks will assist in a healthy recovery of your long marathons. Specialized properties allow disease-free environments that keep your feet at a healthy level and prevent foul odors and moisture build up. As a top-rated sock, the A-Swift Compression Socks have it all.
Odorless
The A-Swift Compression Socks have materials that are both moisture wicking and prevent odors. Moisture is beaded away with small ventilation holes within the compression sock itself. With odor prevention, you can be sure your feet, socks, and shoes have no smell.
Anti-Bacteria Fabric
With the anti-bacterial fabrics, these compression socks are made to keep your feet healthy, at all times. The A-Swift Compression Socks are well known for their ability to maintain a disease free foot and keep bacteria out. These added benefits allow you to run in comfort and cleanliness, all at an affordable price!
Cost and Value
With the ability to prevent bacteria and moisture build-up, these socks not only help maintain foot health but also help maintain healthy circulation. With the healthy circulation, constant blood flow goes into the damaged tissues, repairing any and all aches and pains that running may cause on the feet. The A-Swift Compression Socks are at the top for several reasons.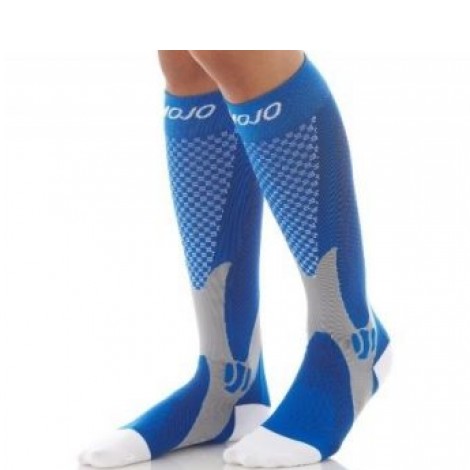 The MOJO Compression Socks are made with a thicker material that will allow a constant oxygen flow to the damaged tissues. These compression socks have an ability to give your legs an elevated feel, reducing lactic acid and supporting natural repairs to the tissues. These socks are incredibly fashionable and made to last, for miles on your feet.
Thick Material
The MOJO Compression Socks offer a thicker material that allows the boost of circulation to the legs and feet. Having a constant flow of oxygen will help maintain the natural balance and reduce the lactic acid build up.
Reinforced Heel and Toe
The MOJO Compression Socks offers extra materials that reinforce the stability of the heel and toe. What this does is help reduce pain areas caused by plantar fasciitis and other foot diseases that cause incredible pain. Why suffer the pain and pressure points any longer when you could have been alleviating it this whole time!
Cost and Value
With comfort and protection this good, the MOJO Compression Socks were made to keep you comfortable where ever you may go. With the ability to reduce stress on the heel and toe, the MOJO Compression Socks are made to reduce pain and keep a constant oxygen flow to these damaged tissues as well as others that are damaged by long workouts. Maintain your healthy foot style, buy the MOJO Compression Socks today!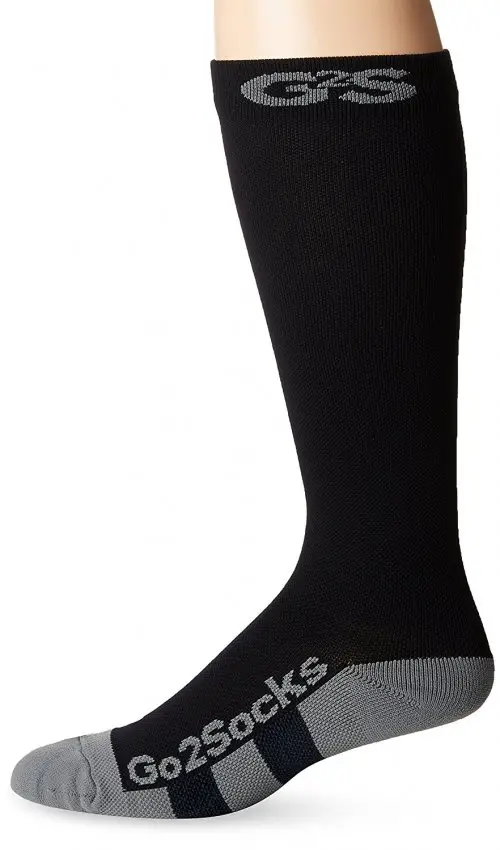 The GO2 Compression Socks are excellent socks that are designed to withstand maximum use. Made for running, the GO2 Compression Socks have amazing features that wick away odors and moisture. The materials also have anti-bacterial properties that keep away disease while giving you the ultimate circulation. Padded features will allow you to avoid pain while adding extra support to keep everything in place. The GO2 Compression Socks have so many benefits, they are incredibly hard to pass up.
Anti-Bacterial
The GO2 Compression Socks give you amazing material that offers a few different technologies that are made to benefit you. Moisture-wicking, the GO2 Compression Socks are also odor proof and maintain constant breathability keeping these socks cool and clean.
Stability
The extra cushioned sole in the GO2 Compression Socks has added stability. This sock is designed to stay firm and tight, maintaining constant circulation and comfort in the sole. The GO2 Compression Socks has a tighter grip on the foot, keeping a stance of stability. Stay upright with this compression sock!
Cost and Value
The GO2 Compression Socks has many benefits to the runner as they are stable, firm, anti-bacterial, and breathable. Maintaining good blood flow, the GO2 Compression Socks will keep your feet and legs healed in a stylish form. With so many added benefits, this compression sock is a go-to for several athletes!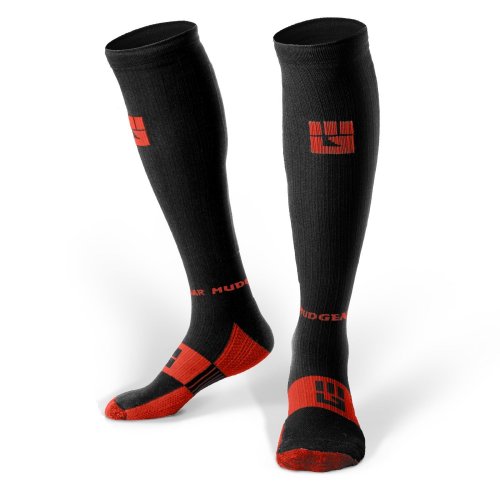 The MudGear Compression Socks were built tough for the athletic runners. Keeping water out, these moisture-wicking socks will help maintain a healthy climate while circulation properties help maintain a healing property. Versatile and made for daily wear, the MudGear Compression Socks help boost circulation and reduce fatigue in your muscles.
Speeds Recovery
The MudGear Compression Socks are a tight fitting sock that is made to extend from the toe to the knee. The MudGear Compression Socks were designed for maximum circulation which boosts recovery speed by sending additional oxygen to extremities furthest from the heart, and removing that bad lactic acid! Be pain-free with a speedy recovery!
Blister Prevention
Blister prevention is incredibly important to those that consistently run or those that run marathons. Made with friction-free material, the MudGear Compression Socks have added protection where you need it most.
Cost and Value
These compression socks speak for themselves! Offering true blister protection, the MudGear Compression Socks are also made to boost recovery speeds using a true circulation method but to also wick away moisture for the longest run of the year! Having the MudGear Compression Socks, you know that your feet will maintain their original state!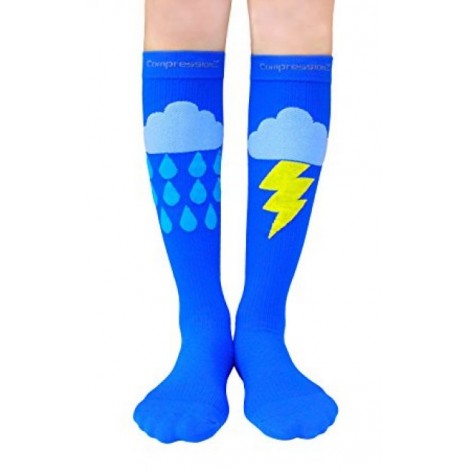 The CompressionZ Compression Socks puts fun and fashion into compression and circulation. With a variety of options, the CompressionZ Compression Socks are versatile and friendly to almost any outfit. Great support is built into this compression sock and you will feel at ease knowing you are recovering in style. Made with your comfort in mind, the CompressionZ Compression Socks have a lot of added benefits to help maintain pain.
Reduce Muscle Fatigue
The CompressionZ Compression Socks are made to help assist in keeping a positive flow of oxygen to your extremities while preventing the build-up of lactic acids. These compression socks are designed to assist in recovery and help fight muscle fatigue.
Anti-Microbial
The CompressionZ Compression Socks are made to be worn all day and all night. Added benefits in this compression sock will help you fight odors and wick away moisture for many hours of work or play. The anti-microbial compression socks keep a healthy atmosphere for your feet and keep disease away, too!
Cost and Value
Fun and exciting styles come with the CompressionZ Compression Socks. Choose your personality while maintaining a healthy foot climate, all at an affordable price! The CompressionZ Compression Socks feature a padded sole to help reduce pressure points and assist in reducing muscle fatigue for hours on your feet. Constant circulation never felt or looked this good!

Subscribe to our Newsletter