Best Foot Massagers Reviewed & Rated for Quality
In a Hurry? Editors choice: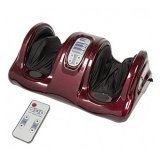 Test Winner: Best Choice Products

Foot pain. It's the worst. Most of us spend the whole day, or at least most of it on our feet. You could go to a chiropractor or a massage therapist and have them take a crack at it, and that would work, but it would also be incredibly expensive in doing so. What you need is a means of handling you're tired, hurt feet in the
comfort of your own home
. Which is where home foot massagers come into play. And these are what we're going to be counting down, here today. So, sit back, relax, and let one of these fine massagers
knead your troubles away
.
Standout Picks
Criteria Used for Evaluation
Style
There are a lot of places on the foot where pain can crop up — the sole, the heel, the ankle, the toes, anywhere really. And so, if you want the best of the best foot massager, you need to get your hands on a foot massager that will cover as much area of your foot as possible. This is why foot pocket massagers are so popular among consumers these days. They completely cover the feet, wrapping them in air compression and warmth that soothes the muscles and relieves tension.
Effectiveness
Massaging a foot is more than just rubbing some rotating nodes across the feet and calling it a day. It's about knowing exactly where on the foot to hit, and then hitting it in just the right way. Acupuncture points are what these particular points in the foot are called. They're pressure points located throughout the anatomy of the human foot that relaxes the muscles and relieves tension when pressed against in a certain way.
The best kind of foot massage is the kind that knows the precise points to hit, when, and how hard. And fortunately, the entries we gathered for this list know where to hit you in your feet for maximum effect. When buying a foot massage, you want to buy it with the sense that this thing knows how to take care of you. Otherwise, what's even the point?
One thing that causes the majority of foot pain is a lack of proper blood circulation. We need blood to be always moving at a certain pace throughout our bodies, pretty much 24/7. So, when that blood circulation slows down in certain areas, pain and aches are more likely to occur. Which, is why most foot massagers are so focused on massaging your foot in to improve blood circulation through your feet. If you've been feeling pain or numbness in your feet more frequently, then there may be something wrong with your blood circulation down there, and after seeing a doctor, of course, you should pick up an excellent foot massager to make sure the treatment works.
Features
But of course, what's a gentle massage without some soothing heat? This may seem odd to those unfamiliar with how massages and the musculature of the human body work. One of the leading causes of pain in the feet is tense muscles caused by overexertion. But a beautiful, consistent, soothing bit of heat will fix that right up by loosening up the muscles.
On top of that, a good bit of heat will do the trick nicely against all manner of chronic pains found in the foot, one of which being plantar fasciitis. And combine all of that with a gentle, relaxing massage, and you have yourself one comfortable massage experience. However, the rub here is that you need to make sure it's just the right amount of heat for what's ailing you.
Not every pain or ache in your body can be solved with the same amount of heat. So, you should either track down the entries on this list that can handle multiple problems. Or, if your problem is more specific, hunt down a massager that handles that particular problem. Either option will work for you about the same.
Portability
Portability is another criteria we considered. You want to be able to move your foot massager around your home with you, and not be confined to one room for relaxation. All of the massagers on this list are movable and easy to do so. This way, you can have a foot massager in your room before bed, or in front of the TV while relaxing after work or on the weekends.
Value
The final criteria we looked over for this list was the price of each product. This was a tricky one, mostly because the price varied wildly from entry to entry. However, we managed to narrow down the pattern, namely that platform foot massagers are cheaper than the foot pocket variety. This only makes sense, since a foot pocket foot massager needs a lot more material and a lot harder wiring to work at peak efficiency.
So, it only makes sense that even the cheap ones would be pretty pricey compared to their contemporaries. However, this did not deter our usual means of judging each entry on a list like this. Which is to judge them based around how well they earn the prices they're asking for. After all, if what you're spending a large amount, but it has the features and quality to make it worth your while, you probably aren't likely to complain about the loss.
10 Best Foot Massagers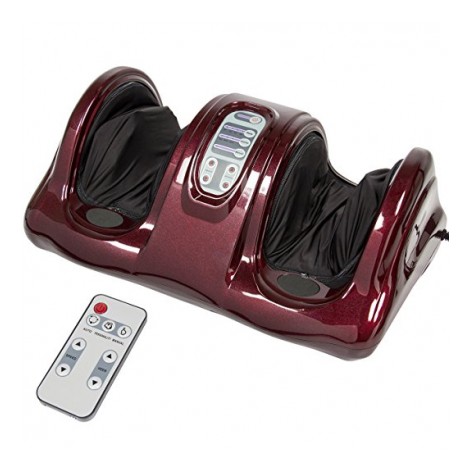 The Best Choice Products Shiatsu Foot Massager is a sort of mix between the standard platform-style foot massagers, and the encompassing foot pocket massagers. Does the result have the best of both worlds? Let's close out our list and find out.
Wireless remote
The main benefit of buying this massager is that you get your very own remote to control the massager without having to continually lean down and adjust the settings over and over again. Now you can have whatever configuration suits you with the push of a button. Too many foot massagers out there think that just because your feet have chronic pain, doesn't mean that your back does. (They can correlate.) So, you have no problem with always having to bend over to adjust. But this massager realizes that often, the opposite is true, and so plans accordingly.
Targets all areas
The main benefit to this massager and its unique design is that it gives it free access to almost all areas of the foot. We say almost because, like most of the massagers on here, unfortunately, it doesn't target the ankles. However, when it comes to the main body of the foot, pretty much every vital section is addressed.
Cost and Value
For such an innovative massager, it was shocking just how cheap it was. It stands somewhere between the platform massagers and the foot pocket massagers in terms of price, making it a very nice compromise.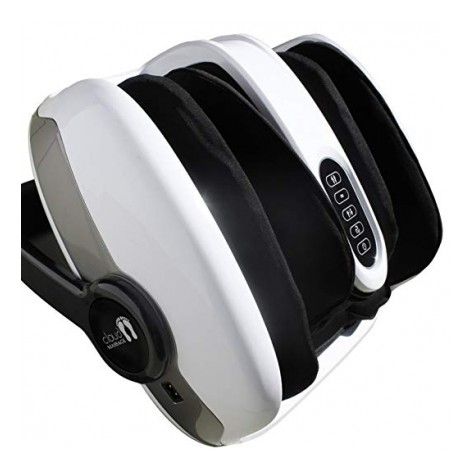 The CloudMassage Foot Massage Machine is a dual massage foot massage machine and is excellent for when you need to sit down and relax. This massager does its job well.
Great for both feet and calves
Sometimes it's more than just your feet that hurt after a long day. If you've been walking for a particularly long time, then that pain can end up carrying up into your calves as well. You will have to be relieved there as well, which is why this foot massager can handle both your feet as well as your calves. So, if your entire lower legs are in pain, break out this lovely piece of comfort and feel your troubles melt away.
Medical grade relief
But there are a lot of other reasons to massage your feet than just being tired. A lot of physical ailments involve swollen or aching feet, such as diabetes, plantar fasciitis, and neuropathy. If you have any of those ailments, then we can't recommend this massager enough. Its medical-grade massaging technology will help relieve the pain caused by either tiredness or any other number of physical problems.
Cost and Value
Of course, you don't make a massager of such high quality without it costing quite a pretty penny in return. So, this is a contender for the priciest entry on the entire list.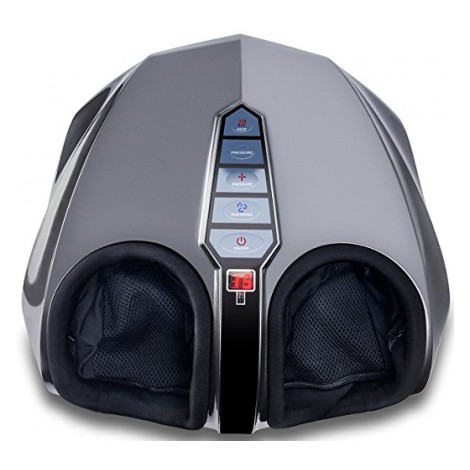 Next, we have the Miko Shiatsu Foot Massagers. This is one of the most thorough foot massagers on the entire list, giving you pretty much every option for treatment that a massager can reasonably do for feet. What do we mean by this? Allow us to elaborate.
Improves blood flow
One means of improving the feeling in your feet is to speed up the flow of blood. Or at the very least, get it back to normal conditions, as walking for too long on your feet at one time can make blood circulation to your feet slow down. This massager helps to relieve the tension in your feet, improving the flow of blood back to stable conditions.
Thorough massage
You may have noticed that this foot massager isn't some platform you place your feet on top of. Instead, it's a pair of independent foot chambers, wherein you put your feet for the massage. Once in there, the machine proceeds to massage the bottom and sides of your feet thoroughly. It does through a series of massages, ranging from deep kneading, subtle vibration, heat, and rollers, all of which are yours to adjust how you see fit.
Cost and Value
While not quite as expensive as other entries, this one is still pretty pricey. But by the standards of this list, this one is pretty affordable.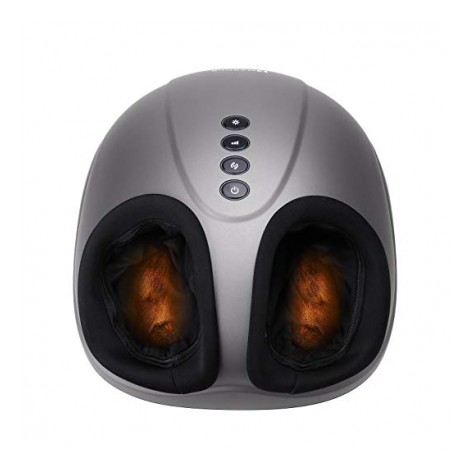 Next, we have the Marnur Shiatsu Foot Massager. We return once more to the foot pocket, complete coverage foot massager that envelopes your feet entirely for a more thorough massage. We now have three of these types of massagers, so what does this one have to offer? Let's find out.
Soothing heat and air compression
People think of a heated foot massager like this and feel that they're sticking their foot into a mini oven. However, that is not the case. The heat generated by this massager is the epitome of relaxing and soothing, sending waves of pleasurable warmth throughout your soles and up into your upper legs. And the air compression added on top of that helps.
Deep Kneading and Rolling
This foot massager has three different massage modes, each combining air compression, heat, and rolling in different ways. The massage nodes on this massager are specifically targeted to hit acupuncture points in just the right direction. This makes it all the more effective at relieving muscle tension and tiredness.
Cost and Value
This foot pocket massager is pretty much the same price as others we looked at. Meaning that it's more expensive than what we consider to be cheap by this list's standards. But, it's still more than enough to be considered affordable.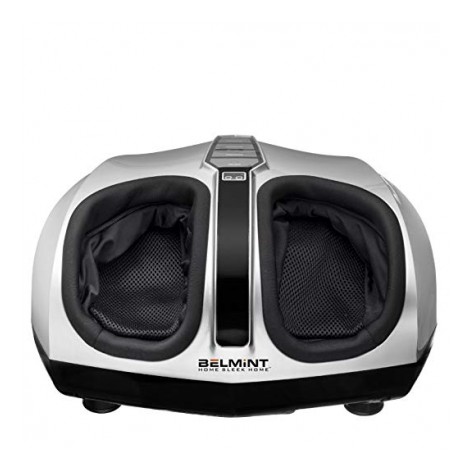 The Belmint Shiatsu Foot Massager may put some people off, what with its rollers and massage nodes just barely being hidden under a layer of mesh. This is the kind of thing cheaper models that didn't make it anywhere close to this list pull as a way of saving money. But don't worry, there are plenty of good reasons for this massager to be designed the way it is — some of those being.
The best massager against plantar fasciitis
Plantar fasciitis is one of the most common forms of chronic pain, due to just how many jobs have people up and about. It is caused by continually moving from one place to another without rest. For example, if you do hospital work or if you're a waitress. If such circumstances describe your predicament, then this is pretty much the perfect foot massager for you. This massager is specifically designed to handle the critical areas affected by plantar fasciitis. Relieving the pain and helping you get through the day.
Warm heat for cold feet
During those cold winter months, sometimes a fuzzy pair of socks just won't cut it. And if you have foot pain, then it's even worse, because nothing makes muscle tension worse than intense cold. Fortunately, this massager addresses both of those problems helping your feet feel better while also keeping them nice and toasty.
Cost and Value
For a platform foot massager, the price of this product is rather average, given what we've come to expect from a product like this. So, if you have some money to spare and need some help with your plantar fasciitis, then give this one a whirl and see what you think.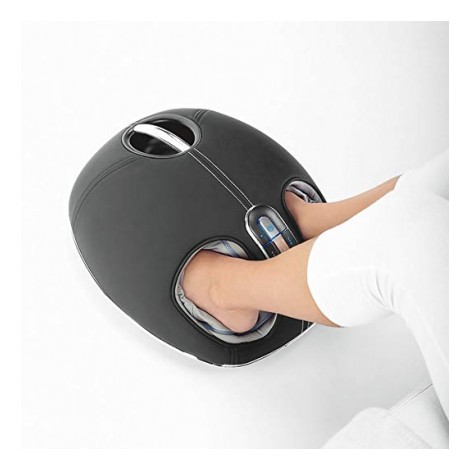 Next is the Brookstone F4 Shiatsu Foot Massager. Even as the minimalist designs for these foot pocket massagers go, this one doesn't seem like much to the average person. But that's because you aren't looking closer and seeing what this one brings to the table. Allow us to help with fixing that.
3 auto massage programs
Everyone likes having more options, and it's always nice to have all of your options covered as much as possible. Not everyone needs the same treatment for different problems, so this massager comes with three various auto massage programs. Your choices are either soothe, pulse, or energize.
Shiatsu and compression
While there are three different specific modes for massaging the feet, this massager does come with two types of massage that are continuous across all three types: shiatsu and compression. Shiatsu massages help to knead out tightness in the muscles, while compression massages help to squeeze out the tension from your body.
Cost and Value
The main problem with this massager is the price. It's probably the third most expensive entry on the entire list, and it doesn't do a whole lot to justify the costs it asks for. Not to say it doesn't earn its place on the list, but there's a reason that it's this far down.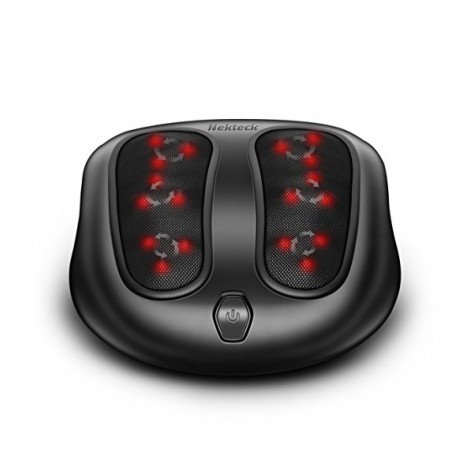 Up next, we have the NekTeck Foot Massager. We're back to the platform design for this foot massager, and this entry from NekTeck is one of the best examples. Indeed, one of the most affordable examples, by a long shot.
Versatile design
You've probably looked at one of these foot massagers before and not known really what the point was behind the rolling massage heads. Well, the answer to that is simple yet sophisticated. By rolling against certain specific spots on the soles of your feet for long periods with six massage heads and 18 massager nodes, this massager can relax muscles, ease muscles tension, and even regulate blood circulation.
Heating function
But sometimes just rolling against the bottom of your foot for a few minutes isn't enough, and you need more relief. Luckily, carefully applied heat is excellent at relieving the pain felt by fatigued muscles and reduce overall foot pain. And don't worry about the temperature becoming too much, as it's very safe to use.
Cost and Value
The best part about this entry is its price. For less than half of the previous entry, you get much of what it was offering. Only this one helps out your heels as well as your soles. So, if you're on a pretty tight budget but need some relief for your feet, then you're looking at the right product.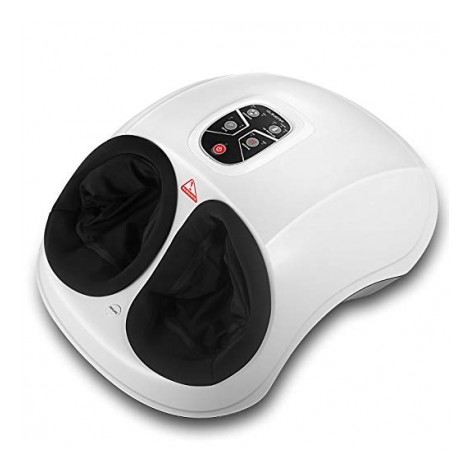 The Quinear Foot Massage consists of a pair of pockets for your feet. You stick them in and press the button, and the massaging begins immediately. So, what sets this one apart from our second place entry? Let's find out.
Great no matter what you're doing
The great thing about this massager is that it doesn't matter what you're doing, as long as you're staying still while you're doing it. Standing or sitting, in the office, on the couch, reading, working on the computer, wherever you need relief, this massager will give you the comfort you're looking for. Sure, you are still required to be standing still while all of this is happening. But seeing as how you're doing this to relieve pain in your feet, we suspect you aren't keen on moving around too much right now anyway.
Emergency deflate button
The chances of something going wrong with this foot massager are incredibly slim. But if something does go wrong, then you're going to have to get out of it quickly. Fortunately, Quinear thought of that and included a particular emergency "deflate" button that will deflate the balloons holding your feet in the massager's foot pockets.
Cost and Value
Despite being the same type of foot massager as the other entries, this one is much more affordable than the last one. It's a much more affordable option when you're looking for this specific kind of massager for a reasonable price.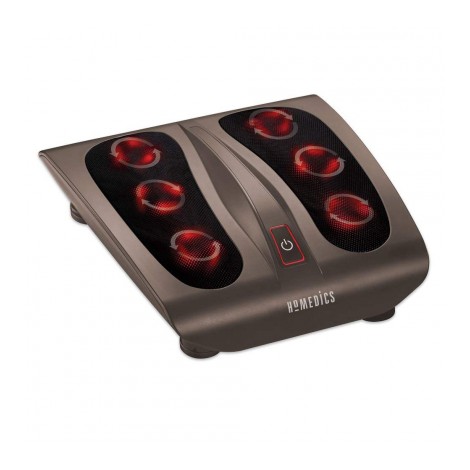 Here we have the HoMedics Triple Action Shiatsu Foot Massager. This is another platform-style foot massager that gives you total care and massaging by just placing your feet on top of their designated massage points. So, what does this one do to earn its spot on the list? Let's find out.
Optional heat
A lot of massagers will assume you want the heat on high if you're using them. But sometimes you want a soothing massage and don't need a lot of heat. Well, don't worry, because the soothing warm temperature provided by this foot massager is entirely optional. Just one press of the button will turn the heat functions of this massager on or off. But we highly recommend those functions for the soothing relief they can bring to your aching feet.
Considerate design
If you're a person with rather large feet, then you've probably had some considerable difficulty in the past with using foot massagers. This is because they seem to all have been made for elves, as far as you're concerned. Fortunately, your prayers have been answered with this massager. This massager is made to have a large platform design that helps people with large feet get the same treatment as those with regular-sized feet. And don't worry if you have smaller feet either. Like the way the massager nodes are laid out under the massager's surface means that any shoe size will work just fine with this.
Cost and Value
Since platform-style foot massagers aren't the priciest kind out there, this is, of course, one of the cheaper entries we've had so far on this list. Sure, it's still a considerable amount of money, but it's about half of the previous entry if that counts for anything.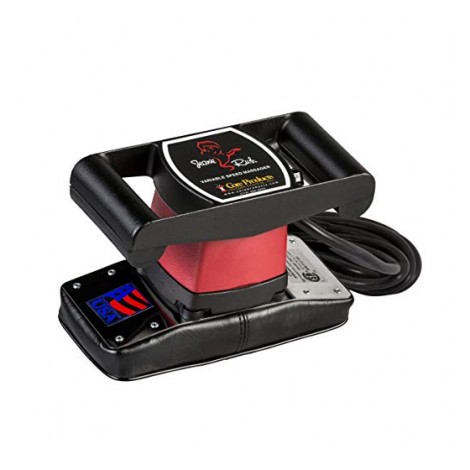 And now for something completely different, the Core Products Jeanie Rub Speed Massager. While this massager can be used on the feet, this one is more meant for the general area of your entire body. So, what makes this odd little beast so high up on our list? Let's find out.
Variable speed
The great thing about this massager is just how many different speeds it's capable of. With just a quick turn of the knob, this thing can go from 1100-4600 rpm in an instant. Giving you the relief, you need, at the speed at which you need it. And the orbital action provides you with a softer and deeper massage than a percussion type massager can. Making this massager a sure buy if foot pain isn't the only pain you have on your body.
Great with a manual massage
If you or a loved one are experienced with giving manual massages, then this is an excellent purchase for you or them. You wouldn't think it would be all that relaxing to use this massager. But in fact, it's excellent at loosening up tightened muscles and relaxing the body. And when paired up with a manual massager who knows what they're doing, it's the best massage experience that you're likely to have.
Cost and Value
Of course, you can't be of professional quality without demanding a professional price tag. And sure enough, the price of this massager is much higher than what the previous two entries were asking for.

Subscribe to our Newsletter