Best Electric Snow Shovels & Blowers Reviewed & Rated for Quality
Getting an electric snow blower is sometimes mandatory, not just for the ease of use but for health reasons. Shoveling snow can cause serious back damage, and in areas where the snow is really bad, shoveling it manually can take hours. Think of an electric snow shovel as an easy way to get a really hard job done.
Featured Recommendations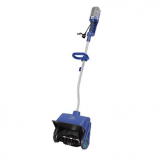 Snow Joe iON13SS-HYB

Our rating
Hybrid Tech
Price:

See Here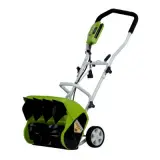 GreenWorks 26022

Our rating
Powerful
Price:

See Here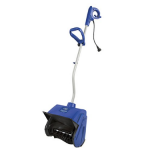 Snow Joe 323E

Our rating
Strong
Price:

See Here

There are some standout brands, but none that really run away from the competition. If you twisted someone's arm they would probably say Snow Joe or GreenWorks, but snow shovels rarely break down so brand loyalty can be skewed. So any customer that has purchased their first electric shovel (or moved on from gas snow shovels) could end up with any number of brands.
Treat snow clearing equipment no different than lawn equipment when going through maintenance. But due to the nature of these products, care is about being away and not running over the cord. And in the case of a cordless model, taking the battery out and not leaving it in the unit when not in use for long periods of time. As long as general cleaning solutions are used, there really isn't a lot more you have to worry about.
10 Best Electric Snow Shovels & Blowers
1. Snow Joe iON13SS-HYB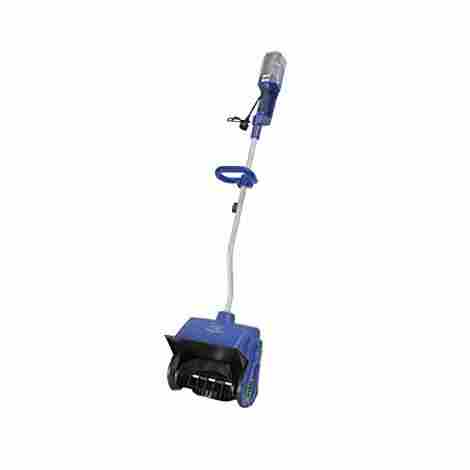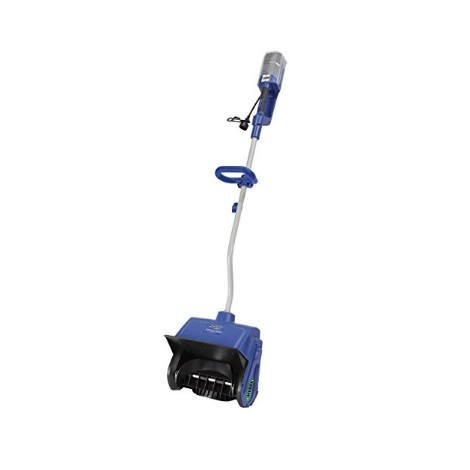 The best on the list by far, and also the best Snow Joe model you can purchase. This is the model that people buy when they don't want to worry about having to purchase another electric snow shovel in a few years.


Expand to see more
Hybrid Technology

The iON13SS-HYB can use the built in rechargeable battery or can be used with the manual plug in wire. Either way will give you the same amount of power, with the freedom to choose which works best for your situation.

Features and Specifications

52 minutes run time when on battery
500 W 15 amp brushless motor

Cost and Value

Even though the product is high priced, it does come with the choice of hybrid, core tool or battery/charger models. The value is there by making the correct choice upfront with the purchase.

Capable of moving up to 300lbs. of snow a minute
Heavy duty blades clear wide and deep paths
This product can be used with a rechargeable battery or with a plug-in wire.
Can run up to 52 minutes on battery.
Slightly less than an hour on battery runtime
2. GreenWorks 26022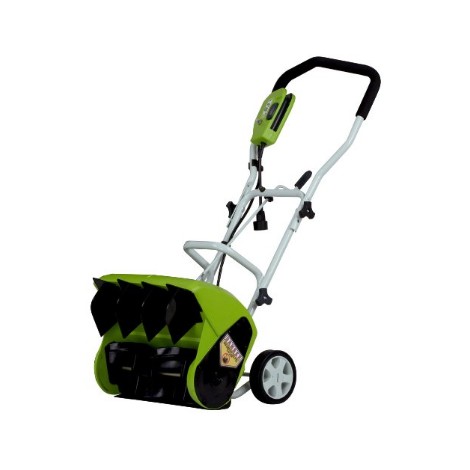 It may not have nabbed the top spot, but the 26022 model from GreenWorks is a heavy duty snow shovel that can clear a lot of snow. Large and corded, this is what users turn to when they want pure power.


Expand to see more
Powerful

The 26022 can clear 16 inch paths and 600lbs. of snow a minute. For larger jobs that could make a huge difference in the amount of time you spend hitting specific areas.

Features and Specifications

Discharges up to 25ft.
Adjustable rubber grip handle bar

Cost and Value

Surprisingly, buyers can get this in the low-mid price range. The value will come from customers that are switching over from the more expensive gas snow shovels.
Massive four year warranty
6-inch radial wheels for easy maneuvering
Has an adjustable, rubber grip handle for maximum comfort and control
Can clear 16-inches in width.
3. Snow Joe 323E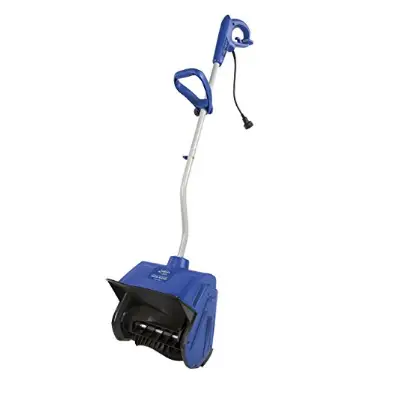 Snow Joe makes it on the list again, this time with the reliable 323E. This is arguably their best corded electric snow shovel, and has been used to clear out snow worldwide.


Expand to see more
Deceptively Strong

With the lightweight nature of this electric snow shovel, no one would expect for it to be able to handle 400 pounds of snow per minute. With the Greenworks 26022 almost twice the size and handling 600 pounds per minute, that's an honorable tradeoff.

Features and Specifications

2 blade paddle auger
Throws snow up to 20ft.

Cost and Value

Snow Joe priced this competitively and it just hits the midrange threshold, and by some will be considered low priced. Corded models of this caliber are hard to find at an acceptable price range, so it's a true winner.
Instant start button with safety switch
Only weighs 13.8 pounds
This is one of the most lightweight products on today's list.
Product can handle up to 400 lbs. of snow.
Will struggle with heavy snow or ice
4. GreenWorks 2600802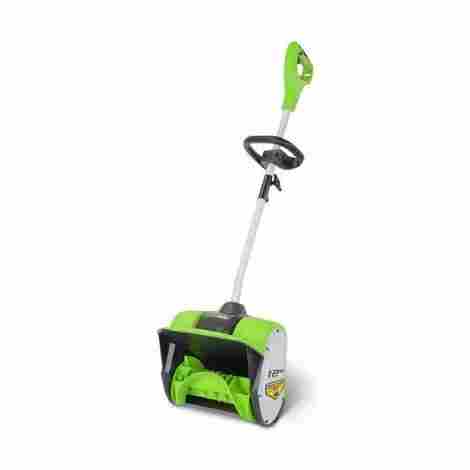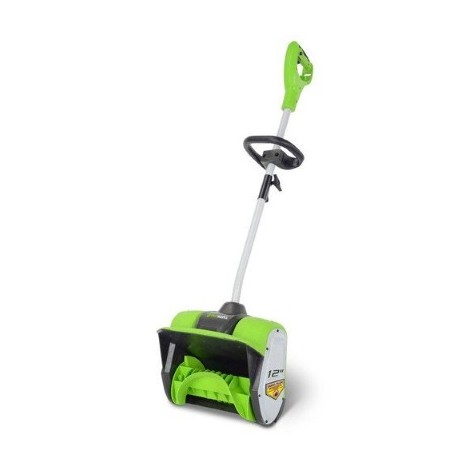 The #4 spot can be swapped out with the #3 spot, as both the 2600802 and the 323E are neck and neck in features. Customers may want to look at both spots when making a decision on which to choose.


Expand to see more
Easy Start

Without any cords to pull you can get started immediately when it's time to shovel snow. GreenWorks and Snow Joe have the best quick start features in the industry when it comes to their electric snow shovels.

Features and Specifications

13 inch shoveling width
Weighs 14 pounds

Cost and Value

Buyers can get their hands on this model pretty easily, and it falls within the guidelines of a midrange priced electric snow shovel. If it stays in that range then it's a really good investment for now, and deep into the future.
Handles snow up to six inches deep
8 amp motor is very underrated
This product is very easy to use and start-up.
This shovel only ways 14 pounds.
5. Earthwise V33662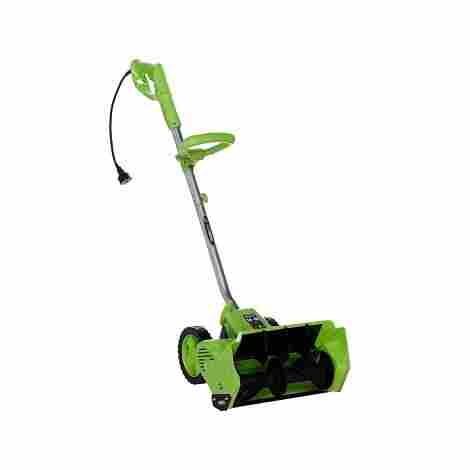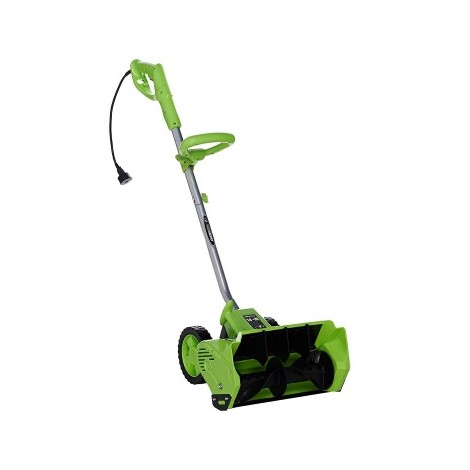 Earthwise is one of the smaller companies in the industry, but one that offers pretty good products. This model has received a lot of attention for reliability and ample power where necessary.


Expand to see more
Large Clearing Width

For such a small electric shovel, clearing 14 inches is a really big deal. Customers will love how easy it is to shovel know with this model, and all without having to use a bulkier alternative.

Features and Specifications

12 amp motor
Clears 430lbs. per minute

Cost and Value

If you want to try out one of the smaller companies then Earthwise should be given a fair shot, and they have priced this model competitively in the midrange price. With such a powerful 12 amp motor, that fits the bill perfectly.
Easy to maneuver in heavier snow
Throws up to 30ft.
This machine is built with a 12 amp motor.
Has one of the largest clearing widths on the list.
Customer service is average
6. Ryobi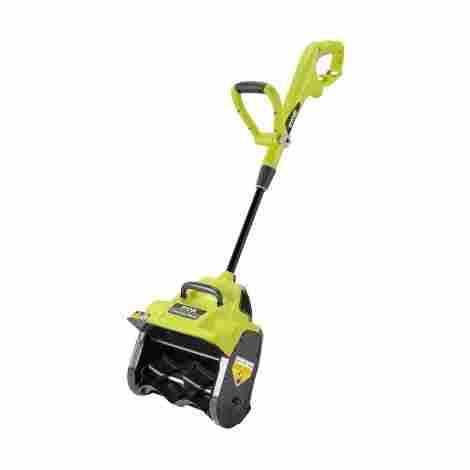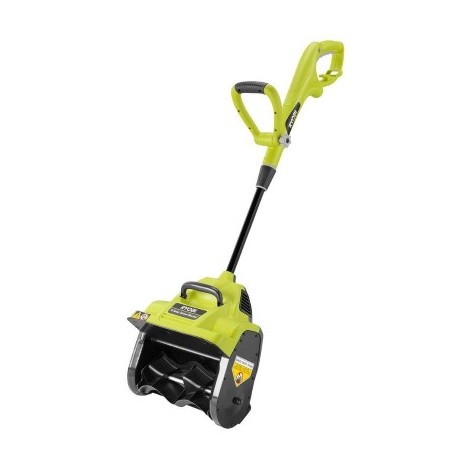 Ryobi is another one of those companies that put out quality products year round. Their smaller electric shovel may seem underpowered, but when the time comes to work it has proven to be a consistent piece of equipment.


Expand to see more
Small And Easy To Use

The low weight is one thing to consider, the other is how small it is compared to the others on the list. They still took the extra step of making the handle comfortable and putting the cord in a place that won't get in your way.

Features and Specifications

Telescoping handle with instant starting
3 year limited warranty

Cost and Value

As a true compact electric snow shovel this is a must-have for areas with hard to reach spaces, but the price is high. The value will depend heavily on where you want to clear snow and if this model can reach it.
Can get to areas where other snow shovels can't
Quiet operation thanks to the 8 amp motor
Incredibly lightweight.
The cord will not get into the way during use.
Doesn't clear as wide as the others on the list
7. Toro 38361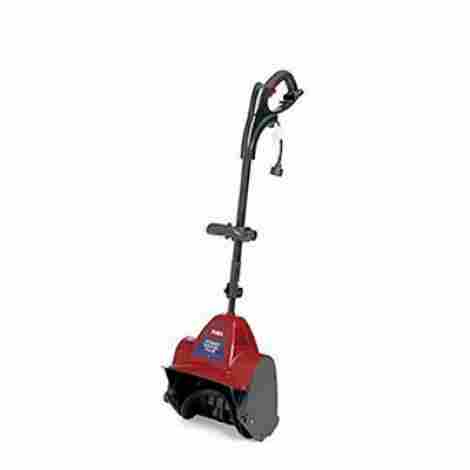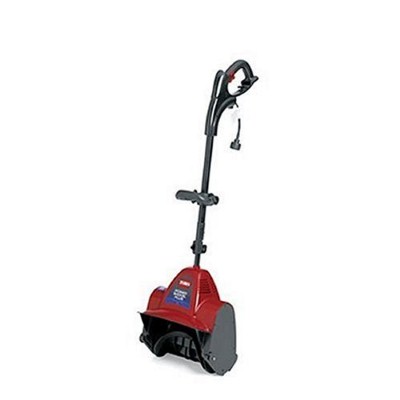 To see Toro this far up the list is surprising, and just goes to show how tough the industry has gotten over the years. They are still considered one of the top American brands in the industry, with the 38361 considered one of their top products.


Expand to see more
Good Clearing Capabilities

In a single pass the unit can clear snow 6 inches deep and make a 12 inch wide pathway. Considering the low 7.5 amps, that's some impressive power.

Features and Specifications

Weighs only 12 ½ lbs.
Adjustable metal telescoping handle

Cost and Value

This is a high priced electric snow shovel, but one that comes with rust resistance and a 2 year warranty. Just based on the brand alone you'll get your money's worth with the quality guarantee.
Handles like a dream even in heavy conditions
Clears 300 pounds of snow per minute
Comes with a 2-year warranty.
This product can make a 12-inch wide pathway in seconds.
8. Homegear ZESB-2000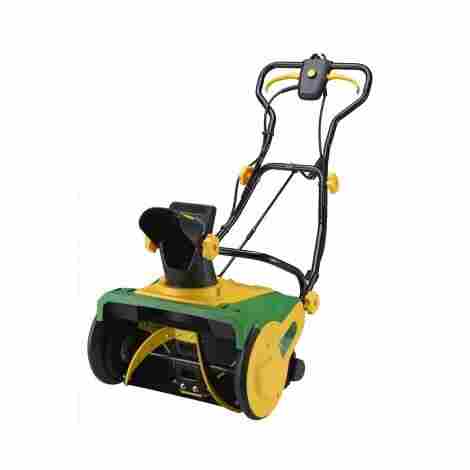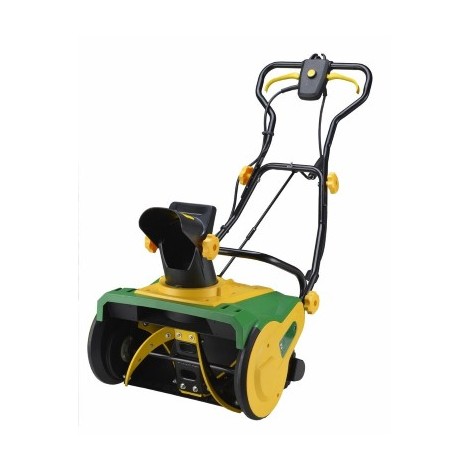 Homegear decides to be the jack of all trades with this high powered model, and trounces a good amount of the competition in the process. This may not be the best in the industry but it definitely has some very original ideas.


Expand to see more
Deep Snow Cuts

At its best the unit can handle up to 10 inches of snow, which is amazing and puts it in an elite clearing category. Not a lot of the other electric snow shovels can get that deep, and many are capped at 6 inches.

Features and Specifications

120v with 13 amps of power
180 degree adjustable chute

Cost and Value

Due to it being a power product it is of course in the high price range. There are few on the list with this type of power, so the value is strong attached to how much snow you have to clear.
Can throw snow 30ft.
Is a power unit that does best on heavy jobs
Comes with 120v with 13 amps of power, which is immense!
Can handle up to 10 inches of snow.
Can be a bit hard to handle
9. GreenWorks 2600702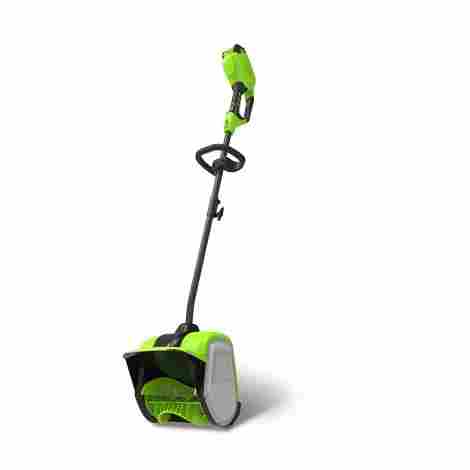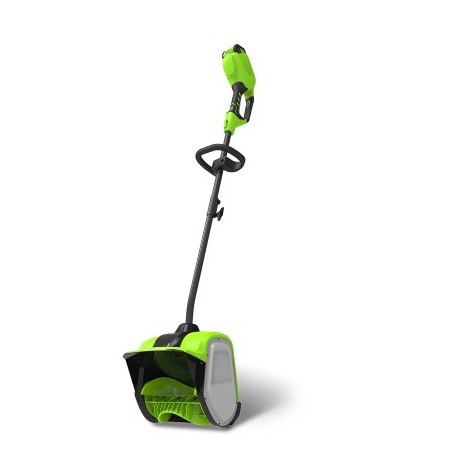 This won't be the only time GreenWorks appears on the list, but it will be one of the few times you see a cordless model. Cordless models of high quality are a rarity, so the 2600702 G-MAX is a very good choice for most customers.


Expand to see more
Lightweight Even With The Battery

The battery doesn't add any unnecessary bulk or weight the shovel down too much. This was an important feature since the selling point of the product is how light and easy to handle it is.

Features and Specifications

12 inch shoveling width
40v lithium ion battery

Cost and Value

This is one of the most expensive cordless snow shovels you can purchase, and the highest priced on this list. The value will become apparent if you already own other GreenWorks products and can mix batteries.
Can use the same batteries from other GreenWorks products
Included instruction sheet is detailed and helpful for repairs
This product is incredibly lightweight.
This comes with a 40v lithium ion battery, which is quite competitive.
Battery only lasts for 30 minutes
10. Earthwise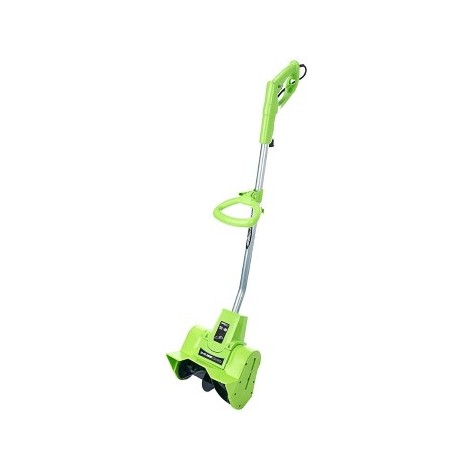 First on the list is Earthwise, with one of their bestselling models to date. It's available in green or red and gets some really difficult tasks done when it comes to clearing snow.


Expand to see more
Pricing

This isn't the most powerful or advanced electric snow shovel on the list, but it does have a lot of balanced features. Earthwise has made it one of the lowest priced units in the industry without cutting performance, and that should be admired.

Features and Specifications

9 amp motor
Clears 300 lbs. of snow a minute

Cost and Value

As mentioned before, this is one of the lowest priced electric snow shovels in the industry. Customers that don't have to worry about herculean snow tasks will find the value of this model to be exquisite.
Cuts a nice 10-inch wide path
Dual-blade curved rotor packed inside an only 11 lbs. frame
The best price on today's list.
Can handle up to 300 lbs. of snow at a time.
Struggles on big snow jobs
How to Solve the Most Common Issues with Electric Snow Shovels
If you live in the northern hemisphere and you know what's good for you, you have already started preparing for the winter that will soon be knocking on your door. It's all good and nice that you probably have enough clothes and other appliances to keep you warm during those icy days. However, if you haven't yet considered an electric snow shovel, this could be a good time to get one. If you already have one, keep reading, as, in this article, we are looking at some of the common issues that could present and how you can possibly solve them if they do.
Common issues
Ask anyone who has used an electric snow shovel and they will tell you that the majority of problems emanate from storing the power tool in a very cold area. Some of the common problems you will encounter will include handles that fail to depress, the starter failing to engaging, the engine failing to start, and impellers refusing to engage. Another problem is the belts making a noise and sometimes producing smoke when the machine is on. Like other electric tools, there is also a risk of cables breaking. And of course, the most common problem could be that you just didn't turn the machine on.
Read the manual
The first issue that will present itself is the user manual. We know that many people just don't like to read those little books that often tend to be technical. Unfortunately, it is one of the things you will need to do. Most of the manuals come with a troubleshooting guide. If you want your electric snow shovel to work well for you, you will need to know how the people who manufactured it intended it to be used.
If you find it hard to read the manual all in one go, divide it into parts and read a manageable part per day. Just ensure that by the time you start using the snow shovel, you know everything there is to know about the tool you are using. This will make sure that if it breaks down due to the fault of the manufacturer, you will still be covered by the warranty. All power tools are dangerous. The user manual also comes with safety tips most of the time.
Snow shovel refuses to start
Power tools that won't start are common. Most of the times the solution is simple: you just didn't turn it on. This is the first place you should check before you get a technician to travel halfway across your town to just come and plug the shovel for you.
Snow shovels come with a trigger switch and lock out button. In order for the machine to run, you will need to use the buttons properly. Check out your operator manual on how the snow shovel should be started. For most electric snow shovels, the machine is started by pressing and then holding the lock-out button before lifting the trigger and holding it while the machine is working.
You turned the motor on but the impeller fails to engage
Sometimes an impeller that fails to engage is frozen tight. But how do you know if it is? Listen to the belt; if it squeals or starts to produce smoke, release the handle at once. Find the area on the machine where the impeller is located. While doing all this, ensure that the gas is not leaking from the cap vent as the procedure could involve tipping the machine on its handles. If you try to turn the impeller by hand and it won't move, then your problem is emanating from a machine that is frozen.
Deal with the problem by taking the machine to an area where you can get some heat inside it to thaw. A hairdryer is a good solution for getting the heat into the machine. However, you need to exercise extreme caution as you do this as you don't want to create a fire hazard. The heat should be directed into the auger area.
If the above is not the problem, check to make sure that the belt is not damaged. If it is the belt that is damaged, your solution will be to replace it. How you do this will depend on the type of machine you have. The operator manual would usually have a section about replacing parts. It is always advisable that when you replace the parts of your snow shovel, you use parts approved by the manufacturer.
Starter spinning but won't turn on the engine
A spinning starter that won't turn on the engine could also be attributed to freezing. To make sure that this is the problem, go to the starter gear and thaw the area. Freezing in this area can also be prevented by application of lubricant.
A thin layer of snow remains behind
Another problem you will notice, especially with a snow shovel you have been using for some time, is a thin layer of snow remaining in areas that you have just finished blowing. The problem here could be a worn scraper. This challenge can be solved by replacing the scraper. Again, how you do this will depend on the type of machine you have. Visit the section on how to replace the scraper.
This is certainly not an exhaustive list of all the issues you will meet with your snow shovel. To guarantee the safety of all concerned, if you are unable to solve the issues using some of the tips we have suggested here ensure that the machine is managed by someone qualified to do so. It is always advisable to talk to the manufacturers of the machine; most of the time they would be happy to direct you to a qualified person. If it's still within the warranty, then they will repair it or give you a new machine for free if the permanent fault is not caused by you.
Criteria Used to Evaluate Electric Snow Shovels & Blowers
Areas that receive a lot of snow in a short amount of time will benefit with the use of electric snow shovels. Our criteria made a point to stress the overall product features rather than looking at a few strong areas.
Price
Price was the first criteria on our radar and was also difficult to process. Not only did we have to look at performance per dollar, but we also had to factor in the usefulness of more powerful options compared to smaller ones. A balance was found by combining the price of the product with accessories, batteries (if needed) and electricity usage. Some products turned out to be better deals than others with this method and went to the top five quite easily. This also led to some early eliminations of products that were overpriced for what they offered.
Power
Power was next on our list, or rather 'power draw' for corded products and power used for recharging battery powered products. Cord length was a partial part of our power draw criteria but only mattered when the cord length was below average. Electric snow shovels that used the least amount of power were the favored models in this category. Hybrids automatically gained the top points due to their versatility and made for an easy win with some of the higher profile choices. A key point for some of the models is that they had the same power draw even with extended usage, rather than a varying draw. For homes with weak electrical, it works much better on the outlet.
Technology
Technology was a window into the inner power workings of an electric snow shovel. So in short, technology was a way to grade battery powered and hybrid models. Corded models were left out of this criteria, but they weren't deducted points. Hybrids were the big winners (again) although there were some surprises with the battery operated models. A few were able to last longer on a single charge, and at least one had a quicker recharge time than its hybrid competitor. Snow Joe did well with this criteria and was able to move multiple products into the top five.
Throwing
Throwing is something that any customer should pay attention to. It is an often overlooked feature and was one of our top deciding criteria's. We rated products on their throwing customization, which factors in directional ability and the feet the product throws snow. A lot of the products used fixed augers in one direction. This gave directional augers much better scores on our list and favorable buys for customers that have to shovel a lot of snow. There was only a few feet difference between the major players on the list when measuring how handily the auger throws snow, the latter half of the list evened out. So how easy is it for customers new to electric snow shovels to clear an area?
Usability
Usability covered multiple things related to a first time user's experience with an electric snow shovel. Weight, instructions, and ease of use were dominant in deciding how a good portion of the list was ranked. Even well-known electric snow shovels had trouble gaining ground with this criteria. It was all about finding that sweet spot that gave users ultimate control over the product without overwhelming them with advanced options. The biggest winners with this criteria were no more complicated than using lawnmowers. Features is another category where brands like Snow Joe cleaned up. They are known for packing in a lot of user-friendly options with their products, and it worked out well for them with this criteria.
Features
Features covered rechargeable batteries, easy start systems, auger capabilities and portability. It wasn't all about having the most features, so products really had to incorporate good options into their products that were worth using. Portability only affected a few choices on the list that were considered too big to use on trips- so in this case, smaller was considered more effective.
Customer Service & Durability
When users have a problem with an electric snow shovel, both customer service and durability come into play. Two of the last criteria gave points to products that were both durable and had excellent customer service. It's not uncommon to run over something while using a snow shovel that gets caught in the product. And it is even more common for corded products to get chewed on by animals if they're left out. Even with multiple problems attacking the durability of your product, the warranty is still on your side- if it is good. Companies with average or bad customer support were taken off of the list even if their product had high durability.
Even if an electric snow shovel goes for years without a problem, a competent customer service team is still needed. Besides offering extended warranty programs and speedy service, it opens up the doors for brand loyalty. The top five of the list represents companies that scored high in durability and customer support. Even the bottom five showed some good signs and respect for the customers if something went wrong. Our last criteria were accessories, for which the choices are plentiful. It is one of the best-kept secrets with electric snow shovels, and all of the remaining choices on the list had competitively priced options. For accessories, we rated the cover and spare battery with the highest priority and ranked choices by price. The biggest purchase was always a spare battery, followed by dual chargers and a protective cover for the electric snow shovel. Even if the product is kept inside a shed, the cover is a must for any user that wants to protect a model without any surprise damage.
Difference Between Electric Snow Shovels & Blowers
Just when you think snow season is gone for good the times comes back around all too soon. When it comes to snow removal, which is best an electric snow shovel or a snow blower? No matter if the snowfall is small, large, heavy or light, removal can be a pain. Especially when it must become your daily routine over the winter months. So which do you choose? An electric snow shovel or a snow blower? Both have their perks when it comes to snow removal.
First, what is an electric snow shovel? It is a machine that is either powered by a cord or a battery pack that operates much like a snow blower, but since it is a shovel size, it helps push and thrown smaller amounts of snow. Often, the electric snow shovel is popular for decks, patios, stairs, sidewalks or small driveways. They are lighter weight and smaller in width.
Where they differ from a regular snow shovel is obviously the electrical component but also that they do not require you to lift and throw snow manually. Therefore, they are easier on your back and total body overall. Because of this, you can clear snow more easily and quickly than with a standard shovel. Where they differ from a snow blower is that they are more compact and that they do not throw as large of an amount of snow at a time. Snow blowers also require fairly regular maintenance and can be difficult to maneuver and store since they are larger and heavier in weight. The electric snow shovel can get into areas that a snow blower cannot.
How an Electric Shovel Works
An electric snow shovel functions very similarly to a snow blower, however it is easier to maneuver. When powered on, the machine turns an auger, sucking up the snow and throwing it to the side or forward out of your way like a snowblower.
You can get them with a cord or cordless that runs from a battery pack. It all depends on your needs. Cord models often run more powerful than the battery pack models. The pro of a cordless model is that it can go anywhere that you need it to, whereas the cord version is tethered to a specific length.
Generally, they are about 12-inches wide and can cut into snow roughly 6-8 inches deep. So, they are much more compact and easy to store while giving you the payoff of a snowblower without the pain points.
Why Choose an Electric Snow Shovel Over a Snow Blower?
If the are that you need to remove snow is fairly small, an electric shovel is probably the better choice. If you have a patio, stairs, a front walk, live at a condo or apartment building with little space, the compact and lightweight electric snow shovel will suit you better than a large snow blower. They are easy to maneuver and are lighter weight, which is easier on your body, specifically the back.
FAQs
Frequently Asked Questions
Q: What Happens When The Shovel Is Underpowered?
A: An underpowered electric snow shovel will cause the user to use more of their own energy to remove the snow. When that happens, it is like carrying around a regular shovel that has twice the weight. The benefits of using an electric shovel start with putting the actual work of shoveling snow into the hands of the product. An underpowered model will reverse all of the pros you get by buying an automated device. And if you continue to use an underpowered product in the snow, it will break sooner rather than later. Whenever it seems like there is a bit of a struggle when shoveling snow, ramp up the power or look for a more powerful electric shovel.
Q: Which Brands Come Recommended?
A: Snow Joe or GreenWorks packs a good punch for buyers that need a safe choice that has proven to be reliable over multiple models. They are the two most trusted companies, but the competition isn't that far off. Electric snow shovels are filed with some really good products, even from little-known manufacturers. Buyers that aren't too tied up to branding can get some really good deals on products that have a small following. Brands that have inflated numbers are also worth looking into, especially since power is a top three priority with an electric snow shovel.
Q: How Long Does It Take To Clear An Average Sized Sidewalk?
A: This comes down to the amount of snow, the model of the electric snow shovel and of course the rate of movement from the user. As an example, the average user could clear up to 300 lbs. of snow per minute with a generic 500-watt model. The power draw to actual performance is fantastic for the amount of snow it clears, and specifications get better based on the company. For models that run off on a battery, time becomes a factor if you can't finish an area before the battery needs to be recharged (or changed). But for the most part, any competent electric snow shovel should clear a sidewalk within a few minutes.
Q: Are Electric Snow Shovels Too Heavy For The Average User?
A: The average electric snow shovel is just over 10 pounds. For regular snow shovels, the weight is slightly under, usually 6-8 pounds based on quality. There isn't a huge difference when you look at the weight of the product when it isn't being used. When in use, the difference is like comparing a lawn mower to a push mower. Shoveling snow that weighs several pounds is hard work, and clearing a sidewalk of it can wear on a body of any shape. Electric snow shovels are the right weight for automating a heavy task.
Q: Are Electric Snow Shovels Better Than Battery Powered Options?
A: Battery powered snow shovels have their perks; you can take them anywhere, there is no chance of burning out a circuit and the batteries maintain a good charge. But in order for them to be effective, you need two batteries. With only one battery owned, users will have to wait for it to charge before they can continue clearing out snow. Two is the minimum amount you need to make a battery powered snow show effective, and they aren't always cheap. So with a model of this type, a bigger upfront investment is required to get the full experience. It's a good choice but doesn't make it any better (or worse) than a regular electric snow shovel.
Q: Are There Hybrid Models?
A: Hybrid models are available that utilize both battery and electric power during a session. Having the option to use either is a big benefit, and is helpful for buyers that have larger areas to cover. This is a great alternative to buying a second battery for a battery only model. Not enough companies offer hybrids, so buyers will have to look at what's available based on performance and price. It's a little confusing at first since there really is no 'average' price for hybrid models, so your best bet is to look at hybrids as top tier with a 10% premium.
Q: What Happens If Too Much Pressure Is Applied?
A: First-time users of electric snow shovels should read the manual for operation instructions. A better bet would be a video on operation that shows the dos and don'ts of operating an electric snow shovel. The top mistake new users make with their new machine is not letting it do the work. Electric snow shovels are made for light work from the user end, so applying too much pressure from your end can break the machine. Put enough pressure on it to get the job done, and anything more is considered risking the product or wasting energy.
Q: What Is A Good Price For An Electronic Snow Shovel?
A: There is no set price for an electric snow shovel, and going by price alone will only lead to getting a bad product. They aren't expensive by any means when compared to other automated house appliances. On price alone, electronic snow shovels can't be judged since they all have different features. One product may specialize in industrial work, so will be expensive. But then there are the residential options that will be priced lower. Pricing is on the low part of priorities with electric snow shovels, so don't overlook the better products available in the industry.
Q: Are They Easy To Use?
A: As long as the directions are followed, electric snow shovels are easy. The only part that takes some getting used to is the direction of the thrower. Some models allow you to adjust it while others settle for a fixed position. It's a minor feature since the most important part is how far it throws. Getting used to the operation of the product takes little time, so for most users clearing out their sidewalk can be done with little effort.
Q: How Long Does It Take For The Battery To Recharge?
A: Even rechargeable lithium batteries take a while to recharge, so buyers should always have a backup battery. Some companies have better charging solutions than others, so don't get surprised when one battery charges in 2 hours while another brand takes 1 hour. Additionally, batteries for electric snow shovels last just under an hour, with times averaging between 40-52 minutes at full charge.
Q: Are Gas Units Obsolete?
A: No, but they do tend to cost a lot more the longer you own them. Electric snow shovels take the extra costs out of owning a unit that is meant to work for you, and not the other way around. Gas snow shovels can be expensive options if you have a lot of snow, and they send toxic fumes into the air.
Q: Should You Purchase An Extra Battery?
A: It depends on how much snow you need to shovel. For some customers, this is not an issue since they own products from the same company and can mix and match their batteries. So if the cost of batteries is keeping you away from a product, try to see if the rest of your tools use the same battery as your electric snow shovel.
Q: Will An Electric Snow Shovel Break Down Over Time?
A: Yes, but that is normal for any electric product. The good news is that they will last longer than their gas counterparts and tend to be more efficient with their energy consumption. Maintaining an electric snow shovel is easy and guarantees years of effective shoveling.
How To Make The Best Decision
Corded or cordless? Power or portability? If you can answer these questions, then the decision process gets a lot easier. The power question is important since heavy jobs will always default to using a corded electric snow shovel. Portable units tap out when handling heavy jobs, so sometimes owning a cordless and a corded unit is a good idea.
Sources