Best Massage Sticks Reviewed & Rated for Quality
In a Hurry? Editors choice: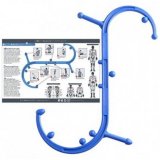 Test Winner: Body Back Buddy

Massage sticks come with all sorts of benefits, many of which are relatively unknown. There is the obvious benefit of helping to loosen up your muscles, but what is really going on in that process? When you roll out your muscles before a workout, you are helping them to warm up. Blood flow increases and when there is good blood flow, things just work better. You are able to heal better, recover better, and flush out by-products that will leave you sore and achy.
Standout Picks
Criteria Used for Evaluation
Style
Which Model is for You?
While many of these models follow a similar structure – longish stick form with several independent, hard rollers along the length of it, you do have different options that each come with their own set of pros and cons.
First off, there is the option of an S-shaped or Cane shaped massage stick. The ones featured here have several different knobs at varying lengths that really help to get into any position you need them to be. Have a stubborn knot on the back of your shoulder blade just out of reach? Does it really need direct, prolonged pressure and you don't have anyone to provide that? Enter: one of these sticks. They are easy to use by yourself and truly allow you to provide a thorough and adequate massage with no help from anyone else. However; you cannot roll them and they can be a bit cumbersome to take with you.
By far the most popular option is the straight roller option. Typically these have either a hard plastic or steel core so that they maintain their straight structure. They also tend to have a number of hard rollers that move independently of one another along the length of them. The number varies based on how long the stick is. These can give you all the benefits mentioned above and will serve you well for a long time, but can be painful to use and definitely come with a learning curve. Once you've mastered the art and figured out how to roll it over your back and neck, you will never go back to the days of not rolling out tight muscles.
If you aren't super interested in small hard rollers, there are other options that have a similar structure. For those looking for maybe a softer option that won't grab onto hair or have the potential to pinch your skin, there is the Tiger Tail. It provides a nice compromise between a foam roller and a stick by having a hard foam surface in place of small rollers. There is also the option of spiky balls like is found in the Gaiam model. It has three separate nodules that have spikes on them. They roll much like the smaller, flat segments do but provide that much more ability to really get down and work out the deep fascia.
Finally, there are also electronic options. The big hold up here is the price, but if you are willing and able to dish out the money required you won't regret it. The one mentioned here comes with interchangeable heads and offers nearly all the same benefits you would get from a standard manual version – but is powered by a battery, not by you. It allows for more of a massage and can really be customized to your liking.
Effectiveness
Massage Stick vs. Foam Roller
There seem to be two distinct sides when it comes to rolling out your muscles. Those options are the foam roller and the massage stick. Both come with their own advantages and disadvantages and which one you purchase really depends on your personal preference.
Foam rollers are large and don't travel well. They need to be used against a wall or the floor as there are no handles or the ability for you to really get the pressure you need otherwise. While they are amazing for large muscle groups, they don't perform as well on things like your neck. However; they are softer and can offer a less painful rolling session while still giving you the benefits of increased circulation and tightness relief.
Massage sticks are much smaller and are easily stored in your gym or travel bag. You use them with your hands so you can push as hard or soft as you like. You don't have to use them against anything, but could if you wanted to. They can be used in the shower if desired and easily wipe clean. However; they are harder, can cause a little more pain while getting used to using them, and can be hard to get to hard to reach areas in your back.
Ease of Use
How do I use this correctly?
This will vary based on which specific stick you get but is an important thing to take into consideration. You want to be able to get the most out of your massage stick and if you don't have the means or ability to work it properly, then you should look into a different style.
An S or cane-shaped stick is fairly easy to use for those of all shapes and sizes. The crook allows you to reach harder to get to spots on your back and pull back for pressure to help ease tension. They are relatively user-friendly and come with good instruction manuals.
A standard straight stick is powered only by the force with which you possess. This is great in a way because then you are completely in control, but could be less than desirable if you don't have the strength it takes to really roll out your trigger points. They can also be used with someone else's help, which will eliminate that issue, as long as you know someone willing and able.
Finally, battery-powered ones possess the ability to reach deep and massage hard. They really take the idea of self-massage up to a whole new level. They often come with interchangeable heads as well and well-written instruction manuals that you should be sure to follow.
10 Best Massage Sticks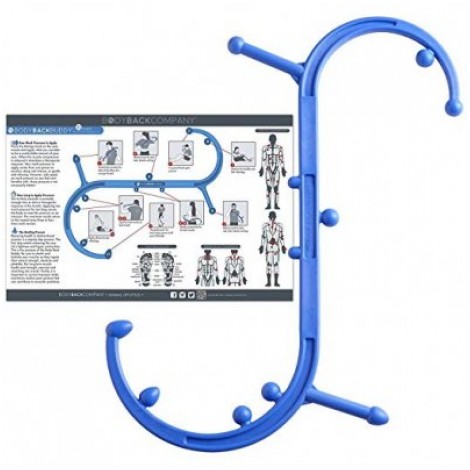 There is a reason that this massage tool is ranked #1 on our list. It fills the rolls of several different tools in one and has helped hundreds of thousands relieve their back pain. It is sturdy and strong and will be backed by chiropractors, physical therapists, and massage therapists alike. You will be hard pressed to find a better massage tool than this one.
Unique Design
This tool is shaped like an S. It has eleven therapy knobs that are placed in a way that you can access every single spot on your whole body. It can help with trigger points, back spasms, and muscle knots. It even comes with a 12-page complete instruction book so you know how to best relieve any issues that you may have. It is perfect for deep tissue massages, myofascial release, and trigger point therapy.
Made in the USA
Every inch of this stick is made in the USA - which is not something many of its competitors can claim. It is toxin-free - no BPA, TBBPA, and PBDE free. It is made of polyurethane that is high density and lives up to the highest standards of health and safety. This unit is hypoallergenic, is guaranteed for life, and is earth conscious.
Cost and Value
If you are needing a fully functional massage tool, look no further than this one. It is very affordable, will last you for a very long time, and won't break the bank in the process. Your entire body will thank you for this purchase.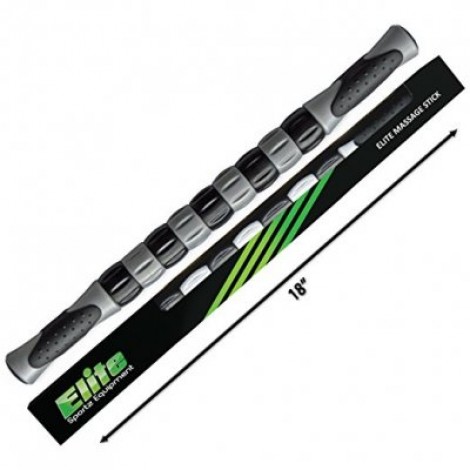 This massage stick is compact, effective, and easy to take with you anywhere. It will help prevent cramps, target sore muscles, and help to relieve muscle tightness. After using it for only about 5 minutes you will be able to feel the difference and release in pressure. It rolls smoothly, is easy and comfortable to hold, and won't grab onto your leg hairs as you are rolling it along.
You are the Boss!
As this tool is self-controlled, you are completely in control of how hard or soft you use it. Rolling out your muscles is not a painless process and this allows you to adjust according to your pain tolerance. Controlling the pressure allows you to control the pain, and ultimately allows you to help lengthen and stretch out your muscles at your own pace.
Good for Use Anywhere
Because it is nice and compact, it is incredibly easy to use just about anywhere that you are. You can use it on the field, in your car, on the couch, or in your backyard. Anywhere that both your leg and the stick fit you can be working your muscles. In addition, there is a website given on the packaging that will send you directly to videos on how to most successfully use this tool.
Cost and Value
This massage stick is very affordable. The relief that you feel compared to the price that you pay makes this tool more than worth the money you will spend. In fact, you'll be sad you didn't sacrifice a few fancy lattes a little bit sooner to get your hands on one of these.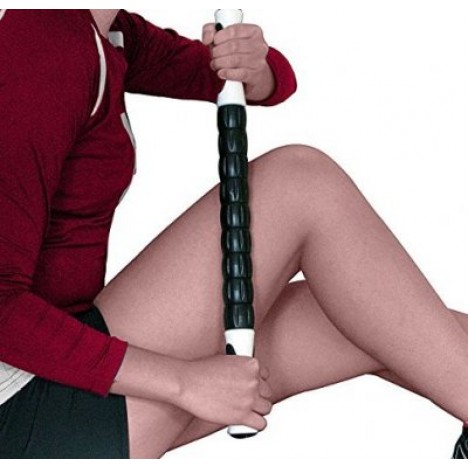 This wonderful tool is portable, relatively easy to use, and will allow you to pinpoint virtually any point of tension on your body. Everyone can use it and it works great before and after any workout. It will help to prevent injury and comes with a 100% satisfaction guarantee.
Myofascial Release
There almost isn't a part of your body that won't benefit from using this self-massager. Your glutes, IT band, hamstrings, calves, hip, quad, arm, neck, thigh, and back will all love you for owning one. It helps to reduce tension, improve circulation, get rid of tight knots, and helps to increase flexibility and mobility - all great things.
Portable
Are you someone who travels for a good workout? Maybe marathons, soccer tournaments, or any other sport? Well, this is about to be your new best friend. It easily fits in a carry on or a sports bag and can go with you wherever your adventures take you. There will be no sore muscles beyond what you can or should bear and you'll be able to adequately take care of your body after that big race.
Cost and Value
This massage stick is very cheap. You'll hardly notice the difference it makes in your pocket, but you will absolutely notice the difference it makes in your comfort and ability to have high-performance levels. It is a purchase you will be glad you made.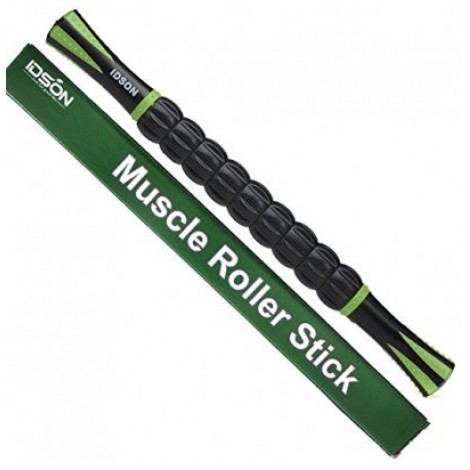 This convenient and incredibly helpful stick will really help to ease your muscle strain and pain when used before and/or after a workout. It is 17 ½ inches long, 1 ½ inches wide, and weighs in at only 9 ounces. It is great to throw in your bag and go and is even water resistant.
Sturdy Construction
Unlike others on the market, this roller has a steel rod on the inside which really goes a long way in preventing any bowing that is seen when that element is not included. It has and polypropylene and thermoplastic rubber handles so that you can really get a good grip on it and the 9 rollers are each independent of each other.
Expert Recommended
It's not just your fellow athletes or weekend warriors who love a good rolling stick. They also come highly recommended by chiropractors, massage, and physical therapists alike. Since they are so effective at relieving muscle tension and helping with recovery, they really go a long way in helping each respective professional do their job and do it well.
Cost and Value
Considering that this massage stick comes with a steel core, is likely to last longer, and not bow it is well worth its price. The price is low enough in fact, that is is low end on this list anyway. If you have superhuman strength or just like to roll your muscles out with a bit of force, you would do well to purchase this one that is just a little sturdier than some of the others you will find.

5

. The Muscle Stick Original


This stick features a stainless steel core that stretches from end to end, smooth rollers, and is great for those new to rolling because it offers moderate penetration and won't cause too much pain. It is guaranteed to not squeak, break, or bind. It serves as an excellent alternative to stretching and will ultimately help up your game out running or in the gym.
Color Options
A rarity in massage sticks, you get to choose your color with this one! It comes in a variety of colors, one of which is sure to strike your fancy. There is something about being able to customize something just a little bit more and choosing your color will allow you to do that.
Hygiene Matters
Because all the rave is usually about how great your muscles will feel when you use a massage stick, not a lot of thought is given to the fact that it is also much cleaner than a foam roller. You won't be rolling all over the gym floor, or any floor for that matter. Plus, it is a lot easier to clean a stick made of plastic or something similar than it is foam - which is much more likely to absorb germs and dirt.
Cost and Value
This stick comes at a marginally higher price than others on our list. However; it does have a stainless steel core which is extended from end to end. That makes it a little higher quality of a product and is likely to last you longer than most. You'll get more use out of this one and it'll stay straighter for longer. It absolutely lives up to the price tag.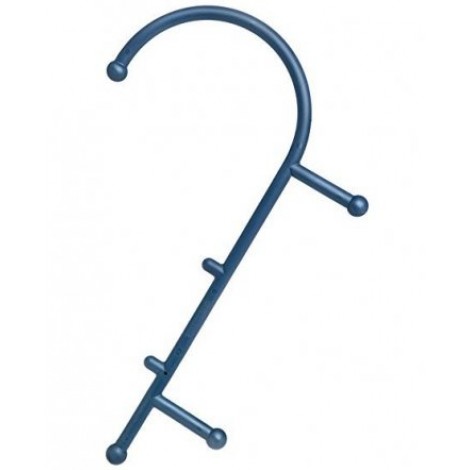 This massage stick is unlike the others we've seen here. It's called the Thera Cane because it is literally shaped like a cane. It has various protrusions of different sizes and lengths to really help you get to all the hard to reach areas on your body. It is 24 inches tall, 15 inches wide at the cane, and an inch in diameter.
Unique Design
The unique cane design found here really helps to up your solo massage game. Straight sticks just aren't nearly as good at getting those hard to reach spots. But, this one will allow you to reach those. The cane has six different treatment balls that will enable you to reach and work out even the toughest knots in the middle of your back that you couldn't dream of reaching by hand.
Multipurpose
This massager is great for different reasons. It is awesome to use after strenuous exercise to help yourself relax, but it also comes in incredibly handy when you have tough knots or feel uncomfortable and don't have anyone who can help you fix the situation. It's great for post workout and for a nice, evening massage.
Cost and Value
More intricacies means more time, effort, and supplies which ultimately means more cost. While this one is more expensive than many on this list, it isn't that much more expensive and more than makes up for the cost in the massage capabilities it delivers. When you spend your money on the Thera Cane, it is money well spent.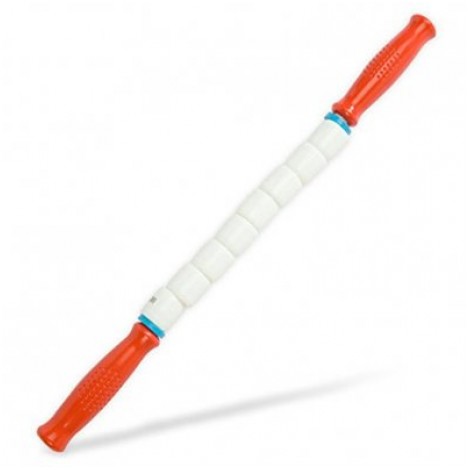 Almost all straight, massage, rollers sticks are compared to The Stick at some point. Because of that, The Stick can be considered the industry standard. This version is the Travel Size one, which means that it is portable and smaller than most. You can roll out your muscles on the fly, feel good, and improve flexibility all at the same time.
Design
The travel size Stick is smaller than most and rings in at only 17 inches long. Don't think that reduces its effectiveness though. It is small but mighty. There are spindles that surround the rod in the center and they each roll independently. The grips are super comfortable and the space-age plastic that it is made from allows for just the right amount of flexibility.
Oh, the Benefits!
The benefits you will see from using The Stick are almost endless. Endurance and flexibility will improve, you will be more able to prevent muscle injury, quickly prepare your muscles for activity, and really help speed up muscle recovery.
Cost and Value
The construction here is such, that as long as you take care of The Stick, it will last you forever. That means the small price you pay initially seems even smaller since you shouldn't have to replace it anytime soon, or ever even. It is in the top half price wise, but the difference in price between the cheaper options is minimal.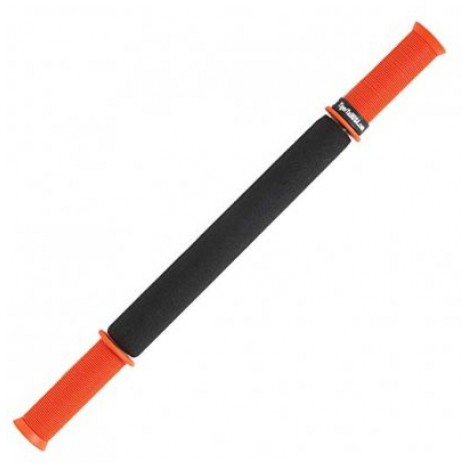 This roller is unlike any other on our list so far. It is a stick, like many of the others, but instead of rollers, it has one smooth foam in between the handles. This allows for a gentle, but effective massage that won't hurt, pinch, or pull. It is recommended by athletes at all levels, their trainers, and is very likely to be found in nearly every locker room.
Ergonomically Designed
The foam found here is firm and effective. Because it is all one piece, it delivers firm and even pressure all the way through, which really helps to increase recovery and reduce pain - without causing any pain in the process. It will keep your hands and fingers comfortable and capable while you are getting your tight muscles to the same state.
Comfortable, Gentle, and Effective
A lot of the issues that people have with massage sticks go back to the fact that they are painful to use. It HURTS to roll that thing all over you. The plastic can be hard and your hair and/or skin can get pinched between the rollers, but, that is minimized here with the Tiger Tail. It is a stick with a foam covering, which makes it less painful. There is no pinching of anything, just smoothing out and working muscles, which can still be painful, but not nearly as bad.
Cost and Value
Considering that this is the go to stick for many professional athletes, personal trainers, and the like you really are getting a steal for what you end up paying. It is mid to high range compared to others on the list, but is still largely affordable and won't cost any more than a cheap workout shirt. The benefits you will reap are more than worth the cost.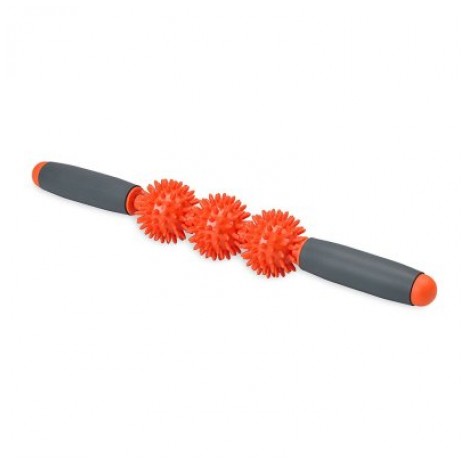 This is another somewhat unique roller. Instead of flat segments, this one features three spiked ones. They really help you to get a deeper massage than your standard massage stick. Trigger points and muscle pain, including that of restless leg syndrome, will be greatly relieved when you use this roller through increased circulation and tissue stimulation.
Pinpoint Your Massage
This stick will really help you to pinpoint your massage. The spiked nodules will really get in there and target deep muscle tissue. Because it is easy to hold and use by yourself, simply roll out the painful area and really get into it because the spikes allow you to do so. Pressure points don't stand a chance when you own this.
Compress and Stretch
All of the sticks on this list claim, and to some extent, compress and stretch your muscles. Each one does so in its own unique way depending on the shape and style that it is. This one seems to do that extra effectively because the nodules will really break up the knots and pressure points. You will experience better circulation, tissues will be stimulated, and stress levels will be eased.
Cost and Value
This massage stick actually comes to you at a very small price. It is one of the cheapest listed here and will very effectively help you with your massage needs. You will be more than pleased with the small amount of money you spend and the positive difference you feel in your body after use.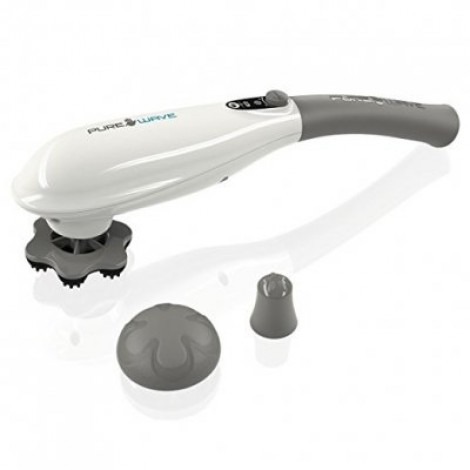 If you just don't have it in you to manually give yourself a massage using a stick, or you don't want to stomach the pain that is often associated with a roller, there are other options. One of the best of those options is this battery powered Percussion Massager made by Pado. It will give you all the relief you need, is easily recharged and is portable enough that it can be taken all of the same places as any other massage stick.
Battery Powered
While battery powered does mean you have to charge this unit, it is well worth the small amount of time that it takes to do so. It charges quickly and the battery lasts over the course of a couple weeks if used sparingly but will last 180 consecutive minutes if you need it to. This also removes the need for you to supply all of the power. That is a common complaint with manual rolling sticks that is not an issue here.
Interchangeable Heads
Sometimes your massage needs on a particular day are different than they were yesterday or will be tomorrow. No worries here, this massager comes with three different heads to suit your needs in that moment. There is a 6 head stick that will help to speed muscle recovery and restore flexibility. There is an air cushion stick that offers a much gentler feel - more like a Swedish massage. Finally, there is a point stick that is great at getting trigger points.
Cost and Value
You will end up paying way more for this massage stick than any other on this list. That is largely due to its features, which are absolutely worth it if you are looking for just a bit more. This unit has a powerful battery and can give different massages just by changing out the heads. If you really want an experience more like that you'll get from a real massage, then this is the answer.

Subscribe to our Newsletter