Best Under Armour Sports Bras Reviewed & Rated for Support
In a Hurry? Editors choice: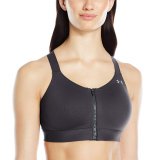 Test Winner: Under Armour Eclipse High Impact Zip Front Sports Bra

There are the durable, there are the comfortable, there are the powerful, and then there's Under Armour. When it comes to top quality
sports equipment
and clothing, Under Armour has pretty much everyone else in the game beat. Their
shoes
are faster and provide more support. Their
pants
breathe excellently while still retaining their tight nature. Their shirts wick off any sweat and keep a nice cool breeze running through you. So, what do their sports bras do? All of the above. And more. Under Armour does a lot right, and we mean a lot, but their sports bras are where they're really famous. Sure, there are other clothing lines in the sports outfitting business that do things better than Under Armour in specific areas, but Under Armour has them all beat in sports bras.
Standout Picks
Criteria Used for Evaluation
Comfort
All of these sports bras are designed with women's comfort in mind. Now, all bodies are different, so some styles might fit and feel better on others, but for the most part, we are confident in saying that we chose this whole list because they are comfortable to wear. Some of them are lighter weight material and breathe better, while others feel very durable and hold everything in. Whichever comfort level you prefer, check out this list.
Fit
No sports bra is going to fit every woman who needs one, that's just not how clothes in general work. Women have different bust sizes and differences between even those same bust sizes, all of which need their own sports bra to address. But despite this, there are overlaps that you can make. Sports bras are, after all, fairly stretchy and flexible, able to be stretched out to meet what would be otherwise unthinkable for any other kind of bra to handle. Which, of course, makes this somehow trickier. We ended up having to alter our criteria for this one somewhat, instead of focusing on how many different bust sizes each entry could comfortably fit without any discomfort felt on the part of the wearer. Judging by this metric made it a lot easier to figure things out.
Support
Support is important to consider. Under Armour offers a wide variety of different level of support with its sports bras. From low impact, mid or high impact, you can find a sports bra that you need. Whether you want a UA sports bra for everyday wear, laying on the couch or getting out there and running, there's more than one for you on this list.
Style
Different styles of sports bras have different effects on the wearer, and some women will prefer one style over the other. However, we should at least go over the three different types for those still uninformed.
Racerback: This is a design you're most likely to find in sports bras on average, as this is considered the closest thing to a default setting for sports bra designs. And it's easy to see why, as the most common thing you're likely to do while wearing a sports bra is jogging, and a racerback design is perfect for that, and also other sports such as yoga or hiking.
Tank top: This is the runner up for the most popular kind of sports bra out there. These are recognizable by the wide straps on the back and shoulders, which help to redistribute weight. A tank top bra is also commonly found to be the most padded of the sports bras.
Pullover: Finally, there's the pullover bra. This one is defined by the amount of stretch they provide, which far outclasses the other two types. It's because of this stretch that the pullover got its name since it's the type of sports bra that you're meant to remove by pulling over your head.
Value
Now, this was definitely a tricky one because as we mentioned earlier, prices of sports bras tend to fluctuate with the size of the said sports bra. As such, we split up this criterion into two sections. The first was what the sports bra had to offer to justify such a price, while the other was the width of the price range itself. The typical 5 sizes, X-small to X-large shouldn't start in the single digits, and end in the triple is what we're trying to convey here.
Top 10 Best Under Armour Sports Bra
1

. Under Armour Eclipse Heather Sports Bra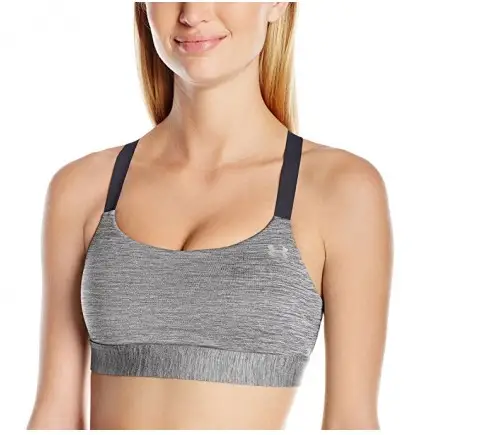 Out of all of the Under Armour Sports Bras we could find, we just couldn't put anything else but this one at the top of the billing. When it comes to comfort and support, we simply couldn't put this one anywhere else.
Strategic support
Some activities require more support than others, and some require less. This bra is meant for the middle road, medium impact activities. These activities include weight training, cycling, and boxing. These give you just enough support to do those activities comfortably, without being too restrictive.
Super breathable
The main thing to look for in a sports bra besides support is breathing. Because otherwise, your endurance is going to run out very quickly when the heat really starts setting high-quality this bra is made with high-quality power mesh lining that keeps good support while also breathing in a comfortable capacity.
Cost and Value
Like most clothing out there, this sports bra comes in varying sizes and thus, varying prices. The price range for this sports bra is actually rather reasonable, all things considered, especially when you take into account how many sizes it comes in.

2

. Under Armour Low Impact Sports Bra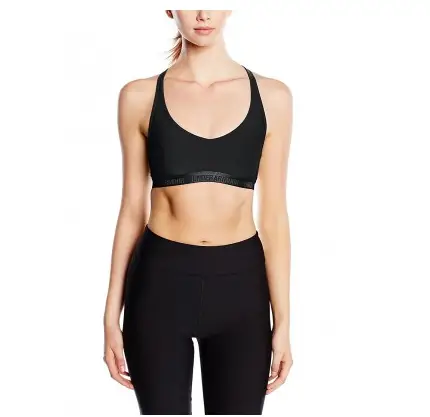 Coming in second place is the Under Armour Low Bra. Smaller chested but still need that extra support when jogging? Then this is about as perfect a sports bra as you can find. This bra is particularly good for when you're interested in low impact activities such as hiking, yoga, and pilates. So what else can this bra do? Let's find out.
Smooth double layer
The drawback for seeking extra protection is that it can make wearing a sports bra uncomfortable because of the added mass. However, we really like the in between that this bra found, managing to walk the tightrope between being multilayered and protective, while also being smooth and comfy really well. And the sweetheart neckline is an added bonus for those of you who want to get in shape and look awesome while doing it.
Ultra skinny
You'll practically feel like you're wearing nothing at all when you put this on, which may feel awkward at first. However, once you get used to it, the added sense of freedom given by the ultra skinny material and the minimalist back strap detail will make working out in this feel amazing.
Cost and Value
We go from a reasonable price range to a downright amazing price range. This is one of the fairest price ranges on this entire list, giving you one of the best Under Armour sports bras out there for a very fair sum.

3

. Under Armour Crossback Mid Sports Bra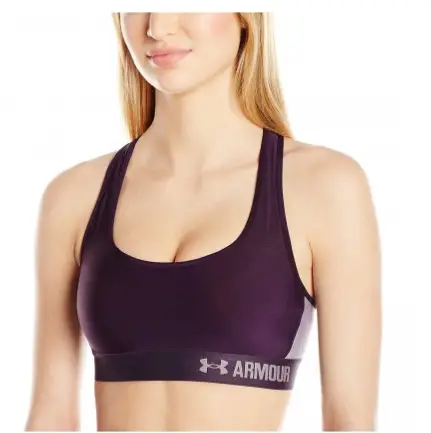 This is the design that most people think of when they think of the term sports bra. Modest in its design, while still allowing enough skin for maximum exposure to the air. However, there's a lot more going on under the proverbial hood, which we will now demonstrate.
Jacquard elastic band
One of Under Armour's secret weapons when it comes to their sports bras is the Jacquard elastic band. Like other sports bras, Under Armour's comes with a strong elastic band that keeps the bra firmly in place and supporting the bust. However, the Jacquard manages to do this while eliminating a vast majority of the discomfort the competition has to deal with.
Second skin compression
If what you're looking for out of your sports bra is compression, then this is the one for you. The compression for this sports bra is so strong, they gave it its own categorization: second skin fit. You will experience absolutely no discomfort from wearing this bra while working out, leaving you free to focus on your workout.
Cost and Value
And just like that, we go from one of the best price ranges on this list to one of the steepest, bar none. While perfectly affordable in smaller sizes, this sports bra will drain your wallet like a leech the higher in size it goes. However, regardless of which side of the spectrum you buy, you are guaranteed to get what you pay for.

4

. Under Armour Eclipse High Impact Sports Bra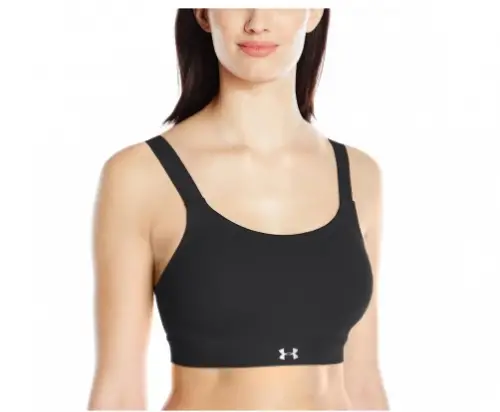 Whereas other entries were all about more casual activities such as boxing, yoga, pilates and so forth, this, as the name implies, is a high impact bra. This is not one for lounging around, this is a sports bra that expects to be put through the wringer when you use it. So, with that said, let's look closer.
Full zip front
While many love sports bras for the fact that you don't need to wrestle with an obnoxious clasp and can just pull the thing up over your head and be done with it, others find that annoying in its own special way. Which is why many sports bras deny either approach and simply go for a full front zipper that can be reached with ease.
Built in cups
Of course, for a sports bra that's meant for such heavy duty workouts, it makes sense that you would need that extra bit of support. Which is why this bra sews in the cups into its material, allowing for that vital extra bit of control and support when working out.
Cost and Value
High impact sports bras have a nasty habit of costing way more than their lighter duty counterparts, which only makes sense. This bra is made from higher quality material and has to include features that make it more durable. Of course, the price range for this one is higher.

5

. Under Armour Strappy Sports Bra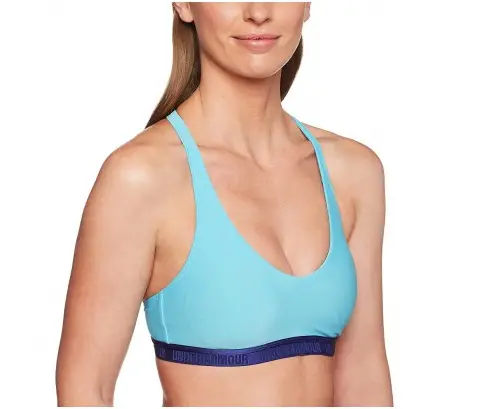 Dialing things back a bit, we return to low impact sports bras, meant for lighter duty activities. And while that means it's nowhere near as durable and supportive as the previous entry, it also means it's cheaper and has room for more creative implementations.
HeatGear fabric
Like the previous lightweight sports bra on this list, it manages to find the right balance between smoothness and comfort and double-layered protection from the elements. But where this one diverges is through its use of HeatGear fabric, which despite its name, makes the fabric feel lighter and thinner than it actually is, delivering a superior breathable feeling.
Removable cups
The difference in how lighter duty sports bras handle their cups compared to how the heavier duty ones do so is that the cups on the lighter duty ones are removable. This brings with it many perks, not the least of which being that if you don't need to exercise but want to wear it for the comfortable fabric for a long plane flight, you can just remove the cups and enjoy it for what it is, without nearly as much restraint on the bust.
Cost and Value
While the price range for this bra is much, much fairer than the previous entry, that is not a hard hurdle to cross. So, if you need this sports bra in larger sizes, you'll end up still paying quite a bit for the privilege.

6

. Under Armour Seamless Streaky Sports Bra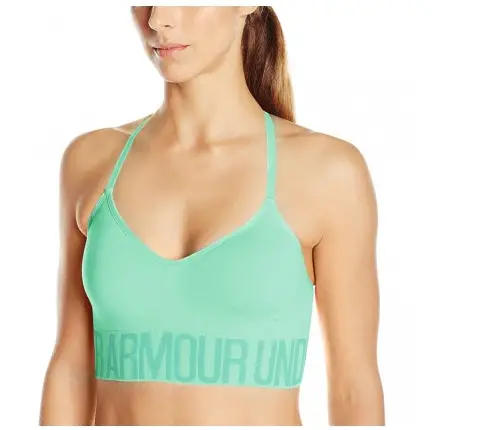 This is the kind of sports bra that you're likely just to put on even when you aren't doing anything that day and just wear it around the house. This is incredibly comfortable to wear a sports bra, whether you're on the treadmill or on the couch. Now let's find out why that is.
Adjustable back
One of the main contributors to discomfort when wearing a sports bra is the back. Most sports bras go for the wire strap design for the back of their bras, so when you do so, it's best to make sure that those wire straps don't dig into the wearer's skin while they're jogging. Fortunately, if the straps of this bra are giving you trouble, don't worry, as they're completely adjustable to fit your comfort level.
Soft, removable cups
The cups on this bra are much softer and easier to deal with for long periods of time than those of other Under Armour Bras, however, even if you still don't really like light-duty can be removed like all light-duty sports bras. So, between this and the adjustable straps, this is a sports bra that's specially designed to be adjustable to fit your comfort.
Cost and Value
While still pricey, the price range on this sports bra is actually a lot more reasonable than the last one. While you'll still end up paying a good bit, it isn't an unreasonable amount on either end.

7

. Under Armour Eclipse Low Impact Sports Bra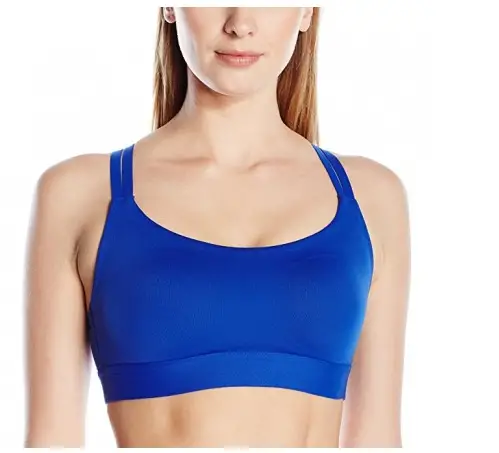 This is, as the name implies, the opposite end of the spectrum from the Eclipse High Impact Bra. When it comes to sports bras by Under Armour, the Eclipse line is definitely one of their best, and this is one of the finest examples of that fact.
StudioLux fabric
Just because you're wearing these to work out doesn't mean you shouldn't feel as comfortable as you can be while doing it. Which is why this bra is made from one of Under Armour's other secret weapons, StudioLux fabric. StudioLux fabric is one of the softest fabrics on the sports bra market right now, and yet it provides just as much support as any other fabric out there. So, if you need extra support but with a soft, luxurious feeling to boot, this is the sports bra for you.
Sweat wicking
This is the most important thing for any sports bra to get right; wicking sweat and drying. You are going to sweat your sports bra until it is sopping wet, especially those first few times where you aren't quite used to working out yet. It's inevitable, so you need a sports bra that will be able to handle it. Which is why this sports bra is made to be able to wick away moisture and dry twice as fast as other sports bras of its kind.
Cost and Value
Lo and behold, we get the first truly reasonable price range since the opening three entries. Indeed, this sports bra is incredibly affordable in its price range, giving you more than enough breathing room with the price in exchange for one of the best sports bras in Under Armour's library.

8

. Under Armour High Impact Sports Bra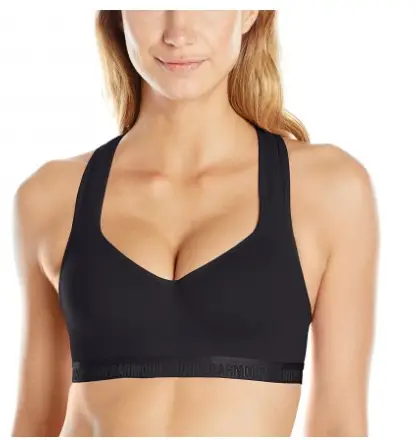 Once more, we have a heavy duty, high impact bra meant for more physically strenuous activities such as court sports, running, aerobics, and field sports. But as we go through this entry, you'll find that it has quite a few differences from the previous high impact bra we showcased. Allow us to elaborate.
Gel-lined straps
Many sports bras have various strategies for dealing with the potential discomfort that can come from the back straps of a sports bra. Out of all of them, we like this one the best. Instead of making them adjustable and hoping that makes them easier to wear, this bra lines the straps with gel pockets that are incredibly soft to the touch, making them much more comfortable to deal with. Sometimes the simple solution is the best solution.
Soft molded cups
Like before, the cups of this sports bra are built into the bra structure, as opposed to being removable, as is standard procedure for these high impact bras. But the cups for this sports bra, in particular, are very soft molded and comfortable to wear. So even though you have no choice in having cups in your sports bra, at least they're perfectly comfy.
Cost and Value
As usual, a higher impact bra is a much pricier product than its lower impact siblings. However, the price range of this high impact bra is much more reasonable than the last time around. And arguably more comfortable to wear to boot.

9

. Under Armour Breathe Sports Bra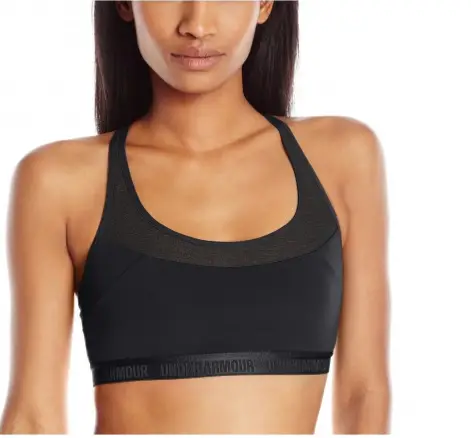 We return once more to the medium impact bras, meant for sports such as boxing or cycling. This is a sports bra dogmatically dedicated to the pursuit of giving you as much flexibility as possible while wearing it. So, it makes sense to start off with the following entry.
Enhanced range of motion
Sports bras are great for many reasons, but if you misjudge which size or even what type of sports bra is good for you, then you may find yourself unable to move as freely as you would in even a normal non-sports bra. Thankfully, this sports bra comes with a skinny strap racer back with a racerback design to make it as freeing and easy to move around in as a sports bra can reasonably be.
Low profile, stay-put fit
Generally speaking, especially for these lighter duty sports bras, you aren't looking for the tightest compression bra under the sun. You just need a sports bra to keep your bust in place, and it doesn't take a whole lot to do that. Which is why the Breathe just uses a super soft elastic band to give you a nice, stay put fit for your sports bra that won't make you feel like you're being choked around the chest.
Cost and Value
This sports bra comes in at a very average price for a sports bra of such high quality. You may have to pay something of a pretty penny if you need a larger sized model, but it shouldn't be too much.

10

. Under Armour Eclipse High Impact Zip Front Sports Bra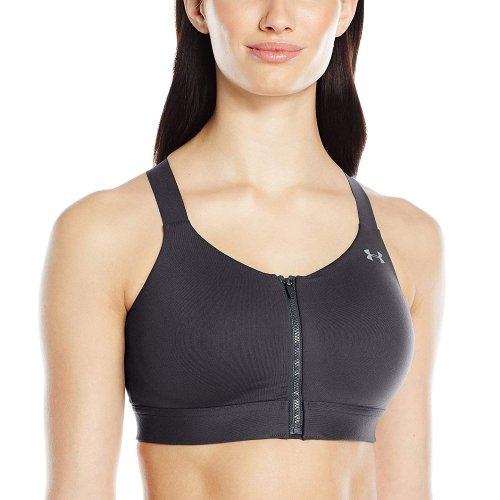 The highlight of this sports bra is that there is a zipper closure on the front. It is also a high-impact sports bra, meaning it is designed to support you and keep your comfortable throughout whatever activity you throw at it.
Zip front closure
Other than looking cool as a feature, the zipper on the front of this Under Armour sports bra is functional. The purpose of the design is to make it easier to put on or take off. With this design, you don't have to pull it over your head. This is perfect for if you want to or need to wear a sports bra but cannot physically lift your arms above your head to put it on, or if you do not want to mess up your hair. Or, if you simply like how it looks, that's a great option too.
Breathable fabric
While this bra is designed for high impact and its material is incredibly durable, it is not too thick that it cannot breathe well. In fact, this bra breathes very well. It has both breathable cups and an inner SpeedForm mesh lining that both provide all-around breathability for your comfort.
Cost and Value
This sports bra is definitely on the pricier end. But, with Under Armour, you can kind of expect that. You get what you pay for, and a good, durable sports bra is what you are going to get. So far on this list, we've seen expensive bras and some more affordable ones. It's just how it goes.

Subscribe to our Newsletter