Best BCAA Supplements Reviewed & Rated for Quality
In a Hurry? Editors choice: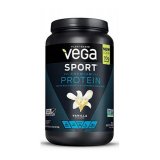 Test Winner: Vega Sport

Branched-chain amino acids (BCAAs) have became a popular supplement in the
fitness industry
today. The name comes from the fact that the amino acid is structurally branched or forked. BCAAs comes in ingredient form in supplements, recovery drinks, or as a standalone product which are seen in stores virtually everywhere.
There are exactly 20 amino acids that make up muscle tissue. There are 11 non-essential amino acids. The other 9 are essential acids that the body cannot produce on its own. They need to either come from diet or supplementation. Three comprise the BCAAs: leucine, isoleucine, and valine.
It can be a tough decision as a consumer on which BCAAs to take for top performance. For this reason, we did the work for you. We've gathered a list of our top 10 recommended BCAA supplements. Each one has a detailed breakdown; highlighting its primary ingredients and their usages.
Standout Picks
Criteria Used for Evaluation
Brand
Product brand is an important factor when looking for a BCAA supplement. When considering what brand to look for, think about what you want out of the product. Are you interested in choosing a reputable brand that is affordable? Are you looking for a formula that comes in a good flavor? Or perhaps you are on a restrictive diet and you need a brand that supports that. You will want to choose a high-quality brand that will offer value. Stay away from BCAAs that has less unnecessary ingredients with no nutritional gain. Once you have these answers, then you look for a supplement that has the 3 essential amino acids ( leucine, valine, and isoleucine) for the best results.
Potency
The most important times to take BCAA's are before, during, and after training. When looking at the ingredients, it is best to opt for supplements with a 2:1:1 ratio of leucine to isoleucine, and valine. There are brands that will increase the ratio to favor one essential acid over the other. However, the 2:1:1 ratio is effective to increase the energy needed for performance and decrease the amount of fatigue during and after intense workouts.
Ease of Use
Having options in BCAAs choices can have a benefit. There was a time that trainers consumed BCAAs only by taking capsules during and after training. And some still do. You were able to take them on the go. Having the option to now choose BCAAs in powdered form allow easier digestion. BCAAs powders are faster absorbed into the bloodstream. Having both options give people a choice of preferring one over the other in terms of ease of use, taste, and convenience.
Effectiveness
Reaching peak performance during a workout is of utmost importance regardless of what your fitness goals are. If you are a trainer or an athlete, BCAAs will help you during a workout or competition. They have been proven to be a performance enhancer and are a great energy source for working muscles. Not only do they help with the body's energy, they enhances fat oxidation. This allows people to train harder for longer periods without getting fatigued.
Responsiveness
The responsiveness of BCAA supplementation predicates on a few factors. If you consume lots of protein, results may be limited. If you are obese or thin, follow more of a dialed in re-comping approach by dropping small amounts of fat and adding small amounts of muscle at the same time. The response time is almost immediate when taking BCAA supplements; so taking them just before a workout is recommended. With most BCAAs, the effects are usually felt in 30 minutes when the amino acids hit the bloodstream.
10 Best BCAA Supplements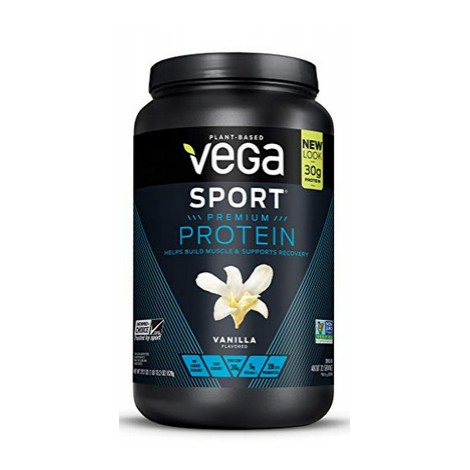 Since 2001, Vega has been the leading force behind plant-based natural health and performance products. Vega Sport protein powder is filled with quality ingredients that caters directly to the vegan diet. Vega's brand's mission is to lead by example while promoting their passion for plant-based nutrition through consumer awareness. The Vega company offers non-GMO verified products that does not contain preservatives or artificial flavors. Vega Sport protein powder is an alternative to traditional animal protein. Comprised of natural ingredients, this powder is easy to digest and is low in sugar. It is perfect for use in smoothies and protein shakes.
Effectiveness
Vega is one of the largest plant-based protein powder brands out there. Every ingredient that goes into their products is there for a reason. Vega Sport protein powder is made with premium plant-based ingredients for building muscle. Vega Sport Protein powder contains a high amount of leucine which aids in weight loss while sparing muscle mass. Isoleucine promotes muscle tissue repair and boots up the energy level in the body. Valine helps to stop the breakdown of muscle by providing glucose for energy production during intense physical activity.
Plant-based Ingredients
Vega Sport Protein Powder contains 2700 mgs of leucine, 1600 mgs of isoleucine, and 1700 mgs of valine. You get 30 grams of plant-based protein, 2 billion CFU of probiotics (bacillus coagulans), BCAAs, and tart cherry to support recovery consistkout.
Other ingredients consists of plant-based protein made from organic pumpkin seed protein, pea protein, alfalfa, and organic sunflower seed. Vega Sport is Non-GMO, gluten-free, Project verified, certified vegan, and Informed Choice certified for sport. It contains no artificial sweeteners, colors, or flavors.
Cost and Value
Vega Sport protein powder offers value if you are specifically looking for a plant-based BCAA supplement. If you are not happy with your product and if it was not purchased as a promotion or a final sale offer, simply fill out a form and email it to: [email protected] within 30 days of purchase. Vega Sport does not offer refunds or exchanges on an expired product or a final sale. If you have questions contact their customer service at 1.866.839.8863 and their Customer Experience Team will assist you.

2

. Optimum Nutrition Amino Energy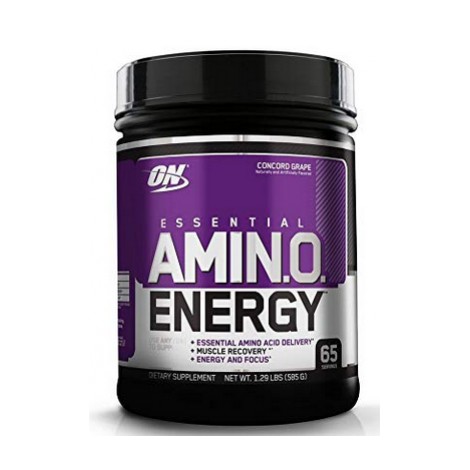 Optimum Nutrition Essential Amino Energy is a mix of amino acids. It gives you just enough BCAAs which helps with nitric oxide production, increased energy during a workout, and muscle recuperation. It is available in multiple flavors so you can find just the right one that will suit your taste preference!
Natural Caffeine
The company's leadership focus is on being recognized as the best in developing quality products. Optimum Nutrition energy blend is manufactured with 160 mgs of caffeine that comes from natural green tea and green coffee extract for a boost of energy needed to get you through a strenuous workout. Optimum Nutrition takes pride in making sure that their supplements meet their high-quality standards. This supplement comes in well over a dozen different flavors and helps provide you with the mental focus you need to get through the day.
Benefits
Optimum Nutrition cares about crafting their award-winning supplements as their consumers do with crafting their fitness accomplishments. Some benefits of this supplement are increased energy, increased muscle recovery, and increased nitric oxide. Some users have stated that the caffeine ingredients in it has caused them to stop drinking coffee. You get 5 grams of amino energy with this product. Two scoops has 10 calories and 2 grams of carbs.
Optimum Nutrition Essential Energy does not specify how much per ingredient of valine, isoleucine, or leucine it contains. Other amino blends include; micronized taurine, glutamine, arginine, beta alanine (an ingredient that helps with intense workouts for a short amount of time) histidine, tyrosine, threonine, phenylalanine, citrulline, lysine HCl, and methionine. Energy blends consist of caffeine anhydrous, (a potent powder form of caffeine) green tea leaf, and green coffee bean extract.
Cost and Value
This unique formula is perfect for any time of the day - not just during workouts. This is an added bonus compared to some energy blends that can only be consumed during workouts. If you are not satisfied for any reason, Optimum Nutrition will only accept merchandise that is returned within 30 days of purchase. Returns will not be accepted after this time period. In addition, products must be purchased through their website or Consumer Affairs for which 75% or more of the product is unused.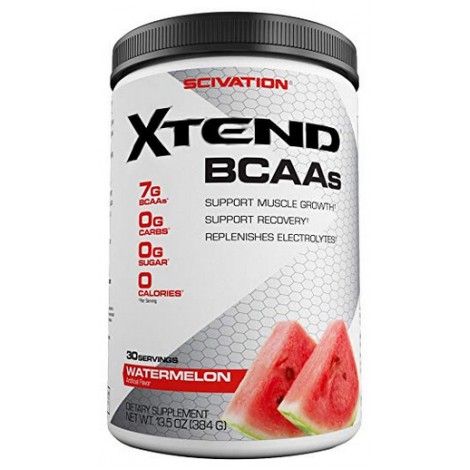 Amino acids are the key ingredients in every supplement formula and has been clinically shown to support muscle recovery, growth, and repair. Xtend BCAA powder is a mix of goal-based performance ingredients. It contains hydrating electrolytes to help repair, refuel, and recover unlike any other supplement on the market. Champion fighters, world-class athletes, weight training enthusiasts, and elite bodybuilders of varying types all use Scivation XTEND during their performances and workouts to train harder, longer, and with more intensity.
Reputable Brand
Xtend has been in business for over 10 years using innovation, science, and clinical studies for manufacturing muscle recovery supplements. Scivation Xtend is a powder blend that comes in different flavors. It is formulated to help you build and retain muscle mass. This supplement powder is ideal for extreme bodybuilders and heavyweight lifters. It has a high protein ingredient which is essential in bulking. The electrolytes in this supplement keeps the body hydrated throughout an intense workout. It works to boost energy before, during, and after a workout session.
Low Calories
Scivation Xtend supplement is mainly an aid for intense workouts. You can use this supplement along with other supplements to enhance blood flow. You can purchase Xtend powder in a variety of delicious flavors; plus its sugar and carb-free! The ingredients in it are proven to deliver the results described. It is also low in calories for people who are looking to lose weight.
Scivation Xtend BCAA Powder mix contains 3500 mgs of leucine, 1750 mgs of isoleucine, and 1750 mgs of valine. You get 7 grams of BCAAs. The other ingredients in it are citrulline malate and glutamine. Xtend boasts of their standard ratio of 2:1:1. It contains 1170 mgs of potassium chloride, sodium chloride, and trisodium citrate dihydrate. Scrivation contains additional ingredients that are responsible for its appearance and taste such as; citric acid, malic acid, red food dye, sucralose, and acesulfame potassium .
Cost and Value
If for any reason you are not satisfied with a purchase, you can contact them via their customer service number or through email for an exchange or a refund.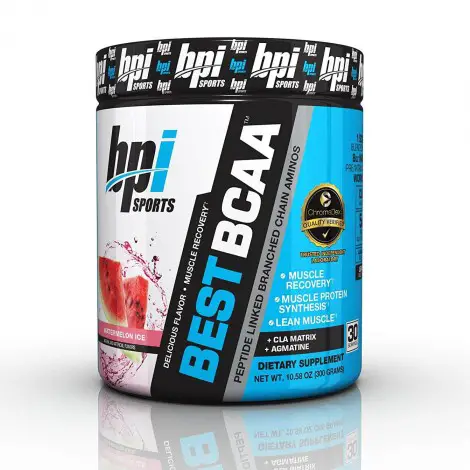 BPI Sports is located in Hollywood, FL. The company has committed to delivering the highest quality and best tasting products that allows consumers to reach their health and fitness goals. They isn't just about sports nutrition, they are also a fitness and health proprietor with a commitment to excellence. They pride on the fact that the best ingredients will result in the best nutritional products. BPI Sports formula is tested for quality and is built for results. Their company success theory is about getting the proper amount of protein in their brand for bulking or weight loss.
Increased Performance
BCAAs work wonders for athletic performances - allowing you to push your body further, lift heavier, and make the best of your time in the gym. It contains the necessary amount of building blocks and nutrients needed to obtain your fitness and health goals.
BCAA shredded works by promoting faster muscle recovery and reduced muscle soreness. It also helps to burn stored fat, preserve lean mass, and promote muscle growth. In addition, this supplement helps to prevent muscle breakdown for dieters. In all, BPI formula will improve and enhance your workouts.
Caffeine-Free Supplement
BPI Sports' Best BCAA is caffeine-free. It works to increase optimal absorption rate in the body and quicker muscle recovery. It contains 2500 mgs of leucine, 1250 mgs of isoleucine, and 1250 mgs of valine, and the ingredient, carnitine, which helps with converting chain fatty acids into energy. This results in a more leaner body and toned muscles. Other key ingredients include, citrulline, carnitine, and paradoxine (grains of paradise extract). These ingredients help push your body to use its fats stores as energy.
Cost and Value
This is a great deal for 30 servings at 5 grams of BCAAs and plus you get the 1 gram of CLA. These main ingredients together will aid in weight loss and faster muscle recovery. BPI Sports is confident that their supplements will produce results or you can return the item within 30 days of purchase. However, their returns only apply to products that was purchased on their website. Unless there is a manufacturer defect, items must be unopened or unused.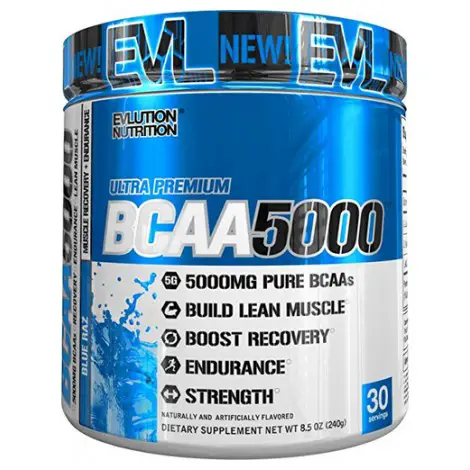 Evlution Nutrition BCAA 5000 powder increases muscle repair, strength, and hydration during intense workouts. As a pre-workout cocktail, you are able to workout longer and as a post-workout drink, your muscles can recover in faster time. Evlution's company mission is to be a trusted source in helping others to achieve their fitness goals. They are build on their passion for sports, nutrition, and health. According to Evlution, they manufacture their products in an FDA-registered facility. They are continually evolving their product line to ensure they are of the highest quality. Their mission is to be innovative and to be the most influential nutritional supplement company out there. They support a range of health and performance needs; from overall health, energy, endurance, to lean body support and recovery.
Easy Mix Formula
Branched-chain amino acids in this supplement powder deliver the highest quality of protein toward the muscles while increasing your endurance. Evlution 5000 supports protein synthesis, muscle repair, lean mass, and boost recovery. It also comes in delicious flavors to choose from. With 5 grams of premium BCAAs, your muscle will be fully prepared for the next training. In addition, this formula is an easy mix. Simply stir with a spoon or toss in a shaker.
Right of Ratio
All three essential amino acids (2500 mgs of leucine, 1250 mgs of isoleucine, 1250 mgs of valine) are active ingredients in this product. All helps with increasing endurance. Evlution 5000 formula is a ratio of 2:1:1 of BCAAs. This is a common ratio that is found in most BCAA 5000 supplements. The reason is that it is proven to be highly effective.
Other inactive ingredients include natural and artificial flavor, malic acid, trisodium citrate, organic coconut water powder, citric acid, silica, acesulfame potassium, sucralose, and FD&C artificial colors.
Cost and Value
You get 30 grams per container at 5 grams per serving of premium BCAAs to provide you with a proven 2:1:1 ratio. This supplement formula is gluten-free. Evlution will accept returns for exchange or refund for items damaged in transit. Simply email their customer care department. They will first issue a replacement, if available. If not, a refund will be issued for the full purchase price. Non-returnable items involve any item that is not in its original condition, has missing parts, or is damaged for reasons not due to a company error.

6

. MusclePharm Essentials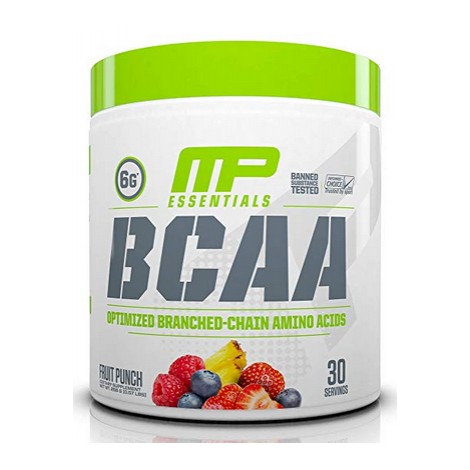 Musclepharm brought out this branched chain amino acid supplement to help the body recover with 6 grams of BCAA's. It was their decision to increase their ratio of leucine to isoleucine to valine. This Essential BCAA supplement will be great for someone who is looking for a good post workout formula at an affordable price.
Enhanced Performance
The company objective of MusclePharm is to bring to the fitness market the most effective, safest, and tested supplementation and sports products possible. The purpose of MP Essentials BCAA powder is for enhancing an athlete's performance and health without the use of banned substances. In addition, it was produced in a facility that follows the Good Manufacturing Practice.
Their company philosophy is "We Live This". As current and former athletes themselves, they only manufacture products that they personally believe in and use every day.
High in Leucine
Leucine is the amino acid that focuses on muscle protein synthesis. Stopping muscle breakdown and encouraging muscle growth is the main reason for people taking BCAAs. The isoleucine and valine follows in descending amounts. Valine has a role in focus and muscle endurance while isoleucine has a role in fat loss. There is probably as much isoleucine in MP Essentials powder (3:1:2) as with BCAA supplements, however, there's extra valine. This supplement focuses primarily on the performance side when working out.
At the kickoff, there is no mention about the amount of calories or carbohydrates in this product. As far the list of ingredients, 6 of the 7 grams you get per serving are made up of BCAAs themselves (leucine 3000 mgs, isoleucine 1000 mgs, valine 2000 mgs). That is it. Inactive ingredients consists of artificial sweetener, artificial and natural flavor, citric acid for flavoring, sucralose, silicon dioxide and fruit & vegetable juice for color. There is an allergen warning on the label.
Cost and Value
You can purchase a 216-gram tub that offers 30 servings. It is really inexpensive when compared to most BCAAs on a "per gram" basis. The labeling is very transparent. You know exactly what ratio you are getting. All MusclePharm products have a 30-day full money-back guarantee if you are not satisfied with your purchase.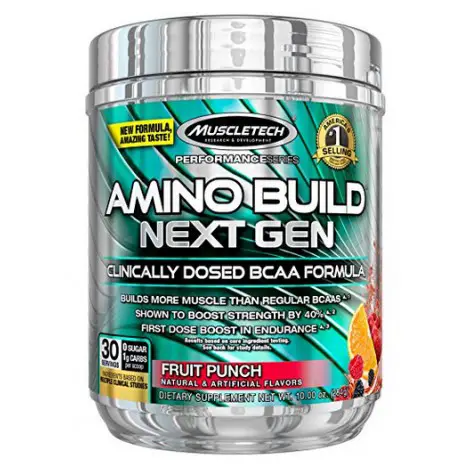 Amino Build Next Gen by MuscleTech was manufactured with professional athletes and trainers in mind. This supplement was formulated and backed by clinically researched ingredients that results in peak performance. Betaine is known as an effective ingredient for muscle building. In a study, betaine significantly enhanced performance endurance and helps participants bulk as much as 3.75 lbs!
Faster Muscle Growth
Today, MuscleTech has a reputation for offering , top-of-the-line, premium quality supplements that spanned over a decade. Their top-tier manufacturing process that was put into making the Next Gen energy supplement and other products, made MuscleTech a legacy. Muscle Tech stands unmatched in the line of competitive brands in the nutrition and supplement industry. This supplement has a variety of extra ingredients other than the standard BCAAs. The product itself promises that it will build more muscles than competitive BCAA formulas.
An Electrolyte BCAA Supplement
MuscleTech attested that they developed Amino Build Next Gen Energy supplement to be more potent for workout performance and endurance. They have taken their formula and updated the original formula by adding a new electrolyte complex. They improved on the flavor as well. Unlike products that are not backed by research, Next Gen is backed by four different studies and researches for enhanced, strength, endurance, and performance!
With 25 calories per scoop, this supplement has an unusually high calorie count. Most BCAAs are 5 or fewer calories. One serving only has 4 grams of BCAAs in a 2:1:1 ratio of the three essential amino acids (leucine 2000 mgs, isoleucine 1000 mgs, and valine 1000 mgs).
There are a variety of other ingredients mentioned. There is an "Electrolyte Blend" of sodium, potassium; watermelon juice, and coconut water, a "Cell-Volumizing and Recovery Complex" of 500mg each of glutamine, alanine, and taurine; and a "Strength-Enhancing Compound" of 1.25 grams of betaine anhydrous. This chemical is found in leafy greens and beets and is very popular in sports supplements. Taurine is one of the ingredients found in the formula. It is an amino acid that is known for it ability to increase endurance performance. Adding to this, there is a gram of alanine - which helps in boosting performance,
Other inactive ingredients include citric and malic acid, artificial and natural flavors, calcium silicate and silicon dioxide, artificial sweeteners, red food dye, acesulfame potassium, and sucralose. There is no soy ingredients for those who are concerned about any allergens.
Cost and Value
The effects are immediate. You can take it pre-workout or post workout. If you are not completely satisfied with your purchase for any reason, you may return or exchange the item in its original, condition (including original packaging) within 30 days for a total refund, less handling and shipping charges. Returns are only valid towards a product that is purchased on their online store only. They do not accept any returns from other retailers.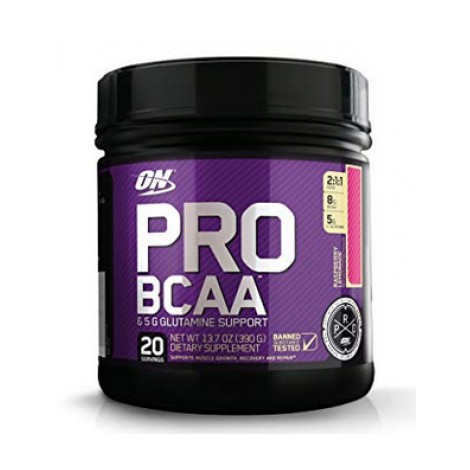 Optimum Nutrition is based in Illinois and is popularly known for their popular protein powders. This company actually makes a few varieties of amino acid supplements, including Gold Standard BCAA and Amino Energy. Pro BCAA is different to the Amino Energy supplement for the fact that it does not have caffeine. The ingredients are more transparent along with other additional ingredients.
Has Phytonutrients
Taking BCAAs is a great way to recover faster and build muscle. With PRO BCAA by Optimum Nutrition, you will be able to get those muscles ready for their gains. You're actually going to get a full 8 grams of BCAAs per serving, along with 5 grams of glutamine. PRO BCAA also contains phytoblend, a combination of red wine, grape seed extract, and citrus bioflavonoids.
Contains Vitamin C and Glutamine
The true strength of BCAAs are valued for their anti-catabolic and anabolic properties. They may help spare muscle tissue. BCAAs helps to kick-start protein synthesis which plays a role in muscle growth. 5 grams of glutamine are added to support recovery.
One serving of the Optimum Nutrition Pro BCAA formula equals 19.5 grams, provides 5 calories, 1 gram of carbohydrates, and 8 grams of BCAAs in a 2:1:1 ratio. Most BCAAs have only five grams per serving. What's more? The other 11.5 grams consists of 230 milligrams of vitamin C, 5 grams of glutamine, potassium, sodium, and 160 mg of a phytoblend. This blend has grape seed extract, citrus bioflavonoids, and whole grape extract.
Inactive ingrnatural flavorsof artificial and natural flavors, malic and citric acid, calcium silicate and silicon dioxide, tartaric acid, salt, sucralose, soy lecithin, and lastly, red food dye #40.
Cost and Value
You will get up to 20 servings of Optimum Nutrition Pro BCAA per container. Nevertheless, it still brings more value to the table in regards to getting the proper ingredients for improving endurance and muscle strength. If for any reason you are not satisfied, Optimum Nutrition only accepts merchandise that is returned within 30 days of purchase. Returns after will 30 days not be accepted. Dietary supplements are only accepted if it was purchased through their website or Consumer Affairs. 75 percent or more of the product must be unused.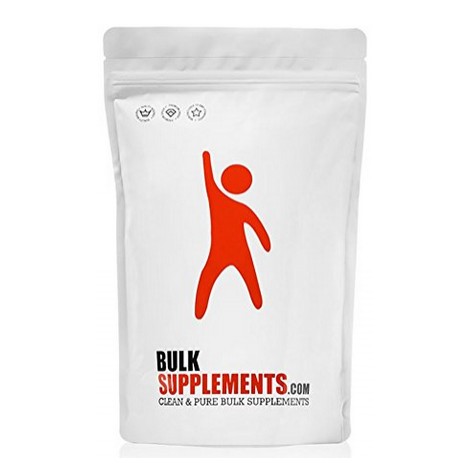 Taking a serving or two of BCAA powder by Bulk Supplements is a great way to combat soreness. The ingredients and formula use is very effective by increasing the rate in which the body burns fat and boosting muscle growth. It reduces muscle soreness and aids in quicker recovery. The BCAA powder is highly tested and does not contain any additives or fillers.
A Tested Brand
Bulk Supplements attests to taking pride in manufacturing quality products for their customers. They are dedicated to maintaining government regulations and all health codes. BCAA by Bulk Supplements is tested before distribution to ensure that it is safe for consumption. Any additional testing that is needed, is performed at US-based independent labs.
No Additives or Sugars
Various researches prove that BCAAs helps to burn fat, increase body mass and increase metabolism, which results in a leaner, fitter physique. The BCAA Branched Chain Essential Amino Acids Powder is ideal for powerlifting , body-bulking, or cardio. This formula helps to encourage protein synthesis in the body and minimizes tissue damage that occurs from heavy training or lifting. To use as a pre-workout formula, expect an increase in energy for training harder and longer. In addition, it aids in faster recovery and helps to reduce inflammation.
Bulk Supplements powder features a 2:1:1 BCAA ratio of 800 mgs of leucine, 230 mgs of isoleucine, and 398 mgs of valine. You get around 1.4 grams of BCAAs in each serving. Beside the ingredient, lecithin, there is no mention of other ingredients on the packaging. Here is what this formula does not contain. There is no sugar, yeast, dairy, soy, additives, or gluten. It ranks among the top as the most recommended BCAA supplement for its ingredient safety and purity.
Cost and Value
BCAA Branched Chain Essential Amino Acids Powder provides fast-acting support. This formula has a great reputation, making it easy to purchase with confidence.

10

. Optimum Nutrition Capsules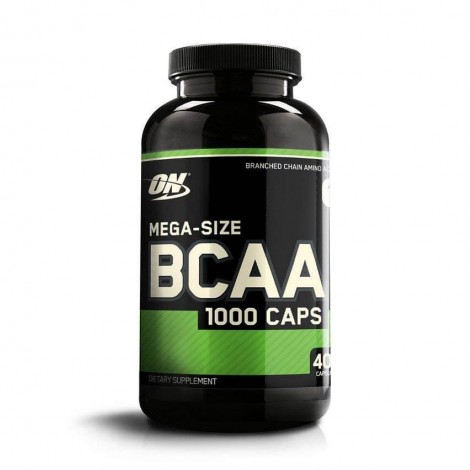 With production facilities located in Illinois, Walterboro, Aurora, South Carolina and Sunrise, Florida, Optimum Nutrition is a sport nutrition company that takes pride in manufacturing every product category. From its origin in 1986, Optimum Nutrition believes in taking a "hands-on" approach in providing the highest standard of quality.
Inspected for Quality Assurance
Optimum Nutrition BCAA capsules are carefully made from carefully selected, premium raw ingredients. A Certificate of Analysis is a requirement for every ingredient added. Daily inspections are performed for quality assurance - making sure every product adheres to the current Good Manufacturing Practices.
Comes in Capsule Form
There's practically nothing else added in this product but the BCAAs themselves. The Optimum Nutrition BCAAs comes in capsules instead of in a scoopable powder which makes it very portable. Their proven benefits are many with muscle growth being the most popular. You will get all three essential amino acids in this product. BCAAs also decreases muscle soreness by reducing damage in overworked muscles while preventing the breakdown of proteins.
The Optimum Nutrition BCAA capsules contains 1000 mg blend of the three branched chain amino acids per serving. Its ingredient ratio is 2:1:1 of 500 mgs of leucine to 250 mgs of isoleucine and 250 mgs of valine. The ON capsules are packaged and produced in a state-of-the art manufacturing facility. Take it before and after training for muscle support. You can also take it in between meals.
There are no artificial flavors, colors, or artificial sweeteners. It contains no soy ingredients or no gums. The only ingredient that is artificial is the gelatin capsule cover.
Cost and Value
Optimum Nutrition BCAA is available in 60ct, 200ct, and 400ct bottles. The user can expect: faster muscle recovery, more endurance, and quicker muscle gains. If for any reason you are not satisfied, all merchandise must be returned with 30 days of purchase. Returns over 30 days will be denied.

Subscribe to our Newsletter