Best BCAA Supplements Reviewed & Rated for Quality
In a
Hurry? Editors choice: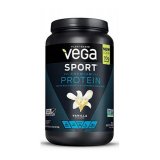 Test Winner: Vega Sport

Branched-chain amino acids (BCAAs) have became a popular supplement in the
fitness industry
today. The name comes from the fact that the amino acid is structurally branched or forked. BCAAs comes in ingredient form in supplements, recovery drinks, or as a standalone product which are seen in stores virtually everywhere.
There are exactly 20 amino acids that make up muscle tissue. There are 11 non-essential amino acids. The other 9 are essential acids that the body cannot produce on its own. They need to either come from diet or supplementation. Three comprise the BCAAs: leucine, isoleucine, and valine.
It can be a tough decision as a consumer on which BCAAs to take for top performance. For this reason, we did the work for you. We've gathered a list of our top 10 recommended BCAA supplements. Each one has a detailed breakdown; highlighting its primary ingredients and their usages.
Standout Picks
Criteria Used for Evaluation
Brand
Product brand is an important factor when looking for a BCAA supplement. When considering what brand to look for, think about what you want out of the product. Are you interested in choosing a reputable brand that is affordable? Are you looking for a formula that comes in a good flavor? Or perhaps you are on a restrictive diet and you need a brand that supports that. You will want to choose a high-quality brand that will offer value. Stay away from BCAAs that has less unnecessary ingredients with no nutritional gain. Once you have these answers, then you look for a supplement that has the 3 essential amino acids ( leucine, valine, and isoleucine) for the best results.
Potency
The most important times to take BCAA's are before, during, and after training. When looking at the ingredients, it is best to opt for supplements with a 2:1:1 ratio of leucine to isoleucine, and valine. There are brands that will increase the ratio to favor one essential acid over the other. However, the 2:1:1 ratio is effective to increase the energy needed for performance and decrease the amount of fatigue during and after intense workouts.
Ease of Use
Having options in BCAAs choices can have a benefit. There was a time that trainers consumed BCAAs only by taking capsules during and after training. And some still do. You were able to take them on the go. Having the option to now choose BCAAs in powdered form allow easier digestion. BCAAs powders are faster absorbed into the bloodstream. Having both options give people a choice of preferring one over the other in terms of ease of use, taste, and convenience.
Effectiveness
Reaching peak performance during a workout is of utmost importance regardless of what your fitness goals are. If you are a trainer or an athlete, BCAAs will help you during a workout or competition. They have been proven to be a performance enhancer and are a great energy source for working muscles. Not only do they help with the body's energy, they enhances fat oxidation. This allows people to train harder for longer periods without getting fatigued.
Responsiveness
The responsiveness of BCAA supplementation predicates on a few factors. If you consume lots of protein, results may be limited. If you are obese or thin, follow more of a dialed in re-comping approach by dropping small amounts of fat and adding small amounts of muscle at the same time. The response time is almost immediate when taking BCAA supplements; so taking them just before a workout is recommended. With most BCAAs, the effects are usually felt in 30 minutes when the amino acids hit the bloodstream.
Subscribe to our Newsletter