Top 10 Athletic Socks Reviewed & Rated
In a
Hurry? Editors choice: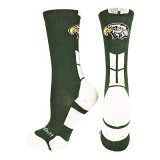 Test Winner: MadSportsStuff Athletic Crew

Someone once said get comfortable being uncomfortable. To truly push yourself past your limits you need to incorporate quality gear into your workouts. It is a lot harder to exceed your limits if your training gear gives out before you do. This is especially true in what you put on your feet. Socks are often overlooked as essential training gear. However, the better you treat your feet the better your whole body will feel. Finding and buying quality training material can be an exhausting process. Every company claims they have the best product but what you need depends on your personal goals. This list is a compilation of the very best athletic socks currently on the market. We've done the research and put in the miles so you can spend less time searching for quality and more time chasing your goals.
Standout Picks
Criteria Used for Evaluation
Durability
For athletes, it is really important to have durable socks on your feet while doing what you do best. You want to make sure your socks last as long as they should. You don't want something that will fall apart at the end of the day or after they are washed and dried. Being the hard-working athlete that you are, you need a sock that will last all day and even keep working for you after you are done in the field, on the court, or on the track. Having the most durable socks that keep working even when you are not, are the best ones to have. Some of these types of socks include the Balega Athletic No Show, and the Balega Blister Resist No Show.
Fit
Another thing about quality athletic socks is that you will want something that will always stay in a place where it is supposed to. You don't want to have to keep stopping what you are doing just to pull your socks back up all because while you were on the move, they bunched down. When or if they do this, it can irritate you and even make you mad. This is because you will have to keep stopping what you are doing just to fix them and put them back in their place. Doing this can actually ruin your game and ruin your concentration when you are doing what you do best.
Because you want a good athletic sock that stays in its place, you will want to take a look at the Balega Blister Resist No Show socks. They provide high quality, never bunch up or down while wearing them, and even keep you from getting blisters. This is definitely a great sock to try while being on your feet all day and much of the night.
Breathability
When determining the best type of socks to wear while playing or running, one of the best important factors of buying the socks you need is that they prevent moisture. Your feet sweat and they will keep sweating while you are on the move. Because of this, you need socks that prevent moisture. It is one thing for your feet to sweat during the game but it is another thing for them to sweat while you are in the locker room with the rest of the guys, changing your clothes. Who wants anyone to smell their sweaty feet? No one. This is why you will need socks that prevent moisture. There are many of these available including the Golden Toe Cotton Crew socks, the Saucony Performance No Show sock, and many more.
Although most socks that are on the inexpensive side don't provide the ventilation many people want and need to keep their feet breathing and comfortable, some of these athletic socks do provide it. When you are working on your feet all day, especially being an athlete, you need something that will keep your feet ventilated all day, every day.
The athletic socks available that provide good ventilation includes the Saucony Performance No-Show, the MadSportsStuff Athletic Crew, and Tesla Athletic No-Show.
Features
While wearing socks, especially if you are an athlete and are always on your feet, you want something that provides you with the arch support you need. Let's face it, you need something that won't make your feet hurt after you have been on them all day and most of the night. You want to get done with your game or get done running and still have the support you need.
Many people are not done on their feet even after they are done with their work for the day. A lot of people, especially athletes who have won their game or ran the whole track without stopping, will be out celebrating after everything is over with for the day. You will most likely go out to dinner and drinks to celebrate the win you just had. Because of this, you will be on your feet until late at night and your socks will need to withstand the pressure they are put into.
Odor protection is also an important No-one wants their socks and feet to smell bad when they take them off to change them. This is why you need a high-quality sock that can provide you with the anti-odor support you need. While you are running around the field, court, or running the track throughout the day and night, your feet will sweat a lot, just like the rest of your body. Although you already have something to help support the sweaty smell of the rest of your body, your deodorant, and antiperspirant you still need something to help keep the odor away from your feet.
Some of the best athletic socks available that are made with anti-odor support include Under Armor HeatGear Crew socks, the Saucony Performance No-Show, and the Tesla Athletic No Show. These are the best socks available on the market that can provide this anti-odor support for you.
Value
Just because you are an athlete, doesn't mean you don't want to still save money like everyone else. Because of this, you want athletic socks that have a good price. Saving money is what everyone likes to do. By saving money and still getting the best socks available, you can use that money you saved on your athletic career, improving it more.
Some of the best socks that come with a good price tag and still deliver quality include the MadSportsStuff Athletic Crew, and surprisingly, the Under Armor Resistor Low Cut. The reason for this being a surprise is because Under Armor athletic socks are most often on the more expensive side. However, you can say these are an exception since they are on the inexpensive side.
Although you want something less expensive, sometimes the saying that you get what you pay for is really true since many of the expensive socks are better than the cheaper ones.
10 Best Athletic Socks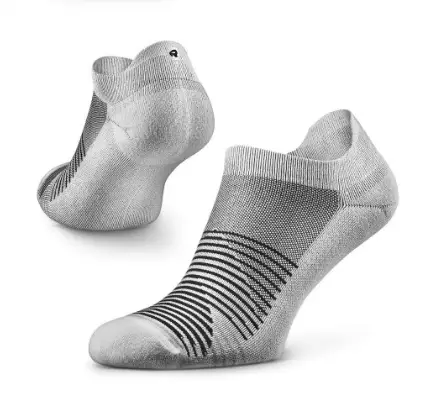 Every active runner knows that to find a good sock that has breathability, keeps your foot comfortable, and allows you to feel a little bit of sweat as possible is almost impossible. It's one of those things you think won't happen; however, Rockays' latest released sock 20four7 offers that and more. Created out of 100% recycled materials, these socks were designed to help make your running experience that much better.
Materials
Designed to be one of the most comfortable socks on the market, the Rockay 20four7 is constructed out of 100% recycled materials. These materials include regenerated nylon, polyamide, and elastane, perfectly paired together to give you superior comfort. These materials paired together with durability showcase just how much of an impact a sock with exceptional material can have on the way you feel while running. Elastane is one of those materials that give runners an edge as it provides a supportive fit while providing additional cushioning as part of the heel and toe.
Breathability
Anyone who runs constantly knows there is nothing more uncomfortable than wearing a sweaty sock. Not only does that give room for blisters to form but it's the perfect breeding ground for fungus among other things. Featuring breathable mesh zones this sock works hard at keeping your foot as comfortable as possible. Furthermore, the mesh areas are great for better breathability allowing constant movement of air throughout your foot even when you are wearing sneakers.
Cost and Value
As for the cost and value of this product, you are getting a bargain. The socks are sold at an extremely convenient price point, which further showcases just how much the brand cares about their customers. Furthermore, the features themselves are beyond exceptional which makes it an excellent product to have especially if you run constantly.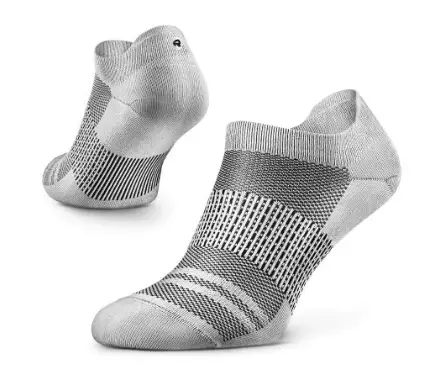 When finding the perfect athletic sock, the first thing you want to keep in mind is just how lightweight it is. Having a lightweight sock is not only convenient but it ensures that no matter what movement you make you will be comfortable. The Rockay Agile comes in at number two due to it being the ultimate thin sock. Created with 100% recyclable knit material this sock understands that you want to be comfortable yet have a durable product that gets the job done.
Super Light
One of the benefits of using a sock that is constructed out of such a light material is how breathable this sock truly is. Featuring quality dense knit paired with mesh sections this sock is one of the lightest, odor-eliminating socks on the market. It was constructed not only to be super light but to help keep odor and discomfort away allowing you to want to wear the sock for a longer time. Furthermore, it gives you a better fit with any shoe you wear, while still showcasing comfort as one of the main focus points.
Arch Support
Running is not only beneficial on the body, but it can take a huge toll on your back, waist, and posture if you don't have the right kind of support. When it comes to supporting, having your arch supported is key. Arch support will not only make your foot feel better, but your overall posture will be better as well. The Rockay Agile gives you seamless arch support helping you run with better comfort for an extended period.
Cost and Value
As expected from a Rockay, product these socks are priced extremely well. Not only are you getting a quality item, but you will be enhancing your running experience all by purchasing a sock that is lightweight with added support.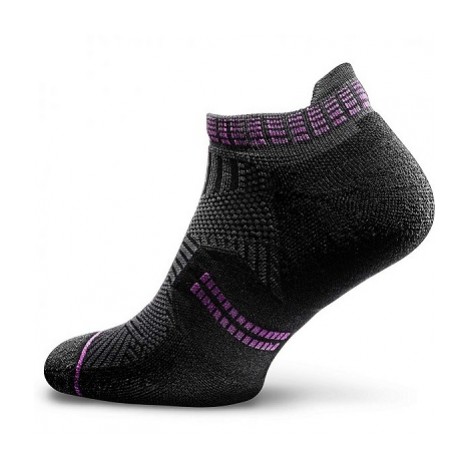 In the athletic industry, there are not many socks like the Rockay Running Socks. These specific items are not only some of the most fashionable and stylish socks we have to share with you today, but they are also incredible for boosting performance, comfort, and keeping you safe.
Comfort
When it comes to purchasing a pair of socks, it's important that they are comfortable, right? For starters, these were constructed with 100% organic Merino wool and have padded heels and toes for added comfort. Additionally, the company included a higher heel tab than traditional no-show socks to maximum comfortability while running.
Optimal Temperature
When running in the summer or winter, it can be challenging to find a pair of socks that keep your feet at the optimal temperature. Thanks to the unique materials and compression-style sock, this product will keep an individual's feet warm in the winter and cool in the summer.
Cost and Value
It's always important to take the cost and value into consideration. These socks, while priced higher than many of the other socks on today's list, offer some of the best value, hence why they are at the top of our list. In all honesty, there are not many socks that are designed with as much quality and precision as these. So, if you want quality, here you go!

4

. MadSportsStuff Athletic Crew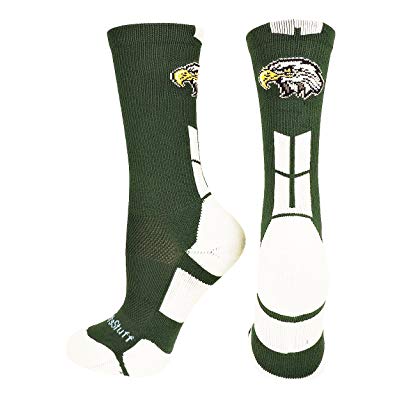 MadSportsStuff is a company that features many different team-friendly items that do not come with the "officially licensed" price tag. With a wide range of color options of this best athletic socks for men, you're bound to find a color scheme that works for your team colors. These basketball logo socks are not only aesthetically pleasing but also very functional.
Form and Function
At first glance, these socks seem to be made just for the looks. But if you look a little closer you'll find that the socks are made with materials and features that all good athletic socks have. They are designed with moisture-wicking material to keep your feet dry and also feature help and arch support to get you to perform at your best.
Durable Construction
These socks are machine washable and have tough seems to stand up to whatever abuse you put them through. They are reinforced in the heel and toe area. They also feature antimicrobial qualities to keep your feet healthy and not foul-smelling.
Cost and Value
A lot of company's try to cash in on the team apparel market. Some teams or schools have mandatory products that each member of the team must have. Companies know this and try to turn a profit where they can. Compared to other team style socks, the MadSportsStuff basketball socks are priced pretty well. They are not the cheapest but definitely not anywhere close to what other brands might charge.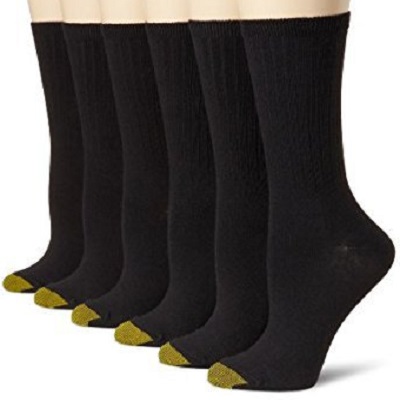 Typically cotton was the go-to material for making socks. Cotton is comfortable and absorbs moisture pretty well. However, with the advancements in synthetic material fewer socks are being made from cotton. While these sacrifice comfort, sometimes other materials are better at collecting and getting rid of moisture. Gold Toe cotton crew offsets the moisture management shortcomings of cotton with their AquaFX technology
Tough
If there is one constant theme within all of the research done on these socks it is that they are tough and durable. These socks are made to last. Unlike other socks that only sell by the pair, Gold Toe Crews are sold in multiple pairs so you'll be set for quite a while.
AquaFX
As previously stated, cotton is good at absorbing moisture but not so much at getting rid of it. Gold Toe features AquaFX technology. The sock is designed for increased ventilation and is produced with features that help enhance the socks' moisture-wicking ability.
Cost and Value
These classic socks are marked at an average price for athletic socks. These socks are reported to be some of the most comfortable and durable. Since the socks come in multi-packs you get a pretty good value for your money.

6

. Running Socks by Thirty 48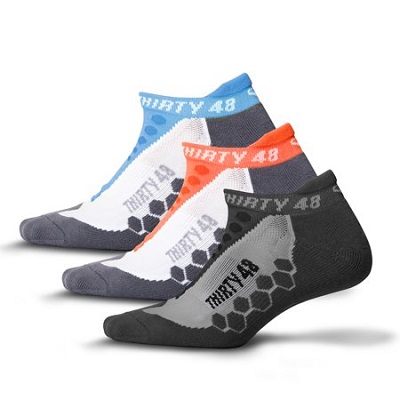 These running socks are unique in a few different ways. The socks are padded in multiple locations to help prevent injuries. They are medical device friendly. Perhaps the unique aspect is that the pairs come with one sock for the left and one for the right foot. They also feature a patent-pending design that creates greater breathability for your feet.
Padding Where it Counts
Some of the most common problems with runners and endurance athletes involve tendon and joint issues in the leg. This includes plantar fasciitis and Achilles tendon pain. You may also experience bruising in the metatarsal area of the feet from time to time. Running Socks by Thirty48 features padding that is strategically placed to help prevent these ailments.
Medical Friendly
As someone who works in the medical field, I found this point to be pretty interesting. Hopefully as a runner or other type of athlete you never have to deal with things like blood clots or arteriosclerosis. These problems bring about medical devices that you have to wear on your legs often if not all the time. The problem is that these devices kind of limit your options when it comes to clothing. Usually, in terms of socks, you're limited to those non-slip hospital socks they issue to people who are admitted. Luckily, these socks from Thirty48 offer a stylish high functioning alternative. They fit well with most of these devices and are padded and made from quality material for people with neuropathy.
Cost and Value
As far as price goes, these go the distance. They are some of the most expensive athletic socks listed and are reported to wear down in the toes rather quickly. However, with all of the unique design features and quality materials, you may be alright with spending a bit extra.

7

. Under Armour HeatGear Crew


When it comes to being outside during times of frigid temperatures one of the first things that fall victim to the cold is your feet. It's helpful to dress in layers but it is also helpful if you have the right kind of apparel to wear. Thermal socks are useful for this, but if you are training you need a pair of socks that can offer more than just insulation. Under Armour's HeatGear Crew socks are one of the best men's athletic socks.
HeatGear
Under Armour's cold-weather line offers the balance between thermal insulation to keep your feet warm and moisture management to keep your feet healthy. They achieve this balance in these crew socks with the fabrics they use. Made from polyester, cotton, nylon, and spandex, UA combines material from athletic socks and thermal socks to create a cold-weather training sock. The HeatGear line is also anti-odor and antimicrobial.
Athletic Design
The HeatGear Crew sock has an embedded arch support design that keeps the sock exactly where you need it. This keeps it from slipping around and bunching up which can irritate your foot. Also incorporated into the design are a seamless toe and a "Y" shaped heel that cups the heel and adds to the comfort and function.
Cost and Value
This product is on the higher end of the price spectrum. It has a lot of unique design qualities that are found in both thermal and athletic socks so paying a little extra to achieve this balance might be worth it.

8

. Tesla Atheltic No Show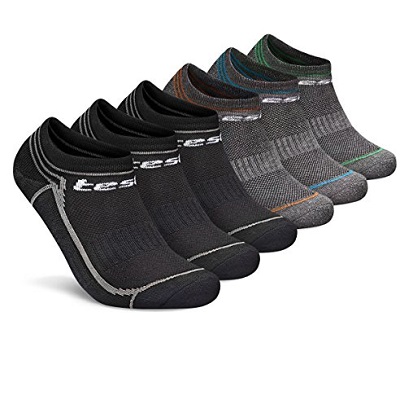 Tesla offers a wide variety of athletic clothing. From jackets to compression shirts they seem to cover a lot in terms of training apparel. The more I learn about them and their products the more I want to try some out. Teslas Athletic No-Shows are a sock built for an active lifestyle.
Color Coordinated
These no-show socks come in the plain white or black and also plenty of others to match your training gear or color scheme for an event. They typically offer one or two colors per 6 pair pack. This leaves you a lot of options.
Athletic Construction
These socks are reinforced and padded on the heels and toes. They also feature arch support. The heel tab keeps the sock in place and also protects your Achilles tendon from irritation caused by friction on the shoe. Air mesh design keeps your feet breathing and a primary blend of polyester helps keep them cool.
Cost and Value
These socks just narrowly lost to Under Armour's Resistors for the spot of best value. They are socks that have the features of more expensive socks at a very affordable price. This seems to be a theme with Tesla products in general. Some people have remarked that the socks are too tight. This is a common complaint of athletic apparel. If tight-fitting training clothes bother you, look at the size chart and decide whether or not to order a size up.

9

. Saucony Performance No-Show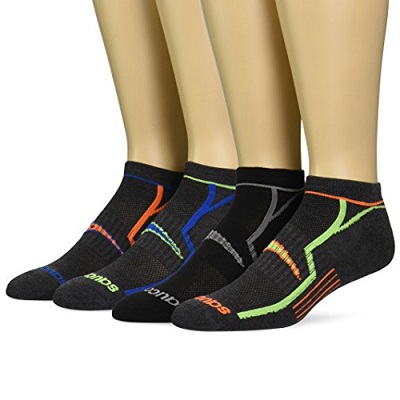 If you are a runner or involved in any kind of activity that involves constant forces of impact, check out the Saucony Performance No-Shows. These socks feature arch support that gives your feet support where it's needed. This also prohibits the socks from bunching in your shoe. These no-show socks are also padded to help absorb impact forces but are not too bulky to sacrifice comfort when putting into a shoe.
Cool and Dry
If you're a victim of sweaty feet you'll love these socks. Produced from 95% Polyester means these socks are great at moving moisture away from your foot and letting it evaporate. They also have advanced air mesh design that keeps your foot breathing even if you are getting short of breath during your workout.
Performance: Not Just a Name
These socks are true to heir name. They are built for performance. Not only do they have pretty advanced moisture-managing systems but they also feature reinforced soles, arch support, and shock-absorbing padding. All these features let you keep performing at your best and help keep things like knees and ankles healthy.
Cost and Value
These socks were a close second to our best value selection. Extremely affordable, the Saucony Performance No Shows pose no risk to busting your bank account. However, these socks are not as durable as some. However, they do come in packs of multiple pairs.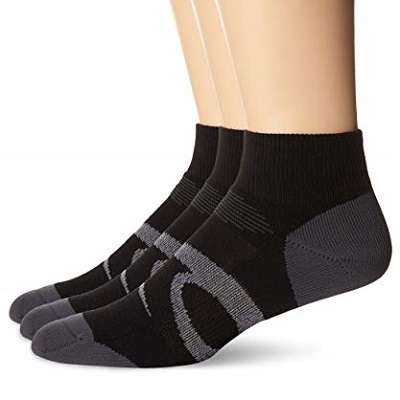 I have talked to a lot of fans of the Asics brand. Especially runners seem to have an affinity for their products. The ASICS Intensity sock offers an athletic sock that cuts out the bells and whistles but keeps much-needed necessities.
Let 'em Breathe
ASICS Intensities have a knitted mesh and are made from mostly polyester. This is a staple of athletic socks. The longer you can keep your feet feeling fresh and dry the longer you'll be able to perform your best.
Targeted Padding
Like other athletic socks, the heels and toes are padded. The Intensities also have padding on the dorsal side of the foot where the top of your foot meets the laces. Adding to the comfort and irritation resistance is a seamless toe. This adds to the overall comfort and function of the sock.
Cost and Value
ASICS Intensity socks are a fair quality sock at a very reasonable price. Aesthetic wise they are pretty basic, but these socks offer everything you may be looking for in a functional training sock.

Subscribe to our Newsletter