Best Low Carb Protein Bars Reviewed for Taste & Quality
Kicking carbohydrates is a goal for a variety of people. Whether you're looking to lose weight, or up your athletic game, cutting down on carbohydrates can be hugely beneficial. Many personal trainers swear by it, in fact. Not to mention, these snacks can be great on the go. If you're afraid of not getting the nutrients you need when buying a nutritionally dense food is critically important. Protein bars provide the power you need to get through your day, regardless of what your day throws your way. But, why are they so great? And which ones are the best? There are so many options on the market that it can be hard to tell which ones are actually healthy. Some brands are no better than candy because of their sugar content, for example. This is something to watch out for! If you want a full, detailed list on how to tell the good from the bad then read the criteria for evaluation after you're done checking out the products on the guide.
Featured Recommendations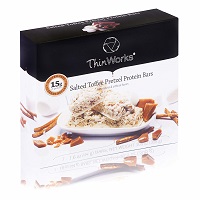 ThinWorks Salted Toffee

Our rating
Sweet & Salty
Price:

See Here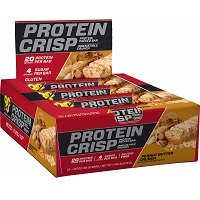 BSN Protein Crisp

Our rating
Crunchy Texture
Price:

See Here

ProtiWise Fluffy Vanilla Crisp

Our rating
Extremely Affordable
Price:

See Here

The reason that these are so essential to so many people is the nutritional density of the food. You can pack in protein, potassium, iron, and more! These high concentrations of minerals and vitamins mean that you can fret less about your daily food choices. It's never been easier to make sure you're hitting your goals for health! They're also super convenient since you can bring them anywhere you go. Are you going to miss dinner by a few hours? Pop one out and munch away! Need a snack that you can feel good about? Presto! These products are here to save the day. We've selected the best of the best from reviews and by carefully analyzing popular products. Keep reading to find out which ones are good to go, and why they're so great in the first place.
10 Best Low Carb Protein Bars
1. ThinWorks Salted Toffee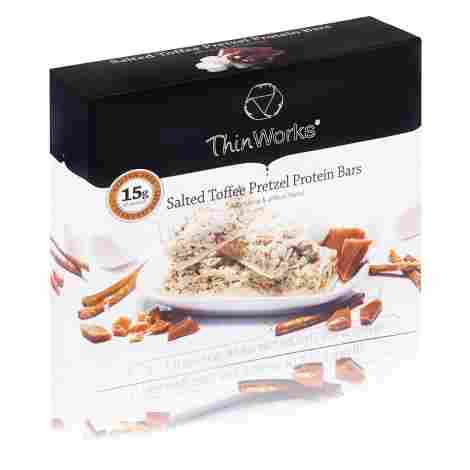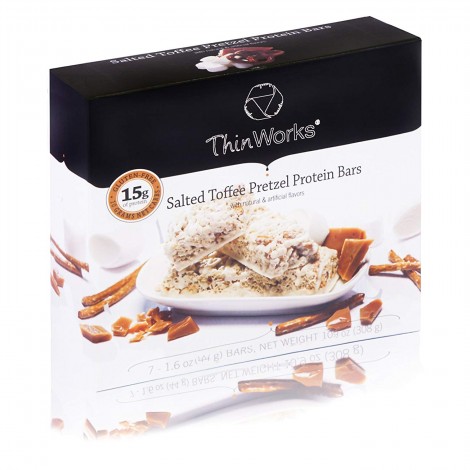 Our number one product is this truly tasty combination of flavors. Dive into the ultimate in decadence all while skipping the guilt! If you have a sweet tooth that only a dessert can cure then this is a great choice to skip the sugar. Even though this has a truly tasty flavor it doesn't load you up with unnecessary, fattening ingredients that mess up your diet plan. ThinWorks is a company that specializes in low-cal treats that satisfy your cravings and leave you feeling full. They're a fantastic snack to keep around for anybody looking to lose a few pounds!
Expand to see more
A "No Cheat" Treat
Feeling guilty after your last sweet treat binge? It can be especially hard to
lose weight
if you aren't satisfying your cravings. Even the most dedicated individuals can fall victim to the desires of their taste buds. No matter what you do you can't escape the chemical maelstrom that pushes you into eating unhealthy food. You can, however, pick a healthier alternative that cuts your cravings down and gives you an extra boost of energy.
The Low Cal Option
Many products of this type claim to be good for weight loss, However, quite a few of them have an ingredient list that would suggest otherwise. While most do have low caloric density, this flavor by ThinWorks is truly the best out there in terms of keeping your intake low. This is only made better by the desirable flavor that tastes like dessert. If you need a kick of energy that won't put your diet plan off track then we highly recommend ThinkWorks. Honestly, any of their flavors, in particular, option, but this one in particular has the best taste of all!
Cost and Value
We rate this as being a very, very good choice for pretty much anybody. Quite frankly most people can benefit from having a sweet-tooth satisfying back-up laying around. Any time you feel tempted by dessert you can choose this as a better alternative. It won't put you off track, and gives you the decadence you crave. It might make more sense for those on a diet to keep them on hand regularly, however. Those looking to build muscle will find little desirable about this flavor by ThinWorks. Either way, this is an awesome option that cuts down carbohydrates!
Junk food alternative

Delicious flavor

Sweet and savory

Gluten free

Low calorie
2. BSN Protein Crisp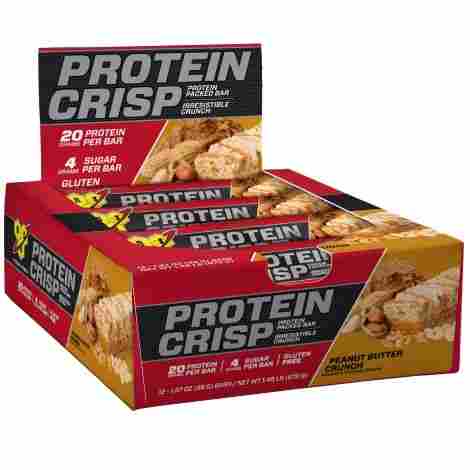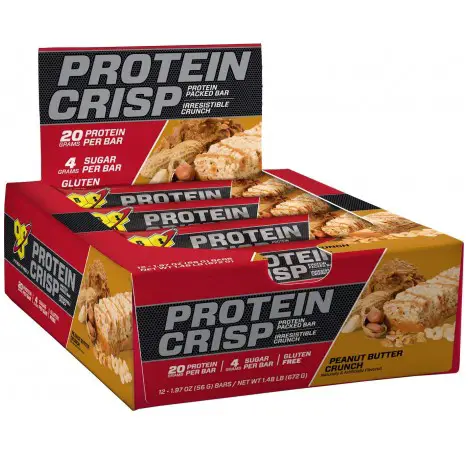 Looking for a crunchy texture that mimics a Nut-Rageous? Then you're in for a real treat! BSN makes this tasty snack with authentic ingredients that combine into a textured treat that can't be beat. You'll never grow tired of their tried and true recipe which has been perfected for their consumers. The rave reviews online clearly show how much trust people have in BSN to deliver athlete-friendly products that can be easily eaten on the go. Keep reading to find out why this snack is stealing the show!
Expand to see more
A Party For Your Palette
We all know too well the feeling of eating a protein bar that tastes like hot garbage, to put it bluntly. Some of these nutritional snacks just add unnecessary suffering to your day. This may sound dramatic, but the last thing you want is to eat something nasty after
working out
. We prefer our post-gym eats to be a pleasure to eat. Protein Crisp has formulated a delicious recipe that people go wild over. It has a unique, crispy texture that makes it taste sort of like a candy bar! The flavors are pretty dang good, too. With everything from peanut butter to chocolate cake batter, you just can't go wrong.
Low Sugar Content
Say goodbye to worries about sugar!.This can be a huge concern when it comes to balancing taste and nutritional density. It's quite frankly surprising that this is such a tasty treat! Although they managed to lower the sugar, they didn't compromise on flavor. That's a huge accomplishment in of itself. Pack protein into your day with this decadent treat by Protein Crisplike without the worry of tooth decay, blood sugar spikes, and more. It's great on the lips without packing more poundage on the hips!
Cost and Value
This is undoubtedly one of the best bargains we could find. It doesn't have the lowest price on the list, but it's a pretty close second! Because of this we really can't recommend this product enough. Not only are they the number one pick on the list, but they also provide excellent value and nutrition. The reviews will blow you away from happy customers who have found the perfect post-workout snack in this flavorful food! The crispy, crunchy texture will tantalize your taste buds and leave you hungry for more, bite after bite. You can't ever go wrong with these nutritionally dense and totally tasty treats!
Low sugar formula

240 calories

Crispy texture

Delicious flavors

20g of protein
3. ProtiWise Fluffy Vanilla Crisp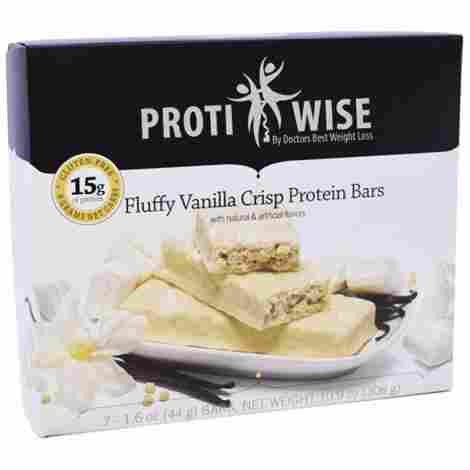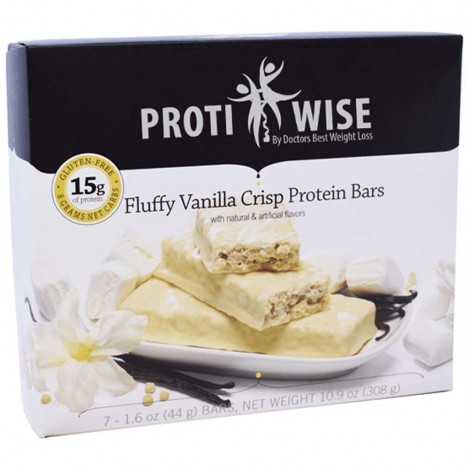 The name speaks for itself! This is a company that has consistantly put out great products that people love. This particular flavor is a huge hit in the athletic community. The creamy vanilla it's crafted is lip-smackin' good! On top of this it provides exactly what you need in order to stay on top of your game. Don't worry about offsetting your macros with excess carbohydrates!
Expand to see more
A Wonder For Weight Loss
Did you know that these very bars are sold in weight loss clinics across the nation? Well, now you do! There's a good reason for this. There are only 160 calories per bar! That's an amazingly low number in comparison to other products on the market. This tasty choice is a low-calorie option that will help you pile on muscle instead of pounds. Combine this with the low fat content and you have a recipe for success! If you're trying to
lose weight
while you build muscle then this is the snack for you.
A Cheaper Alternative
Many reviewers said that this is a great alternative to more expensive brands. It has a relatively low cost that puts it ahead of competitors by a long shot. Because of this many people have switched over, dropping the shocking price tags and giving their wallets a rest. The savvy shopper will find that this bar has quite a lot to offer. It's compared to the Ideal Protein vanilla rice krispy treats, which is popular but very expensive. If you need a great imitation that has earned a reputation of it's own then look no further! You've struck gold… or, rather, vanilla!
Cost and Value
As we've mentioned this is a highly affordable alternative to some pricier products. This, of course, puts it ahead of its class in terms of value. However, it does have a few points against it. The texture is rather "thick" in nature, and so it isn't quite as fluffy as the name might suggest. Even so the taste is rumored to be beyond description! If you're a "texture person" when it comes to eating then you may want to steer clear. If you aren't, then hurry up and order already! This is a creamy, light, truly divine delight!
160 calories

Low fat formula

Medical grade

Affordable choice
4. Clif Bar Oatmeal Raisin Walnut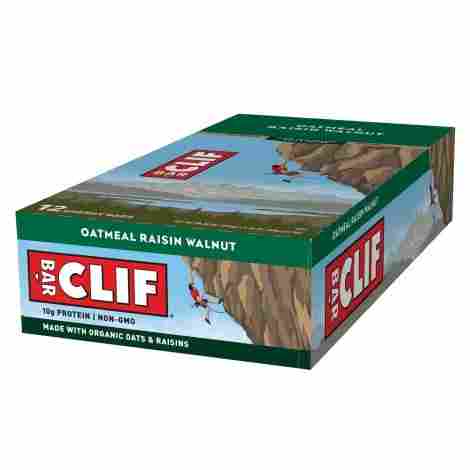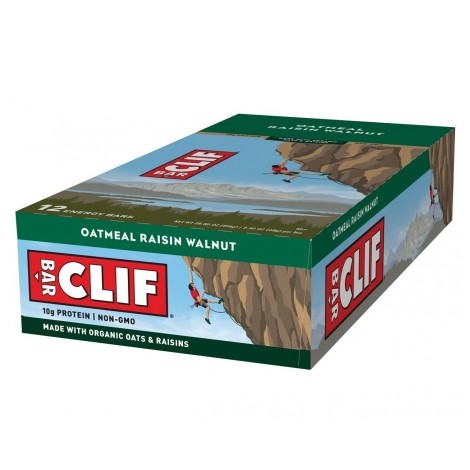 This renowned brand is as tasty as it is complete. There's a reason they're so popular, after all. Clif has truly topped the market because of their line-up of wholesome, nutritional products that don't skimp on taste. Sometimes this type of after-gym recovery food can taste… well, not good. Clif knows that you aren't going to eat something you don't like. Or, if you are, you're less likely to buy that product again. Their formula is based on careful taste tests that ensure a top quality snack that won't make you gag. On top of this, they source wholesome ingredients that pack in all of the nutritional power you need for energy all day long.
Expand to see more
A Truly Terrific Brand
We know you've heard of Clif. Everybody has heard of Clif. Literally. It seems like this brand is pretty much everywhere. They've become such a popular manufacturer because of their complex formulas that somehow combine into the pinnacle of perfect snack food. Clif has a reputation for quality ingredients that are ethically sourced and entirely wholesome. Whether you're scaling a cliff or heading home from the
gym
, you can be sure that Clif is there to see you through.
Home Baked Comfort
Do you remember being a child? The careless freedom that slipped through your growing fingers before you knew it? It was blissful ignorance of the problems to come later in life. We constantly seek out anything that puts these pleasurable memories to the forefront of our minds. Clif captured the essence of childhood in their oatmeal raisin flavor which features walnuts. Bite into it, close your eyes, and transport yourself back to grandma's kitchen and a simpler time altogether.
Cost and Value
Well, here it is! The highest value product we could find! This pack of twelve Clif bars is super affordable and totally worth every penny. We can't recommend them enough, and neither can the other reviewers! We may be a bit biased, however, since we're big Clif fans in general. There's a multitude of fantastic flavors that will keep you coming back for more. This particular flavor may not hit it off with everybody, however. Some people just don't like oatmeal raisin, so for those folks, this might not be such a stellar steal.
Provides sustained energy
Doesn't cause sugar spikes
Huge variety of flavors
Wholesome ingredients
Affordable option
5. Power Crunch Chocolate Mint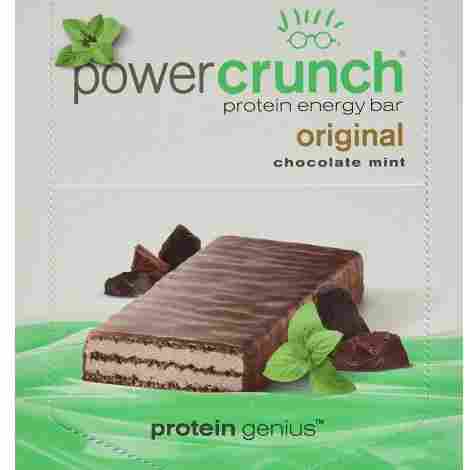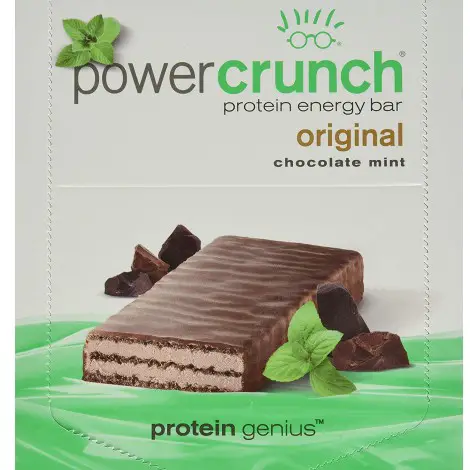 Power Crunch is a fairly well-known brand that specializes in bringing your tasty treats your whole body can enjoy. They have wholesome, reasonable ingredients that speak to us on a personal level. The ingredients list is free of anything fishy, and packs in a helluva lot of nutrients to boot! We love the fact that they also do not overload you with unnecessary vitamins and minerals, providing only a basic amount that is easily tracked by the consumer. Athletes need to keep a close eye on their micronutrients, after all, and make sure they aren't over consuming. Overall, it's a fantastic little treat!
Expand to see more
Totally Wholesome Ingredients
Reading the ingredients list is a breeze! These snacks pack in fantastic levels of nutrients while still remaining simplistic. Many similar snacks have a complex list of ingredients that can be difficult to decipher. Now, this is fairly normal with most products, and you shouldn't be scared of chemical names. However, when you're eating specifically for a certain level of nutrients you want to have whole ingredients that your body has to work hard to break down.
Takes It Easy On Your Tummy
Even the most sensitive stomachs can rest easy with this product. It's made to be gentle on your intestines so that you won't run into any issues while out and about. This is especially great for
hiking
since the extra exercise can upset your system as it is. If you're prone to "bathroom problems" or regularly have issues with low appetite or nausea, these are a godsend! They're light, easily digestible, and ready to eat no matter where you are. Even in the midst of activity on a long, grueling trek you can whip one out and continue moving while you munch.
Cost and Value
There is a flurry of features that make this product a strong contender on the list. It ranks in the top five which means it obviously has a lot going for it. It's easily digestible, wholesome, and tastes fantastic. However, it is a mint variety which most people either love or hate. We know as many people who are mint maniacs as we do who gag at even the thought of the flavor. This bar is also high in fat with quite a bit of that being saturated fat. Because of this, it isn't a great weight loss product. It's much better suited to seasoned athletes who consume a high calorie diet. On the other hand, it is fairly low in sugar and is made with real wafer cookies. Whether it's right for your not is entirely your decision, but we do love this product in general!
Low sugar
Real wafer cookies
Great texture
205 calories
Well balanced
High in fat
High in sodium
6. Pure Protein Variety Pack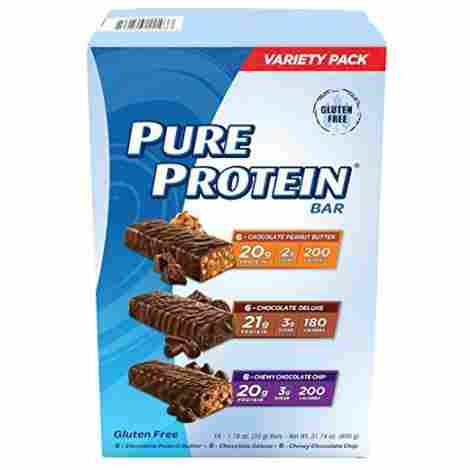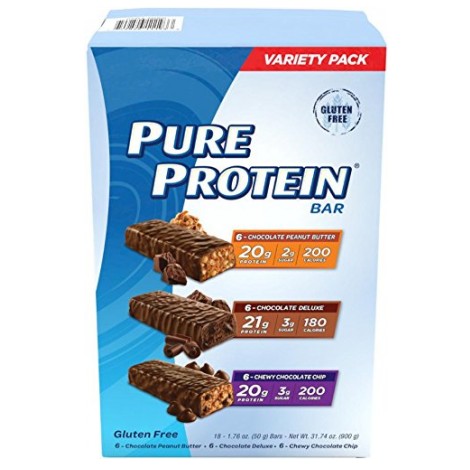 Tired of the same flavor day in, and day out? Well, you're in luck. Pure Protein packs in three tasty varieties that let you mix it up all week long. On top of this they're known for having excellent micronutrients that supplement anything you might be missing as far as vitamins and minerals go. Even if you aren't even working out this can be a great snack to eat as a meal replacement for those working on weight loss, or even as a snack to tide you over until your next meal. It's relatively low calorie and offers you enough energy to keep moving and shaking all throughout the day. Company meeting? You're gonna crush it. Just make sure to load up with one of these bad boys to make it through the whole thing swinging.
Expand to see more
Safe For Celiacs
Do you have dietary restrictions related to gluten? Anybody who has celiacs disease will find this product delightful, nutritionally complete, and a safe treat to top off their day! When it comes to celiacs disease any misstep can spell disaster. While most reactions are thankfully mild, there are some cases where the allergy is severe. This can lead to life-threatening complications! You want a product that is safe for your consumption, and Pure Protein is here to deliver. Worry less, and weight lift more. And, after you're done pumping iron, put this tasty snack in your system for the pick-me-up you need.

A Variety Of Flavor
The choice is yours with this variety pack by Pure Protein. They selected three of their top selling flavors and packed them into this tasty package. If you're not a fan of the same flavors day in and day out, then order a pack from Pure Protein to break up the monotony. Most people get bored when they eat the same thing every day. After all, when's the last time you ate the same exact dinner for a week? Skip the status quo and get with the program. You have the chance for the ultimate in flavor variety, so don't miss it!

Cost and Value
These are a fairly expensive option as far as price goes. Honestly, we really can't mark that against this product since it's a variety pack with a great reputation. There's something to be said about being able to switch it up whenever you'd like to! This gives you the kind of flexibility you just can't get with packs of single flavors. A low sugar content, a variety of flavor, and tons of micronutrients all combine into a great recipe that will keep you going strong. They're also celiac disease friendly, and naturally are more expensive because of their gluten-free status. So, yes, they might be on the higher end of price, but we still recommend them highly. After all, with so many satisfied customers, they must be doing something right!
Gluten free
Low sugar content
Chocolate lover's dream
Vitamin/Mineral blend
Chocolate-based flavors
7. Grenade Nutrition Killa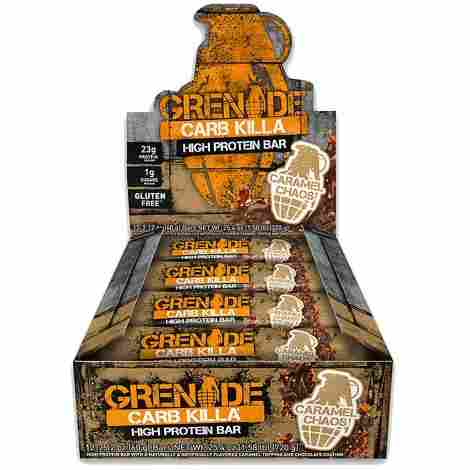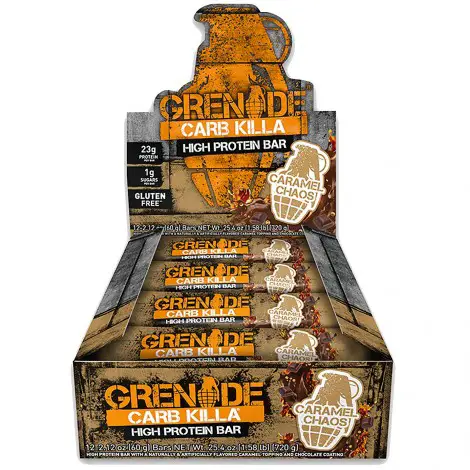 Boom goes the dynamite! Or, alternatively, your taste buds. This explosively flavorful option comes in plenty of delicious flavors. You'll never need an alternative when you go with Grenade! The name itself represents a combustible nature that you'll easily mimic at the gym. This product provides all the power you need to bust out a killer workout every single time. They're chock full of great stuff, like fiber and complete proteins. There are so many reasons to give this brand a chance if you haven't already. We promise that you'll bring your A-game with you when you bring Grenade with you.
Expand to see more
Full Of Flavorful Fiber
Tired of taking bathroom breaks that are… a struggle? You get the idea. We aren't going to get too gross, but it bears mentioning this issue. Luckily, Grenade has the answer to your intestinal woes. This manufacturer has crafted a recipe that gives your body the boost it needs.
Toilet
time isn't a topic anybody wants to bring up, but poor diet can lead to a host of problems. If you're trying to correct your eating habits then this is a great place to start.
A Classy Twist On Chocolate
Ever had European chocolate? No? Well, Grenade is looking to introduce you! There are many products which are higher quality, or just tastier, in Europe. Their cheese, wine, and chocolate are all notoriously better than they are in the USA! Grenade used European chocolate in the design of these bars. This gives them a creamier, softer texture that satisfies anybody's sweet tooth. Don't just bite into a tasty snack, bite into a luxurious one.
Cost and Value
Quite frankly, these are super expensive. While they normally have coupons available they still have a pretty hefty price attached. This is most likely because of the quality of their ingredients. It's a fact of life that when a product is high-quality, the price is going to be higher than average. Whether or not you're okay with a lesser variety is up to you. A lot of people are totally fine with lower cost snacks! But if you want a luxurious experience with a top quality product, then this is probably a good choice for you to make. This product also comes with a variety of nutritional benefits not found in other bars. We love their taste, ingredients, nutritional benefits, and more! We think you will, too.
Gluten free
Crunchy texture
Multiple flavors
Complete proteins
8. RXBar Chocolate Sea Salt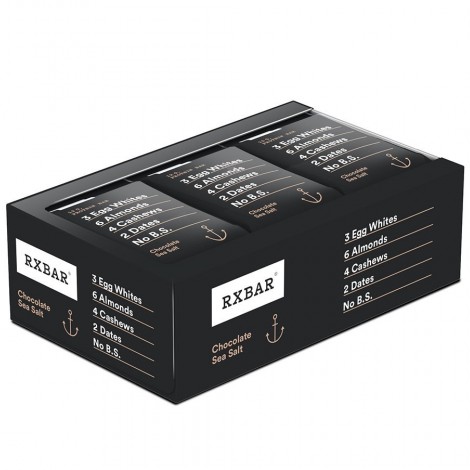 RXBar is a new face on the scene. They recently started releasing their products, and have been taking off ever since. Even though they only recently became such a phenomena we're sure they're here to stay. It's their great quality and simple design that's put them on the map and ensured a constant stream of satisfied customers. RXBar is packed with simple, pure goodness that you just don't find in other nutritional snacks. On top of this, RXBar is designed to be allergen free. As always, however, be sure to double check any product for allergens before ingesting.
Expand to see more
Totally Simple Ingredients
We mean it. They really are totally understandable and truly the simplest ingredients in any of these products. In fact, they're so simple RXBar can list them in a rather large font on the front of their wrapper. Only whole foods are used in the development of this flavorful variety. This is a huge draw for so many people who are sick of not understanding more than two ingredients on the labels of their food.

Absolutely Allergen Free
If you have a highly allergic family member or friend then you know how stressful it can be to find food. It's even harder if you're looking for very specific health food! RXBar offers a great source of nutrition and energy because of their simple ingredients. It's also because of their simple ingredients that they're so friendly to all sorts of diets! Gluten-free, paleo, kosher, and more are all included on this list. Although there will still, of course, be people who are allergic to their ingredients, they stand a better chance of being safe for many.

Cost and Value
Although these aren't the least expensive, they aren't the most expensive, either. The RXBar brand is a great choice because of it's simple ingredients and wholesome nutrients. Those who are highly allergic to certain foods may find relief, and total satisfaction, with the help of this product. We really do recommend it for that reason! Otherwise, it's really up to your personal taste preference. Some people aren't a fan of dates, for example, which make up a large portion of this product. They also reportedly have a rather strange texture. This is most likely a trade off because their recipe is so short. Either way, if either of those two features are off putting, we suggest going a different route.
Whole 30 compliant
No added sugar
Kosher
Paleo friendly
Gluten free
Repeated bad deliveries
Odd texture
9. Orgain Organic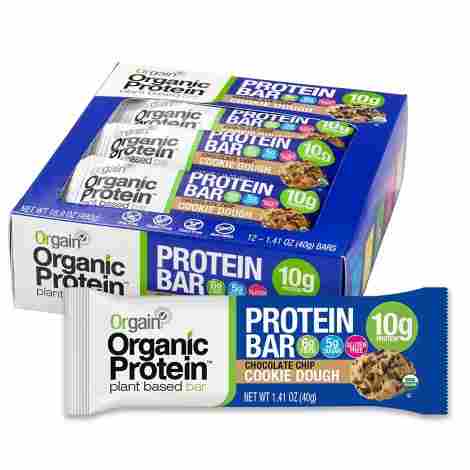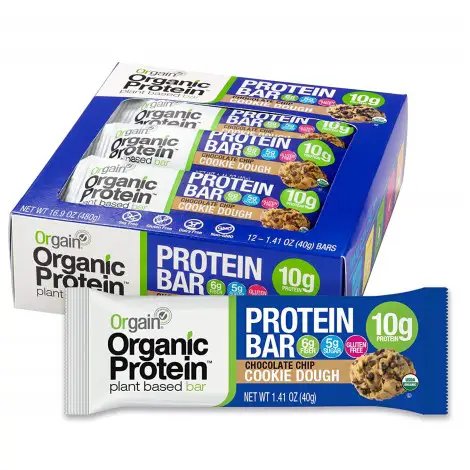 A pick me up that you can pack up for your kids- now that's something we can get behind. Orgain puts out these nutrient-packed snacks that will get your little soccer stars through an entire game. Although children don't normally need a boost of energy, you'll find that this gives them a cleaner boost. You don't have to expect a blood sugar crash later that'll leave them grumpy and lethargic. On top of this, they're obviously awesome for parents, too! Oh, and didn't we mention that they're vegan? Yup, that's right. Plant-based people everywhere rejoice! This is a great deal on a fantastic product.
Expand to see more
For The Whole Family
Are you tired of unhealthy options for afternoon snacks? If you're a busy family constantly on the go then you need a good,
travel-friendly
option for your kids. These are a great way to get your family fueled up and ready to go for an afternoon of adventures. Heading over to soccer practice? Pick up a box for the whole gang! You really can't go wrong when you go with Orgain Organic! The other moms will love you… or they'll be super jealous of your foresight and healthy snack options. Either works for us!
A Vegan Friendly Option
Gasp! What's that? Veganism? The horror! We joke, we joke. As it turns out, there are all sorts of people who have gone vegan for a wide swathe of reasons! You'd be surprised to learn that a lot of fitness trainers are powered purely by plants. Some swear by it as a weight management diet that provides you with entirely clean fuel. Because of this we knew it was absolutely crucial to include a product on this list that appeals to plant-based people.
Cost and Value
Just the fact that these are vegan-friendly is enough to make our tails, and tongues, wag! Not many options on the market are so it's nice when plant-based people are able to get a piece of the pie. The cost is on the upper end, but this is mostly because of the complex nature of the product. After all, it takes quite a bit of time to get a good recipe which is entirely vegan. On the other hand, this really isn't a great choice for people who aren't vegan. The taste can be slightly off putting, and so can the texture. As with most vegan products, they just taste differently than what we're used to. But, hey, if you happen to be plant-based then go for it!
Vegan
Low sugar
Variety of flavors
6g of fiber
12 bar package
10. Quest Nutrition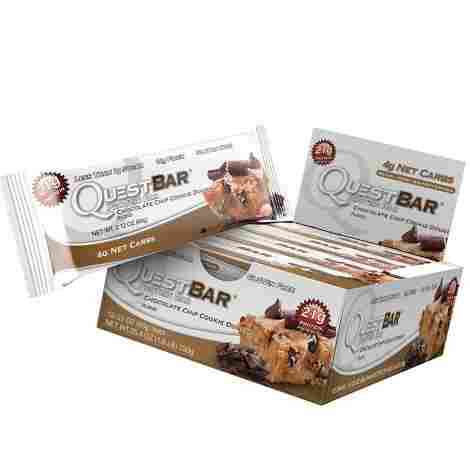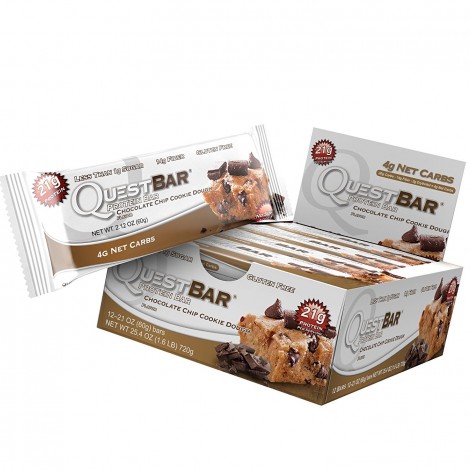 This is one of the more expensive models on the list. However, you might find it the most suitable. Venzo gave this model a rugged, masculine design that means business. There's no mistaking this pair for being feminine, or "chic", in the least. Even while they don't embody the same good looks that other styles might, this style by Venzo is still fantastic. It's especially great for those who aren't looking for an understated pair. Venzo provides matching pedals with this pair, as well, which makes them an even better choice for people across the board.
Expand to see more
Doubles As An Ingredient
Trying to figure out how to balance baking with health? If you love getting in the kitchen and crafting confectioner treats from scratch, then this is the product for you. Quest themselves say that you can easily break up their sweet flavors and put them into a mix for added sweetness. This gives you a great way to enjoy a homemade dessert without the guilt. Pancakes, waffles, cakes, muffins, and more can all get a boost of nutrition if you add a Quest product into the mix. The best way to do so is just to pop them into a food processor and finely grind them.

Terrific Variety Of Flavor
There are so many repetitive, redundant flavors on the market. Almost each product you look at is just a knock off, it seems, from the last. Unfortunately, it's hard to find a good recipe that doesn't either taste terrible or contain terrible ingredients. Quest has found the right balance between taste and nutrition, and has plenty of great flavors to prove it. Birthday Cake, Blueberry Muffin, S'mores, and Cinnamon Roll are all on the list, and boy, oh boy, do they sound good!

Cost and Value
Ringing in the bottom of the list doesn't mean that a product lacks quality. In fact, it's pretty hard to rank these sometimes because everything we pick is so great! Quest is a fan favorite, and because of this it comes highly recommended. The only thing holding it back is it's price, and it's high fat content. The large variety of amazing flavors really gives this a leg up on the competition. There are some negative reviews that report problems with their orders. Just make sure everything arrives like it should, however, and you'll be okay!
Excellent taste
Fan favorite
Extended Energy
High fiber
Highly nutritional
This extensive list of the best products on the market for cutting out carbohydrates is now complete! We hope that you found exactly what you are looking for. Your between-meal snack, or post-workout munchie, has never been easier to find or eat. We made sure to only include the best tasting, healthiest brands we could find! Each and every last one has something to offer a wide variety of folk. Whether you have multiple food allergies, or celiacs disease, or are vegan, we found the perfect variety to satisfy your needs. Don't get caught up in the wild world of health food! We're here to help you navigate, and keep you informed on the top products available to you. Not fond of the flavors on the list? Have any questions regarding this topic? Then keep reading! We're going to run down the criteria we used to pick out the products above and answer some questions people frequently have.
Criteria Used in Evaluating the Best Low Carb Protein Bars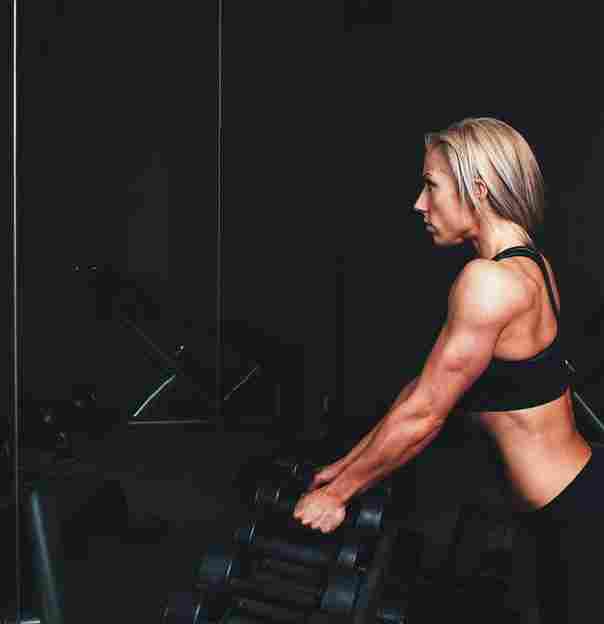 Nutritional Benefit
The very first thing to watch out for is what you're actually gaining as far as nutrition goes. Many of these products are made with a lot of unnecessary fillers. Sugar is the top offender on this list! There's no point in eating what you think is a healthy snack if it has the same sugar content as a Snickers. Always make sure that the sugar content is low, and you'll probably be okay. There are a couple other pieces of information to take into account, however.
Ingredients: Always take a long look at the ingredients. Now, we don't mean watch out for "long names", or "chemicals". Unless you have a background in Chemistry it can be challenging to decipher some of the ingredients. This doesn't mean they're not good for you or inedible! Don't get caught up looking for the wrong things. So, what do you look for? Let's talk about it:
Carbohydrates: Well, duh! We know, this kind of seems redundant. It's a mistake to take a brand's word for it, however. We compared the content of carbohydrates across the board and only picked products that actually had a low carbohydrate count. Try to stay below 5g of Carbohydrates.

Protein: This is, obviously, what makes this particular food such a great choice for athletes and people trying to build muscle. Boosting your intake of this all-too-necessary macronutrient. It helps you repair the microscopic tears in your muscles that you get when you work out. These tears cause your muscles to grow back stronger, so they're totally necessary for athletes of all types. This macronutrient is made up of amino acids, which are the building blocks of life. It's through the power of amino acids that it's able to perform all these miraculous tasks.

Minerals/Vitamins: These are important micronutrients that you need in order to … well, survive! Iron, potassium, magnesium, and more all fall under this category. Look for a high concentration of these! Unless you're on a special diet that requires you to avoid certain vitamins or minerals, you'll just pee out what you don't need. It's better to go a little overboard. Not too much, however, since there are some weird side effects you can experience if you do get them in high enough volumes. That's pretty rare, though, so don't worry about it too much.



Processed Soy: Dun-dun-dun! This is actually something you don't want to see. Soy absolutely has a beneficial effect in some aspects of a diet. However, too much soy is not good for you. In products such as these, you don't want to see this as an ingredient. Leave the soy for your tofu stir fry.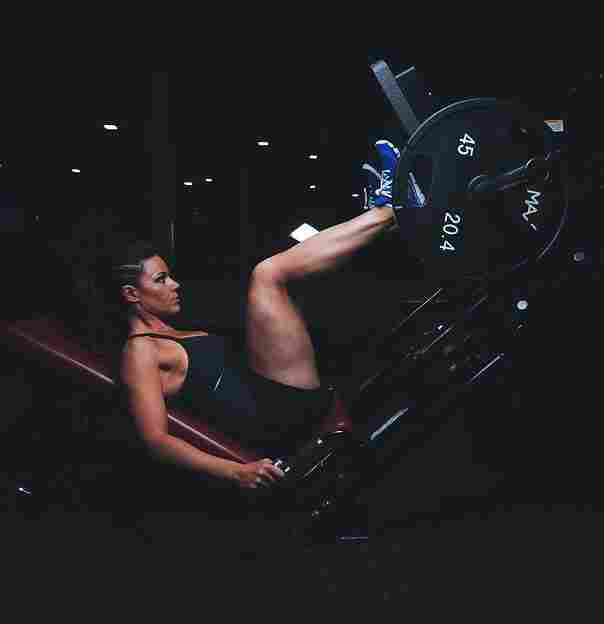 Taste
Obviously, if a product doesn't taste good you aren't going to eat it. This is a pretty simple concept and is a basis for employment for every taste tester out there (man, what a job!). We really kept a close eye on customer reviews relating to the taste of a product. There were definitely some that stood out more than others! This isn't the only criteria to take into account, of course. Some, like nutritional benefits, are more important than others. Taste should be secondary to nutrition-related issues. Of course, a product with high sugar will taste great. However, it won't be healthy. Just another thing to take into consideration!

There are two basic pieces of information we especially kept a close eye on.
Texture: Nobody likes a weird texture. Literally nobody. That's why we were on the lookout for a texturally sound design. You shouldn't have to deal with a chalky texture (or taste!), and there's no reason why the inner portion of the snack has to be thick and unpleasant. Most of these are great options taste-wise! Of course, we did feature one vegan product that has a so-so taste… but you're trading off some of that taste for the lack of animal products used in its production.
Flavors available: You need a large selection of flavor because of how varying the reactions are to these products. One person might swear by vanilla bean based products, and another might gag at the mere thought of that same snack. Having a wide selection of tastes available to the consumer means ensuring that every person out there will discover a flavor they love. If you don't like one flavor from a brand, don't just write all of their products off! Try a couple more, and you might be surprised at how different they can be.
Price Per Unit
Finally, we looked at the price per unit. This is hugely important for a huge range of products! Price per unit is how much each individual product in a pack costs. Essentially, it breaks down the numbers so you can see how much you're actually paying. If an item comes in a larger size, but you aren't actually sure about the savings, just look at the price per unit. This will tell you how much money you're shaving off each individual unit and is a much better indicator of value.
FAQ
Frequently Asked Questions
Q: What is a carbohydrate?
A: Let's get some science up in this thing, shall we? We all know how big of a fan of science we are here at GearHunt. There's just something so alluring about understanding the world around you on a more complex level! We try to break it down to simple terms, so bear with us a little.

Essentially, a carbohydrate is an organic compound. No, "organic" has nothing to do with new-age health food in this case. In fact, the term organic actually refers to carbon-based molecules. Or, really, any molecule that contains carbon. This includes starches, sugars, and cellulose! Pretty neat, huh? In fact, there's a whole world out there on organic chemistry!

So, these are the compounds that most animals break down to make ATP (adenosine triphosphate). This is the chemical we use to produce energy through something called the Citric Acid Cycle. This cycle takes ATP, and turns it into ADP (adenosine diphosphate). This is another super complex topic for a different time.
It's through this cycle that carbohydrates are put to work providing you with energy. However, there are other ways to achieve the same boost in energy without some of the carbohydrate-related side effects. Low Carbohydrate foods like the products above take this into account and craft recipes that more than make up for their lack of carbohydrates.
Q: Macronutrient? Micronutrient? What does it all mean?
A: Ah, yes. The founding blocks of nutrition! … Well, kind of. Essentially these are the two different groups you're watching the numbers for. Cutting carbohydrates affect your macros, whereas taking supplemental vitamins affects your micros. These are two very important topics to take into account while you're looking to build muscle or better your health.
Q: What ingredients should I watch out for?
A: There are two ingredients you really want to steer clear of: sugar, and soy. We went over them both earlier in the criteria, so if you haven't read that then you should. Without getting too far into the subject just know that neither of these is particularly healthy. Soy has its place in a healthy diet, and so does sugar, but in large quantities, they can pose a problem.

Which flavors are the best?
A: While this is up mostly to personal taste, there are a few flavors that work better than others. It's no secret that this style of snack can leave a chalky taste in your mouth. If poorly made they can really be unpleasant to eat. Vanilla seems to be the top contender for "best flavor", as do chocolate blends. We recommend strong flavors, such as mint. This is a great way to mask a sometimes unpleasant flavor.
Q: So, can I do anything besides eat them?
A: Okay, we sort of made this one up. Sort of. Actually, it is a good question to ask that most people don't even think of. Have you ever tried baking with them? As it turns out there are quite a few interesting things you can do! Here are some ideas:

Cake Frosting: Blend the flavor of your choosing in a food processor until it's completely crumbled. Then, mix it in with your frosting! This creates a lovely texture and adds a boost of flavor to any frosting. You can do the same thing to make cake pops for a post-game treat for the kids! The possibilities are pretty endless.


Pancakes: Love your buckwheat, but feeling something new? Whole wheat pancakes are great for a healthy diet and are a staple source of nutrition. Try the same thing we talked about above! Just use a food processor to grind up a product from one of the brand's above. Then, add it to your pancakes. It'll give your breakfast a boost in flavor you'll love. On top of this, it turns a hearty meal into an even healthier start to your day.


Muffins: Are you a baking fanatic? We sure are! There's nothing better than getting covered in flour while whipping up some tasty treats in the kitchen. Adding chunks of protein bars to your recipe can give a sweeter boost than regular fruit might. It also adds more nutritional benefit! Fruit is actually super high in sugar, so if you're watching out for sugar content stick to adding a Quest or Clif product instead.


Granola/Muesli: Alright, this one is weird. We know. But think about it! There are quite a few granola-based products out there. Tear them up into chunks and add them to your morning muesli! Plain granola doesn't have to be grueling anymore. Feel good about what you're adding to your breakfast, or snack, while still maintaining a great flavor.
Sources
Diet Doctor, A Low-Carb Diet for Beginners
Strength Sensei, Low Carb Eating Pros & Cons
The Fit Housewife, Why Eat Low Carb