Best Free Weights Reviewed & Rated for Quality
In a Hurry? Editors choice: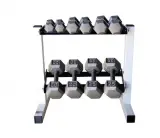 Test Winner: Cap Barbell Solid Hex Dumbbell Set with Rack

Free weights are necessary because they tend to
work more muscle groups
than weight machines. Unlike a weight machine, a free weight requires you to lift and steady the weight at the same time which requires more effort than picking up a weight that is on a slider and stabilized on its own. While an
exercise machine
may be able to build strength, free weights are necessary to
sculpt and tone your body
. The more you use free weights, the better you will look and
the stronger you are going to be
. So here's our list of weights that you can get online and will end up underfoot and hopefully get rid of at least one excuse for not hitting the gym.
Standout Picks
Criteria Used for Evaluation
Adjustability
When you are picking out a set of weights, you are going to notice that there are two main kinds of weights that you can pick between. One kind if a fixed weight while the other kind is an adjustable option. It's important to understand the differences between the two different kinds so that you can get the type that is proper for your needs. Fixed size weights tend to be more common between the two different styles.
A fixed weight is a free weight that has a constant weight. You can get them in dumbbells, kettlebells, or plate weights. The size and the weight do not ever change so you are going to need to get more than one weight in the event that you need different sized weights. This is the main disadvantage of fixed size weights because you will need more room to store them when you are not using them. It can also lead to additional expense and you add more weights to your collection.
Adjustable size weights are weights that allow you to add or remove weight depending on how much weight you are going to need. They typically have some sort of a mechanism that holds plates to the weight so that the weight doesn't fall off while you are exercising. The advantage of having adjustable weights is that you can reduce clutter and you have a complete range of weight with a single item. However, these weights cost more and normally have an abnormal feel to them when compared to fixed size weights. You are also limited to dumbbells with an adjustable weight as well.
Style
There are three main categories of free weights. They are the dumbbell, plate weight, and kettlebell. None are necessarily better or worse than the other and many people have a collection of the different options in their exercise area. However, some weights are better suited to one kind of exercise over another kind which is why people tend to have a diverse collection.
Dumbells are one of the most commonly used kinds of free weights. These are weights that have a grip bar in the middle and then plates on both ends of the bar. You put your hand between the weights on the grip bar in order to use them. You can get lots of different kind of dumbells in terms of size, color, and construction but they all look about the same.
Kettlebells are shaped in a ball and have a handle on them. The bottom of the ball is flat so that they don't roll over when you put them on the ground. You can use kettlebells for deadlifting but they are also great for exercises that require you to swing the weight since you can easily hold onto them while performing such motions. The final kind of weight is the plated weight. These are simply circular plates that have a slot in them for you to grip them with your hands. There are plenty of different exercise routines that you can perform with such weights but abdominal workouts are a well-known use case for plate weights. When you are building your collection of weights, you will most likely want to include all three kinds of weights.
Protection
Most free weights are made of cast iron and therefore require some form of a coating in order to keep them from getting rusty. The type of coating will affect how the weight looks as well as how it feels when you are holding it. The type of coating may affect your floor depending on your floor and the type of coating that is used. Finally, some coatings will let you take the weight outside without you having to worry about it rusting if you get caught in light rain or it's humid outside.
Paint is one of the most common kinds of coating used for protecting weights. Higher quality weights normally have higher quality paint while lower-end weights have a less expensive paint. The paint used will be oil based to repel water and it will most likely have anti-rusting agents in it as well. Chrome is another popular finish that is normally used on the handles. It gives the weights a shiny appearance but tends to be more durable than regular paint.
Rubber is another commonly used coating material. One of its main advantages is that it will protect the floor in the event that you accidentally drop the weight, however, rubber can also mark up your floor as well. There is also vinyl, which is normally used on weights that are made of concrete rather than iron. Vinyl is useful because it will not mark up your floor if you put it down. Finally, there is urethane which is a plastic-like material that is used to coat free weights. It is the most durable of all of the coatings but it can also last the longest.
Features
There are two ways that you can purchase free weights. One way is to purchase the weights individually while the other way is to purchase them in a set. For some people, it's better to purchase weights in a set rather than purchase them one at a time. The main reason is that you will get all of the weights that you need in one purchase and each weight will normally cost less per weight. Many of these weight sets come with a stand so that you can organize your weights as well. This can be a great way to help you get started in the event that you decide that you want to furnish a home fitness area.
However, there is a reason to purchase free weights individually. One of the reasons is that you simply may not need an entire set of weights. For example, if you started by purchasing a set of weights and then only needed to add one or two weights to it that didn't come in the set initially, then it doesn't make sense to purchase an entire weight set. Some people only want a pair of small weights for jogging rather than strength training and therefore don't need a full set of weights either. You may also choose to purchase weights individually because you are getting adjustable weights. The main downside of buying weights individually is the cost. Set weights are normally discounted to help keep the entire cost of the set down while individual weights have a higher markup. If you need to build an entire collection from start, then you should go for a set of weights rather than individual weights.
Durability
When you are purchasing free weights, you are going to want to consider the quality of the weight in order to make sure that you get a good weight. Low-quality weights can cause issues such as looking bad but they can also lead to injuries in some cases so you are going to want to make sure that you get good weights to avoid such issues. There isn't a lot that can go wrong when it comes to free weights, but there are a few trouble areas that you need to watch for.
One common area is the coating. Paint and chrome coatings can crack and chip off of the weight which will leave the weight exposed to moisture. Later on, the moisture can lead to rust which will cause the weight to look old and worn out. Higher quality weights have better paint and chrome finish so you may want to spend a little extra in this area. When the weight has rubber, vinyl, or urethane coating, you should try and make sure that it isn't broken or cracked. Otherwise, the coating will break and peel off of the weight which can leave the inside of the weight exposed to the atmosphere.
Adjustable weights can have additionally quality issues. Some of these weights have a screw on the collar that holds the weight plate onto the handle. Many times this collar can get lose which can cause the plates to fall off. If the adjustable weight uses pins, then the pins can stick and it may not hold the weight plates securely or allow them to release when they should. When it comes to adjustable weights, you can typically avoid such issues by getting a higher quality weight set.
10 Best Free Weights
1

. Cap Barbell Solid Hex Dumbbell Set with Rack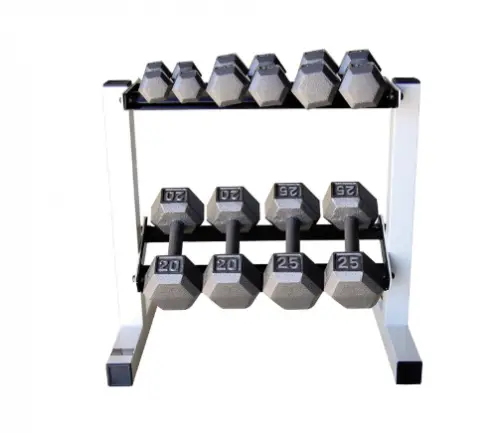 When all is said and done, despite all the new bells and whistles of the modern age, and despite the inevitability of next-Gen smart weights that will track your reps and total poundage (we're making this up but it's going to happen right?), We're traditionalists when it comes to lifting. Because at the end of the day, you want to get in shape, you move, and you lift weights, it's really that simple. And if that's what you want then this is what you need. No bells, no whistles, just a full set of weight that will let you do pretty much whatever you need when it comes to barbells.
Rack Included
Really the best part because who wants random weights littering your workout area. Honestly, we kid but this rack keeps everything well organized and up against the wall where it should be. And if you want to upgrade the rack has a 500-pound capacity so you can upgrade as you pack on the muscle.
Hex Shaped Design
Classic, heavy and cool looking the hex shape keeps them from rolling around the floor and crushing your toes, or any small animals that might be slinking around the weight room. The weights themselves also have raised number so it's easy to tell the weight you're working with.
Cost and Value
For all these weights and the rack, this is a great price. And once you've got this set up the sky's the limit when it comes to doing what you need to do with dumbbells. Plus the ability to upgrade makes these dumbbells a great investment in your workout future.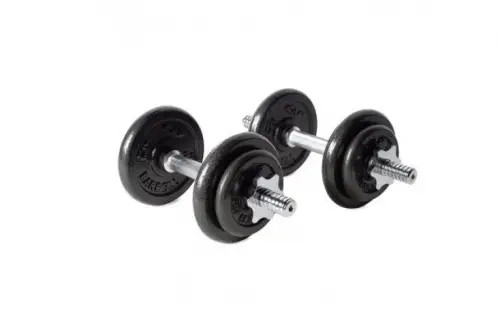 This is a dumbbell set that lets you add and remove weight as needed. It comes with a bar and weight plates which you add to the bar in order to increase the weight of the dumbbell. This will help you save on clutter in your workout area so that you do not need an entire set of dumbbells for your home fitness area.
Plates
You increase the weight of the dumbbell by adding plates to it. There are four plates that weigh five pounds and then there are four 2.5 pound plates for smaller weight increments.
Screw Handles
The handles have a non-slip ergonomic grip. There are threads on the end of them where you screw the collars onto the handles and secure the weights without having to worry about the plates dropping.
Cost and Value
You can purchase this set at a price that is lower than the average price. The lower price is due to there be fewer weight options than what you may see in higher priced sets.

3

. BalanceFrom GoFit All Purpose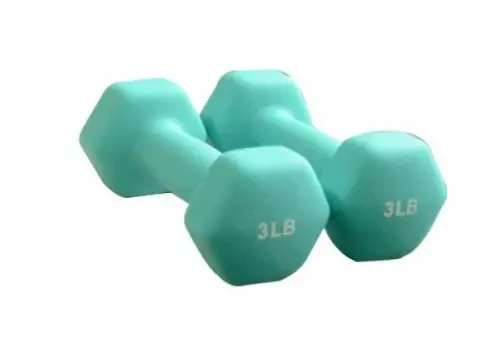 As the name suggests, this a set of general usage dumbells. You can use them in indoor and outdoor settings so they are perfect to use when you are free weight training inside and then take jogging with you later on outside. All of them are coated with Neoprene so that they last longer and resist rusting and corroding.
Weight Stand
When purchased in a set, you get a weight stand that is easy to put together. It's helpful to have since this will help to keep your fitness area organized.
Hex Shape
Circular dumbells are known to roll around on the floor. These dumbbells have a hexagon shape that will keep it from rolling around in the event that you put the weights down.
Cost and Value
When purchased in a set, you will find these weights sold at a price that is lower than the average price. This makes them into an excellent value since you don't have to pay a premium for them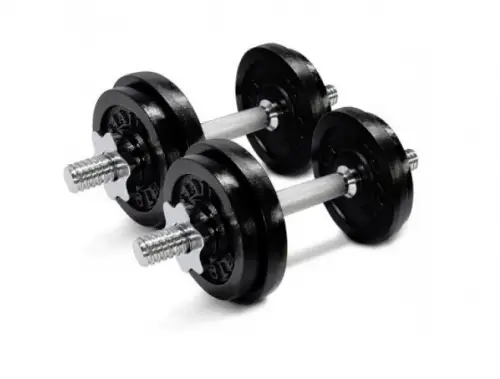 Here is another set of adjustable dumbbells. They are great for a home gym since they will require less space than a set of dumbells which will help to reduce clutter. You simply add plates to the handle so that you can get the desired weight and then screw the collar on tightly so that you can start your lifting routine.
Size Options
You can pick the amount of weight that you want in the dumbbell kit. The weight ranges from the forty-pound kit all of the ways up to the two hundred pound kit.
Black Finish
Each of the plates is made of cast iron and have a black finish. The finish will help to keep the iron from rusting so that the weights will continue to look new.
Cost and Value
The price range on this set varies depending on the size that you get. The forty-pound kit is sold at a lower than average price but the two hundred pound kit is sold well above the average price.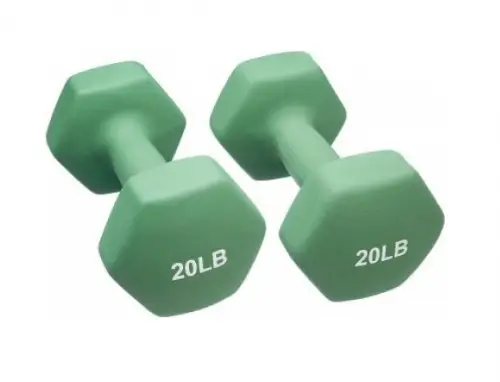 This is a pair of low-cost dumbbells. They aren't adjustable but you can pick the weight that you need in order to get the proper size. They are perfect for free weight training and are coated with neoprene in case you accidentally drop them. You can purchase the weights individually or in a set depending on your needs so they are a great choice.
Hexagon Shape
The weight is shaped in a hexagon. This shape is better than the circular weight because it will keep the weight from rolling away on your when you set it on the floor.
Printed Number
The weight number is clearly printed on the side of the weight and they are color coded so that you can quickly and easily identify each of the different weights.
Cost and Value
When purchasing these weights in a set, the price is slightly lower than the average price. If you purchase the weights individually, then the price is highly variable and will depend on the weight size.

6

. Power Block Adjustable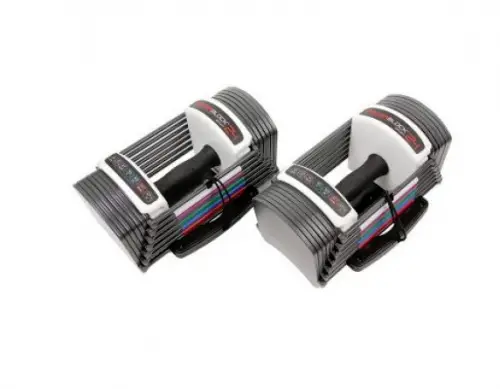 If you like dumbbells that adjust quickly, then you will love the SpeedBlock dumbbells by Power Block. These dumbbells have an adjustable weight that you can get set quickly so that you don't have long setup times between workout routines. They are ergonomically designed to help protect your hands and your wrists and are easy to use so that you can focus on exercising.
Padded Handle
They have a handle that is padded. The padding makes it easier on your hands and your wrists which will help to reduce injury from using the weights.
Adjustable
You can adjust the weights in increments of three pounds. The range is from three pounds to twenty-four pounds on each dumbbell so you won't have trouble getting the proper weight.
Cost and Value
This is a premium product so you will need to plan on spending more than the average price on this product. The quick adjustability makes it into an excellent value.

7

. AmazonBasics Rubber Encased Hex Dumbbell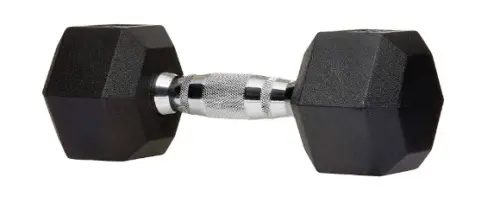 A simple little barbell to keep handy in case you need a quick workout. It's rubber encased so it won't make a dent in your flooring and it's also safe enough to keep at your desk at work just in case you need a quick bicep or a tricep fix. Point is this is a really well-made dumbbell that's going to serve you well. It also comes in as many weights as you can imagine from 10 to 45 pounds.
Solid Cast Iron Core
This is important because this means the weight is exactly made. But even more important it won't fall apart over time. This is just one big giant chunk or iron. As it should be! Am I right? Seriously though, this is guaranteed not to bend or break.
Hexagon Shape
This is vital to us because we like our weights to stay put wherever we put them. As great as round dumbbells are we tend to like to keep them from rolling around the floor. It doesn't seem like much of a big deal until you discover that your basement floor leans to the right… and there go your dumbbells. The Hexagon shape avoids all that.
Cost and Value
Sure it's only one weight but it's also a low price so you can afford to get a second for not much money and then upgrade as needed. This avoids having to lay down a lot of scratch for an entire set all at once.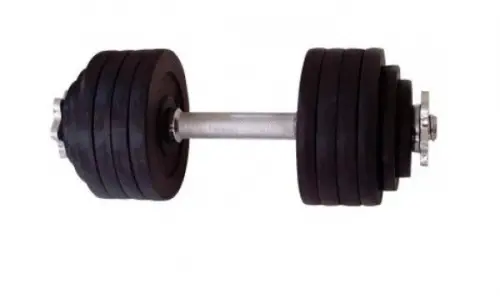 Adjustable dumbbells are a great option for a home workout area because it helps you to reduce space and clutter in your fitness area. This set lets you reach a weight of up to 105 lbs between both of the dumbbells so even the strongest weightlifter will feel challenged when they are lifting with this set of dumbbells by Unipack.
Cast Iron and Chrome
The plates are made of a strong and heavy duty cast iron. The handles are plated with chrome so that they continue to look nice and shiny. This will help your set last for a long time.
Adjustable
You can adjust the weight on the dumbbells by adding and removing plates. The more plates you have on it, the more the dumbbell will weight. This lets you switch weights as needed.
Cost and Value
You will find this product sold at a price that is higher than the average price. The higher price is because it has a large range of weight which adds to the cost.

9

. Tone Fitness Kettlebell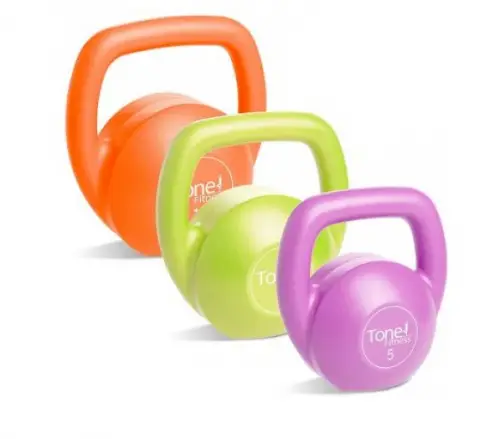 Kettlebells are great for toning muscles. They allow you to do exercises that involve a swinging motion so that you can tone quickly. You can also use them for regular dead weight lifting. Tone Fitness sells kettlebells in a set or individually so that you can purchase the ones that work the best for your needs so that you can tone up.
Smooth Handle
The handle is smooth which makes it easy for you to hold onto the kettlebells. This will give you a firm grip whenever you are doing exercises that require you to swing the kettlebells.
Instructional DVD
You get an instructional DVD when you purchase the kettlebells in a set. This will help you get started when you aren't sure what sort of exercises you can do with them.
Cost and Value
When purchased in a set, the kettlebells are sold at a price that is lower than the average. The lower price turns them into a great option for your home fitness area.

10

. Bowflex SelectTech 552 Adjustable Dumbbells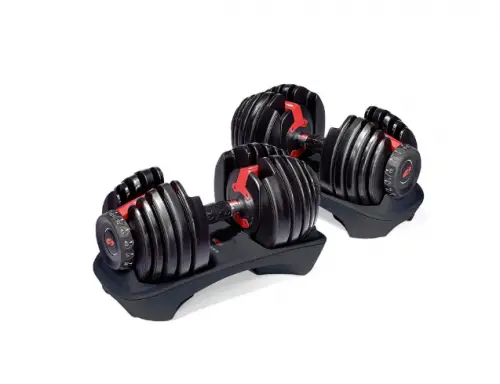 We like these weights of course because it's a great all in one package. Plus it's Bowflex, and while their commercials might not be the coolest their name is synonymous with exercise equipment for the home so you know that a lot of thought went into manufacturing these babies. The idea is simple, one handle, and many weights. Sounds very democratic but honestly if convenience is important, or if you just don't have much space this is a great option.
Adjustable Dumbbell
It's a simple idea with one handle you can simply dial up your weight using Bowflex's unique dial system. This eliminates clutter and allows you to easily dial up your workout and your weight without switching between weights scattered all over the room. The dumbbell adjusts from between 5 to 52 pounds in 2.5-pound increments. That's ideal for a long-term workout.
Two Year Warranty
Just in case you're skeptical about how this actually works you have a two-year warranty on plates and parts. So in case something doesn't work well you can just send it back or get a replacement. We appreciate a company willing to stand behind its equipment.
Cost and Value
Not cheap, but you're not just paying for dumbbells you're paying for ending workout room clutter, and you're paying for a unique dialing system that puts all your weights on one handle. And you're paying for the Bowflex name and a two-year warranty. So while the price tag ain't small you're getting a lot for your money.

Subscribe to our Newsletter