Best Green Tea Pills Reviewed & Rated for Quality
In a
Hurry? Editors choice: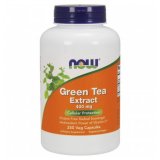 Test Winner: Now Foods

Green tea extracts come in many forms, such as powders, pills, and liquid extracts. They take all the healthy ingredients in green tea and distill them down into a more concentrated form that you can quickly take before heading out the door for work or other errands. When green tea is distilled, there are many ways that it can come out, The formulae of each type of extract is slightly different in their composition. These extracts are also different in their sizes and methods of taking them. This list has a selection of the best, and most reliable, green tea extracts on the market. Check out this list and find the best product for you.
Standout Picks
Criteria Used for Evaluation
Potency
Many people who join the world of green tea extracts are coming there because of the promise of a slimmer waist. The caffeine in green tea makes it a great choice for losing weight, while not being as powerful and uncomfortable as taking caffeine pills. The concentrations in these pills are all slightly different from one another, as is the number of pills each container suggests that you take. The higher the rating in this category, the more likely that the extract will do a good job of helping you get rid of the weight. Green tea pills are best used in combination with a healthy and lively lifestyle, and will make it easier for you to lose that annoying weight that keeps sticking on due to all of those times you couldn't make the right choices for your health. This is a backup that can help you keep a healthy metabolism.
Protection
This is one of the better side effects for you to consider when thinking about taking green tea extract pills. Drinking green tea is great for helping prevent a myriad of health complications that can come up in later life, ranging from your cardiovascular health to the wellness of your stomach and others. The two ingredients in green tea that accomplish this are catechins and polyphenols. These ingredients make a protective layer around the cells in your body that prevents floating molecules, called free radicals, from attaching themselves to your cells and disrupting their internal processes. Taking a regular dose of green tea extract will protect your cells from many of the diseases that are associated with the slow regression of our bodies due to aging.
Capacity
An important part of buying yourself a green tea extract is checking with how high the dose is, as well as how many capsule you are getting in a single canister. The higher the rating in this category, the more green tea extract you will be getting in a single canister. This is important for a few reasons when it comes to the convenience that is expected when buying green tea pills. Some green tea pills are supposed to be taken once a day, and only a single pill. This means that the number of capsule in the bottle are exactly as many days as the pills will last you. However, other pills are expected to be taken multiple times a day, and sometimes you are supposed to take multiple capsules at once. This will significantly reduce the length of time that a bottle will last.
Effectiveness
A third benefit that you will receive from taking green tea extract is an extra layer of focus and energy so that you will have an easier time going about your day and getting all of your daily tasks accomplished. This is usually from the caffeine in these pills, but there are other ingredients in green tea that give you a calm focus, while also giving you the energy to go through your day. This is in comparison to pure caffeine pills, which can give you an overabundance of energy, and side effects such as a jittery feeling. The added focus of green tea pills make it a much easier task to tackle all the days problems head on. The higher the rating in this category, the more likely that the pill will be able to prepare you for another long day.
Value
The value that you get out of a bottle of green tea extract is an important thing to be aware of. If you think of the fact that your bottles will always run out, as long as you continue taking the green tea extract, then the longevity that you get out of each bottle is very important to consider. The higher the rating in this category, the more life you should get out of a single bottle of pills. This takes into account things like your daily dose, which can be anywhere from one to four pills, as well as the amount of pills in a single value. There are other factors to consider, such as that companies not on this list will often add fillers to the pills so that they seem to last longer, when in fact you are just getting less of the important life-improving ingredients.
Subscribe to our Newsletter