Best Waterproof Fitness Trackers Reviewed & Rated for Quality
In a
Hurry? Editors choice: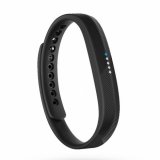 Test Winner: Fitbit Flex 2

Many people who use fitness trackers wear them all the time. This is the best way to get the maximum amount of reward out of your fitness tracker. The more data it gets about your living habits, the better a job it can do making sure you are on the right track to staying healthy. Because of this, it could be important to get a fitness tracker that can follow you everywhere.
Waterproof fitness trackers
do all of the things that other fitness trackers do, but now you can truly take them everywhere. These are great for swimming, running in the rain, and everywhere else as well.
Here you'll find a list of the best options on the market. They differ in price, accuracy, and many other categories. Have a look around and find the option that will best fit your lifestyle.
Standout Picks
Criteria Used for Evaluation
Accuracy
The only way that a fitness tracker can do an effective job of helping you along your path to better help is to give an accurate reading on what your body is doing. the fitness trackers on this list will all do a good job of keeping track of whatever it is they monitor, but the best will be at the top of th elist. Fitness trackers keep track of many things. They track heart rate, calories burned, steps counted, reps done, and many other things. Many of these things are also counted in different ways, which makes all the technology packed into such a small object much more impressive. A good way to see the accuracy of your fitness tracker is to compare it to something else. The biggest discrepancy usually find is in the step counter. Try and compare your step counter to another pedometer of some kind. Some fitness trackers only track the movement of your wrist, instead of the better indicator of your hopping step. Try to keep this in mind when buying a fitness tracker.
Water Resistance
Having a fitness tracker that is waterproof opens up many possibilities for you. In terms of convenience, having a fitness tracker that is waterproof means that you never have to take it off. This is great for keeping an accurate reading of your vitals and health over the course of a full day. You can now wear your fitness tracker in the rain, which means that bad weather doesn't have to stop your fitness journey if you want to go on a run. It also means you can shower with your fitness tracker on. This is great because it will reduce the time of taking off and on your tracker. Finally, now you can take your fitness tracker swimming. Swimming is one of the healthiest exercises there are. Being able to track your self through that kind of exercise opens up many more possibilities. Most fitness trackers are rated to a certain depth. For the most part, this will be forty or fifty feet. Fitness trackers still can't be used when you go scuba diving. Always check the amount that the fitness tracker rates itself to.
Battery Life
The more battery life that your fitness tracker has will determine a lot of the convenience of wearing it all the time. The battery life of fitness trackers vary wildly, and are dependant on a few different things. In general, the battery life of a fitness tracker that uses rechargeable batteries will last for less time than one that needs its batteries replaced. Some watches that need to be recharged will last for around three weeks, while others will need to be recharged once a day. Try to find out what each product claims they will last for. What apps you are using on your fitness tracker will also determine how long the battery lasts. Some of the programs in a fitness tracker take a lot of power to keep running, such as when you are using a GPS, for example. On the other hand, when you use a replaceable battery, your phone will last much longer. Sometimes, a non-rechargeable battery will last for up to six months. This does accrue some extra cost over time. You'll have less to worry about, though.
Apps
There is a wide variety of apps that you can find on your fitness tracker, but even more confusing is that many of them are exclusive to different fitness trackers. Soime fitness trackers don't even keep track of your heart rate. Fitness trackers, more than many other products, should be well-researched before you purchase them. The basics are things like calorie counting, step tracking, and recording sleep. These are good building blocks to a healthy lifestyle. Some fitness trackers will come with an accompanying app that will record an activity log from all of the statistics that it is tracking. This is more than enough to live well on. There are other fitness trackers that have entire app stores where you can download many kinds of apps for many kind of useful things, such as anxiety reduction or specific workouts.
Comfort
This is another very important thing to keep track of when buying yourself a fitness tracker. It is also plainest, and most obvious thing that you'll notice when wearing your fitness tracker. You will often be wearing your fitness tracker for extended periods of time. You should find one with a comfortable band that isn't too tight. Adjustability is a plus as well. A good material that doesn't pull at your skin. Sometimes the clasps on fitness trackers can fall off, as well. Try to find one made of sturdy materials. All of the choices on this list will do a great job. Try to find one that you won't notice resting on your wrist all day.
10 Best Waterproof Fitness Trackers
Subscribe to our Newsletter