10 Best Running Shoes for Men & Women
In a Hurry? Editors choice: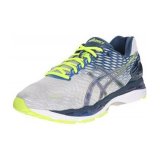 Test Winner: Asics Gel Nimbus 18

Even though it can give the old legs a pounding running can be one of the healthiest activities you can perform as an athlete. And shoes are to runners like tools are to builders; while running shoes don't determine your capabilities as a runner, they can enhance them. Getting to know your footwear can teach you a lot about running. so we're going to help in choosing the right shoes is included with our list.
Standout Picks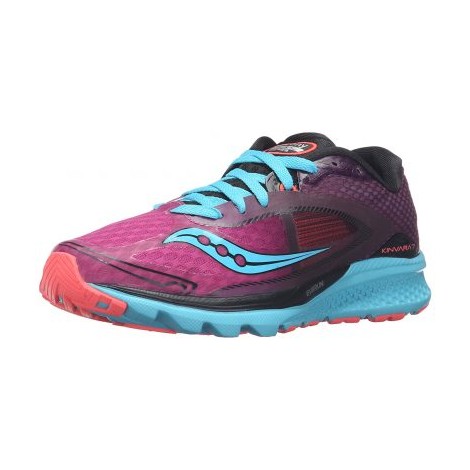 Saucony is a brand that you can count on to deliver the best and most comfortable running shoe. The Kinvara 7 is the perfect running shoe for when you are running on a track or on the street. The rubber grip sole helps to make sure that you have the maximum amount of grip while you are running and the shoe has been designed to reduce running impact on your feet.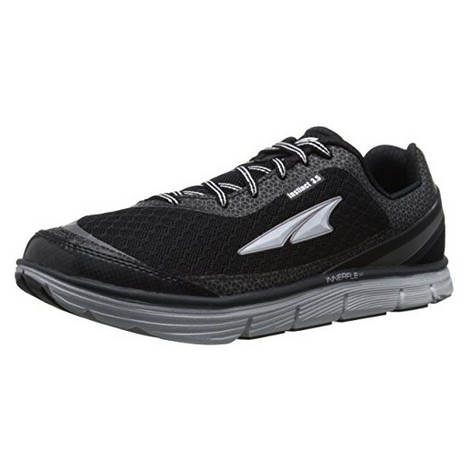 Altra goes back to where it all started, the Instinct. Back with a completely new look, a highly comfortable upper build, and a more responsive approach. While still remaining as lightweight and flexible as ever, Altra implements the new technologies that put them on the map. An intuitively-design toe box gives you the space you need to relax your foot for a natural ride. The comfort of the Instinct 3.5 makes it an ideal choice for distant runs and long walks.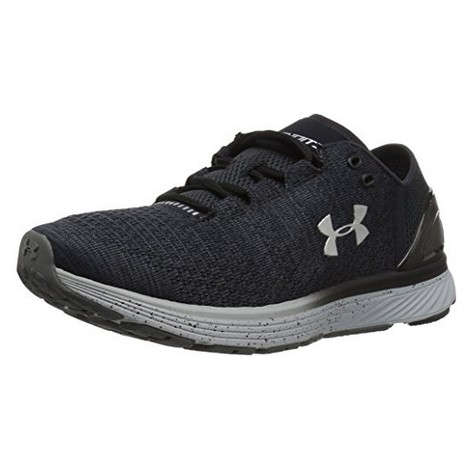 Under Armour has a reputation that goes undoubtedly in the world of performance gear, and their Charged Bandit 3 is one of the best running shoes available. Implementing UA's patent construction, this pair is guaranteed to keep a precise fit. Aside from being highly flexible and breathable, the Charged Bandit 3 is also lightweight. In general, it covers every aspect of performance you need for running.

Criteria Used for Evaluation
Shock Absorption
Running is a high-impact sport, which means our body is constantly exposed to shock while running. Normally, the energy from each impact would have a negative effect on our joints, and, although not major, it would add up with every single gait. Running shoe manufacturers know this, which is why any decent shoe will count with an effective shock absorption system.
It's for this reason that we consider shock absorption to be an important criterion for determining the quality and efficiency of a running shoe. The better the shock absorption in a shoe, the less impact that will affect your body.
Do note that no shoe (so far) is able to completely disperse the shock caused by the impact of a running gait on the floor. There's always a certain amount of residual energy that makes its way up to our body even after going through the shoe. However, the amount of energy that actually reaches our body is much lesser than it would be if we were barefoot.
The objective of a shock-absorption system in a shoe would ideally be to neutralize all shock, but given that it's impossible up to this date, it aims at hindering the impact as much as possible.
When our feet hit the ground during a running gait, the impact shock works its way up from the ground upon impact. The first element it encounters is the sole of the shoe, which in most cases is the most important part of the shoe regarding shock absorption. After going through the shoe, it continues up to our heel, foot, ankle, shinbone, knee, and so on all the way up to the spine.
If a shoe lacks an effective shock absorption system, the shock from each running gait will have an impact on your joints. While the effect of one gait may be insignificant, running consistently with shoes that feature poor absorption expose the user to long-term consequences. These may vary from joint pain, heel bruising, and even an unnatural posture.
During our evaluation of the best running shoes, we gave preference to those shoes that count with an efficient shock absorption method. At the same time, we used sub-criteria to determine the level of absorption in the shoe:
Midsole
The midsole is the main element of the shoe regarding shock absorption. In some cases, it's also the only part of the shoe that plays a real role in the process. Other elements of the shoe may be involved, such as a cushioned insole, but their contribution is nearly insignificant in comparison to the midsole.
Don't get it wrong, though. Each element that provides further cushioning is making a contribution to the shock absorption process. For as little as it may be, the contributions of secondary elements will add up to remove some stress from your body at the end of the running session.
The most important aspect of the midsole is the material of which it's made. A decent midsole is one that counts with highly absorptive materials. Rubber has been a preferred option through the years, but this era of synthetic materials brings more and better options. Thermoplastic polyurethane (TPU), for example, counts with better absorptive properties than rubber. Additionally, the material is much lighter in weight.
Thus, we looked for midsoles that preferably contained materials with great shock-absorption qualities. Meaning that shoes with a midsole made from ethylene-vinyl acetate (EVA), TPU, or other similar compounds had an advantage during the ranking process.
Advanced Features
For obvious reasons, we looked for running shoes that featured some sort of technology that supported the shock-absorption process. It's important that users keep in mind that technology is not necessarily limited to computers or advanced circuits – it's anything that reduces human effort or enhances their performance.
A good reference would be ASICS' GEL Cushioning System. It consists of a layer of a specific gel, which is a patented compound by ASICS, which has unique qualities in shock absorption. This layer is applied to the shoe around the rearfoot, the front foot, or both. The rearfoot gel absorbs the shock upon impact, while the front foot gel relieves stress off the toes during the take-off in the line of progression of a running gait.
Such technologies are usually located within or around the midsole of shoes. Another good example would be Nike's Air Cushioning System. Instead of using gel, Nike inserts a small capsule of air within the midsole. The purpose of this capsule is to smoothen the compression of the midsole upon impact, ultimately reducing the shock energy.
We kept our eyes on shoes that feature technologies assisting the shock absorption process. Shoes that don't count with such technologies weren't necessarily disqualified, as a good midsole material alone can be more than enough in terms of shock absorption.
Responsiveness
This is a term that many running users are still unfamiliar with. It's very similar to shock absorption, except it takes a different perspective. The responsiveness, also known as bounce-back, is a system that uses shock to compress the midsole in a way that it will impulse the user forward when decompressed. This system makes use of the shock energy to assist the range of motion of a running gait, rather than trying to disperse shock away.
Adidas' Ultra Boost technology focuses on this point. Instead of mitigating the impact energy, this technology somewhat accumulates it within the midsole, ultimately releasing it during the final phase of the running gait. The shoe hits the ground, the midsole compresses, and as the foot starts flexing forward, the outsole decompresses once again releasing part of the energy.
We believe this system is highly intuitive. Aside from reducing the amount of shock that actually reaches our body, the responsiveness of a shoe propels you forward. While it may not act as a car's turbo, it certainly reduces the effort you need to make to execute the next gait. At the end of a long run that comprised over a thousand gaits, your body will really appreciate to effort you saved on each gait.
Flexibility
Let's start by saying that a running shoe can't be a running shoe if it lacks flexibility. It doesn't get any simpler than that. Flexibility is of paramount importance for any shoe meant for an activity in which our feet require to bend or flex. Seeing as our feet flex during almost every single motion, we believe flexibility is quite important.
Do note that there are specific cases in which shoes call for a stiff, non-bending sole, such as rock-climbing shoes. But this is definitely not the case of running shoes. Running just isn't possible without the flexibility of our foot. It actually may be physically possible, but with a catastrophic running form and a ridiculous aspect.
The most important area for flexibility is the sole. Think of shoes as a protective case for our feet; a case that resembles the same anatomy of the human foot. The sole would represent the underfoot, and the middle of the sole would represent the arch. Thus, this should be the most flexible area in the shoe – but not the only one.
Our foot changes its original shape considerably as we run, while at the same time it moves around the shoe. The part of a shoe that represents our upper foot is the upper build. In order to deliver the right fight, the upper build should always imitate the upper foot as accurately as possible. Flexibility is required for this.
When our foot starts bending forward in the running range of motion, the upper foot starts pushing against the upper build. If it's flexible, the upper build should easily imitate the foot, allowing it to move freely and covering it as it does so. If it's stiff, on the other hand, it will restrict our ability to move our foot at will. This would create an unnatural tension on the upper foot.
But, just like every other criterion for running shoes, flexibility is not something you should overdo. The more flexible a shoe is, the less stability and support it will have. A completely flexible upper build will offer very little resistance to the foot, which will ultimately lead to lateral swinging while running. Flexibility should only be present to an extent in which the shoe can accurately mimic the movements of the different parts of our feet.
Support
This is the feature that brings stability to the shoe and to the foot inside the shoe. Think of it as the pressure with which the shoe wraps around our foot. Good support is critical to allow the shoe to mimic the motions of the foot as accurately as possible. When a shoe is properly supported, it somewhat becomes one with our feet, imitating it in an optimal manner.
Support is important for a variety of reasons really. To begin with, it has an impact on the fit. A shoe that is poorly supported will cause a loose fit, which is no good for running. Even if a shoe is your exact size, the lack of support will provoke a non-corresponding fit. The best combination for a good running shoe is to get the right size accompanied the right amount of support.
It also plays a role in the pronation process. Unlike many runners believe, pronation is not unnatural and is, in fact, a highly important part of the running process. Pronation is the natural way in which the body distributes the impact upon landing. It's the process of rolling the foot inwards when running.
When running, the foot should land on the outside of the heel, posteriorly rolling inward (pronating) in order to properly disperse shock and support the weight of your body in a natural way. This creates an even distribution from the front of the foot, and it helps relieve a great deal of stress off the ankle.
A shoe that properly supports the foot will prevent it from overpronating. Overpronation happens when the foot rolls inwards much more than it should, in which many little bones and joints suffer. By compressing your foot into the right direction, the support of a shoe can help you avoid a terrible running form.
During our research and evaluation of the best running shoes, we omitted shoes that lack enough support for running performance. Within the shoes selected, we gave extra points to those shoes that deliver a neutral level of support, and we used the same criterion to evaluate shoes meant for users with overpronation issues.
We also kept in mind that running shoes should not only offer general support but also support target to the specific areas that need it the most. These are the sub-factors we kept in consideration:
Arch support
This is a term most runners should be familiar with. As you may probably know, the arch is arguably the most delicate part of the foot. Because of its elevation, the tendons and muscles involved with the arch are engaged most of the time. This means that they're activated without being really used.
The best running shoes should offer good arch support. Before proceeding, it's important to note that it's impossible for manufacturers to create an arch support that fits all feet equally. Because human anatomy is so diverse, it's always recommended that you opt for a custom insole that covers your specific needs regarding the arch.
If you don't suffer from any arch condition, then the neutral support offered by shoes should be sufficient. The arch support is the little bulk that you'll find on the inner build, normally located on the inner side of the arch region. For the right foot, the bulk is on the center left, and for the left foot, on the center-right.
This small bulk acts as a resting place for the arch. By supporting it from below, somewhat compensating for its elevation, the arch support prevents the arch from being engaged unnecessarily. This helps remove a lot of tension from the muscles and tendons related to the arch.
Furthermore, it acts as a stabilizer for the arch as we run. Like we previously mentioned, our feet move a lot internally during this sport. The arch support will help the arch flex much more naturally, also creating a body that cushions the internal side of the arch upon impact.
Other elements
General support is what keeps our foot together to the shoe, but what most people don't know is where does support come from. What creates comfort are the different elements of the shoe that help bring the materials around our feet. It's also comprised of the specific areas of the shoe meant to support parts of our feet.
For instance, the closure plays a big role in the general support of the shoe. The closure is responsible for bringing the upper build around the upper foot. When you pull the laces of a shoe, what happens is the lacing system brings the two lateral ends of the shoe together around the foot.
This is to create tension on each side of the foot to keep it supported, and you tie the laces to keep that tension steady. It's because of this that shoes feel loose when they're untied. The closure is also responsible for compressing the tongue against the upper foot. Believe it or not, elements such as the laces and the tongue are highly ignored, yet very important for support purposes.
There are also elements that exist for the sole purpose of holding a certain area of the foot. The heel counter, for instance, helps stabilize the heel against the back of the shoe. It's also meant to create comfort around the Achilles tendon located just above the heel, on the back of our foot.
Comfort
Put in simple words, an athlete can't achieve their most optimal performance if they're in discomfort. The best running shoe in the world is meaningless if it creates any sort of discomfort to the user. There's an alarming amount of running shoe users who opt for better performance over a comfortable shoe.
The best running shoes are those that don't need to sacrifice any performance feature in order to obtain comfort. But, the thing about comfort is that it's not something you can obtain from a particular element of the shoe. Comfort is created by the combination of all parts of the shoe working together.
Think of it as a pyramid of poker cards; if all elements of the shoe but one are comfortable, that one uncomfortable part is enough to make the shoe uncomfortable as a whole. In order to create a comfortable environment for our feet, running shoes must count with comfortability overall.
A lot of runners have the bad habit of forcing themselves into uncomfortable shoes because they're good, and these runners believe they're worth the sacrifice of comfort. In reality, a good running shoe is one that is functionally optimal and comfortable at the same time. You should never have to sacrifice either to obtain the other one.
What most people don't know is that, when shoes are uncomfortable, it's likely because there's something wrong with them. For example, they may be uncomfortable because the fit is too tight. Wearing those shoes would create a lot of friction between the material and the skin, potentially peeling the surface of your foot and creating blisters later on.
If clothing or footwear discomforts us, chances are that it's because it's not adequate for our body. Discomfort is the way in which our body tells us something is not alright. A shoe that generates itching or irritation on the skin is no good, and should not be used regardless of its performance level.
We believe that comfort is key to achieve the maximum running performance, as it has both a physical and a psychological impact. On the physical side, comfort plays an important role in relieving the stress on the foot, or rather in preventing more stress. Comfort also contributes to our psychological state; believe it or not, it's much harder to focus and perform optimally when we're distracted by something uncomfortable in the shoe.
During our evaluation, we kept in mind multiple sub-factors that compose the general comfortability of shoes. These are the ones we deemed the most important:
General comfort
As we mentioned previously, comfort is something that comes from the shoe as a whole rather than just one element. Thus, we evaluated the combination of all materials and components as one single element to determine the level of comfort it offers. This involves everything from the materials of the shoe to the functionality of the performance features.
For instance, if the shock absorption system is not effective, your feet would suffer a greater amount of stress. This, at the same time, would create discomfort over time while you're running.
Likewise, the lack of support would lead to a loose fit. The shoe bouncing all-around your foot would also become something that contributes to discomfort. Thus, the proper functioning of all other aspects and elements of the shoe are paramount to create a comfortable environment.
Breathability
No performance shoe should lack ventilation unless they're specifically designed to retain heat for activities in cold environments. Our body generates a considerable amount of corporal heat on its own; the more we move, the more heat it generates. The far extremities of our body, our head, hands, and legs, are the areas that generate (and release) the most heat.
This means that in an activity like running, our feet generate much more heat than normal. If you've ever practiced running, you'll know that heated feet lead to many other consequences. It normally starts with excessive sweating, which at the same time leads to odors and the loss of internal traction.
But, it can also lead to other symptoms, such as the development of bacteria and fungi, as well as Athlete's foot. If on top of the heat we already emanate, we expose our feet to the concentrated heat within a non-breathable shoe, irritation of the skin is very likely to happen.
The best running shoes count with a breathable upper build material. We looked for running shoes with an open (or partially-open) upper builds. Normally, breathable materials are incorporated as a secondary fabric. The most common ones are mesh panels around a more resistant material.
You should seek running shoes that allow for the air to flow freely through the shoe. This way, heat accumulation is prevented and your feet are refreshed.
Materials
A running shoe can only be as good as its materials. The best running shoes are made from materials that can endure intense aerobic activity, while still delivering many other qualities. The shoe has many elements that play specific roles, and thus each part calls for a specific material that counts with the properties for the task.
The upper build, as explained before, calls for a flexible yet resistant material. It must not obstruct your feet but it must endure abrasion to a certain degree. An upper build made entirely from mesh would be nearly weightless and totally breathable. However, it would lack structure and it'd be very easy to tear.
A good upper build consists of a base material, commonly synthetic leathers and/or other synthetics that offer protection. It should also incorporate breathability; a breathing channel or mesh panels are good choices.
The midsole calls for a material with highly absorptive qualities, as well as compressibility and responsiveness. The best running shoes incorporate different synthetics for this; foams like thermoplastic polyurethane (TPU), ethylene-vinyl acetate (EVA), Solyte™, and Phylon are adequate.
Another thing we kept in mind is that these foams are very lightweight. Normally, the midsole is the heaviest element of the shoe. To be able to make this part of the shoe from such a lightweight material allows for much lighter designs in general.
Weight
There's constant competition amongst shoe manufacturers as to who makes the lightest running shoe. Reducing the total weight of the shoe has a notable impact on the endurance of the runner. All triathlon athletes and competitive runners know this, which is why they opt for the lightest gear.
It's pretty simple; lighter shoes require less effort to move. This does have an impact on your muscular endurance. It also relieves the foot and ankle as it's much easier to rotate and twist the foot. Lighter shoes also allow you to run faster as you lift the shoe sooner, and for as insignificant as the advantage might look, every second is gold in competitive events.
Of course, the weight of a shoe should only be reduced to a point in which it can still meet highly functional levels of performance. But this is now possible thanks to materials like the foams we mentioned earlier. Shoes are much lighter now than they were ever before.
The difference in weight helps runners save a bit of effort on each gait, which may seem insignificant at first sight. But, when you run for over a thousand gaits, each bit of effort accumulates into a considerable boost of endurance.
We kept in mind the total weight of the shoes during research and evaluation of the ranked shoes. Shoes that offered optimal levels of performance at low weights were preferential.
Comfort
The cushioning of a running shoe is the middle point between our feet and the materials of the shoe's structure. Upper build materials are meant to be a bit tougher on the exterior to provide protection. But this is not the same material as the inside of the shoe.
Cushioning is any feature that is meant to comfort the foot and providing better shock absorption. It comes mostly from the lining materials, which are the only materials of the shoe that actually touch our skin. The lining is the layer of material that covers the interior build of a running shoe. It also covers the inside seams of the shoe and extends their durability.
The best running shoes feature a soft lining that, aside from providing comfort to the touch, contribute to the shock absorption process. Some running shoes count with heel cushioning pads specifically to relieve some stress off the heel. Other shoes make use of tongue padding, for example, to provide both comfort and support.
Another important element to cushioning in the midsole. Its objective is absorbing shock rather than creating comfort, but it does help prevent discomfort. A partially soft and compressible midsole material acts as a great cushioning agent. Furthermore, insoles can count with cushioned regions for ultimate comfort.
We looked for shoes that featured enough padding and cushioning all around. Those running shoes that counted with padding on the tongue, collar, backheel counter, and quality lining material were ranked higher in terms of comfort.
Protection
As a runner, you'll never know what the next obstacle you'll encounter while running is. This is why running shoes should always count with a minimum grade of protection. A running shoe is meant to protect two things; the integrity of the shoe itself, and the user's feet. Running shoes that fail to protect feet or that fail to endure a couple of accidents are no good.
There are multiple aspects in which protection has a role. For example, we have elements like toe protectors made from tough materials to prevent rock damage. This is a feature that protects the foot directly. But, there are also other minor features that prevent indirect damage. A collar padding that prevents debris from going into the shoe falls into this last category, for example.
Any element of the shoe that helps prevent injury has a role in protection. Functional aspects of the shoe such as shock absorption and support prevent our feet from suffering. Despite performing their own function, they also contribute to the protection that the shoe offers in general.
Whether it's something that you kick on the road or a rock that you tripped with while running, your running shoes should be able to endure a minor accident. It should not display significant damage, and most importantly, it shouldn't allow for damage to your feet.
Protection can be acquired and enhanced in a variety of ways. These are some of the aspects we kept in mind while evaluating the protection level of the best running shoes:
Ground Feel
Slippage is the worst enemy of many runners. We're constantly exposed to tripping hazards through our daily activities, they're just all around us. Something as silly as stepping on an oily substance on the street can be enough to slip because of the same oil later on. You may also spread the oil and potentially make others trip, too.
The thing is that you can't afford to have an accident while running, especially as you run faster. You're bound to get hurt if you slip during such an activity. Because of this, the best running shoes apply not just one, but multiple measures to prevent slippage. The most important factor is the outsole material and its surface.
Obviously, the better the grip the fewer chances there are to slip. But there should always exist measures specifically to prevent slippage. For example, an intuitive outsole pattern can actually help prevent forceful motions the slide forward, as if you were slipping. This can be done by creating shapes that contradict the direction of the movement (sliding forward).
Spotted outsole patterns have also proven to be efficient in slippage prevention. Non-skidding and non-marking outsoles are also great choices, especially if they've been treated with processes like vulcanization. Rubber outsoles, for example, improve their grip by far when vulcanized, becoming more durable and slightly stickier.
Another efficient measure used by manufacturers is coating the outsole material with a compound that prevents the adhesion of water and oils. This can also be done by the qualities of the material itself. This not only prevents slippage when you step on the liquid but also later on because the substance doesn't adhere to the shoe.
Upper
This is the part of the shoe meant to offer the most protection. Running shoes are not particularly tough or overprotective, but they must always count with enough resistance to protect feet. A running shoe calls for upper build materials that can endure abrasion and direct damage.
When looking for the best running shoes, we looked for upper build materials that, aside from offering the required performance feats, protect the foot. This is normally achieved by using a combination of materials rather than just one single material. Most running shoe upper builds are made from multiple synthetics at a time.
The best running shoes count with a base compound that is the one to deliver protection. Plastics, synthetic leathers, and similar materials are great choices; they're often used together as well. Then, the upper build most incorporate the necessary elements to allow for things like breathability and flexibility.
Ideally, a running shoe should count with a Gore-Tex upper build. It's a membrane that allows for air to flow freely in and out the shoe while preventing water from leaking in. This is possible because the molecules of water in form of vapor are smaller than liquid water molecules. The GTX membranes are made from Teflon with micro-pores that allow for vapor to pass but not water.
Shoes that count with a GTX upper build guarantee a dry environment for your foot. We looked for shoes that, aside from meeting all other protection standards, counted with a GTX membrane. Those shoes that did had preference during evaluation.
Responsiveness
Everything around us has quickly adapted to the technologic evolution, and running shoes haven't been left out. Nowadays, a running shoe that lacks any performance-enhancing technologies is considered obsolete. Technologies can vary from simple things like a better lacing system to advanced technologies with highly complex functions.
Unlike the other criterion, performance technology is not something you should be worried about overdoing; normally, you want to get as much of it as you can. We're talking about quality technology with important impacts on the running performance, of course.
Each brand has its own technologies; most of them sharing similar functions in a different way and with different names. No technology from a particular brand is necessarily the best. Adidas Ultra Boost technology, for example, allows for great compressibility of the midsole, ultimately resulting in great bounce-back. Many other manufacturers count with this feature, except in a different approach.
There are also technologies that are unique, like ASICS GEL-Cushioning System. This technology makes use of a patented gel-like compound with great shock absorption qualities. It's applied on the rearfoot to relieve stress off the heel upon impact, and the forefoot to smoothen the flex before the foot takes off.
10 Best Running Shoes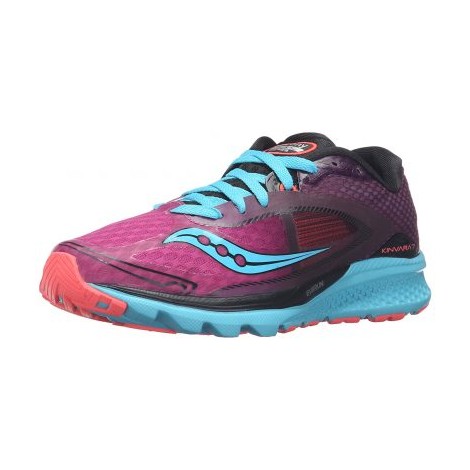 Saucony is a brand that you can count on to deliver the best and most comfortable running shoe. The Kinvara 7 is the perfect running shoe for when you are running on a track or on the street. The rubber grip sole helps to make sure that you have the maximum amount of grip while you are running and the shoe has been designed to reduce running impact on your feet.
Flexible IBR+ Outsole
Your shoes should work with your feet which is why the outsole of these shoes is made from a flexible yet durable XT-900 carbon outsole. This allows your feet to move and bend naturally while you are running which makes running more enjoyable.
Lace-Keeper
No one wants to have to stop running just to tie their shoes which is why these shoes have a lace keeper that keeps your shoelaces secured so that they do not come loose and unravel while you are running.
Cost and Value
The Kinvara 7 can be purchased at a price that is lower than the average price for running shoes which turns it into an excellent value since you can get a great pair of running shoes without having to spend much.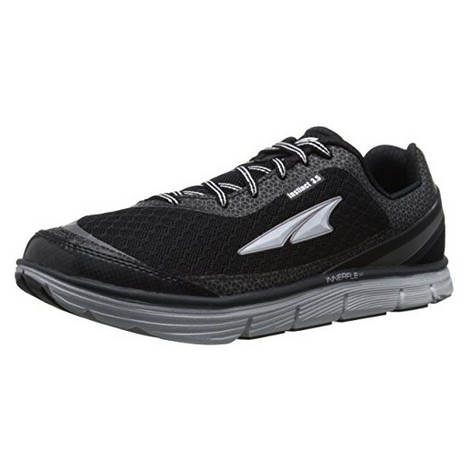 Altra goes back to where it all started, the Instinct. Back with a completely new look, a highly comfortable upper build, and a more responsive approach. While still remaining as lightweight and flexible as ever, Altra implements the new technologies that put them on the map. An intuitively-design toe box gives you the space you need to relax your foot for a natural ride. The comfort of the Instinct 3.5 makes it an ideal choice for distant runs and long walks.
Anatomically-shaped toe box
Not having enough toe box space is one of the worst things you can experience regarding the fit of a running shoe. This is why the Altra Instinct 3.5 is designed in a way that allows for completely natural positioning of the forefoot and toes. No more compressed toes thanks to this new approach. Keeping your big toe straight, this design allows you to access even more power.
Footpod outsole
Altra keeps everything in mind when it comes to running shoes. Footpod outsole technology maps the tendons and bones of your feet to deliver an accurate flex and better bounce-back. Complemented by a superior layer of Altra's a-bound energy returning substance, the Instinct 3.5 counts with the right technologies to maximize running performance. This outsole technology allows for a more natural positioning of feet during a run.
Cost
Altra's Instinct 3.5 features a cost very similar to its predecessors and other shoes; not too expensive, but not really affordable. Surpassing the average value of this list by a few bucks, some would say this shoe is expensive. However, dedicated runners who know the technologies lying behind this shoe will know it's far from being a bad investment.

3

. Under Armour Charged Bandit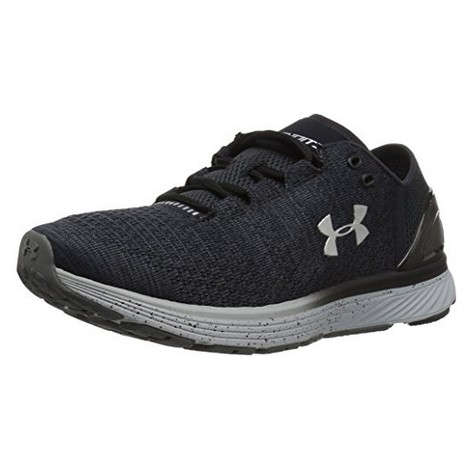 Under Armour has a reputation that goes undoubtedly in the world of performance gear, and their Charged Bandit 3 is one of the best running shoes available. Implementing UA's patent construction, this pair is guaranteed to keep a precise fit. Aside from being highly flexible and breathable, the Charged Bandit 3 is also lightweight. In general, it covers every aspect of performance you need for running.
UA SpeedForm construction
The third edition of the Charged Bandit series is constructed to mold your foot in an extremely accurate manner. Resembling the very anatomy of human feet, it eliminates all possible distractions regarding the fit. With this construction, support is enhanced to a point where the shoe feels like part of your foot. Designed specially to optimize running performance, the Charged Bandit 3 offers an aerobic frame.

OrthoLite sock liner
OrthoLite is a very popular material used as sock liner in a wide variety of running shoes. The anti-microbial material is soft to the touch, and it also prevents the development of odors within the shoe. The sock liner molds to the foot and helps athletes in what they normally suffer the most; fungi, bad smells, athlete's foot, and excessive sweating. OrthoLite also counts with moisture-wicking properties.
Dual-layer Charged Cushioning midsole
Using compression molded foam, the midsole of the Charged Bandit 3 offers even better responsiveness and durability than its predecessors. Applying two layers of Charged Cushioning midsole technology, this pair not only absorbs shock decently, but they also make your next gait easier. Complemented by a rubber outsole that protects high-impact zones, this shoe is made to run.
Cost
The Charged Bandit 3 slightly exceeds the average value of the listed products. Knowing Under Armour's reputation in the design and construction of performance gear, the durability of this item goes undoubtedly. Now featuring a dual-layer midsole and UA's SpeedForm construction, the Charged Bandit 3 becomes a pretty complete running shoe for those willing to afford it.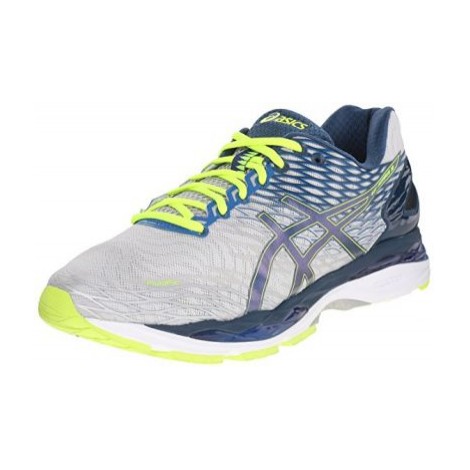 Gel is a material that is known for its ability to stay cool while providing cushion and support. It is no surprise that a high-quality shoe such as the Nimbus 18 would include gel to allow for a runner's maximum comfort. The Nimbus 18 has other great features that you would find in a running shoe such as removable insoles, stretch mesh, and other features that are important to runners.
Gel Cushioning
Your heels and your toes will feel comfortable while you are running thanks to the gel cushioning that is located in both the front and the rear of the shoes. The gel helps to reduce pain from running impacts.
Stretch Mesh
These shoes have a trademarked FluidFit technology on the top of the running shoes that allow the shoes to stretch with your feet and breath. This allows you to run naturally while heat and sweat that your body creates are vented away.
Cost and Value
You will see these shoes sold at a price that is around the average price for a pair of running shoes. They are an excellent value for the price thanks to the features that are normally found in high-cost shoes.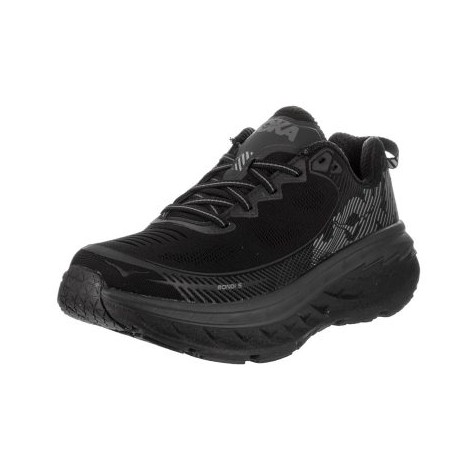 The Bondi 5 is a running shoe that has been specifically designed for running on man-made surfaces. This makes it a great shoe for competitive runners or people who run on a track or gym. While the shoe has been designed for the track, you can feel free to wear it or running on the sidewalk or any other paved surface which makes it a great running shoe for many people.
Engineered Mesh
This shoe uses an engineered mesh that has an open design which allows the shoe to breathe. Breathability is an important feature for any running shoe because it allows sweat and moisture to escape from the shoe so that your feet stay dry.

Molded Sockliner

No one likes running while their sock is falling down into their shoes which is why the Bondi 5 has a sock liner that is molded so that your socks do not fall or sag while you are running.

Cost and Value
This is a premium pair of running shoes that has a price that is higher than the average price for running shoes. The higher price is due to the high-quality engineering that has been put into this shoe so that you can feel great while you run.



The Brooks Ghost 10 follows the tradition amongst its predecessors, delivering a smooth, stable, and well-cushioned ride. An engineered mesh upper build offers the breathability required to perform for long under the sun. It provides the stretch that adjusts to the foot as it runs while providing the protection and integrity needed for a firm frame. Plush tongue and collar improve the support while enhancing the comfort of the shoe as a whole.
High-energizing cushioning
A carefully designed cushioning system can absorb shock efficiently during the most intense of workouts. The high-energizing cushioning offers great responsiveness even during fast runs, thanks to its high compressibility and foam-like properties. The midsole is complemented by a durable and abrasion-resistant rubber sole ideal for running on the road and a variety of other surfaces. The foam insole provides further cushioning while being removable, washable, and easily replaceable.

Segmented Crash Pad
A full-length layer of the segmented crash pad technology accommodates the foot in the right position during any landing. Its intuitive designs set the foot up in a natural position for neutral, smooth gait transitions. Complemented by Omega Flex Grooves, which augment the forefoot mobility, the Brooks Ghost 10 will bring you as close to your natural performance as you can be.
Cost
The Ghost 10 by Brooks sits around the average value of the list. However, this shoe is far from being an average running shoe. Its high-energy design allows for the fiercest of runners to endure the most during each performance. Delivering targeted cushioning and smooth transitions, the Brooks Ghost 10 can get to be your best friend on the road.



Inspired on the iconic '70s and '80s models, the New Balance Fresh Foam Zante v3 takes a sleek approach and a low profile. Designed for those with a desire to feel fast that never fades, this pair counts with an aggressive toe spring and a lightweight approach for effortless gaits. Using no-sew material to maximize comfort, the Fresh Foam Zante v3 is guaranteed to create a fresh environment for your feet.
Bootie construction
The third edition of the Fresh Foam Zante is streamlined for fast runs with a bootie construction offering a snuggly fit. A lightweight frame, in general, allows for faster and smoother transition between gaits, as well as a much more natural range of motion. While being lightweight, the solid rubber outsole creates further cushioning meant for long miles and intense running.

Toe spring
The design of the Fresh Foam Zante v3 helps runners impulse each of their gaits forward; not only running faster, but also requiring less effort on each step. Resembling the natural running gait of humans, New Balance's shoe creates an explosive take-off at the end of the gait. By allowing you to push yourself harder from the floor, you achieve greater speed with less effort at the same time.
Cost
New Balance is known for offering quite the deal in terms of performance for an accessible price. The Fresh Foam Zante v3 manages exactly that, offering high levels of performance for a cost below the average of the list. You'd be surprised by how much this shoe can make your running easier. Being also durable, there's no reason to doubt this shoe.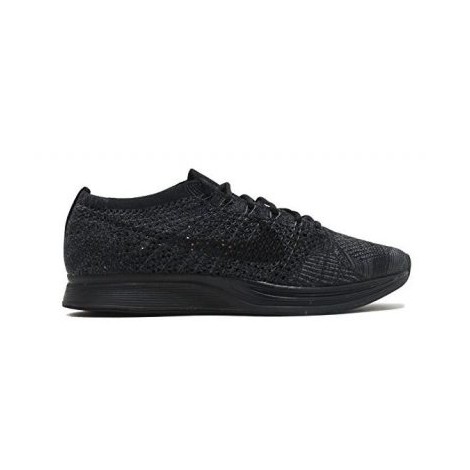 The Flyknit Racer features a retro design from the 1980s which makes it a stylish shoe as a well as a highly functional running shoe. Any runner will enjoy the way in which this shoe wraps your foot so that you have the ultimate support and stability while you are running in this shoe. Your comfort is further enhanced by the fact that they have air cushioning which makes them lightweight.
Air Cushion

Air cushions can be a therapeutic way to reduce the impact that you feel while you are running. It also makes the shoe lightweight so that you can easily run without feeling as if the shoes are weighing you down.

Flyknit
The flyknit racer wraps your feet with a flyknit material. This wrap breathes well and is highly supportive so that you are less likely to experience an injury to your feet or ankles while you are running.
Cost and Value
You should plan on spending a price that is higher than the average price for the Flyknit Racer. The higher cost is due to the fact that it is a premium shoe that is made from high-quality materials and engineering.

9

. Adidas Supernova Glide 8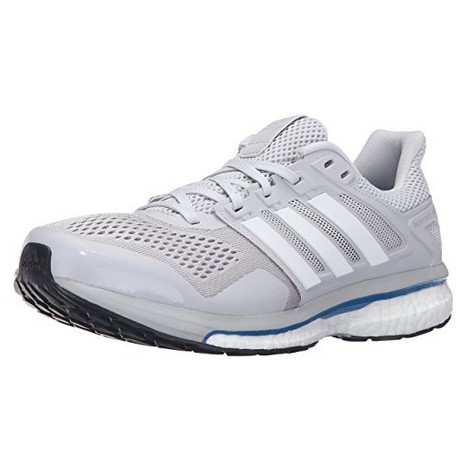 Coming 9th on our list is the Adidas Supernova Glide series in its 8th edition. A combination of the ideal amount of support, a breathable upper build, and smart energy return comprise the Supernova Glide 8. Now featuring Adidas signature BOOST midsole in its full-length form, this shoe is guaranteed to deliver the responsiveness and cushioning you need for running. Ideal for everyday training and long runs, this shoe will overcome any obstacle you set.
Continental Rubber outsole
When traditional rubber outsoles aren't enough, the Continental Rubber delivers an excellent grip on wet, humid, and dry surfaces. This rubber variation is slightly stickier and provides a much better grasp of the surface; it rolls over obstacles rather than holding onto them. An intuitive outsole pattern contributes to the slip-resistant aspect of the Supernova Glide 8.
OOST midsole technology
The midsole BOOST technology is one of Adidas most iconic features. The TPU midsoles feature Adidas patent response system that allows it to compress in a matter in which shock is significantly diminished. The stronger your compress it, the stronger it will bounce back at the end of the running gait. Running now requires less effort, making you able to run faster for a longer time.
Cost
Adidas running shoes are not typically accessible, but the Supernova Glide isn't particularly expensive either. In fact, it's located below the average value of the list. The durability of this product alone is enough reason to purchase it; years of BOOST midsole technology and Continental Rubber outsole won't get much cheaper than this really.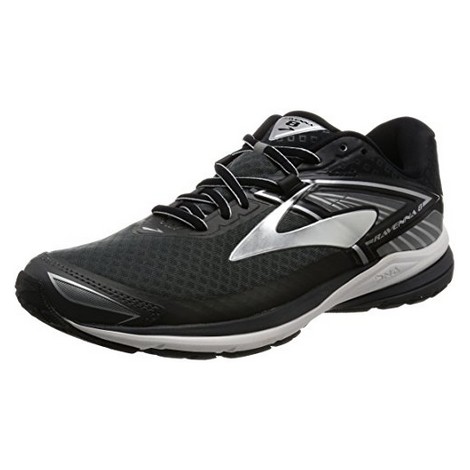 Designed to run one mile after the other, the Brooks Ravenna energizes your run with the right technologies. For distance runners and intense trainers, this shoe counts with a very lightweight and flexible frame. Built for the road runner, the upper build is made of air mesh fabric for optimal breathability and management of moisture. Adjustable to your preferences, the Ravenna 8 allows users to set the synthetic saddle to wrap the foot at will.
BioMoGo DNA midsole
Running on the road can be quite troublesome if you lack enough cushioning. This is why the Brooks Ravenna 8 counts with a BioMoGo DNA midsole. Assuring you never lack absorption and responsiveness, Brooks's exclusive midsole acts as a foam that deals with stress for you. Aside from being absorptive and generating bounce-back, the midsole compound is nearly weightless.

Diagonal Rollbar
The Diagonal Rollbar medial post technology increases overall support, creating the right fit to achieve the most optimal performance. Promoting smoother transitions, the rollbar is designed to mimic human's instinctive way of running. Complemented by a full-length S257 Cushsole midsole compound, you're guaranteed to perform as naturally as you can. Improve your range of motion and running form while in comfort.
Cost
Brooks' second appearance on this list makes it below the average value of the list. Despite not being as preferred as the Ghost 10, the Ravenna 8 offers a pretty good deal for what it costs. Featuring a performance level similar to that of the Ghost 10 while being slightly cheaper, it already starts looking as a good shoe. Brooks is not the most known shoe manufacturer, but don't underestimate the quality of their shoes.

Subscribe to our Newsletter