Best Under Armour Pants Reviewed & Rated for Quality
In a Hurry? Editors choice: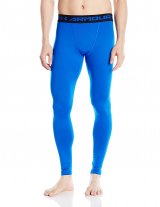 Test Winner: Coldgear Compression

Under Armour started with a simple idea to help athletes change the way they dress forever. The brand definitely isn't about in-house
workwear
, that's for sure. It's about getting out there on the field. What makes this brand so popular today is that they are durable, comfortable and can work as hard as you do during your
workouts
or
activities
. Whether you need something that can keep you warm during
cold days
, or whether you need something that can keep you cool during warmer days, this company has everything that you're looking for. They offer water-resistant
pants
, which are very appreciated by
athletes
everywhere. They also have different thickness of fabric, so be sure to look out for those as they will depend on the
activities
that you have in mind.
Standout Picks
Criteria Used for Evaluation
Materials
The brand uses five different types of fabric to develop their clothing line, choosing the right pants can be much easier if you know a little about each fabric choice first. As each of the five fabric choices will offer the wearer different prospective benefits, your choice in the fabric should be made according to the normal activities you will be performing while wearing the pants.
Charged Cotton
This fabric option combines that comfort your looking for in cotton with the advances in technology for athletic clothing, giving you the best of both worlds. The fit with this material offers you a more free range of motion, for maximum workout potential. Not only will this material keep you comfortable, but it also holds the potential to keep you dry, unlike traditional cotton materials.
Advanced Features
UA TNP
This fabric option is a blend of synthetics, that can offer you moisture wicking potential, as well as fighting those unsightly odors that sweat can cause. Pants made from this fabric are typically lighter in weight, comfortable, and still maintain a good amount of durability. Clothing made from this material is great to wear for your normal workout activities.
UA Tech
Also, a synthetic blend material, UA TECH, is made to feel as if you are wearing cotton without the downfalls of actually wearing cotton. This material still offers you moisture-wicking technology, as well as a decent amount of breathability, making for a more comfortable run.
HeatGear Touch
Made to be a thinner fabric option, this material fights odor, while maintaining a high standard of keeping you dry with its moisture wicking properties. Known for being super soft, clothing made from this material makes for a great base layer.
UA Catalyst
This is truly a one of a kind material option, as it is made totally from recycled plastic bottles, UA has found a way to be innovative with this material choice. This material holds all of the potential benefits that you find in their fabric, such as breathability, moisture wicking, and let's not forget the all-important UV protection.
Versatility
UA has created your apparel options to suit your needs no matter what weather conditions you might face. So whether you will be faced with the cold, heat, or somewhere in between, the company has you covered.
Cold Gear
This line of gear has the capabilities to deliver you warmth while helping to promote good circulation during your activities. Keeping you dry, even in cold weather is important, that is why this line of clothing also has moisture wicking potential, safeguarding you from your own perspiration.
Heat Gear
Apparel found in this line promotes the flow of air, helping to regulate your body temperature during all your rigorous activities. Wicking away the sweat while you pound the pavement, this clothing line keeps cool and relatively dry all at the same time. Also mad quick-drying drying material, there is no need to worry about dealing with soggy clothing while enjoying your routine.
All Season Gear
The intention behind this line of apparel, keeping you satisfied while the conditions change around you. Designed with the flexing capabilities, this clothing line tends to change with the weather. Meaning you stay dry when you need to, warm or cooled with the changing forecast, and last but not least you remain comfortable under all conditions.
Fit
How your workout gear fits is basically up to you to decide, there are plenty of fit options on the market, so finding what you like should come easy. Try to keep a few things in mind while looking for that perfect fit, pants that are baggy can sometimes restrict your flow of movement. While choosing a pair that is too tight, can not only create circulation issues, they also may inhibit your movements as well. When shopping for the fit of your pants, be sure to try on several pairs for comparison, that way you will know what might work best for you. Below you will find the fit options that UA has designed for you and a little bit about each.
Fitted/Semi-Fitted
For a more fitted feel, not quite as snug as the compression, the fitted line offers a fit that flatters most body shapes. The fitted line can be used as a base layer or on its own, depending on your level of comfort while wearing them. No need to worry, this line has been designed not to inhibit your motion during your activities. An addition to this line is the semi-fitted option, the clothing in this line is developed to be flattering but not too loose and baggy. Which will still maintain your range of motion, while creating a unique look you can use on its own.
Loose
Made for those out there who just aren't into the snug apparel choices, UA's line of loose apparel offers you a comfortable feel. While designed to retain the amount of movement your workout may require. This fit option also works well for all your more casual wardrobe needs, with a maximum comfort feel and design theme.
Compression
This fit is designed to be snug, hugging your muscles in order to aid in both circulation and recovery time after your activities. You will find that these also offer moisture wicking, which has been found to combat that irritating rash due to chafing. Some athletes prefer to wear this fit as a base layer to their work out gear, while others simply wear them as their work out attire. Just keep this in mind while trying them on, true compression pants should be tight, feeling like they are "hugging" you. So if you aren't into a fit like that the compression line may not be for you.
Top 10 Picks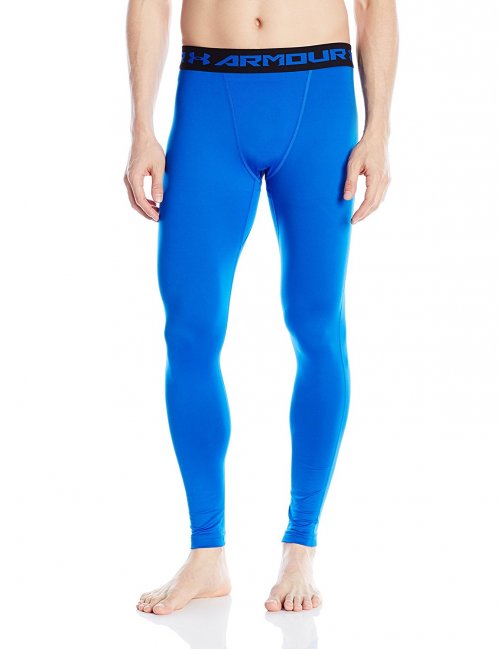 These compression leggings are not our #1 for just any reason. This ultra-tight, "second-skin" fit leggings are what you're looking for if you want a pair that can follow you during your fall and winter activities. The stretch-mesh gusset and inseam will provide you with strategic ventilation.
Sweat Wicking
That's kind of the point of UA, but some brands can boast about something and it just doesn't happen. UA isn't that company. After all, it was created to partially eliminate the change-of-clothes-because-of-sweat. The Moisture Transport System wicks sweat away and dries fast, meaning that you won't be cold or feel humid during your activities.
ColdGear System
That's a cool name, but what does it mean? UA created this system so that your body temperature remains warm in colder conditions. The dual-layer fabric, with its super warm brushed interior, and with the slick and fast-drying exterior, are sure to keep your body at a regulated temperature.
Cost and Value
For compression leggings and all of the qualities that they have, these pants are a real bargain, especially since they're also in the lower range of our price scale. Just keep in mind that these are compression leggings, not regular leggings.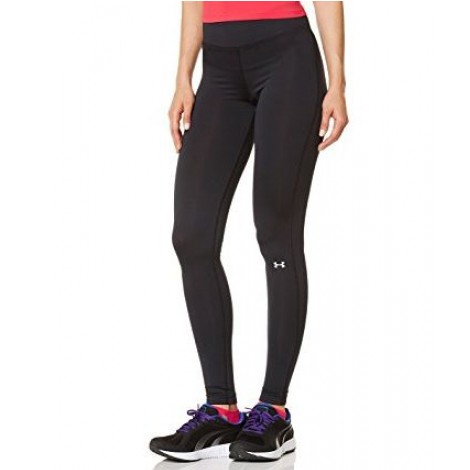 If you're searching for second-skin compression leggings that will keep you warm and comfortable, then you're at the right place. Their perspiration expulsion technology wicks moisture effectively to help you remain dry and comfortable through your activities.
ColdGear Technology
As mentioned above in our #1, the ColdGear Technology in those pants keeps you warm on colder days. The double-layered CG Evo build has a soft to the touch, quick-to-dry exterior with a heat-retaining interior to keep your body's temperature regulated. What more could you ask for?
Seams
The seams on these UA Coldgear leggings are welded, meaning that chafing is eliminated, no matter how hard you work and play. This is an important feature because these leggings are compression leggings that act as a second skin, so the last thing you'd want is to feel uncomfortable while working out.
Cost and Value
These pants are in the middle range of the price scale. They have a lot to offer and you can be sure that you're buying quality with UA. You could wear them as leggings alone during indoor workouts and some outdoor activities, so you'd be eliminating the purchase of another pair of pants.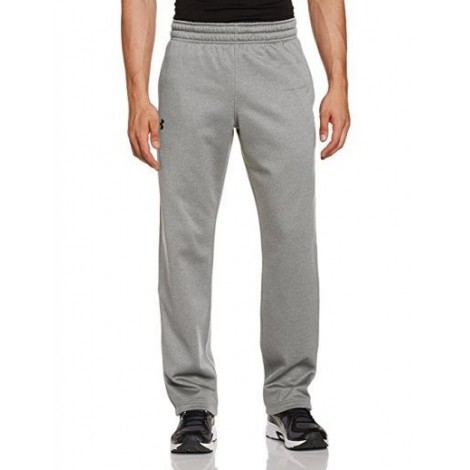 These fleece pants can be worn as much outside during activities as indoors while enjoying a movie. They are as comfortable as can be, and their fit is loose for complete comfort. They have an elastic waistband with an internal drawcord for added coziness (because nobody likes to be squeezed around the belly area).
Storm Water-Resistant
These UA fleece pants are water-resistant, meaning that their finish repels the water without sacrificing breathability. Your body will keep its regulated temperature while the pants work their magic. Just take notice that these are not waterproof.
Fleece
Almost everyone loves fleece, especially when UA's fleece is light, breathable and stretches. This means that you won't have problems going around during your activities, and the fabric will keep you warm during cooler days. They come in four colorways, so you can be certain that you'll find a pair to your liking.
Cost and Value
They are in the higher range when it comes to pricing. If you have a few bucks to spare or if you don't mind going a little over budget for quality and comfort, then I'd suggest you take these fleece pants into consideration.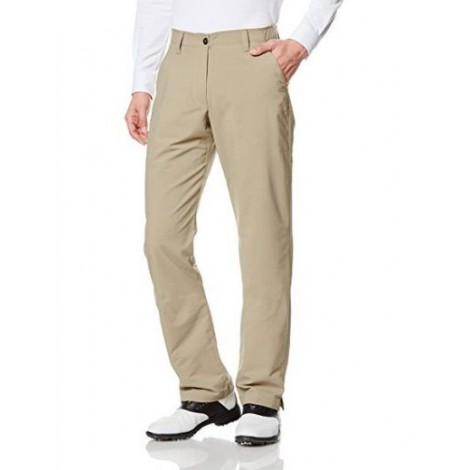 Anyone who plays golf (or doesn't – like me) knows that comfort is an important factor in your game, like in any sport really. The goal of UA is to make every athlete better, so all of their clothing and accessories are important. These pants are no exception, and here's why.
Moisture Transport System
Normally, when you play golf, the temperatures are warm, and that's why UA added their moisture transport system, to wick away sweat and keep you dry. Nobody likes to sweat in unwanted areas; it can cause discomfort and put you off your game.
General Comfort
With its loose fit (fuller cut) and straight leg, you can be positive that you will be 100% comfortable. The stretch-engineered waistband helps in your mobility and also eases you during movements.
Cost and Value
This is not the priciest pair of pants on this list, but they're definitely in the higher price range. Because of the way they look, not only could you wear these out on the golf course, but you could wear them on casual days.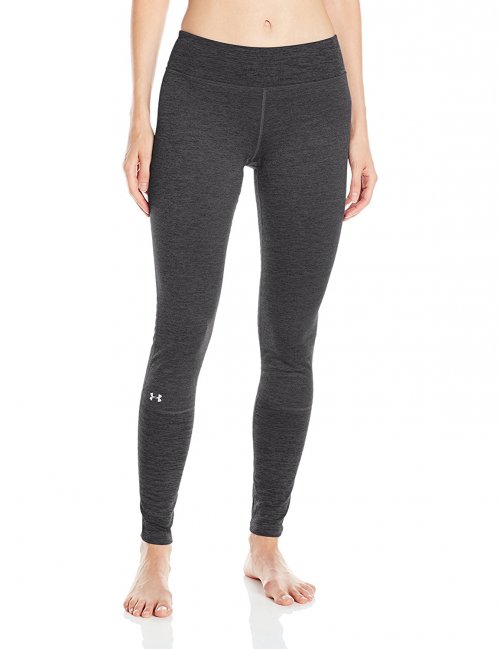 If you like winter outdoor sports and like to spend your days in the snow (or just in the general cold…), then you'll be happy to know that these leggings are going to keep you warm all day long. With all the extra features that UA added to this pair of pants, it's no wonder that they are so popular internationally!
Fit
These leggings are next-to-skin for a slim fit, without having the squeeze of compression leggings. The fabric blend of elastane and polyester has a 4-way stretch, providing the wearer with freedom of movement in every direction, and with their weight of 7.5oz, you can be sure that you'll feel like you're not wearing anything.
Additional Features
These pants are perfect for colder weather because of the soft negative grid inside that keeps hot air in, leaving your body at a regulated temperature. The anti-odor technology added in the fabric will keep odor-causing microbes out, and UA also complemented it with their famous Amour Block anti-odor technology.
Cost and Value
These leggings are one of the priciest of the pants on this list, if not the priciest, but you can be certain that you'd be purchasing quality. You want something that can work as hard as you do, and for as long as you do, and these leggings are it. If you're willing to spend a few more dollars, then I'd suggest you take a look at these ones.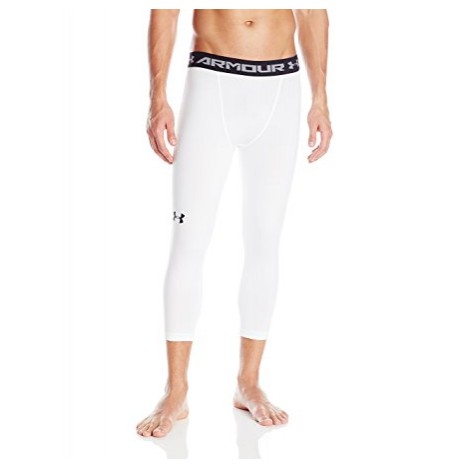 You enjoy summer activities and working out during warm days, but all of your pants just don't work as hard as you do. Stop worrying and take a look at these UA HeatGear Armour compression leggings! No only do they protect you from harmful rays, but they wick away sweat and keep odor-causing microbes out and away!
Fit
Well, if you're looking for compression leggings that can keep you cool during warm sunny days, then you're at the right place. These leggings are ultra-tight and feel like a second-skin. No material will come in your way while you're working out, and the seams were created so that no chaffing would happen in unwanted area.
Additional Features
If you're going to work out outdoors during the summer, you'll want something to regulate your temperature. That's why UA came out with their HeatGear Armour, keeping your body cool. They also added UPF 30+ to protect your skin against harmful rays, because yes, these harmful rays do go through your clothes. The moisture transport system will wick sweat away and the anti-odor technology will keep odor-causing microbes away.
Cost and Value
These are the cheapest pants on this list, and I'm seriously wondering why. With everything that they have to offer, these leggings are a real bargain and I wouldn't hesitate to purchase them if this was what I was looking for. So, what are you waiting for?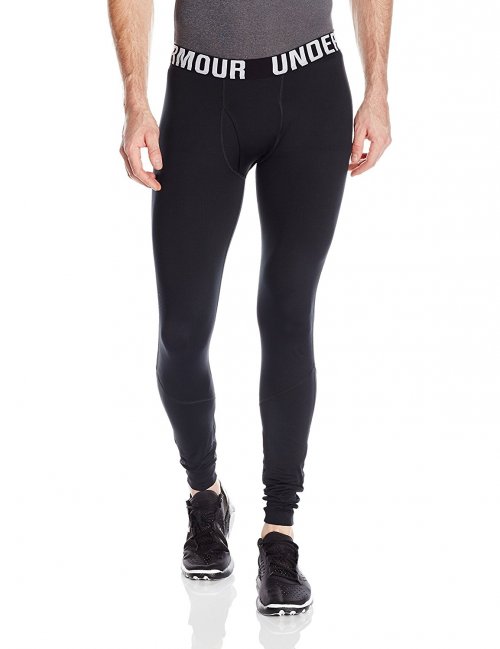 These next-to-skin fitted leggings are going to be working as hard as you do during your fall/winter outdoor activities. UA created those to keep you warm and regulate the temperature of your body, and because they are so close to your skin, the chafe-free flatlock seam construction comes as a huge plus. Check them out!
Fit
These leggings are 87% polyester and 13% elastane, which is a usual blend considering they are fitted leggings. They have a next-to-skin feel without the squeeze that you'd have with compression leggings (that feel more like a second-skin). The smooth chafe-free flatlock seam construction they have is a must as they are so close to your skin, and the dual-layer fabric has a soft and warm interior, and a fast-drying exterior (very useful as you'd be generally wear them in colder weather).
General Features
As almost all of UA's pants, these ones offer the anti-odor feature that keeps the odor-causing bacteria away, and the quick-dry fabrication keep you light, dry and comfortable during all of your activities. The ColdGear Infrared feature uses a smooth, thermo-conductive internal coat to absorb and keep your own body heat, thus regulating your body temperature even in cold weather.
Cost and Value
The price of these leggings is fair compared to the other pants on this list. If you have a few more dollars to spare and if you don't mind spending more for comfort, durability and quality, then you should consider these pants.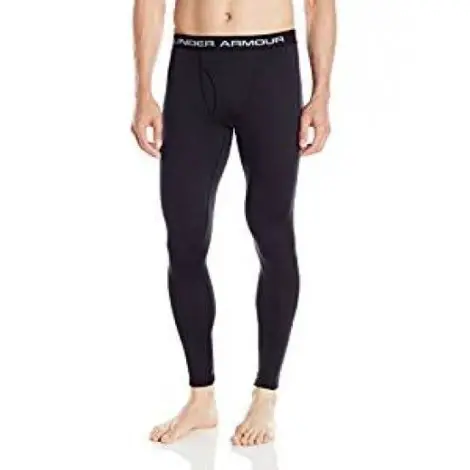 Another amazing pair of pants that UA has brought us. These are in the same line of the UA Base 4.0 and 3.0, but they hold heat less than the other models. The reason why it's higher in our list than the Base 3.0 is because reviewers found them as warm as the Base 3.0 (and even close to the Base 4.0). They offer its wearer as many features as any of other leggings, and you'll be amazed by the price. Just take a look!
Special Features
We all want a pair of leggings that can do as much as us during our activities. The UA Base 2.0 leggings are built for cold conditions, meaning that they will keep you warm and regulate your body temperature. The moisture transport system will wick the sweat away, and that same system makes it advantageous because the fabric dries quickly. The anti-odor technology added to the material of the leggings stops odor-causing microbes from growing.
Fit
The 4.7 oz fabric blend (polyester and elastane) will feel like you're not wearing anything once you put these leggings on. The 4-way stretch fabrication of these pants makes it easier for you to move around in all directions. These pants are fitted, meaning that they are next-to-skin without the squeeze of compression leggings.
Cost and Value
These leggings are in the mid-range price scale, but they have so much to offer that they quickly become a bargain. If you just take a look at all of the features and positive feedback from reviewers, you'll agree with them (and me) that these leggings are a must-have for sports enthusiasts.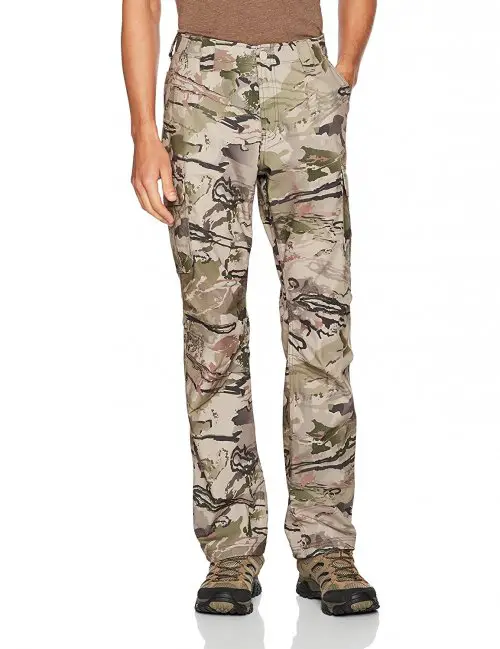 Everyone wants a pair of tactical pants that can handle anything and everything. Stop looking, because they do. You'll be surprised by their special features and loose fit. They will be able to follow you no matter the activity or project you decide to undertake. Don't believe me? Open the feature tabs.
Storm-Water Resistant
Yes! A pair of pants that will follow you even during rainy days and you won't be soaking wet by the time you arrive home. These pants repel water without sacrificing breathability (which is oh so important or it could make your activities hell). Not only that, but the fabric remains soft and flexible for ease of movement in every direction.
Other Features
The waistband is stretchy for superior mobility and pleasant comfort. No more squeezing that muffin top (if you have one)! The reinforced knee and crotch, as well as the ultra-durable RipStop fabric, adds to the durability of this pair of pants so that it can put up with anything in the field. You can holster items on the offset belt loops, and the dual cargo pockets (with internet mag holders) are added features to please its wearer.
Cost and Value
These pants are the priciest on the list and here's the reason: the ultra-durable fabric can put up with anything in the field (RipStop technology). You're buying durability (and comfort) with these pants, so they end up being a real investment. Just think about it before scrolling away!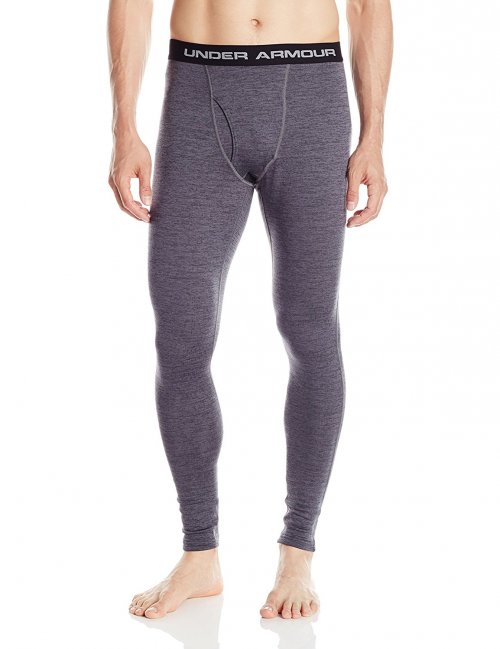 Brother of the UA Base 2.0 and UA Base 4.0 leggings, these ones are 'smack' in the middle for warmth compatibility. You'll be happy to know that these pants are made to keep you warm, with minimum bulk and for extreme cold weather.
UA Base 3.0 Feature
As said earlier, these ones are the middle brother of the UA Base models. Reviewers have found that they keep them warm even in 50-40's degree (Fahrenheit) with the wind blowing. This is quite useful, especially if you don't want to restrain yourself from working out outdoors because of the temperature. You can also decide to wear them as a normal pair of leggings during warmer days.
Fit
It's important to feel comfortable and be able to move in workout pants. These ones do magic! With their heavyweight 7.0 oz fabric blend of polyester and elastane, and with a next-to-skin feel, you'll be surprised by how they follow your every movement, making the mobility superior to other pants. The performance elastic waistband won't feel like you're being squeezed and will keep them from rolling down.
Cost and Value
These UA Base 3.0 leggings are in the higher price range of our scale for this list. They have a lot to offer, especially if you're looking for cold weather leggings, and their durability was quite liked by our reviewers. With so many features squeezed in this fabric blend, you can't doubt your choice if you decide to purchase these leggings.

Subscribe to our Newsletter