Best Yoga Mats Reviewed & Rated for Quality
In a Hurry? Editors choice: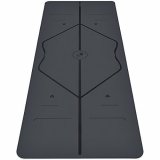 Test Winner: Liforme Yoga Mat

Whether you are a seasoned pro at the Lotus Pose or a beginner looking to boost relaxation and well-being, the key to
a good yoga session
begins and ends on the mat. It is the single most important purchase you will need to make when starting a yoga program. Choose one that's too heavy and you will be stuck lugging the extra weight to and from practice every day. Choose one that's too slippery and just try getting through a hot yoga routine without ending up flat on your face! Beyond that, there is the
nature
of the mat itself. While a few of the heavy-hitters in the yoga market are on display here, we've also located a few great products from less well-known manufacturers as well. So
make sure you've stretched
, get into downward dog, and let's begin!
Standout Picks
Criteria Used for Evaluation
Style
Although not a critical aspect of yoga mats, we've come to realize peoples obsession with specific colors, and it seems everyone prefers one or the other. This is why we carefully have chosen and included yoga mats that have a variety of color options to choose from. There are also many different textures and styles. You could go with black, all white, green, blue or multi-colored. Have fun looking around.
Materials
A yoga matt should have a distinctive padded feel. The material and the overall thickness of the mat has all to do with this. You want a padded mat because you don't want unnecessary stress on your hands or feet at any given time during a yoga session, especially practical for intense sessions. You should be able to get away with most typical yoga sessions just fine no matter how long the session or fragile you are with a one/ fourth-inch mat. Although, this thick tends to lend it's hand to awkward and uneven balance for some. If you are not used to anything other then the standard thickness of one/eighth of an inch, we suggest you stick to just that.
Stability
The standard texture does not work well with your hands and legs throughout the advanced positions typically seen in a yoga session. A semi-sticky surface will grab your skin so you don't slip. Its a fairly simple concept but also critical and effective, especially when holding positions for any duration of time. This feature goes against the eco-friendliness mentioned earlier in this guide because you will typically find PVC mats to be much better in this regard. However, they do lose their effectiveness, especially when used constantly without giving a thorough wipedown and clean. Dirt or surface dust will hinder the yoga mats ability to grab onto your skin, thus allowing you to slip more easily.
Texture
Aside from being relatively sticky, the surface of your yoga mat should also be textured. Now, some people prefer them without texture, and that's understandable especially if you have sensitive hands or feet which is less likely. Although, we recommend a textured mat for an optimal experience.
In regards to texture, a PVC yoga mat will rate lesser than that of juke material. This means jute mats have a more aggressive texture white PVC a plusher to the touch feel. There's also everything in between from one extreme to the next. Whether you want a really mean grip, or you want a downright soft or smooth mat there's something for you.
Features
We've selected some models that are as eco-friendly as can be, which means they will decompose and will not damage the environment. However, it's noteworthy to mention the numerous eco-friendly nominations that did not make it due to their lack of quality and/or poor design. Yoga enthusiasts like to be at one with our surroundings, and when we damage the environment that becomes less and less possible. Make sure to dispose of properly have you ever need to throw away your old yoga mat.
In a conscious decision, you may want to stay away from the standard stick mat comprised of PVC. This type of mat, although can be favorable, does not break down or decompose well at all. However, If you're looking for the best quality and one fits the bill and your criteria, by all means, take it. It is possible to recycle PVC yoga mats, although just not as easy or cost-efficient. With that, you don't have to feel guilty should you make one decision or the other.
10 Best Yoga Mats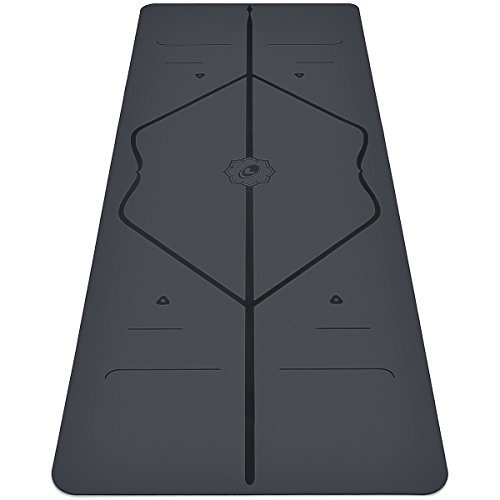 Here we have another eco-friendly chemical-free mat. The Liforme Mat is also constructed using its own proprietary material - GripForMe - Along with sustainable, natural rubber. Alignment markings are helpfully etched onto the surface of this mat so that you will get every position just right. The different components of the mat are fused together via heat, so no glue is used in its construction. This rids the mat of one more possible chemical component.
Alignment Markers
A great little extra that this mat has are the surface etchings that provide a guide to perfect positioning. This is especially useful for beginners who may be a bit less confident in their movements. The etchings are formed out of grooves on the surface instead of ink which makes them easier to use.
No Slipping
This mat really shines when it comes to its non-slip surface. The GripForMe material used by Liforme really gets the job done. No matter how long the session or the amount of sweat absorbed into the mat, it does not budge.
Cost and Value
This is at the absolute top of the list in terms of price. The Liforme mat is a major investment. If you're looking for any kind of deal it would be best to choose another mat, because this one is strictly for the pros.

2

. Heathyoga Eco Friendly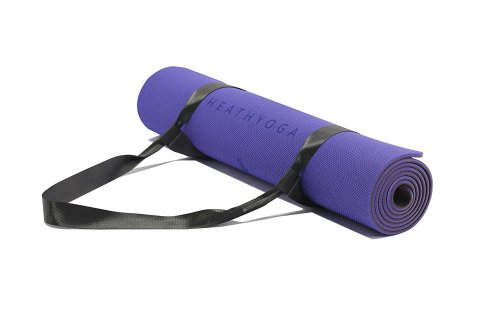 This eco-friendly mat is constructed of 100% TPE material so it's odorless non-toxic and free of chemicals. It also has a pleasing firmness with terrific padding. The mat comes with a velcro strap for easy transport. Additionally, it has a more generous width than many similar products on the market at 66cm. The surface is textured with 'microdots' which ensure optimum grip during rigorous workouts.
Portability
This mat is lighter and thinner than many of its top competitors. The TPE material ensures that you won't be stuck feeling the floor beneath you during a session. Though thin, the mat provides the comfort of a thicker mat. Those looking for something that can be easily transporter should look no further.
Double Layer Structure
Unlike other mats, this one combines two layers, each designed to grip effectively. The top capitalizes on the incredible comfort of the TPE material, with a patterned surface for gripping. Beneath it is a separate layer with a 'tire tread' pattern designed not to slip. Therefore each section provides a different type of protection against slippage
Cost and Value
This is a clear-cut case of putting forth a few extra dollars for superior material. Not all of the mats that you see will be TPE, which allows the mat to be both lighter and thinner while still offering the superior comfort of more bulky mats.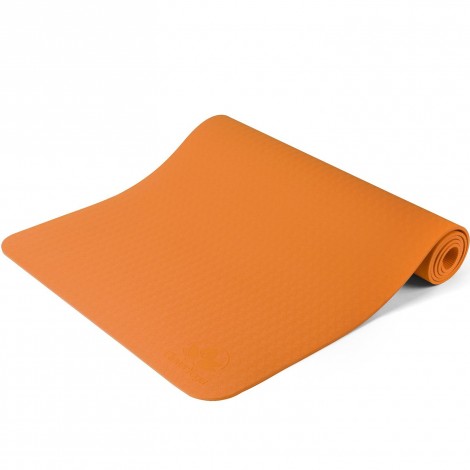 Here is another thick mat that's built to last. Clever Yoga's Non-Slip mat comes with double-sided non-slip surfaces so that you don't worry about causing the mat to move during intense workout sessions. It has generous dimensions as well: 72'' by 25 1/4'' width, making it versatile for all different body types. It's eco-friendly too, as it's made from 100% biodegradable materials.
Non-Slip X2
Unlike other mats on this list, Clever Yoga's mat pays attention to the underside as well as the surface in use. The bottom of the mat is marked with grooves so that it 'grips' the floor. After all, what good is a non-stick mat if it's sliding all over the studio!
Lightweight
While this mat boasts the same thickness as some of the more cushioned offerings on this list, it's built of far more lightweight material, at a mere 2 pounds. Consequently, it strikes a necessary balance between durability and portability.
Cost and Value
The Clever Yoga mat is a bit pricier than some of the other mats that we have looked at. For the beginner just starting out, there are cheaper options that get the job done just fine. That said, if durability is what you're after, the Clever Yoga mat is a good bet.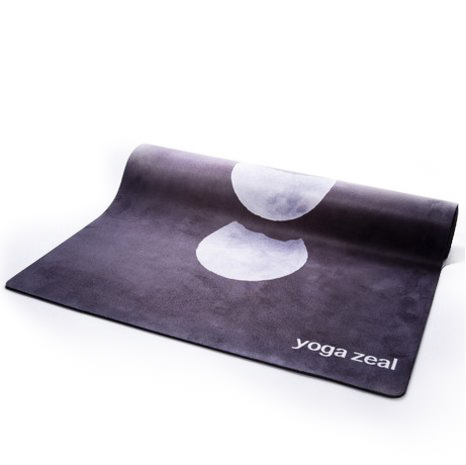 This visually pleasing mat comes in a variety of colors and themes inspired by the natural world. Unlike other mats, the surface is made of suede so it absorbs sweat like a yoga towel, acting as a 2-in-1 system. At dimensions of 72'X 24'' its taller than many other mats as well, so it can fit lots of different body types.
Suede Surface
The addition of suede is one factor that makes this mat unusual. Suede absorbs rather than repels sweat, which can cut down on the slip factor. This makes it perfect for hot yoga, Pilates, and other high impact exercises
The Designs
This is one more mat that can be customized to any unique style. The beautiful prints include lush patterns based on the moon, the ocean, and the tropics. Definitely, one to show off to your yoga class.
Cost and Value
With the eye-catching design and generous size, this mat also comes with a heftier price tag. While far from the most expensive item on our list, it is still a bit more of an investment. Whether or not to buy will depend on how much you want to spend on style.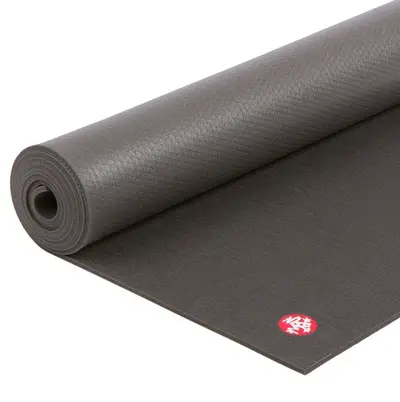 For the advanced Yogi, we have the Manduka Pro Yoga Mat. As the name suggests this is a high-performance mat. The company is so confident in these mats that they come with a lifetime guarantee. The same features of many of the other mats are present, but to a greater extreme: Latex-free, high-quality biodegradable materials, high-density surfaces, and superior comfort. The closed cell surface also makes it easier to clean.
Cleaning
Mats with an 'open cell' surface have a greater grip, but that often comes at the price of cleanliness. A porous surface absorbs sweat and stains, making the mat difficult-to-impossible to keep fully clean. The Manduka mat has a textured 'closed cell' surface so that sweat will not penetrate the surface
The Guarantee
Manduka has a lifetime guarantee on this product. It's built to withstand years of heavy use, as well as storage in less-than-ideal conditions. This is truly the mat to buy if you're looking for one item to last a lifetime of yoga sessions.
Cost and Value
Here is where we run into issues. This mat is nearly three times the price of a few others we have reviewed, making it a sizable investment. It may be costly for those looking to get into yoga on a budget, or beginners who are just trying the sport out.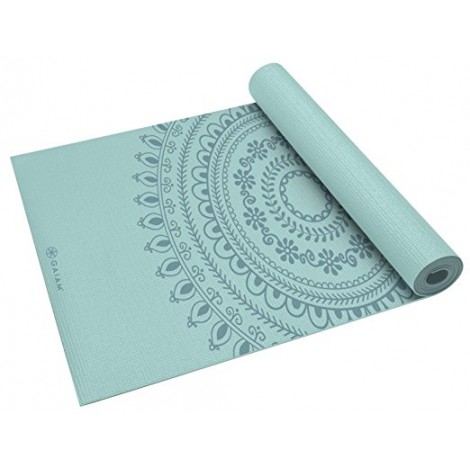 This one doesn't skimp on aesthetics. The Premium mat by Gaiam comes in a variety of calming colors and prints. The mat itself is a bit thicker than the norm, with a roomy 68'' spread when unfurled. The material is non-toxic and free from Phthalates. As an added bonus, the yoga mat comes with a free Yoga download so that you can get down to work right away once it arrives!
Prints
The defining feature of this product is the eye-catching array of prints available for purchase. Far from simple monochrome color schemes, these mats have a variety of lush Eastern-themed prints like Black Chakra, Sapphire Feather, and Tribal Wisdom Elephant.
Thickness
As with other mats that we have examined, the Gaia Premium mat is just a bit thicker than other mats, providing extra cushioning for joints during yoga sessions. If comfort is what you're after, this mat fits the bill.
Cost and Value
While not the cheapest item on our list, this mat is still on the lower end of things price-wise. The big sell for consumers here is the wide array of colors and patterns. Other selections cost more and only come in a single monochrome.

7

. Aurorae Classic Extra Thick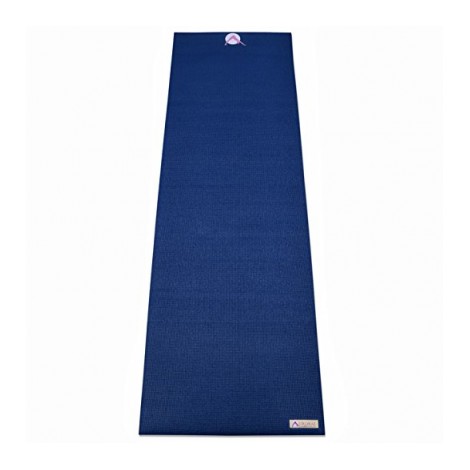 Aurorae is a boutique manufacturer specializing in eco-friendly, non-toxic products. Their extra thick yoga mat is highly versatile, as it is appropriate for Pilates, aerobics, and other outdoor activities in addition to yoga. Each mat is emblazoned with the distinctive 'Rising Moon' mark to assist users to withhold positions during yoga routines. The mat is available in a wide array of colors.
Non Toxic
Consumers with allergies or sensitivities to certain chemicals can rest easy, as Aurorae's products are free from any latex, Phthalates, silicone, or rubber. All materials are natural and eco-friendly.
Thickness
Oftentimes users may look at a thicker mat and see greater cushioning during exercises. However, the thickness can be a hindrance to balance when in the middle of a routine. This mat is specially designed to strike a perfect balance between the comfort of a thick mat and the dexterity of a thin one.
Cost and Value
This mat is a steal compared to some of the offerings from more well-known manufacturers on this list. It's easily half the price of some of the top tier mats while still providing a terrific user experience along with the peace of mind that comes with a completely non-toxic product.

8

. YogaAccessories High Density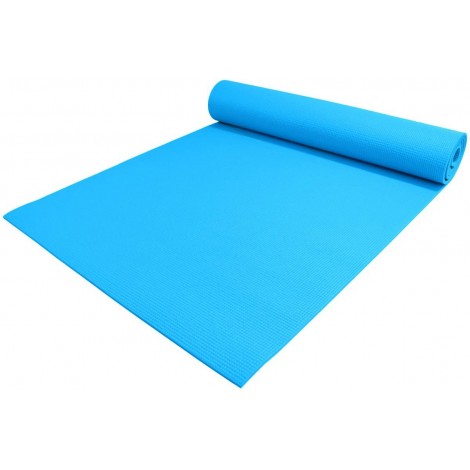 Marketed as one of the densest mats on the market, this 74'' yoga mat is constructed from tear resistant rubber for enhanced durability. It is ideal for heavy use and frequent transport. The surface is a mixture of open and closed cell rubber, striking a balance between sticky and smooth. As with most of the products on this list, it is made from eco-friendly materials.
Density
This mat stands out when it comes to durability. The tough, open and closed cell construction is built to stand up to years of punishment. If longevity is what you're after, this mat is a smart buy for that alone.
Thickness
At 1/4'' this mat offers a great deal of comfort, especially during more high impact exercises. Additionally, the thickness makes it a great multi-purpose mat, either for aerobics or a makeshift seat during various outdoor activities.
Cost and Value
This is another affordable mat on the lower end of the cost spectrum. It's fairly basic and straightforward in terms of material and workmanship, though it does offer the benefits of extra cushioning. A good basic buy for a beginner.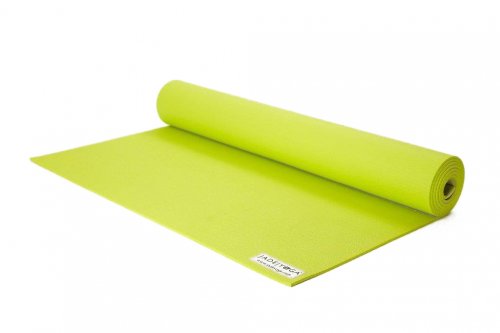 This mat by Jade Harmony is constructed from open-cell rubber which is ideal for stickiness, making it the perfect mat for slip resistance. The mat is also super long, with either 68 and 74'' options. The mat is also eco-friendly and constructed out of biodegradable material. The company carries this philosophy one step further, planting a tree for every mat sold.
Stickiness
The lack of slipping is really where this mat stands out. The open cell rubber surface holds great, even when the mat is slick with sweat. This definitely makes it one of the top options for users who regularly practice physically intense, rigorous routines.
Eco Friendly
Consumers are supporting a good cause when they support this company. In addition to being American-made, Jade Harmony is committed to supporting the environment, from the eco-safe materials that go into the mat, to their charitable partnership with Trees for the Future.
Cost and Value
The cost is a bit higher on this mat for a couple of reasons. Firstly, it's an American company so you are paying American manufacturing prices. It's also a small company using high-quality materials. Considering all of this, it's still a smart buy if you are looking to help the environment with the purchase of a high-quality mat.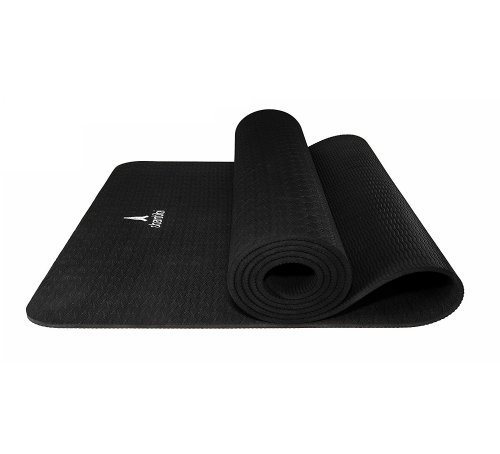 This mat also uses TPE material, which gives it the benefit of being durable, lightweight, and totally chemical free! The mat easily wicks away sweat during workouts, so you won't be dealing with a nasty smell after repeated use. It is also reversible, so whichever way you lay it down, you will be ready to start your workout immediately.
Lightweight
Unlike a few of the other mats on this list, this mat is just 5MM thick and weighs less than two pounds. Consumers without a lot of space who may need to transport the mat on a daily basis are sure to find moving this one a breeze.
Easy Clean-Up
Mats that are thick and may be comfortable but they can also soak up sweat like a sponge. This can create an exceedingly unpleasant situation after repeated use. The Shantihi mat is designed to grip effectively while repelling sweat so you won't be dealing with unpleasant stains and smells.
Cost and Value
This is a good mid-range yoga mat considering the quality of the TPE material. It offers a decent balance between quality and cost. If you are practicing yoga at a beginner or intermediate level, this might be a solid buy to consider.

Subscribe to our Newsletter