Best Under Armour Backpacks Reviewed for Quality
In a Hurry? Editors choice: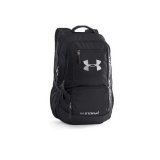 Test Winner: Under Armour Storm Hustle II

One way to ensure that you have the time for a workout, hike, or bike ride is to always be prepared. The best way to do this is by having a packed backpack ready to go whenever you have the time. It's a great way to keep your activewear on hand and all the important accessories needed for a safe outdoor experience.

Under Armour is constantly raising the bar with its high-quality, value-packed, and aesthetically-pleasing products. When it comes to their backpack line-up, it's stunning. That's why, in today's article, we are going to share our results for the best models after intensive research, evaluation, and analysis.
Standout Picks
Criteria Used for Evaluation
Materials
It's safe to say that one of the most important aspects of a high-quality and effective backpack is the material used to make it, right? Well, lucky for consumers, Under Armour is infamously known around the world for its high-quality builds and materials. Prior to jumping into this evaluation and research, we knew that this brand was great at making products. Now, while we did know this, it's essential to verify this information with each product that they make. The reason being, not every single product is made the same, and you would not want to guess that a product is made well and waste the money. So, in performing research for this article, we carefully analyzed each product based on the materials used to construct the backpack. In addition, we took the time to look at product images to ensure that each backpack was properly represented according to the description. From there, we verified and cross-referenced all of this information with previous customers to ensure the absolute best backpacks offered by Under Armour. With that, we can confidently say that every product on this list is considered the best of their lineup.
Durability
Materials aside, the next most important aspect that all consumers must take into consideration when picking out a backpack is the durability. You would not want to purchase a backpack that is built from quality materials, however, it lacks in durability and longevity. With that being said, as we began our analysis and evaluation for this article, we carefully looked at how Under Armour approached the idea of durability in each of their products. What we learned quickly was that Under Armour was not shy in describing their products and motivating consumers to purchase their backpacks. In an effort to verify this, we carefully looked at how the company was ensuring durability. In addition to this, we looked at what previous customers were saying about their experience with the backpack. We can say that each product on this list has been praised for its durability and long-life expectancy.
Value
In our opinion, one of the most crucial aspects that consumers need to take into consideration is the cost to value ratio. Sadly, many customers do not even think about the cost or value in the way that they should. In truth, this is the absolute best way that you can ensure you are getting your money's worth for a product. So, as we began to create our list, we carefully analyzed how Under Armour was pricing all of their backpacks. In this, we even scanned the entire market and their competition to get a fair understanding. In this, we knew that Under Armour's products are slightly higher, however, consumers need to take into account the amount of quality and value embedded into these products. You are not purchasing a cheap backpack, by any means. With that being said, we looked at the cost of each backpack and then compared it to the amount of value that each specific bag offered. We were able to draw some strong conclusions that each product was fairly well priced. What you will find in this article are the best-priced backpacks offered by the manufacturer, all with the most amount of value.
Style
The last characteristic that consumers should take into consideration when picking out a backpack has to do with the design and appeal of the backpack. When it comes to Under Armour, we can say with confidence, that this company has mastered both design and appeal. As we created our list, we quickly realized that each product offered by this company offers a unique appeal to consumers. Whether it's the simplicity of draw-string backpack or the complex pockets with stunning colors, Under Armour has it all. So, for each product that we added to our list, we wanted to ensure that consumers could select from a wide range of design options and colors, which you will find throughout this entire list. In fact, some products are offered in numerous colors, giving consumers some degree of personalization.
10 Best Under Armour Backpacks
1

. Under Armour Storm Hustle II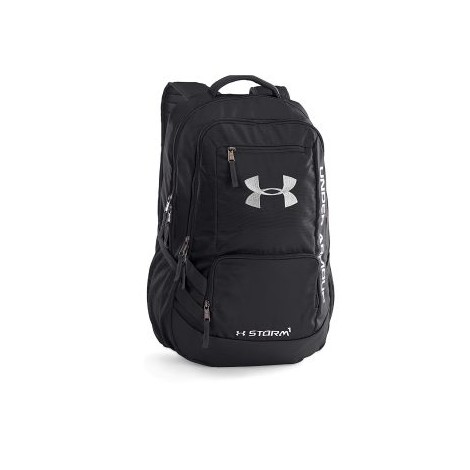 In an industry filled with plenty of options, backpacks are now becoming more modern and tech-filled than ever before. With that said, Under Armour has reigned supreme in the active gear and clothing industry for years. Their reach of active gear even extends towards backpacks, creating a lineup of different products for virtually any person. Well, the Storm Hustle II Backpack is universally one of the best backpacks for possibly any outdoor occasion. Filled with plenty of features, let's look at what makes this backpack such a special product.
Design
The design of the backpack is created with usability in mind. Users' needs are at the forefront of this active gear manufacturer's creative process, always making the process simpler than ever. In particular, the design of this backpack features a 15" interior laptop sleeve for easy access and added security. More importantly, this backpack also includes adjustable shoulder straps with padding for comfort that lasts all day long.
Resistant
This backpack is designed to carry virtually any item from a laptop to pens, notebooks, and other important material. More so, if an individual sees themselves carrying multiple electronics, this backpack can seem like one of the best solutions is the water-resistant material known as UA Storm Technology. Alongside this, this backpack offers an abrasion-resistant bottom panel in the case of drops or the backpack is placed on tough terrain.
Cost and Value
When it comes to quality, this brand is known to deliver some of the best active gear products available today. There is a reason why they are known as industry leaders. When cost and value are determined, it is safe to say that every product that this brand offers is virtually the best quality build and design. Therefore, due to the amount of value an individual receives, it heavily exceeds the cost of this specialized backpack.

2

. Under Armour Storm Recruit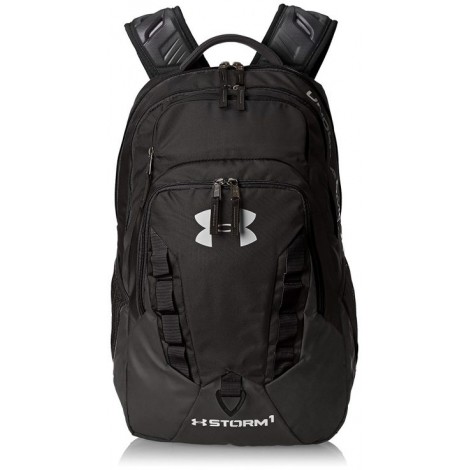 There are certain companies that know how to appeal to all buyers with specific tastes. Therefore, we are eager to share with you the compact Under Armour Storm Recruit Backpack, smaller than the one above but still with the quality finishes that makes this particular brand one of the best on the market. When looking for a certain activewear backpack it is important to look at design and material, features that this brand knows how to construct really well.
Design
The design of this backpack is created with usability in mind. Whether you need to bring a lot of electronics, or important schools items with you, an individual can feel safe and secure with this backpack without feeling exhausted. The reason being is that the design of the backpack includes HeatGear shoulder straps for added comfort and padding alongside plenty of pockets for an individual to keep their valuables. With 1 interior slip and 4 exterior slip, a person can bring virtually anything they want without feeling the weight of it.
Materials
The materials that construct this backpack were intended to be both lightweight and resilient to even the toughest environments. For example, with 85% Polyester and 15% Nylon, a person only feels the weight of the items, the backpack itself is relatively light at only 1.2 lbs. Secondly, the materials also include tough, abrasion-resistant bottom panel in the case of accidents or tough drops.
Cost and Value
This manufacturer is particularly known for providing comfortable solutions in an industry where activewear tends to be heavy and uncomfortable. When determining the cost to value, this backpack costs around the same price as industry standards. However, the value of what this product offers includes years of use in almost any environment. With different aspects that makes this backpack extremely durable, but comfortable, there is a reason why people flock towards this brand.

3

. Under Armour Scrimmage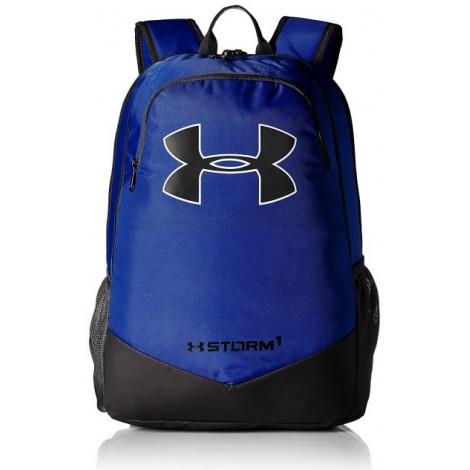 Whether going back to school or need an active duty backpack, this well-executed backpack is known among the industry as one of the best. Under Armour now shares the Boy's Storm Scrimmage Backpack, a backpack designed with school students in mind that need a lot of space and a quality backpack to carry it all. With specially formulated technology that we have come to know from this brand, this is a backpack that is worth a second look if you are considering it for as a school backpack.
Carry Anything
In school, it is without a doubt that a student will have to carry pens, books, possibly a laptop, and other important products. Therefore, a student needs a reliable backpack that can do the heavy-duty lifting without wear and tear. This is where this particular backpack comes into play. The design allows for a user to hold up to a 15" laptop in a soft lined laptop sleeve. Other than that, the adjustable HeatGear shoulder straps ensure that the backpack is easy to carry without feeling much discomfort or pain.
Plenty of Materials
A product is only as good as the different variety and options that they offer. Therefore, no consumer should be surprised to see that this manufacturer offers this backpack in an assortment of color options. Whether your son wants a blue and black backpack or white and black version of this quality carrier, there is an option for every student.
Cost and Value
On the lower end of the pricing scale, the cost to value is significant in range, meaning this backpack holds a lot of value at only a fraction of the price. The importance of a backpack such as this one is highlighted among the many great reviews. However, it is the specs that make this a valuable and needed student supply backpack that can offer a sense of relief and safety.

4

. Under Armour Undeniable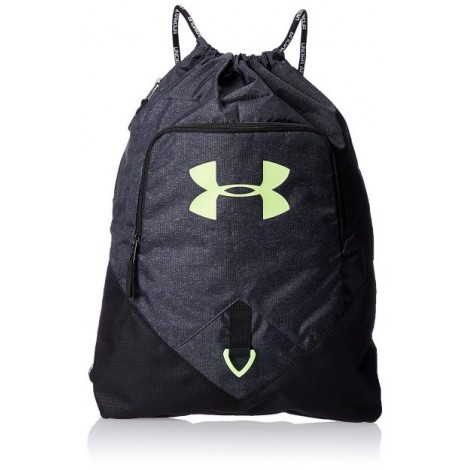 When it comes to one of the most common items that students and sports stars need, there is activewear. However, there are only numerous companies that lead the activewear industry as one of the best, always on top with the best merchandise, new innovation, and most durable products. This is where Under Armour shines with the Undeniable Sackpack. Not quite a backpack, but still functioning as a carrying bag, Under Armour has brought us a versatile sack pack that is worth every student or sports-stars consideration. Let's look at two very important points.
Extra Pocket
Most medium grade and common sack packs only offer one pocket area, the actual sack-pack area acts as one common area to place everything a person can fit into the cubic in. of space. With this said, this sack pack offers an extra storage space big enough for a small to medium book, or other important gear the person might want to carry along.
Material
As we have come to expect from a brand such as this one, the materials used are known as some of the most durable materials known in the industry. The soft tricot material helps against potential scratches, is water resistant, and can be wiped down easily in the case of dirt and stains. With this in mind, there is an easily adjustable cord and sternum clip made from A-grade materials to enhance the quality of this sack pack.
Cost and Value
When talking about cost per value it is always important to look at the brand's history. This can give us a form of insight as to why a product will cost a certain price. However, what is most shocking is that the cost of this particular sack pack is relative compared to the competition. What makes it even more of a bargain is that the brand is known to supply quality products that last a long time. If you want a functional and durable backpack that can be taken anywhere, this sack pack packs a punch of value.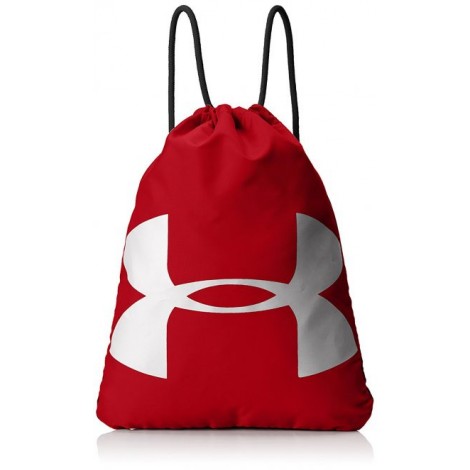 If a backpack offers too many features and an individual is looking for a simpler solution to their everyday needs, a sack pack may be the best choice. In fact, sack packs are known as the preferred method for athletes to carry around specific products and items. Therefore, we are eager to share with you the benefits of the Under Armour Ozsee Sackpack, a blend of durability and comfort design from a trusted activewear brand.
Durable Material
Made of 100% Polyester, this durable material can virtually withstand anything. The material is strong enough to hold even the heaviest of items and can be tossed easily without worry of wear and tear. As with any product, taking care of it is important. However, as we have come to know from this manufacturer is there quality products that offer plenty of robustness.
Build
When creating such an important piece of craftsmanship, the build quality must be of primary importance and no potential accident can be overlooked. This sack pack offers the build quality that people are seeking, especially with the addition of a sternum clip which keeps the cords secure and in place, meaning you do not have to readjust the opening of the sack pack repeatedly.
Cost and Value
In regards to cost per value, this brand has priced this sack pack inexpensive. Not because the value is not there, but because by lowering the price the amount of value from such a trusted company becomes available to everyone.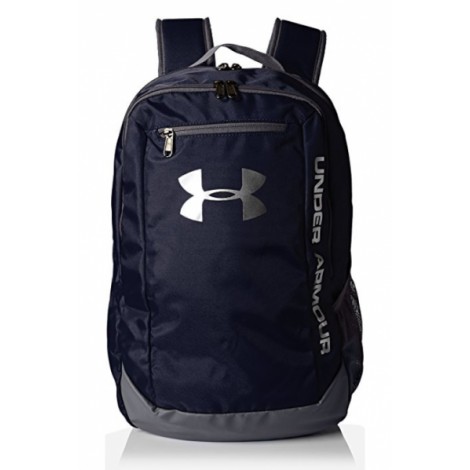 There are only a handful of brands that look at their products as universal sources of solution. What we mean is that they are focused on providing solutions for everyone. In the active gear industry, there are only a handful of brands that run the game with their innovative technology and relatable marketing. This is one of those brands. Not only are their innovative products are perfectly executed, but they are also reliable. With the Under Armour Unisex Hustle 3, users are introduced to a universal product that answers the question many people are asking, "how I can carry my stuff safely today?"
UA Storm Technology
This particular active gear manufacturer is known for introducing the world to one of the greatest element-fighting technologies out there. Therefore, it makes sense that this unique backpack would include it. With the UA Storm Technology, a user can rest assured that their items will stay dry during rainy days. With a water-repellent finish, a user can keep their valuables such as technology items and books safely inside their backpack.
Interior Safety
When protecting some of a user's most important items, this brand understands the importance of protection and durability. Therefore, the inside of the backpack is properly padded for added protection and comfort. In line with this, the interior laptop sleeve is soft lined and can hold up to a 15" laptop no problem. Most importantly, the bottom of the backpack has an extra pocket that when in use acts as an extra form of padding between the primary contents of the backpack and the surface you are placing it on.
Cost and Value
This is a traditional backpack look blended together with urban materials and appeal. The aesthetics alone of the backpack will make it turn heads. However, it is the versatility and functionality of this particular model that is a perfect contender for anyone's list of active gear. The price alone is competitive, giving users plenty of value for their money. With many exciting reviews, this trusted brand has produced a great product worth noting.

7

. Under Armour Compel Sling 2.0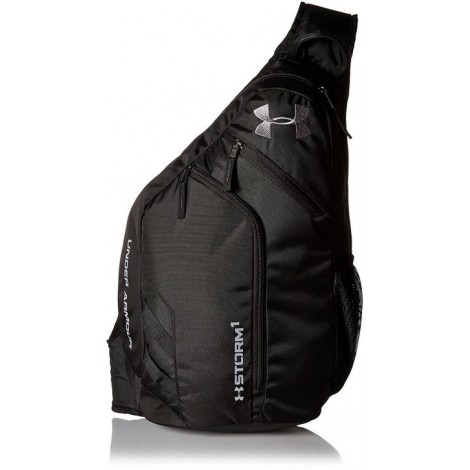 As we have talked about on the list, the culture of backpacks extends beyond the original straps and multiple pouch backpack. Now, the technology of backpacks has been both enhanced and made simpler with the sack pack. However, in this, we are eager to share with you another unique and comfortable backpack design with one strap, known as the 'sling'. Let's talk about the Under Armour Compel Sling 2.0, a blend of unique versatility and style with functionality.
Style
Style alone makes this backpack an undeniable turn of events in the backpack industry. It is unique, it is different, and the materials made to create it are of premier quality. Designed by one of the top active gear companies in the world, the style is a representation of youth and undeniable versatility. For versatility, this sling backpack offers a softly lined laptop sleeve that can hold a 15" laptop. Other than that, there are reinforced pockets to keep valuables and the total Cubic volume extends to 1000. This is a win for this industry!
Technology
The technology used to create the Under Armour Compel Sling 2.0 is unique and captures the eye. This manufacturer has been known to not only execute unique products but also make them captivating and of course, useful. Therefore, the technology to create this backpack is of the best quality. With UA Storm Technology, this sling backpack uses a water-repellent finish that does not sacrifice breathability. In fact, the backpack is lightweight, debris and stain repellent so a user can take it anywhere.
Cost and Value
When it comes to determining the best cost per value, of course, this manufacturer delivers with quality and precision. In fact, this sling backpack has been considered one of the best gear products from this brand for all types of people and commuters. Whether you are a businessman, an entrepreneur, or a student, this backpack offers plenty of options to store your valuables in a safe and confident manner at a reasonable price.

8

. Under Armour Undeniable II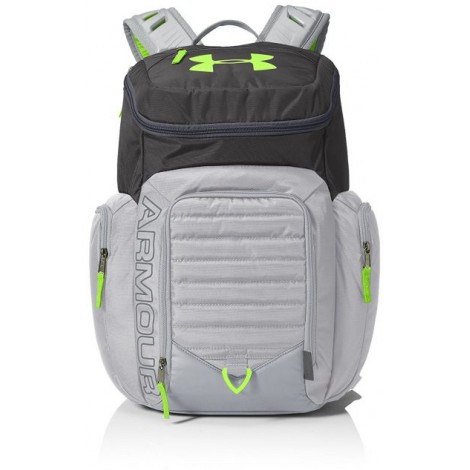 In a saturated niche that is filled with options, releasing a new product that is innovative and captures people's attention can be quite difficult. However, Under Armour captures our attention once again with the Storm Undeniable II Backpack, a blend of reinforced protection with UA Storm Technology to deliver one of the most durable and worth-while backpacks in the industry today. Let's look at why this product should be on everyone's back-to-school list.
Resistant
With the newest technology centered around protecting items from natural elements, stains, and possible rough terrain, this backpack offers Storm Technology. This new form of construction is highly water-resistant and tough against stains, cuts, or scratches. This extra level of protection not only gives an individual an added layer of security but also peace of mind that their items are well taken care of.
Reinforcement
It is not only the outside of this backpack that is reinforced with some of the best technology in the industry. This backpack also includes built into its foam reinforced panels to add an extra layer of protection against outside elements. Therefore, if you are carrying fragile items such as a laptop or even a glass water bottle, you can rest assured that in every pocket there is a layer of protecting hugging your valuables.
Cost and Value
When evaluating cost and value, we ensure that each product offers the best bang for your buck. Although this is on the more 'expensive' side of backpacks, many people believe that it is completely worth the cost due to the value in return. Not only is it an expert piece of craftsmanship from one of the world's leading industry professionals in the field of activewear, but this backpack also offers plenty of solutions, benefits, and durability for long time use.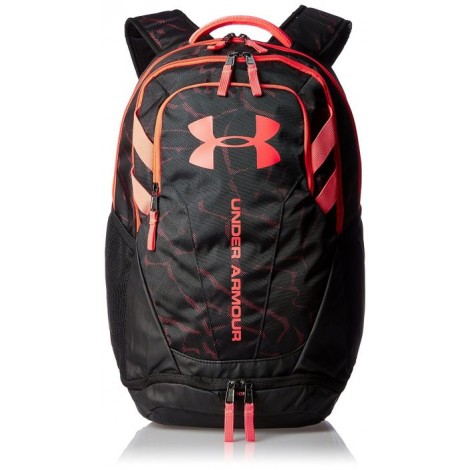 It is time once again to talk about an innovative piece of technology that has shocked the active gear community since its release. With new innovative technology, a simple and traditional backpack design, and a millennial outlook on usability, let's talk about the Under Armour UA Hustle 3.0 backpack. With plenty of design and color options, this backpack is a unique piece of craftsmanship from one of the industry's leading active gear manufacturers.
Plenty of Space
If you are seeking a backpack that offers all-inclusive technology, this backpack is it. Offering unique placed pocket space, both outside and inside to maximize the number of items a person can carry while distributing the weight properly, this backpack has 8 total pocket slips. With 3 interior pocket slips, a user can put in it the most important valuables that they need. With 5 exterior pocket slip, a user can place the items they need at a moment's reach. Whether its water bottles, a book, or even a small laptop, this backpack can carry it all.
Materials
Made of some of the strongest materials available today, this backpack offers strength and versatility. However, only a backpack user can fully understand the importance of breathability. If walking for a mile or more with a backpack on, a person's back can begin to perspire, something this backpack attempts to avoid by the unique, 77% Polyester and 23% Nylon materials. With these products, they not only allow for maximum breathability, but it is also an easy to clean backpack.
Cost and Value
This backpack can be described as a traditional backpack with an urban twist. Offering plenty of color choices, this backpack is made from some of the best materials. However, the execution is what is most important, an aspect of backpack manufacturing that this company excels at. With that in mind, users tout the functionality of this backpack, making it worth every penny.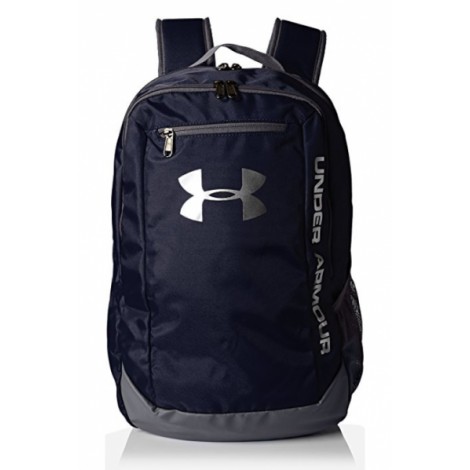 We have heard the term, 'time to hustle' multiple times. With this unique and versatile piece of creative ingenuity, Under Armour introduces us to a backpack that can pretty much serve any purpose. Whether you are a man on a business trip seeking extra storage space for your most important items or a woman on the sports team wanting to place your clothing items, this backpack can handle anything with ease. Let's see why the new Unisex UA Hustle Backpack is perfect for anyone and everyone.
Tough
It is without a doubt that a tough backpack is more trusted than a regular backpack not offering many features. When you are used to carrying around extremely important items, like a cellphone, books, and even a laptop, a tough backpack is crucial to ensure the longevity and protection of those items when carrying them around. Therefore, this manufacturer added its tough abrasion-free bottom panel and a soft lined laptop sleeve to ensure optimum protection. Secondly, the water-repellent technology used known as UA Storm Technology protects against the outside elements, ensuring your backpack lasts a while.
Comfort
With a backpack this versatile and large, roughly 1350 cubic in., a person not only needs durability and strength but also comfort. With the adjustable shoulder straps made by HeatGear, they add an extra level of support to make sure the person carrying the backpack has no back pain or neck pain. Not only that but the placement of the straps and the way they were manufactured to ensure that the weight of the backpack is distributed properly from front to back.
Cost and Value
When it comes to cost per value for such an item it is important to ask yourself what you will be using it for. If an individual is looking for a unisex backpack with plenty of pockets, protection, soft padding, and great features this backpack is it. With all of this in mind, the cost is extremely low compared to the competition or other backpacks on this list, while supplying double the abilities. This is a backpack that should not be overlooked.

Subscribe to our Newsletter