Best Dog Boots for Snow Reviewed
You're not the only one in need of protection when it comes to weather while out hunting. If you're bringing your trusty sidekick with you, he's going to need some coverage as well. Dogs are tough, but they still get cold and uncomfortable in the wrong conditions, even if they don't make much of a fuss about it. Dogs too suffer from injuries like most hunters do. And with winter fully here, you're going to want something to help your dog stay warm, dry and comfortable.
Our Top 3 Picks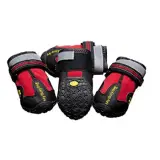 Waterproof Dog Shoes

Our rating
Wide Design
Price: See Here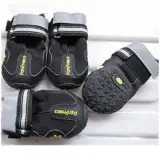 Colorfulhouse Dog Boots

Our rating
Slip Proof
Price: See Here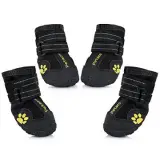 Petacc Dog Boots

Our rating
Highly Rugged
Price: See Here
Below are ten of the best dog boots for snow for your dog to help him survive the winter while out hunting with you. As well as a good pair of hunting boots for your trusted companion, be sure to equip it with a vest and a nice collar so it doesn't get cold. Snow doesn't need to stop you or your dog, but here's how to make sure he's safe and dry.
Best Dog Boots for Snow Reviews
Below you will find the best options available on the market when it comes to the best dog boots for snow. Read our detailed reviews and make the best choice for your hunting dog.
1. Waterproof Dog Shoes with Reflective Velcro and Rugged Anti-Slip Sole
These are some rugged, anti-slip shoes that can fit dog shoe sizes 1-8. They're water resistant and are especially designed to keep the water and mud out of your dog's paws. They're easy to slip on and off and expand thanks to a wide split seam opening. They're high quality and have your dog's comfort and safety in mind. Remember,
good hunting dogs
need good hunting boots.
Expand to see more
Water Resistant

How many times have you had to do a scrub down session for your dog's paws after a day out in the wilderness? Cleaning out sand and mud from between toes will not be a problem thanks to the water resistance on these shoes.

Wide Design

These are designed to fit dog shoe sizes 1-8 but they feature a split seam to help accommodate even the widest foot. They're easy to slip on and off and fit several paw types for maximum comfort.

Features and Specifications

These measure 5.5 x 1.5 x 5 inches all the way around, per shoe, and each one weighs .3 ounces so they're not adding any difficulty on your dog's ability to walk through the rough terrain. They feature easy to use velcro straps and can take on road salt, rocks, sand, mud, and wet terrain.

Price/Value

These are nicely priced for everything you get out of them. These are pretty standard dog shoes but they'll hold up nicely so the value vs. the price works in your favor.

Decision Time

If you want something to take on the forest or other medium level terrain, these are a good option. They may not be the option you want to go with for extreme terrain, but the forest, beach, and gravel road won't stand a chance against these.
Versatile sizing
Water resistant
Wide fit
Rugged quality
Can run large
Can shift if not fastened on correctly
2. Colorfulhouse Waterproof Pet Boots for Medium to Large Dogs
Got a great
hunting dog
? These are great boot options for them based on sizing and durability. They're slip proof and water resistant. They feature elastic straps to secure the fit and have reflective tape for safety while out at night.
Expand to see more
Slip Proof

These shoes feature a molded rubber bottom that provides a lot of traction. On top of that, it also pulls double duty in making sure your dog's paws stay dry even in the wettest conditions.

Safety

Even your dog needs some identifying features sometimes. While you can deck yourself out in reflective gear or hunter orange, how do you get your dog visible to other hunters in the night? These feature reflective tape which does wonders for safety and visibility of your animal in the night.

Features and Specifications

These are designed for a dog between 30 and 88 lbs depending on the size you chose (4-8). At the largest size they weigh 8 ounces and feature lightweight but durable rubber as the main component. It utilizes elastic straps over velcro for a secure fit.

Price/Value

These are a great price for the features you're getting with them. They've got the standard amenities plus some add ons in the form of reflective tape. If you want something for average level terrain, these are a great and highly economic option.

Decision Time

These are best for any hunting or walking you might be doing at night. They can take on ice and snow as well as wetter terrain so snowy forests, wet beaches, and muddy fields can all be tackled by these.
Sizing options
Non slip
Water resistant
Safety features
3. Petacc Dog Boots Waterproof Dog Shoes for Large Dogs and Black Labrador Waterproof
These are crafted from highly durable, water resistant material. They're slip and skid resistant and flexible for comfort while wearing. They're easy to slip on thanks to a wide split seam and firm fastening velcro straps. They fit dogs from 30 to 80 pounds depending on the size you get.


Expand to see more
Highly Rugged

The material on these is slip and skid resistant with nice traction on the bottom of the foot. They're also highly water resistant and resistant to tearing and punctures from rocks, salt, and wayward twigs your dog might encounter in the wild.

Designed for Active Use

These particularly point out durability for running. Not only can these take on the wears of walking and trotting through slightly rugged terrain, they encourage running with their rugged and tough make, ensuring the material lasts during high impact use.

Features/Specifications

These weigh 8 ounces at the largest size and are made from excellent rubber with traction on the bottom. Velcro straps keep them secure and the shoes are machine and hand washable, drying naturally in the air. They're designed for extreme cold or extreme warm conditions.

Price/Value

These are a very good price for everything they do. These are made for a little bit more of a rugged terrain than some of the others but the price doesn't reflect that too much so the advantage is on your side.

Decision Time

If you need shoes for tougher, more rugged terrain, these are a bit of a step up from others on this list. These are a good option if you need something for slightly more intense terrain and use.
Rugged design
Sizing options
Slip resistant
Machine washable
The velcro can come loose
4. Ultra Paws Rugged Dog Boots
This is a boot designed for used in urban settings, hunting, and hiking so it's got a roundabout use. They're water resistant and designed to keep paws warm in the snow. They're easy to put on and feature velcro straps. They're flexible and comfortable for your dog across wet, dry, hot, and cold conditions, and any combination therein.


Expand to see more
Material

These are made from 100% recycled tire with the toe wrapped in 1000 denier nylon material. This makes for a highly durable, high traction shoe for your dog. They're water and cold resistant and can take on any temperature of weather.

Designed for Anywhere

Thanks to the tire material, these can be used across settings and across weather. They can take on hot asphalt in the summer and deep snow in the winter. They can take on slick roads, wet sand, and muddy forests. They're a very well rounded shoe for use across locations.

Features/Specifications

These feature a paw sizing guide to help you pick which size is best for your dog's paw size needs. All of them feature nylon and recycled tire material for maximum durability and slip resistance. The velcro closure is loosely fastened for comfort for your animal. They're designed to be washed in cold water and air dried.

Price/Value

These are priced a little higher but you're getting a lot of return for that in the form of great make of material and versatile use of these shoes. Even with the price slightly elevated, the advantage is on your side.

Decision Time

These are great for anyone taking on rough terrain as well as someone looking for boots that can take on multiple terrains.
Highly durable
Good across weather and terrain
Comfort fit for your dog
Sizing options
5. Expawlorer Waterproof Dog Shoes Reflective Non Slip Pet Boots for Medium Large Dogs
These are more than just a great pun title. They're great for a retriever or lab. They're designed for a dog running from 60 to 77 pounds. They feature safety reflective material and velcro straps. They've got grooved soles for good traction and no slip and feature flexibility and easy to get on and off design.


Expand to see more
Traction

These are non slip shoes. They feature a highly rugged grooved design on the sole to both give the dog control over slippery terrain and protect them from the cold in the winter with a thick barrier between them and the elements.

Easy and Comfortable

Comfort is often forgotten in the face of function and safety, but it's an important part of all of this too. You don't want your dog in pain while out. These are highly flexible and feature a design that not only keeps your dog dry and warm, but fits comfortably over their paws.

Features/Specifications

These measure 6 x 3 x 8 inches around and weight 9.6 ounces, which makes them slightly heavier than some of the other options on this list. But that balances out thanks to the rubber roles and thick, rugged material. They feature velcro straps and reflective tape for visibility. They use an ergonomic shape for comfort and are machine washable.

Price/Value

These sit nicely in the dead center of the price range and you get a lot in return for your purchase in the form of comfort and durability for your dog.

Decision Time

These are great for several different climates and weathers and can hold up against anything. So these are a great purchase if you want something that can be used across hiking terrain as well as general use in other environments, and they provide comfort for your animal.
Highly durable
Comfortable for your dog
Machine washable
Reflective tape for safety
6. Maxshop 4 pcs Waterproof Rugged Dog Shoes Pet Boots for Small Medium Large Dogs
These are waterproof shoes that keep paws dry and protected with high quality and rugged material. They're anti-slip to offer stability and the sole is thick enough to resist punctures from any sharp objects your dog may come across. The fit is tight but comfortable and the shoe is easy to take on and off.


Expand to see more
Durable Sole

The sole of the shoe isn't just about being able to handle slippery situations and traction. These are also thick enough to ensure that any sharp or tough objects your dog may encounter don't puncture through the shoe to cause harm.

Easy Fit

Like many of the others, these feature velcro to give you custom fit when it comes to securing them to your dog's paws. They also have reflective material for safety at night on the straps and they're easy to take on and off with discomfort or struggle.

Features/Specifications

These weigh in the middle of our spectrum at 6.4 ounces. They feature rugged material, reflective tape across the velcro straps. The straps fasten and unfasten easy and the shoes slip on and off with equal ease.

Price/Value

These are slightly up there in price but still generally fall within the middle of the pricing spectrum. They don't feature too much extra, coming with the standard non slip and water resistant promises. But they're still a good buy if you get the sizing right.

Decision Time

These are good for a less intense environment and use on more normal and average terrains such as the forest, fields, or sidewalk.
Rugged design
Reflective tape for safety
Easy to put on and remove
Can slip off smaller dog feet
7. Petacc Dog Shoes Waterproof Dog Boots
Just looking at these you can see they stand out on this list. While everything else were shoes and booties, these are full fledged boots that go a solid amount up your dog's legs. They're thick with polar fleece lining for warmth and have anti-slip rubber soles. They also feature elastic knitted cuffs and high top design.


Expand to see more
High Tops

These go a fair way up your dog's legs compared to the shoes on this list. This makes them excellent for deeper snow, colder weather, or wetter conditions.

Warmth

There's no doubt these are meant to be used in the harshness of winter. They're long, they feature a polar fleece lining and focus on warmth and coziness while out in the low temperatures of the winter wilderness.

Features/Specifications

These feature elastic knitted cuffs at the top for a tight but comfortable fit for your dog. They've got a polar fleece lining for warmth and a thick rubber sole for durability and non slip. They're water resistant at the foot and toe and feature a unique velcro fit design.

Price/Value

These are priced exceptionally well for what they are. They offer a lot of warmth, a lot of comfort for an average price. If you need a winter shoe for you pup, these are the best option for the price and return.

Decision Time

While many of the others are meant to be used across different terrains and weathers, these are specifically designed for winter and snow. So if you need a warm boot for your dog for the winter. These are it.
Very warm
Designed for winter
Comfortable material
Non slip
Reflective tape
8. HiPaw Waterproof Dog Boots Paws Protection with Reflective Strap
These will protect your pup's feet from hot pavement, sharp objects, burrs in the woods, ice in the winter, and the slip of ice. They feature both non slip material and warm insulation. They've got a flexible fit and are easy to put on a remove.


Expand to see more
For all Weather

These are designed for protection in the heat of summer and the cold of winter. They also can take on the slippery ice and wet conditions as well as any dangerous debris your dog might come across while out.

Material

These feature waterproof oxford fabric combined with a fleece lining for maximum warmth and comfort as well as dryness. They have a reflective velcro strap for stability and safety at night and during the day.

Features/Specifications

These come with a measuring guide so you get the right size but the fit on these is sleek and easy. They've got a combination of materials to keep your dog warm and dry in the winter or in the summer. They've got a solid fitting velcro strap and reflective material across them for visibility.

Price/Value

These are featured right in the middle of the price spectrum and you get quite a bit in return for them thanks to the combination of material and the versatility of these boots.

Decision Time

These are great across weather and across conditions but probably aren't suited for more intense terrain.
Combination of materials
Waterproof
Puncture resistant
Good fit
Subscribe to our Newsletter