Best Dog Boots for Snow Reviewed & Rated
We love spending every second of our day with our loved ones, especially with our family. But only animal lovers know how important it is not to forget about the pets that keep us company and constantly improve the quality of our lives. Just like with our kids, we love to take our pets everywhere we go, including on holidays. However, taking our little furry friend out during bad weather can compromise their health and safety. Even though the pads of your dog's feet are much tougher than your own, there are times when they need the extra protection provided by the best dog boots.
This canine apparel is usually made from rubber, fabric, or plastic coverings used to protect the animal paws from cold weather, rough terrain, and injury. Even though they are most commonly used in sled dog races, the dog boots are very useful in everyday situations, such as going for a walk or playing around the house. Furthermore, they are extremely handy during holidays in places with unforeseeable weather. For instance, in the winter, a nice set of boots will keep your dog's feet dry and safe from dangerous substances like ice melt and rock salt. In the fall, boots will keep your dog's feet clean on muddy walks.
Check out our list below to find the best winter apparel for your dog's paws. You can read about the fabric, design, and special features, each product has to offer so you can find something that meets all of your needs. And if you have any more questions, check out the criteria and Frequently Asked Questions sections! You'll find all the answers you are looking for and more!
Featured Recommendations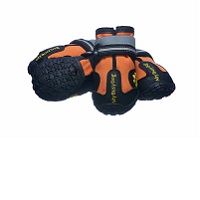 MyBusyDog

Our rating
Wide Design
Price:

See Here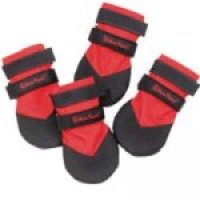 Ultra Paws

Our rating
Skid Resistant
Price:

See Here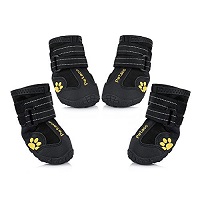 Petacc

Our rating
Highly Rugged
Price:

See Here

Below are ten of the best dog boots for snow for your dog to help him survive the winter while out with their owner. As well as a good pair of boots for your trusted companion, be sure to equip it with a vest and a nice collar so it doesn't get cold. Snow doesn't need to stop you or your dog, but here's how to make sure he's safe and dry.
14 Best Dog Boots for Snow
1. My Busy Dog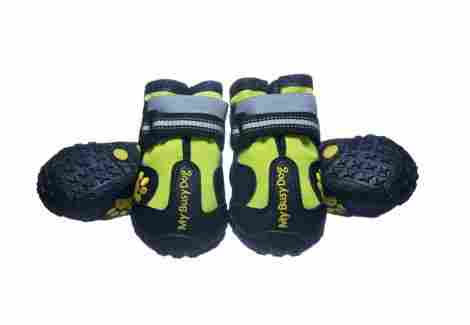 These are some rugged, anti-slip shoes that can fit dog shoe sizes 1-8. They're water resistant and are specially designed to keep the water and mud out of your dog's paws. They're easy to slip on and off and expand thanks to a wide split seam opening. They're high quality and have your dog's comfort and safety in mind. Remember,
good hunting dogs
need good hunting boots.
Expand to see more
Water Resistant

How many times have you had to do a scrub down session for your dog's paws after a day out in the wilderness? Cleaning out sand and mud from between toes will not be a problem thanks to the water resistance on these shoes.

Wide Design

These are designed to fit dog shoe sizes 1-8 but they feature a split seam to help accommodate even the widest foot. They're easy to slip on and off and fit several paw types for maximum comfort.

Features and Specifications

They measure 5.5 x 1.5 x 5 inches all the way around, per shoe, and each one weighs .3 ounces so they're not adding any difficulty on your dog's ability to walk through the rough terrain. They feature easy to use velcro straps and can take on road salt, rocks, sand, mud, and wet terrain.

Price/Value

They are nicely priced for everything you get out of them. These are pretty standard dog shoes but they'll hold up nicely to the value vs. the price works in your favor.

Decision Time

If you want something to take on the forest or other medium level terrain, these are a good option. They may not be the option you want to go with for extreme terrain, but the forest, beach, and gravel road won't stand a chance against these.
Versatile sizing
Water resistant
Wide fit
Rugged quality
Can run large
Can shift if not fastened on correctly
2. Ultra Paws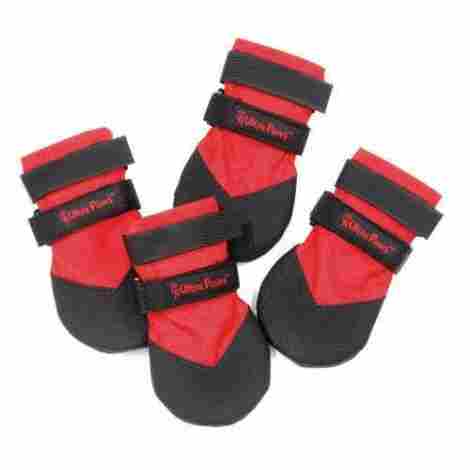 This is a boot designed for used in urban settings, hunting, and hiking so it's got a roundabout use. They're water resistant and designed to keep paws warm in the snow. They're easy to put on and feature velcro straps. They're flexible and comfortable for your dog across wet, dry, hot, and cold conditions, and any combination therein.


Expand to see more
Material

These are made from 100% recycled tire with the toe wrapped in 1000 denier nylon material. This makes for a highly durable, high traction shoe for your dog. They're water and cold resistant and can take on any temperature of weather.

Designed for Anywhere

Thanks to the tire material, these can be used across settings and across weather. They can take on hot asphalt in the summer and deep snow in the winter. They can take on slick roads, wet sand, and muddy forests. They're a very well rounded shoe for use across locations.

Features/Specifications

These feature a paw sizing guide to help you pick which size is best for your dog's paw size needs. All of them feature nylon and recycled tire material for maximum durability and slip resistance. The velcro closure is loosely fastened for comfort for your animal. They're designed to be washed in cold water and air dried.

Price/Value

They are priced a little higher but you're getting a lot of return for that in the form of great make of material and versatile use of these shoes. Even with the price slightly elevated, the advantage is on your side.

Decision Time

These are great for anyone taking on rough terrain as well as someone looking for boots that can take on multiple terrains.
Highly durable
Good across weather and terrain
Comfort fit for your dog
Sizing options
3. Petacc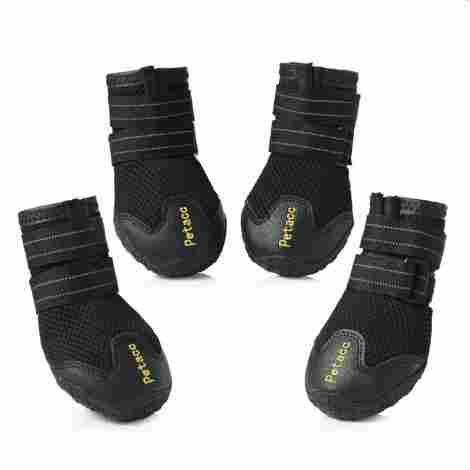 These are crafted from highly durable, water-resistant material. They're slip and skid resistant and flexible for comfort while wearing. They're easy to slip on thanks to a wide split seam and firm fastening velcro straps. They fit dogs from 30 to 80 pounds depending on the size you get.


Expand to see more
Highly Rugged

The material on these is slip and skid resistant with nice traction on the bottom of the foot. They're also highly water resistant and resistant to tearing and punctures from rocks, salt, and wayward twigs your dog might encounter in the wild.

Designed for Active Use

They particularly point out durability for running. Not only can these take on the wears of walking and trotting through slightly rugged terrain, they encourage running with their rugged and tough make, ensuring the material lasts during high impact use.

Features/Specifications

These weigh 8 ounces at the largest size and are made from excellent rubber with traction on the bottom. Velcro straps keep them secure and the shoes are machine and hand washable, drying naturally in the air. They're designed for extreme cold or extreme warm conditions.

Price/Value

Very good price for everything they do. These are made for a little bit more of a rugged terrain than some of the others but the price doesn't reflect that too much so the advantage is on your side.

Decision Time

If you need shoes for tougher, more rugged terrain, these are a bit of a step up from others on this list. These are a good option if you need something for slightly more intense terrain and use.
Rugged design
Sizing options
Slip resistant
Machine washable
The velcro can come loose
4. Qumy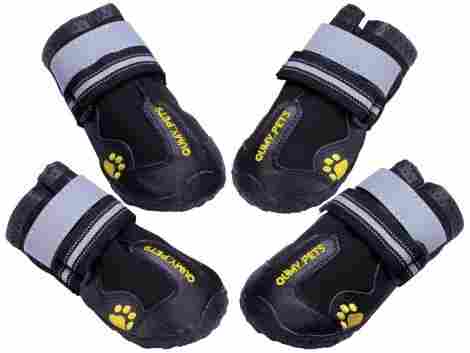 The QUMY dog boots are a one of a kind boot that has a lot to offer your furry friend. Going for long walks is very important to dogs that do not have room to run. With these long walks comes the risk of natural hazards which cause damage to dog pads. The QUMY dog boots are made rugged, with a durable sole, to shield and protect against all hazards.
Expand to see more
The Build

The QUMY dog boots are built tough for long walks and incredibly active dogs. Built with a fabric upper and rugged sole, these shoes are made to last and will keep long-lasting protection and debris outside of the boot.

Secure

The QUMY dog boots have an added benefit that will produce a secure and comfortable fit at all times. Each dog boot is made to leave long-lasting security by using a strap with a reflective strip. Using the most secure velcro, these boots are guaranteed to stay on, all day long.

Cost and Value

Having a great dog boot to ease your fears for your dog's feet have never been better with the QUMY dog boot. Strapped on to stay secure and in place, these rugged boots will leave long-lasting comfort and protection for your dog's feet. Having such protection will increase activity and performance and keep your dog's feet clean and dry, all day long.
Rugged Sole, Anti-Slip Sole
Secure Strap
Fabric Upper
Reflective Strip
5. Bark Brite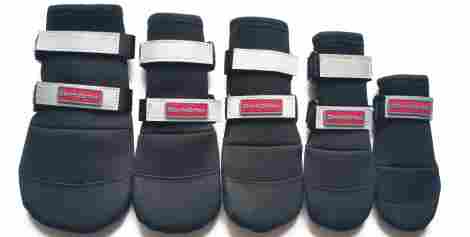 These amazing boots are made from neoprene with the promise to stay put with long-lasting comfort for your dog friend. Being as the Bark Brite boots are incredibly waterproof, they make for excellent boots for damp weather or sporting dogs that are consistently in the water. Finally, a reflective strap is in place to secure the boots and ensure that you can find your dog in the lowest of light.
Expand to see more
Reflective Velcro Strap

Loosing your dog is tough. Having the added security of a velcro strap will not only keep the boots secure, but also give you a feeling of safety, knowing that you can see your dog, at any time of the day. The velcro strap is made from some of the stickiest velcro on the market, making it incredibly secure, preventing the loss of you dogs boots.

Neoprene

The Bark Brite dog boots are made from a water-resistant, rubber material, neoprene. Neoprene has become incredibly popular due to its waterproofing capabilities. This material is known also for its durable, puncture proof qualities. Being such a durable material, the Bark Brite boots are incredible for the great outdoors.

Cost and Value

The Bark Brite boots are a one of a kind boot for a mans best friend. Being incredibly durable and puncture proof, the Bark Brite boots will keep out all kinds of debris and keep a solid comfort for your dogs, all day. Waterproof, these boots will also prevent ice build up in the winter and dirty wet feet in the summer. Don't miss out on such a great value.
Neoprene Rubber
Waterproof
Durable and Puncture Proof
Reflective Strip
Velcro Strap
Fabric is glued to neoprene, causing tear away.
6. Lonsuneer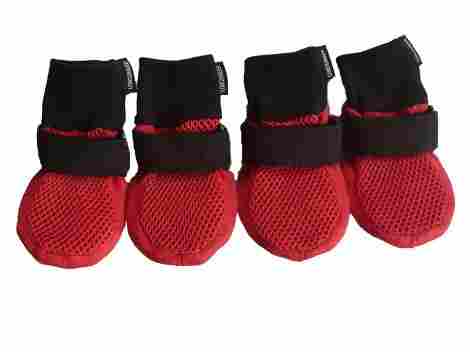 Here is a dog boot that offers it all! With a tall upper made from safe, excellent materials, this boot is made to last and made to increase activity. Being as this boot has the taller upper, it will not allow the boot to twist or fall off. Waterproof and skid-proof, this boot is made to withstand slippery conditions and support the dryness that every dog should have in their boot. At a great price, you can't miss out on this option.
Expand to see more
Boot Upper

The LONSUNEER dog boot has a great upper that has a lot to offer your dog. Being as this boot has a taller upper, there are a lot of complications that are now out the window. The material is a soft, oxford fabric that is waterproof and made to withstand wet and cold conditions.

Soles

This dog boot offers a fantastic sole that is designed to be incredibly flexible, leaving behind a nonexistent feel. The LONSUNEER dog boot also offers a non slip grip, leaving these boots ideal for hiking and long walks in the park.

Cost and Value

The LONSUNEER dog boot is a one of a kind boot that is made to keep your dog comfortable. These boots have a taller upper, that goes past the ankle, which assists in keeping them secure and in place. Waterproof and skid-proof, these boots also are ideal for water dogs. With the shores of water being so slippery, you can put those fears behind you, leaving your dog safe. Saving the checkbook, the price is worth the value!
Taller upper
Oxford Fabric
Waterproof Material
Excellent Grip
Reflective Strip
7. Ruffwear Grip Trex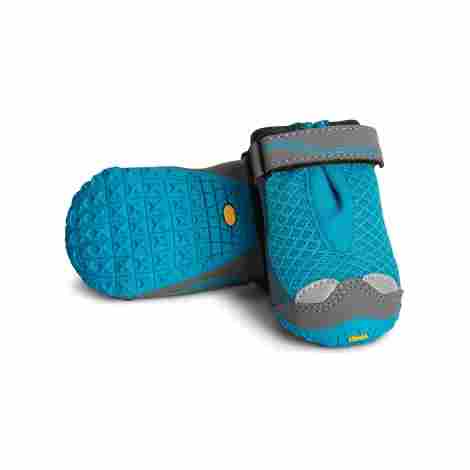 Searching for a dog boot that will protect and maintain a healthy environment? Look no further! The Ruffwear dog boot has many options available that will both benefit the dog and keep long-lasting comfort, ensuring increased activity. The Ruffwear dog boot has a breathable material and hard soles that are incredibly flexible, which will help maintain your dog's pads. Don't miss out on these babies!
Expand to see more
Breathable Mesh

The Ruffwear dog boot offers a breathable mesh upper that is designed to keep bacteria and stink out of the boot. Dogs will sweat through their paws and that can create moisture within the boot, but with these, that will be a non-issue.

Outsole

The Ruffwear Grip Trex offers a non-skid outsole that has great qualities to contribute to your dog's activities. The outsoles offer a non-slip grip and can grip on to anything that your dog may encounter. Along with that comes safety to the dog's paws. With the help of these boots, you can be sure that your dog will not run into wounds on the bottom of their feet.

Cost and Value

The Ruffwear Grip Trex have a lot to offer your dog and its feet. Promised security is given with the sticky velcro straps and comfort is constant with the flexibility that this boot has to offer. The Ruffwear Grip Trex boot has an added reflection trim that will guarantee that you can see your dog in the lowest of light, making sure that he is always safe and sound. At a great price, you can't go wrong.
Flexible Sole
Breathable Mesh Upper
Puncture Proof Sole
Reflective Trim
8. Expawlorer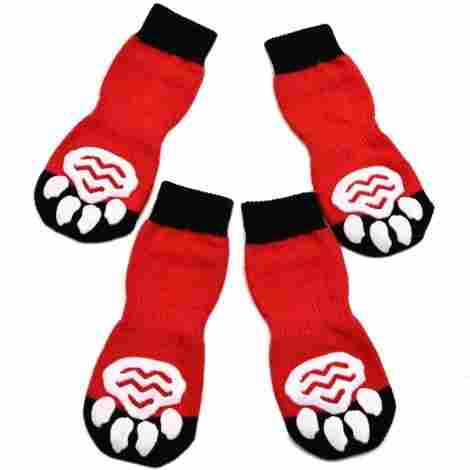 These are more than just a great pun title. They're great for a retriever or lab. They're designed for a dog running from 60 to 77 pounds. They feature safety reflective material and velcro straps. They've got grooved soles for good traction and no slip and feature flexibility and easy to get on and off design.


Expand to see more
Traction

These are non-slip shoes. They feature a highly rugged grooved design on the sole to both give the dog control over slippery terrain and protect them from the cold in the winter with a thick barrier between them and the elements.

Easy and Comfortable

Comfort is often forgotten in the face of function and safety, but it's an important part of all of this too. You don't want your dog in pain while out. These are highly flexible and feature a design that not only keeps your dog dry and warm, but fits comfortably over their paws.

Features/Specifications

They measure 6 x 3 x 8 inches around and weight 9.6 ounces, which makes them slightly heavier than some of the other options on this list. But that balances out thanks to the rubber roles and thick, rugged material. They feature velcro straps and reflective tape for visibility. They use an ergonomic shape for comfort and are machine washable.

Price/Value

They sit nicely in the dead center of the price range and you get a lot in return for your purchase in the form of comfort and durability for your dog.

Decision Time

Great for several different climates and weathers and can hold up against anything. So these are a great purchase if you want something that can be used across hiking terrain as well as general use in other environments, and they provide comfort for your animal.
Highly durable
Comfortable for your dog
Machine washable
Reflective tape for safety
9. ColorfulHouse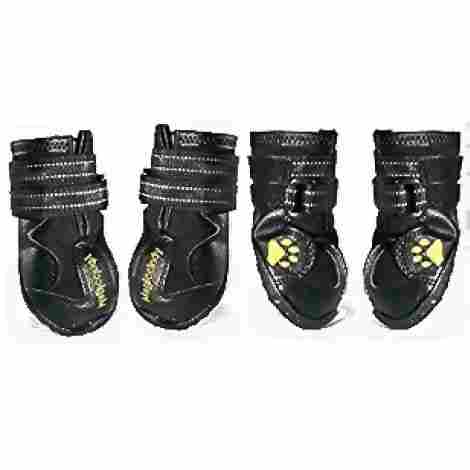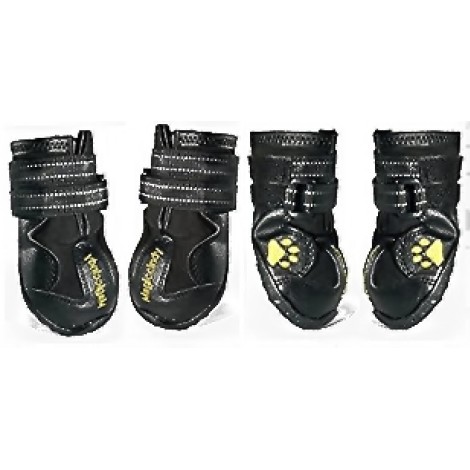 Got a great
hunting dog
? These are great boot options for them based on sizing and durability. They're slip-proof and water resistant. They feature elastic straps to secure the fit and have reflective tape for safety while out at night.
Expand to see more
Slip Proof

These shoes feature a molded rubber bottom that provides a lot of traction. On top of that, it also pulls double duty in making sure your dog's paws stay dry even in the wettest conditions.

Safety

Even your dog needs some identifying features sometimes. While you can deck yourself out in reflective gear or hunter orange, how do you get your dog visible to other hunters in the night? These feature reflective tape which does wonders for safety and visibility of your animal in the night.

Features and Specifications

These are designed for a dog between 30 and 88 lbs depending on the size you chose (4-8). At the largest size they weigh 8 ounces and feature lightweight but durable rubber as the main component. It utilizes elastic straps over velcro for a secure fit.

Price/Value

These are a great price for the features you're getting with them. They've got the standard amenities plus some add-ons in the form of a reflective tape. If you want something for average level terrain, these are a great and highly economic option.

Decision Time

Best for any hunting or walking you might be doing at night. They can take on ice and snow as well as wetter terrain so snowy forests, wet beaches, and muddy fields can all be tackled by these.
Sizing options
Non slip
Water resistant
Safety features
10. HiPaw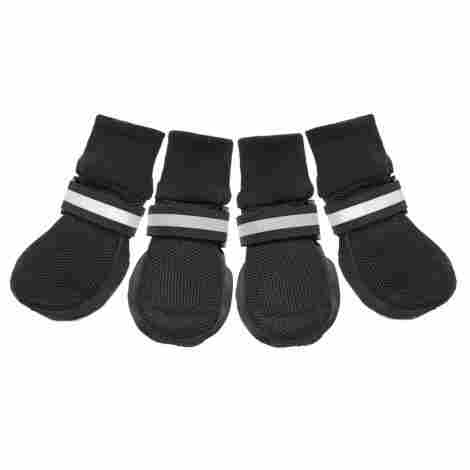 These will protect your pup's feet from hot pavement, sharp objects, burrs in the woods, ice in the winter, and the slip of ice. They feature both non-slip material and warm insulation. They've got a flexible fit and are easy to put on a remove.


Expand to see more
For all Weather

These are designed for protection in the heat of summer and the cold of winter. They also can take on the slippery ice and wet conditions as well as any dangerous debris your dog might come across while out.

Material

These feature waterproof oxford fabric combined with a fleece lining for maximum warmth and comfort as well as dryness. They have a reflective velcro strap for stability and safety at night and during the day.

Features/Specifications

These come with a measuring guide so you get the right size but the fit on these is sleek and easy. They've got a combination of materials to keep your dog warm and dry in the winter or in the summer. They've got a solid fitting velcro strap and reflective material across them for visibility.

Price/Value

These are featured right in the middle of the price spectrum and you get quite a bit in return for them thanks to the combination of material and the versatility of these boots.

Decision Time

They are great across weather and across conditions but probably aren't suited for more intense terrain.
Combination of materials
Waterproof
Puncture resistant
Good fit
11. Pawz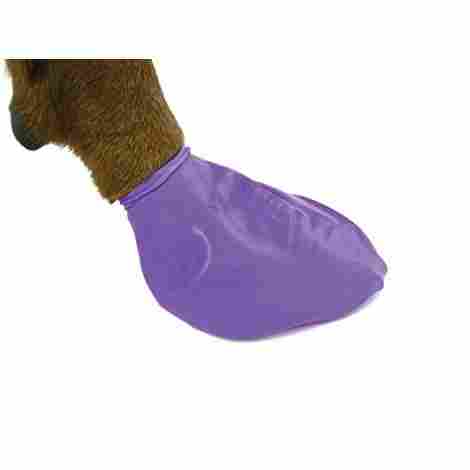 As one of the most purchased boots on the market, the Pawz Waterproof Dog Booties are a great price for the value. These booties serve the sole purpose to keep your dog's feet warm and dry in the harsh climates. This boots are a slip on and go style, making life very easy when it comes down to getting your dog ready to go out and work or play!
Expand to see more
Disposable

The Pawz Waterproof Dog Booties are the only booties reviewed here that are completely disposable. As a one use boot, you can forget about the maintenance and recycle these booties as soon as you are done with them. If the boots are still in good shape after use, you can re-use them too! Purchased, there are 12 total booties.

Rubber

The Pawz Waterproof Dog Booties are 100% waterproof as they are made from rubber materials. With these boots being all rubber, there is no way for water to get into the boot unless there is a tear in the boot, which would be difficult with such durable rubber!

Cost and Value

At an affordable price, the Pawz Waterproof Dog Booties are a great buy! Being as these boots are all rubber, they offer a 100% waterproof barrier that will keep dirt, mud, and water, out of the boot. With the Pawz Waterproof Dog Booties, you will find that they are completely disposable, taking away the maintenance part and allowing you to start fresh, every time!
Priced Right
Waterproof and Debris Proof
Disposable
Thick Rubber Material
12. Xanday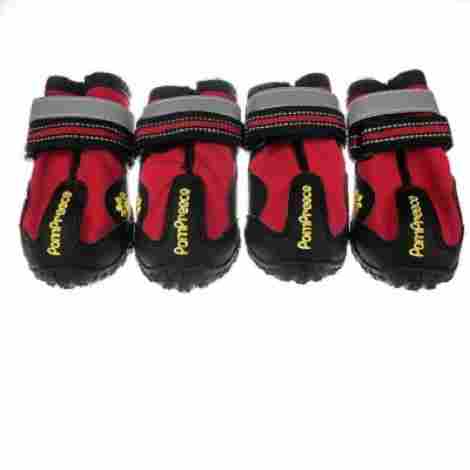 Xanday waterproof dog shoes promise high performance and durability, thanks to wear-resistant soles that protect your dog's paws from rain and snow. The fabric and reflective straps make your pet visible in the night, providing a secure and comfortable way to keep safe your dog during his evening walks. You can choose from two colors and eight different sizes, ensuring that you find a perfect fit.
Expand to see more
Long-Lasting Soles

These dog boots are well known for their resistant soles. They provide the dogs with the comfort they need to walk and run without being injured by thorns, for example, or any other objects representing a danger for their delicate paws.

Waterproof

Being made of waterproof fabrics, Xanday dog boots are perfect for any season, regardless of weather conditions. Whether it is raining or snowing, you don't have any reason to worry because your dog's paws will be protected from getting wet.

Cost and Value

If you want to buy the Xanday dog boots, you can choose from a wide range of sizes and different colors, all for the same cost. This product is made by a company known for their high-quality pet supplies and continues to deliver on that reputation.

Made from waterproof fabric
Features reflective straps
Comes with wear-resistant soles
Easy to read size chart provided
Not ideal for uneven surfaces
Some complaints about lack of padding
13. Maxgoods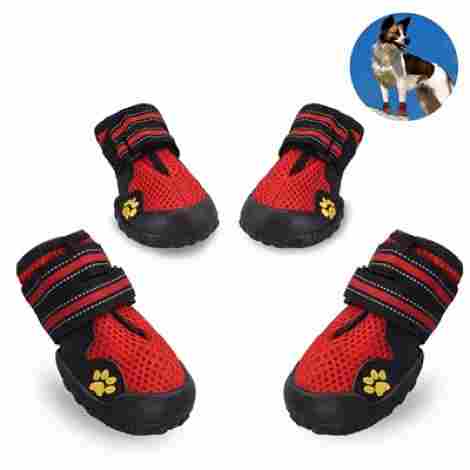 Dog boots come in all shapes, colors and materials so it can be difficult to choose the perfect pair. Maxgoods dog boots are highly recommended for their superior quality. They are constructed from breathable and lightweight fabric which makes it possible for the air to air to flow through it. Furthermore, the fabric is easy to clean: you can do it with water, without worrying about the boots losing their quality.
Expand to see more
Wide Split Seam

These are especially designed to offer the required comfort for your pet, including a wide split seam that permit the dog to walk without feeling discomfort. The boots can even be adjusted, having 2 reflective Velcro straps.

Sole Protection

By wearing these boots, your dog is protected from getting injured while walking on dangerous surfaces, such as hot pavement, rain, mud and snow. This means that you don't have to keep your pet inside every time the weather is a little rough.

Cost and Value

The cost is the same for all sizes. Compared to their competition, you cannot order the wrong size because Maxgoods offers you a table with the dimensions for each size. All you have to do is to measure your dog's paw.

Fabric is breathable and lightweight
Top opening has wide seam
Features Velcro straps
Easy to clean
Some reviewers complained about sizing
May not stay on all dogs
14. Canine Equipment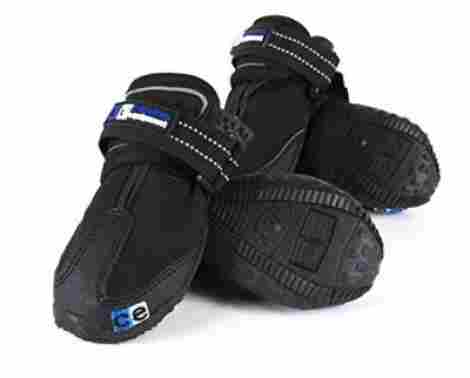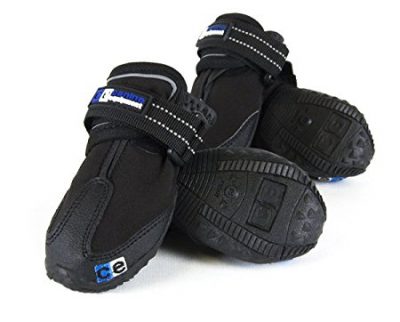 The Canine Equipment Ultimate Trail Boots have so much to offer the dogs feet. With the rugged soles, these boots will shield against all of natures dangerous elements and protect your pup's paws. The boots are designed with a cinched back, assisting in a secure and comfortable fit. The Canine Equipment Ultimate Trail Boots have different designs to the front and back boot, making them fit correctly, every time.

Expand to see more
Rugged sole

The Canine Equipment Ultimate Trail Boots have an excellent sole that is not only durable but super protective for your dogs' paws. These soles will assist in protection against painful terrains like rocks, sticks, and stones. Keep your dog comfortable in the Canine Equipment Ultimate Trail Boots.

Upper Material

The Canine Equipment Ultimate Trail Boots offer a great upper with many benefits for the dog's feet. These boots are made out of a breathable material that is also waterproof, for any climate. Not only does this assist in keeping the dog's feet warm, but also prevents wet, muddy paws and helps maintain a healthy climate within the shoe.

Cost and Value

With all of the benefits that the Canine Equipment Ultimate Trail Boots has to offer, these boots are one of a kind. Offering a durable outsole and a breathable, waterproof upper, you are sure to have long lasting comfort and security for your dog. Why wait any longer to get a boot that will protect against the harshest climates when its been here, all along!
Rugged Sole
Waterproof
Breathable Upper
Cinched Back for Fit
Criteria Used to Evaluate the Best Dog Boots
There are a lot of new brands in the industry that have caught on to the importance of dog boots. Some of them have created good products, while others are just pumping out generic ones. Our criteria separate the best of the best, leaving only the most approved dog boots in the industry. We looked at multiple things when doing our scoring, starting with style and ending with brand effectiveness. Each category was rated equally, and the top three picks were made after careful consideration. That still leaves seven other picks that are incredible values for any dog lover that needs quality boots.
Style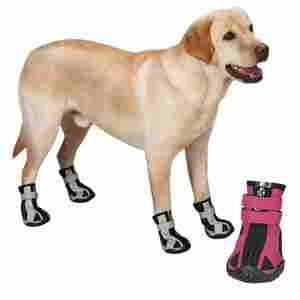 The first thing we looked at was style, which includes color and design. Dog boots aren't the only clothing accessory on the market, so it is more likely that they will end up being an addition to an already chosen outfit. In this case, having a large number of colors and a compatible design is a must when buying dog boots. We didn't just show favor to a variety of colors but gave points to colors that actually looked good. It was a mixture of quality and quantity with styles, and we feel the results helped shape the bulk of the list from the start.
Comfort
Comfort was the next thing we focused on, which is something that is important for all dogs, especially larger ones. Dog boots that had low comfort levels were immediately removed from the list since they could cause chronic problems. Just like wearing a bad shoe can cause chronic foot problems, a bad boot for dogs is an issue that should be avoided completely. Comfort was based on the materials, how well they adjusted to the paw in different sizes and of course a roundup of reviews that rated the comfort level. We paid close attention to the reviews that spoke out against comfort or irritation problems with their dogs, and if too many reviews complained about the same comfort issue, the boot was removed from the list. A lot of the products didn't make it past this category, leaving a small number that was capable of making the top ten.
Size
Not every brand will be able to cover all sizes, so we took particular interest in the widest coverage. None of the brands was penalized, but we issued points based on how many sizes were available to the customer. This ranking pushed a lot of the bottom choices to the top of the list, showing that variety is important. Customers don't like looking for the perfect dog boot only to find out that it isn't available in the size they need. There really wasn't a single brand that covered every dog size and type, but there were a few standouts that covered a surprisingly large amount.
Durability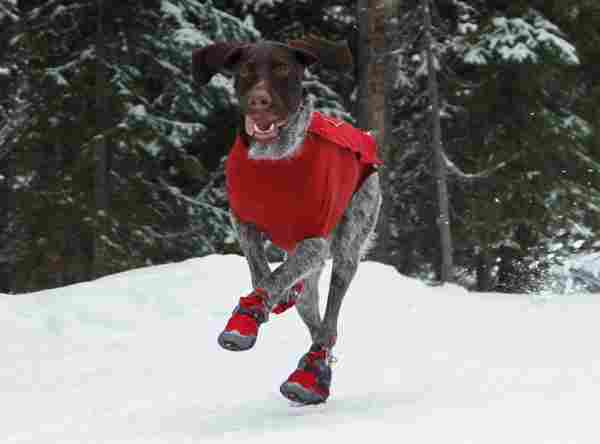 Dogs can treat their snow boots rough, almost as rough as the terrain they are walking on. Because of this, products on the list were rewarded for having top tier durability. We found a good average for the life of dog boots to be about a year. That might seem short, but factor in how rough the common dog would be on anything they wear. Items on the list had to pass a basic durability check in order to remain in the top ten. The harshest part of this criteria was getting rid of some really good choices that just didn't last that long. Even at a low price, it lacked the value that made the other dog boots worth the buy.
Price
Price is something we felt the need to include and was also closely tied to value. We weren't just interested in numbers, we took into full account what was being offered and for what price. Low priced products with identical qualities of the high priced ones were moved up the list. It made more sense from a value standpoint to push them further up, but thankfully we didn't have to eliminate any of the items on the list with this criteria. For the most part, the list was already finished when we started the price criteria, and the only thing left was to reorder the products by rank. So if a dog boot didn't make the list by the time we adjusted by price, then it was officially off of the list. Marketing was a key component in our search for the best dog boot. It covered how well a company adjusted their features for snow protection. There are a lot of 'dog boots' that do well in snow, but finding companies that specifically marketed their dog boots for snow led to the top three spots being solidified. With the top three chosen, the rest of the seven was reorganized based on their marketing.
Warranty and Brand Effectiveness

The last two things we checked were warranty and brand effectiveness since they tied so closely together. A good warranty won't protect you when your dog chews up their boots, but it will cover defective materials that don't live up to their specifications. So if it turns out your dog's snow boots are not as useful as expected, then having the option to contact the company is important. We looked at the length of warranties, what was covered and possible wait times to receive an order. Some of the remaining seven items were average in this category while the others excelled. And tying this all together was brand effectiveness, which determined how well customers perceived a particular company. In doing our research we found that the brands with the highest reviews for their dog boots also had the best warranties. Customers that were looking to get the best value would find these companies the better choice, so we adjusted the list to reflect that. Once the list was finished, there were some clear winners on the list, even outside of the top three. Consumers will have plenty of choices from our finished top ten that will give their dogs the best products possible.
Why You Do Need Dog Boots When Outdoors Hunting, Hiking or During Winter
In winter, it is often that you see dog owners donning heavy overcoats, hats, and boots walking with dogs that have no form of protection whatsoever. Ask these owners why they would do something like that and they will tell you that dogs are naturally protected by the coats they have been given by nature. They will also tell you that dogs have a higher body temperature and therefore do not feel as cold as we human beings do. Even though this way of thinking may make sense on the surface, it is largely a misconception.
All Dogs Are Not the Same
The argument that dogs do not feel as cold as human beings come from a way of thinking which looks at all dogs as if they were the same. The reality of the situation is that they are not. Some dogs have lots of fur while others do not. Whether a dog feels colder or not will also depend on its size and the type of health complications that are associated with the breed. Let's expand on the reasons why your dog needs dog boots when outdoors, hiking and during the winter.
The reason for the boots on hiking trips is to protect the dog from getting injured. Since most of the times you are putting on shoes, it's easy for you to walk in areas that have exposed rocks that are sharp, without realizing it. In such situations, it is easy for the paws of a dog to be cut quite badly before you realize it.
If your idea is not to end up carrying the dog during the hiking trip, then you should ensure that it has shoes before you take it out. If the dog is not used to dog boots, it will probably hate them at first and you may see it trying to chew them off. However, most of the times the will get used to them within 30 minutes. Moreover, if the dog is already injured, boots can be a good way of assisting her to walk and ensure that the injury gets better faster.
The question of whether dogs need boots in the winter is usually followed by another question as a form of an answer, "What about the paws", among those who argue that dogs do not need boots at all. Well, the manufacturers of dog boots know that dogs have paws and they work around this. This is the reason why you need to ensure that the boots you buy for your dogs fit well.
Chemical De-icing Agents
In many countries, especially in the northern hemisphere, winter is associated with snow which can make pavements and roads no-go areas. It is not always easy to remove ice using tools such as shovels. This is where chemical de-icing agents come in. While this may be effective for making pavements usable again, it can be harmful to your dog if its feet are not properly protected.
Protection from the Cold
Even if you don't live in an area that accumulates snow, winter nights can be very cold with temperatures going beyond zero in many places. This can leave the dog exposed to frostbite. Boots are the best option in such conditions.
Dogs' boots may not be the most important thing that your best friend needs, but they are neither the most important things humans need too. However, they can make your dog's life more comfortable in the same manner they make yours comfortable.
Some people argue that dogs' paws adapt to their environment by nature so they do not need boots. This could be true to an extent. However, there are some conditions that would injure even wild animals.
If you are still convinced your dog doesn't need snow boots, you can use a thin layer of petroleum jelly applied on the dog's paws to protect it from salts.
FAQs
Frequently Asked Questions
Q: What Are The Benefits Of Dog Boots?
A: Dogs are genetically built to have tough paws for traveling, but there are many types of terrain where even their paws will suffer a bit. Dog boots provide protection when needed against rough outside elements that not even dogs can handle. To keep dogs injury free from terrain that may otherwise rip their paws, dog boots is the best option. They are available in multiple styles and are just as varied as human boots. The comparison is legit, and there are many dogs that can own the 'Timberland' of dog boots. It's never too late to apply dog boots, and they can be useful even after a foot injury to prevent further damage.
Q: Which Seasons Should They Be Worn In?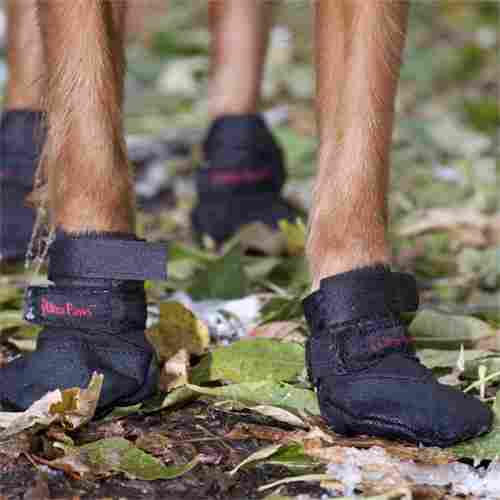 A: All seasons! When it is icy cold, sharp ice can cut through a dogs paw. The freezing alone could make them sick with their exposed paws going through the snow. In the summer when the pavement is hot, when it becomes unbearable for you to walk on it, then the same sensation can be felt by a dog. So both cold and hot weather can take full advantage of dog boots. There may be boots that are more suited for a specific season, so it isn't unheard of to have multiple pairs on hand that are season dependent. It's also not unusual to have multiple styles ready to go for a specific season.
Q: Are There Dog Boots For All Types Of Dogs?
A: Dog boots aren't just grouped by paw size, they are grouped by type of dog. Great Danes aren't going to wear the same boots as poodles, and even in the middleweight category with German Shepherds, there is a major difference between the others. What has been proven time and time again is that the toy category of dogs can be the most difficult to get reliable dog boots for. The breed of a dog is on the level of importance as the size of their paw. With these two variables as a priority, dogs will always have the correct dog boot.
Q: Can They Be Washed Normally?
A: Yes, with special instructions. Some dog boots you can just throw in a washer with the rest of your close and walk away. Others require specific temperatures and settings to keep from ruining the boots. And there are even some boots that can't be put in the dryer, so air drying is the only option. All of this information is important when caring for dog boots, and at the minimum keeps them from being ruined in a wash cycle. Treat dog boots the same way you would treat any other piece of clothing when caring for them, and they will last longer than expected.
Q: What Is The Best Material?
A: There is no 'best' material, as they all accomplish different things. A better way to look at it would be to look at features available with the material from a company. Things like damage resistance, weather resistance, and even water resistance make up the important aspects of a dog boot. For some materials like nylon, it will by default be tougher than cotton. And likewise cotton will be more comfortable for a dog than nylon. It's all about finding out what terrain and weather the dog boot will be used in, and if it's available for your specific breed and size of the dog.
Q: Will They Stay On The Dog's Paw?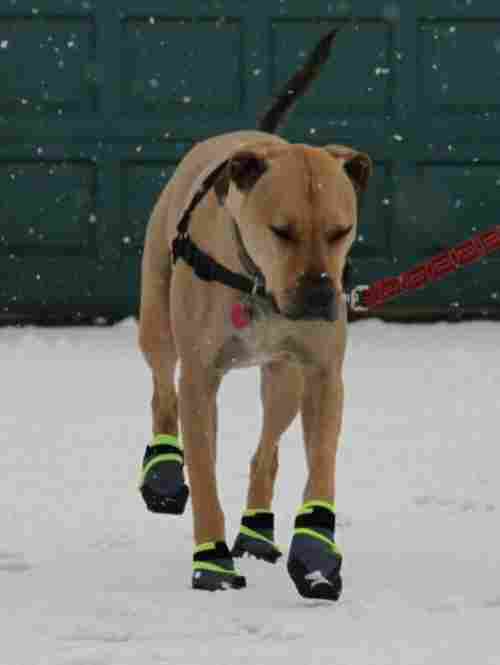 A: All dogs will have different reactions and habits to wearing boots. Some dogs will do the dance and then walk normally, other will try to chew them off. In this case, it would be recommended to get them tougher boots until they get out of the habit of chewing them off. The initial reaction from your dog should be a good enough glimpse into what to expect with a full day of wearing boots. Sometimes the boots may come off if they aren't fastened correctly, just like human boots. Finding the sweet spot with tightness and comfort takes a little practice but is well worth the effort.
Q: Why Are Sizing Guides Important?
A: Technically any dog boot will fit a paw, even for little dogs. That doesn't mean they will be comfortable, or that they'll stay on for the entire day. Sizing guides are available for all types of dogs, and it's vital to follow them when getting boots for your dog. Putting the wrong size on a dogs paw can cause chronic pain if they are forced to wear it repeatedly over rough terrain. The available guides aren't that hard to use, and if there is any doubt, there are plenty of alternative guides that can help to find the proper fit for your dog.
Q: Should You Purchase Disposable Dog Boots?
A: This is purely a decision that is up to the customer, as there are no cons to having some disposable dog boots available if your main ones get torn. What isn't recommended is using disposable dog boots as their main source of protection. Disposable dog boots lack all of the essential protection and features of quality boots, so should never be used as the main option. It would be like replacing work boots with flip-flops and expecting the same result. The disposable option is a nice to have in addition to your quality pair of dog boots, just in case something goes wrong.
Q: Are Dog Boots Comfortable For Dogs?
A: As long as size guides are followed for your specific pet, then the boots will be comfortable to wear for long periods of time. Buyers can even go a step further and purchase boots that are meant for comfort based on material, but it isn't necessary. All brands are really good when it comes to dog boots, and they are just as careful with the comfort features as they are with the protective ones. Some makers will have a better record of creating comfortable dog boots than others. Consumers that are looking specifically for comfort features may want to seek those brands out in order to get the best overall deal.