Best Dickies Pants & Work Trousers Reviewed & Compared
In a
Hurry? Editors choice: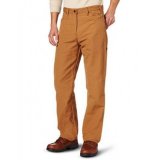 Test Winner: Relaxed Fit Straight-Leg

There are some brands that are just so voluminous in their choices and their styles and their ability to dominate the market that from time to time we give them their own top ten list. Dickies is one of those brands. Founded in 1922 these pants have been the go-to
legwear for working people
for nearly 100 years. And lately, these have gained a new following but not just from workers but from people who want to look cool and from people who are sick of paying a million bucks for a nice pair of pants that will stand the test of time. Dickies work pants are classics, they're tough, and they come in more styles than imaginable and that's why we like them. A quality company creating a quality product that's what Dickies is all about. Here are some of our favorite styles.
Standout Picks
Criteria Used for Evaluation
Materials
What is one aspect of finding the best Dickies work pants? The quality of the material of course! A good quality pair of work pants should be able to offer you both comfort and durability. Dickies only uses the best fabrics such as cotton duck to offer you the best amount of durability but still, oh so, comfortable. They also use denim, which is slightly less durable than cotton duck but still provides comfort and enough toughness to get you through your workdays. They also make work clothes with cotton. Cotton offers the highest level of comfort, but not without a few downfalls. For one, cotton does hold moisture, which means that it can get wet and heavy. You can, however, find a polyester cotton blend will give you the comfort with the added benefit of moisture-wicking. Keep in mind these materials tend to be thinner, so if you are looking for something really strong and durable, then cotton duck or denim may be a better fit for you.
Durability
Another aspect of the durability of your work pants aside from the materials is the hardware and technology used to design the pants. Depending on the style of the pants you choose you may find several types of techniques used for making the pants. Here are some of the features Dickies' showcases in the durability category:
Crotch Gusset
If you have ever bought a pair of work pants, you know that the crotch area of pants can be the fastest to wear and tear. In order to combat that issue, they have added what they call a crotch gusset to ensure that this area will have a higher amount of durability.
Double Knee
The double knee feature is super useful if you find yourself wearing holes in the knees in your pants from quatting or kneeling a lot. The extra chunk of material over the knee of the pants will keep them from wearing out faster than other areas of the pants.
Heavy-Duty Zippers
If you wear work clothes often, you know how important it is to have high quality, durable zippers. Due to zippers wearing out quickly, Dickies uses zippers made from brass, which makes them stronger and last longer. So you can zip your fly again and again with no worries.
Features
For some, features can make or break a deal when it comes to pants for work. You want a pair that you know were built to last. This company has plenty of beneficial features to choose from:
Water Repellant
Dickies uses a water-repellent finish that helps keep pants dry. They wanted their pants to remain breathable which is why they opted for a water-resistant fabric rather than waterproof. Even though they are not waterproof., they still do a good job keeping the pants from absorbing moisture so you can stay dry the whole day while you work.
Moisture Wicking
In addition to being water-resistance, these pants also feature moisture-wicking. So if you work up a sweat, your pants are working to prevent you from getting wet. By drawing the moisture out and away from your body.
Odor Control
Anyone who works hard in their clothes knows how important this feature is. Technology to help prevent and reduce odor in your clothing. Most odors come from sweating or clothing exposed to wet conditions. There odor control technology helps to combat those odors, giving you something to be happy about. Oh, and your coworkers will thank you too.
Deep Front Pockets
The front pockets of this 'work gear' line are made deeper than other brands on the market. This helps to prevent anything in your pockets from falling out when you bend over.
Fade Resistant
In order to keep your work pants looking fresh for longer periods of time, Dickies work pants are made from quality materials, which means they won't fade as quickly and maintain that new look wash after each wash.
Expandable Waist
For those who fit in between sizes in the waist, these have the perfect solution. They offer work pants that have added a hidden piece of elastic within their waistline. This allows you to go with the smaller of the two sizes, as the elastic will give you two extra inches to the waistline.
Wider Belt Loops
Who doesn't want wider belt loops? Unlike other work pants brands, these offer belt loops that are wider and reinforced so they are more durable and last longer.
Fit
Dickies offer a variety of pants and they all have a different fit. This means that you can pick the fit that is the most comfortable. So make sure to take advantage of all the styles by trying them on to make sure they are exactly what you are looking for. They come in regular, relaxed, or slim fit, just to name a few. So between fit and style, you should be able to find the perfect pair for you.
Best Dickies Work Pants
1

. Relaxed Fit Straight-Leg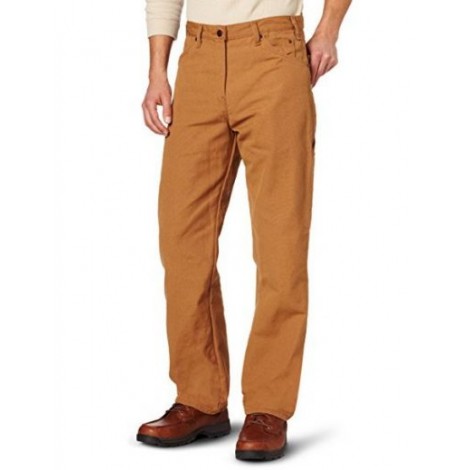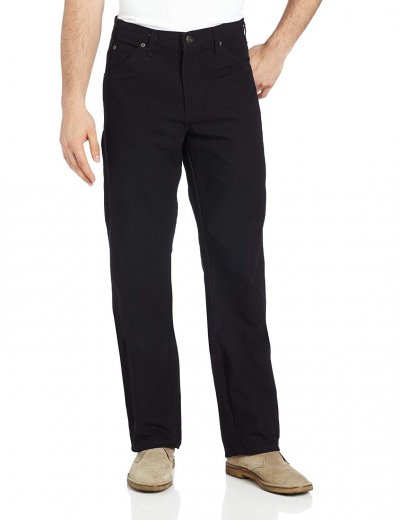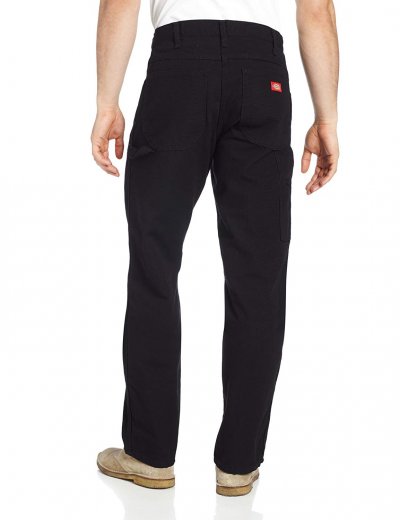 This pair is one of the most popular in the online market right now. The duck carpenter jean has been Dickies' most reliable and trusted pair of jeans. This model has a straight leg and sits slightly below the waist. If you become a fan of this pair of jeans – or if you already are – then you might be pleased to know that it comes in 7 colorways.
Cotton Duck
Cotton duck is important for work jeans, as this sort of fabric is woven more tightly than regular cotton. This means that its durability is elongated compared to a regular pair of jeans. As it's made of 100% of that textiles, it's important to know that they might feel a little stiff at the start, but after a few wears and washes, they should feel like a regular pair of denim jeans, with the durability of cotton duck work pants.
Additional Features
Since these jeans are made for work, a few pockets and slots to insert tools is appreciated. You'll be happy to know that they have a hammer loop as well as dual tool pockets. The durability of these jeans not only comes from the cotton they use but also from the fact that they are triple-stitched at the yoke, the seat and the side seams, and there are brass rivets to avoid rips.
Cost and Value
These jeans are surprisingly low priced for such quality and durability. If you're on a budget, or if you simply don't feel like spending big bucks on a pair of work jeans, then I'd tell you to consider these jeans as they have so much to offer.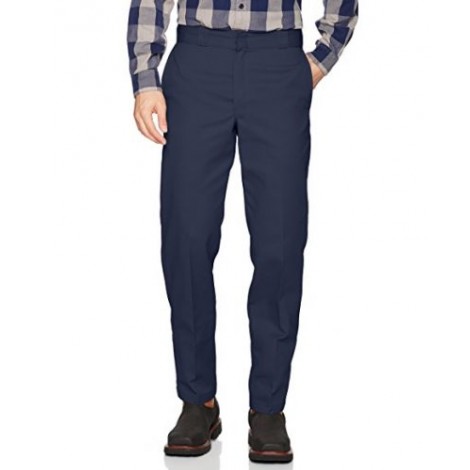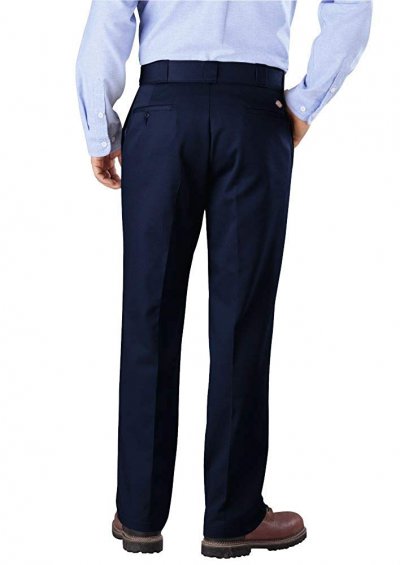 Close to fifty years ago, the Original 874 work pants were invented, and this model hardly changed since. People all over the world swear by these pants because they are recognized to be the toughest and most reliable pair of work pants around. Want to know why? Check it out!
Material
Made of 65% polyester and 35% cotton, these pants are sure to last you a while. Because the amount of cotton is so low, you won't have the surprise of drying them in the machine and losing 3 inches of height. Polyester is a durable synthetic fabric that helps you breathe during your long hard days.
Additional Features
What I find amazing about these work pants is that they have a care stain release. This means that oil, dirt, grass and other stains, can easily be removed in the washing machine. The hook and eye closure last longer than a simple button, and the darts between the belt area and the back pockets prevent ripping.
Cost and Value
Right now, these pants are on sale, making them the cheapest on the list (with over 50% off!). With all of the features that these work pants have to offer, I'd grab a pair or two while they're still hot.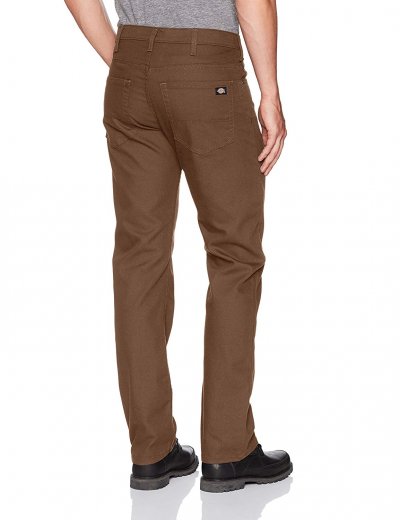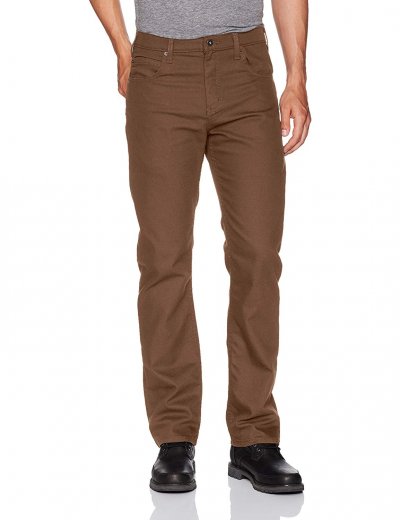 It really doesn't matter if you're sawing boards or in the boardroom, you're going to look great doing it in these pants. They're tight-fitting but stretchy so they hug the figure you have but never feel tight, thank the flex fabric for this. We also like they're made from rough spun fabric but they don't look it. These pants have a classic design so you can wear them out in the yard or throw on a dress shirt tie and jacket and you're well beyond business casual.
Tough Max Technology
The best thing about Dickies work pants is that no matter how classic and classy these pants look they are meant to be used and they're built to be tough. They won't rip tear or snag easily so you can feel free to wear them anywhere. Also, these pants are built to be used so they clean up well. No need to worry about dry cleaning these babies, just toss them in the washer and shake them out and they're good to go for another round.
Modern Look
These pants are hipster compatible with their straight leg and tight look. The great thing about them though is that they just look tight they'll never feel tight. The flex fit fabric and the straight leg make them look more like office pants than work pants but you'll know better. The fit is also designed to hit just below the waist so you can easily incorporate a dress shirt into this outfit and look ready for the boardroom when it's necessary.
Cost and Value
Simply a great pair of pants at a great price. We're constantly surprised at the low cost. It's almost as if they're actually trying to appeal to working people by keeping their product at a reasonable price. No matter the reason as we look at these pants and the price we're impressed and want to keep adding pairs to our wardrobe.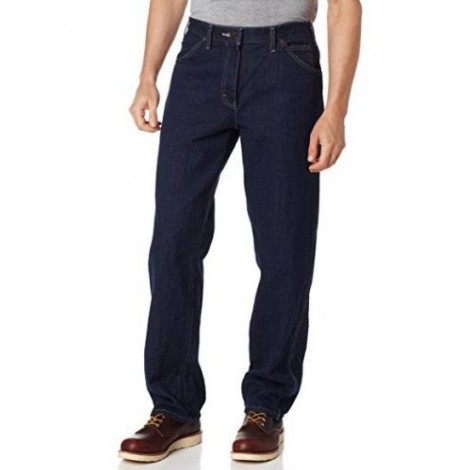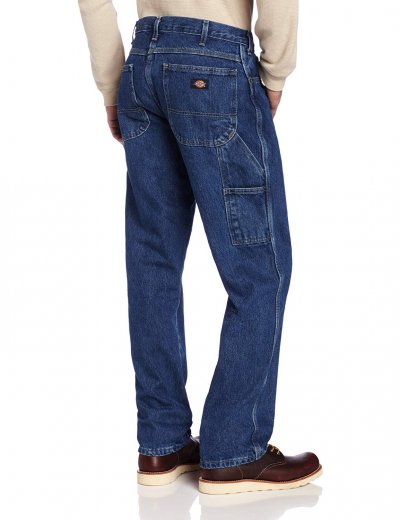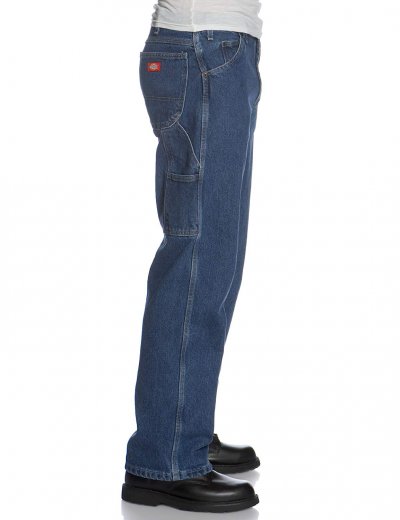 This is a pair of relaxed work-jeans with the popular carpenter-style pockets. With its 5 assorted colors, you're sure to find a pair that will please you and complement the rest of your work clothes (if you care about that, that is). If you're not keen on ironing, you'll be happy to know that you don't have to iron them.
Material
The only thing that is different from the first work pants is that they are made from cotton duck while these ones are 100% cotton. I must repeat myself by saying that regular cotton is less stiff and coarse compared to cotton duck, but its durability is just the same.
Straight Cut
It's important to be comfortable in your work clothes, especially if you spend close to half a day in them for most of your life. These jeans are carpenter-fit, meaning that the seat and thigh areas are roomier (perfect for freedom of movement), and you can easily wear them over your work boots.
Cost and Value
These pants are starting to be a little bit over the lower price range of Dickies work pants, but they are still affordable. If you want comfort and durability, then I'd suggest you check these work pants out.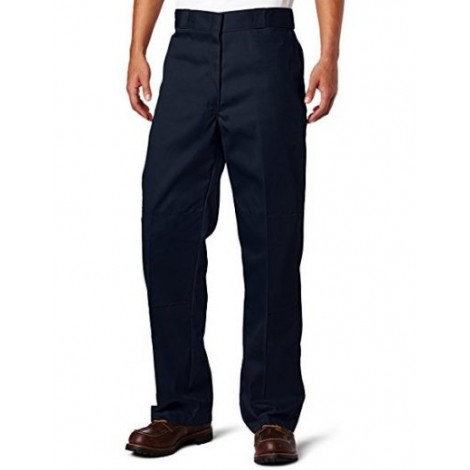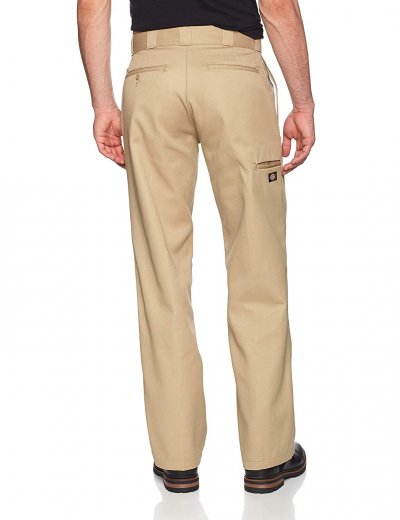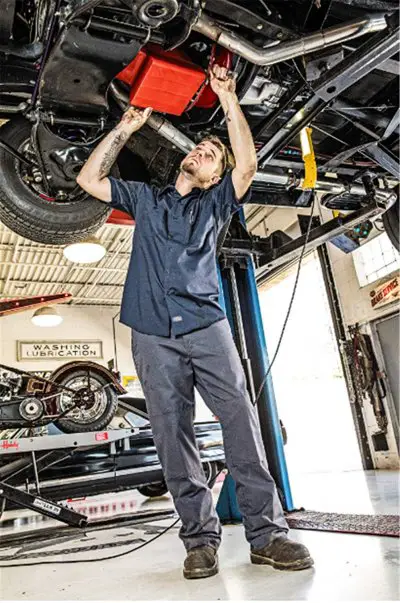 If you're looking for a pair of pants that can work as much as on a worksite as on a casual weekday or weekend, then you're at the right place. You will find the same durability, comfort, and value as established by Dickies in all their work pants. There are also 3 assorted colors, so if you end up falling in love with these jeans, then you'll be able to get yourself a pair in every color.
Material
These work pants are made of 65% polyester and 35% cotton. This means that you can be sure that durability and breathability are part of the qualities of these pants. Since the polyester is one of the toughest synthetic fabric on the market right now, you know that you will have a pair of pants that will last a few years. Also, this blend is stain and wrinkle-resistant.
Additional Features
The reinforced knees ensure you extra years of wear and tear compared to other work jeans/pants. The belt loops are thicker than on other models, so if your belt can handle it, then you could hold more tools, and the deep pocket on the right leg makes access to any tool easier.
Cost and Value
These work pants are on the lower price range scale of Dickies work pants list. With the double knee feature as well as the other things that these work pants have to offer, you can be sure that you're not making a wrong move if you decide to go with these ones.

6

. Regular Straight Stretch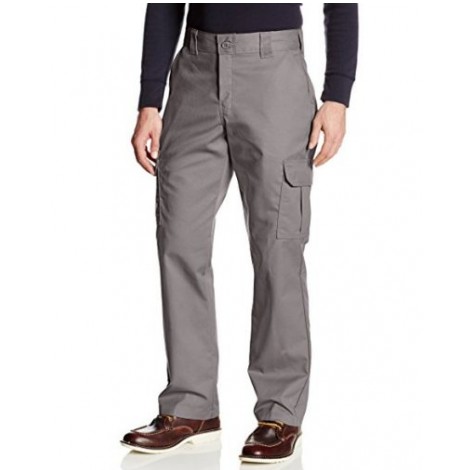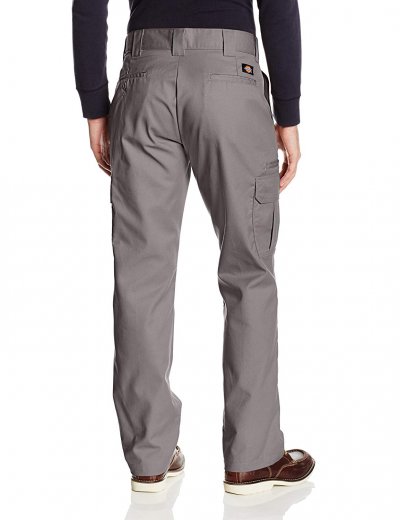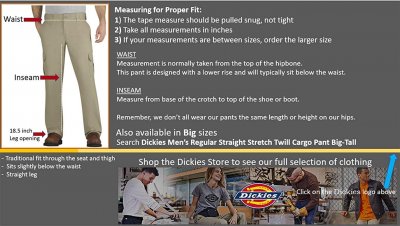 You can't be disappointed with a pair of these by your side. Sitting just below the waist, these are large and stretchy enough to allow freedom of movement. All of its features ensure that these pants will last you for a few years, while still being comfortable.
Material
Don't you hate it when it's hot and humid outside and you must perform on a worksite to finish a project, but the sweat dripping down your lower back and legs keep distracting you? Well, don't you fret about this anymore, because these pants have a moisture-wicking feature? Because of the material, the breathability is increased. The polyester and cotton twill work their magic with moisture, and they are also wrinkle-free. Yay!
Other Features
Thanks to the material used, these are wrinkle-resistant, and stains can easily be washed off because of the technology they added to their fabric. The fabric these used also makes movements easier, helping you in your daily tasks. As per the usual in Dickies work pants, you get multi-use pockets.
Cost and Value
These are in the higher price range, but you are buying quality and durability. These pants also offer a few features that the others don't have, such as an expandable cargo pocket and the moisture-wicking feature.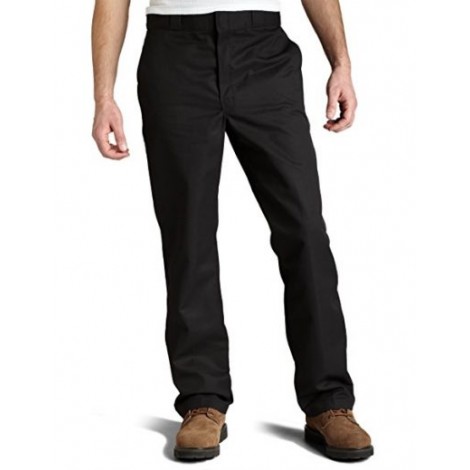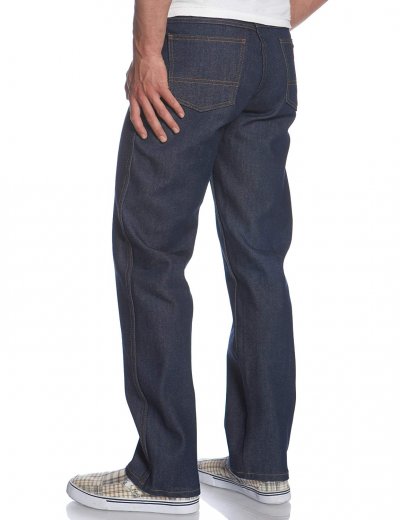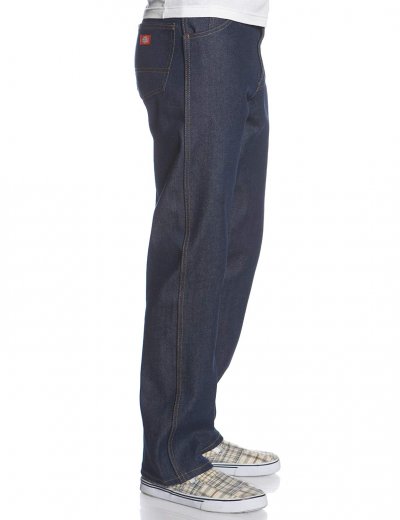 This classic pair of jeans is even better than any of the others you're going to buy. These classic looking dungarees are 100 percent cotton and unlike a lot of other pairs of pants, these are going to just get better and better with age. And the classic fit is guaranteed to never go out of style.
100 percent cotton
This denim is an old school. They come pre-washed to avoid shrinkage but will fade wonderfully over time. Just like that best pair of jeans you had as a kid, these are going to age just like those and you'll just come to love them and rely on them as time goes by.
Superior Construction
Seven belt loops, five pockets, and copper rivets holding those pockets in place. When you buy a pair of jeans you want them to last and that's why Dickies is such a good choice. Denim is meant to last for a long time and these jeans will stand the test of time, they won't tear or fray in normal wear just get more and more comfortable.
Cost and Value
Another great price with these. Again, this company is making it incredibly easy to buy their product.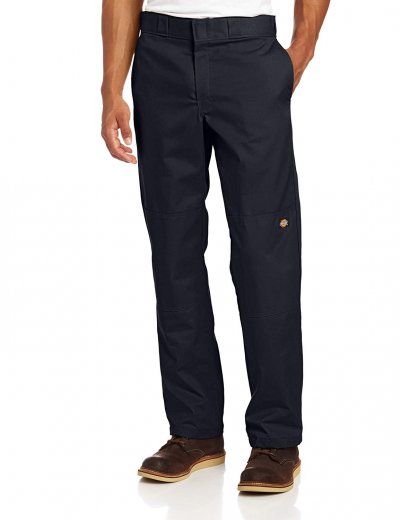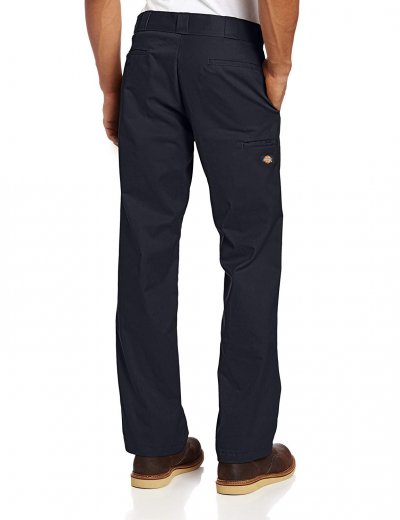 Well, the name says it, they're painter's pants. But they're not just reserved for painters. If you're often on your knees, you'll be pleased to know that you can insert pads in the knee section for comfort. There is enough room in the seat and thigh section to not feel constricted when you must sit or kneel for lower-to-the-ground work.
Material
Because these pants are 100% cotton, you can be sure that these pants will last you a while. Even though these are heavyweight pants, they will help you breathe on warmer days as it's what cotton does.
Double Knee
If you're often on your knees for low work, you'll be pleased to know that these have double knee inserts so that you can pad your pants up for the work to come. Compared to other work pants, these ones will make you feel like you're kneeling on pillows once your inserts are in. PS. The inserts are not included with the pants.
Cost and Value
You can't be disappointed in the quality of these pants, and especially not in the price as they're in the lowest price range scale. They do come in two pale colors (white and natural), which is what painters' pants usually look like. Their features are sure to please more than one. Take a look at them!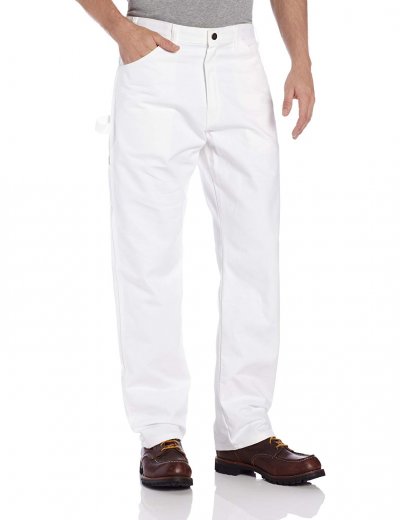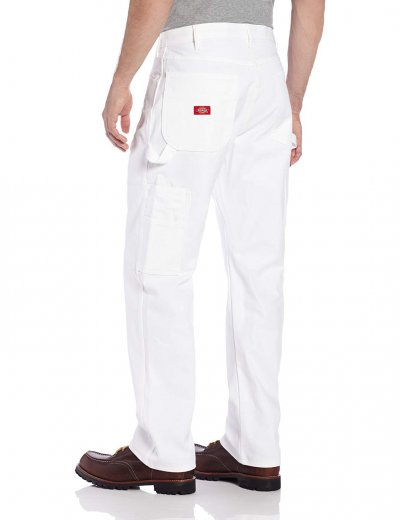 These pants are meant to be worked in. They're 100 percent cotton and machine washable and have reinforced seams and stitching. Not quite as formal as some of the others but really a great, comfortable work pant.
100 percent cotton
These pants will shrink a bit but like a great pair of jeans, these will just get more comfortable over time.
Relaxed Fit
These pants sit up high on the waist to give you maximum comfort. They're also wide at the hope and calf to make them even more comfortable.
Cost And Value
As always this is a wonderfully priced pair of pants and just adds to Dickies' whole Oeuvre as a working person's clothing of choice.

10

. Relaxed-Fit Double-Knee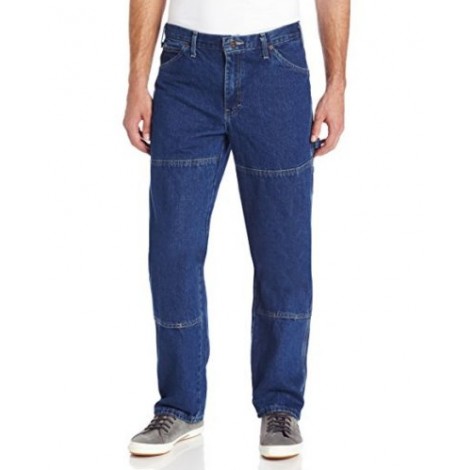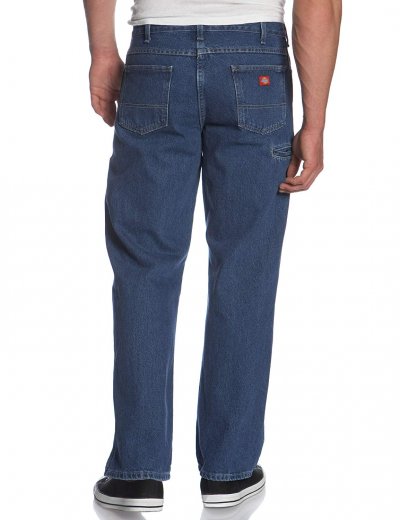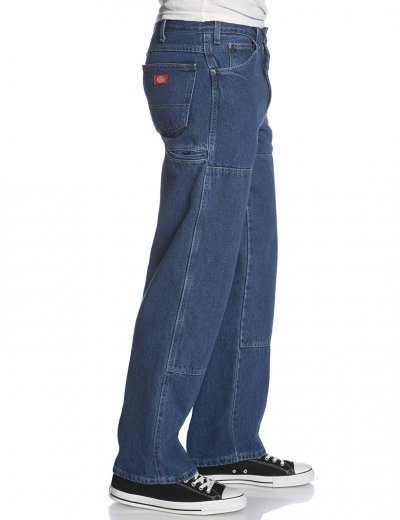 If you're on your knees all day, you know how important it is to have knee support. This is why this model of Dickies' pant comes with double-knee reinforced pads. They also have room in the seat and thigh area for freedom of movement while bending or stooping. These pants also can go above your work boots so there is no bunching up at the ankle, and the double tool pockets and hammer loop keep your things accessible.
Durability
Alright, so we already all know that Dickies are made to last, but how can they be so durable compared to other brands? Well, you have the triple-stitched seams to add to the durability. Then comes brass rivets to avoid rips at stress points and the heavy-duty brass zipper. The 100% cotton fabric also adds to the strength of this pair of pants, without putting aside the breathability that is so like by workers worldwide.
Reinforced knees
Just like the Painter's Pants earlier, this Dickies' model also has double reinforced knees for added durability, as well as an opening for those who prefer working with knee pads. Once again, please note that the pads are not included with the pants, but are sold separately.
Cost and Value
This pair of pants is the priciest on the list, but that's no question when you look at all the features that it has to offer. You can be certain that you won't be buying this pair of work jeans only to have to replace it in a few weeks. They are made to last a few years, so you know that it will be money well spent.

Subscribe to our Newsletter